Advanced marketing dealing with ALLIAN, GNU, LIB TECH, ROXY, BENT METAL and overseas super popular brands.The lineup, which is full of topics this season, has become a big topic both in shops and on the slopes, but GOOD news has also arrived on-snow.
From February 2rd (Monday) to February 3th (Sunday), with the designated brand gear on each day of the weekKawaba Ski ResortBrand Week will be held where you can purchase lift tickets at a discount of 1,000 yen from the list price at the counter.
With the arrival of the cold weather this weekend, the conditions are likely to improve considerably.Please enjoy riding at Kawaba Ski Resort to your heart's content.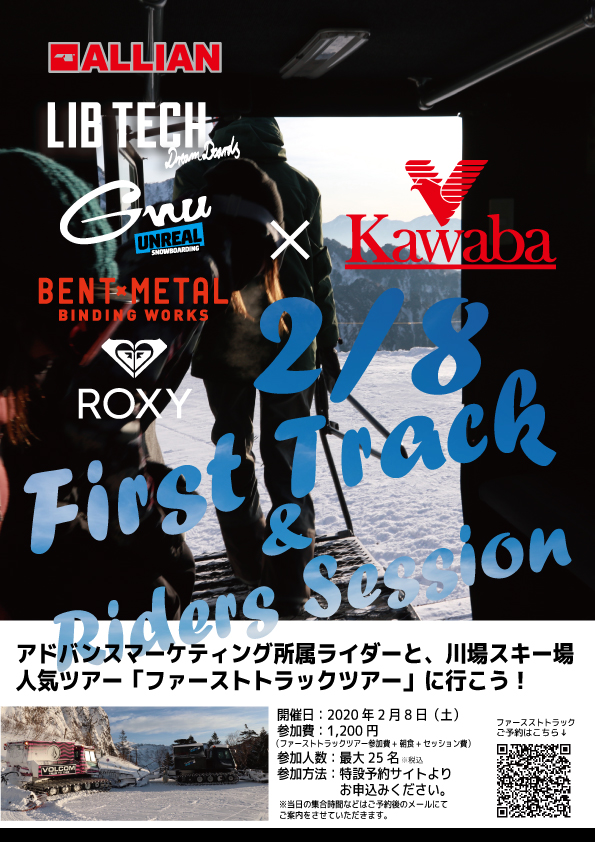 [Week target brands]
Moon:ALLIAN
fire:GNU
water:LIB TECH
wood:ROXY
Money:ROXY
soil:LIBTECH -BENT METAL
day:GNU-BENT METAL
* Target gear: ski or snowboard board (BENT METAL is for binding)
Furthermore, February 2th (Sat) is Brand Day!
The first track of the XNUMX-XNUMX model test drive event and rider session of ADVANCE brands will be held!
[Brand Day Fast Track]
Brand Day Special Fast Track Participation Fee: 1,200 yen
* Fast track participation fee + breakfast included
For reservations and details, please see the URL below.
https://ecw.kannet.ne.jp/users/kawaba/yoyaku/revstatus.cgi?code=554e0
The user test drive event in February is the first attempt, so please enjoy the test drive in good snow conditions !!