"YONEX" is a domestic brand that continues to make superior high-quality and high-performance snowboard gear by making full use of various technological capabilities such as cutting-edge carbon technology.With the success of young top snowboarders such as Yuto Totsuka, YONEX is now attracting worldwide attention, and models that make full use of innovative technology are appearing one after another in the latest lineup.It's been talked about as it leads us to the fun of snowboarding.
Under such circumstances, we are currently implementing a special project of YONEX, which is gaining popularity as a personalization that allows you to feel a deeper feeling for your own board.
That is the "own name service" for early purchasers only.
This is for snowboarders who have reserved a NEW model, and can enjoy their own original board by laser engraving their name and favorite words on the board.
The target of the service is the evolution system including the advanced technical boards "SYMARC" "SYMARC Mg" "THRUST" "THE C" equipped with ABSORB DECK that enhances vibration absorption and enjoys smoother and more stable turns. In addition to "GLIDE", "GRACE", and "LUVARTH", which are attracting attention as innovative free riding boards with the introduction of ISOMETRIC TIP, freestyle boards "REV", "SMOOTH", "SLEEK", "SMOOTH SHORTIE", and "LUVARTH" are constantly receiving high praise. "STYLAHOLIC" and all 12 models.
In addition, 5 models of freestyle boards can be customized to special white-collar workers.
The first 300 people will also receive an original tumbler with a logo.
This service will be available until July 2020, 7 (Friday).Delivery time is 31 days after receiving the order.With the desire to slip for the new season, why not get the latest model in search of your own originality.
I'm sure we'll have a more exciting season than usual.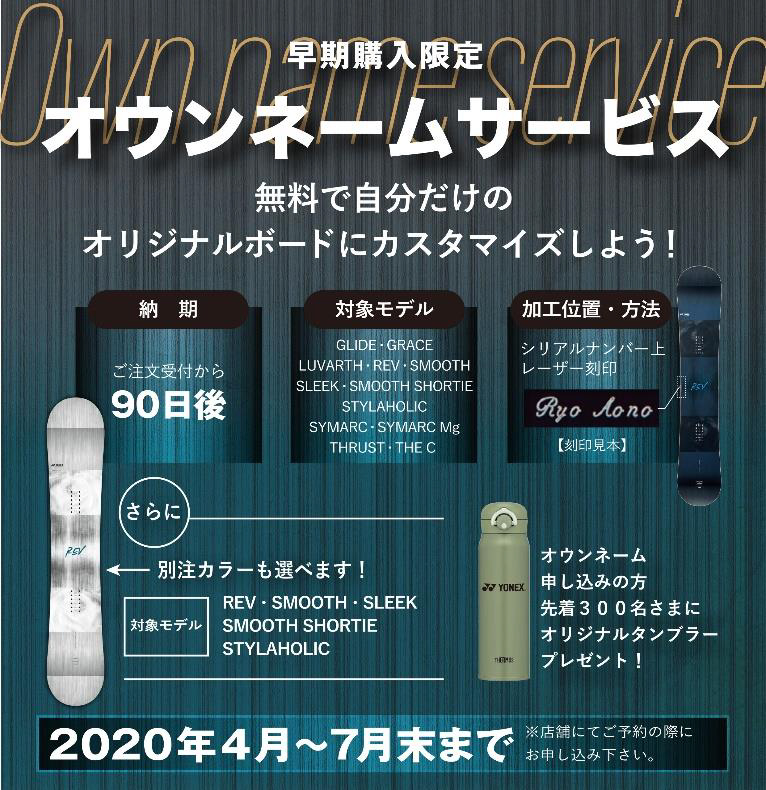 2020-2021 The latest digital catalog is now available !!