The snowboard season has arrived !!
You want to have fun on the slopes this season as well.
It's a new item that makes you feel like that.
In particular, clothing can change your mood as if you were renewed.
That's why I want to decide on fashion.If you stand on the slopes, you are sure to be seen by someone.
From the top of the lift, from the bottom of the slope, from the rest house, it is a place called the slope that somehow checks each other.
And in the pure white world of snow, the colors of the clothes you wear can be seen more clearly than in the city.
That's why wear is important and fashionable mind is important.So what kind of clothing should I choose?You're worried.
Therefore, here, in order to solve the problem of choosing snowboard wear, check the fashion trends and countermeasures for choosing wear!This time we will deliver the men's edition as the second part.★ Part XNUMX: Click here for Girls
COACH JACKET
Let's wear a coach jacket roughly and decide on a stylish gratri
A coach jacket that is a popular item this season as well.Anyway, if you can dress this style roughly, there is no doubt that it will be seen by snowboarders who are crazy about freestyle.Let's master some of our favorite gratri and aim to increase the attention!

Coach jacket + damaged jeans style pants
Outstanding matching
SANDS / 156114 (jacket) +156119 (pants)
The SANDS coach jacket has a removable hood.You can wear another hoodie on your inner and open the front on warm days to slip in a rough style.The coordination balance with the damaged jeans-style printed pants is perfect.Anyway, the outfit with full street style is the focus of attention.Let's dress cool on the slopes.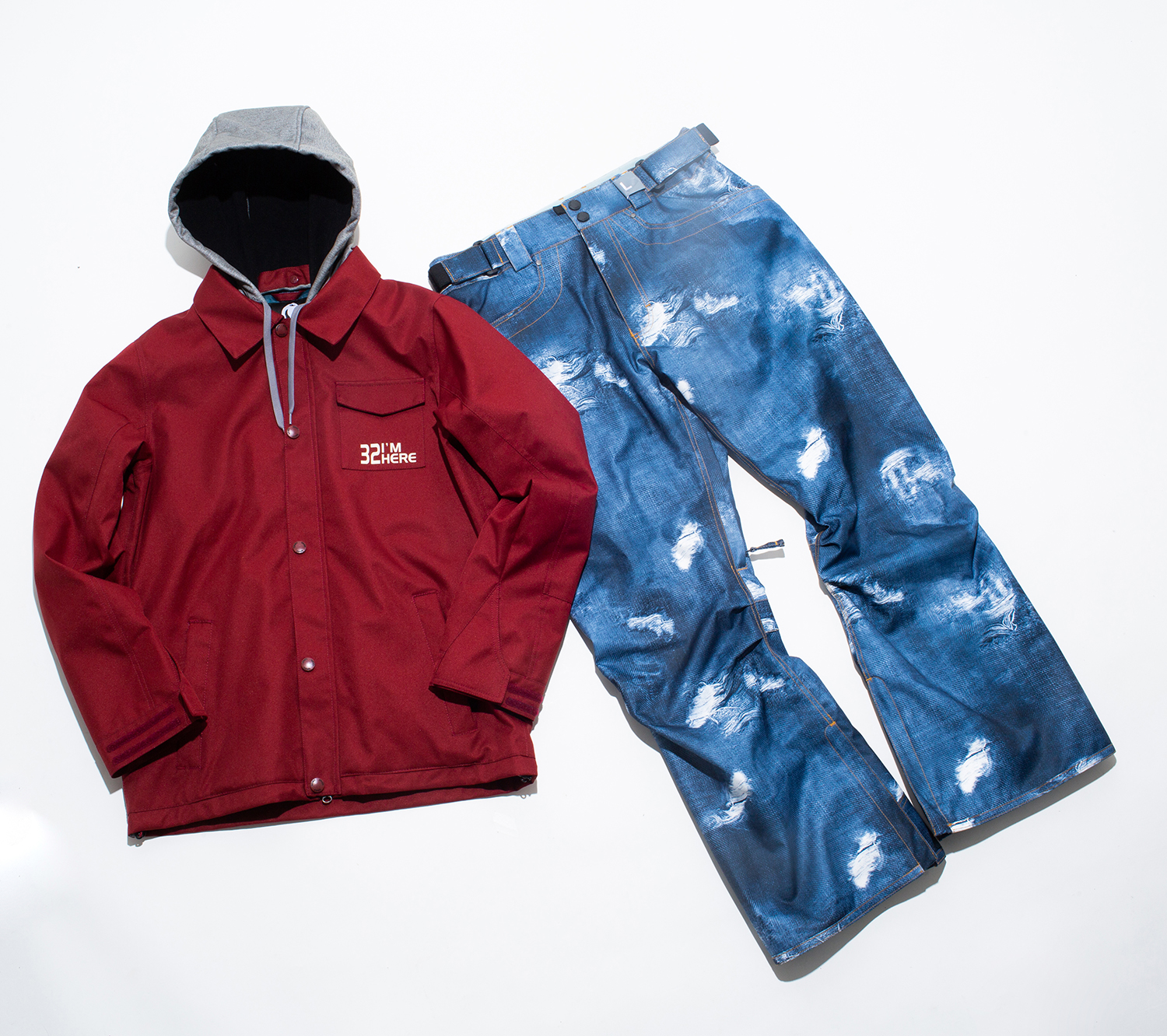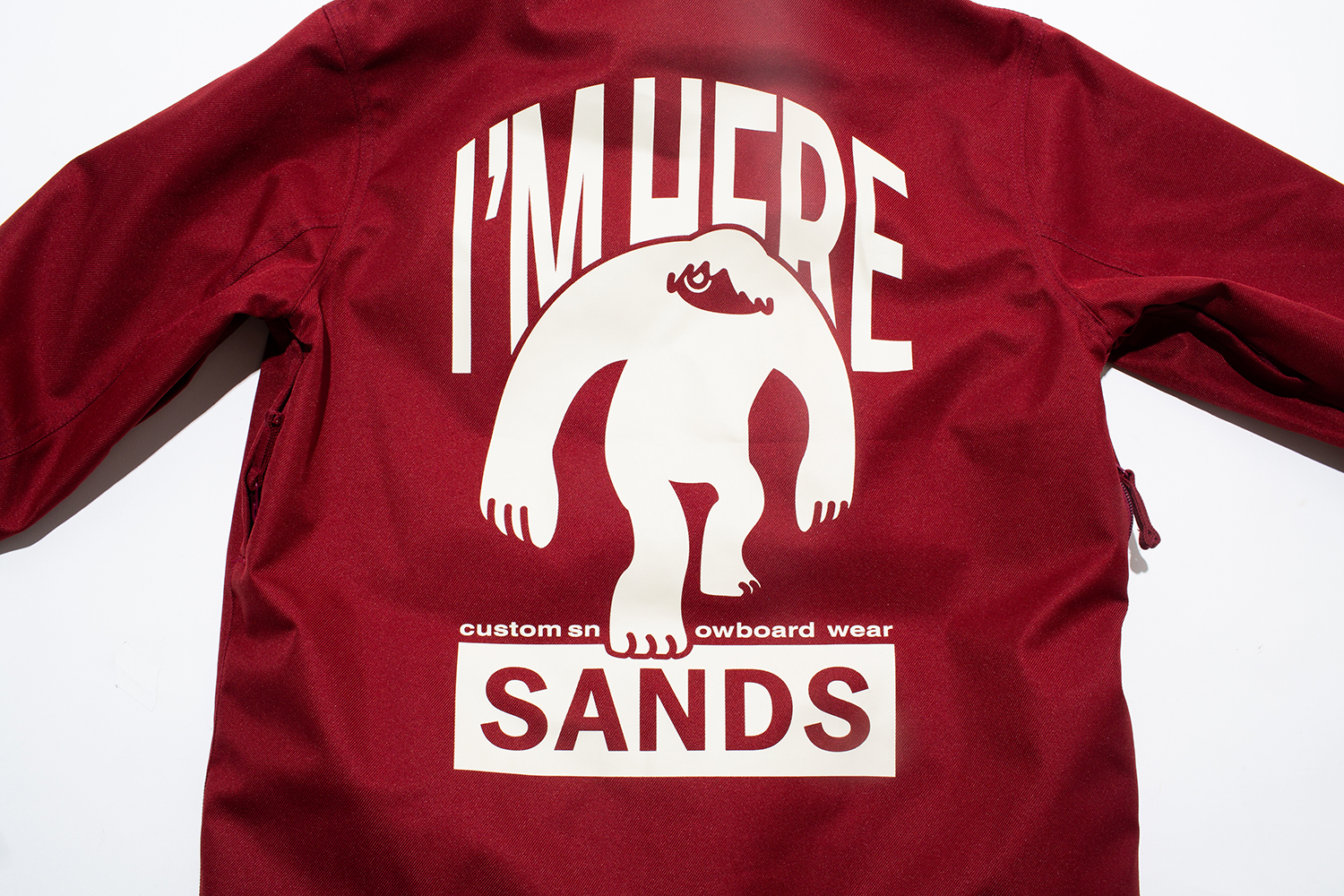 SWEATER
Simple and stylish pullovers are popular
The pullover type, which has a simple design and is light and easy to move, is still popular this season.Enjoy park riding, gratri, and freestyle riding with a lot of movement, and a stylish snowboarder purveyor item.Very convenient to use for town use.
Stylish color cut-back
New sense pullover
SANDS / 156115 (jacket) +156118 (pants)
A pullover jacket based on white and navy with red accents to create a sporty atmosphere.Lightweight anorak type with stylish hood print.The front pocket is also easy to use.The pants have a regular fit and there are many color variations, so you can enjoy the coordination with the jacket in your favorite color.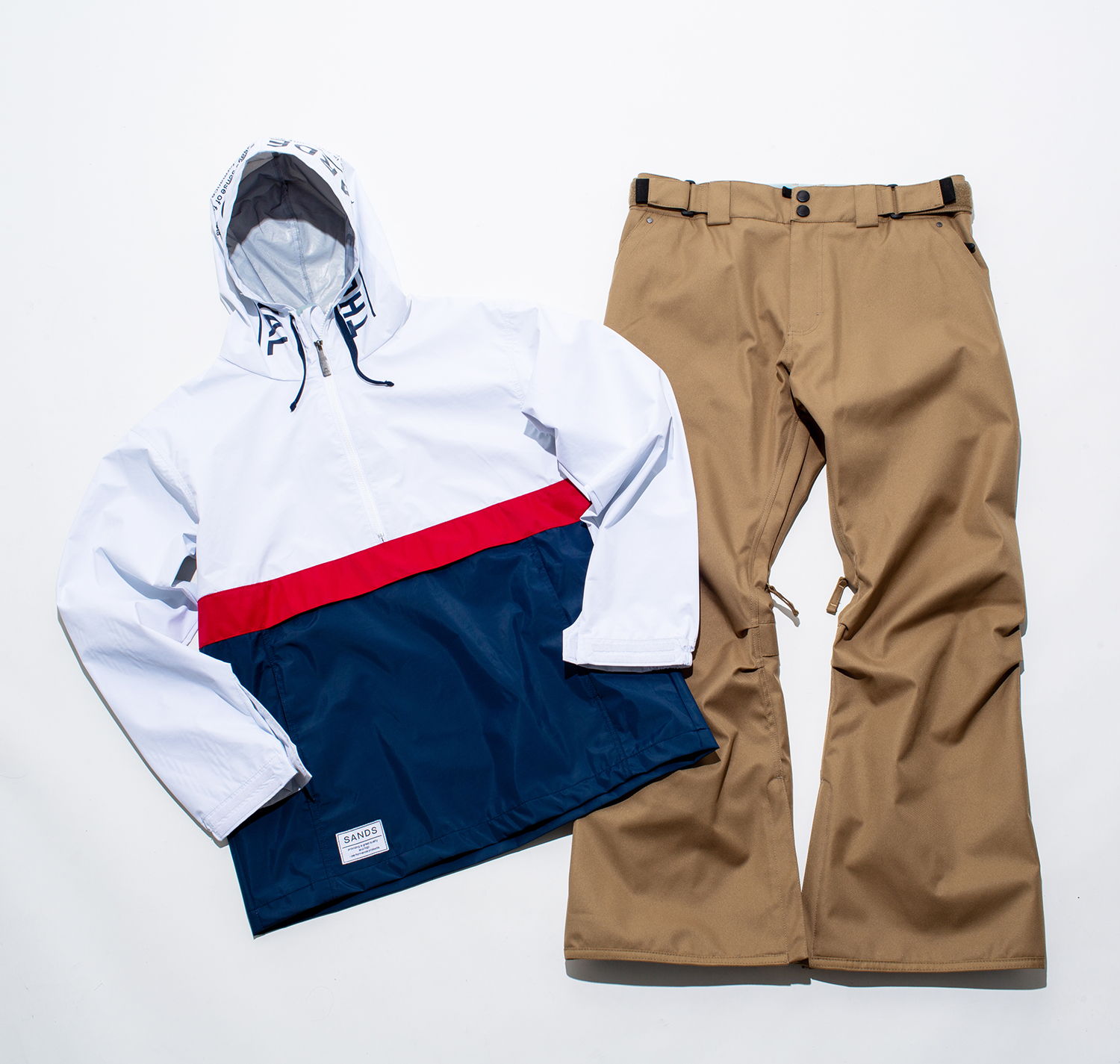 SPORTY
Simple and sporty to match any scene
A jacket with a simple color scheme that matches any scene, whether in the park or free riding.The front has a sporty color scheme and narrow lines on both arms tighten the silhouette.The color scheme of the jacket and pants will greatly change the image of your style, so it's the highlight of your sense.
The popular white-based jacket
Wide range of matching with pants
ARBN / ABJ9105 (jacket) + ABP9107 (pants) + ABG9123 (gloves)
Dark colors are still popular for jackets, but the focus is on white as the base color.Choose dark-colored pants for a white jacket that you won't find on the slopes, and enjoy a cool outfit.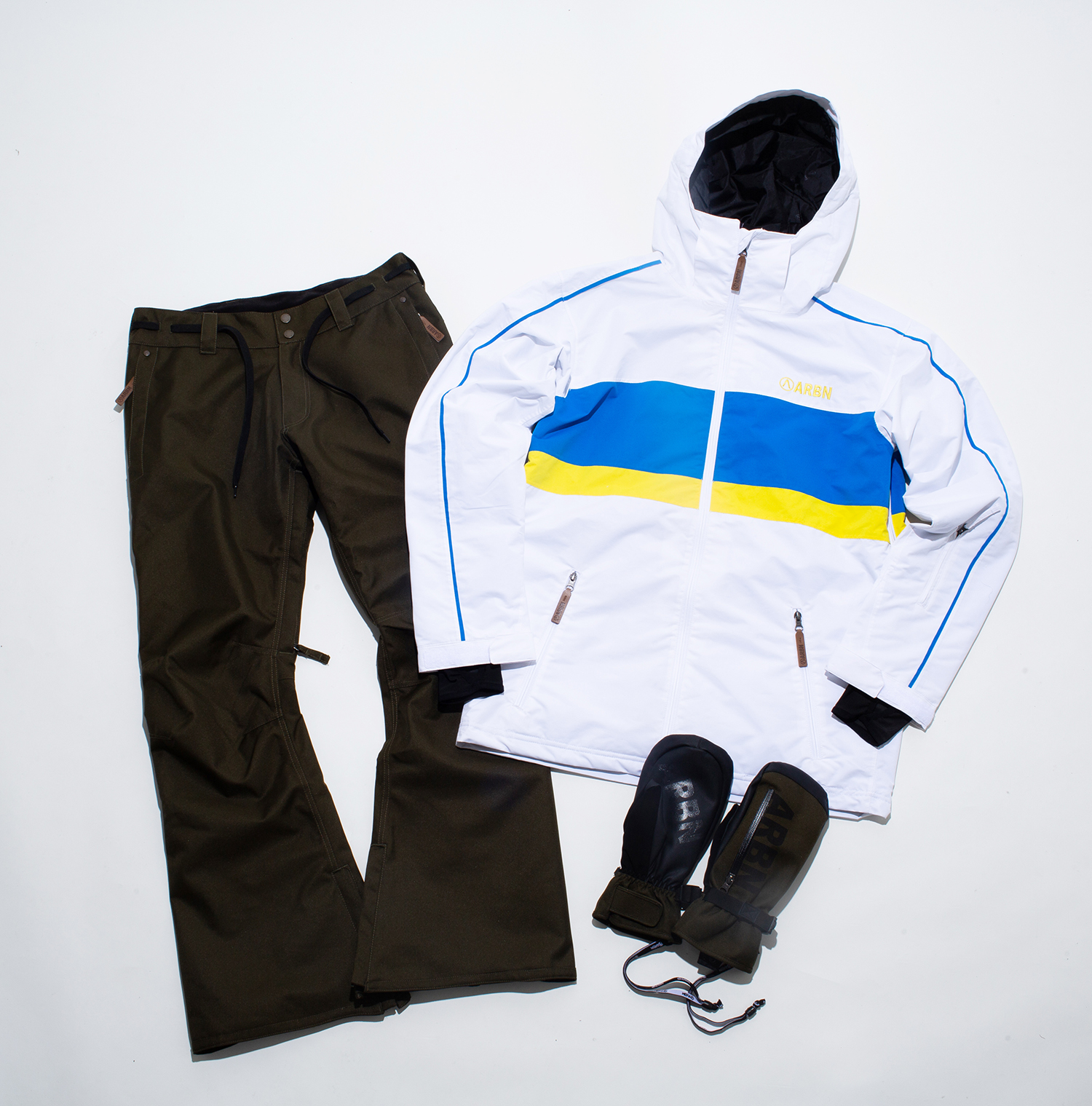 DESIGN PRINT
If you want originality, you should definitely choose a design print
On the slopes where there are many simple and dark clothing, the number one attention is the design print pattern clothing.Let's challenge the outfit of simple color pants with flashy wear this season.
Even with unique prints
Matches any scene
FUEL / FW11901P (jacket) + FW11908S (pants)
It seems that some people are not good at design print wear, but if the pattern incorporates these various colors, matching with pants is also GOOD. There are many stylish patterns in the FUEL lineup, so be sure to check it out.There are many variations in the color of the pants, so make your choice with your own taste.The fabric of the pants is also made of slab material, giving it a luxurious feel.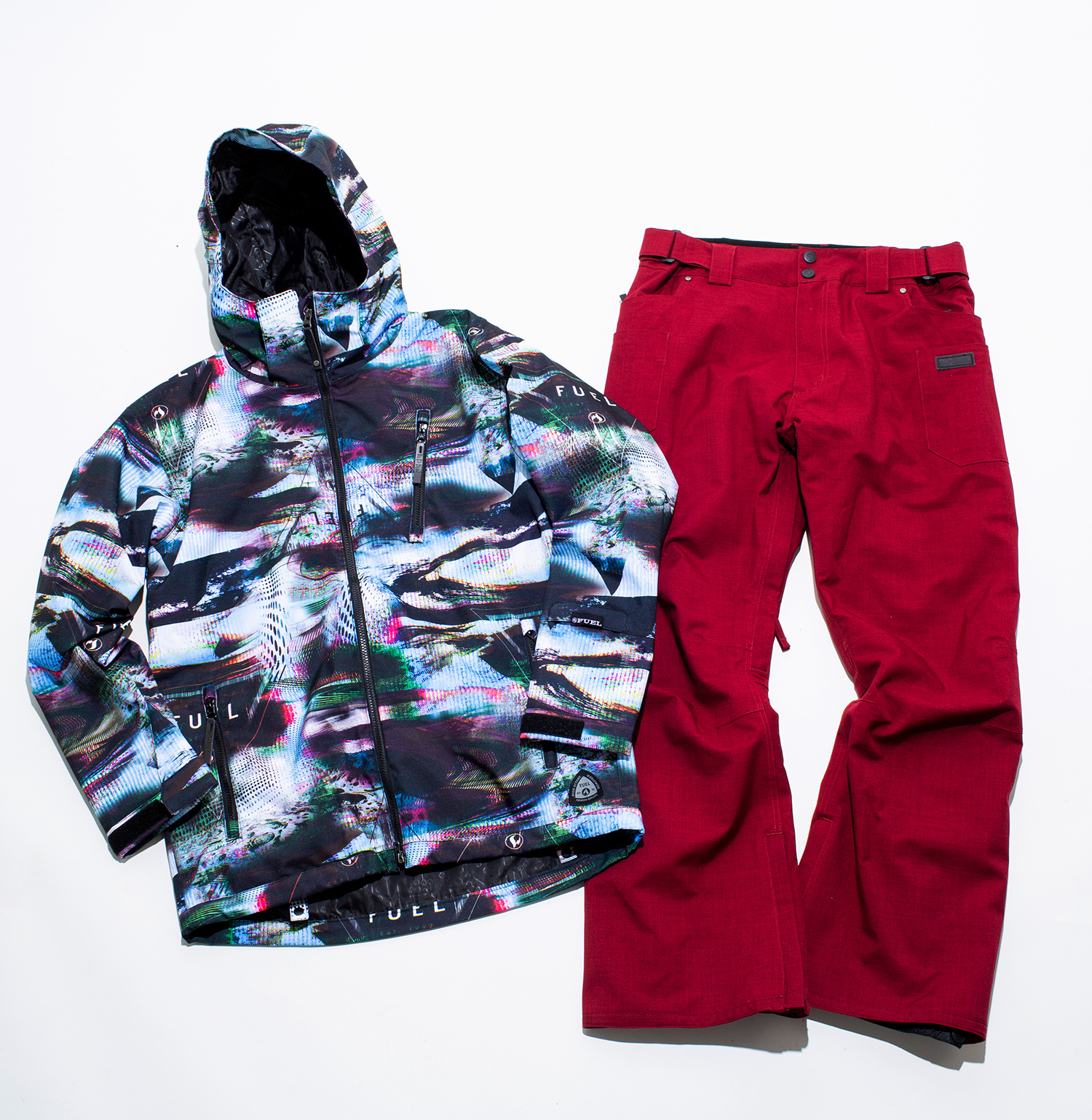 BASIC & ONE POINT
Appeal your personality with a casual accent
Snowboard wear is different from everyday wear, so I want to put some playfulness in it.However, for those who think that bold things may not suit you a little, while choosing basic things, you can appeal your individuality with something that has a solid one-point accent.Let's introduce such a model style.
The front is seemingly simple but accented with a unique zipper
ARBN / ABJ9103 (jacket) + ABP9106 (pants) + ABG9122 (gloves)
The front has a zipper that reminds you of a shark, and the back has a stencil-like message and a shark teeth print drawn in a similar color to emphasize your individuality.It's not too thin, not too thick, and the silhouette looks just right, so the outfit looks smart.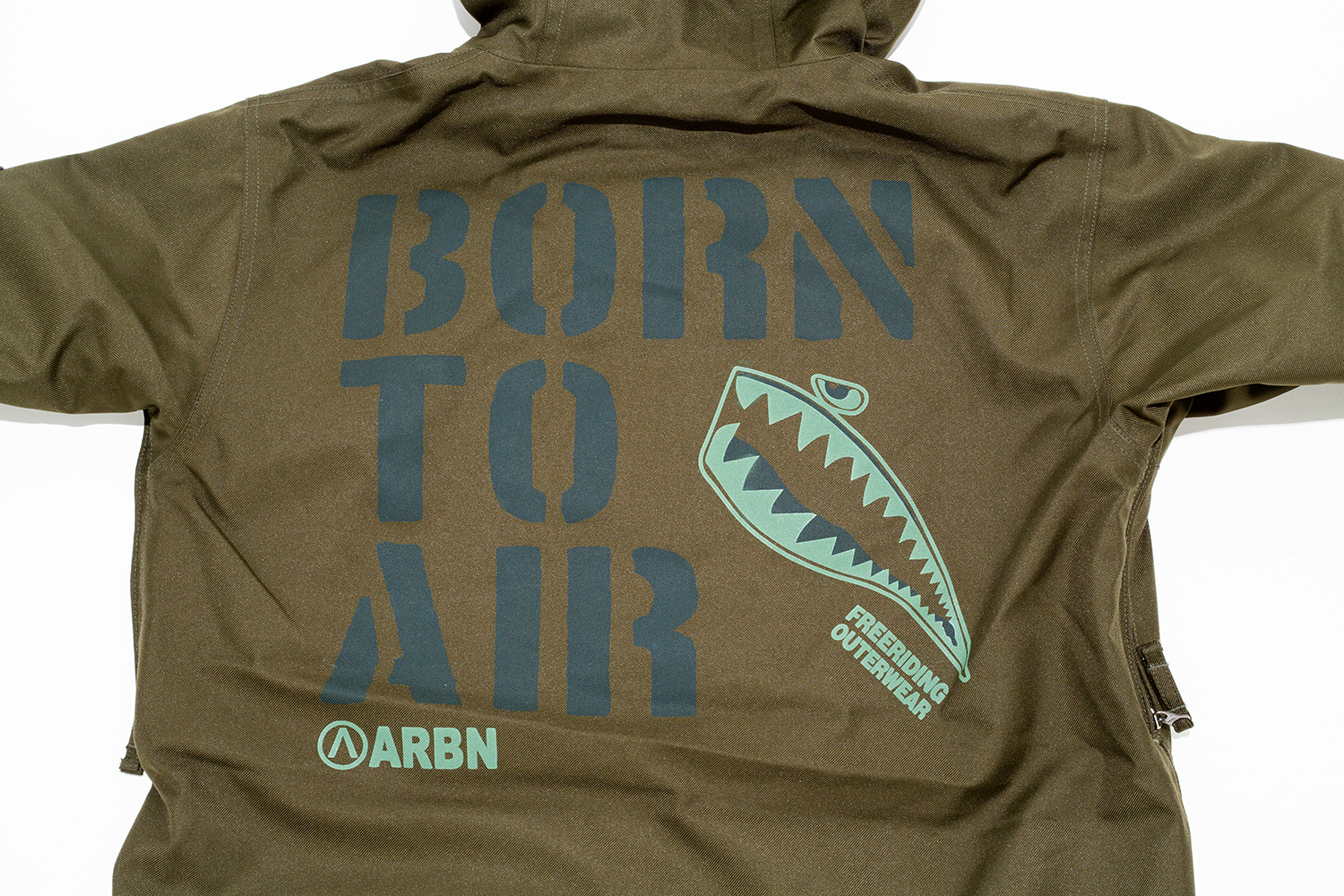 Enjoy the cool asymmetrical design
FUEL / FW11901S (jacket) + FW11908P (pants)
Asymmetrical design wear with a different color on the left sleeve has the fun of changing the atmosphere depending on the viewing angle.Above all, there is no doubt that the bold color cutbacks of orange and black will shine on the slopes.Matching with pants with orange stitching in a real denim style is also GOOD.The pants have a bold cut and are easy to move.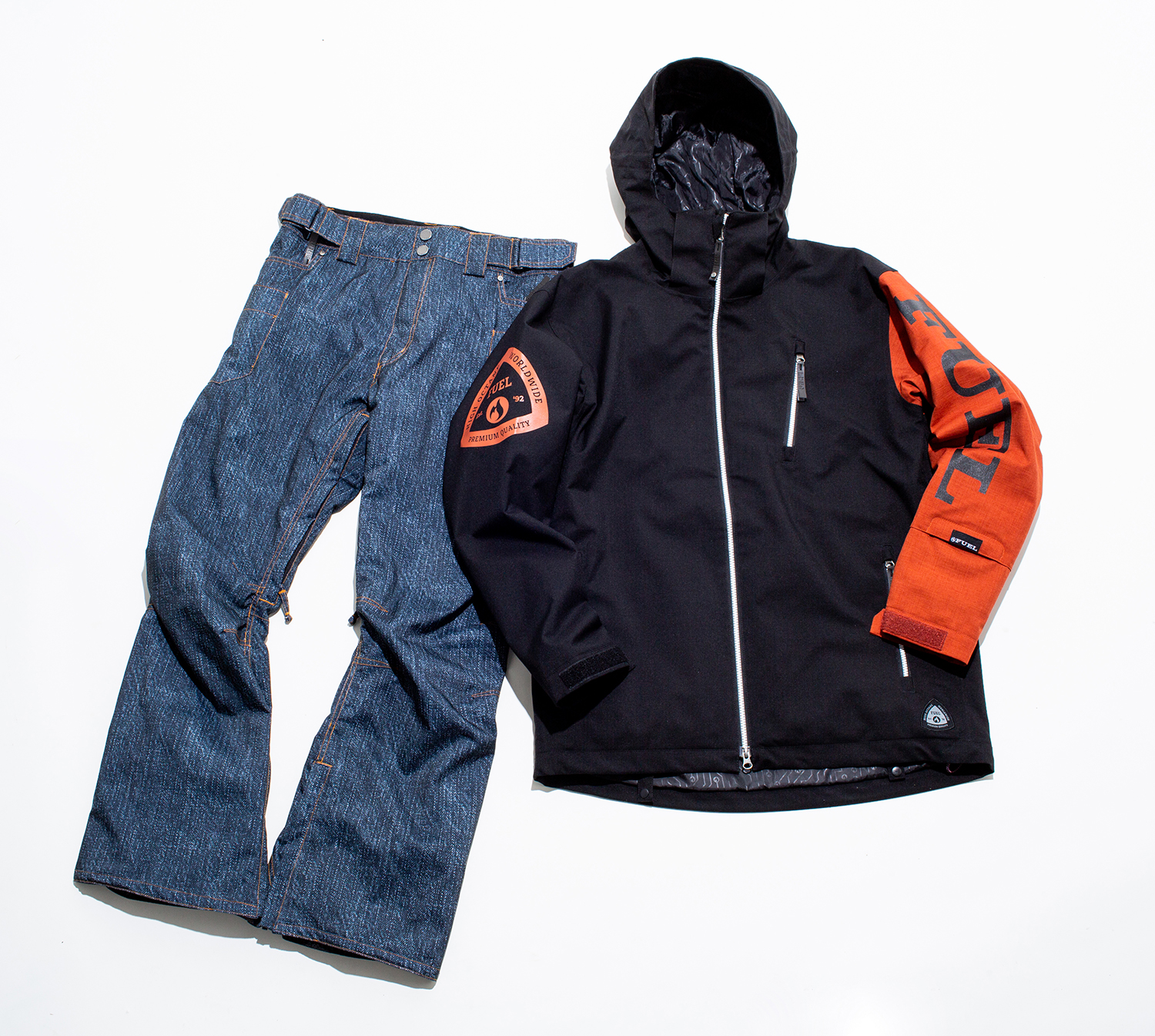 Part XNUMX> Click here for Girls
ARBN BRAND PAGE
FUEL BRAND PAGE
SANDS BRAND PAGE
Click here for the lineup (digital catalog) for this term.