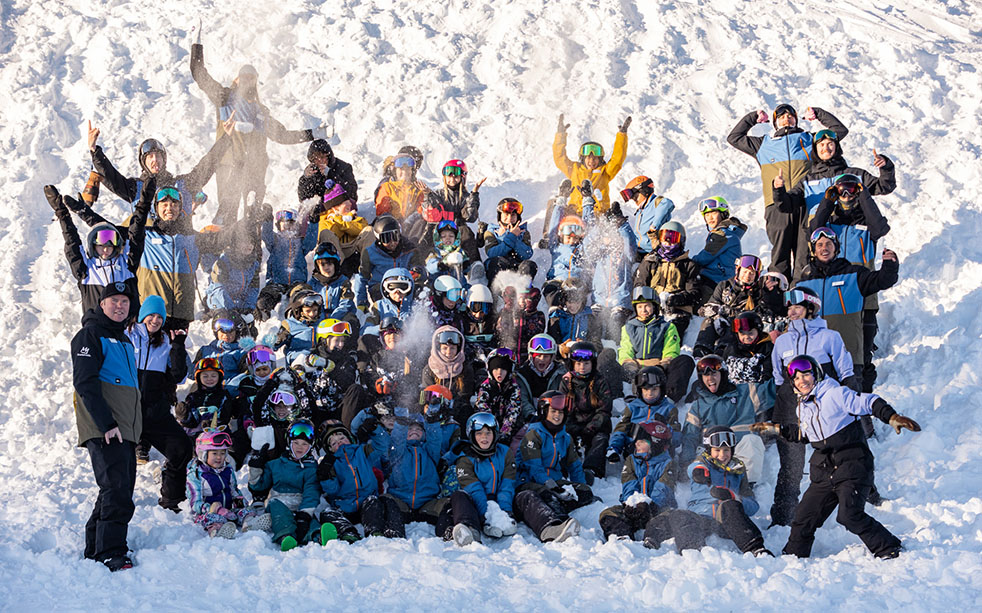 In recent years, the rise of young Japanese snowboarders has been remarkable.How do they acquire the skills to be active in the world at such a young age?A serial project that focuses on the next generation, especially children up to the age of 13 who can be registered for FIS competitions, and explores their development environment.Yukie Ueda, who spent a period as a professional herself and now actively supports her son's activities, based on the commonalities and differences seen from the characteristics of the snowboarding environment in Japan and the United States that she actually saw. Consider.The second chapter is about the practice environment of the American Mammoth.
Photo & Text: Yukie Ueda
---
Booming economy, America's leading ski resort
In early November, the winter season began at Mammoth Mountain, California, one of America's leading snow resorts.Due to a large amount of snow, the opening was brought forward one week, but the opening at this time will be as usual.America opens up mountains as soon as there is snow to advertise the start of the season.
As a result, the occupancy rate for weekends has been 100% since the beginning of the season, and reservations cannot be made anywhere.Of the 25 lifts in total, only 2-3 are still in operation.Even so, the one-day ticket started at a price of $1.
Variable lift ticket prices are expected to rise to nearly $300 during high season.When converted to Japanese yen, a one-day ticket costs 1 to 2 yen.In addition, how much will a family trip cost when accommodation and food costs rise this year?Despite this, people are flocking to resort areas.The way money is spent and the way resorts are enjoyed is far from Japanese.
At one of America's leading ski resorts, my son decided to join the snowboard team for the fourth time this season.I think that there are some interesting hints hidden in the flow of money and the activities of the team in the United States, which may be difficult to imagine.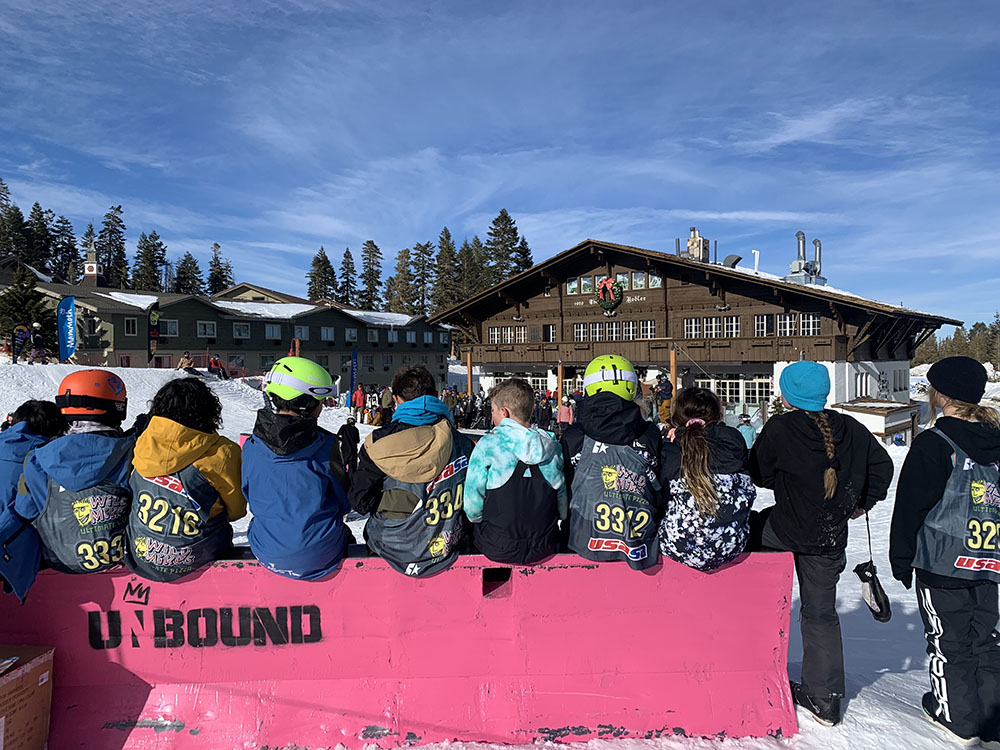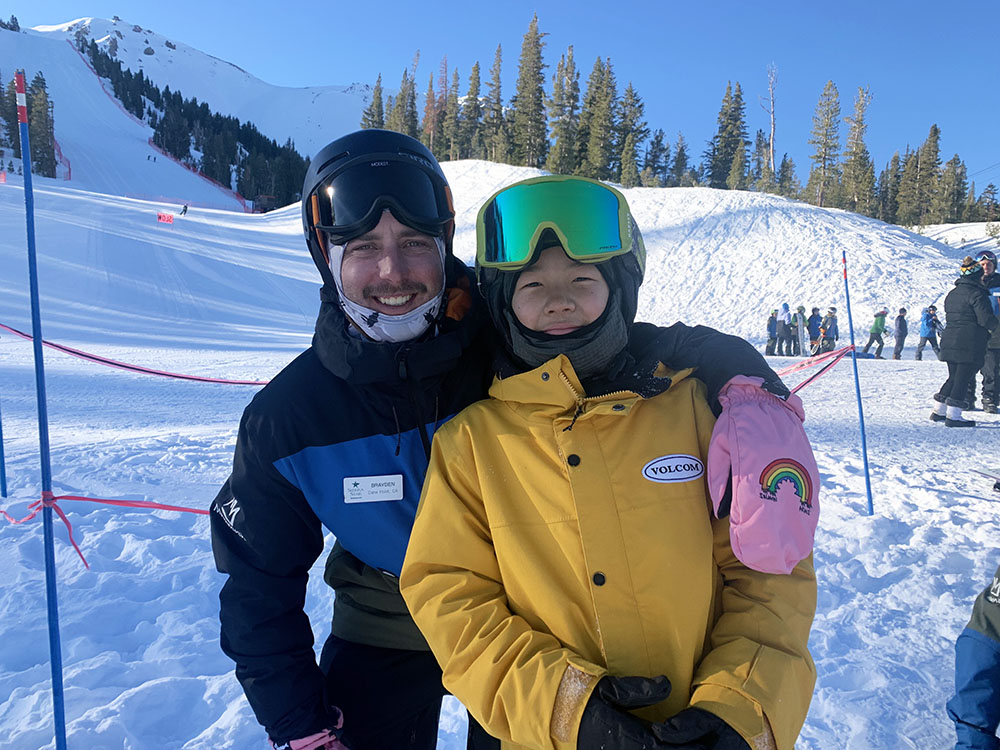 prestigious snowboard team
The mammoth snowboard team, which my 11-year-old son (Tora) belongs to, is for snowboarders aged 6 and over, and there are children who come from far away (LA, San Diego, etc.), mainly from the local area.There are classes that use weekends for lessons and club activities, as well as full-fledged training classes that aim to become top athletes every day.Athletes from this team include many current Olympians and industry leaders such as Chloe Kim, Maddie Mastro, Brandon Davis, Judd Henkes, and Dusty Henriksen. It is an existence that can be said.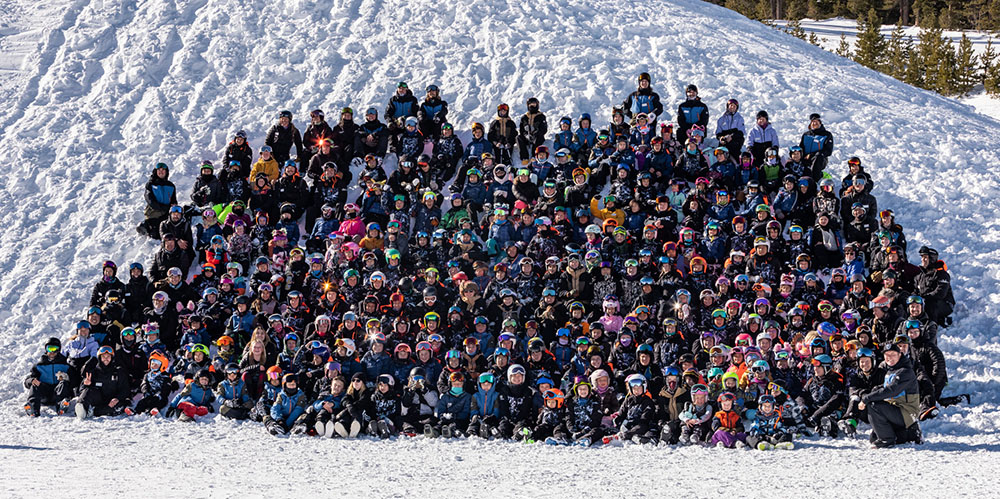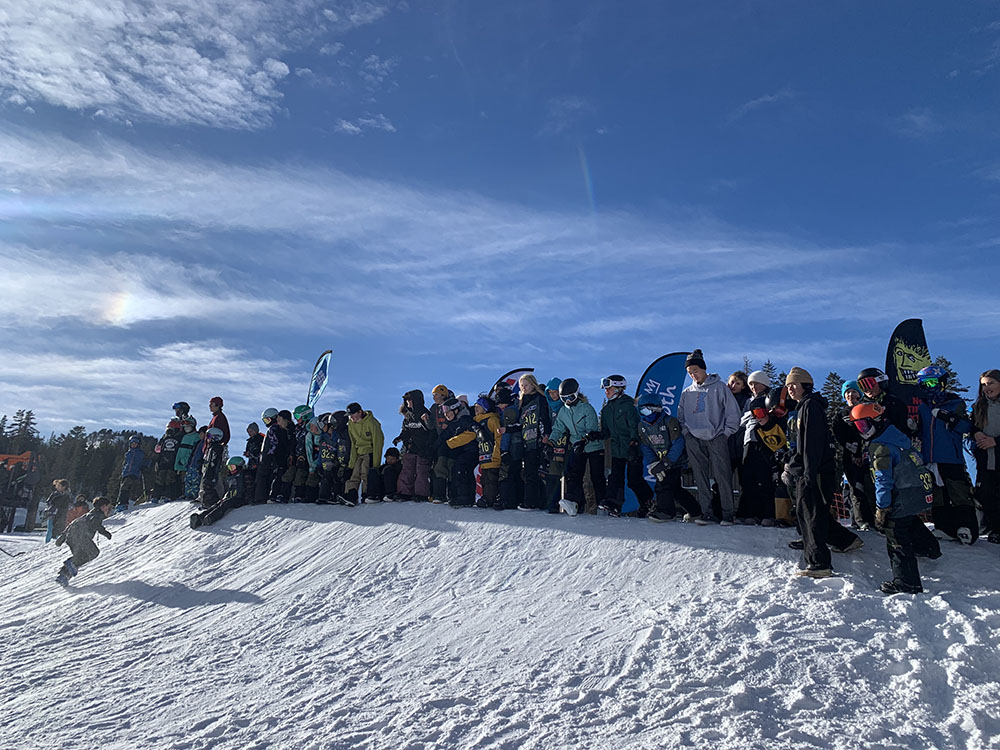 Teams are organized into six groups. 6-6 year old MINI SHREDDER, 8-9 year old Development Team, 12-13 year old Junior Team, 20+ year old Big to hone freeride skills Mountain Team (big mountain team), Elite Team (elite team) made up of selected athletes aged 9 and over, and Homies Team (friends) made up of selected athletes aged 13 and under.

Tora will belong to the newly formed Homies this time.Although they are not yet old enough to participate in FIS races, they are in earnest aiming to compete in competitions.The fact that there is a demand for this age group from this year probably means that the children who want to compete in earnest in the United States are getting younger.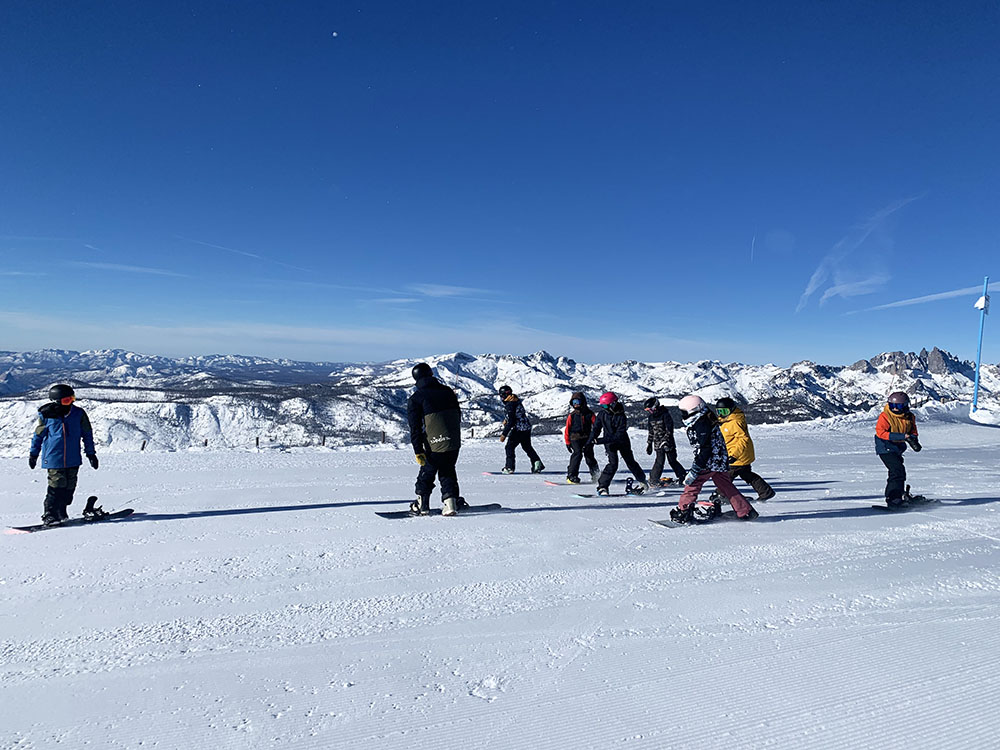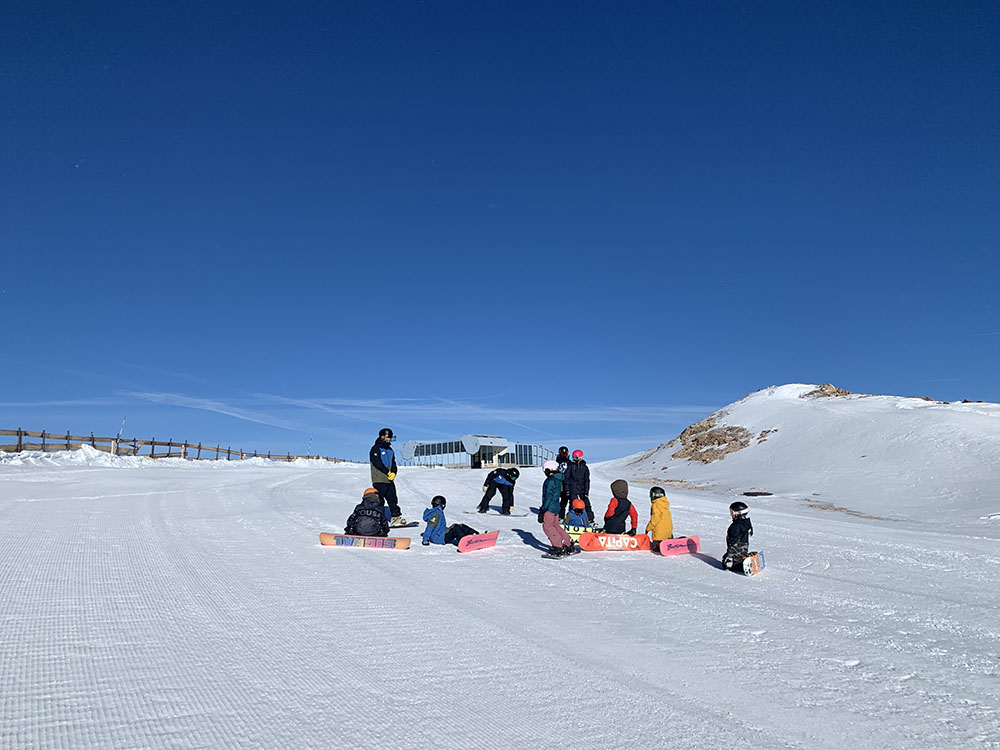 We teach snowboarding from the basics, and 50% of the training is skiing the entire mountain, focusing on improving overall technique.In addition, they are trained to handle all types of competition (halfpipe, slopestyle, GS, SL, snowboard cross, rail jam), and after 9 years old, who have the basics, further technical development according to their technical level and individual needs. It is the flow of going.
The number of skiing days varies depending on the level of the team, and the cost is discounted at nearly half the usual price if it is local.In addition, there is a scholarship system that allows students to receive support for expedition expenses if they achieve good grades while maintaining their studies.Looking at this kind of system, I feel that the region is also pouring in efforts to develop local players.
The cost varies depending on the contents, but it is about $4,000 to $9,000 for one season.It's not a cheap price for Japanese people, just like American prices, but I think this curriculum, which manages and coaches for nearly 6 months during the season, is very valuable.
Elite teams, defined as 'a team of capable players with the skills, attitudes, maturity and work ethic of a great player', are where kids aspire to be.It's not just technical skill that's important, but also the human nature that serves as a role model is emphasized.An environment where children grow up while imitating the things they admire, this is also a place of learning different from school.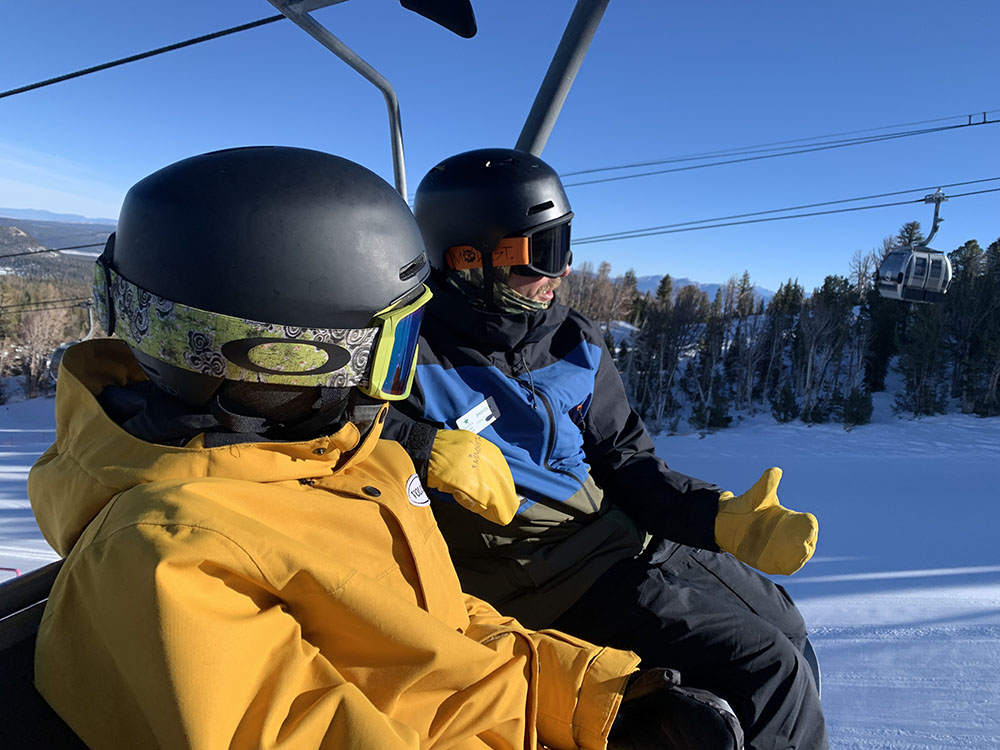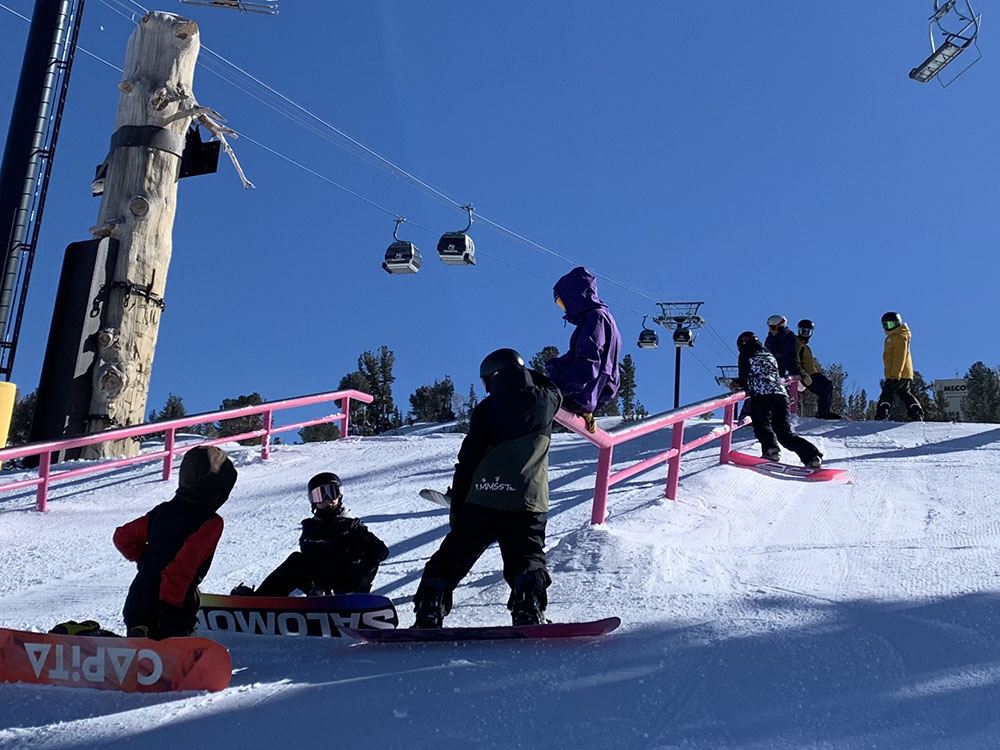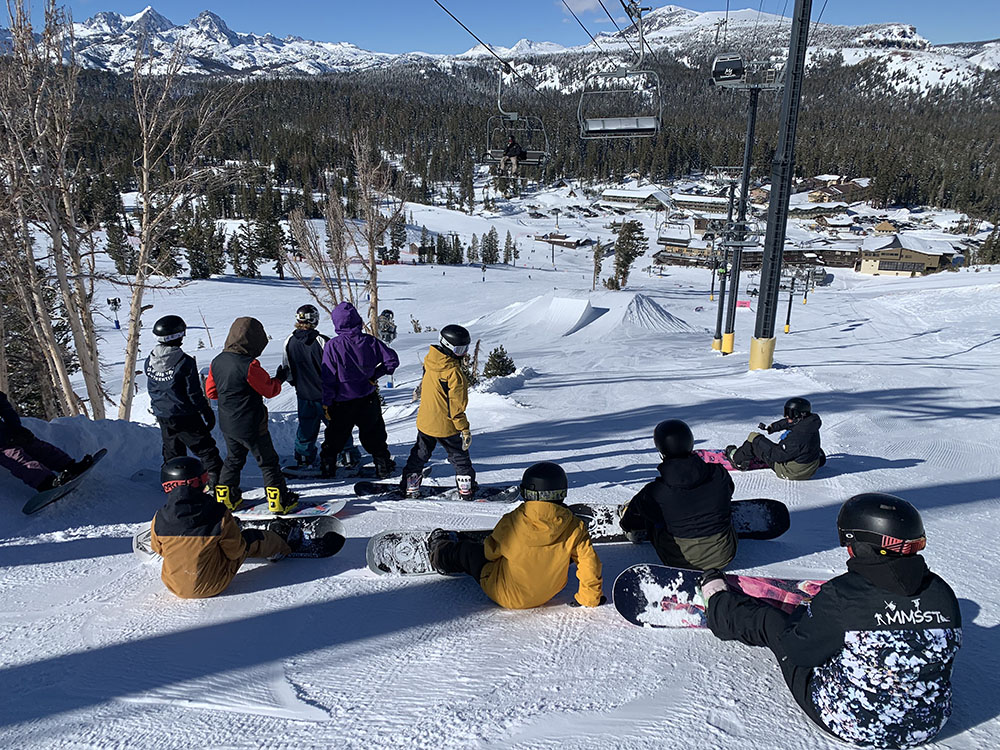 Snowboard team activity
This season, the Homies team works five days a week from 8:3am to 5:11pm. It is about 4 days from November to April.Therefore, school classes use the American school system called home school.This system is used not only for snowboarding and sports, but also for those who want to make use of their special hobbies and individuality because they can take classes online.Since they can attend classes without going to school, even if they devote themselves to sports, they will not lag behind school education.It is possible to get excellent grades at home school or go on to a high-level university.
By the way, in previous team schedules, I was able to balance school and the snowboard team without using home school.In the morning, they go to school in their snowboard clothes, and after lunch, the chimes of the team go to the mountains.Afternoon classes are elective classes such as music and art, so there is no problem even if you miss them.This is a different aspect of the current Japanese school system, in which snowboarding practices and competitions require a break from school.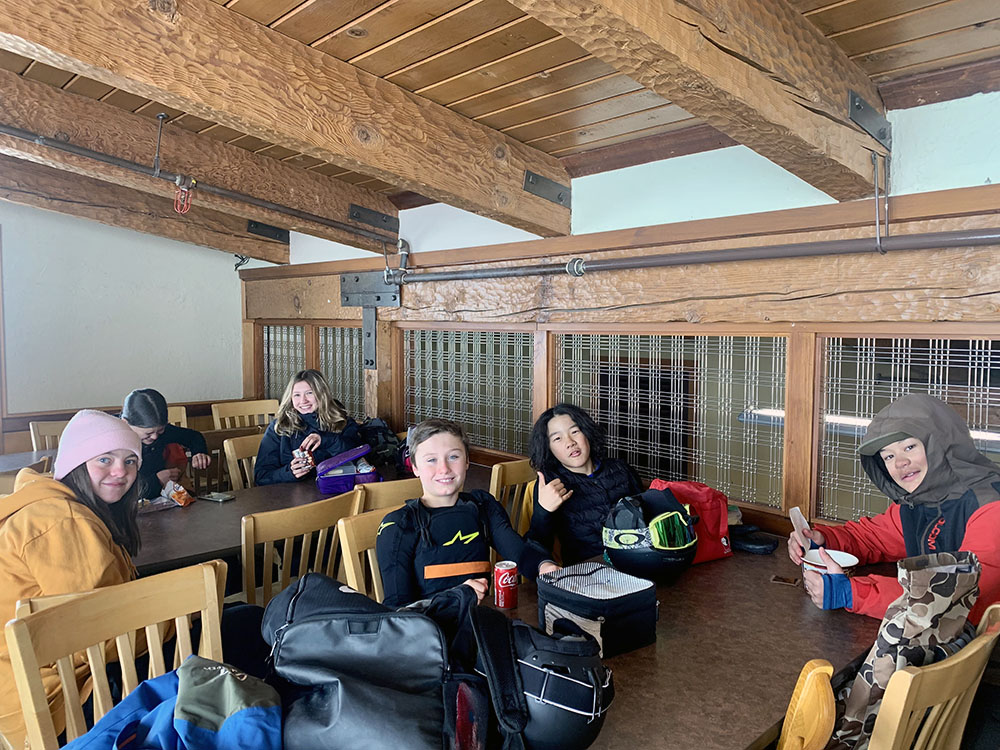 Training starts at 8:XNUMX in the cold winter morning.After doing warm-up exercises at the meeting place, I got on the lift.It is the steepest slope to go for acclimatization. "Don't blow your teammates away!" shouted the children as they zipped down the steep slope at high speed.Sometimes with a switch stance, sometimes I slide down the bumpy hard slopes of uncompacted snow.If it's powder that morning, I'll fly over the cliffs.Cultivate a sense of speed on big snowy mountains, and improve your snowboarding skills by skiing on all kinds of terrain.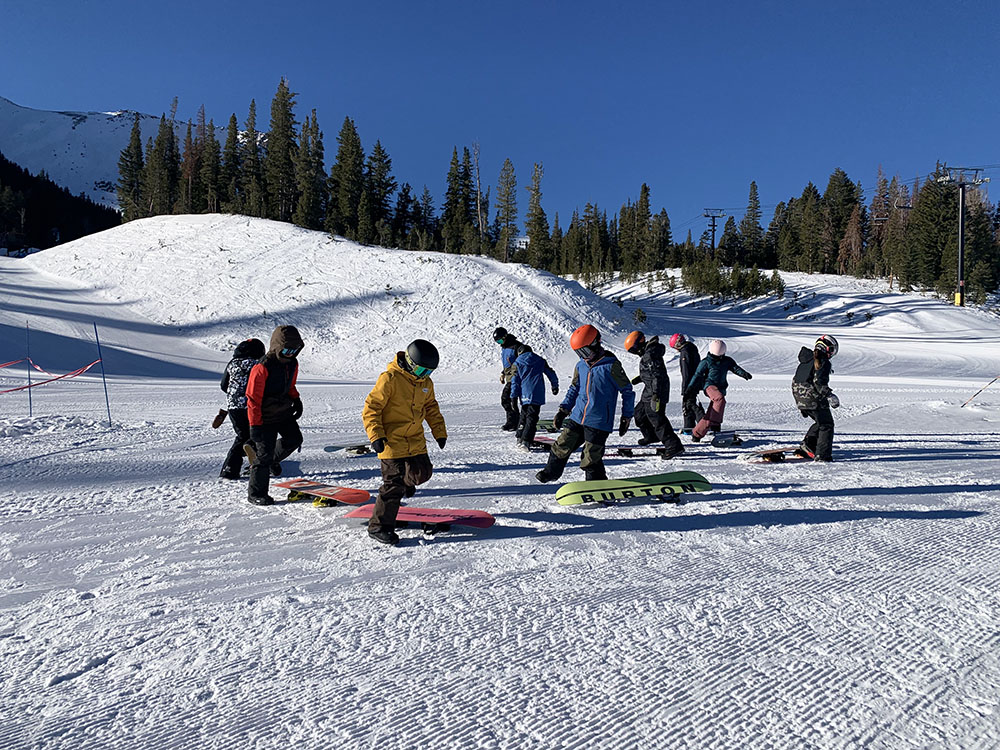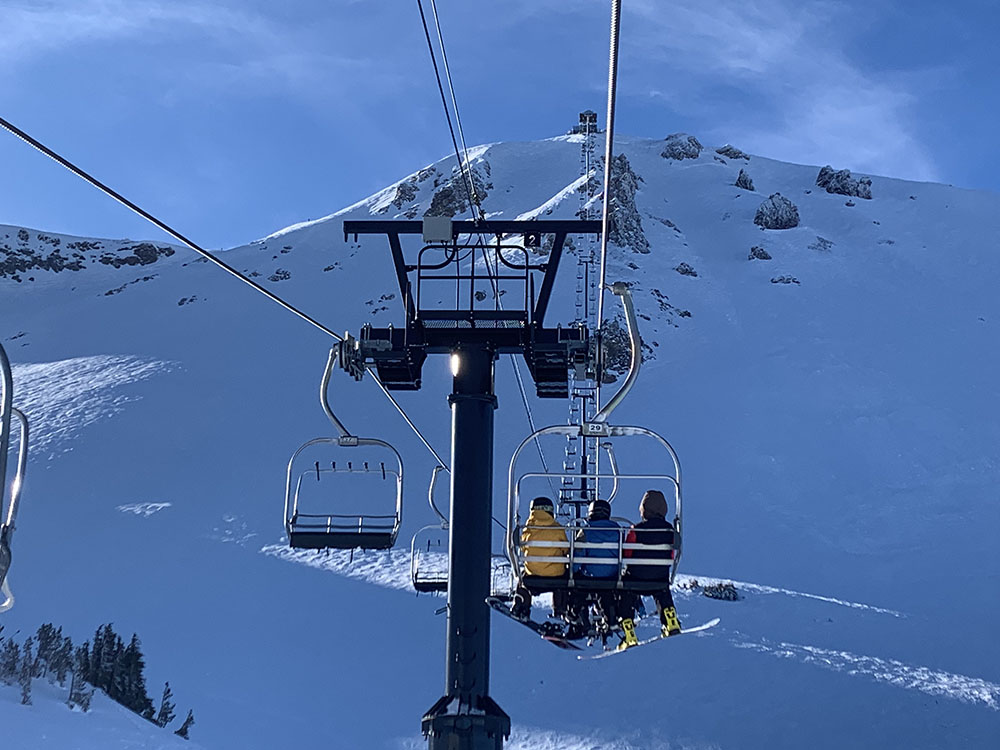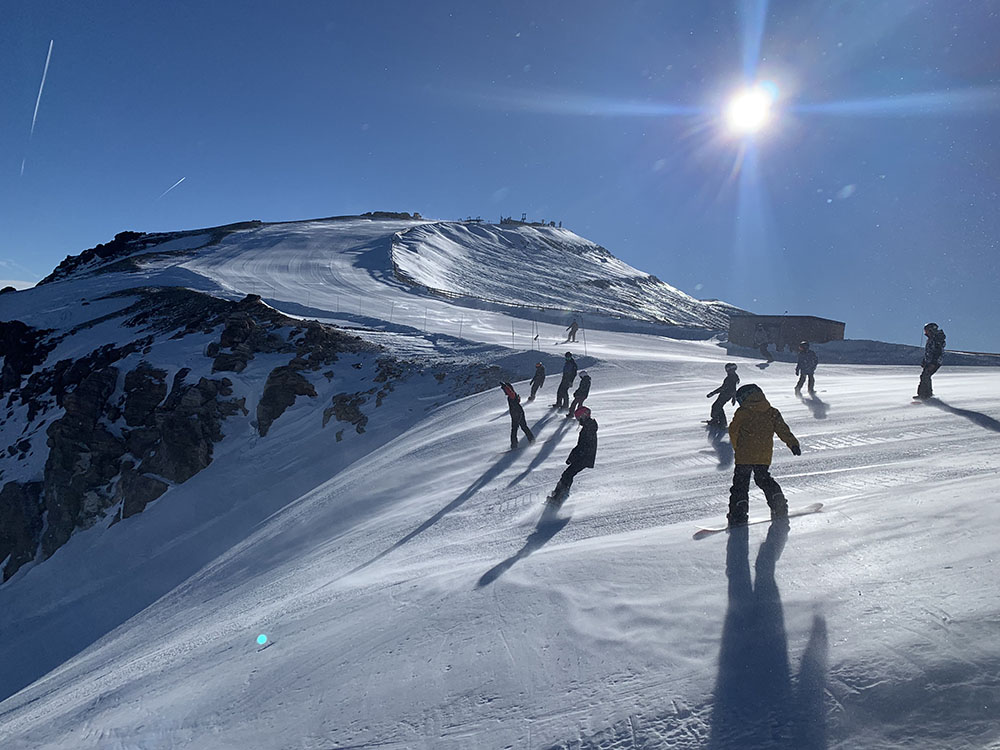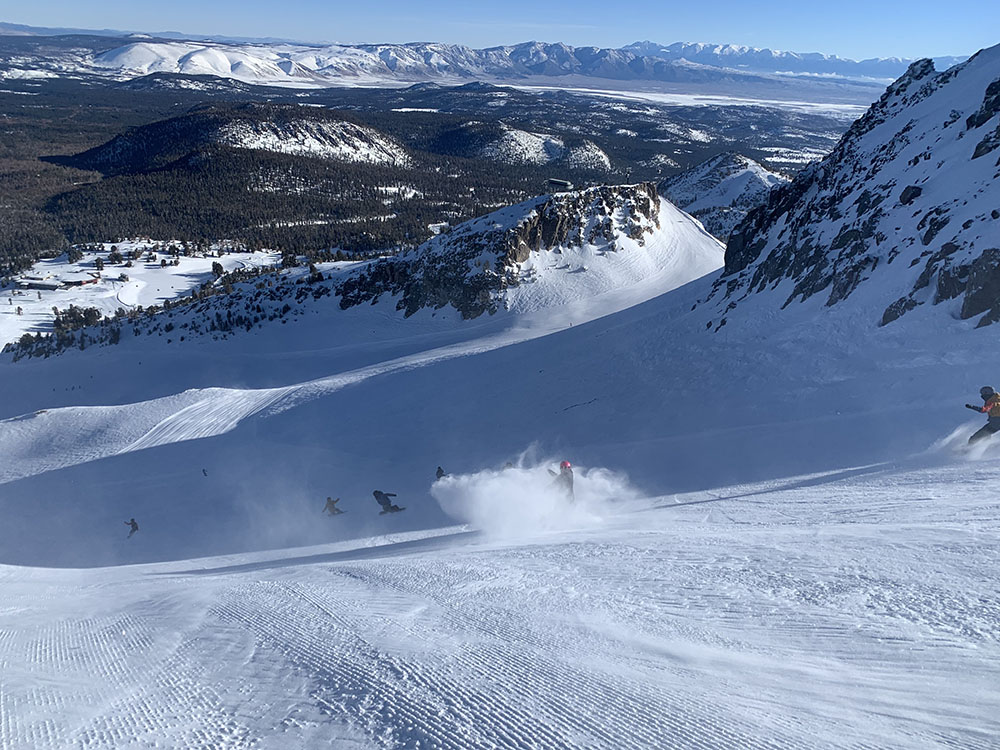 The mammoth park is divided into levels from beginner to advanced.Elite teams practice with jib items and big kickers in the main advanced park, and mini shredders practice with boxes and mini jumps in the beginner and intermediate parks.
There is also a half-pipe in the park, so you can practice on the lift, and you can also practice snowboard cross, GS, slalom, etc. according to the competition.If you are in the same area, you can see different teams cheering each other from the lifts and softening each other's tension.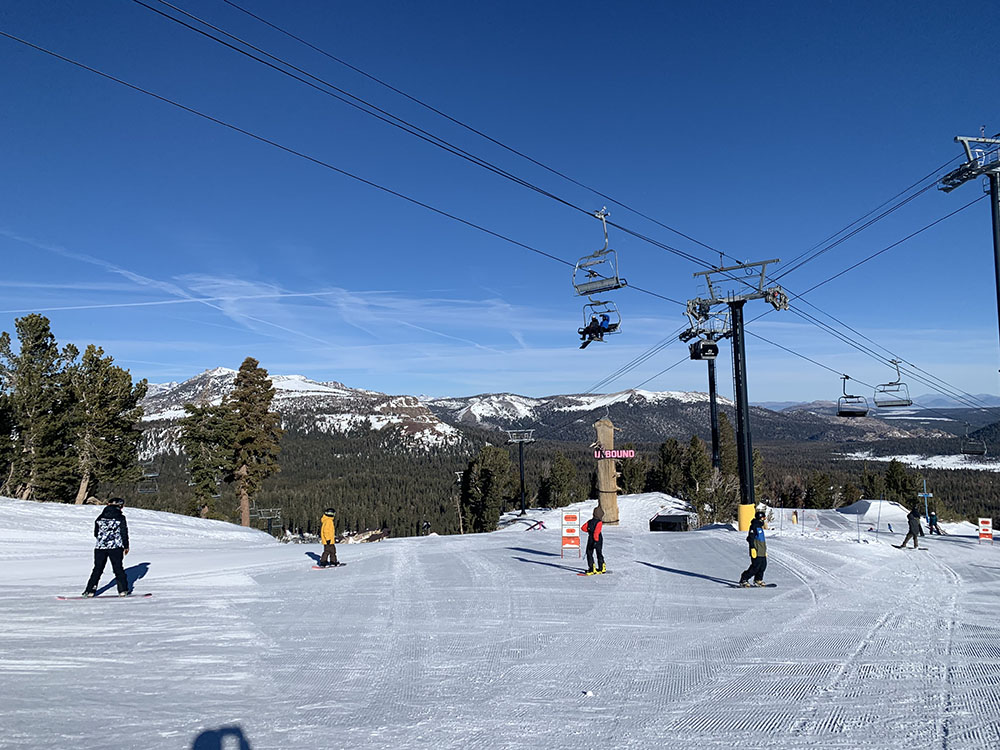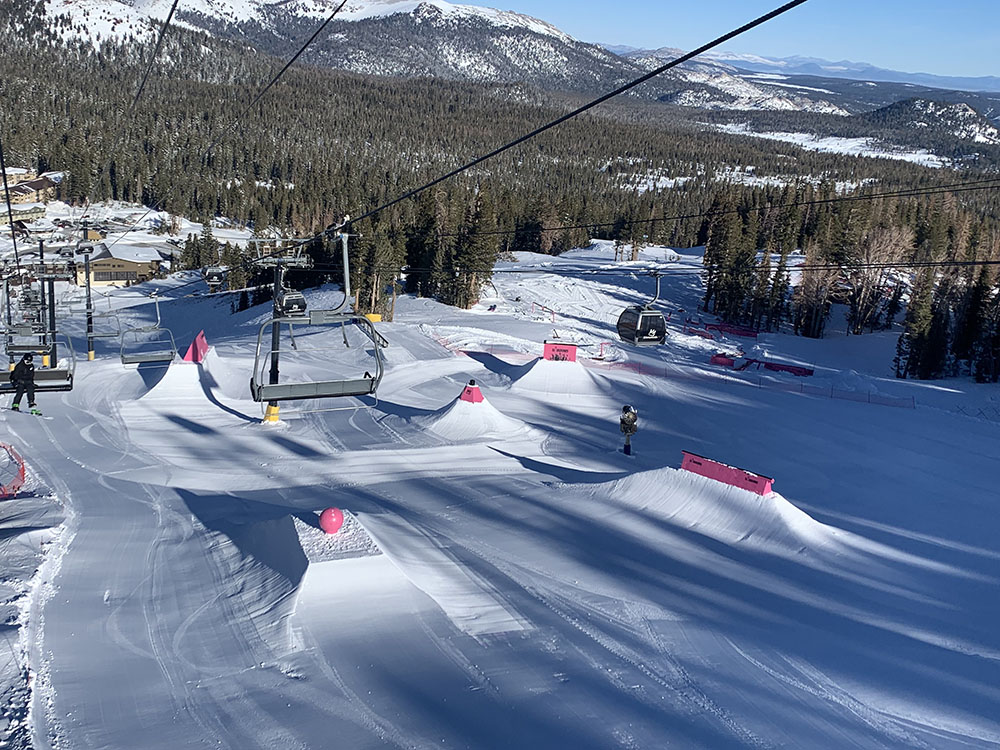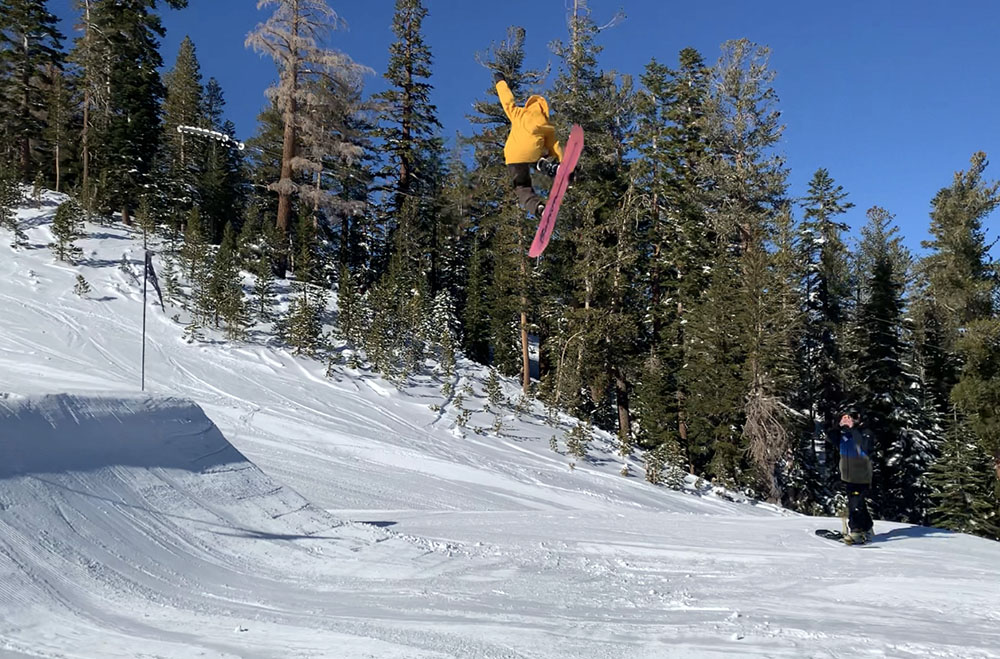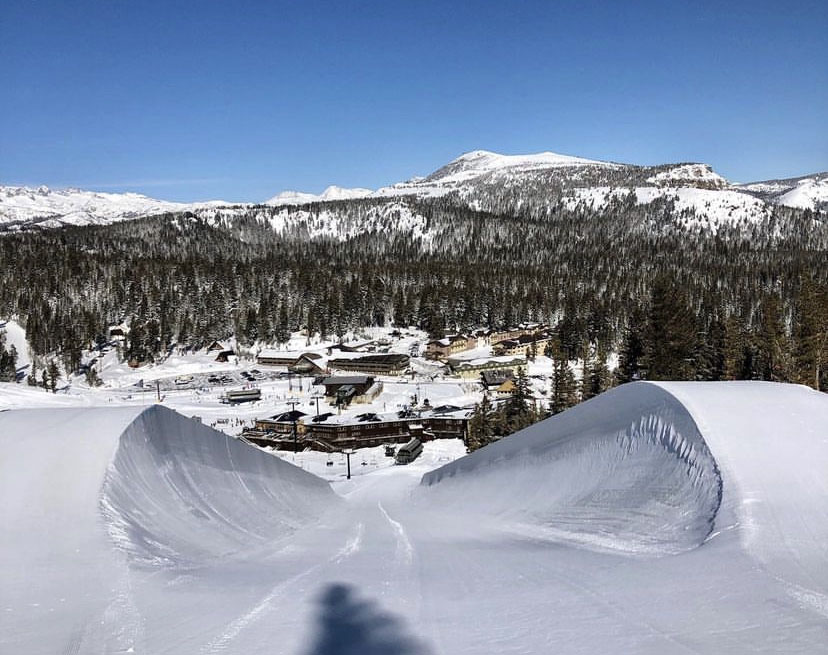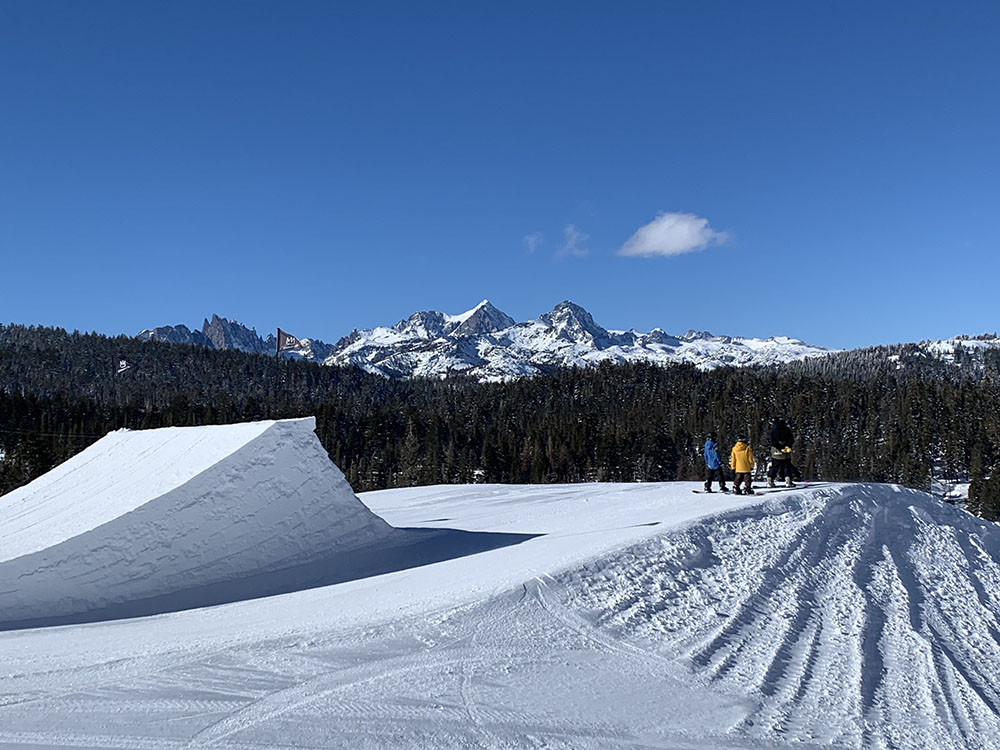 Team training incorporates trampoline practice twice a week.After snow mountain training, go to the gym, put on a trampoline board and learn how to use your body and rotate.Although it is not as good as Japan's airbag facility, it is a good environment to be able to practice with a coach in an indoor facility that is not affected by the weather even during the season.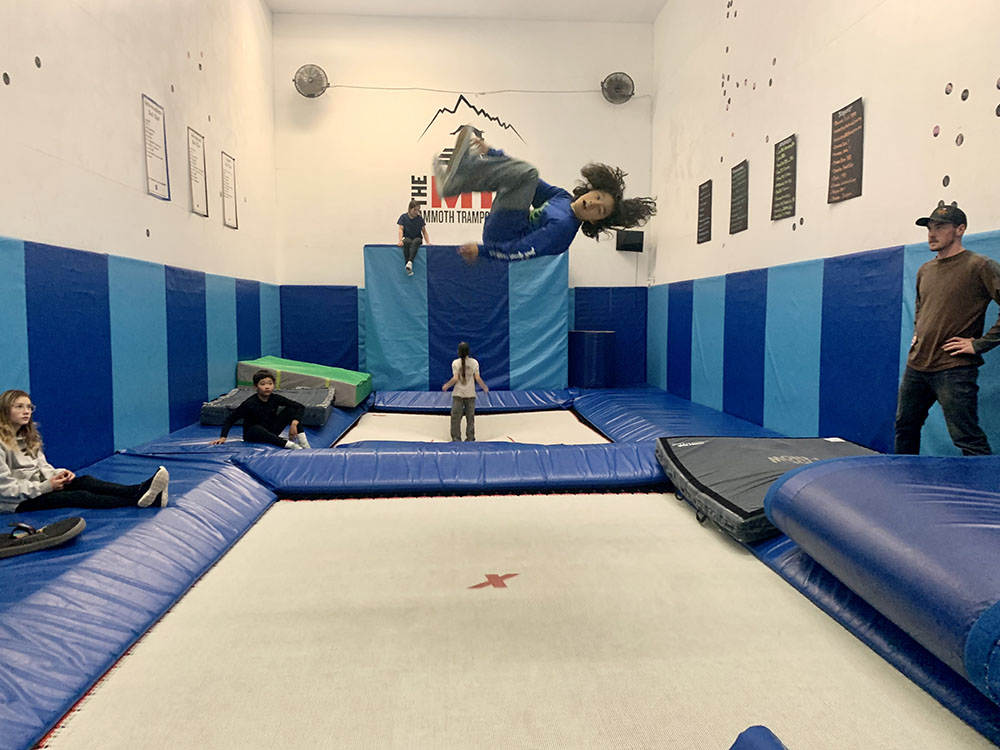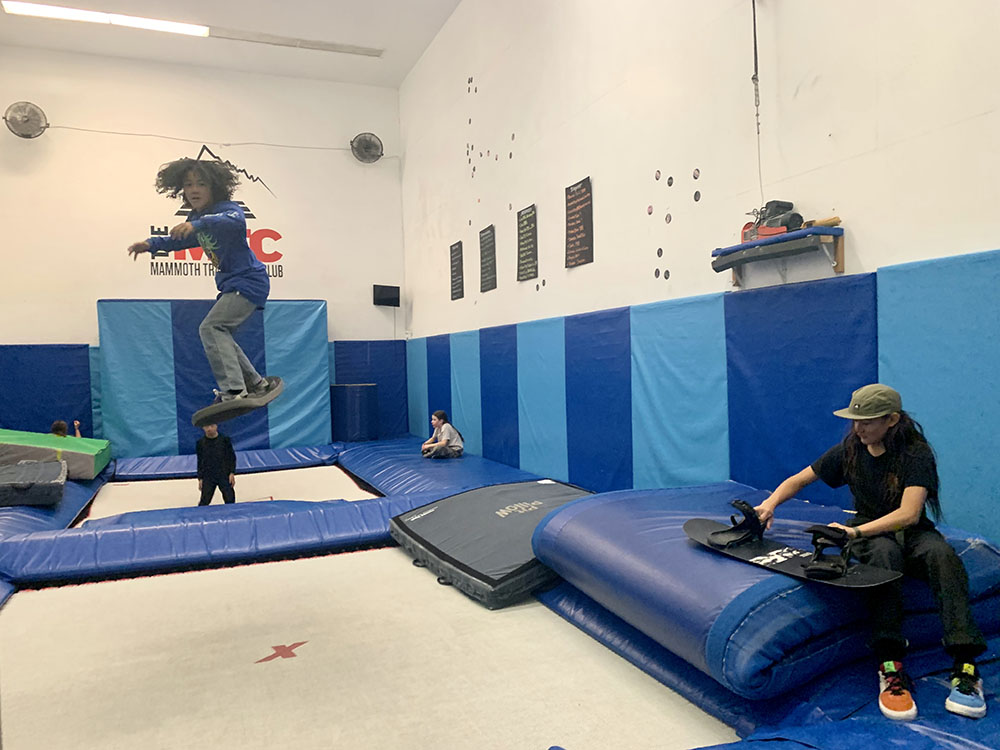 It teaches not only techniques but also important techniques for skiing on snowy mountains.This is the mammoth team.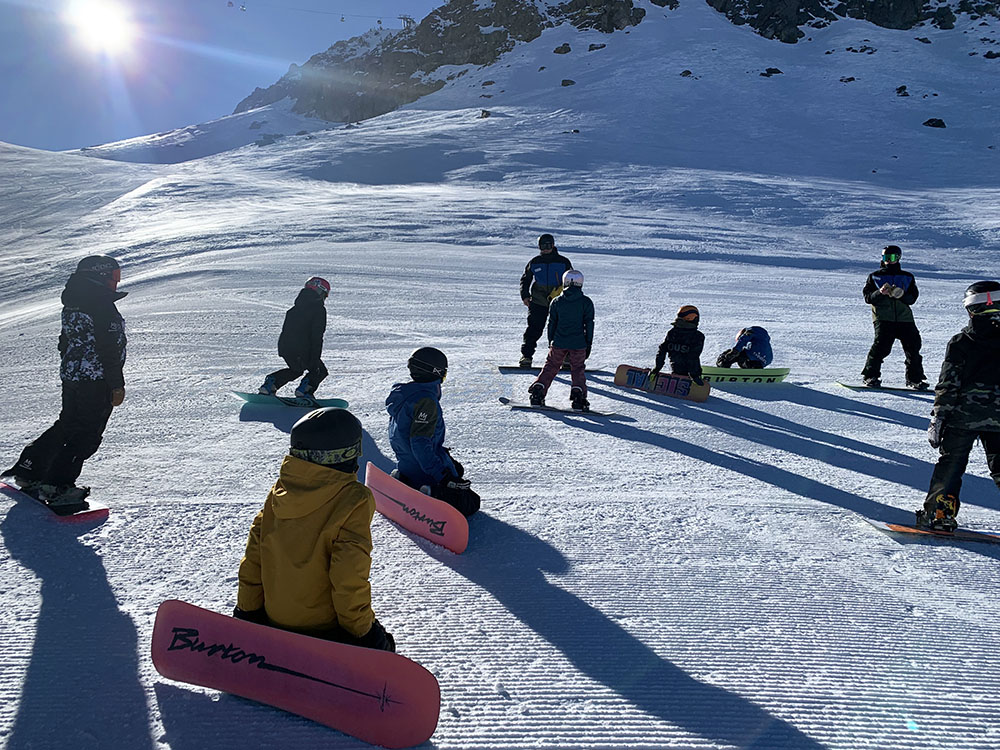 Learn more than just skiing
The teaching of the team is not limited to skiing on the snowy mountains, but also extends to various courses.Immediately after joining the team, an "avalanche course" was held.How does an avalanche occur, how do you secure your own breathing if you are buried in snow, how do you help your friends?I was surprised by the environment in which children learn it.
Mammoth Mountain has more than half of its ski area open in pristine terrain and snow conditions.On the slopes, patrols check for danger, so many dangers are eliminated, but small avalanches may occur in slight terrain, and tree holes (holes at the roots of trees) may get stuck or buried. sometimes.Such dangers are displayed on signboards at each lift platform, and are well known.
Kids on the slopes are unlikely to encounter an avalanche.However, even if only well-maintained areas are open to the public as in Japan, accidents such as being buried in snow on the slopes do occur.How to deal with dangerous situations in the snowy mountains, and how to help each other.I realized that it is very important to first learn the basics of an avalanche, how to read topography, the characteristics of snow, and other knowledge that is necessary for skiing on snowy mountains, not just for avalanches.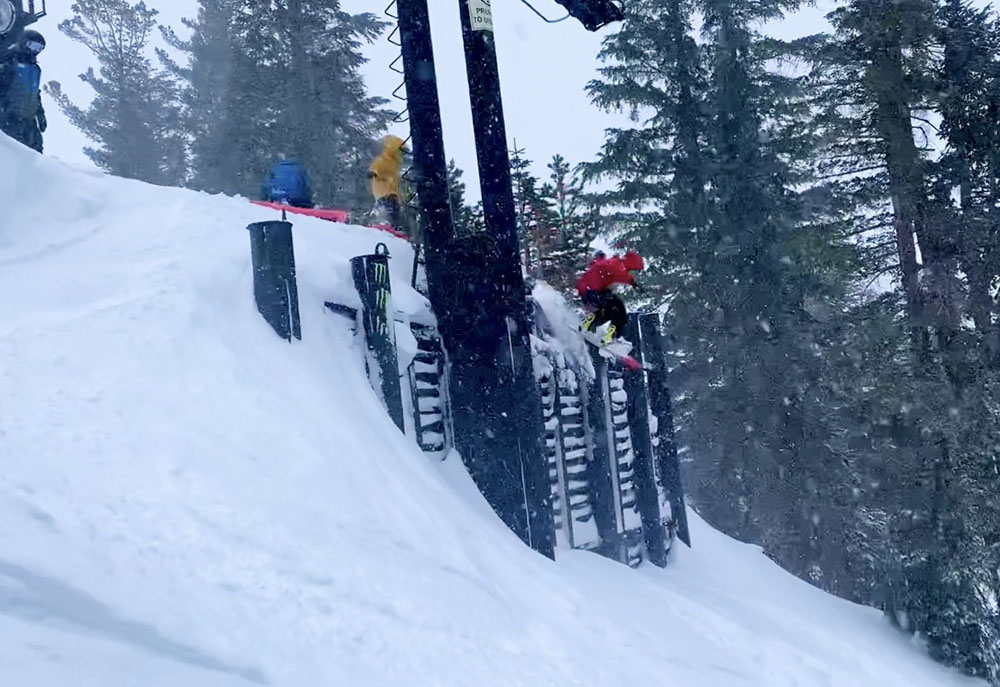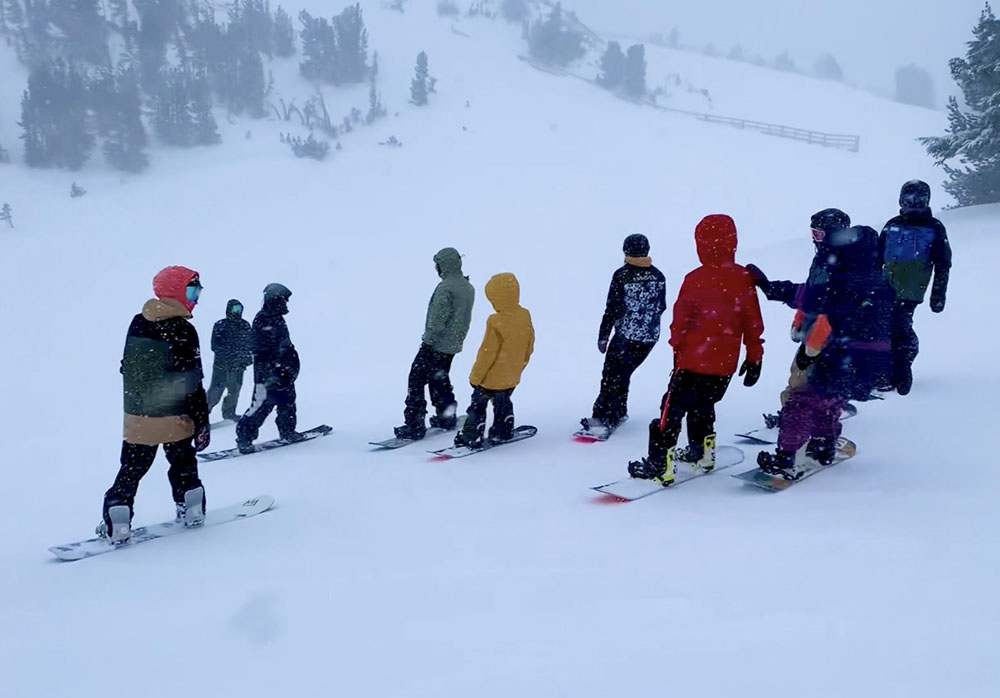 Another interesting course was mental training.The lecturer is a former female secretary of Google. The content is "How can I maximize the power I have in the actual performance?"How to manage your emotions before a performance, how to control your body and mind to overcome fear and gain confidence.Children with paper and ballpoint pens listened intently to the lecture given by the talented female secretary and took notes.
When asked a question, the children raised their hands and boldly expressed their opinions.American education is based on making children think for themselves rather than just teaching them, and they are accustomed from an early age to openly express their opinions in front of others.
America seems to be rough and free.However, I feel that this kind of education method encourages the early independence of children.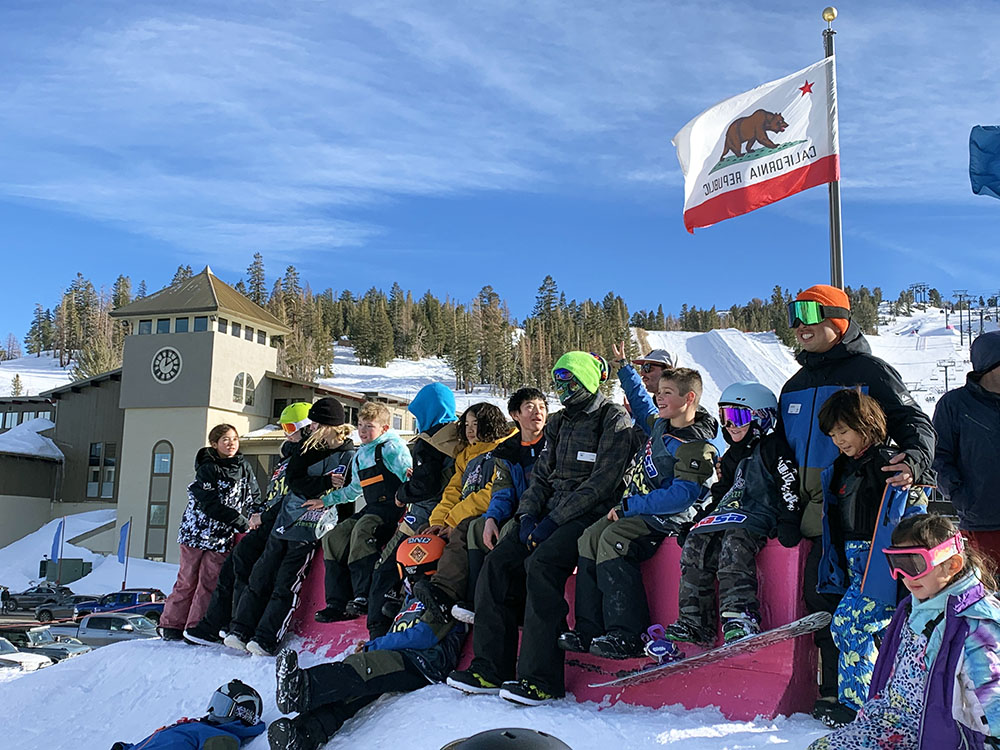 bond with coach
Spending this much time together during the season deepens the bond with coaches and teammates.Occasionally, teammates get into fights, and coaches scold them and parents get called out.Whether the weather is good or bad, whether the conditions are good or bad, it is the coaches, not the parents, who are closest to the children on the snowy mountains.That's why, even when he hesitates with a big kicker, or when he feels uneasy before the tournament, he will be the closest to you and give you confidence.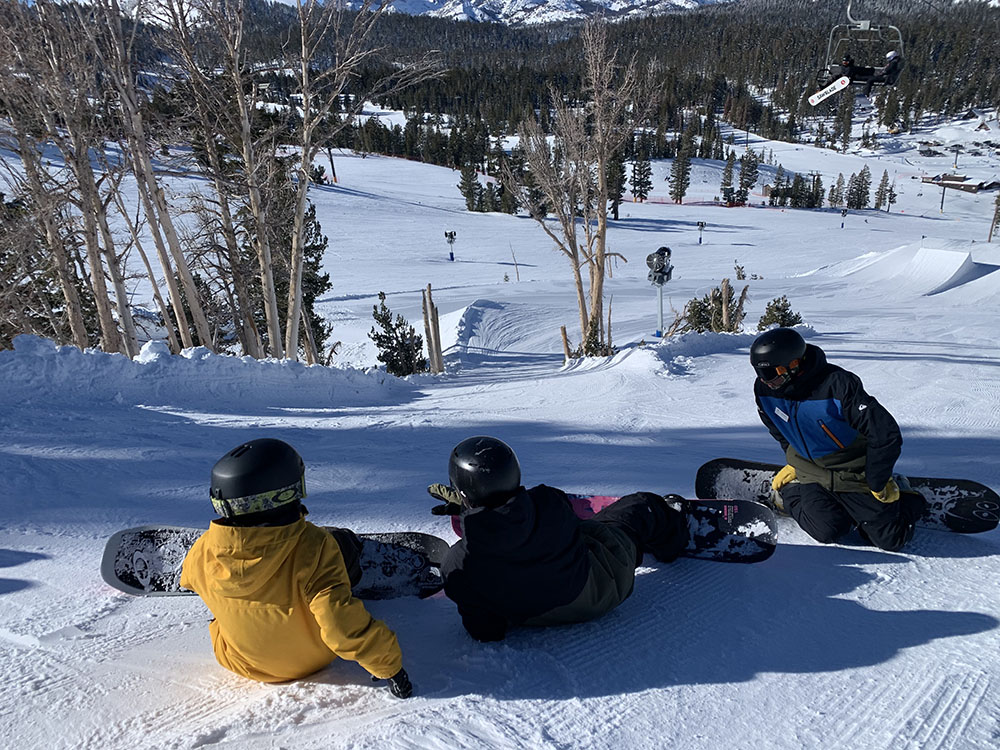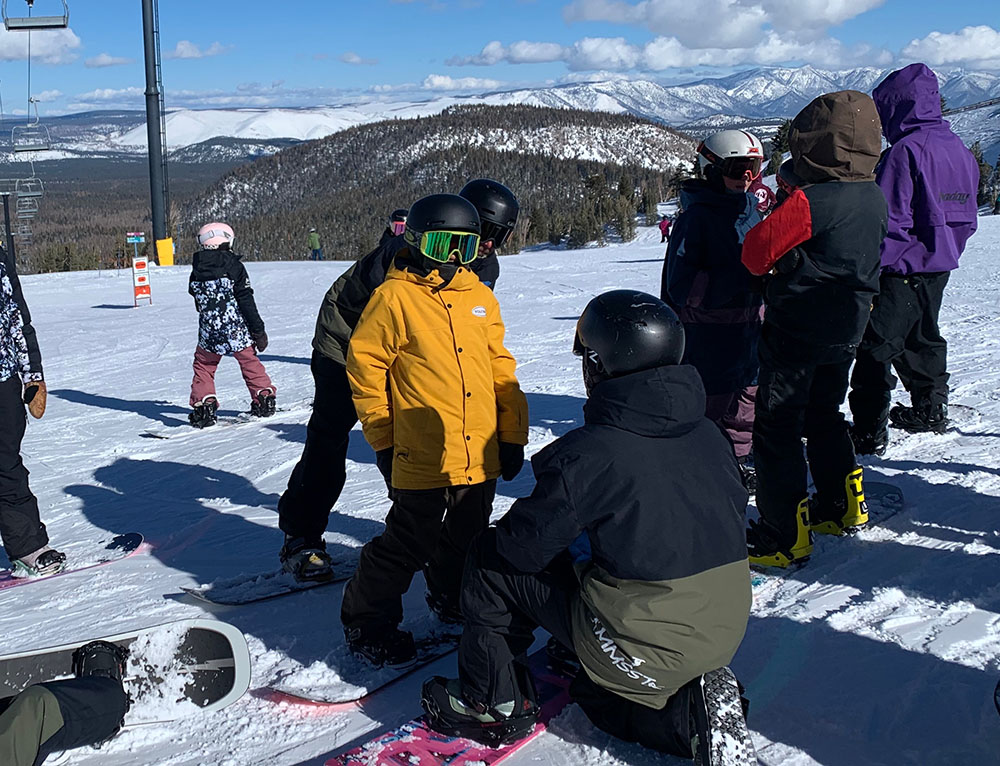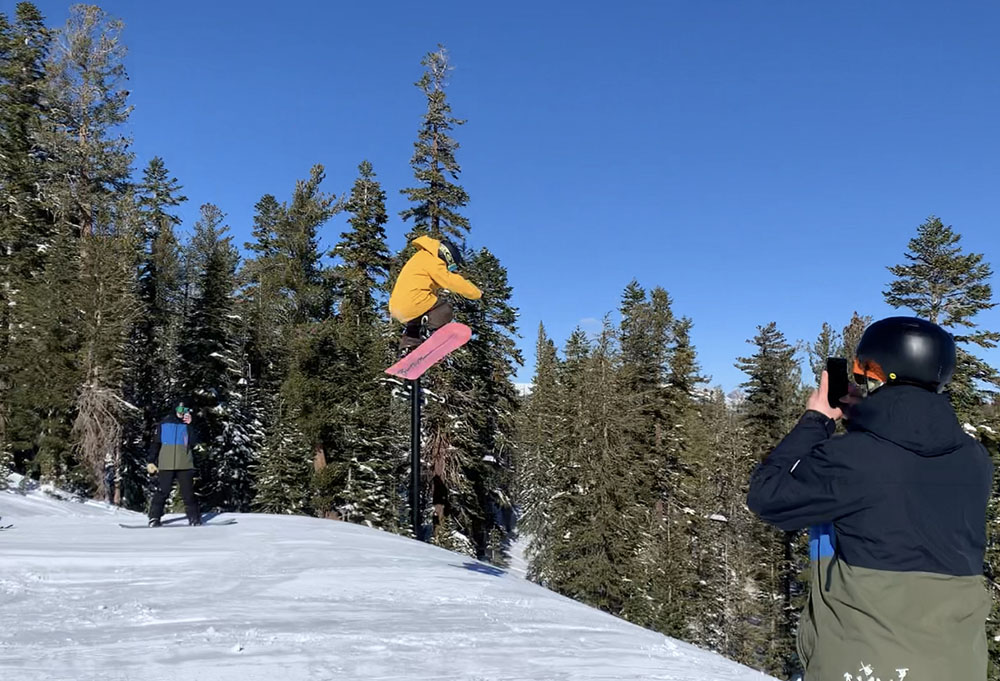 On a certain powder day, I rode on the Homie's lift. Tora happily says, "I can always do things that I can't do when I skate with everyone," and the coach replies, "Friends are the most important factor that makes snowboarding fun."It made me happy to think that they were hired as coaches because they also fully understood the appeal of snowboarding.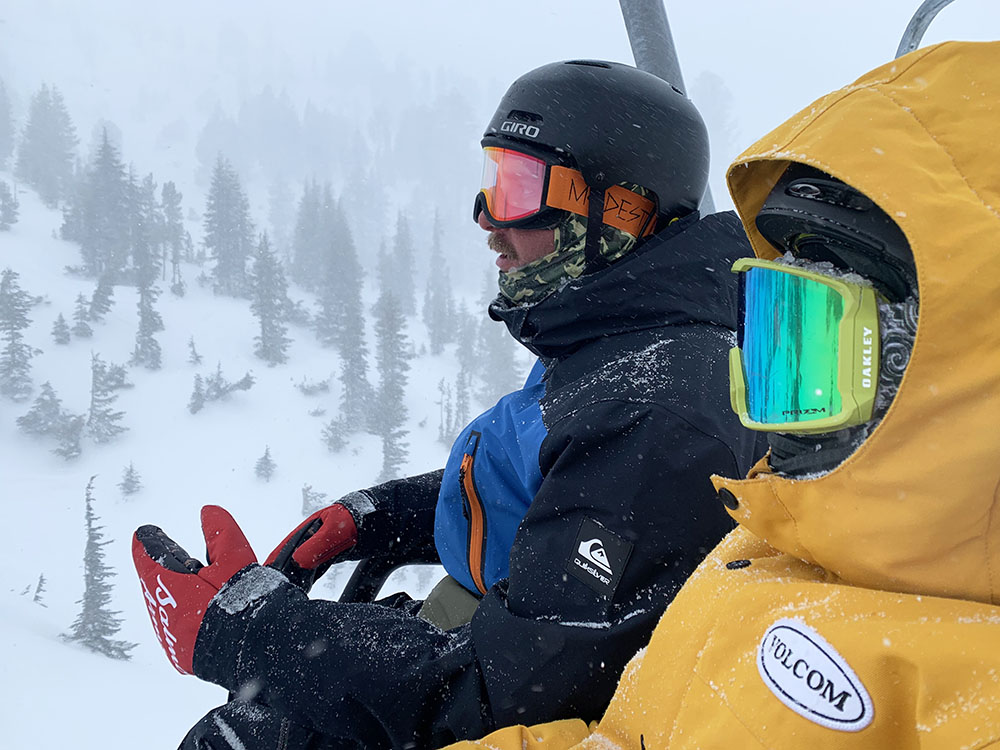 If you narrow down the event from an early stage and concentrate on the practice of the competition, it will be quick to complete the highly difficult technique.All-around snowboarding improves your overall riding ability and allows you to adapt to any situation.Both have their own characteristics, but which one is the shortcut to the destination?
I can't give the answer here, and there must be a way that suits the child.National character, individual character, ability, type.There may be differences between disciplines and between men and women.There are various ways to do this, not only in the familiar environment but also in the world.The important thing is to know it.It may be a hint to improve the environment.
13 years old, 15 years old and when it comes to the next stage, the range of activities will change again.That's why I want to cherish this time that will never come again.This season, he chose to snowboard with the mammoth team without hesitation, knowing the environment in Japan.I spend my time thinking that the choice was not wrong.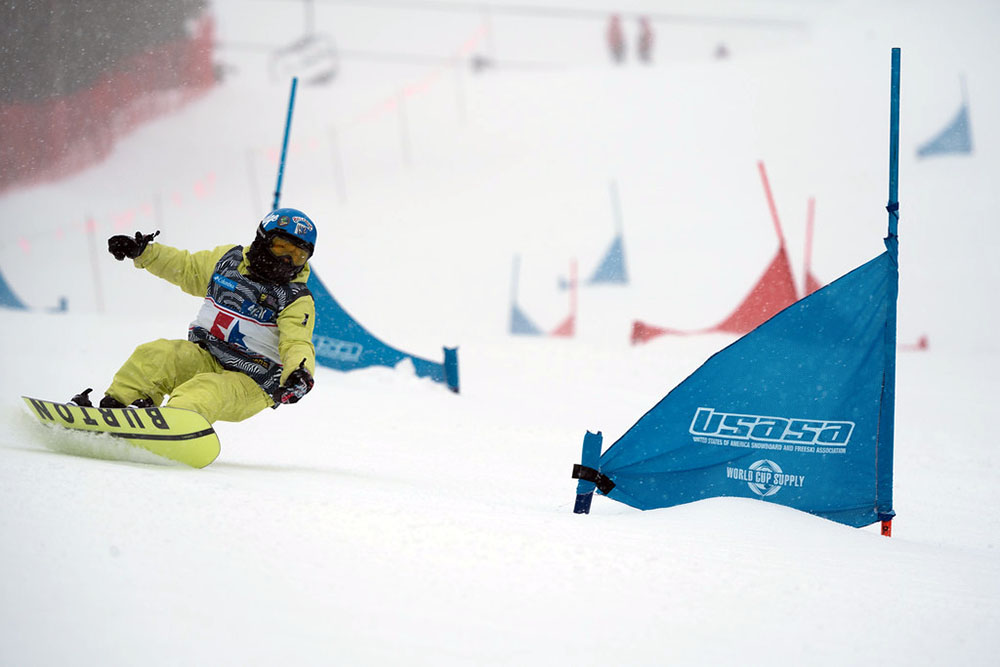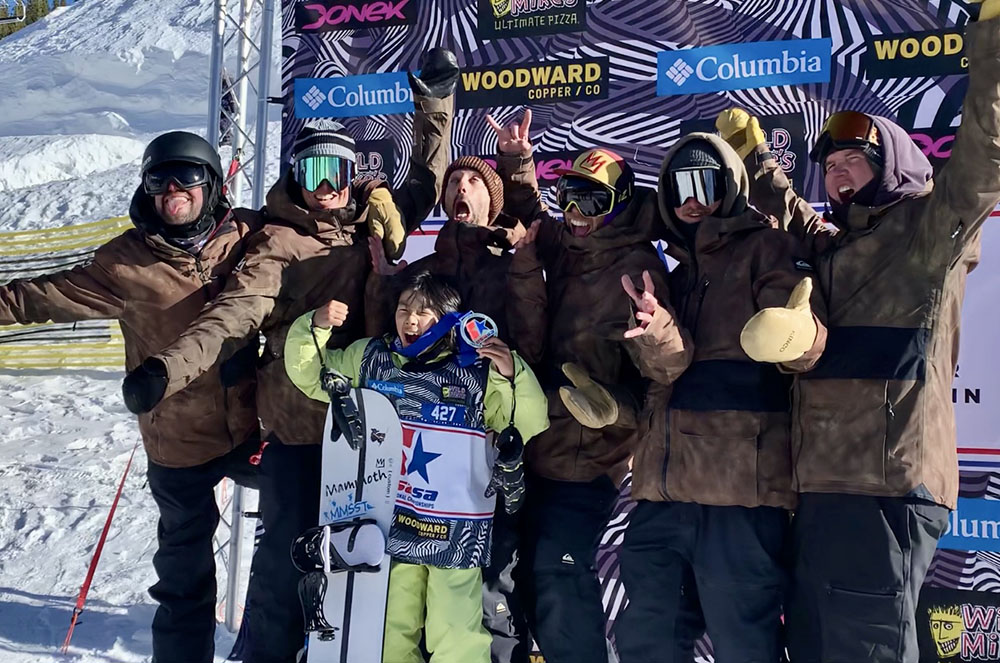 ---
"We Are The Future." ~Children who connect Japan and America~ Serial project
Chapter 1 From Japan. Click here for why Japanese athletes have become stronger and the training environment for children.
Chapter 3 From Japan. Niseko, Japan's Snowy Mountains
Chapter 4 From Mammoth. The World's Top Level Snowboard Park
Chapter 5 The road to the top athlete.