Hoshino Resort Tomamu (hereinafter referred to as Tomamu) is famous as a stay-type resort.
Recently, it has become famous for its sea of ​​clouds terrace in the summer, and it has a luxurious image, but in fact, it is also a full-scale snow resort with a park where Olympic athletes stayed and trained.
Therefore, this time, we asked professional riders Yuki Saga and Riba Otaka to experience Tomamu from a snowboarder's point of view as well as having them enjoy luxury.
If you look at the journey of the two and think "I like it", you should definitely go to Tomamu this season.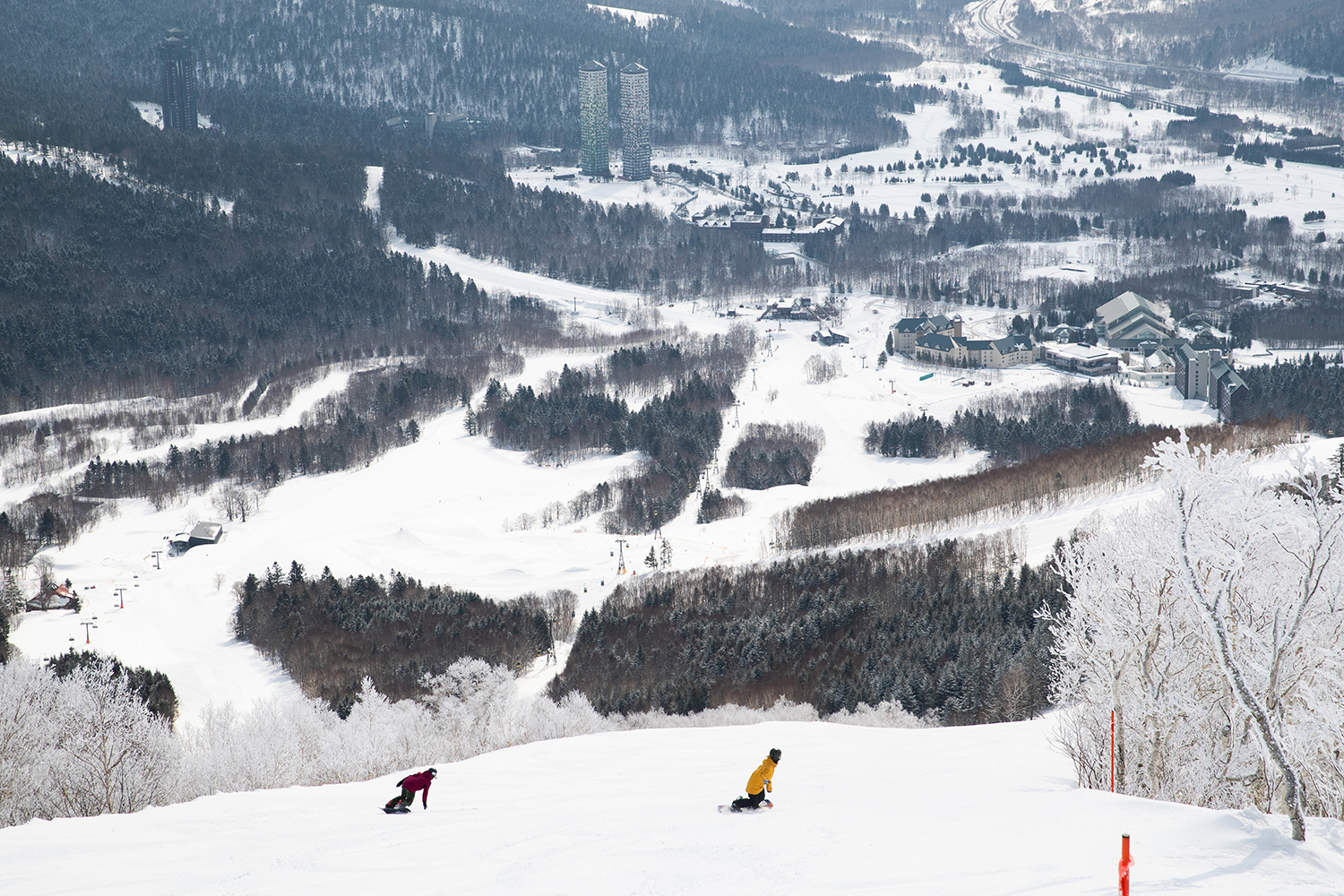 Best access by plane and train from Honshu
First of all, to explain the location of Tomamu, it is located in Shimukappu Village, which is a little below the center of the map of Hokkaido.
This area is called "Hokkaido Powder Belt", and the temperature is low in winter, and it is characterized by smooth powder snow.Access is very convenient from New Chitose Airport, and if you take the highway from Sapporo, you will arrive at Tomamu in about an hour and a half with almost no general road.For access from Honshu, it is recommended to easily access by train from the airport rather than renting a car.
Tomamu has everything related to food, clothing and shelter, and there is a convenient shuttle bus running on the vast site, so you don't have to worry if you don't have your own car.People who are not accustomed to snow are better off by train.
A long slope both horizontally and vertically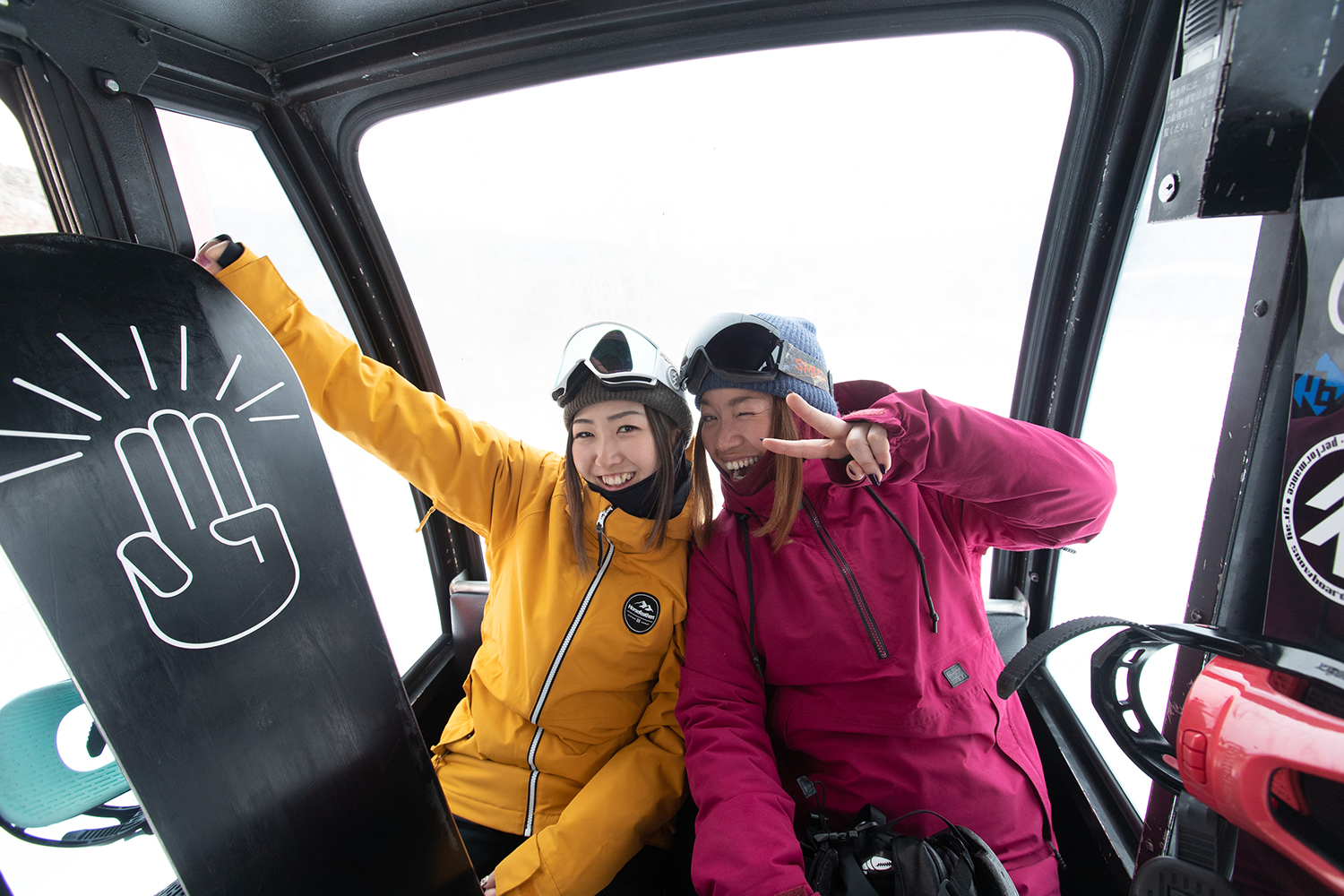 First, take the sea of ​​clouds gondola to the top of the mountain.
From there, there is a course called Dragon Ridge on the right and Silver Bell on the left along the ridgeline.The Silver Bell leads to No Gravity, North Star, Silky Way and a course where you can drop the slopes vertically.No gravity, North Star is a non-compacted snow course.The Silky Way is a nicely pistoled course. You can drop it from anywhere and run long distances to the resort center with the base. Use the fast hooded Quad Lift Powder Express to snow near the top of the mountain. It is also interesting to thoroughly slide down only the good points.
On the other hand, they got off the gondola and went to Dragon Ridge on the right side.From this course, you can slide into the non-compacted snow glory, short story, and aspenburn.So select Aspenburn and drop it.There was some snowfall the night before, so powder remained.Experience the charm of Tomamu powder while comfortably raising the spray.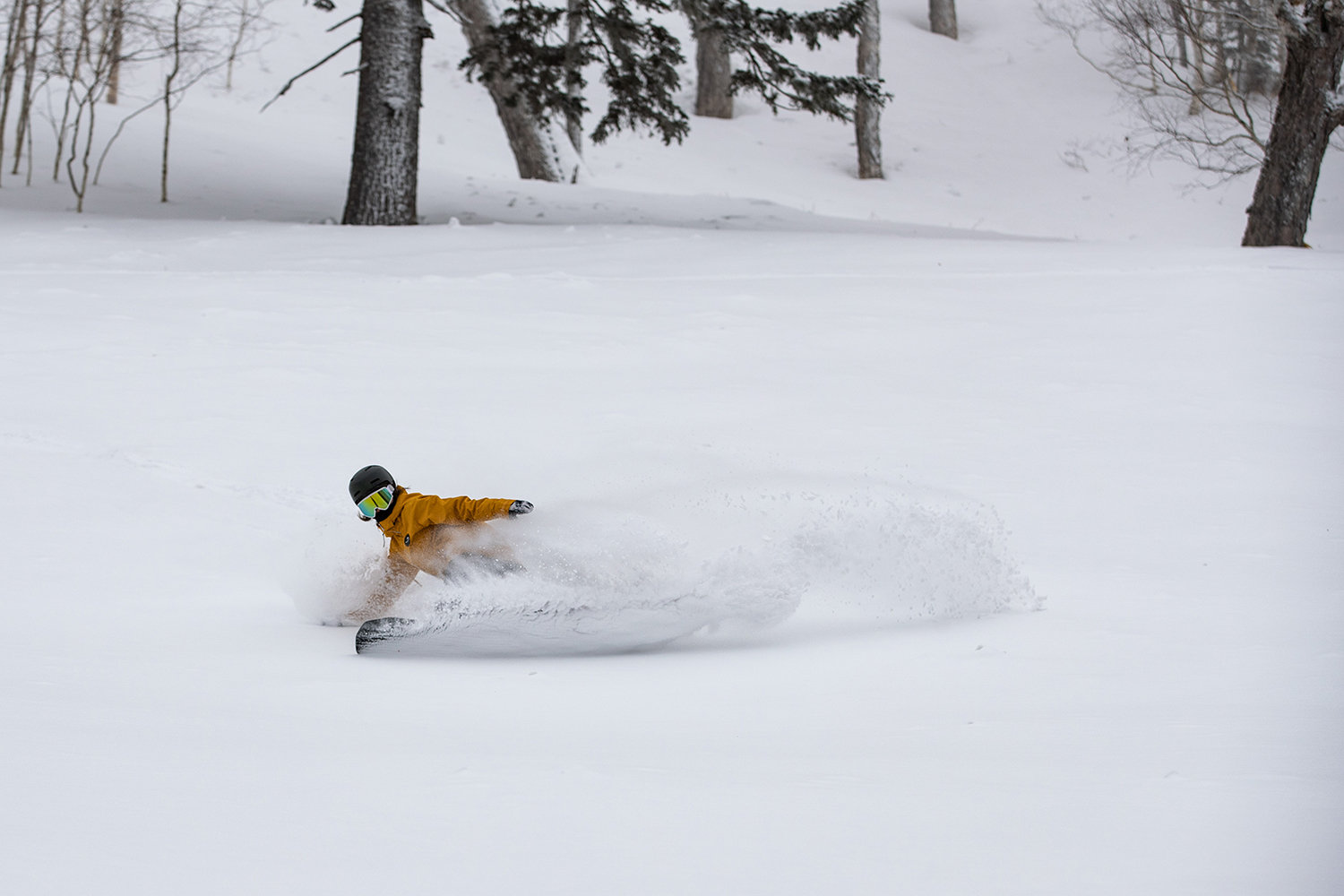 If you slip through one, even two people will get sick, but the gondola will be a good break.Next, select Pistenburn and drop it.While enjoying the carving turn, the powder left on the side also slides.I want to enjoy a free run during good snow hours.In the vast area, you can enjoy powder all morning.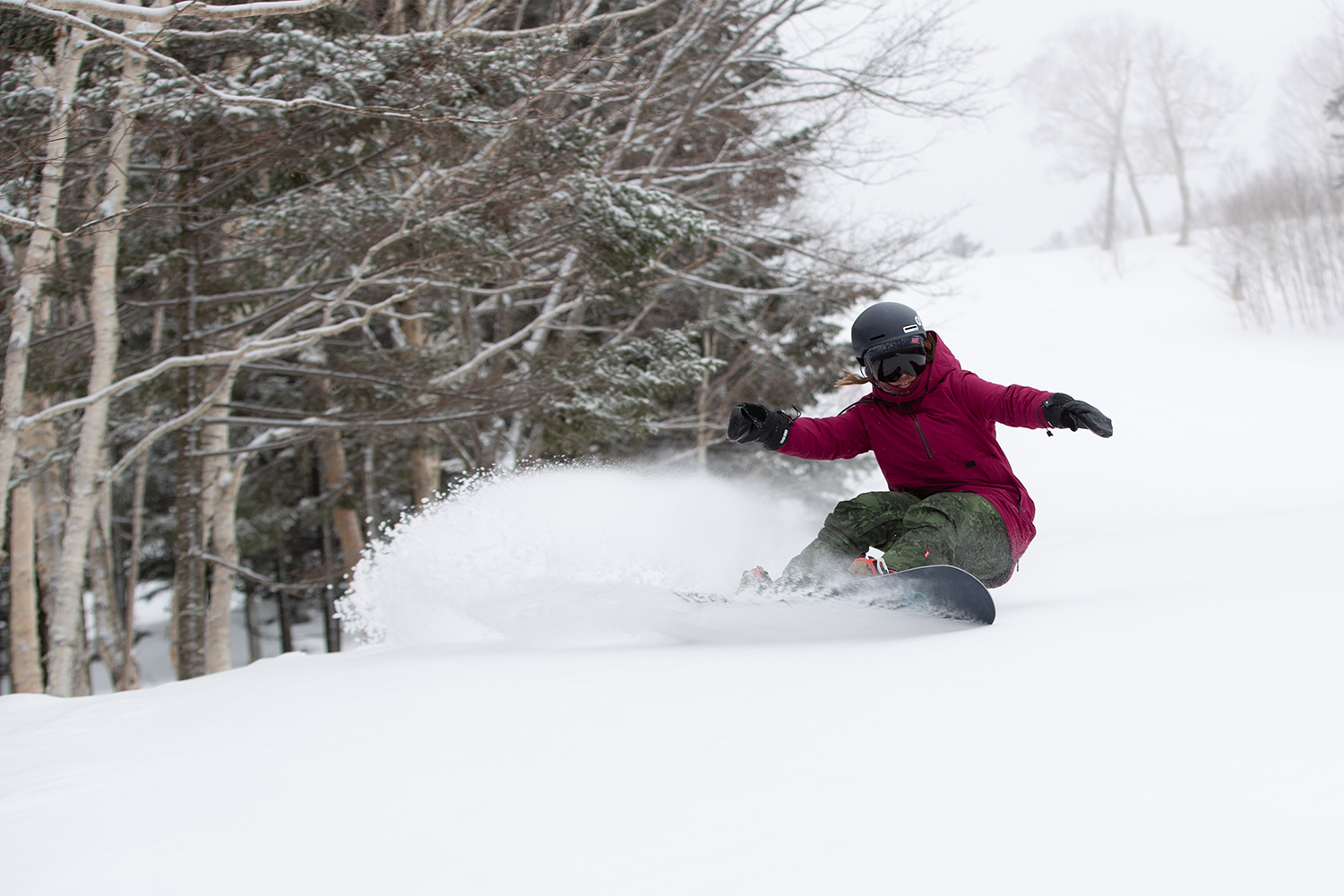 Sliding access.Lunch at "Firefly Street"
In the morning, if you slide down a lot, you will feel hungry.Lunch at "Firefly Street", which is lined with restaurants and shops that you can slip on and access while wearing the board.The beautiful cityscape is full of resort feeling.Many shops are lined up, and every shop looks delicious.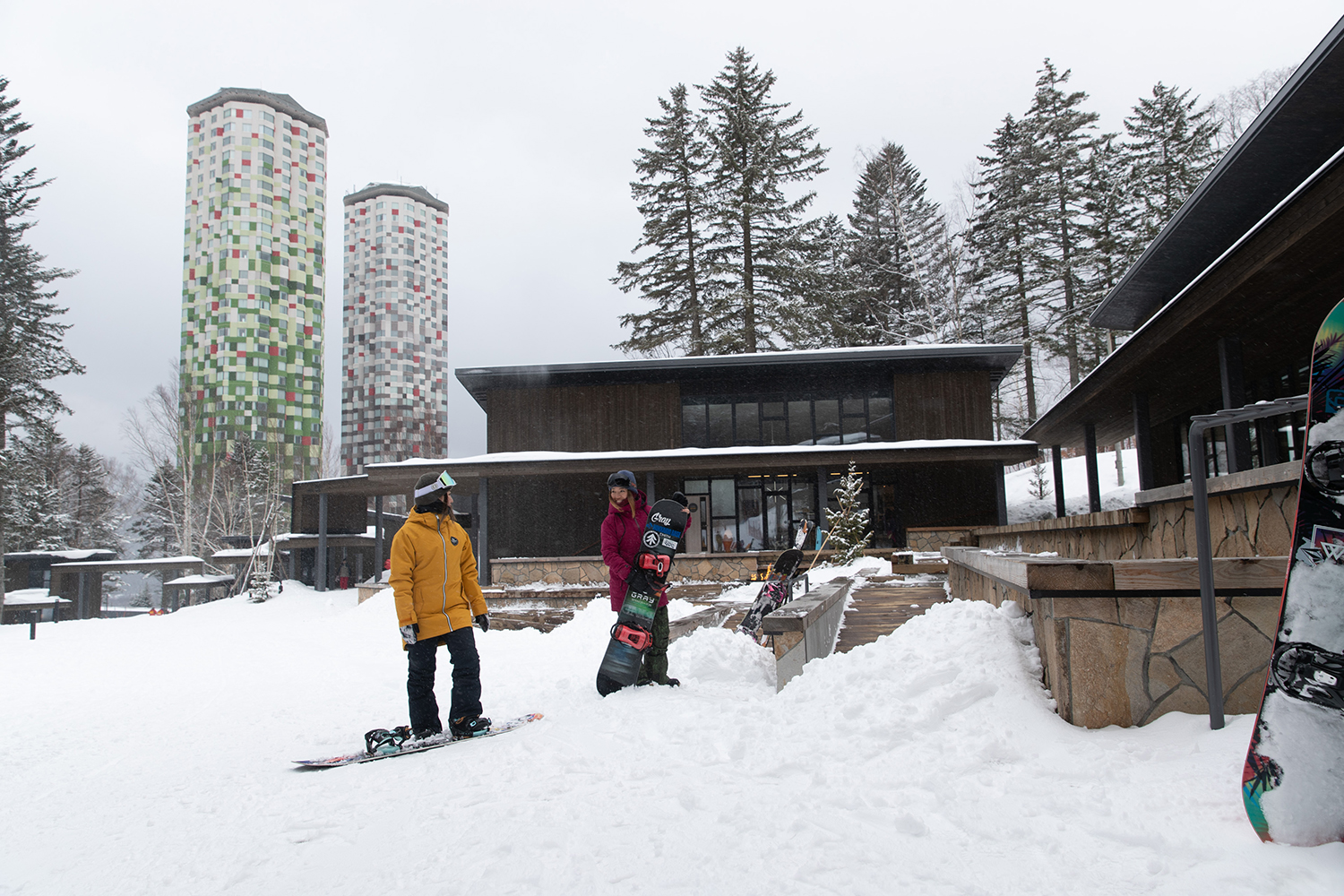 This is completely different from the usual Gueret food.As expected, the lineup unique to Tomamu.There are many specialty stores such as ramen, soup curry, seafood, meat, and desserts, as well as famous stores in Tokyo and Sapporo.I'm really happy that you can easily eat lunch at the main store where you can have a line.And, of course, you can enter such a store with your clothes on and your boots on.
Lunch at cafe & bar "Tsukino" on this day. As you can see, the two of them are in great shape during the "Seafood Spill Festival"!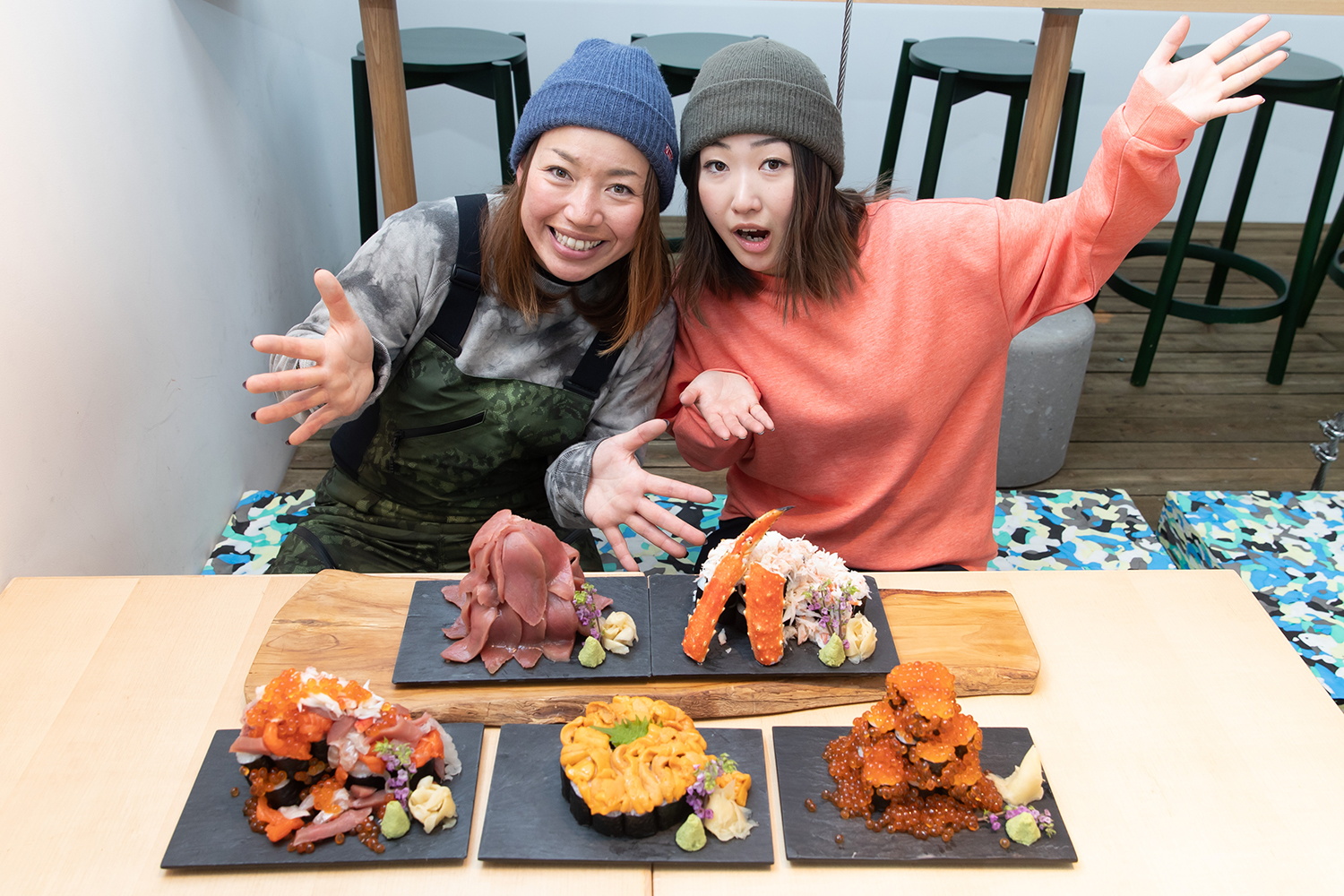 A full-scale park that does not seem to be a resort
Tomamu's park is very authentic and well maintained.As mentioned at the beginning, until a few years ago, Halfpipe national team members also stayed and trained in Tomamu.Of course, some of them have participated in the Olympics.In other words, a strong digger team manages Tomamu's park well.
Now, in the afternoon, I headed for slopestyle, which also served as a hunger.
There are kickers, quarters, rails, boxes, etc. that can be enjoyed by beginners to advanced players.It is a scale that even two riders can fully enjoy.It seems that the park is not so crowded, so you can enjoy it at your own pace and at your own level.You can enjoy the park at your own pace, slowly and slowly, which is unthinkable in a park within the reach of a car from the metropolitan area.The environment is perfect for those who want to improve their skills.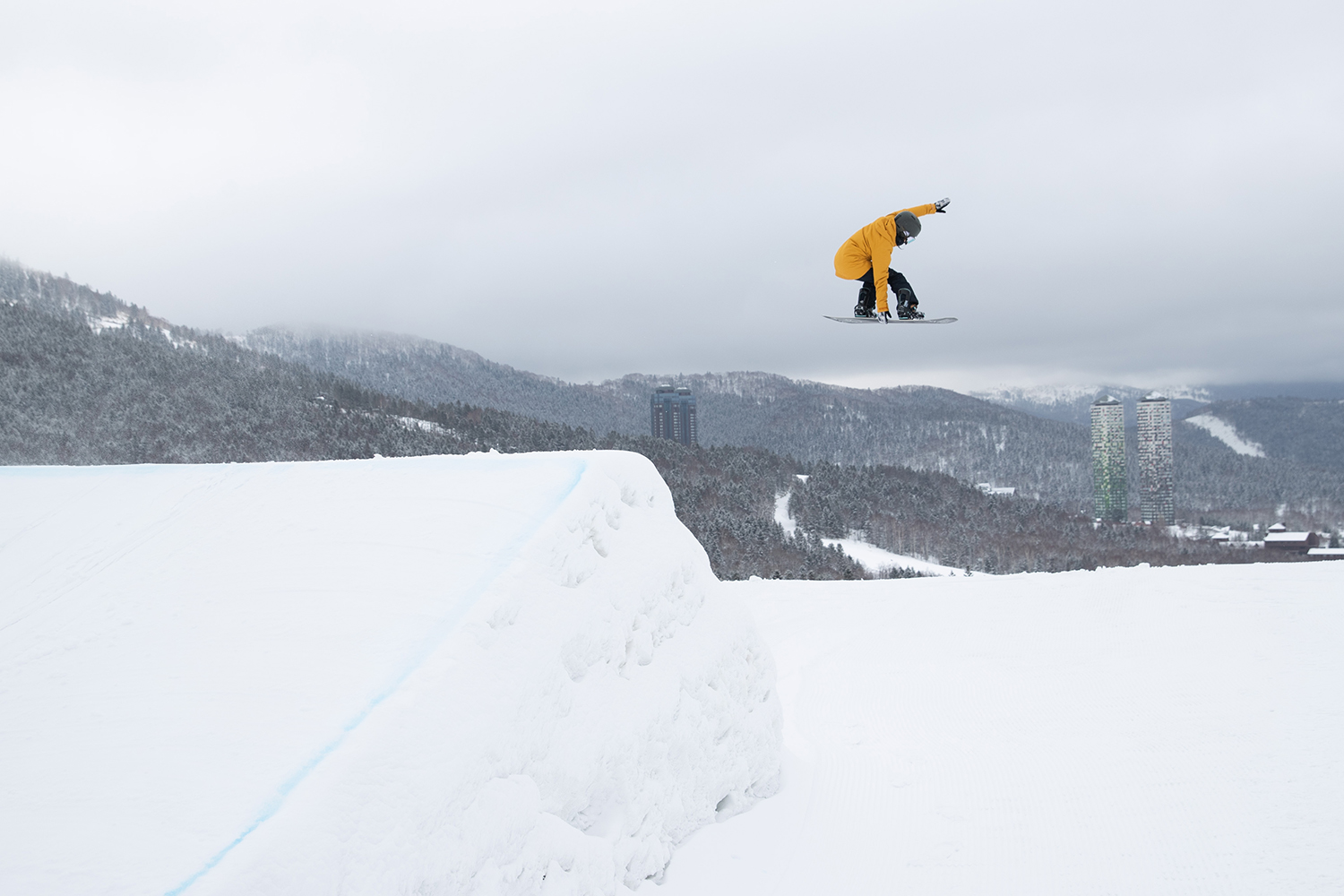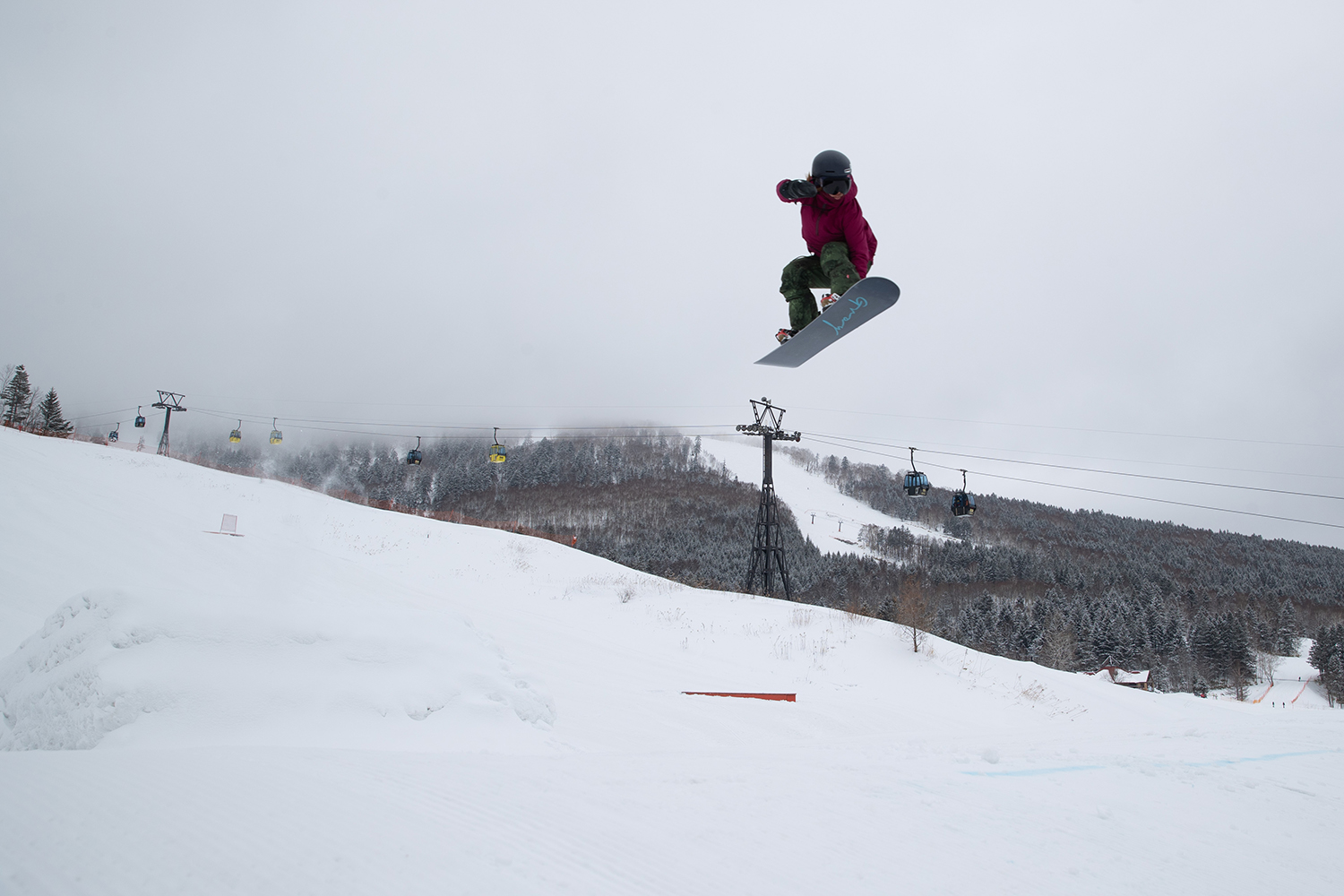 The park is solid in content, so riders from the Tokachi area also gather at Tomamu's park.Therefore, you can see high-level local slips.
By the way, after enjoying the park and arriving at the resort center at the base, there is also a "superb view champagne bar" that appears only on sunny days in March, and the two adults toast with champagne.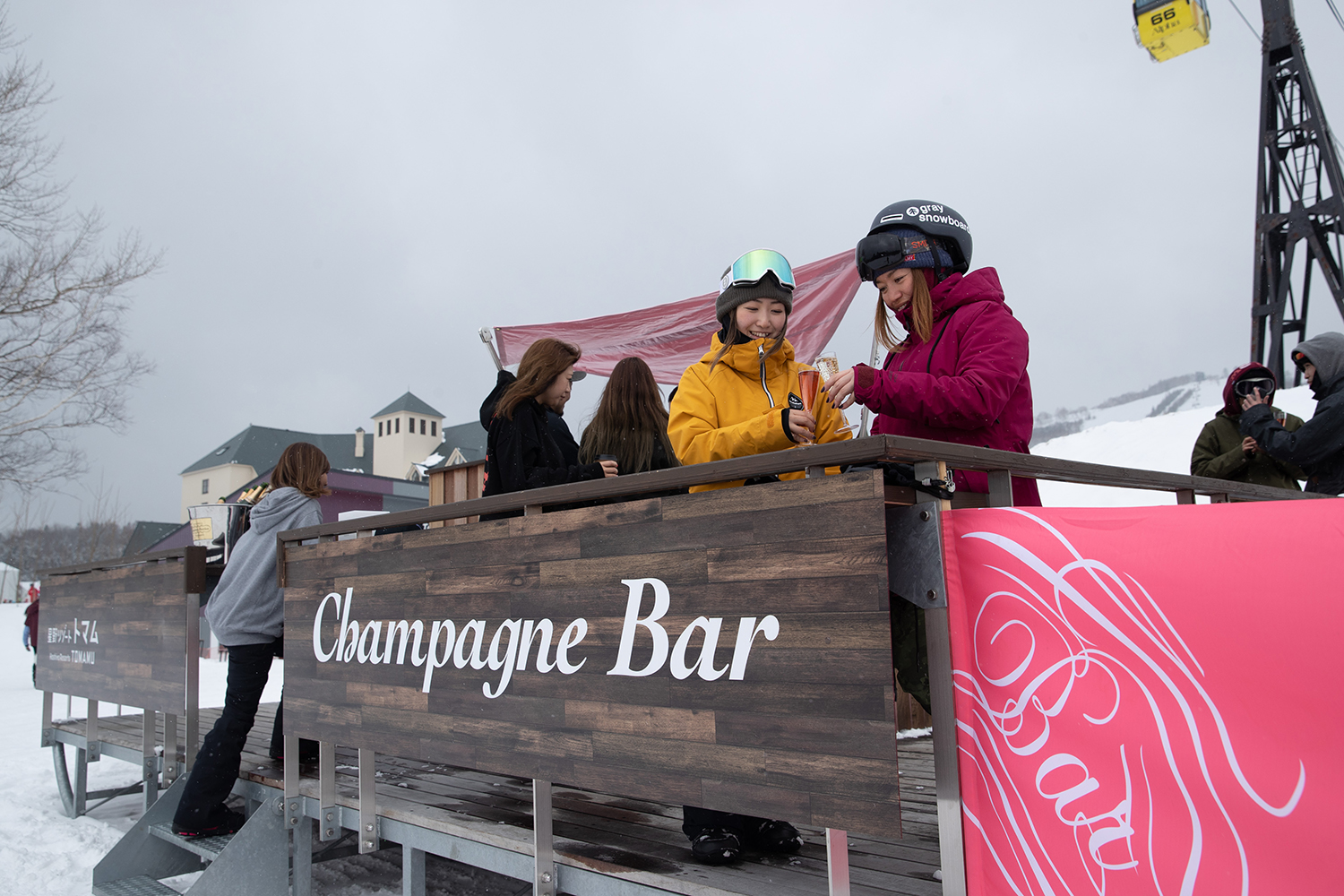 After drinking champagne and feeling better, rent a snow cart found at the resort center and slide from top to bottom of the gondola.Lightly run the slopes on the board and the riding of the day is over.
By the way, from now on, the beginning of Tomamu's night is full of things I want to do even after I finish slipping.
There is a jacuzzi in the room!"Risonare Tomamu" with suite specifications in all rooms
Tomamu has a high-rise tower hotel called "The Tower", which is recommended for people who want to enjoy casually and actively, and "Risonare Tomamu", which is a suite room for people who want to enjoy luxury and luxury.
March at the time of coverage.We asked the two people who worked hard during the season to stay at "Risonare Tomamu" with the meaning of a reward.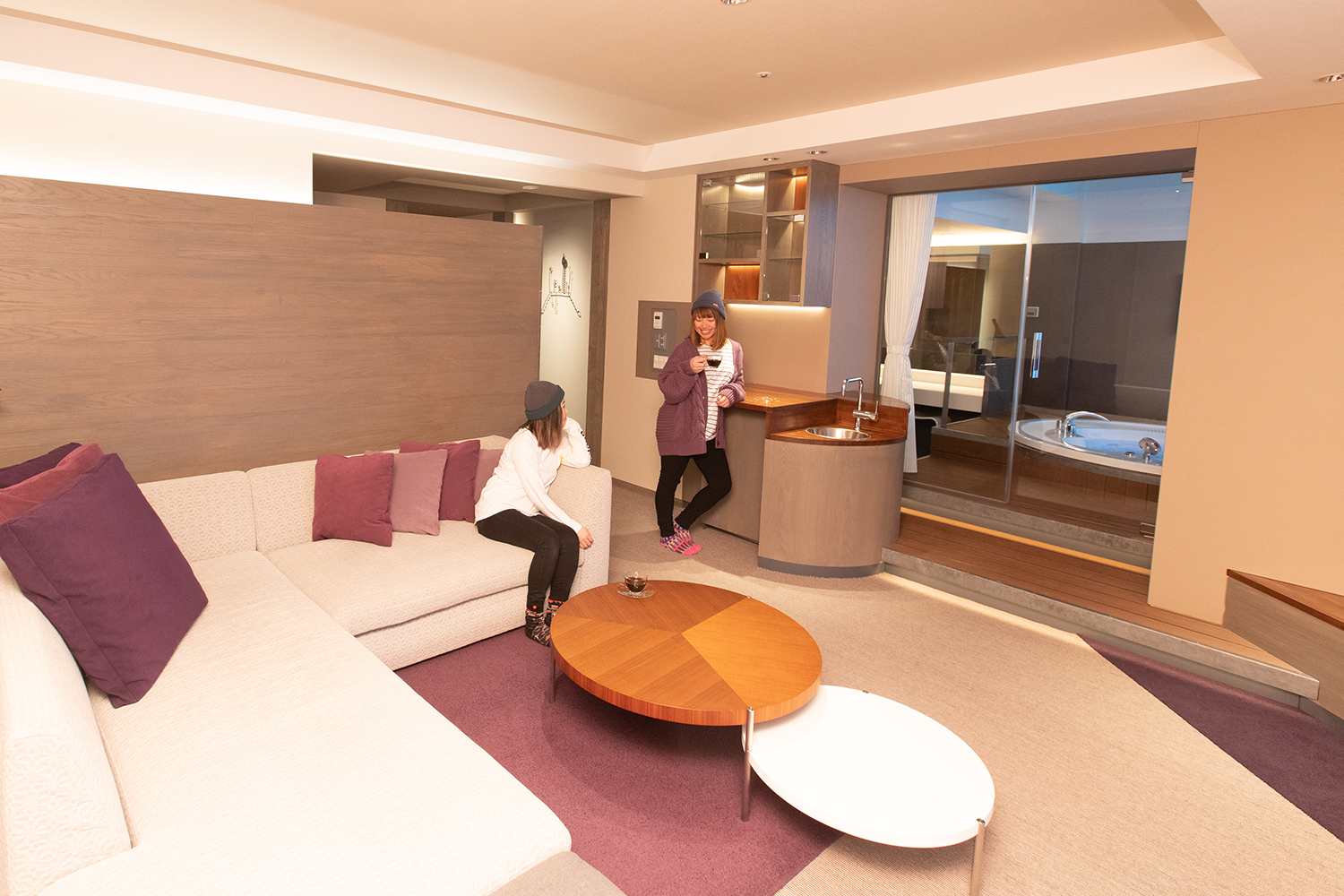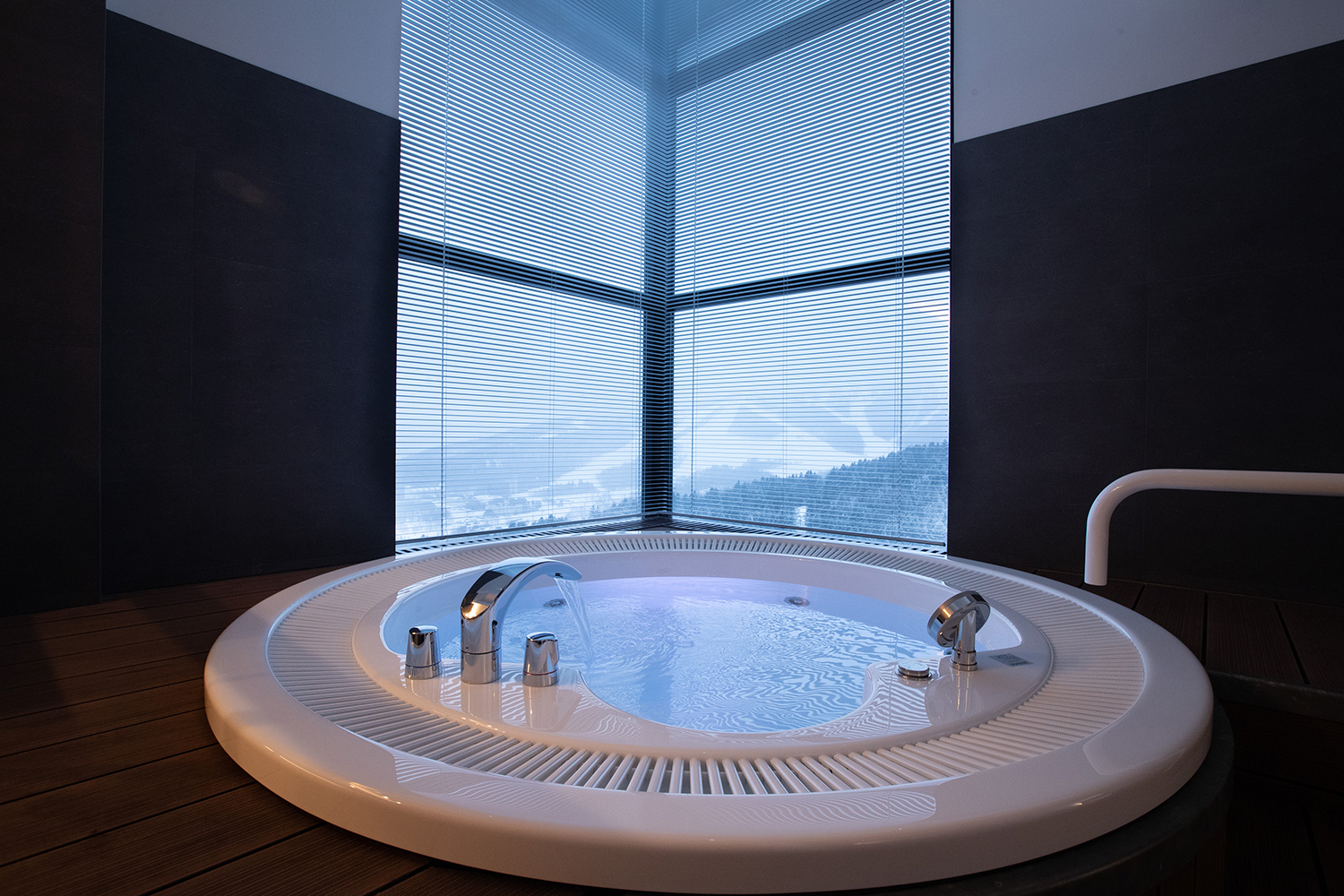 Buffet dinner where you can enjoy Hokkaido food
Now that you've slipped a lot, let's eat a lot!
For dinner, go to "Buffet Dining haL".Since the concept is "crab x salmon", you can enjoy a variety of dinners centered on seafood.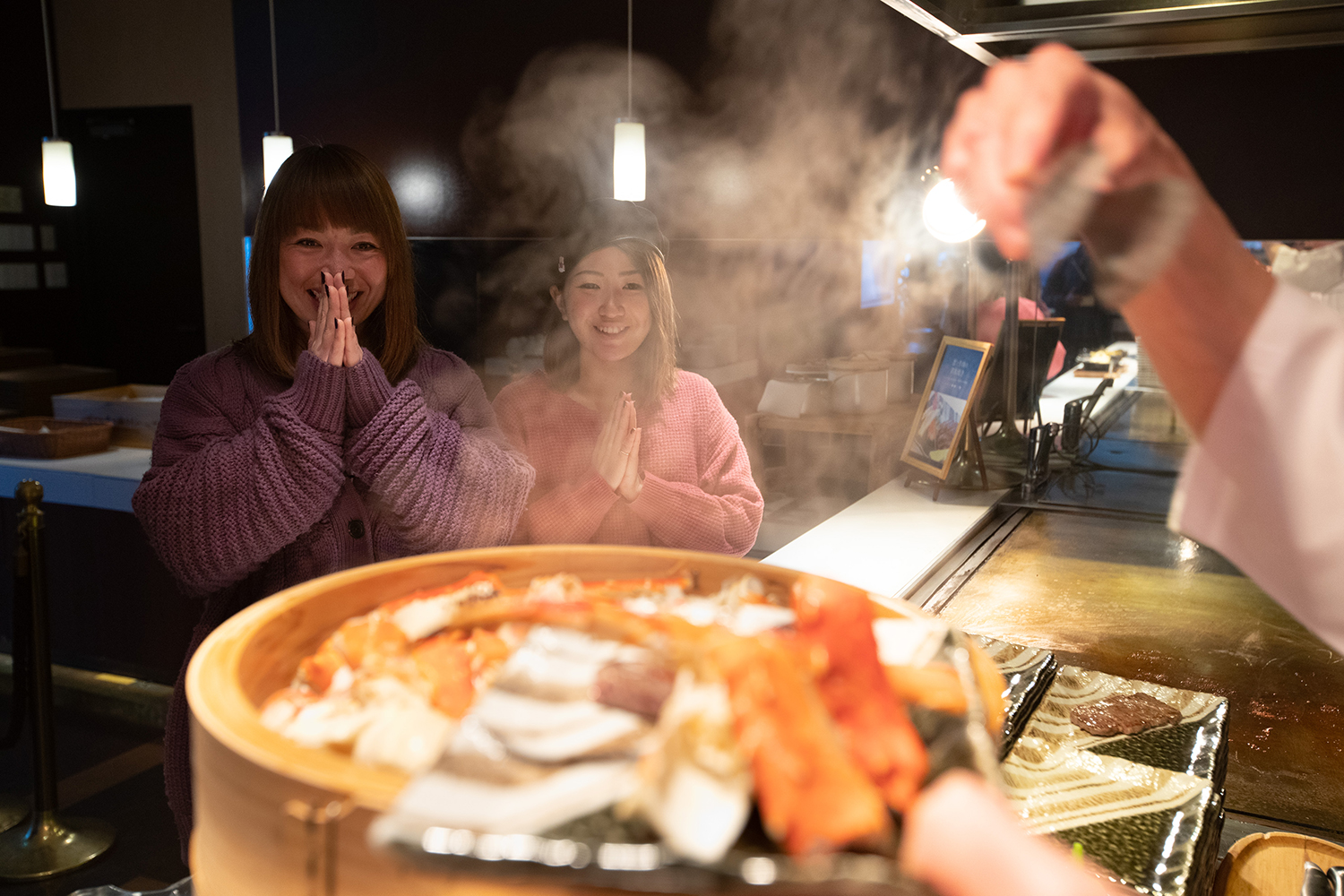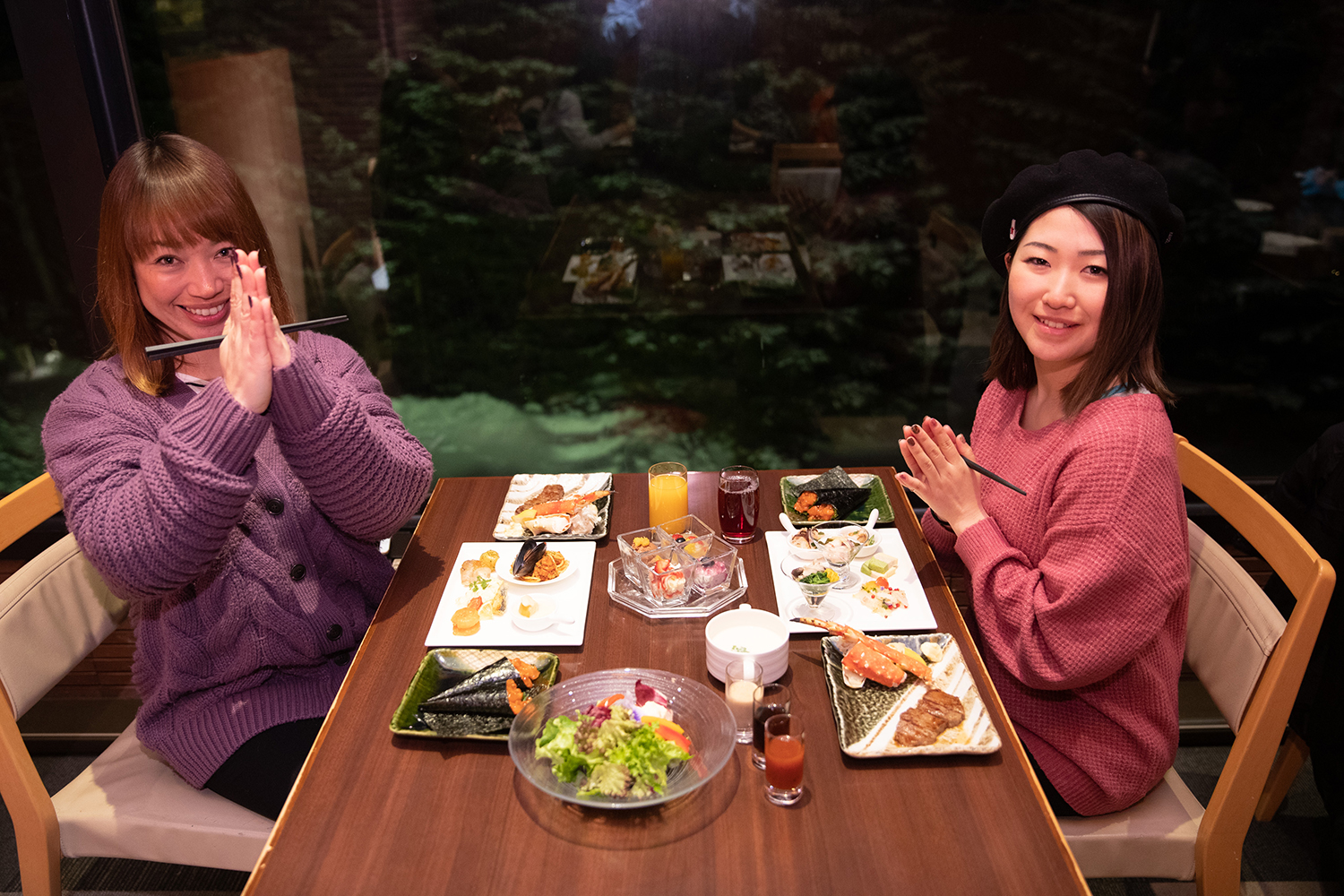 Enjoy a fantastic night at Ice Village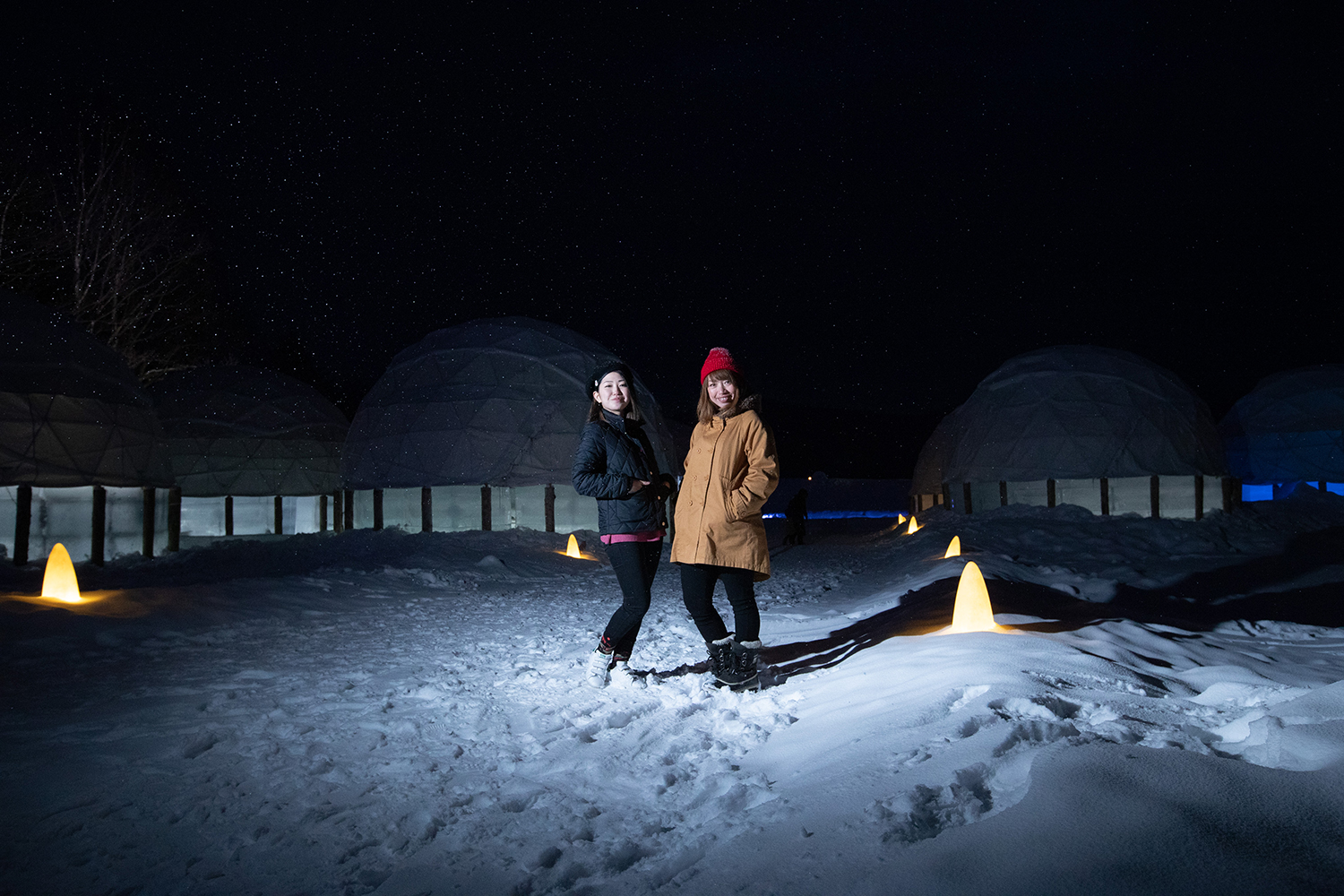 Shimukappu Village, where Tomamu is located, is said to be particularly cold in Hokkaido.It feels like you're in the freezer all winter.That's why "Ice Village" is an ice town.
"Ice Hotel" "Ice Bar" "Ice Church".You can actually stay, drink, and even have a wedding.And the fantastic atmosphere and landscape can only be experienced here.Enjoy a special time only for Tomamu.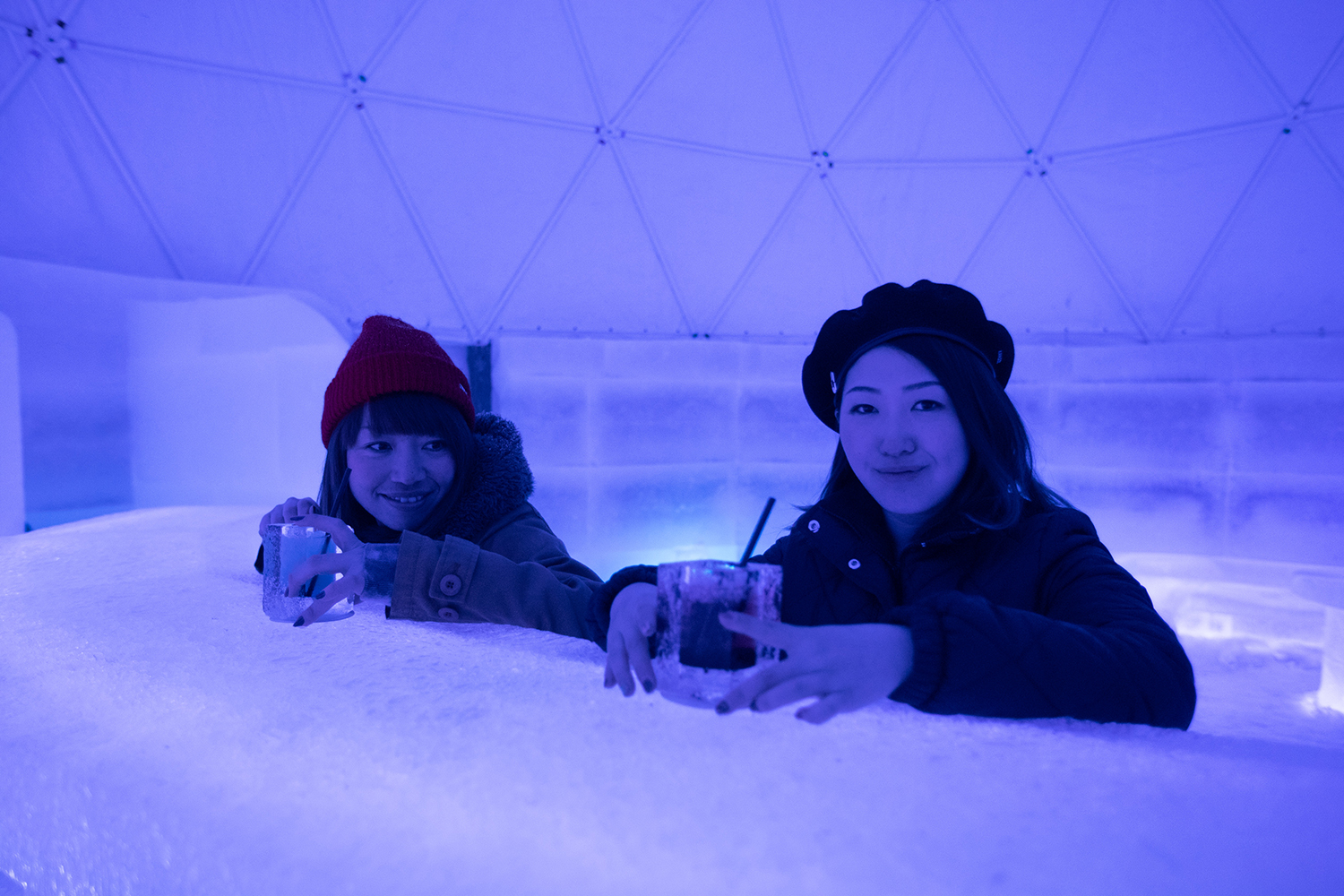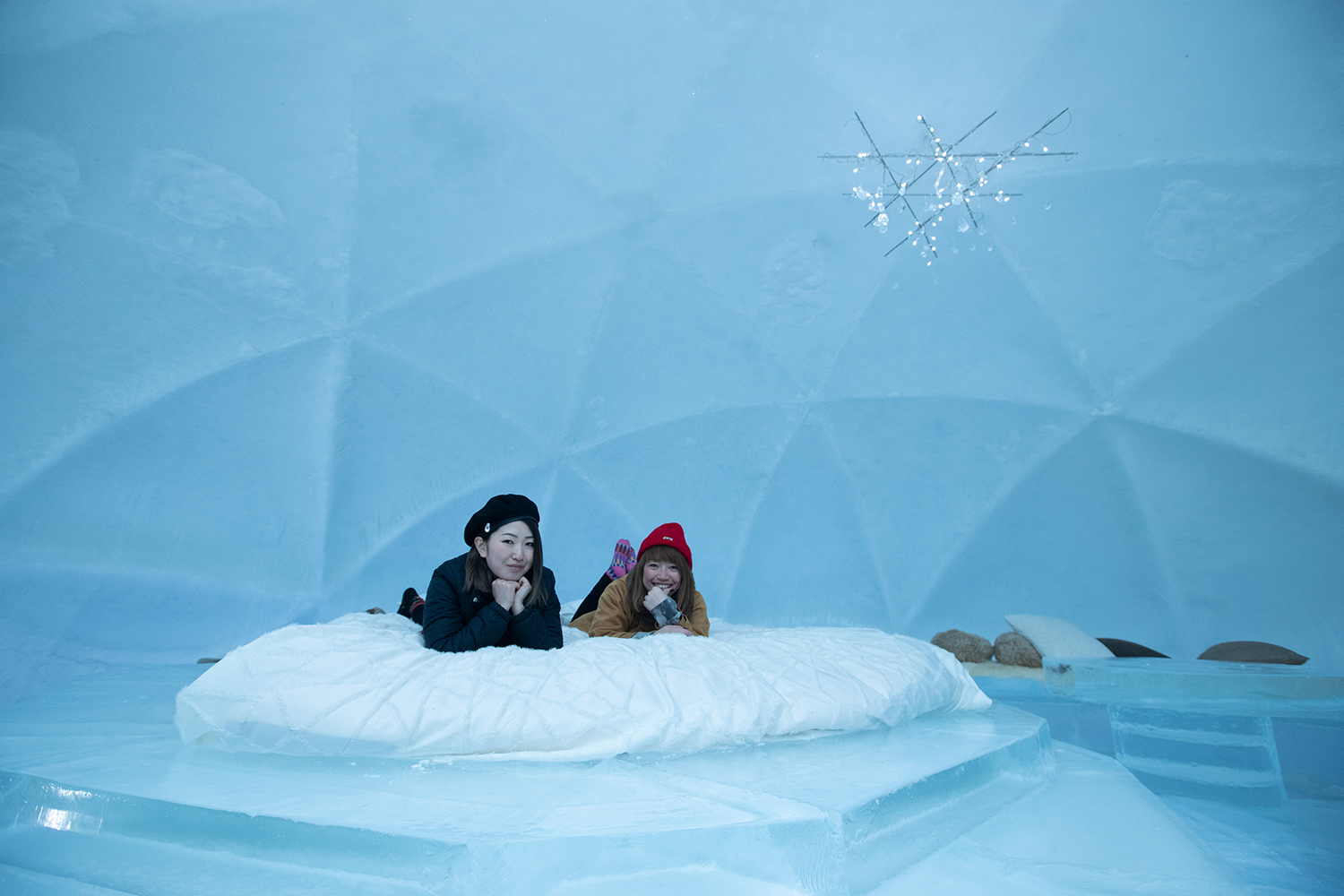 On the first day of their stay at Tomamu, the two of them slipped, ate, and played with each other.When you return to your room, take a leisurely whirlpool bath to prepare for the next day and enter into a comfortable dream.
Gracefully French toast in the morning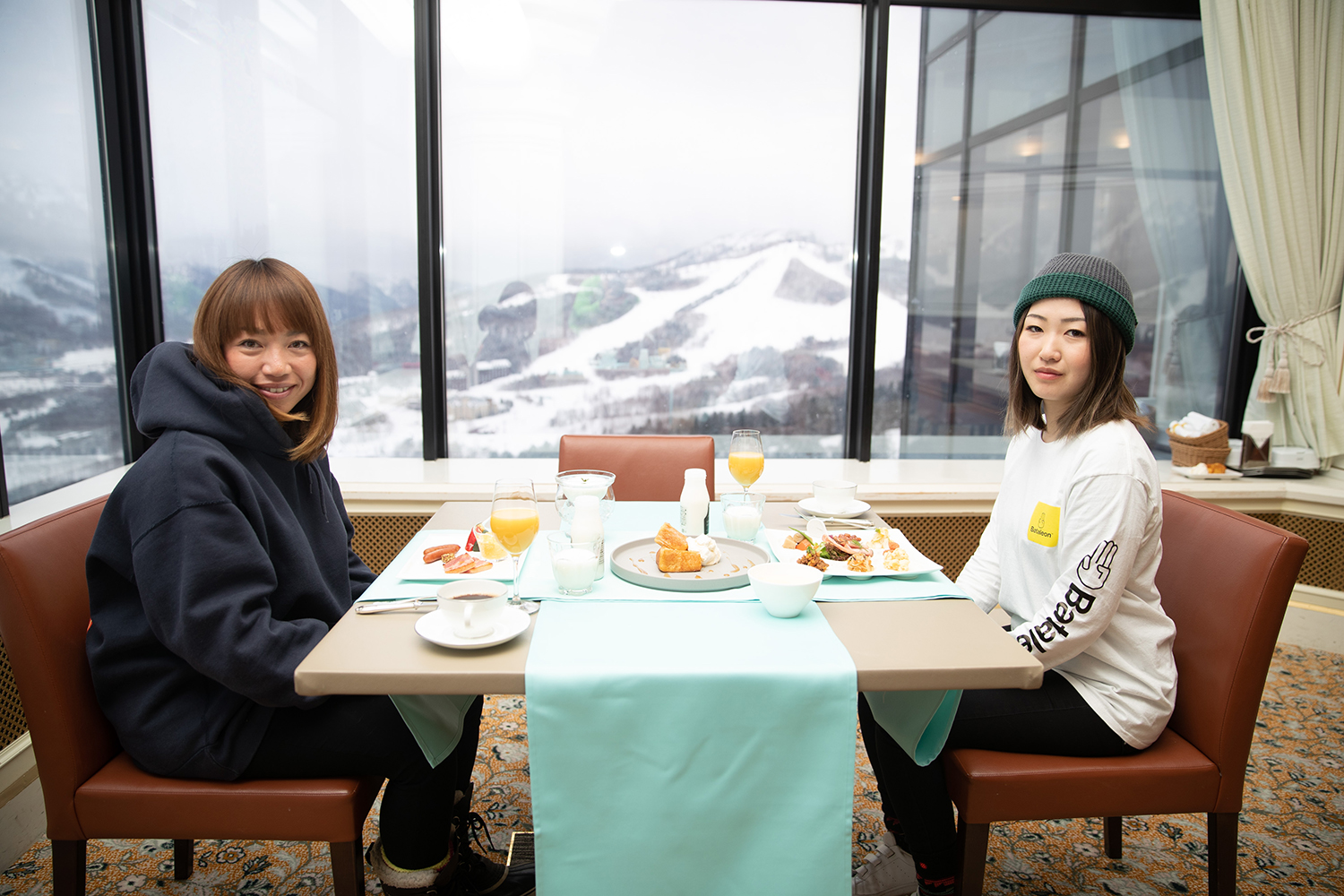 The basic plan for staying at Tomamu is breakfast included.You can also choose a restaurant and have breakfast wherever you like.If you stayed at the Resonale, the "Platinum" on the top floor is the best choice.
The view is good and you can see the slopes.After this, you can have a meal while discussing where to slip.
However, it is a popular place, so it is recommended to go early. Both of them arrived before the store opened and were on standby.And what you definitely want to eat is "French toast with plenty of cream"!
It's plump and you can go as much as you want with its exquisite sweetness.It's not possible to eat too much because it's before slipping.It tastes too good and I eat too much.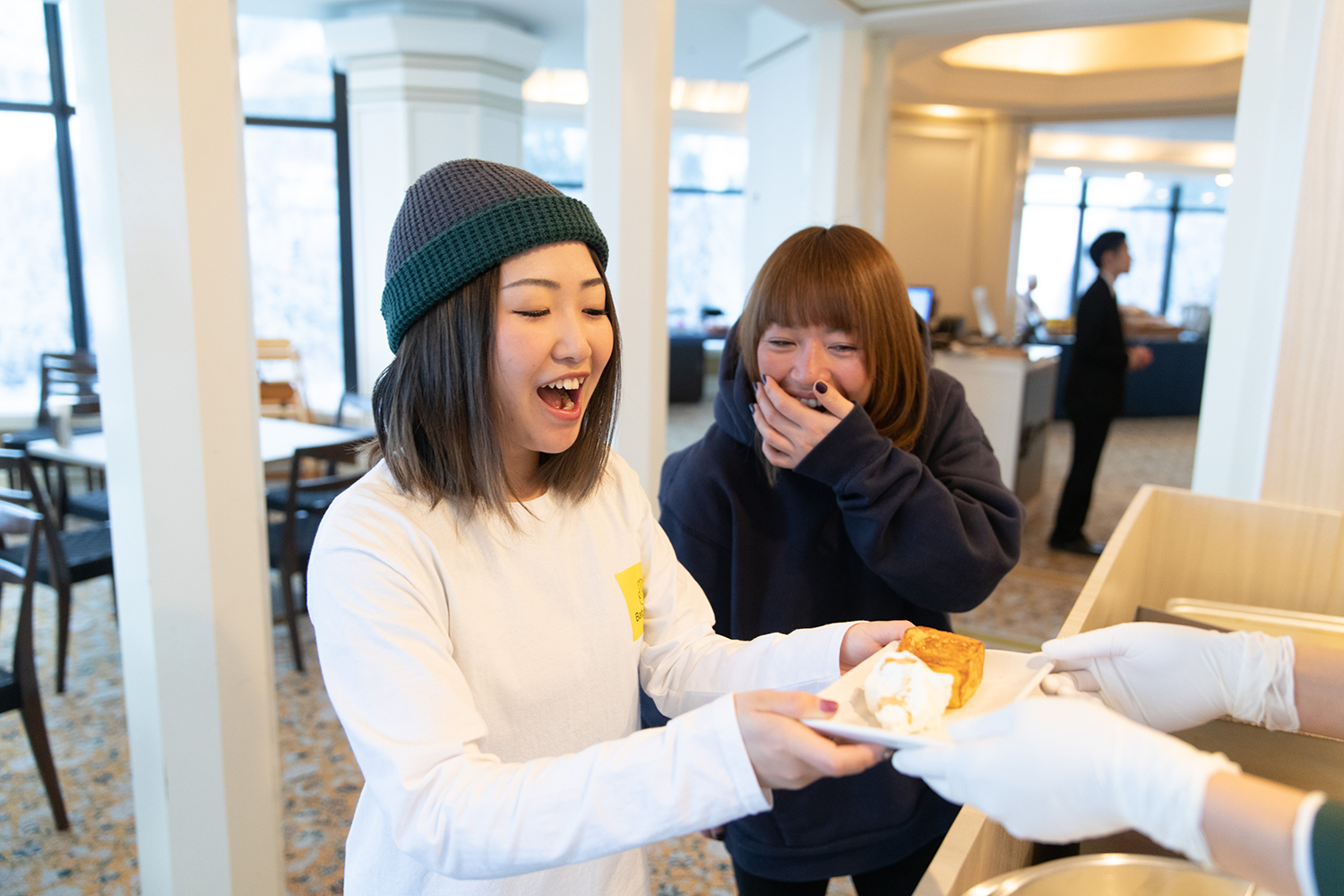 If I got up early and had breakfast slowly, the public relations department who showed me around Tomamu called me this time!
There is a rare sea of ​​clouds in winter, so please prepare immediately and come to the gondola!And that.
I've only eaten two French toasts, but I'm in trouble if the sea of ​​clouds runs out, so I'll prepare immediately and go to the gondola platform at the resort center ...
Staying at Hoshino Resort Tomamu, where you can enjoy the sea of ​​clouds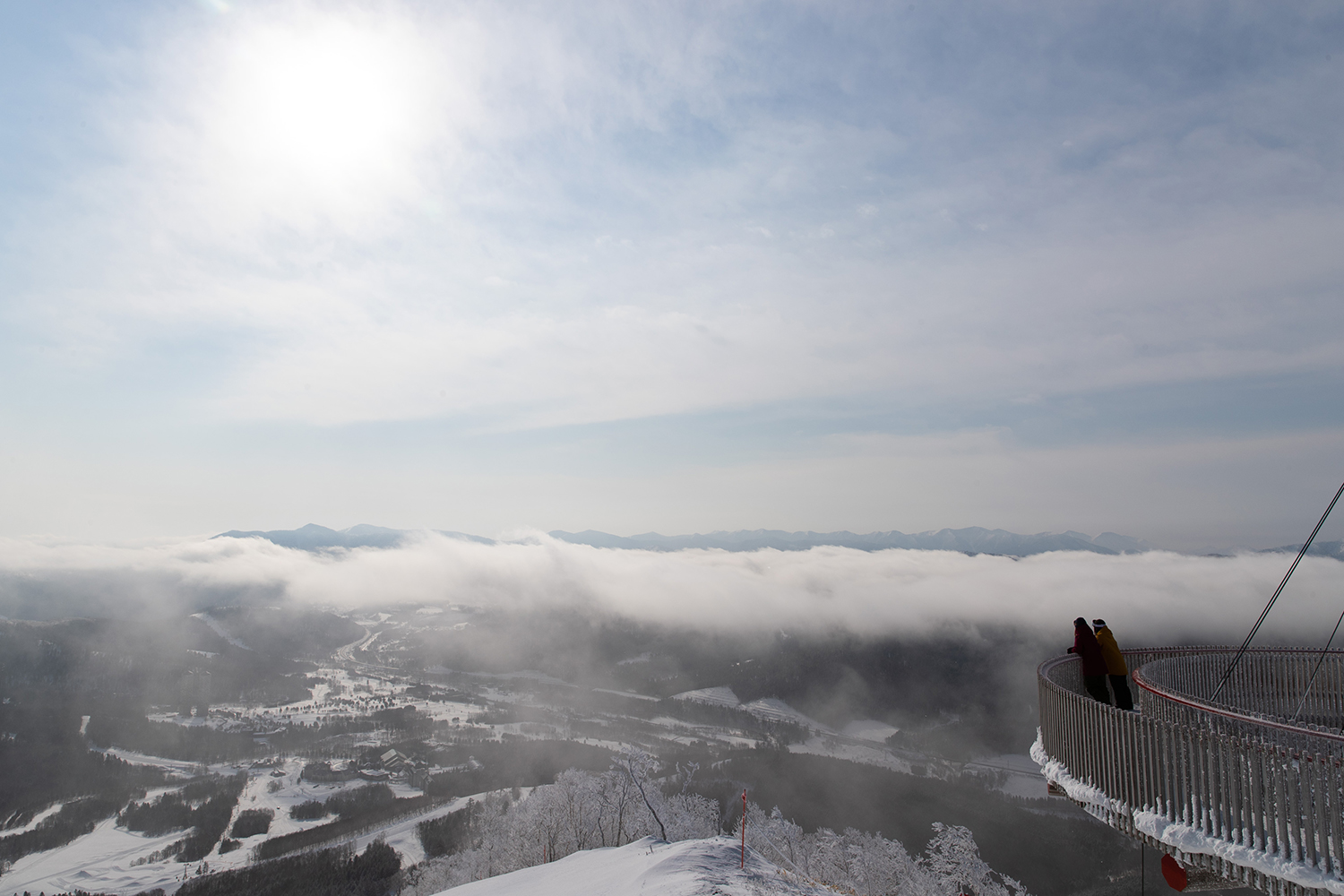 Tomamu's sea of ​​clouds occurs at a fairly high rate in summer, but it is rare to see it in winter.
By the time I arrived at the "Sea of ​​Clouds Terrace" at the top of the mountain, the clouds had begun to decrease, but I could still see the beautiful sea of ​​clouds.If you can see the sea of ​​clouds at Tomamu, it feels like you have completed the mission.Feel like you've enjoyed everything about Tomamu.
After a while, the sea of ​​clouds disappeared and the weather became fine.Let's slide down until the end time.
It was early in the morning, so this stay was over with some super beautiful pistenburns that no one had slipped on yet.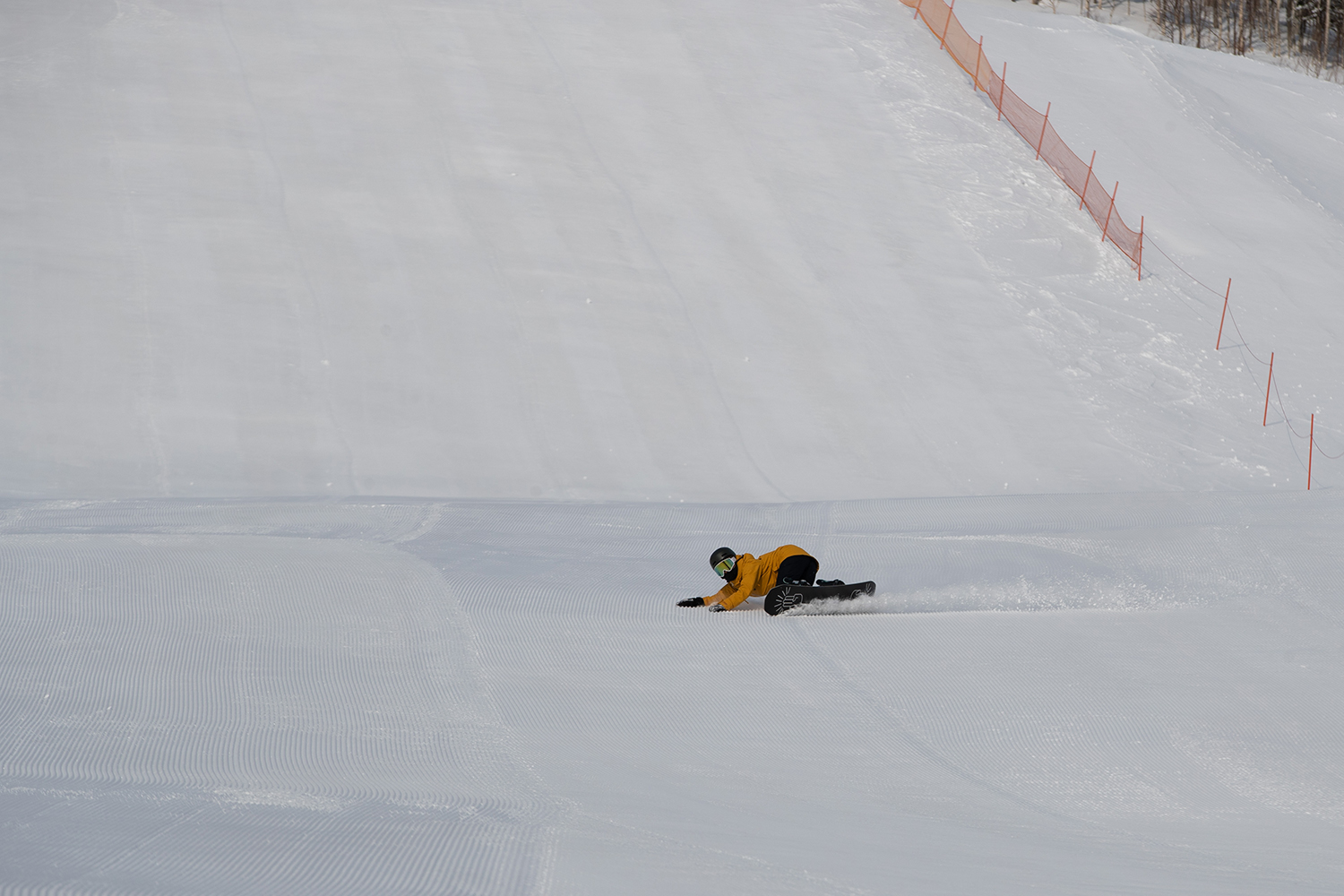 Hoshino Resort Tomamu, a full-fledged stay-type snow resort.
When you hear the word resort, you may think of a loose slope, but Tomamu is a snow resort that can be enjoyed by people who enjoy powder, people who enjoy parks, advanced people, and beginners.
Although I couldn't introduce it this time, there are facilities that can be enjoyed even with children, and the powder junkie has a cat tour on Mt. Karifuri, a natural mountain near Tomamu.
You can also enjoy after-snow at the facilities.As expected, it is one of the leading resorts in Hokkaido!It is a content that is convincing.
The two of us are usually slipping down, but did we enjoy the resort and get a little fat and go home?
By the way, the popularity of Tomamu is rising!It seems that such a large hotel will be fully booked from an early time throughout the season.
Book early this season and enjoy Tomamu, which you will never miss.
What are your impressions of the two who experienced Tomamu?
∴ ‥ ∵ Yuki Saga ∵ ‥ ∴
Tomamu atmosphere
Actually, since I was a teenager, I had a connection with Tomamu and had the opportunity to go there often.From that time on, the impression is that it is a secret place that exists quietly in a quiet city, and every time I visit it, I am always filled with excitement.You can slip back to the hotel right away, there is a restaurant area, ice village and pool on the premises, and it's fun for families who don't snowboard to travel together!
From the perspective of a rider
There are slow and fast courses in the course, and there are many courses so I never get tired of it.I like the steep slopes because they have a fairly steep slope and are slippery.
The charm of the park
It's rare in the Hokkaido area (as far as I know, only Tomamu), and it's a snow-packed car for lunch maintenance.The lift for sliding in the park is fast, and the size of the jump is a large size that is fun for us riders ~ A size that is easy for even beginners to challenge.There are plenty of jib items and various shapes, so you won't get tired of choosing various lines, and it's a perfect park no matter where you take it!
Facility charm and favorites
When I entered the room I stayed in, I was particularly impressed with the beautiful view and jet bath that made me lose my voice.The buffet is delicious no matter what you eat, and it is lined up many times with the meat that is grilled right in front of you.I was hungry when I remembered how the seafood spill festival was spilling (laughs) Ice Village is especially an ice bar, I want to date with a couple.
The best of Tomamu I felt!
I checked it in great detail, but no matter how much time I took, I didn't feel sorry.But the most important point is, of course, that snowboarders and skiers are fun, but even if there are families who do not play much winter sports, there are many activities that the whole family can enjoy.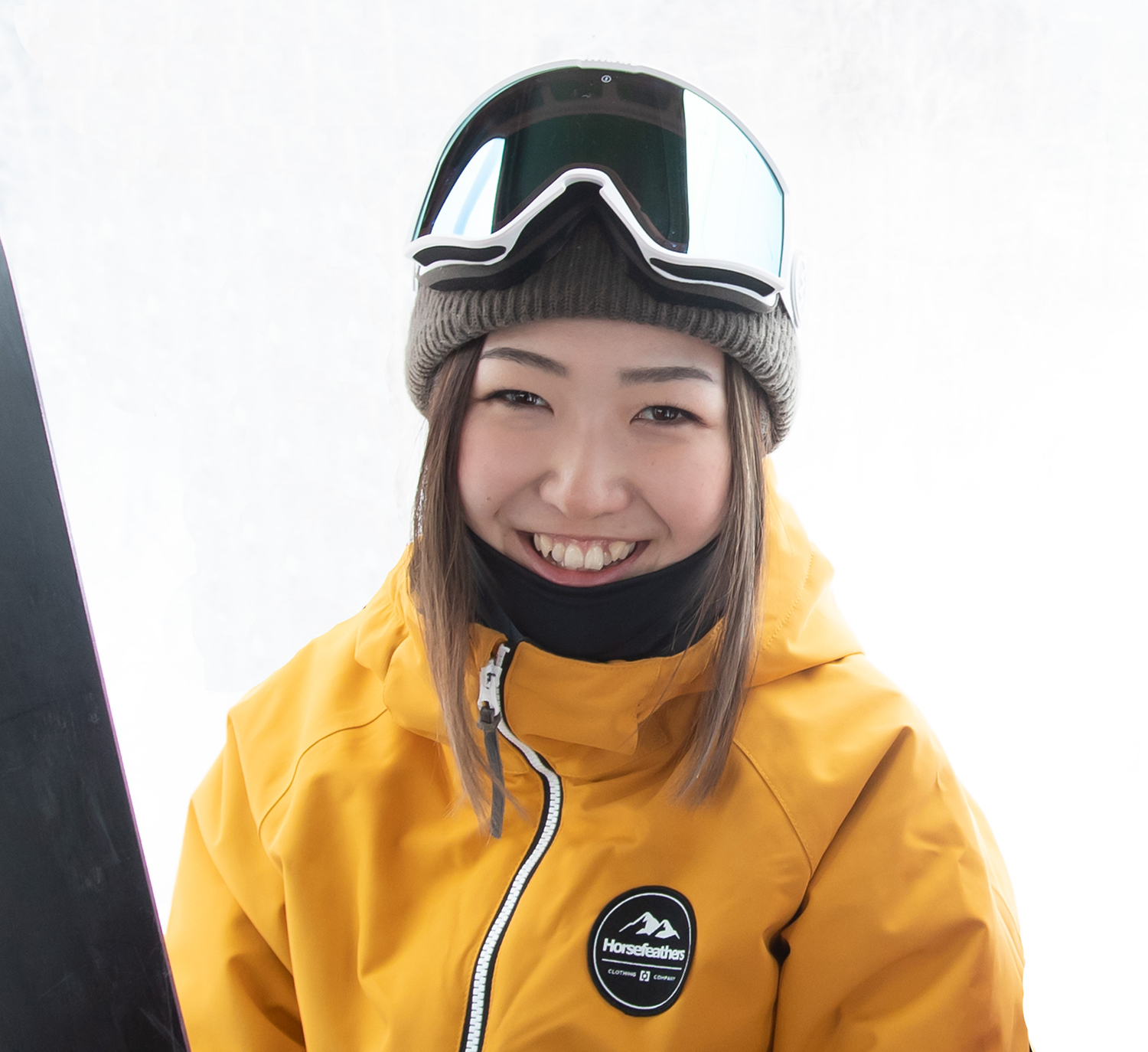 ∴ ‥ ∵ Otaka Riba ∵ ‥ ∴
Tomamu atmosphere
Tomamu has been visiting many times since ancient times, but the snow that falls due to the low temperature is just powder snow itself.The scenery from the lifts and gondola will make you excited!
From the perspective of a rider
There is a lot of terrain that you can play on the course on the slope as well as the open area limited to advanced users with a declaration system, and it makes you think variously while slipping.The slopes are wide and there are many beautiful and open courses, so you can comfortably run and carve!
The charm of the park
By the time you go to the park, you can do a free run and do image training before entering the item.There are various sizes of items and kickers for beginners to advanced players, but the lanes are well separated so you can enter the items with confidence.It is also good to see the park from the lift!
Facility charm and favorites
I think it's only Tomamu that you can have fun after you finish slipping!Ice Village, Mina Mina Beach with an indoor pool, all the food is delicious, and the buffet style offers freshly cooked food right in front of you!At the seafood spill festival, you can enjoy the food of Hokkaido just by being in Tomamu without going anywhere else!
The best of Tomamu I felt!
You can experience the goodness of Hokkaido just by being in Tomamu, not only for skiing and snowboarding, but also for eating!
Even if you have family and friends who can't ski or snowboard, you can play in the snow in a different way, so I thought everyone could enjoy it!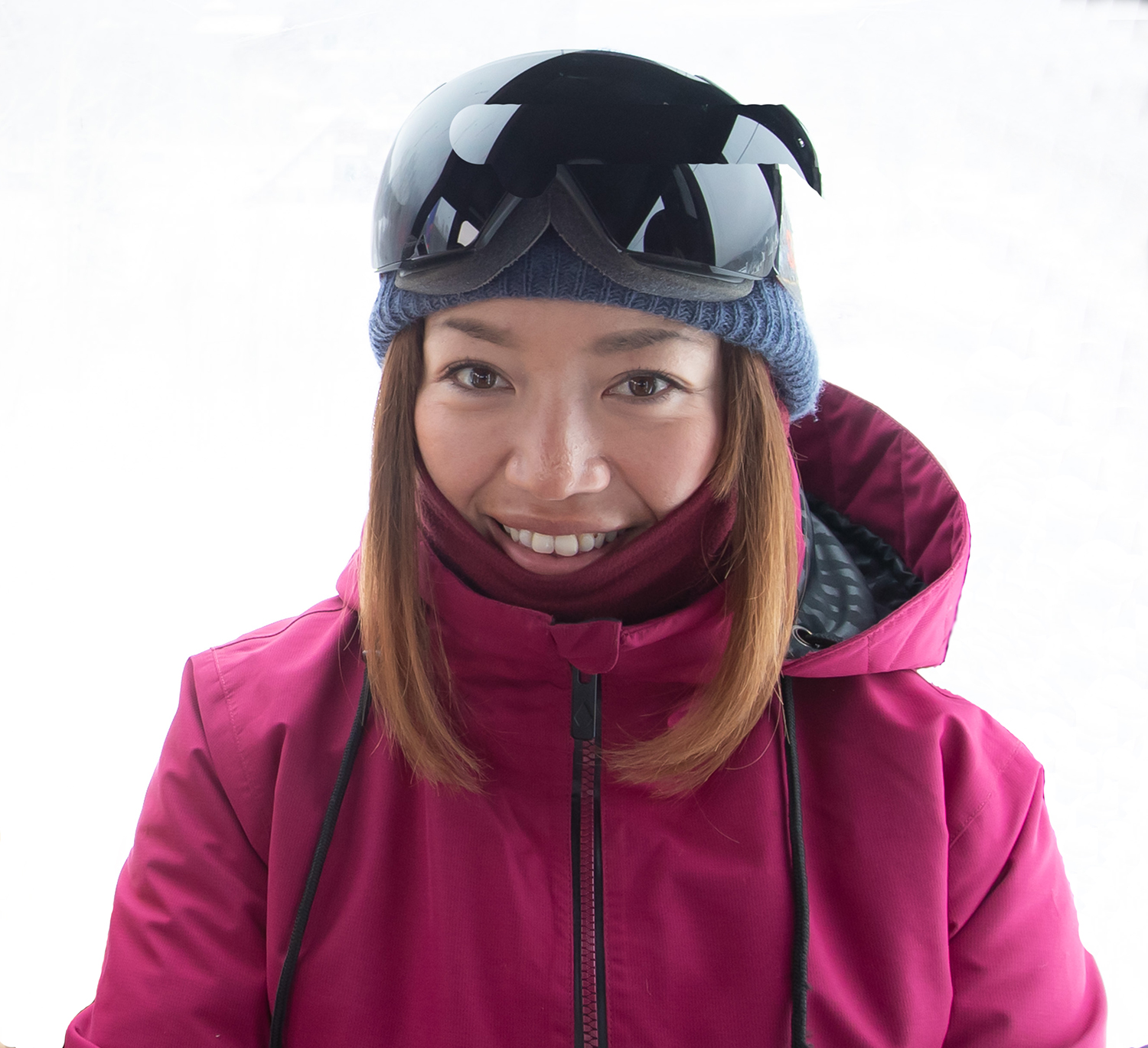 Click here for Hoshino Resort Tomamu RESORT information
TEXT & PHOTO: HARADA