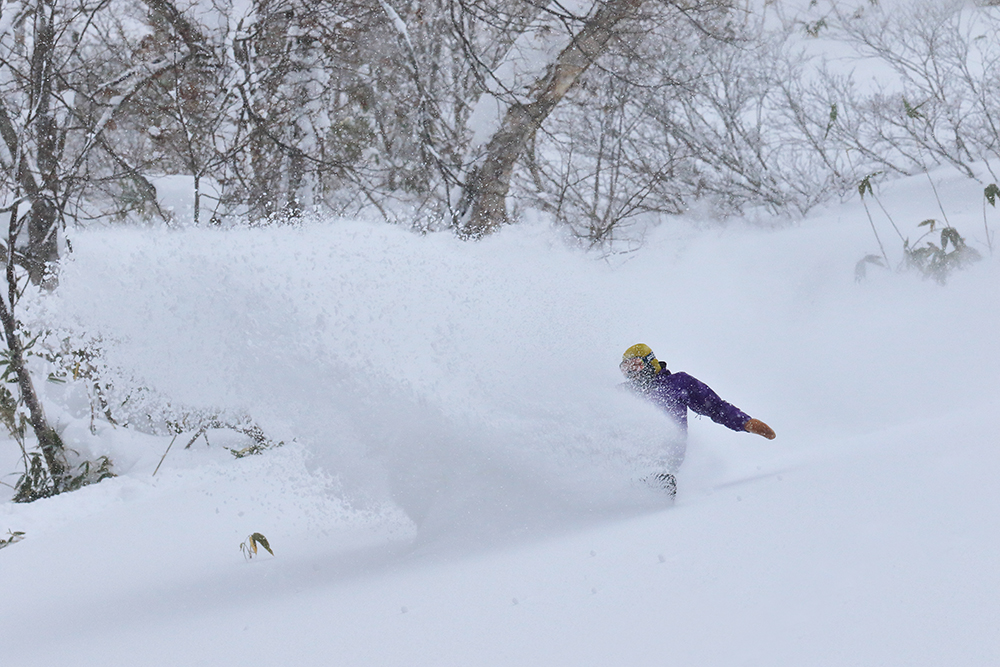 Photo: Kage (riding), Takuro Hayashi
Text: Takuro Hayashi
"If BOA makes you so good,
I thought I could make the ideal boots."
It responds dynamically to changes in snow quality and topography as well as turns. K2's TARO TAMAI SNOWSURFER was created with the aim of fitting the riding called snow surfing, which Taro Tamai and others have been fond of.Its greatest feature is that it has a high-quality softness that even advanced users will not be dissatisfied with.While ensuring a large range of motion, it provides comfortable comfort and support.A performance-oriented design that aims to follow the slip thoroughly.Tamai adopted BOA there.
---
Unleash the potential of BOA
Ideas as slippers
"I think it was a little after 2010. Before the current K2, there was an offer from a manufacturer that was supporting us to make original boots."
This is the story when I was listening to the story of the birth of TARO TAMAI SNOWSURFER, a K2 snowboard boot designed by Taro Tamai.
"Boots are something that touches the body directly, so as a skater, I was naturally interested in them. I think it was mainly used for rental boots and beginners' boots because it was easy to tighten and easy to put on and take off. In other words, the position of the guide through which the wire lace passes, and the angle at which the lace connecting the guide and the guide hits the boot. I felt sexuality."
However, Mr. Tamai also thought this way.
"However, this is from the point of view of a skater who is dreaming while looking at boot making. rice field"
One day, I had the opportunity to meet Gary Hammerslag, the founder of BOA.
"It seems that Gary came to Japan because the Japanese agency of BOA just started up. He said he wanted to ask if there were any manufacturing restrictions on the position of the BOA guides, or if there was a rule that they had to be there, and Gary asked him about safety. There are regulations for durability and durability, but there is nothing else, because each manufacturer has designed it."
Thinking that, Mr. Tamai kept asking.
"Then, when I asked if the guide position and lace layout were decided by the designer, he said yes. Lucky, I thought there was no such thing as a good deal, so I asked him to come, and Gary said apologetically, saying that if the material was bad, it could not be processed, so the boots were not new. Hearing that, I felt even more lucky."
At that time, the boots that Mr. Tamai was using had a good fit, and Mr. Tamai liked them to a record high level.Soft, easy to wear, yet easy to control.The boots, which used conventional laces, were rare in production, but by chance, two pairs of the same boots were provided, and one pair was kept as new.
"So, send me the new one right away. At that time, it wasn't a precise blueprint, but I drew a picture like this, saying that I wanted this place to be like this, and the important part was this part, and I attached a memo. So, the boots really arrived just like that, didn't they?"
At this point, there are a few points that I think are important.
"First of all, the BOA can be tightened separately with upper and lower parts. Then, when the dial is turned, the order of tightening, the angle at which the wire tightens the next guide, and of course the position of the guide Right."
Such fine points, especially the guide position, seem to require a delicate position specification of several millimeters.If you don't properly specify the desired position, even if it's a test boot, it won't take shape.However, Mr. Tamai says:
"That's okay. They're professionals in making boots, so all you have to do is tell them what's really important. For things like specific parts locations, the engineers will figure out the best from a technical standpoint." As a skating professional, all I have to do is tell you the essentials, such as what kind of feel and what kind of fit you need.If you're an engineer who spends a lot of time thinking about the product, this is what I want. I'm sure you'll understand."
And so it turned out.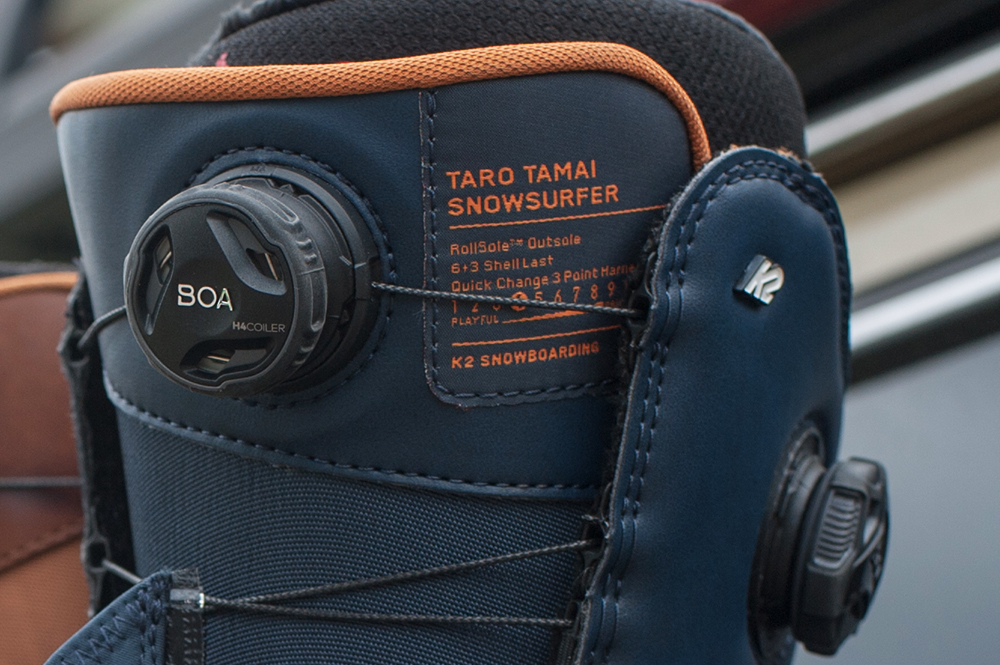 Comfortable tightness and ease of putting on and taking off are important.
However, the biggest purpose is to increase the performance of sliding.
---
Pure comparison of string and BOA
answers derived from
The boots which became the base are excellent at a fit.The only difference between the test boots is BOA or laces.
"But I'm skating at my home ground, Niseko. I don't think I can do such a precise test focusing on just one point, the difference between BOA and Himo. And, needless to say, the test boots are the best. Anyway, I'm in good shape.
Of course, at the same time, we found a lot of improvements that we thought would be better here.
After that, I was able to confirm the difference in feel depending on the snow quality and topography, as well as the board.I think it was great to be able to confirm the feel of the BOA in such a practical test.Because of that experience, I thought that if I were to make boots, I would want to do it at BOA.
Of course, tight tightening that can not be achieved with strings is now possible, and it is also possible to finely adjust subtle tightening.In addition to the part that supports this kind of performance, I think it was also a harvest that I was able to review the lightness of the footwork of putting it on and taking it off.The features advertised for rentals and beginners apply to us as well, greatly reducing the stress of putting on and taking off boots before and after skiing.I knew that very well."
Unfortunately, the original boot project that was mentioned at this time was not realized.However, less than half a year after the decision to suspend the project, K2 in Japan offered to make boots that would appeal to the world a new Japanese snowboard culture.
"In that case, we would like to make boots that are suitable for deep turns and sliding that responds flexibly to natural terrain, which is what we like to do, so-called snow surfing. Specifically, advanced users. I told him that I wanted to try something with a softer orientation, and that was in 2013."
In this way, the development of TARO TAMAI SNOWSURFER will begin.
"At any rate, the background is completely different from the snowboard boots that have been used up to now, and what is required is also different.If you do not understand that, you will not be able to make good use of the product development technology that K2 has. So we had many meetings and skated together many times to get them to understand the concept."
Even in the midst of such shared culture, what was required as specs did not waver.Advanced softness, durable materials, and a comfortable fit.and BOA.
"I don't know how this boot will change. I think there are many possibilities, but at least this is what I had in mind when I started developing this boot."
Mr. Tamai continues.
"It was the same boot with a string and a BOA, and I was able to confirm the potential of the system through a test that would not normally be possible. Without it, TARO TAMAI SNOWSURFER might not have taken this form."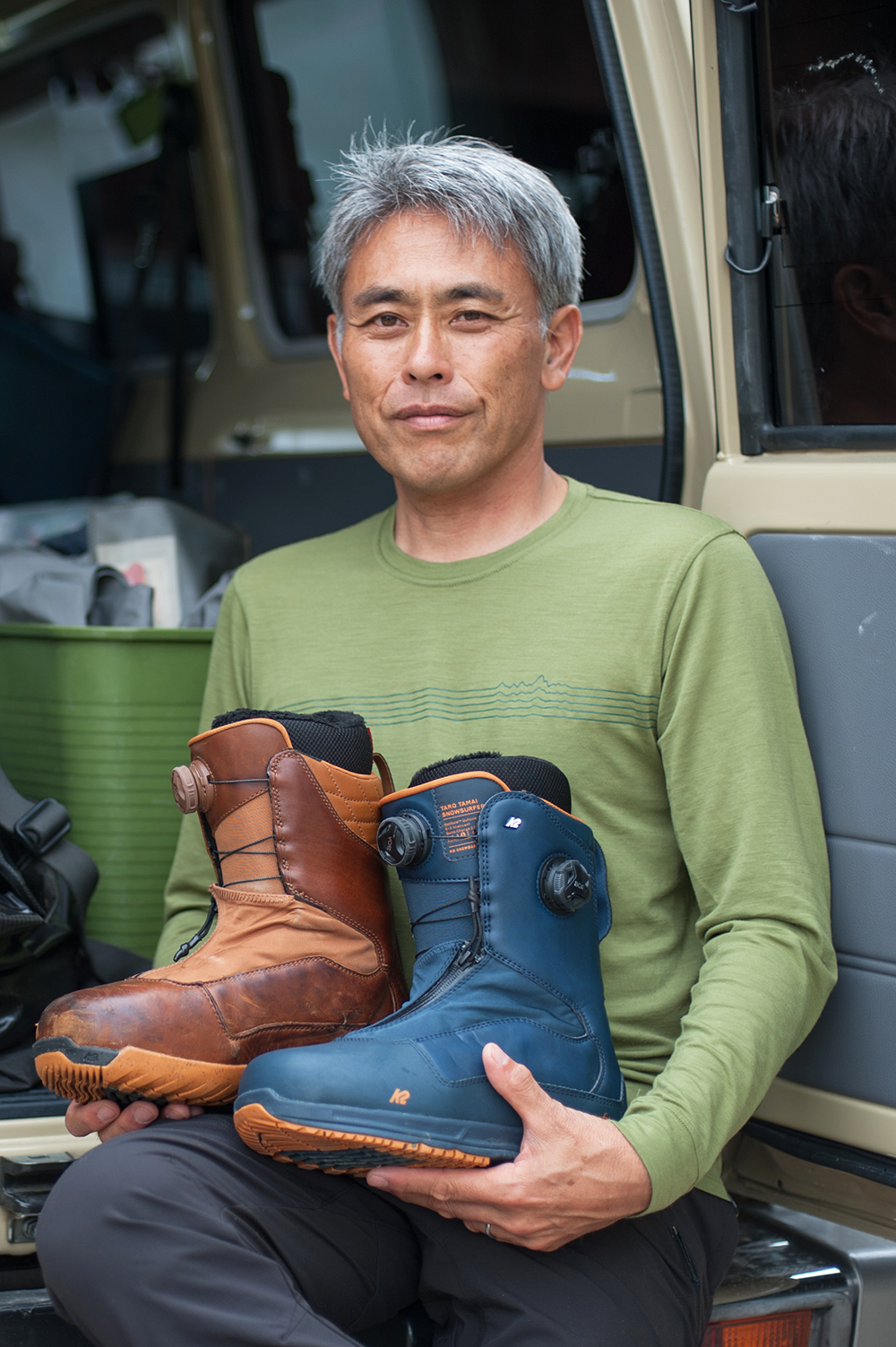 For more information on the BOA Fit System Official Website へ