After about a month of NZ trip, I came back to Japan.
After all it's hot in Japan.
Also, I have to get used to this heat.
I really enjoyed this NZ trip ☆
There were many sunny days, the mountains were in good condition, the powder was slippery and it was a great month.
I was able to have a session with Nakai, Teddy, Kate and others who lived together, Kohei, Hide-san, Kotaro, and Shige, and Kazu joined us from the middle and skated together, which was really fun.
Speaking of greed, I wanted to skate for another week or so.
Well, two and a half months later, I can slip in Hokkaido and I'll be patient until then.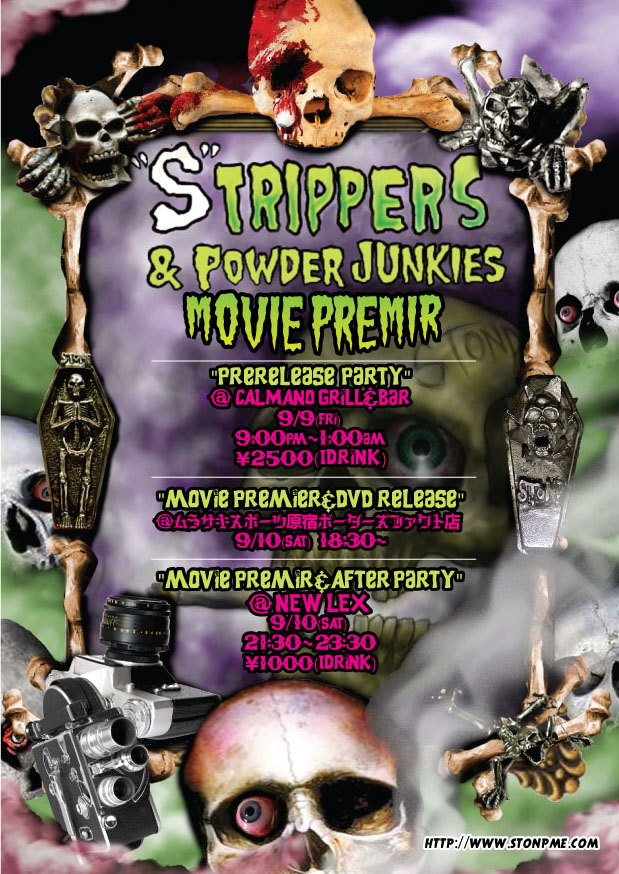 And finally, the DVD release event of STONP has been decided ☆
Two days, September XNUMXth and XNUMXth.
Unfortunately I can't go, but a lot of riders will get together and it will be a pretty fun two days.
For details, see this ↓↓↓
9/9 (fri) 9:00 pm ~ 1:00 am ¥ 2500 (1drink)
@ CALMANO grill & bar
1 minute walk from the Konan exit of Shinagawa station.03-5769-0373 Konan, Minato-ku, Tokyo Minato Building XNUMXF TEL: XNUMX-XNUMX-XNUMX

It feels light to see the work together before the release.Riders will also come, so let's enjoy NEW MOVIE while picking up CALMANO's delicious sake and food.
And the next day, September 9th, here

"S" TRIPPERS & POWDER JUNKIES release preview at Murasaki Sports Harajuku Borders Fact Store
9/10 (sat) 18: 30 ~
@ Murasaki Sports Harajuku Borders Fact Store
In commemoration of the release of stonp's full-length movie "" S "TRIPPERS & POWDER JUNKIES", which has received a lot of attention this season, it will be released at the Murasaki Sports Harajuku Borders Fact store on the day of the release date, 9/10. A preview will be held! Some riders will be gathering on the day.Also, on the day of the event, there may be special benefits and gifts from those who purchased the DVD by lottery ?! Admission is free, so please join us !!
Location: Murasaki Sports Harajuku Borders Fact Store (XNUMX-XNUMX-XNUMX Jingumae, Shibuya-ku, Tokyo Jingumae Media Square Building XNUMXF)
Time: September 9th, 10:18 start
Admission: Free
Event contents: ・ Talk show ・ Screening of works ・ Autograph session + handshake event (only for those who bought the DVD in principle) ・ Free distribution of Red Bull
MC: alee 
Guests scheduled to visit: Kazuhiro Kokubo, Yusaku Horii, Kotaro Uemura ,, Takaharu Nakai, Teddy Koo, Kohei Kudo, Seiki Toda, Yuma Abe Organizer: STONP, Marasaki Sports, Visualize Image Cooperation: Transworld Snowboarding Magazine ·Japan
* Admission may be restricted if the capacity of the venue is exceeded. * Riders who are planning to visit are subject to change without prior notice. * Food and alcoholic beverages are not allowed in the venue. * The event may be canceled due to weather, disasters, troubles, etc.
MOVIE premir & After party
9/10 (sat) 21:30 ~ 23:30 ¥ 1,000 (1drink)
@NEW LEX


3-13-14 Roppongi, Minato-ku, Tokyo 3rd GOTO Bldg B1
F tel: 03-3479-7477

http://www.newlex-edo.com/
Later, Hide-san made a documentary video of Kohei ~ ♪
Hide-san, you have a pretty good sense.