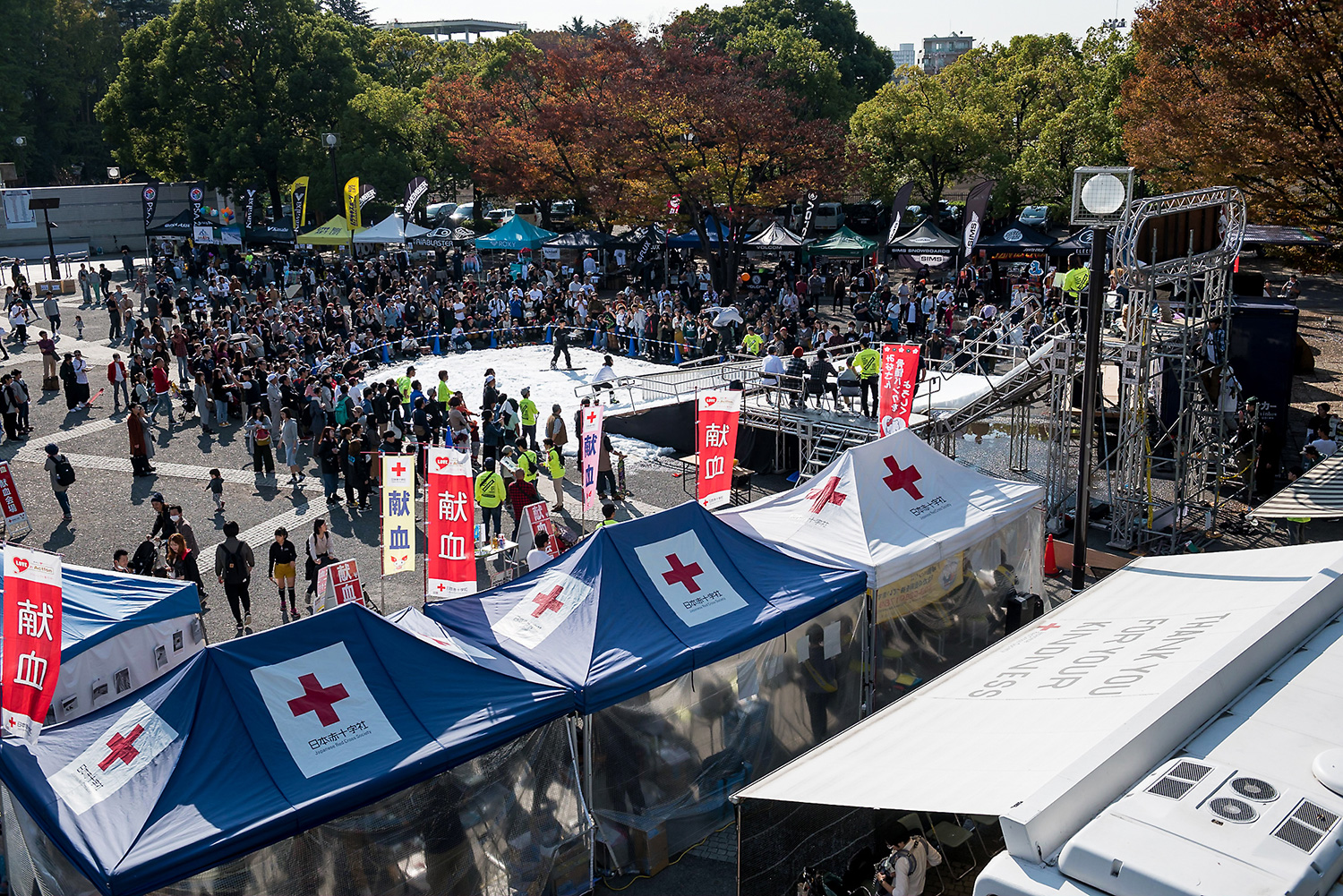 Last month, "" was held at Yoyogi Park in Tokyo for two days from November 11th to 10th.Tokyo Snow Festival SNOWBANK PAY IT FORWARD 2018".This event, which was held for the eighth time this year, was realized from the experience and thoughts of Yoshimasa Arai, a snowboarder who overcame an intractable disease of 8 in 100 million people. It is a participatory charity event that aims to convey the enlightenment of the "bone marrow bank" through the fun of snowboarding, skateboarding, art, music, and dance, and to increase the number of registered bone marrow donors, especially among the few young people. ..The number of visitors this year was over 1 in two days (according to Yoyogi Park), which was a great success.The number of blood donations was 2 and the number of registered bone marrow donors was 60,000.
 Held during this event,The annual jib contest attracts jibers who are proud of their skills from all over the country.This year too, a two-day heated battle was fought while a large audience was watching.

While the top riders who lead the Olympian and Japanese jib scene gather, they are suppressedThe winner in the men's class was the winner from the general qualifying.Takashi Tamamura.In the women's class, Yamaguchi "34" Biei won the victory.
 In this article, among the riders who participated in this jib contest, it is impressive in the general sectionIt was upcomerI would like to put a spot on them.Takashi Tamamura, who won the championship, and the women's general division won the championship for the second time in a row.Haruna Ishihara.I would like to tell you what kind of riders are the two who will be responsible for the future jib scene.
First of all,Introducing the next-generation rookie who won the championship by suppressing the famous rider who won from the general qualifying.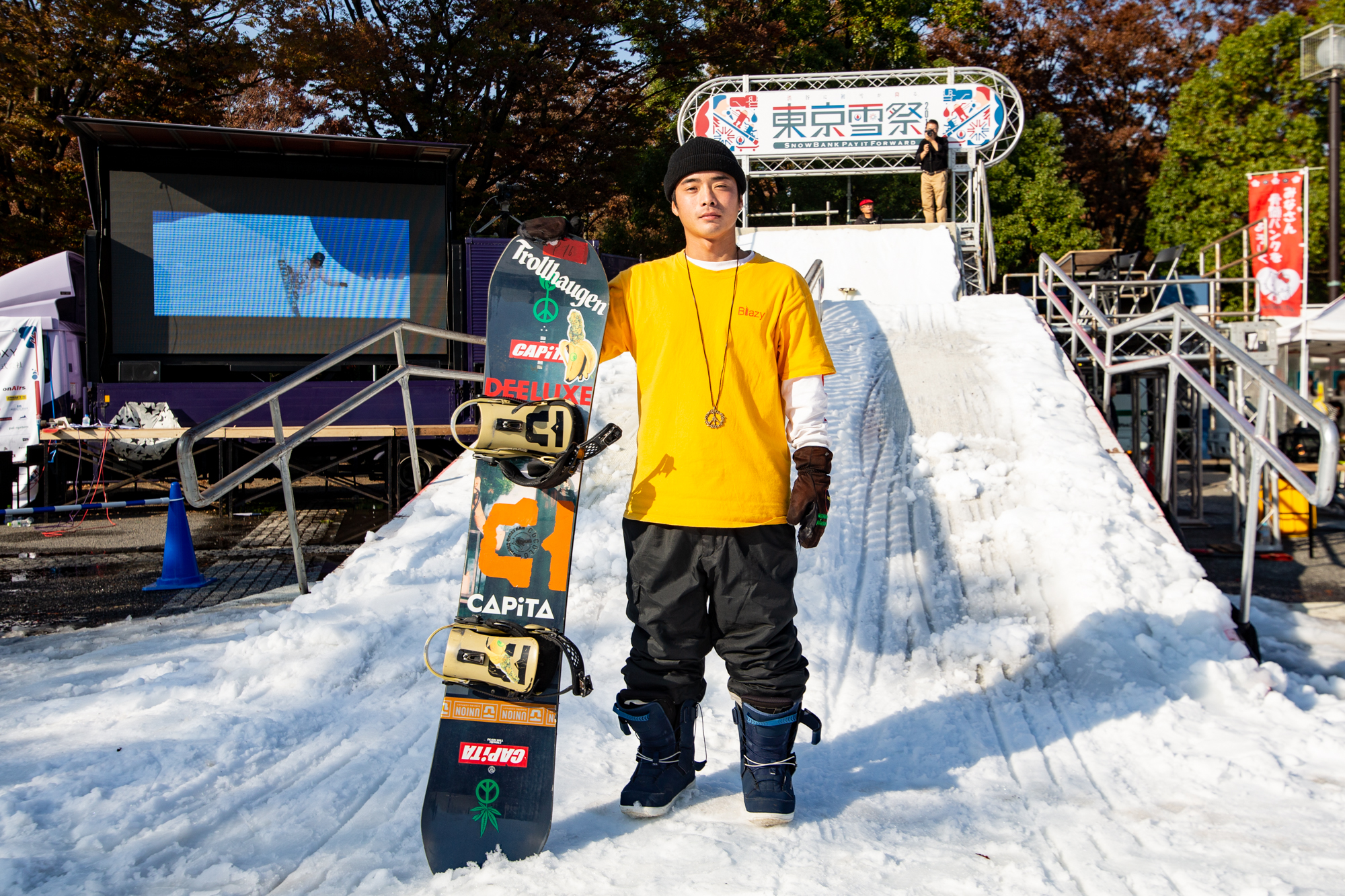 Jib can express himself most
Takashi Tamamura
I want to seriously face the snowboard I envision.Takashi thought so and returned his professional qualification to the association without hesitation.Many who know him say he was initially surprised at this decision.Until then, he participated in slopestyle competitions sponsored by JSBA and PSA, and sometimes achieved good results.Snowboarding started in elementary school.For several years from junior high school, I live a competition-oriented life.In a mixture of dreams and patience, I was lethargic to the snowboard I loved.It happened three years ago, when Takashi was only 18 years old.
"I wanted to go back to the starting point and face my own slip. I thought that I needed some reforms for that. First, I left the familiar land of Osaka and went to Kanagawa. I moved to Hiratsuka. I work as a staff member of Shonan Blush during the off-season, and in the winter I am in charge of park maintenance as a digger in Takai Fuji. I was able to do it, and I realized again that Jib is the most expressive snowboarding. "
 Takashi decided to aim for the top in the jib scene with the board handling cultivated in slopestyle as a weapon.Fortunately, I was able to win the championship at SNOWBANK RAIL JAM (general section), the first tournament of this season.
"B360in180out, I think this was evaluated by the judges because I was able to make it several times in this game. I'm happy to win the championship, but I didn't feel completely addicted to it, so I couldn't really immerse myself in joy. I was nervous in the qualifying, but it was good that I was able to aggressively set up in the final without feeling any pressure. "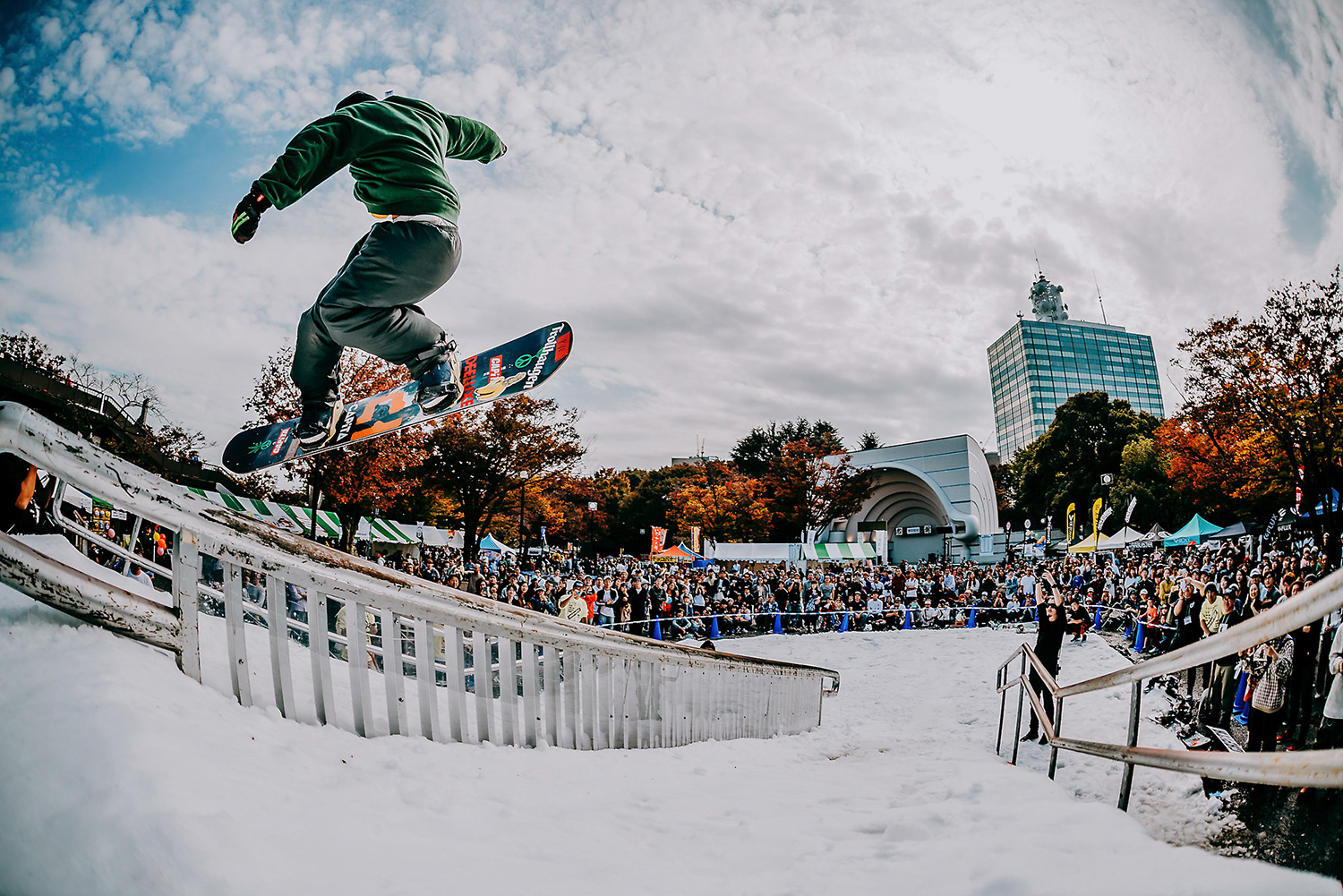 The next day, Takashi participated in the main race to compete with top riders as the winner of the general division.After finishing a serious session with well-known top riders, I asked him about his frank feelings when he decided to advance to the final.
"The level of perfection, such as the level of skill and the make-up rate, was different from the general department, but I honestly feel that I didn't feel a big difference from the skill I had. I tried to slip, and I tried to do it with all my heart. Among them, it is valid so far, but it is the best harvest to know the future issues such as this is still a long way off. "
After finishing the interview, Takashi brilliantly advanced to the final of the main race and achieved a victory.It is a feat of a complete victory that he participated in from the qualifying and won in the main race.Everyone in the audience gathered at Yoyogi Park must have been enthusiastic about his riding.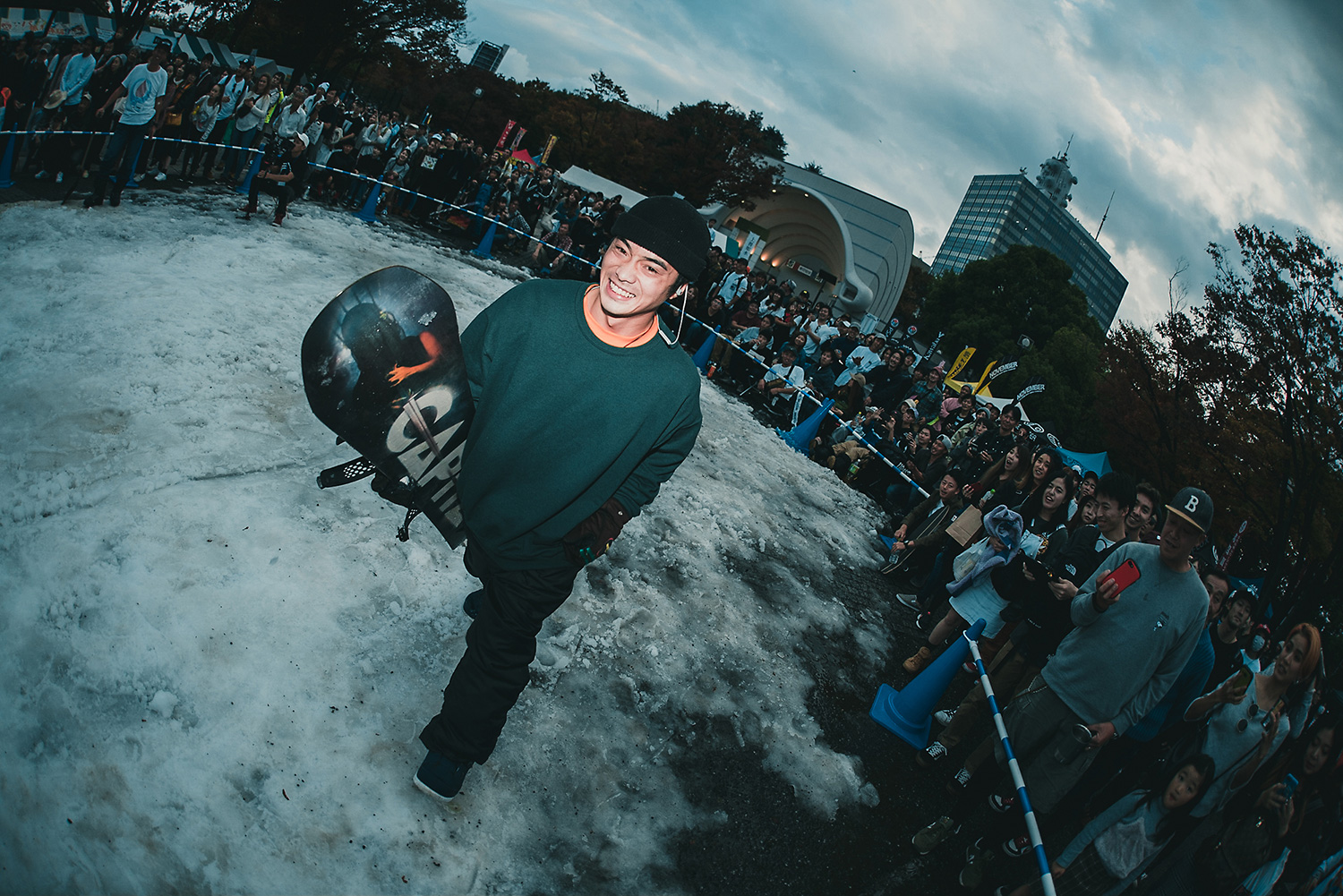 This winter, he told Takai Fuji that he would aim to further improve his technique while doing a digger again.And this season, we will expand the field to the street in earnest.What kind of landing point is Takashi thinking now, saying that he wants to continue to focus on shooting and video and master his own snowboarding?
"I'm active in the jib scene. That's all. And to be an international rider of a sponsored brand. I want to be a rider who attracts attention in the world."
 It's not impossible to reach the top of the jib scene or become an international rider who is active worldwide.A fearless 21-year-old young warrior.There is power, speed, and mental strength.And considering the potential of Takashi, the possibilities of its evolution are endless.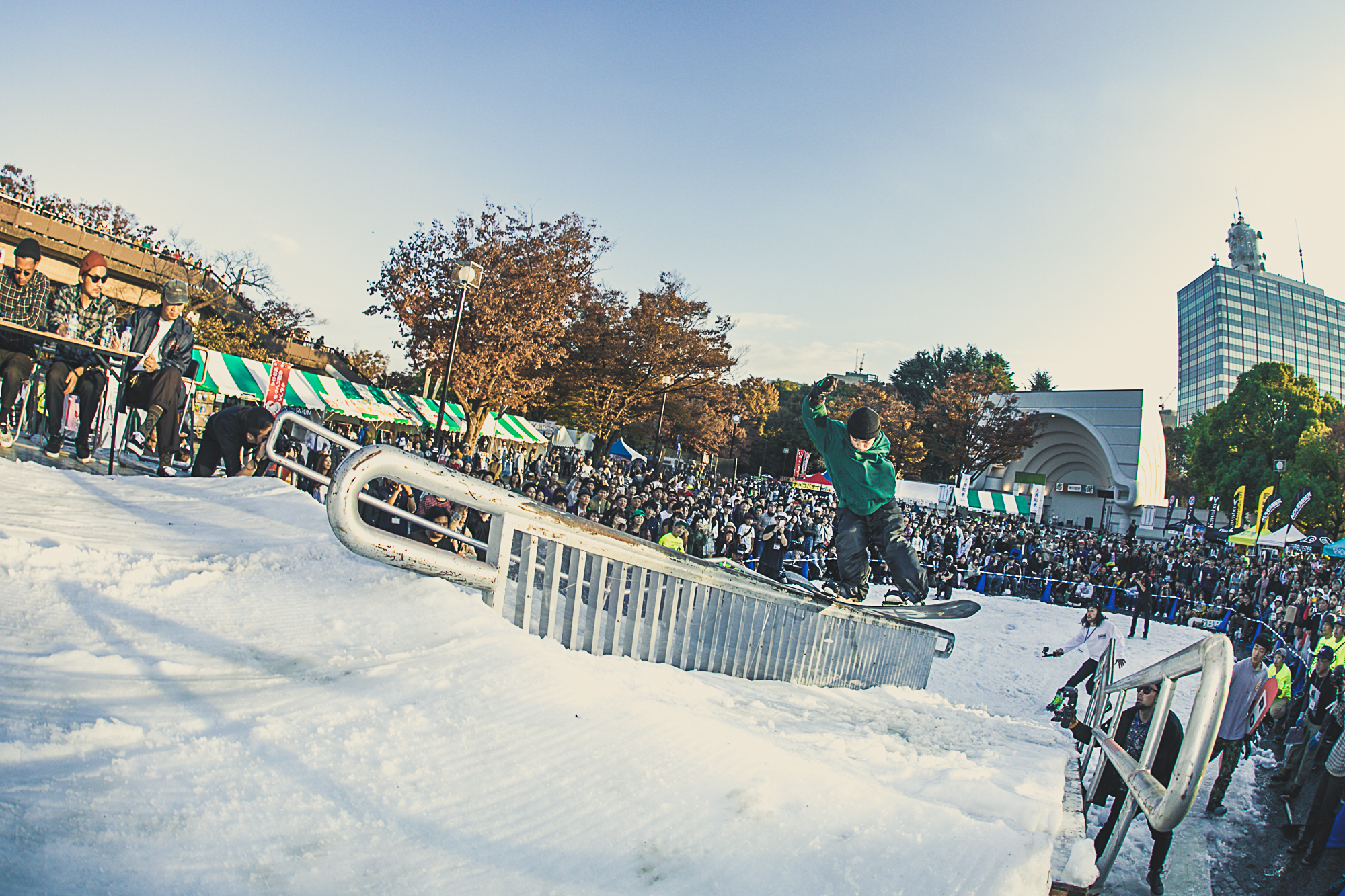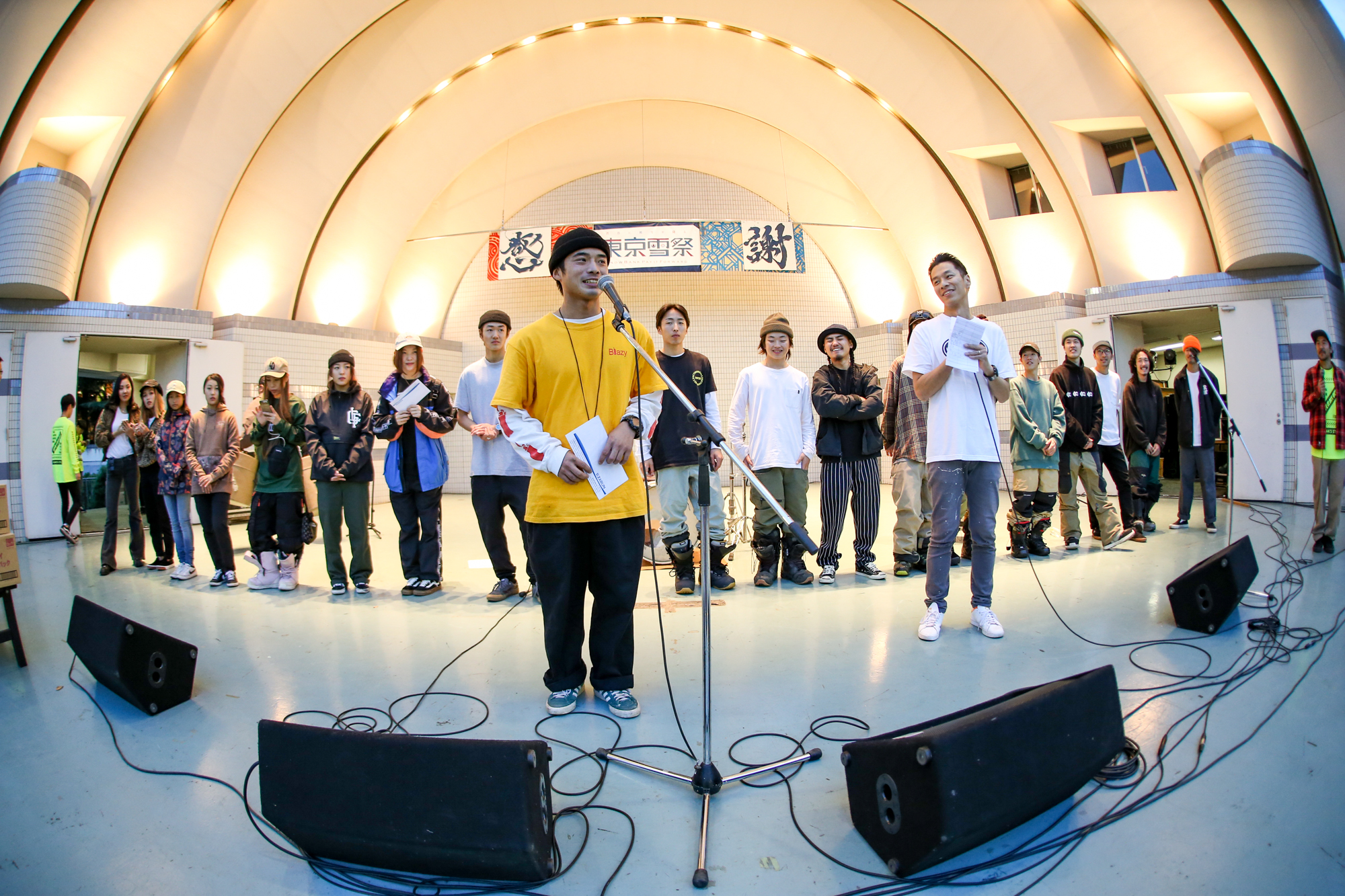 ------------
Next, I would like to introduce Haruna Ishihara, who won the championship in the general women's section.She is a strong Jiba who won this category last year and has won the championship for the second time in a row.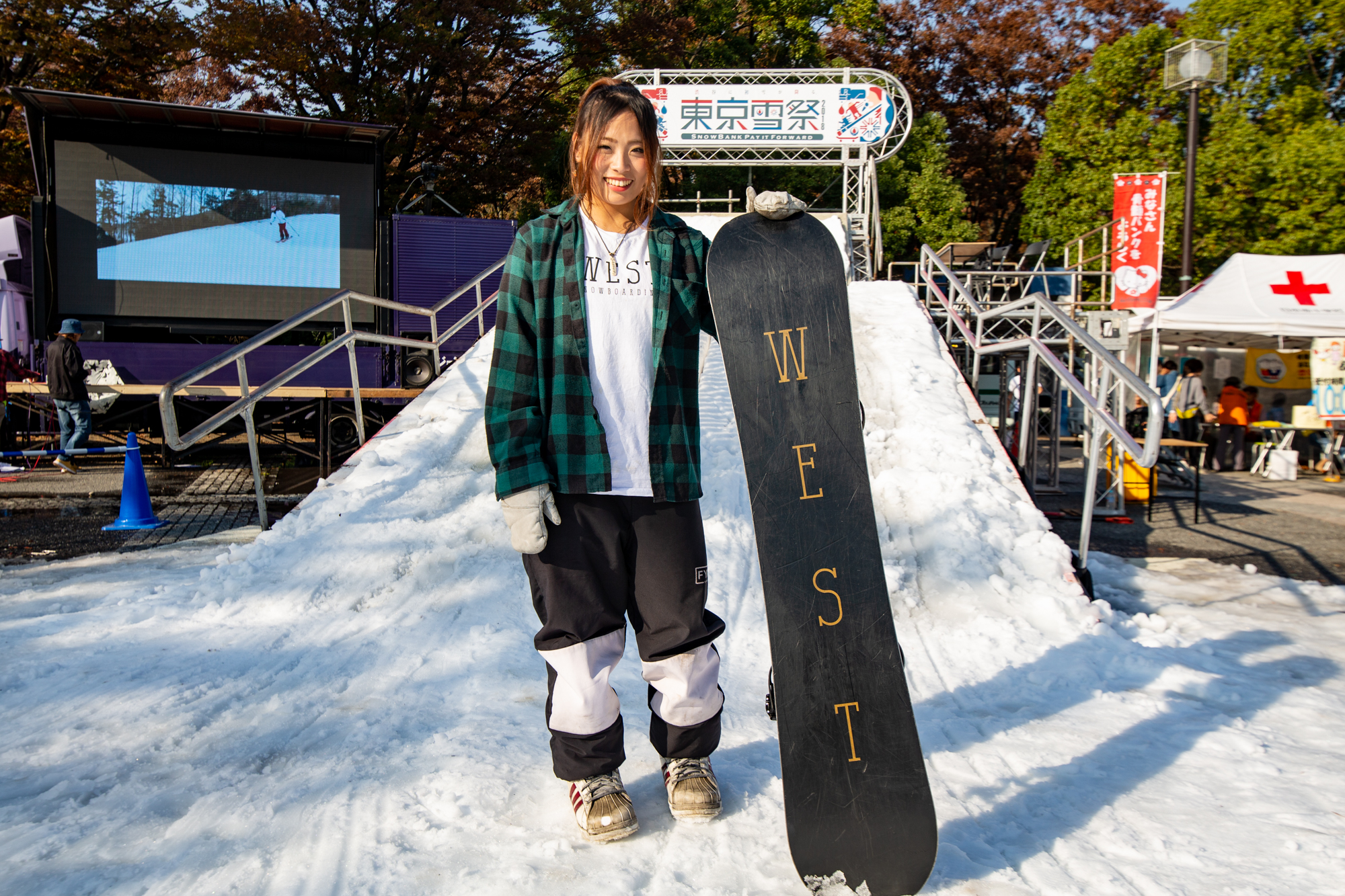 First of all, with a technique that you are surely confident in
I tried to make a full make-up
Haruna Ishihara (Haruna Ishihara)

A double-down transfer 180out by girls, which was unthinkable a long time ago.It is an era in which players who participated in the general women's division, who are not top riders, make full make-up in front of a large number of spectators and win the championship.Today, Japanese girls' board handling is definitely improving.
 Haruna Ishihara, who won the general women's division of the same tournament last year and achieved the second straight victory.A 2-year-old from Shiga prefecture with a lovely smile and aggressive riding.She has only been snowboarding for four years.Until then, I had a normal life as a student and a member of society.
"I entered university and studied abroad for about a year, and became a member of society at the age of 1. I enjoyed my work, but I wasn't satisfied with anything. Then, do your best with the snowboard that you were interested in. I left the company a year later. In the first year, I skated all day, day after day when I bought the local Biwako Valley season pass. In the second year, I skated with my friends around Hakuba. After spending my days, skiing with powder, park, jib, and free run, I think jib and rail are interesting and good at me. Then I started to participate in the tournament with the intention of seriously competing with rubbing. And last year, I went to Myokosugihara for the first time throughout the season. I tried it for the first time on the street, and now everything is fresh and fulfilling. "
 Haruna decides to go on the road of snowboarding.I asked him about the reason why he got off to a good start in the first race of this season.
"Given the time limit, I thought it would be a match with 1 to 3 per person, so I tried to make one full make-up with a certain technique with confidence. If I could make one first, then I think the reason for the victory is that I was able to afford it because I feel like it. However, I don't think I won the championship with overwhelming technical strength. My heart is complicated and full of reflection points, partly because I am picking it up. I was able to win the general division and get the right to participate in the next day's main race, but there are also many reflection points. I couldn't make a convincing slip. "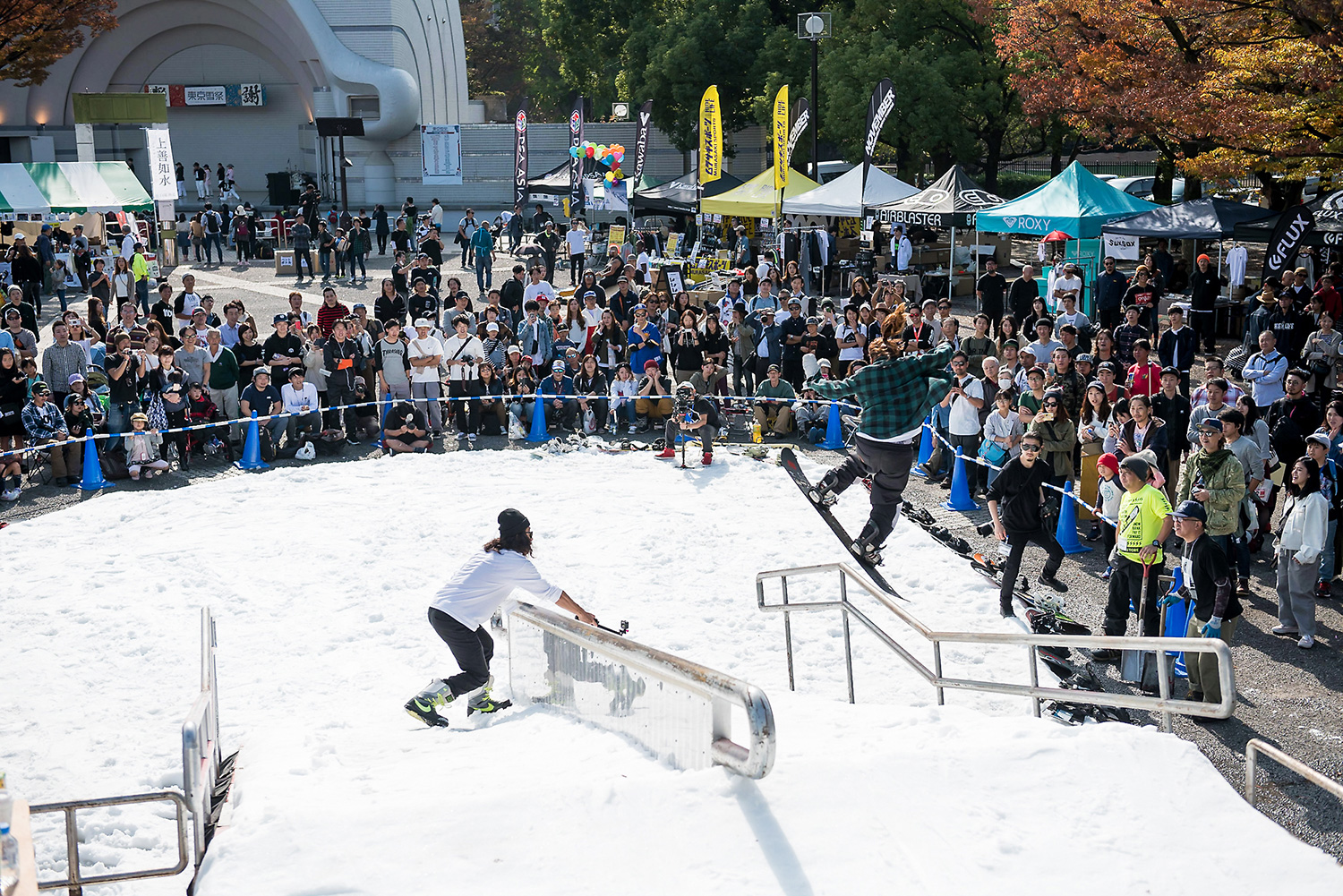 After answering that, I took a moment and continued to put more effort into my words.
"But it was a big harvest to know where I am now because I skated seriously against the top riders in front of a lot of spectators. I believe I can still grow and this level I strongly felt that I didn't want to end with
 Haruna's biggest selling point is her positive feelings and strong defeat.This winter, I will stay in Myoko Suginohara at the beginning of the season, and plan to be a camp coach in February.In early spring, he will move to Yuzawa, focus on photography and video shooting while holding sessions with various riders, and will actively participate in the tournament.There is no end to my interest in Haruna, who enjoys snowboarding this winter as well.