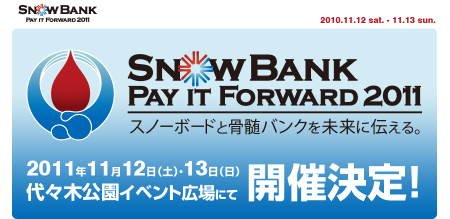 Oita's announcement has been delayed, but my friend Daze will hold an event at Yoyogi Park ♪
The details are like this 
  ↓
The first snow falls in Yoyogi Park in Shibuya, Tokyo!
SNOW BANK PAY IT FORWARD 20 will be held at Yoyogi Park in Tokyo from November 2011th to 11th.This event is the world's first event that collaborates with the snowboarding event and the public awareness event of the bone marrow bank, which is held by the snowboarder Arai daze Yoshimasa, whose life was saved by the bone marrow bank!This event is full of content such as live music and talk shows, as well as hot sessions of professional snowboarders representing Japan! November 12th and 13th will be gathered at Yoyogi Park!
Riders scheduled to participate: Futa Andachi, Atsushi Ishikawa, Kiichiro Issei, Ryuichi Hekida, Tetsuko Kawai, Megumi Sato, Shouma Takao, Teddy Ku, Choco Vanilla Ball Arai, Takaharu Nakai, Daichi Nobori, Hiromi Hiraoka, Itaru Fujinuma, Daisuke Murakami , Yamaguchi Taki, Yoshida Masayuki and more… (in alphabetical order)
Performing artists: Monkey Pirates, HaLeBaLe, Uninhabited Island Records, RUBY RED LIPS
Kakera Bank, Gull Hate Band
Event homepage: http://www.sbpif.net/
<Please help everyone! !! >
While snowboarding events are gone, we can see that snowboarding is declining as it is.So let's work together with all the snowboarders to make this event a reality and liven up the snowboarding!We are looking for individual special sponsors for this event from crowdfunding "READY FOR".The budget for execution is currently insufficient, so please help the snowboarders who liven up this event to make it snow!Your name will be posted on the special sponsor panel that will be set up on the day of the event!Of course, we will also present souvenirs that can only be obtained here!Thank you for your cooperation.
Please see here first! !!
● READY FOR page: https://readyfor.jp/projects/snowbank2011
SNOW BANK PAY IT FORWARD 2011
JIB SESSION
General participant application requirements
 
<Content>
Snowboarding in Yoyogi Park, Tokyo ~ 20th Anniversary Campaign Event for Bone Bank ~ A snowboard jam session will be held under the title of SNOW BANK PAY IT FORWARD 2011!This is a general snowboarder participation event.Let's have a hot session in Tokyo just before the season in and get excited!It's a session system, not a tournament format, so the level doesn't matter!Items such as T-shaped boxes that are easy to ride even for beginners.There was also a session with famous professional riders on the day.You can also appeal to the world because you will be interviewed by specialized magazines!You can also skate with a professional rider!It's okay to join in and make memories with your friends who are always slipping together!You can cosplay and get excited!The superiority complex of getting off at Harajuku station with a snowboard in one hand is irresistible!Let's get a lot of people to participate, regardless of whether they are good or bad, and let's all enter the season in Tokyo!Those who stand out in the session may be able to participate in the pro session and cosplay session on the 13th the next day! ??We look forward to your participation! (* Please wear a helmet)
Venue: Yoyogi Park Event Plaza, Jinnan 2-chome, Yoyogikamizono-cho, Shibuya-ku, Tokyo
Reception hours: 10:11 to XNUMX:XNUMX
Reception place: Yoyogi Park Event Venue Event Secretariat In front of the tent
Organizer: SNOWBANK PAY IT FORWARD Executive Committee
Sponsor: Bone Marrow Transplant Promotion Foundation, National Bone Marrow Bank Promotion Liaison Council, a certified NPO
Ministry of Health, Labor and Welfare, NHK (pending), CAEBV Study Group, Chronic Active EB
Virus Infectious Disease Study Group
Number of applicants: 100 people           
Entry fee: 10000 yen
Now accepting at Digi Entry! !!
You can easily enter from the DigiEntry homepage! !!
[Event Name]: SNOWBANK PAY IT FORWARD 2011 ~ Bone Bank 20th Anniversary Campaign Event ~
[Event?]: 1100400
[Direct URL]: http://dgent.jp/e.asp?no=1100400
[Date]: 2011/11/12
[Reception period]: 2011/9/30 ~ 2011/11/5
[Organizer]: SNOWBANK PAY IT FORWARD Executive Committee
[Venue]: Yoyogi Park Event Plaza, Jinnan 2-chome, Yoyogikamizono-cho, Shibuya-ku, Tokyo
<Contact>
SNOW BANK PAY IT FORWARD 2011 Executive Committee
         3-12-6 Higashinihonbashi, Chuo-ku, Tokyo Libra Higashinihonbashi? 5F
         Within Creative PR Co., Ltd.
         TEL: 03-5645-7321 FAX: 03-5645-7322
         HP: http://www.sbpif.net/ mail: info@sbpif.net
         Mobile: 090-6177-7752 Person in charge: Kunihiko Niida