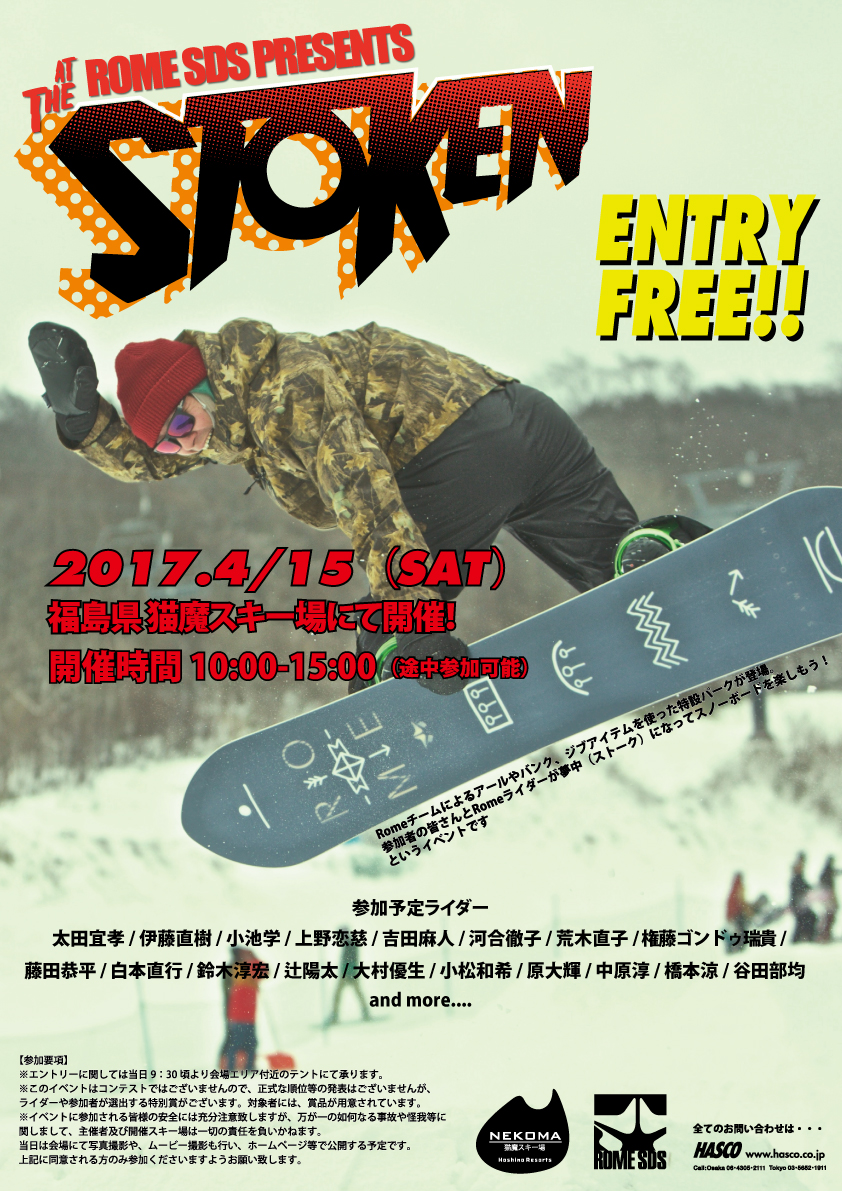 RomeSDSThe sponsored snowboard event "STOKEN" will be held on Saturday, April 4th.
STOKEN is a special course that uses Earl, Bank, Rhythm Section and Jib Items with local support on the slopes all over the country every season, so let's immerse yourself in snowboarding!A fan event called.
The venue for this season is Fukushima PrefectureHoshino Resort Nekoma Ski Resort! !
At Nekoma Ski Resort, there is still plenty of snow, and it is still slippery.
Held in Fukushima for the first time in four years.We will make a technical and fan course this season as well!
The Rome team is waiting for you with BBQ & free drinks.Let's talk to Nekoma at the park with the layout for the day only!
> Date and time: Saturday, April 2017, 4 from 15:10 to 00:15 (participation is possible on the way)
> Venue: Fukushima Prefecture Hoshino Resort Nekoma Ski Resort
Nekoma Ski Resort, Kitashiobara Village, Fukushima Prefecture 1163 / TEL: 0241-32-3001
> Ski resort homepage: http://www.nekoma.co.jp
> Event details: Events using special Earl, Bank, and Jib items. (Since it is not a contest, we will not announce the results, but we have prepared a rider award for participants who are enthusiastic about slipping.)
> Capacity: Unlimited
> Entry fee: Free (lift ticket required)
> Entry method: It will be done in the tent of the venue on the day.Please sign the consent form to participate in the event.For minors, parental consent is required.
Riders scheduled to participate on the day: Yoshitaka Ota, Naoki Ito, Manabu Koike, Koiji Ueno, Asato Yoshida, Tetsuko Kawai, Naoko Araki, Mizuki Gondo, Naoyuki Shiramoto, Atsuhiro Suzuki, Yota Tsuji, Yusei Omura, Kazuki Komatsu, Daiki Hara , Jun Nakahara, Ryo Hashimoto, Hitoshi Yatabe… and more !!
Information on Nekoma Ski Resorthere
ROME SDS brand informationhere