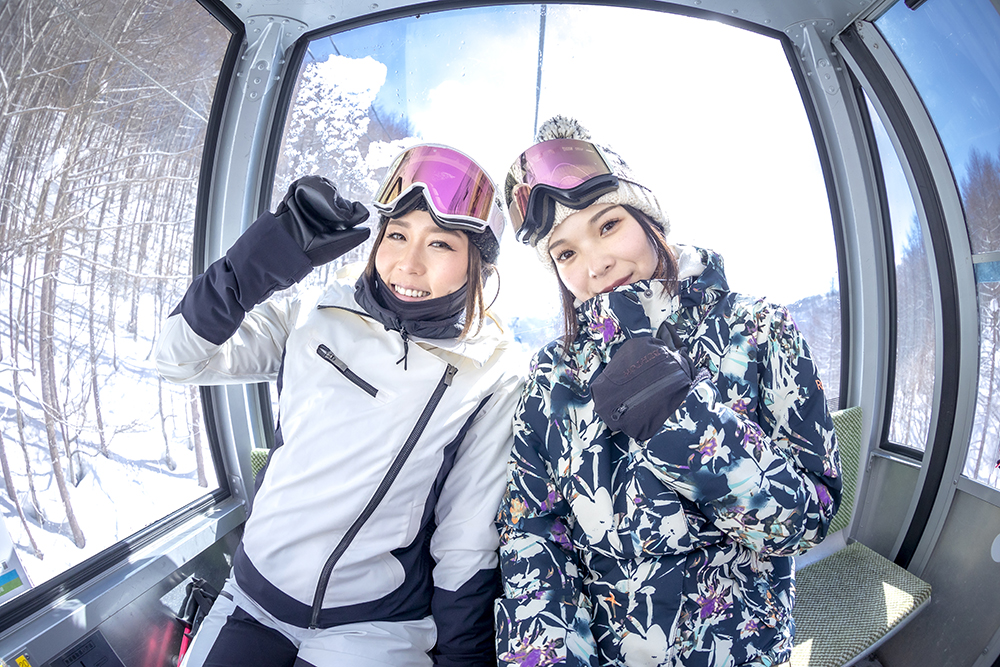 Address: 2609 Tsuchiide, Katashina-mura, Tone-gun, Gunma Prefecture
Phone number: 0278-58-7777
Business period: Saturday, December 2022, 12 to Sunday, April 17, 2023 (planned)
Business hours: 8:15-17:00 (until 21:00 on night game days)
access :
By car >> About 120 minutes from Kan-Etsu Expressway Numata IC via Route 401 and Route 40.
Train >> About 100 minutes by shuttle bus from Takasaki Station on the Joetsu Shinkansen, Hokuriku Shinkansen, JR Takasaki Line, Hachiko Line.
Lift fee:
1-day ticket: 5,500 yen for adults, 4,500 yen for middle and high school students, 3,500 yen for elementary school students, 5,000 yen for seniors
1-day ticket with meals: Adults 6,500 yen, middle and high school students 5,500 yen, elementary school students 4,500 yen, seniors 6,000 yen
*Weekday fee available
On the "Nishiyama Slope" with improved convenience
Enjoy powder riding
White World Oze Iwakura, which spreads out on the north ridge of Mt. Hotaka and the southeast slope of Mt.It features a wide variety of course variations, including an expert course with a maximum slope of 100 degrees, a long course where you can enjoy cruising for 16 km while hitting walls that appear everywhere, and a beginner course with an average slope of 40 degrees. I never get tired of it.At big resorts, you often have to take multiple lifts to reach your destination, but at Iwakura, you can climb all the way to the summit with just one gondola, so access between courses is good.Thanks to this mobility, you can ski all the courses without losing time.In addition, the base of the slopes is over 3.2m above sea level, so there is plenty of very dry snow.The amount of snowfall is the highest in the area, and 7 out of 1 courses are set as non-compacted snow courses so that you can enjoy this abundant powder snow.
In particular, the Nishiyama slope, which is located at the top of the slope, has a lot of snowfall, and because it is located on the northern slope, it is an area where many powder freaks gather because there is a high probability of hitting high-quality dry powder.The snow quality is stable and the skies are relatively empty, so the powder competition is moderate.The Bunanoki Course, which descends from the summit along the Nishiyama No. 3 Romance Lift, and the Mizunara Course, which is accessed further to the right from the summit, are uncompacted snow, so this is the first place to go after snowfall.From full-covered powder in the morning to hajipow, we recommend efficiently enjoying the powder in the Nishiyama area where you can turn with two lifts on a good snowy day.
The Nishiyama slopes are perfect for snowboarders who want to aim for powder, but until last season there was no cell phone signal except for Softbank, and the only drawback was that it was difficult to meet up with friends.However, in response to the demand of snowboarders visiting this area this season, Wi-Fi has opened at the restaurant "Horn" in the Nishiyama area.It has become possible to meet smoothly, and it has become possible to check and post on SNS on time.This season, we want you to enjoy the finest snow of Iwakura from the more convenient Nishiyama slopes.