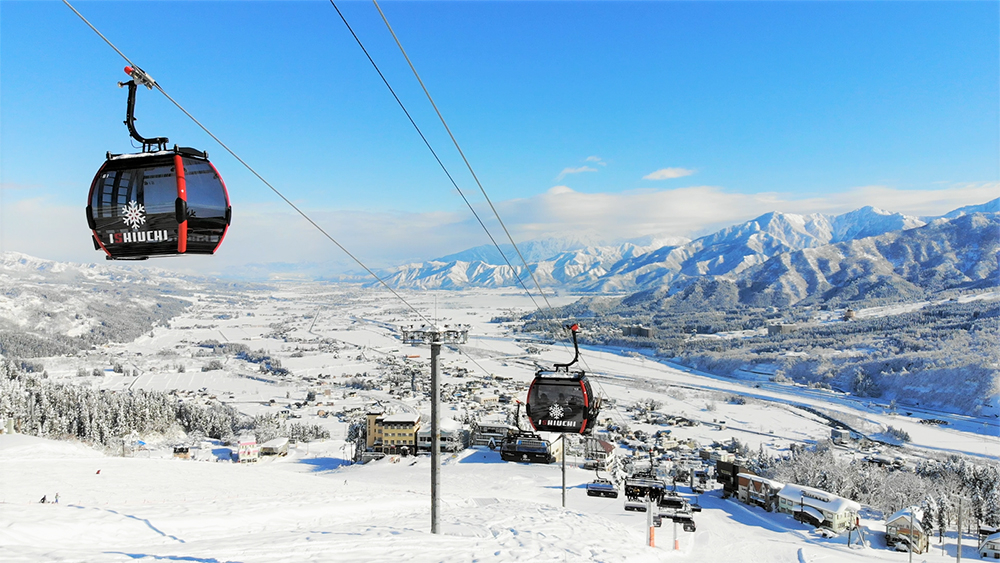 Ishiuchi Maruyama Ski Resort
Address: 1655 Ishiuchi, Minami Uonuma City, Niigata Prefecture
Phone number: 025-783-2222
営業期間 : 2022年12月16日(金)~ 2023年4月2日(日)(ナイター営業は12月24日~3月12日)(予定)
Business hours: 8: 30-17: 00 (night game 16: 00-20: 00)
access :
By car >> 3 km (about 5 minutes) from Shiozawa-Ishiuchi IC on the Kanetsu Expressway.
Train >> 90 minutes at the shortest from Tokyo by Joetsu Shinkansen.A free shuttle bus runs daily from Echigo-Yuzawa Station.
Lift fee:
1-day ticket (valid for 8.5 hours): 6,000 yen for adults, 3,600 yen for juniors, 5,200 yen for seniors
4-hour ticket: 4,900 yen for adults, 3,000 yen for juniors, 4,400 yen for seniors
Lunch pack ticket (advance WEB only): 5,700 yen
With the new 4-hour ticket
Enjoy high-quality parks and powder night skiing
Ishiuchi Maruyama Ski Resort, located in the Uonuma area of ​​Niigata, one of Japan's heaviest snowfall areas, boasts one of the largest ski slopes in the area.Equipped with 236 courses and 23 lifts on a total area of ​​13 hectares, it has been loved for more than 70 years as a scenic slope overlooking famous peaks such as Uonuma Plain and Hakkaisan.In recent years, the long-established resort has continued to make innovative efforts, such as introducing the latest combination lift "Sunrise Express", newly establishing a tree run and non-compressed snow area, and holding a new generation session event using an artificial terrain park.
Speaking of such Ishiuchi, it is a mecca of parks, and the spark of the park boom that is indispensable when talking about the history of snowboarding in Japan.The name is still alive today, and snowboarders from all over the country gather for the high-quality park built by young riders who will lead the next generation.The 500m long main park at the north exit has a layout that allows you to play freely, such as a 10 to 15m kicker that is perfect for intermediate and advanced players to practice, and jib items installed so that you can approach from both the vertical and horizontal directions.For those who want to start the park from now on, we recommend the beginner park built at the bottom of the sportsman course at the central entrance. Items that are easy to practice such as kickers and wide wide boxes of 1 to 5 m size are lined up.
Ishiuchi has a strong image of a park, but in recent years, the tree run and non-compacted snow area has been opened to the public, and it is very popular because you can enjoy plenty of powder after it snows.And the best way to enjoy Ishiuchi's powder is at night.With a total of 9 courses and a total length of 3,000m, Ishiuchi's night skiing is one of the largest not only in the surrounding area but also in Japan.Powder riding is especially popular when cold waves arrive, and there are quite a few fans who come just for that purpose.The reason for this is the good visibility no matter how much snow falls, and the quality of the snow that can only be found at night when the temperature drops.That's why you can enjoy the fresh snow to your heart's content, even on nights when the cold waves pile up endlessly.
In addition, a 4-hour ticket was added to the lift ticket this year, making the environment even more slippery.You can do it from the first thing in the morning, or you can match it with the opening of the park.Of course, you can also use it at night, so let's enjoy Ishiuchi Maruyama, which is the best finish according to the conditions.
"Spring ski discount ..." at Ishiuchi Maruyama Ski Resort in Niigata
The annual snow barbecue and Ishiuchi Maruyama Par ...
This season, a new symbol resort sen ...