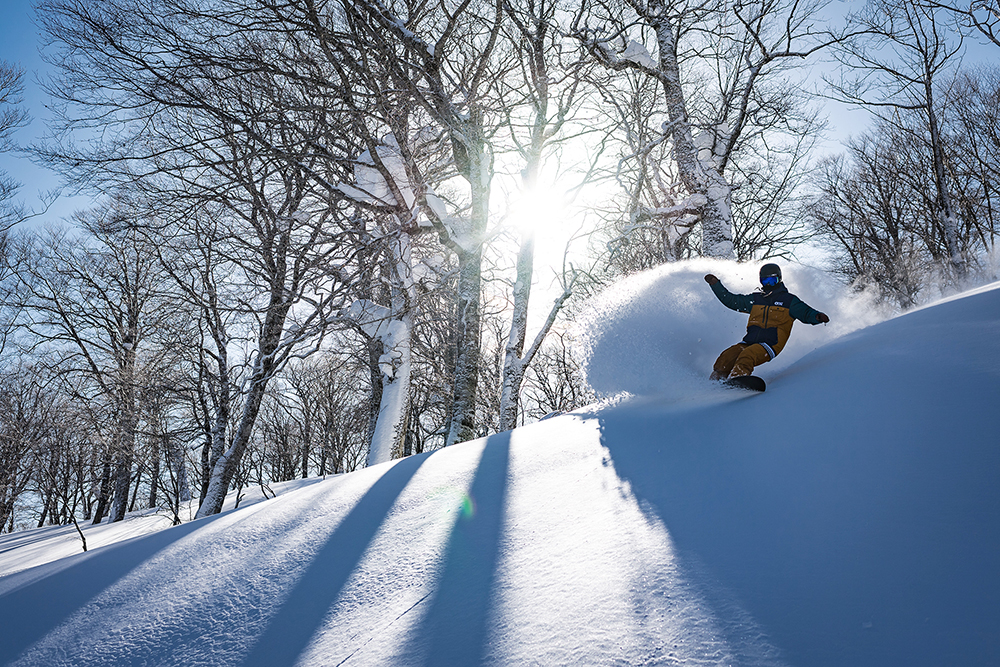 Address: Iwasaki Nitta National Forest, Waga-cho, Kitakami City, Iwate Prefecture
Phone number: 0197-65-9000
Business period: Saturday, December 2022, 11 to Sunday, April 26, 2023 (planned)
営業時間:(11/26~12/9)9:00~16:00、(12/10~3/26)8:30~16:30(ナイター営業日は20:00まで)、(3/27~5/7)8:30~16:30
access :
Car >> Tohoku Expressway Kitakami Kanegasaki IC → Prefectural road → Ski area 30 minutes (25 km).
Train >> Get off at Kitakami Station on the Tohoku Shinkansen, and take the free shuttle bus bound for Natsuyu Kogen for 50 minutes.
Lift fee:
1-day ticket: 5,400 yen for adults, 3,200 yen for middle and high school students, 2,200 yen for elementary school students, 4,200 yen for seniors
5-hour ticket: 5,000 yen for adults, 2,800 yen for middle and high school students, 1,800 yen for elementary school students, 3,800 yen for seniors
Show off your riding skills in the best environment
A special place to grow
Natsuyu Kogen Ski Resort has opened its tree run area for the 8th season.Known as a heavy snowfall slope, in an environment with outstanding snow quality powder snow, the launch of a project to fully demonstrate its charm has made Natsuyu Kogen a "sacred place for tree runs" for snowboarders who love freeriding. " has become an important place to fully enjoy the important snow season.Although more and more ski resorts are opening their non-compacted snow areas to the public, there aren't many resorts like Natsuyu Kogen that have a solid concept and have actively provided support for safe skiing.The fun of powder and tree runs can be said to be the true value of snowboarding.However, a certain skill is required to enjoy nature as it is.Without being aware of it, guests often enter areas that are beyond their ability, and there is a danger of getting involved in trouble.It is also affected by the fact that it is quite difficult to judge one's own ability.
Based on the concept of "GROW UP TREERUN", the tree run area of ​​Natsuyu Kogen Ski Resort is thoroughly managed by guide teams and patrols, and all areas are clearly marked from "Lv.1" to "Lv.4". It is shown at the level of stages.If it's your first time trying the Tree Run area, try starting with Lv.4.Skidding risk can be avoided by not stepping up unreasonably.This also leads to the important act of firmly confirming your level.
The "Lv1" area "HEART" is a difficulty level that even children can easily try if they are wearing a helmet.It will guide local children to form a culture of enjoying tree runs from an early age, and encourage those who have never experienced tree runs before to take a new step.On the other hand, if you have the skill to ski without falling over the "SHOOTER" with the highest difficulty level "Lv.And by gradually stepping up, not only can you improve your skiing skills, but you can also clearly grasp your level and acquire freeriding knowledge.It can be said that the Xiayu Plateau is a mountain that grows snowboarders.
Heavy snowfall, summer oil, which is now a hot topic as a sanctuary for tree runs ...
Geto Kogen, Iwate Prefecture, one of the most heavy snowfall areas in Japan ...