Hello, this is CAP.China is an indoor ski resort.I went there this year as well.Last year I went to WANDA, the largest in the world at that time (in the past)Blog) It seems that I'm already in second place.It seems that a new WANDA store opened in Guangzhou in June, which is currently the largest in the world.Looking at the WANDA video in Guangzhou (although it's a bit long), is it a two-story structure?Do you have a gondola? ??It seems to be escalating more and more.
Wow.It's still China power and China money.It's a lot inferior to this video, but this time we're heading to the nearest indoor ski resort from Shanghai.High-speed rail (high-speed rail = Chinese version of the Shinkansen), which is good at moving.Comfortable travel at 250km / h to Shaoxing North Station, which is famous for Shaoxing wine. Arrived in just over an hour.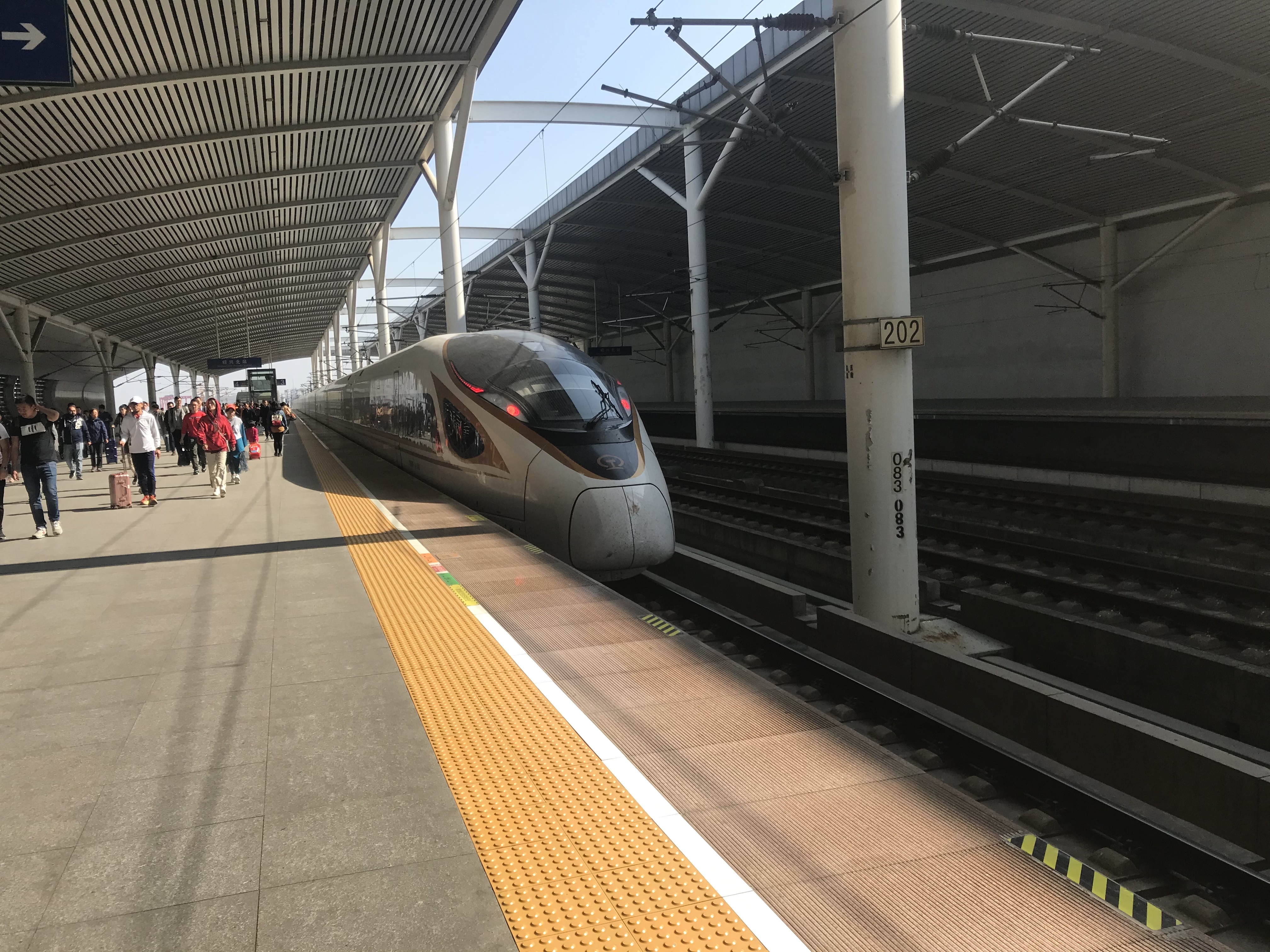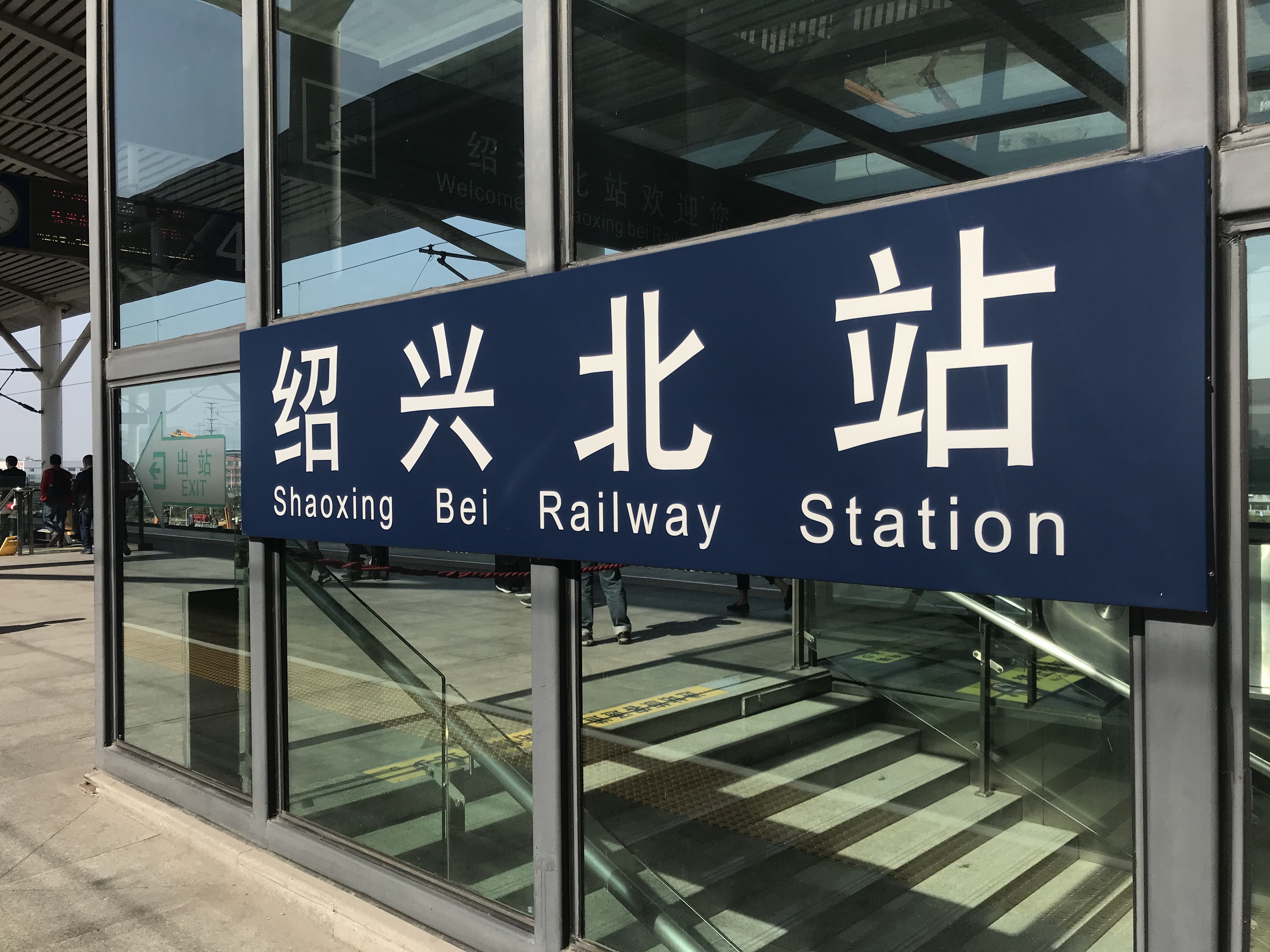 I have been riding a considerable number of high irons in the past year. Ctrip (Click here for more information.) Is easy to reserve and issue tickets, which is far easier to use than the JR Shinkansen.All of the Takatetsu stations are unusually large and are located far from the center.Shaoxing North is also quite far from the size of the street + the center.It takes about 30 minutes by taxi from the station to the indoor ski resort.Don't expect too much ... But with a quiet fighting spirit, head to the snowy mountains!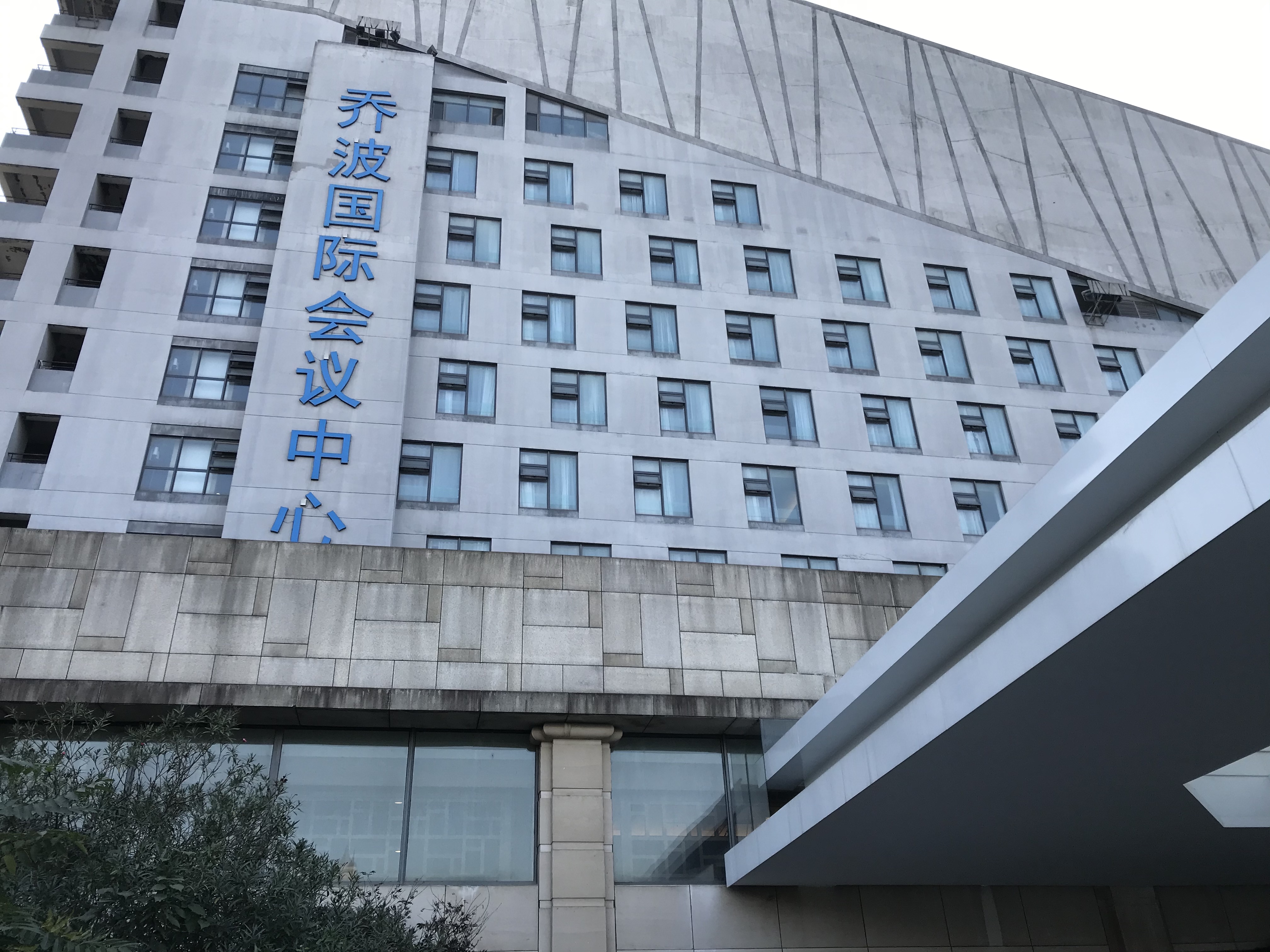 Breakthrough appearance!A hotel is adjacent under the diagonal slope like Saus in Funabashi, Chiba prefecture, and the space is effectively used. Qiobo (pronounced Charvoo) Indoor ski resort!It is an indoor ski resort chain store that operates in three locations in China (near Beijing, here and Nanjing). I've been to Qiobo in Beijing in 3, and the specs are much wider than that.As you can see in this photo, it seems to be a reasonable scale.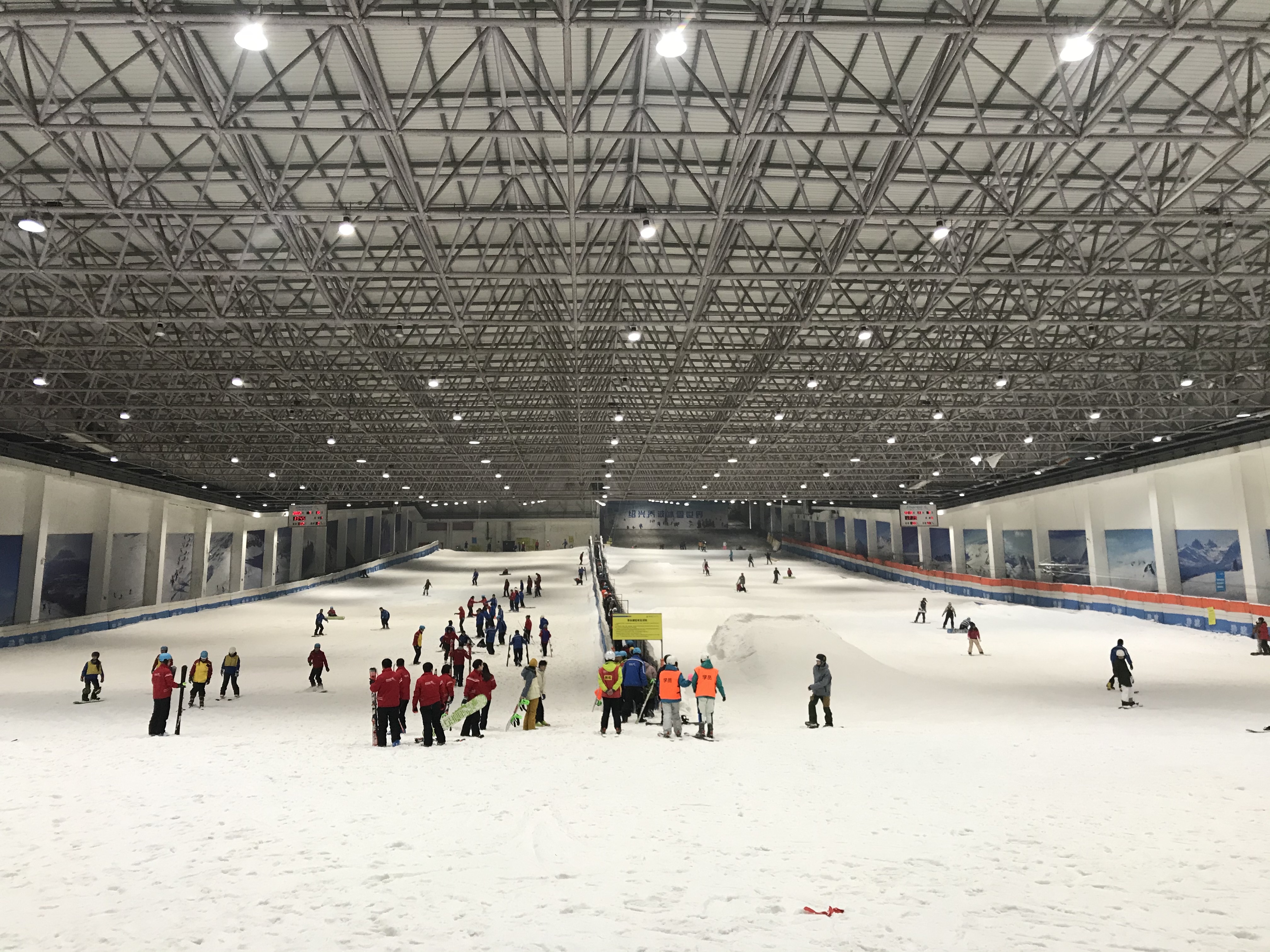 Hmmm.It's wider than I expected.The Beijing store was just half the size.However!The intermediate slope on the far right is probably because of cost reduction, and the floor is still concrete without snow.And it is closed with something that looks like a cover.It seems that intermediate people are designed to ride the platter on the right side to the top of the mountain, but of course it is stopped.So all users climb on the escalator in the middle.Is the distance about 150-200m?However, there are 2 jumps and 2 jib items, and it's Sunday, so it's pretty busy.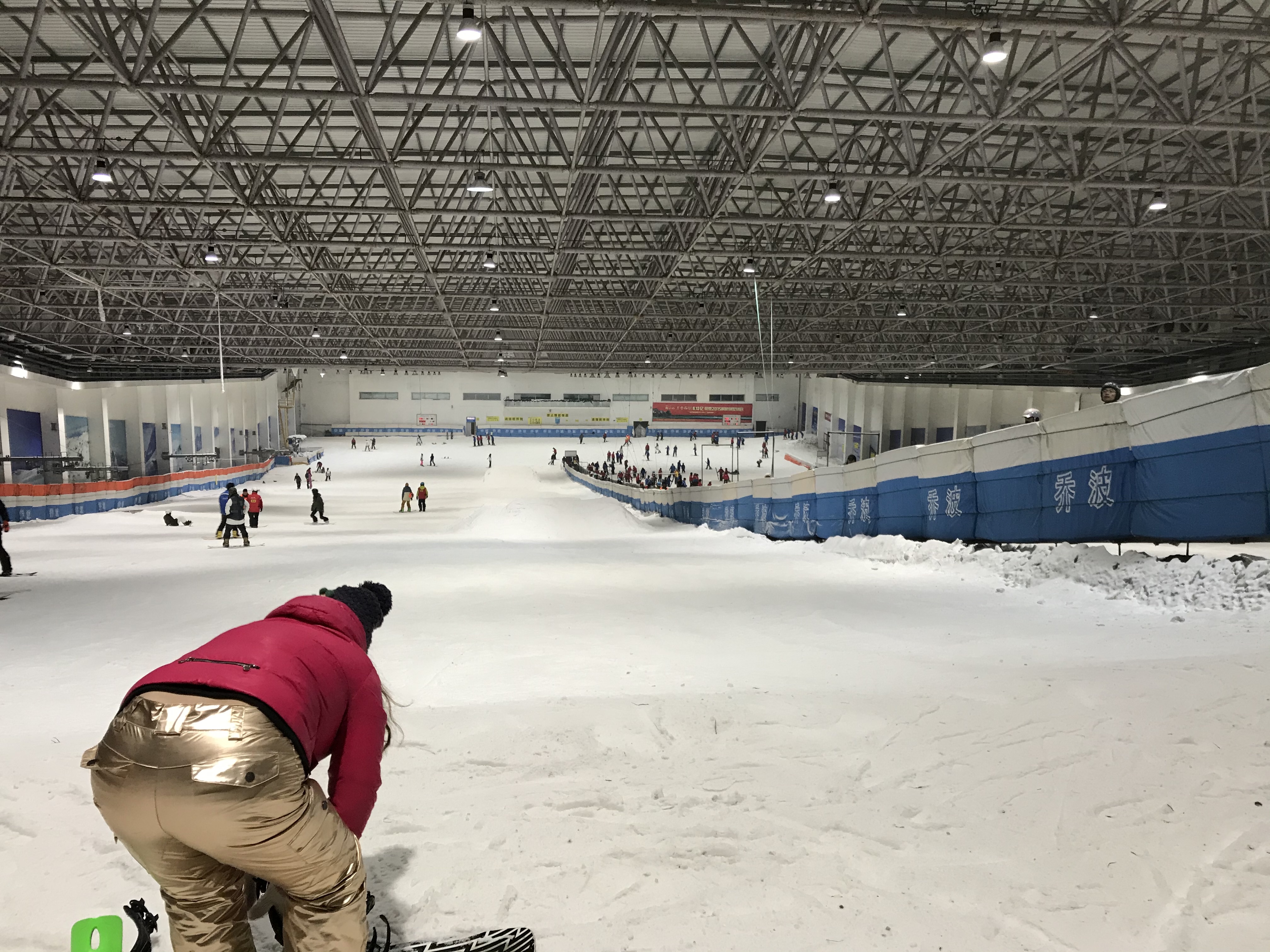 I'm curious about this girl's golden pants ...Seen from above, it looks like this.I think that I will get tired of it soon because of the quick snow quality that is often found in indoor ski resorts and the rental that I can not do at all, but in the end it is a non-stop skiing for more than 2 hours.It seems that I like snowboarding so much (laughs) As for the overall level, the beginners are 60% of the total.30% of beginners. About 10% slipped normally.It's only natural, but there are many young people.There are skiers in the lesson zone on the left half, but 95% of the free run zone (named arbitrarily) on the right half is snowboarders.Looking at this, I don't feel that snowboarding is steadily infiltrating China.However, there are no people in the jib.Jump is 3-4 people.The level is still developing, but in modern times it is easy to get information.There will soon be more stylish snowboarders.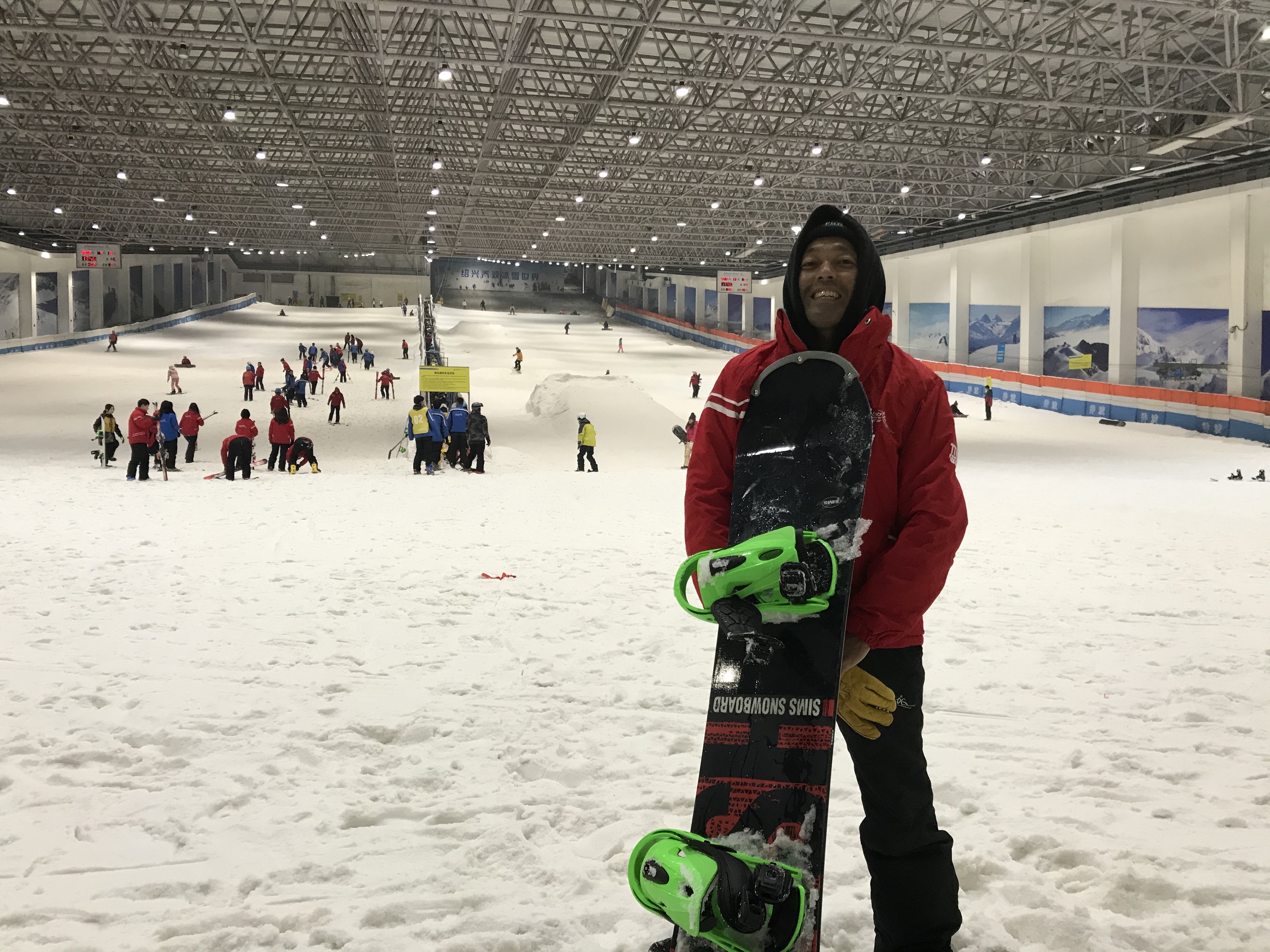 A bad rental board.For the sake of honor, SIMS is not a bad reason, but wax is zero and slips.And the boots are unbranded and loose enough to be taken off immediately & the ankles bend transcendentally ...that?Did snowboard boots look like ordinary shoes? ??I mean.The wear is ...It's fine.anything.It gets cold except because it is always minus 2 degrees Celsius.I know.I hope it's warm.anything.In the 26th year of prosperous snowboarding, DAY2019 of the 2020/1 season was again in China.
Ahh, I want to slip on natural snow as soon as possible!
POSTAL CODE