Makinoiri Snow Park where the Snowboard cross tournament was held a week ago.
It was a sunny day, unlike last week's heavy snowfall.
Players dynamically slide down the beautifully stretched GS (Giant Slalom) set.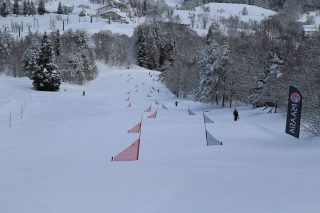 I asked the setter's intention.
Setter Kanai
"Since the burn is monotonous, we devised a way to make a difference in technology so that the professionals would be attracted so that the slip would not be monotonous.
It was difficult that it snowed wet yesterday.
The first and second runs changed at different intervals. "
If this intention is reflected in the results, did the players who could respond to the change in the interval rank high?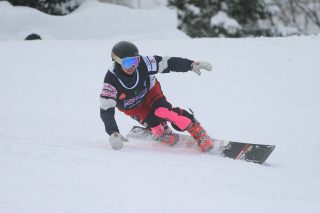 Women's victory is Kuroki's second consecutive victory.
It was Kanazawa (OGASAKA) who was unfortunately defeated by a small margin.
Which will be the champion next time?Will a new winner appear?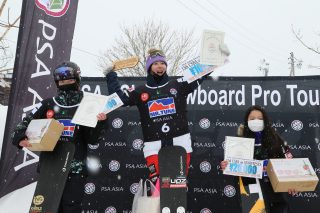 1st place Akari Kuroki (OGASAKA)
2nd place Noa Kanazawa (OGASAKA)
3rd place Nana Yoshii (BLACKPEARL)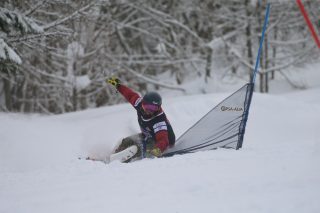 In the comments from the Men's winner Toda (AMICCS), he is enthusiastic that he will win the remaining three races.
Shimizu (OXESS), who is in a good position this season, is also noteworthy.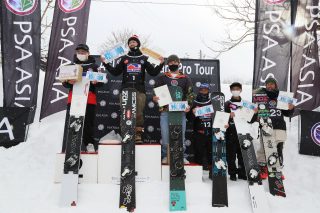 1nd place Daiya Toda (AMICSS)
2nd place Daichi Shimizu (OXESS)
3rd place Naoki Kanematsu
4th place Takayuki Aoyama (AMICSS)
5th place Ryuto Hirabayashi
6th place Kuroki "Makotsu" Makoto (MOSSFLUX)
Finally, let's put up a podium for the couple to commemorate.