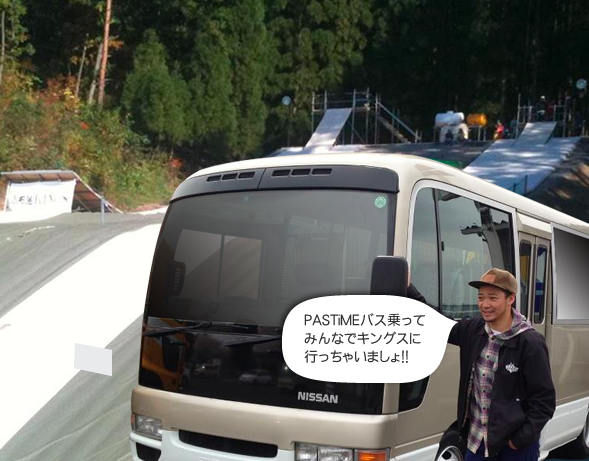 PASTiME Obuse Kings Bus Tour will be held!
Do you have anything left to do in the snowy mountains after the 12-13 season, or do you want to try something new next season? ??
The off-season is a valuable practice period for next season!
Why don't you practice while having fun with everyone on the PASTiME bus tour?
First of all, let's polish the jump with Obuse Kings!
We also support beginners' jump debut!
<detail>
Location: Obuse Kings
Date: Sunday, November 5th
Meeting time: 6:30
Meeting place: Keio Line Kitano Station North Exit Rotary
Schedule:
6:40 Depart from the Keio Line Kitano Station North Exit Rotary
↓
10:00 Arrive at Obuse Kings
↓
First and second session gliding
↓
16:30 Obuse Kings Departure
↓
21:00 Scheduled to dissolve Kitano Station
(Depending on traffic conditions)
Number of applicants: 15
Participation fee: Cash payment on the day
Male ¥ 11000
女性 10300
* Participation fee includes XNUMX session running fee, round-trip transportation fee, and coaching fee.
* Please prepare so that there is no change.
How to apply:
Call PASTiME or accept at the store
* Please refer to the Obuse Kings official website for clothing and facility information.
Obuse Kings Official HP ↓
http://www.obusekings.com/
In addition, when using Kings, it will be a gliding with a board and a helmet with all edges darling (shaving and rounding).
Please prepare a board for Kings or use rental.The same is true for helmets.
[Rental fee]
・ Board ・ ・ ・ ¥ 1000
・ Helmet ・ ・ ・ ¥ 500
Obuse Kings ↓ Rest assured that there is also a beginner kicker!
[youtube http://www.youtube.com/watch?v=iATckRrx6uw]
Rest assured that there is also a beginner kicker (flying distance 1 to 3 meters)!
If you have any questions, please contact us
PASTiME BOARD SHOP
192-0912
1-1-5 Kinugaoka, Hachioji-shi, Tokyo
0426-83-0429
info@pastime-boardshop.com
http://pastime-boardshop.com/