Height 178 cm,
Characterized by dynamism that makes use of long limbs
Maki Shimizu.
Regular switch, approaching his style that handles both dexterously.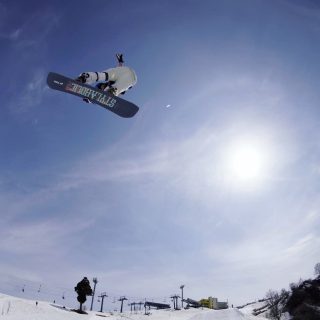 Q1: You said that you joined the SP team for the first year.
Shimizu: I've been using spbindings for a long time, and when I participated in an event, I appealed that I loved the feel of using it.
QXNUMX: What style of skating do you usually do?
Shimizu: At the beginning of the season, I skate mainly on free runs, and gradually shift to park mains.At the park, I try to balance both jumps and jibs.
QXNUMX: Please let us know if there are any points you would like to emphasize.
I'm 178cm tall, so I try to balance dynamic movements that make the most of my height, as well as jumps and jibs in both main stance and switch stance!
I'm aiming for a skating that makes people wonder if it's goofy or regular!
QXNUMX: Regular and Goofy are both practicing in the same way!
I think it's quite difficult, but is it important to practice diligently?
Shimizu: It is important to correct the gap between the body movements you want to do and the actual body movements.
For example, when I ask you to raise your knees until your thighs are horizontal, you may think that your thighs are horizontal, but they are not.It is to be conscious to eliminate the difference between such an image of yourself and the actual movement.
QXNUMX: You said that you are conscious of dynamic movements.
Please let me know if there are any techniques that you are good at in jumps and jibs, or styles that you are conscious of.
Shimizu: For the jump, I used a loose grip on the BS180 to make my body look bigger.In the jib, the front nose pretzel is out and the board is turned vertically to make it look dynamic.
QXNUMX: Lastly, please tell us your goals for this season.
Shimizu: This season, I would like to expand the circle of snowboarding through event activities together with KENSHI from the same SPbindings team.
For event information
instagram@6thsense1996"In can be confirmed!
Please follow us.
[Profile]
Maki Shimizu / Born July 1996, 7
■ Height/178cm ■ Stance/Goofy 54cm
■ Angle / 12 degrees in front, -12 degrees in back
■Snowboard history/7 years
■ Home Mountain / Hakuba Iwatake Snow Field
■ Items used/CORE
■Instagram/makishimizu2607