Jackson Hall. ..
Jackson Hole, the land I longed for in the old TB series.
I think Japanese magazines had a trip article with a Japanese crew about XNUMX years ago in the old Transworld.Certainly, Mr. Bubbles, Mr. Taguchi (green), Mitsu Yoshida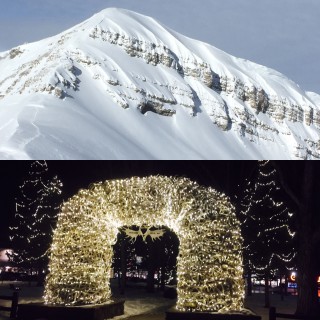 Like Hiro-san ...
My dream was to become a professional and ski abroad, and that expanded my world.
I think it's natural that if you're snowboarding, you want to slip somewhere else, but it's a little unstoppable and it's a lifestyle and I don't know how long it will last, but I'm doing it flexibly. I want to come.
I'm Japanese, and Japan is the best, but the world is wide, and I wonder why I endlessly pursue places and lines that I haven't been to because there are many good points, but it ends up being wasteful.
It wasn't long before I understood that snowboarding is a lifestyle.
Travel is a good thing for any life
Snowboarding trips are absolutely fun because I go to a place where people with the same hobbies as myself in foreign countries are gathering.A place where similar people gather.Close DNA?
IMG_5422
Tue Wed Thu Fri Sat Sun Moon Life surrounded by elements
My favorite ski resort, Jackson Hole. Thanks to XNUMX I visited Mikey Basic and came to Tahoe, Travis Rice called Mikey to the judge of the natural selection, and JP Martin prepared me a ticket so I went to Mikey and Jackson Hole. I decided to go.It was a coincidence.

That was XNUMX, so I made some really good friends and decided to go there every year.That friend Ryan has also come to Nagano twice.
In the meantime, a friendship with Travis Rice was formed, and I met Travis once a year ...
at last,,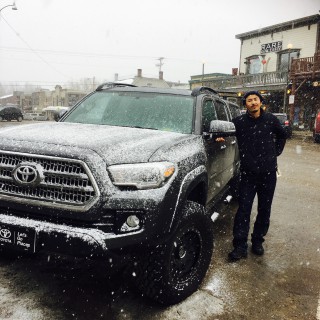 I've come to lend a car.
No, I said it's okay, but hey, it's better to have a car!I decided to lend it. ..

Travis, as expected ...
The latest TACOMA.Actually, before that, I accidentally got on the Tundra of the filmer called Chip, lol
It was easy for me to find the tip and the place where the key was hidden ...
On this trip, Maki-chan, who started dating at the gym before winter, will go with her.Until now, it was almost nothing to slip with a girl, so it's new.Maki-chan is good at snowboarding, has a fast free run, and I think her good kicker is quite a styler.That's why I used to skate together this season, even when the Travis were there.Let's get along with everyone, get excited, and go to Jackson!So, for Maki-chan, it's a big step in free reading.If you change the quality of the sliding environment, the quality of the sliding will also change.Gliding Jackson is a pretty quick way to improve, but it's dangerous, but I think there's nothing more happy than having fun with your partner.And Maki-chan thought it was okay because she could hike.
If it looks like it's going to be sunny here, I'll shoot it, but basically it's a steep ski resort that is said to be the best in the United States. ing.Perfect for warming up before going to Alaska.The snow quality is also good.It's really interesting to slip. .. Sliding in so that the wax will come off in one day.The top is 1m and the bottom is 3,185m.It's about 1,924m to hike, so I'm out of breath, but it feels good to get used to it.It can be called high altitude training.
From Narita to LA, from Salt Lake City, overnight at the hotel and the next day's shuttle to Jackson.Shane and Whitney came to pick me up.With that foot, I went to Travis's house and got a car.Start from the next day.Powder from day one with Shane's guide!The snow quality is good, and this year is a hit year with a lot of bases.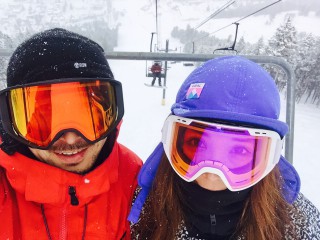 ↑ Maki Takatsuji @snowking resort, Jackson, Wyoming.
↓ Maki & Shane Rothman @RockSprings, JHMR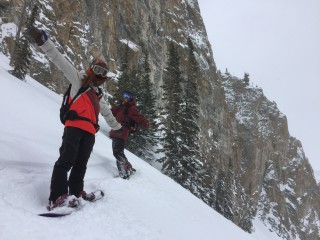 Shane's special route doesn't have trucks all day long.There are many points where only Shane can slip. ..It is said that the character appears in the slip, but I realize that Shane's slip is very interesting and it makes friends with it.It 's a good slip.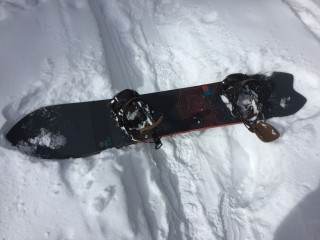 From April, the board will be Nidecker Snowboards.
Nidecker is a long-established ski and snowboard manufacturer with a history of XNUMX years in Switzerland.It will definitely come back from this year.Of course there is a normal freestyle lineup of boards, but there are plenty of free riding models and I am looking forward to riding any of them.
This time I brought this Mellow 148.I usually ride on a board with XNUMX and XNUMX tails, but sometimes this is also interesting.A side curve that is not too big and not too small to easily carve into an accelerator camber-like shape, a waist of XNUMX cm, a nose of XNUMX cm or more, and a flex that can be firmly stepped on even in hard places.You can slip on the board, and you can step on it to get on.It's a solid board from Europe, and it looks good in Japan.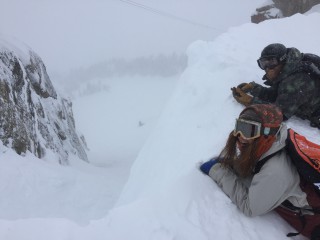 Jackson's specialty "Corbet's Couloir"
A shoot that can only be entered by dropping XNUMX or XNUMX meters on the ice wall (Croar) Once entered, the rest is a steep powder field
No way, Maki-chan, go without being scared!I didn't think it would go down!I'm courageous.When
There are some dangerous hikes to access various points, but he did his best even though he wasn't used to it.Will you bring her like this?I felt that, but after that, I thought it would be nice to be able to share a sense of accomplishment and a great slide.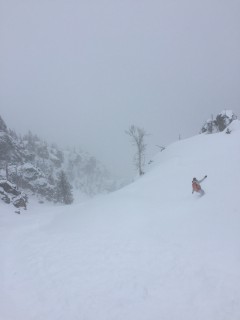 Maki Takatsuji @ FourPine left / JHMR
It's below -10 ℃, and it's really snowy.Big hit. ..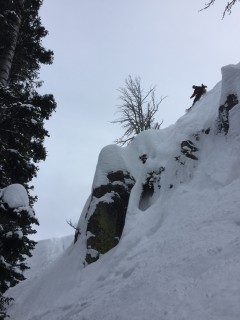 Spots that only Shane can go to Part XNUMX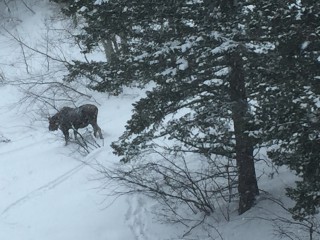 Discover the moose from the lift!huge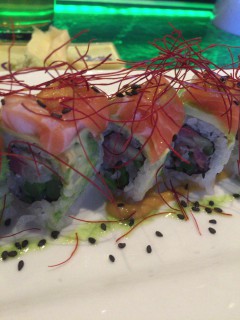 Ryan works as a hobby (?) In the kitchen of Jackson's sushi bar, SUDACHI.I want to learn sushi and cooking and it seems to be fun.Certainly I wish I could work in an American atmosphere.He is also a good senior in life, as a guide for fishing and hunting in the summer and skiing in the winter.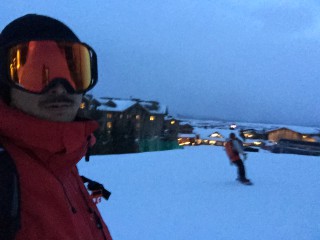 Every day from morning to evening. ..From powder to ice, from alpine to tree, hike, traverse, all in one. ..
By the way, the half pipe also slipped several times with a perfect shape, but it was hard and speedy enough to think that it was a birch of skating. w
XNUMX weeks.A dream in the snowboard world. ..