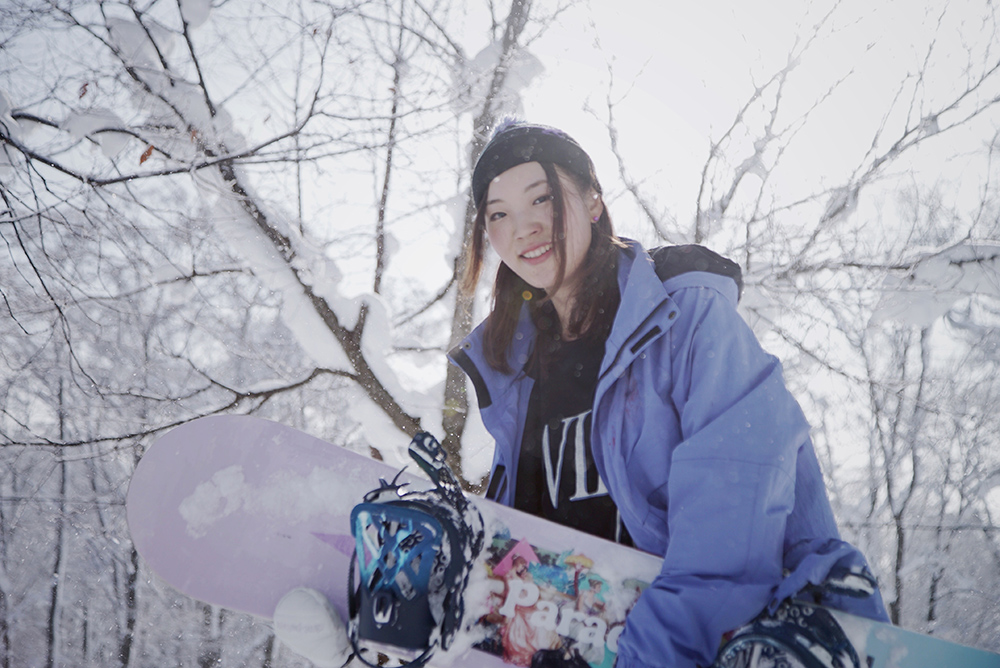 He is a core member of Dirty Pimp, who has reached the 10th work of this work "DP", and also serves as the direction of design34.With a wide variety of tricks and a style with a unique world view, it has a huge presence in the street scene.Recently, he has expanded his activities as an illustrator and designer, and his activities are wide-ranging.From snowboarding and art, from what has been done to how to deal with it in the future, we will approach the charm of 34 talented people.
Edit + Text: Rie Watanabe
* This article is a special release of the interview article published in the December 2020 issue of FREERUN magazine (released on November 2) as "STAY HOME" special content.

EXPRESS ON THE STREET
Express what you see and feel in your own way
The street was fascinating as an output
-First of all, what made you start snowboarding?
I started as a hobby when I was in the first year of college.I've always admired the snowboarding and skateboarding scenes since I was little, but I tend to be withdrawn, so there aren't any people around me ...I didn't know how to get started, so I ended up admiring it.When I entered university, my friend asked me, "Why don't you go because there is a place where you can snowboard during the summer vacation?"Immediately reply.If I go to BIG AIR Fukuoka, which was in my hometown Fukuoka at that time, and try it, I'm addicted to it (laughs).
-It's rare to have a chance to try for the first time at a facility during the summer vacation.What kind of snowboarding life did you have after that?
At that time, I had a little quarrel with my parents and had to leave the house, and suddenly I ended up living alone ...I moved to a place where I could walk to BIG AIR Fukuoka.Immediately I got something like a slippery all-you-can-eat pass with rentals and went to school six times a week.Of course, I couldn't even make a turn, so I learned from the basics, and gradually became addicted to things that can be done with Burn, such as Gratley and Pocojan, and when I was able to do various tricks, BOX appeared.Immediately after seeing the people doing the items, I appealed to the instructor of the school, "I want to do that!".However, it was a little expensive narrow box, so it was difficult, and although I received a lot of advice, I hit my head at will when I first entered.That is the first jib (laughs).
-Then you're addicted to Jibu?
Yes.I wanted to do more, and when I started to look up a lot of videos on the net, the bare mountain park video came out ...It's really cool when I see it!I fell in love with it all at once.Anyway, I wanted to go to this park, and I became interested in the scene of the park.After that, I continued to practice at BIG AIR Fukuoka, and it was worth living to participate in the regular tournament, and I grew up a little while feeling regretful ... I really liked that time.
-I'm really into snowboarding, but after graduating from college, will you be on the road to snowboarding?
Originally I liked painting and attended a local modeling university.It was time to think about getting a job, but when I told my parents and teachers that I really wanted to do snowboarding and wouldn't get a job, he said, "If you like it and you can do it yourself, do your best."After graduating, the life changed to snowboarding at once, and the life of staying in the mountains started.At the beginning, you went to various slopes mainly in the park.At that time, I couldn't do what I could do indoors in the mountains, which was disappointing, and I wasn't confident in myself at all.In such a situation, I contacted many brands and sent videos in order to create an environment where they could be sponsored.Eventually, I was able to receive sponsorship from CAPiTA, DEELUXE, and UNION, which are still sponsors, and my activities as a rider began in earnest.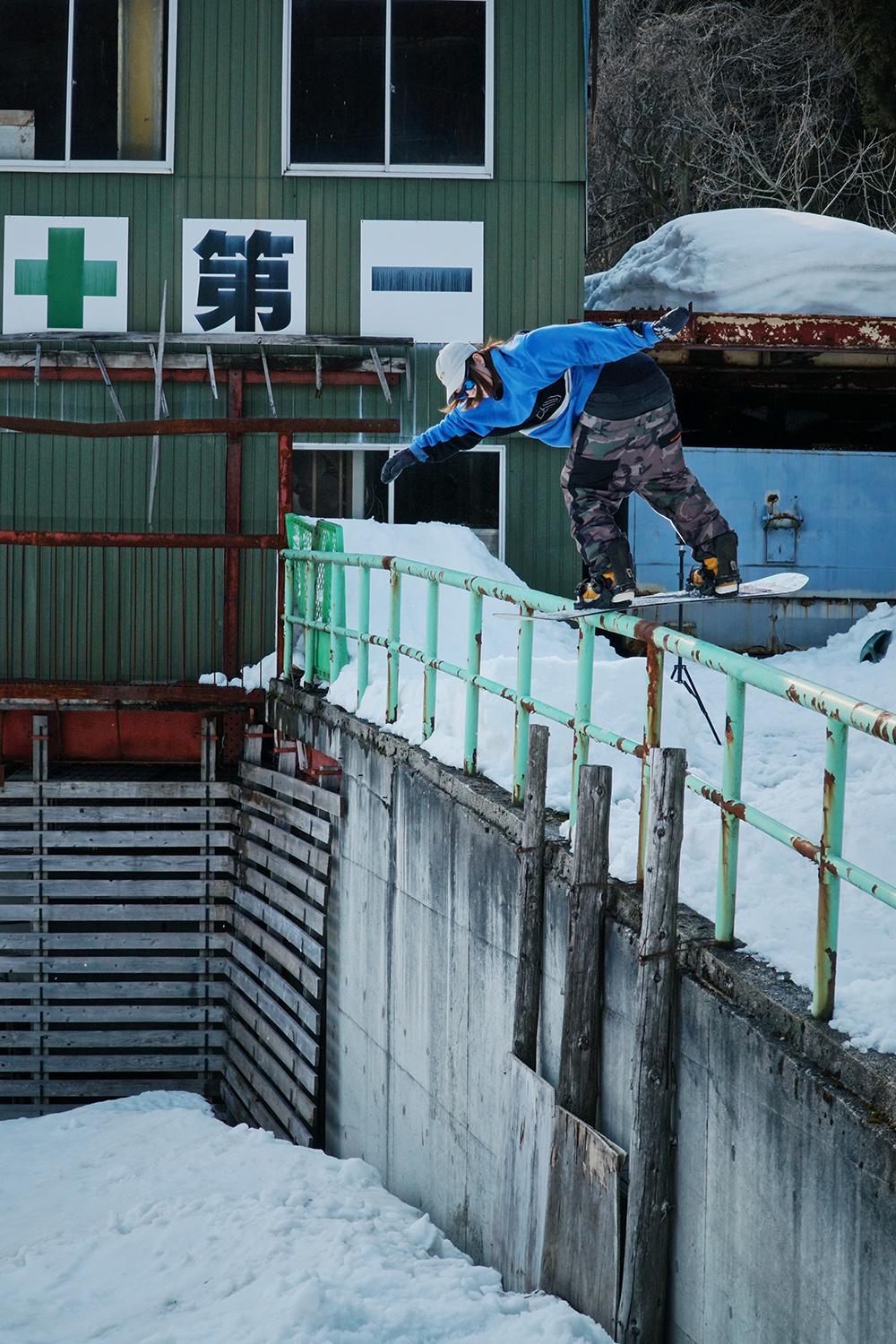 -What happened to your main activity, "Dirty Pimp"?
It's a big thing that I met DP who is also a producer.He often attended the BIG AIR Fukuoka tournament, which I regularly attended, and when I started communicating, I was pretty happy.From that time on, I was doing planning such as distributing a video focusing on the locals of BIG AIR Fukuoka called a ham and eggs movie on YouTube.Shortly after starting the video distribution, I want to make a video with my all-star that DP thinks in Japanese video production!Then I called out to each and every one of them, recruited members, and dropped the first work, "What's Up !?".I have also appeared from the first work, and I am firmly involved in the 1th work "DP".
-I think that park riding was still the main thing at the time of the first work, but why did you start shooting the street after that?
I started shooting the streets from the second film, but I wasn't really interested in the streets at all.Dangerous!The fear of being scared is greater ...Even though I'm the type of chatter that hits Ishibashi too much and breaks it, the environment for street photography came first without being prepared for my feelings.And in the first year of street photography, I suffered a serious injury of internal organ damage.So while I was in the hospital, I was really worried, "Is it okay to keep doing this?"
-Why did you continue after hitting the mental and skill barriers?
Actually, I wanted to do the tricks I wanted to do, but I was desperate just to get on the item.But this was all I had to gain experience, and in my case I didn't have the option to quit, so I just continued. It is true that "continuation is power", and the more experience you have, the more you can imagine the overall composition of the work, the more variations of tricks and styles, and the more you can ride in your own way. rice field.Since then, the way I approach shooting has changed.Before, no matter how scary I was, I couldn't run away and was in a mess, which was quite stressful, but now I can choose to carefully check the approach and stop if I still have an image.It's been 10 years since I've been on the street.Finally, I was able to bring it to this state of mind.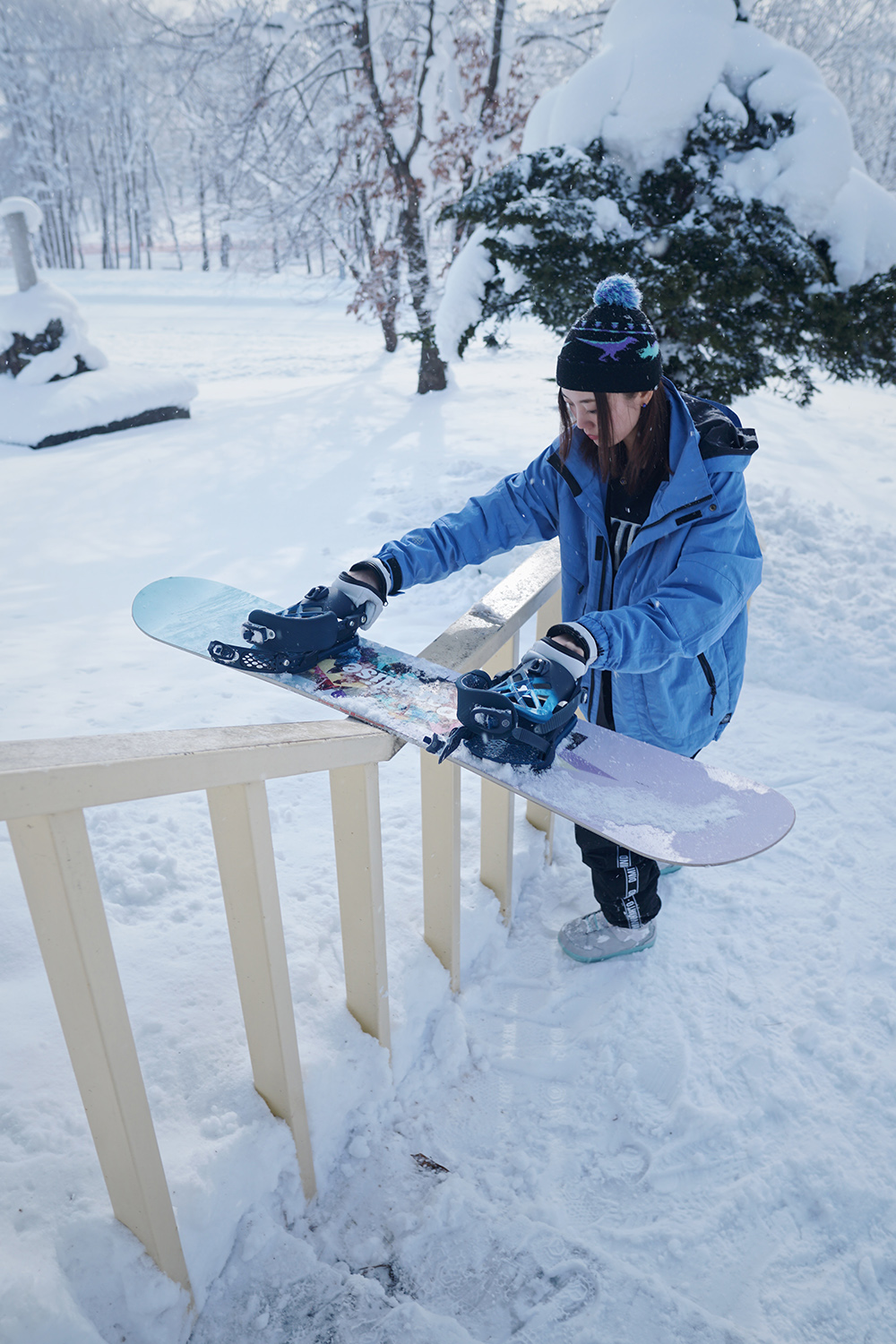 -What is the charm of the street that you have been crazy about for 10 years?
It's hard to say in one word.What a pain!The hard part is more than 8% of the shooting ...But when asked why I'm doing it, I like to express something, which in my case is painting or snowboarding.I think the streets are close to art, and the original paintings that aren't on the well-prepared slopes are attractive, and for me, who likes to express what I see and feel, the output. As the street was fascinating.At first, I didn't have my own intention and I felt like I had to do it, but now I want to do it myself!I'm thinking.Of course, I'm scared and sometimes I don't want to do it, but when I think about the time when it remained as a work, let's do it after a conflict!I feel like that.It is also a fortune to have friends to share.
-I express myself in the form of a work, but it's also very attractive at competitions!
Thank you!I like the competition scene, I also like the riders who are doing their best in the competition, and I also want to be active every season if the schedule etc. match.At competitions, I think that the experience of the street can be useful and lead to results, and when approaching, I often compare it with something like "The feeling of this rail is that spot ..."."ROCK A RAIL" held in The Hague, the Netherlands, which I participated in last year, was also an item reminiscent of a street specially set up in the city, so there was a lot of support.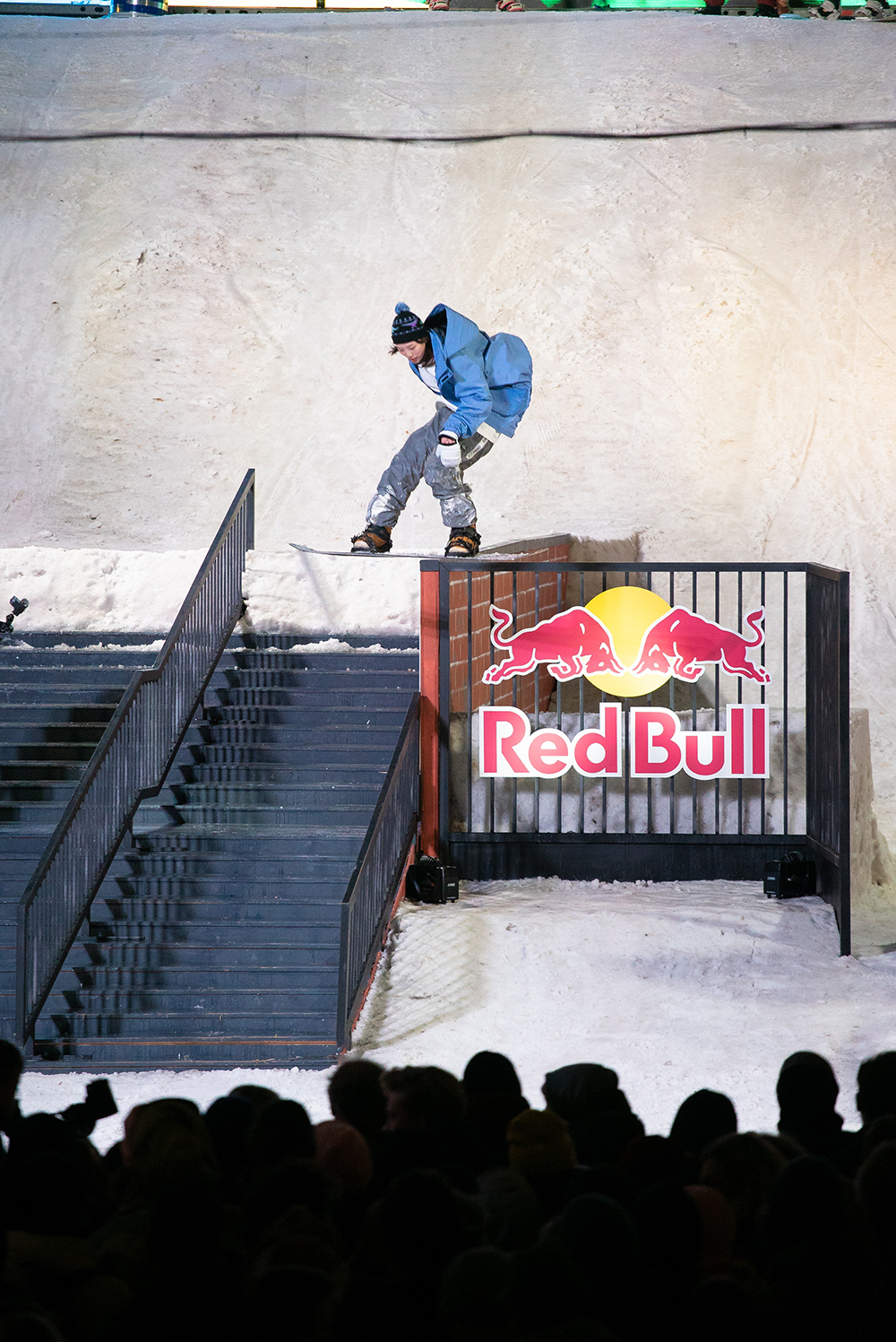 Continue to the second part.
———————–
What we can do now.
Thinking about the next season, "Reading for staying at home".
34 Message from MIYON to readers
"In an unprecedented situation, I think that many snowboarders have suddenly ended the season or changed the way they spend their time off. Various speculations and uncertain future situations that fly with sudden environmental changes. I think it's easy to get depressed. I think it's important to have some positive thinking at such times, but this time I think it's also an opportunity to review various things.
Personally, I'm a little worried because the way I spend off is completely different, but it seems that I can think carefully about what I wanted to do from before and the future prospects.I'm looking forward to the time when the environment where I can snowboard with peace of mind will come back, and I'm hoping that if I continue off-training and imagery, I'll be able to slide in a better condition than before (laughs).
There are many ways to spend a stay home, but I draw pictures, play the guitar, read books, look at natural stones, and think about things.But after all, everyone wants to snowboard as soon as possible.Let's all overcome this situation without being distracted so that this situation will end as soon as possible!-34 MIYON'