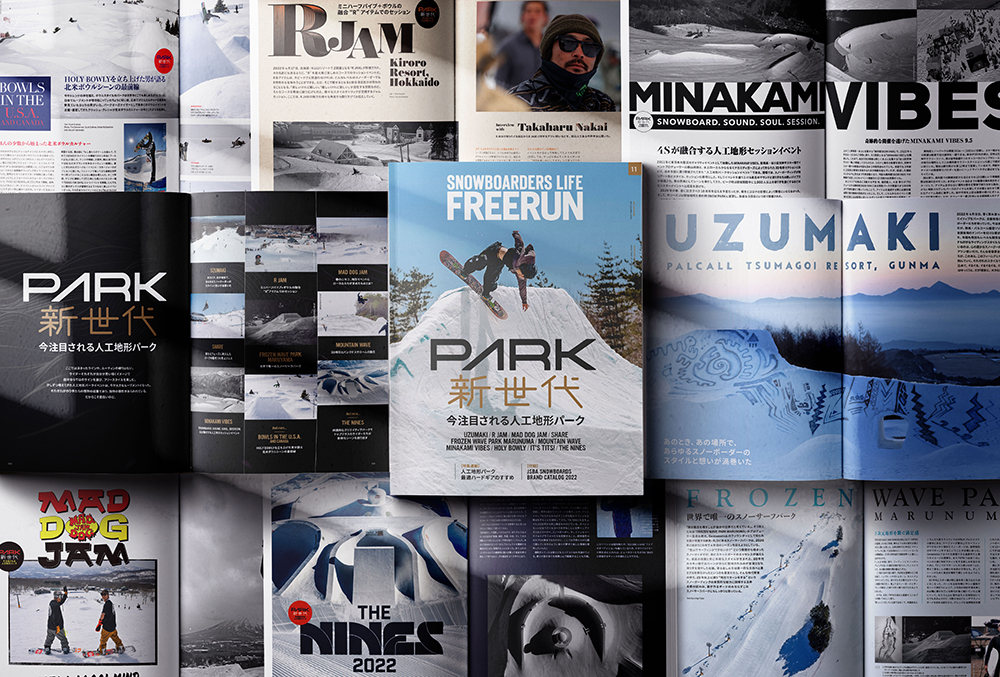 In October, the temperature suddenly dropped.Snow cover information is being sent from various places, and expectations for winter are increasing.What kind of snowboarding are you planning to do this year?In recent years, there are many different ways to play snowboarding.Among them, the "artificial terrain park" is attracting attention.It is said that the attraction is that "anyone", "freely" and "express their own skating".In this issue, we will delve into what artificial terrain parks are held in Japan and around the world.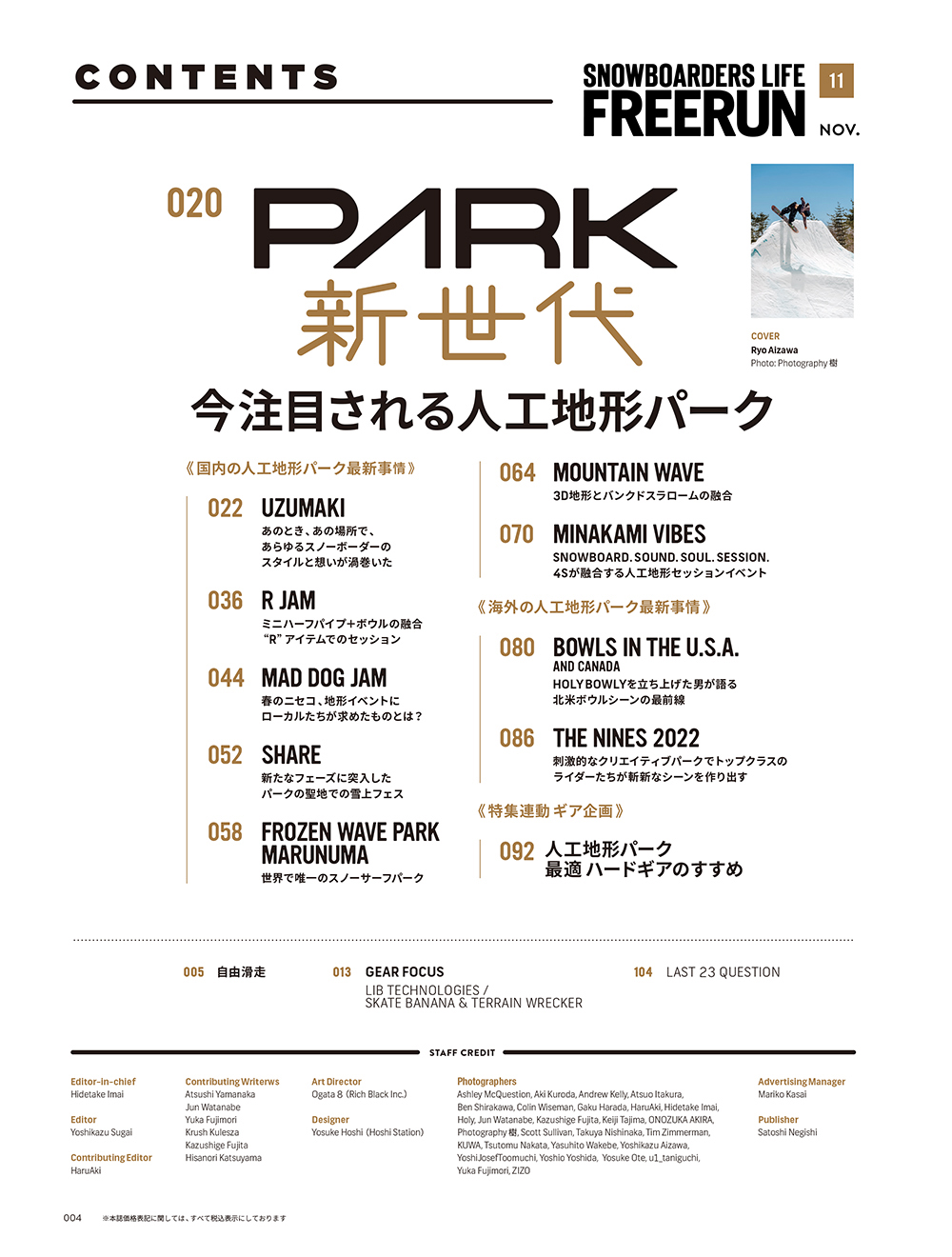 This issue is a book that focuses on artificial terrain parks.
In recent years, terrain parks are increasing at ski resorts all over Japan.In addition, the number of rider-led artificial terrain park-type events has increased, and a new event became a hot topic last year.From the words of event organizers and producers, we will approach the charm of this movement.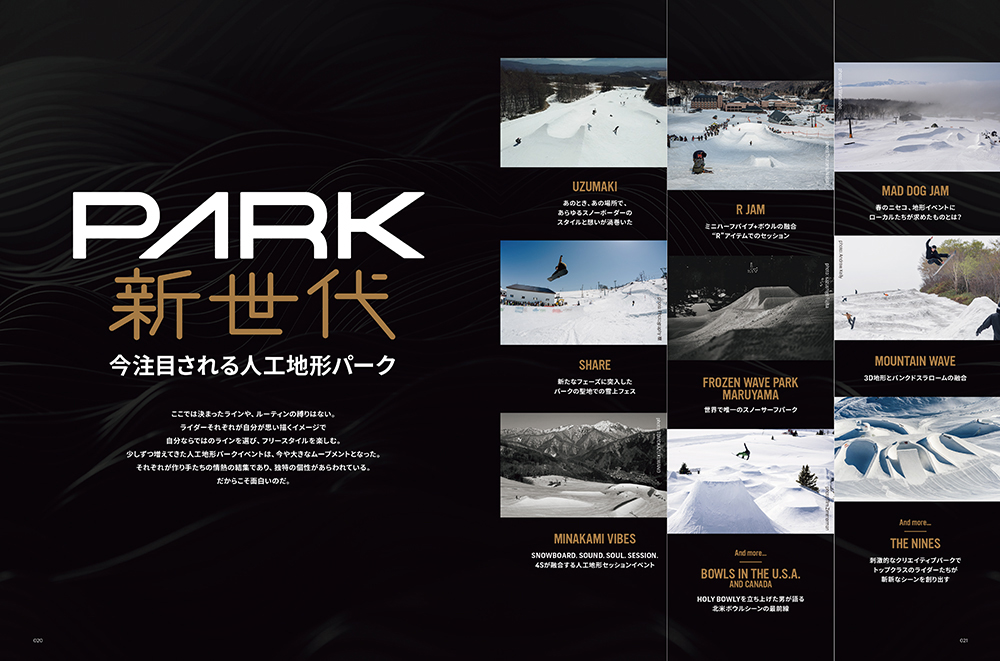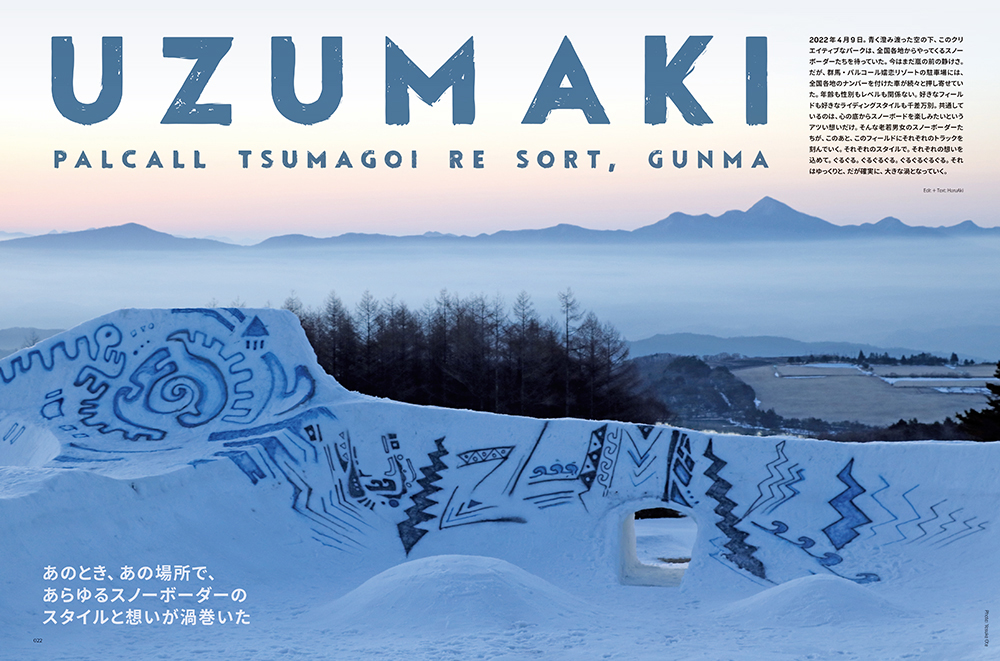 UZUMAKI
A bowl event hosted by Ryo Aizawa.There is also a jib and a jump section.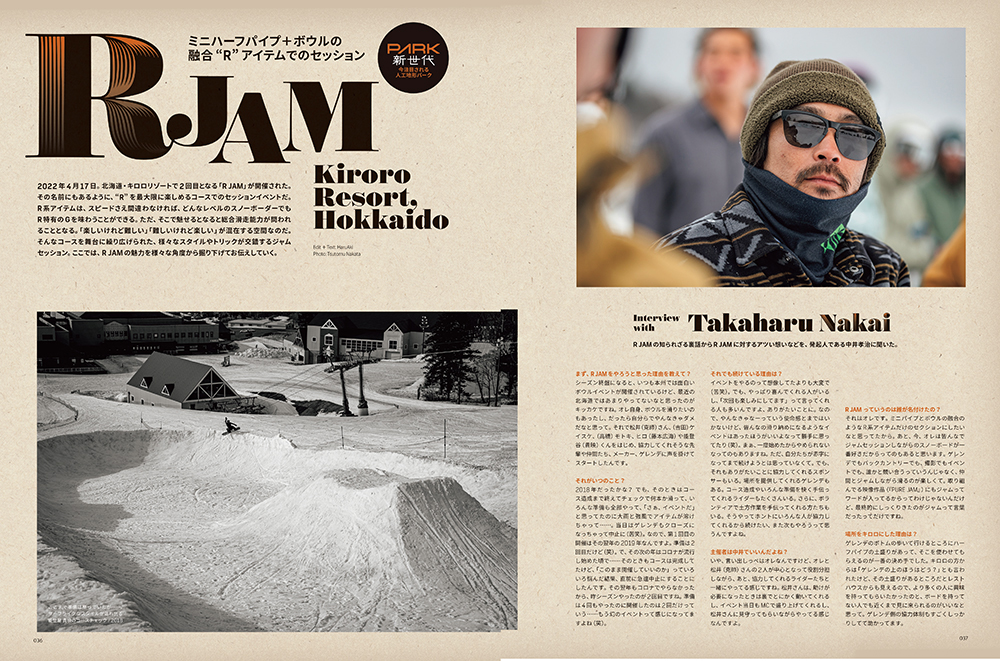 R JAM
Koji Nakai was the founder, and the event was held for the second time.A session held on a course created to maximize the enjoyment of the "R", which combines a mini halfpipe and a bowl.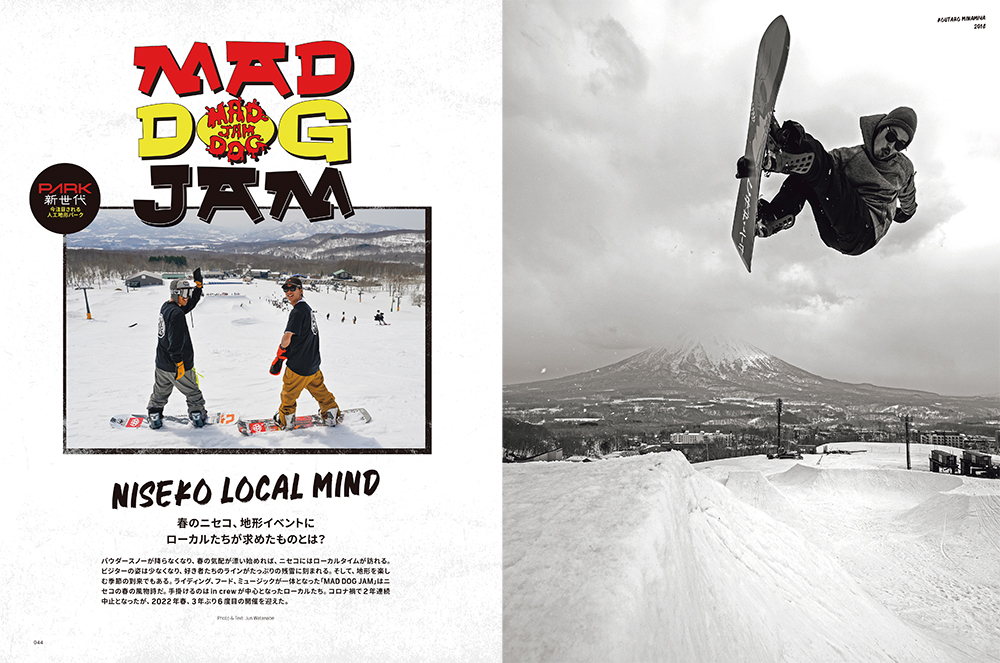 MAD DOG JAM
A session event organized by Niseko locals led by in crew.This festival-like event, which mixes music and food, is now a springtime Niseko tradition.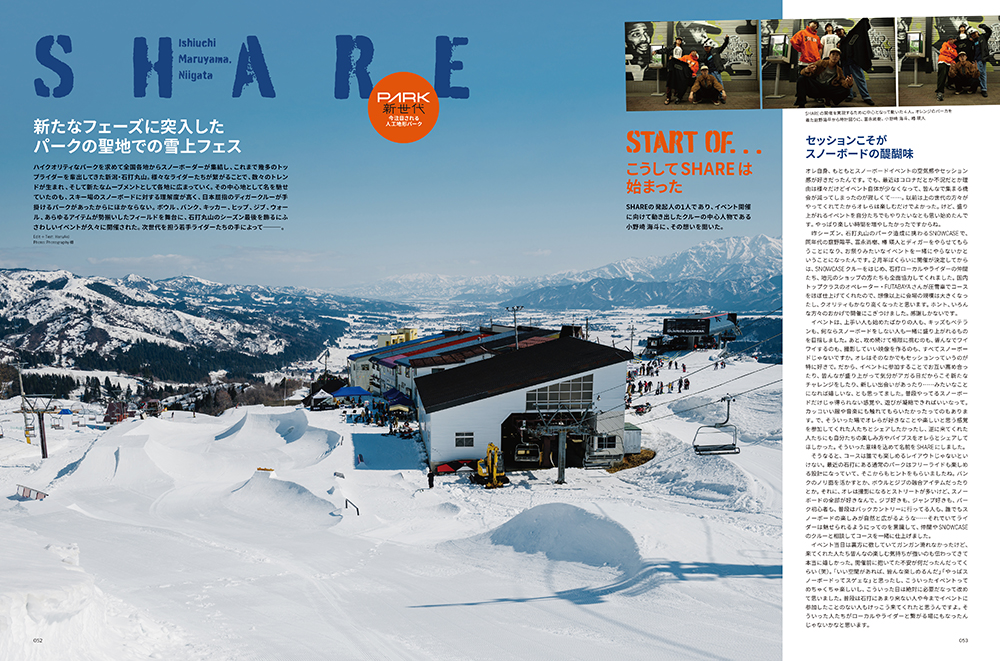 SHARE
A snow festival started by young riders at the park's sacred place, Ishiuchi.Whether you're good at it or not, even if you don't snowboard, you can "share" the fun through the event.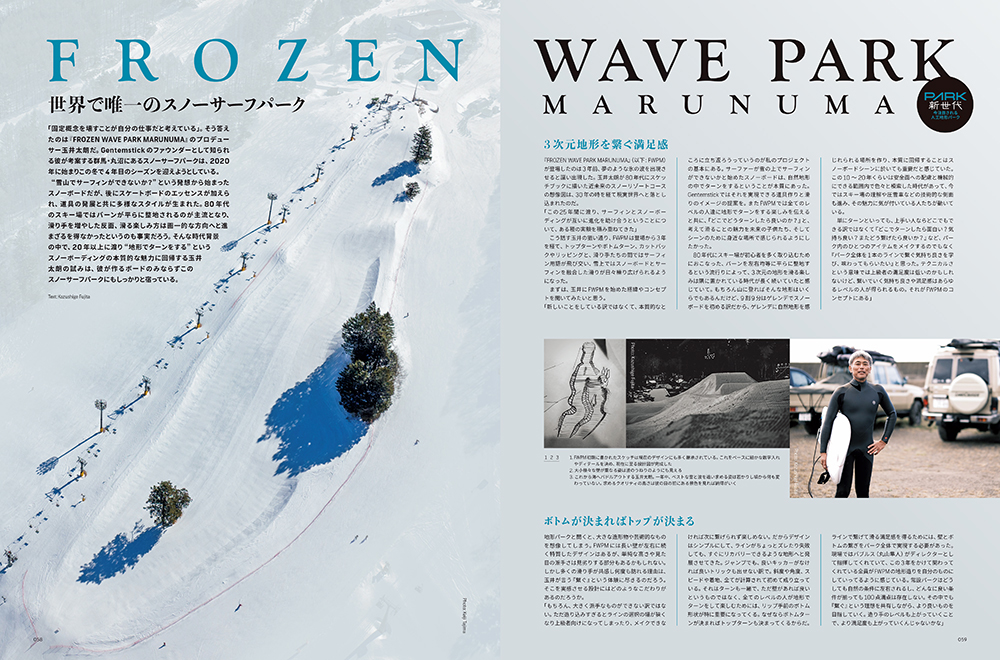 FROZEN WAVE PARK MARUNUMA
A snow surf park produced by Taro Tamai. A park designed so that you can enjoy the satisfaction of connecting three dimensions rather than a plane, and the comfort of connecting the entire park with a single line.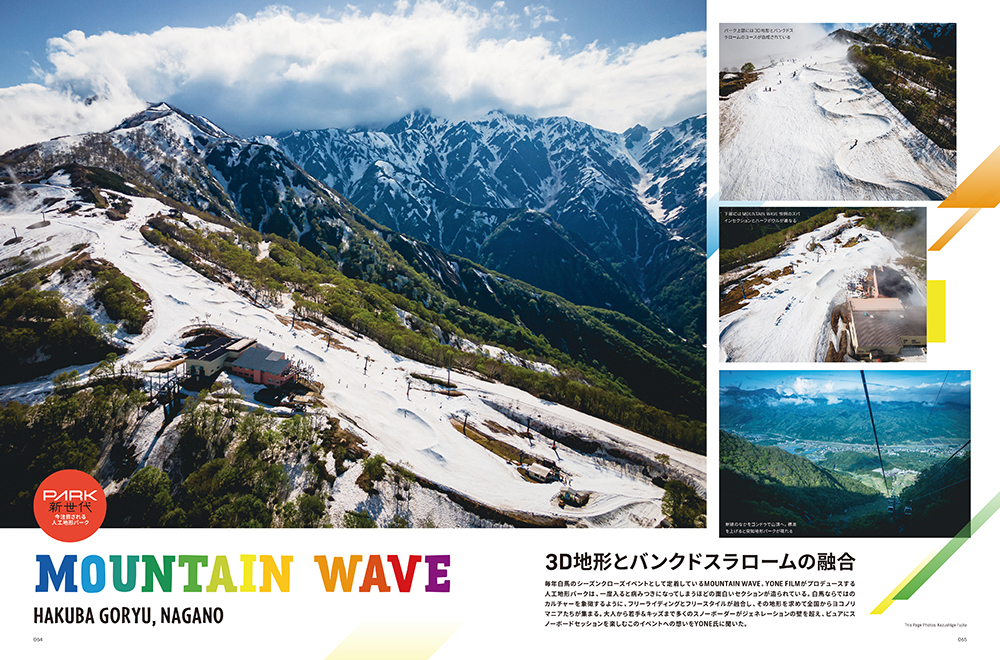 MOUNTAIN WAVE
A session event that combines 3D terrain and banked slalom. Based on the concept of "flow" and "freestyle", we have created a terrain that anyone can enjoy.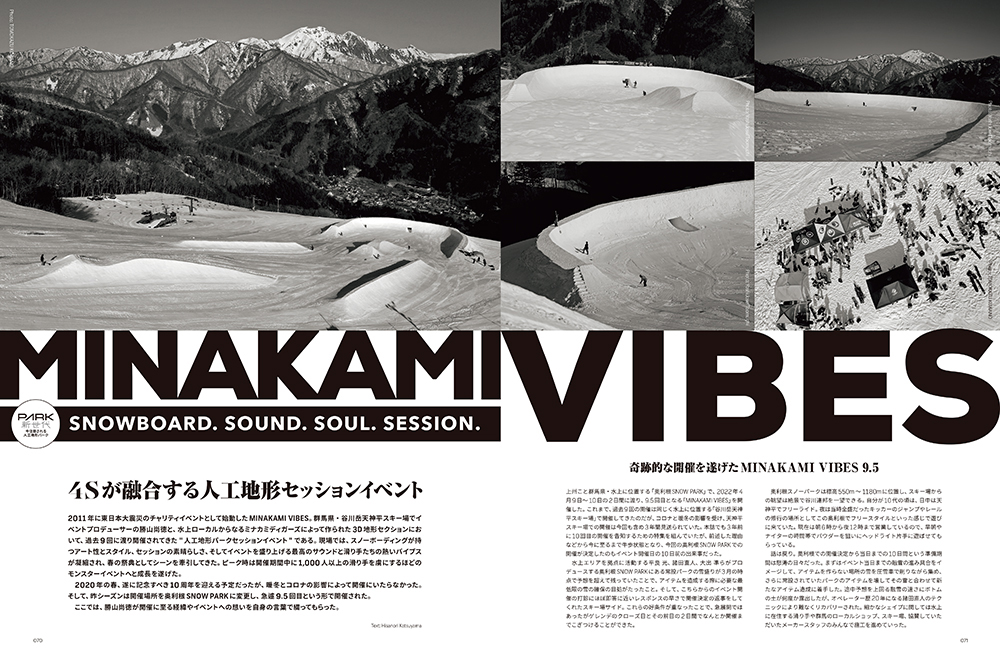 MINAKAMI VIBES
An artificial terrain session event that started as a charity event for the Great East Japan Earthquake.Now, more than 1,000 skiers come to enjoy the beautifully shaped 3D terrain during the event.
<<Introducing overseas movements>>
Bowls in the USA and Canada
The wave of man-made terrain parks is spreading all over the world.Speaking of bowl events in North America, HOLY BOWLY.Using the history of this event as a reference, we will approach the bowl culture that is spreading in North America.
THE NINES 2022
This movement has spread to Europe as well.THE NINES, held in Switzerland, is a unique event that brings together top riders, filmers and photographers from around the world.
And we'll also introduce you to the gear that's suitable for skating these terrain parks!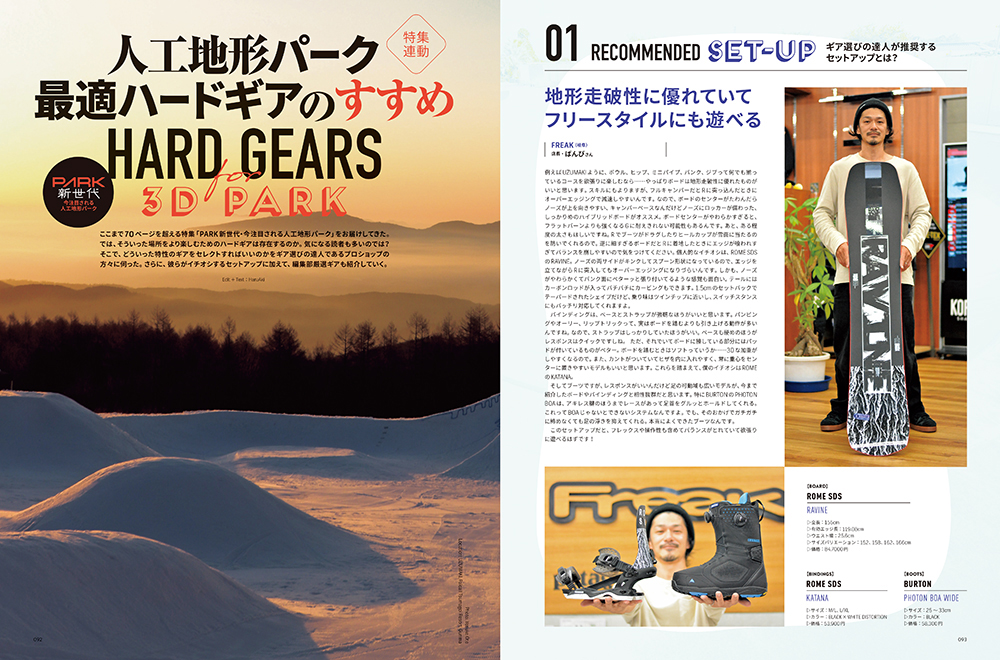 [Special Feature Link] Artificial Terrain Park Optimal Hard Gear Recommended
Is there suitable gear to enjoy the artificial terrain park more?We asked the pro shop to select the best setup from among the numerous gears released this winter.In addition, we will also introduce the gear carefully selected by the editorial department!
---
Free Run December Issue
¥ 980 (tax included)
From October 10th (Thursday), it will be sold at bookstores nationwide, snowboard shops, and online bookstores such as Amazon.
Alternatively, you can purchase it from this site.
http://www.freerun-mag.co.jp