We had a good snowfall last season, and I was able to enjoy snowboarding for a long time.The La Niña phenomenon is expected to continue this year.Maybe we can expect good snow!?This year, there is a shortage of popular models, and some of them are already sold out.If you are thinking of getting a new one this year, we recommend checking and getting it early.
We will release the FREERUN gear catalog again this year so that those who have not decided which gear they want yet or who want to know what kind of gear will be released can read it.Be sure to check out this magazine, which is packed with gear information and tips for choosing gear!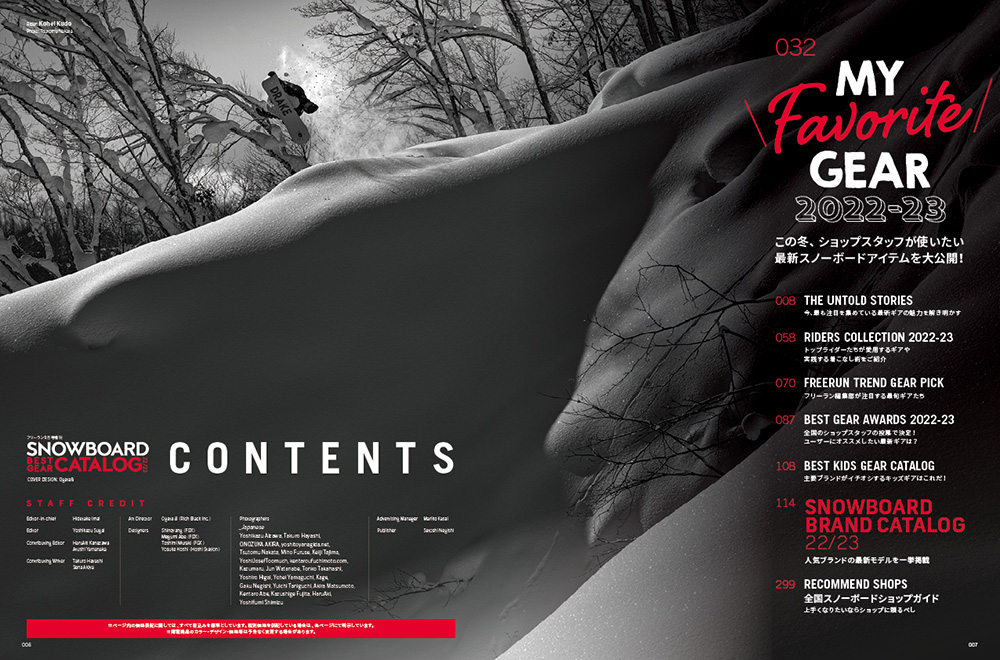 The top article of the catalog issue is "THE UNTOLD STORIES".
"Untold Stories" focuses on the items that are attracting particular attention among the snowboard gear released this winter.Information from each company has already been released on the web, etc., but we will delve deeper into the story and technology of the item.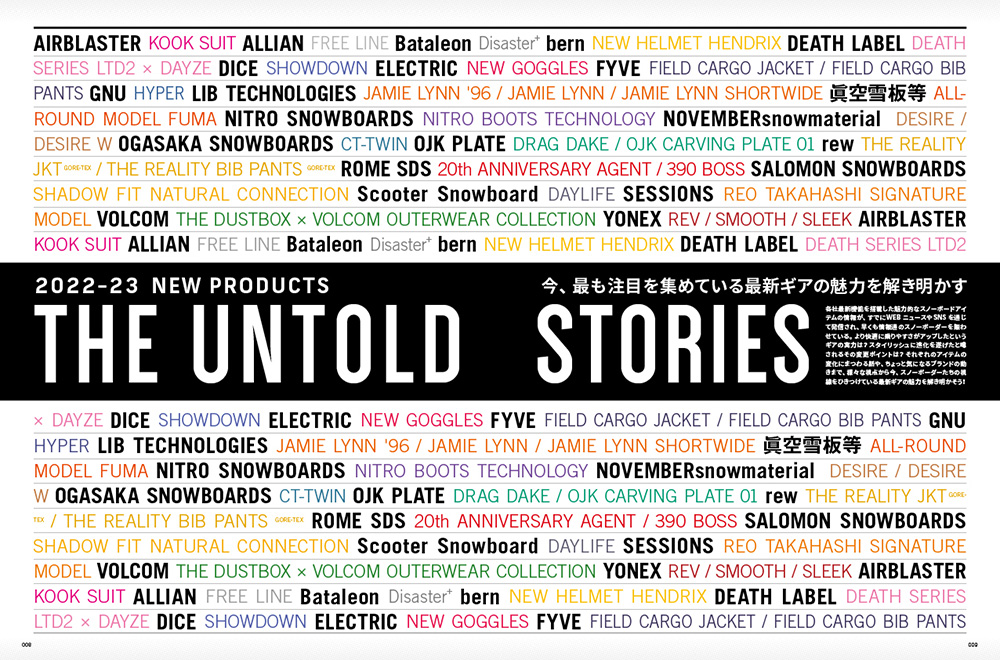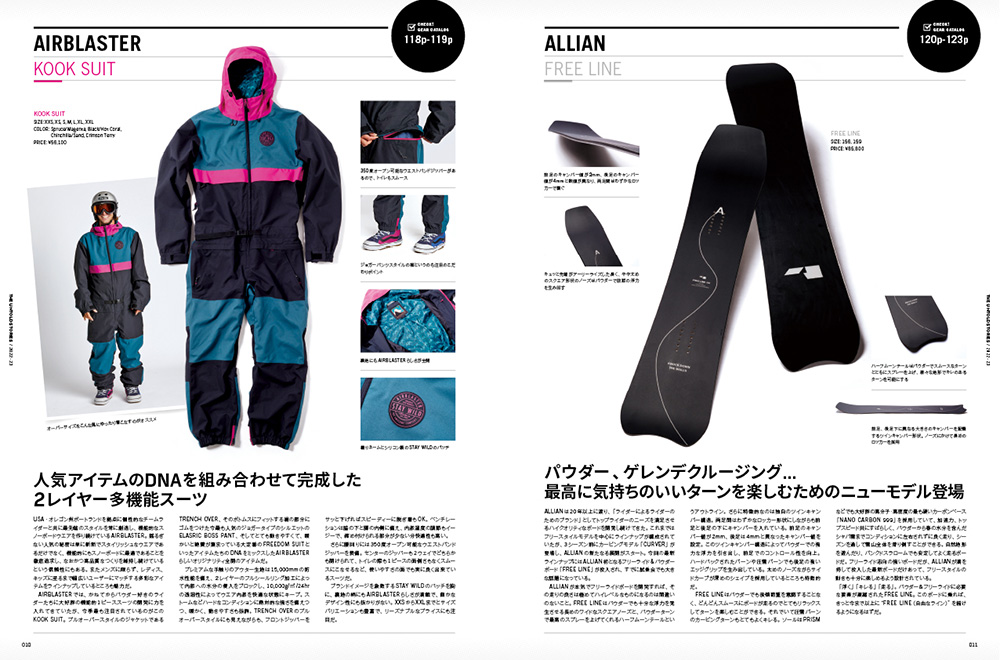 The opening feature is "MY FAVORITE GEAR", "RIDERS COLLECTION" and "FREERUN TREND GEAR PICK".
"MY FAVORITE GEAR"is a thorough coverage of the items that the staff of snowboard shops nationwide are paying attention to and the reasons why!I've been looking at various items for many years, so I'm talking about the goodness of the item.If you look at this, I think you can discover the importance of choosing items that match your own skiing, what points to choose items.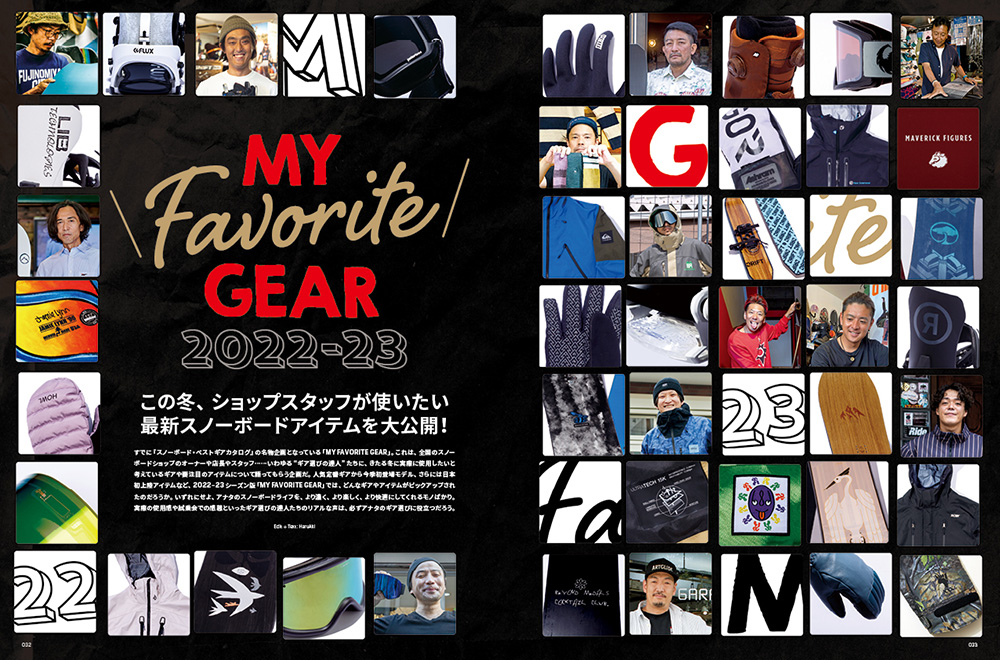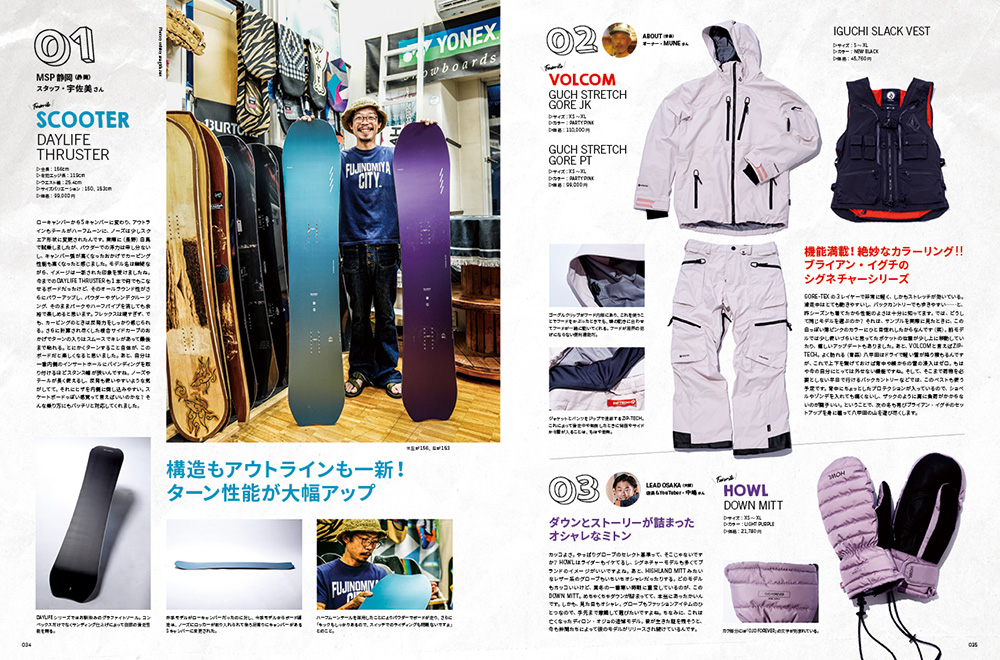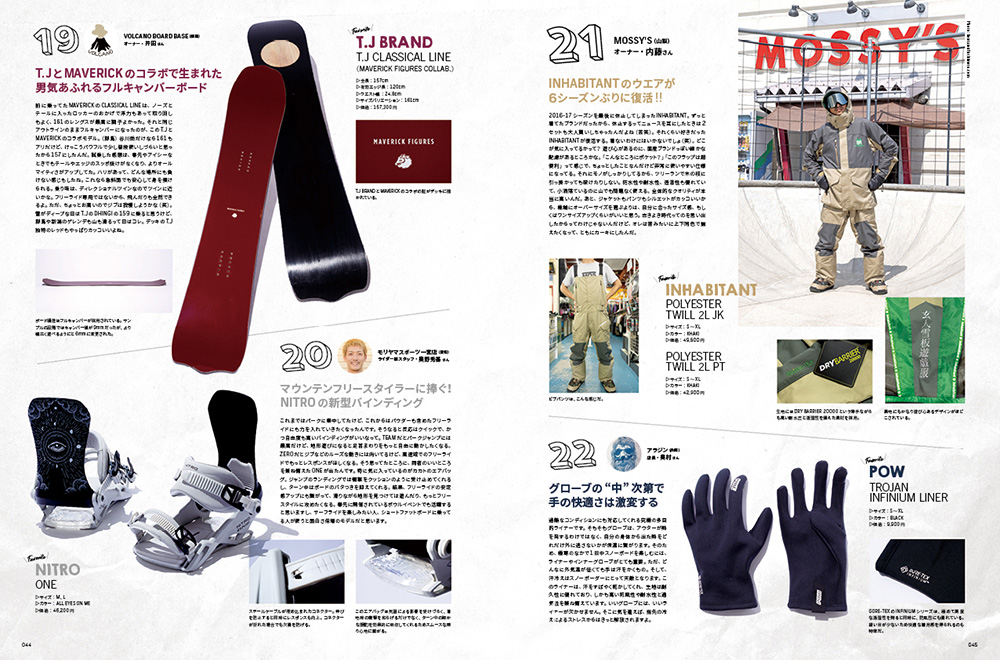 Now that you know the key points when choosing gear, check out the gear of professional snowboarders!What kind of set-up do the pros, who are always chasing advanced styles, and how do they organize the whole thing?"RIDERS COLLECTION"So, by all means, please refer to the points that the riders are particular about.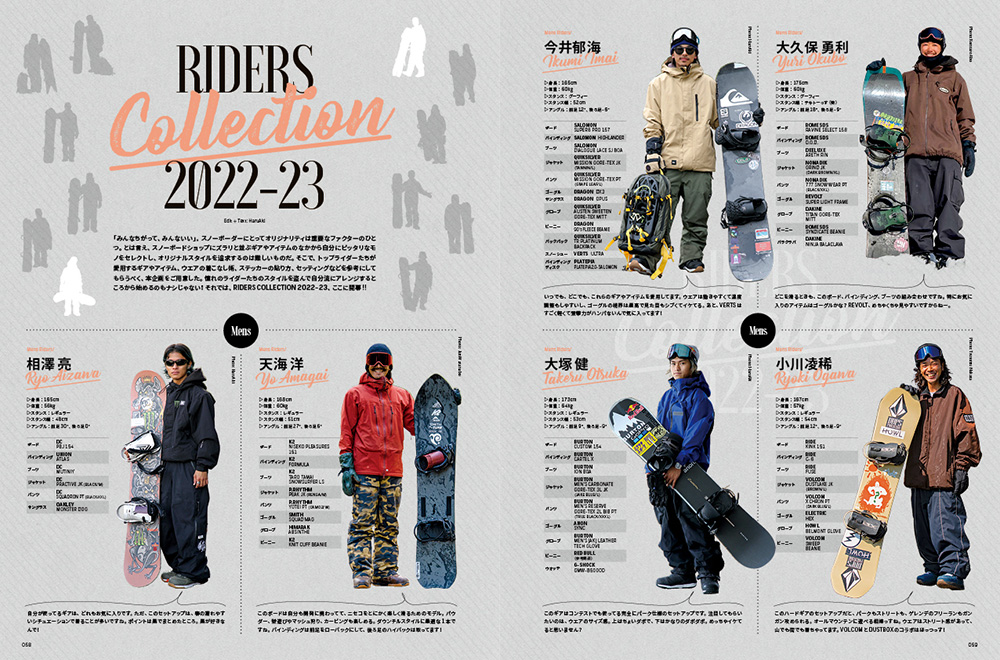 "FREERUN TREND GEAR PICK"is a gear introduction project that focuses on topics that the editorial department is particularly interested in among the items released this winter.We will introduce seven themes, from this winter trend to the latest technology and snowboarding sustainable items.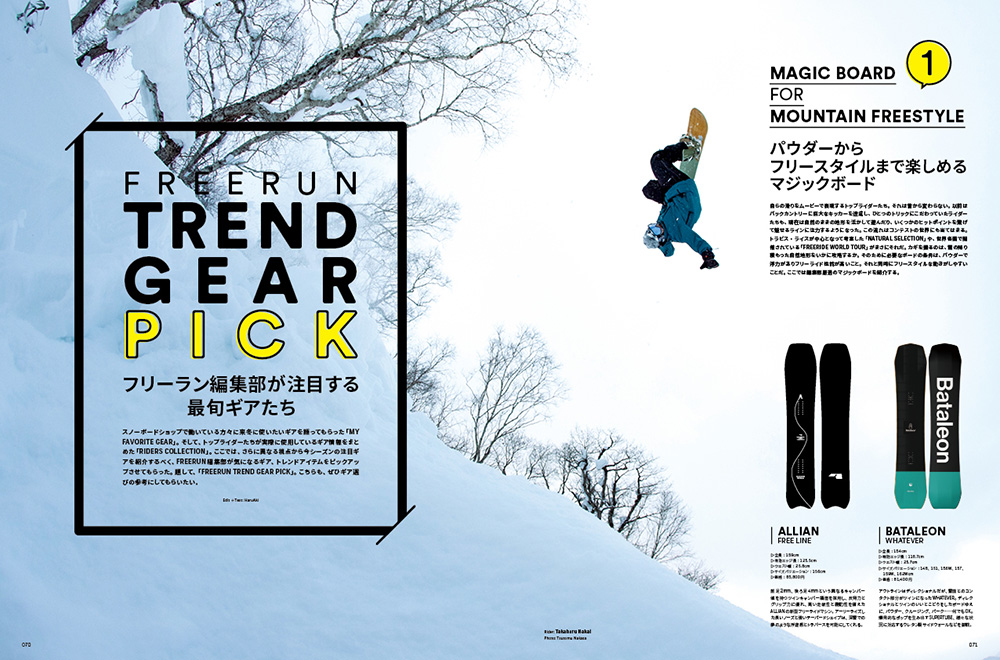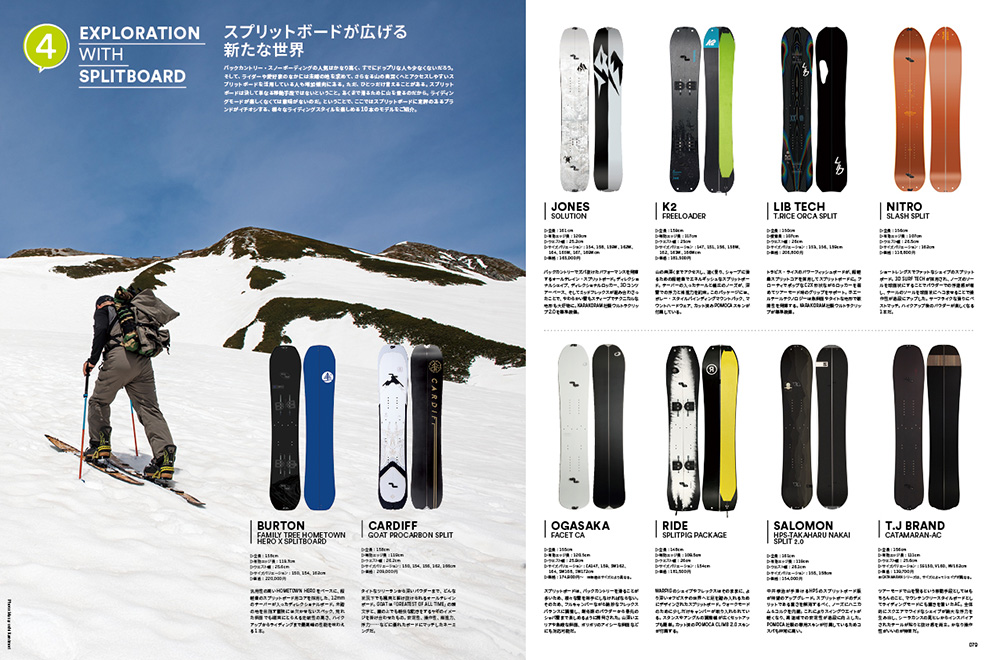 In addition, the annual "BEST GEAR AWARDS 2022-2023" will be held again this year.
We asked shop staff nationwide for their cooperation and introduced 6 categories in a ranking. In contrast to the MY FAVORITE GEAR project, which was selected from the perspective of "I want to use it myself", I asked them to select this from the perspective of "What would you recommend to customers?"
This year, hard gear is divided into 4 scenes (turn, powder, jump, jib & glide), and soft gear is divided into 2 points (functionality, design & cost performance) and ranked.I think that it will be useful for more practical gear selection.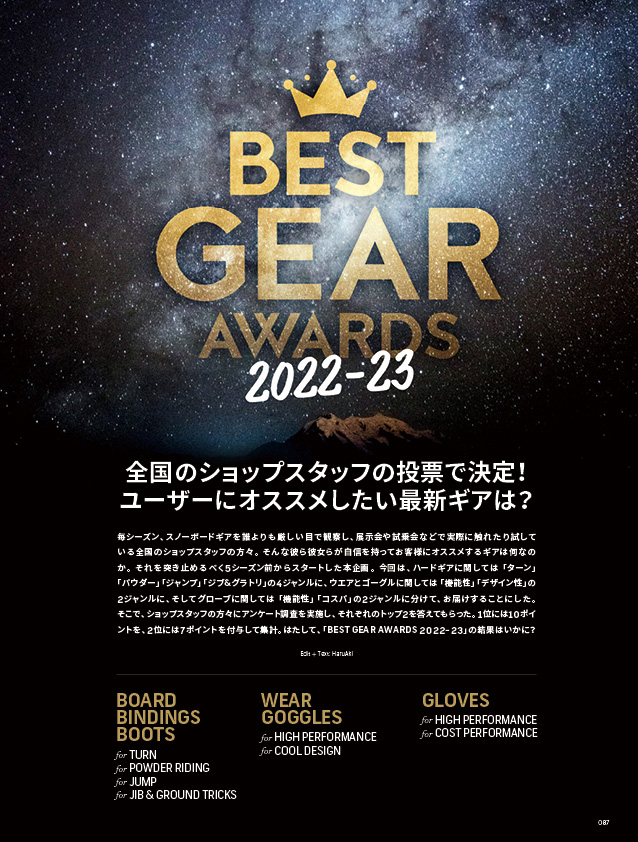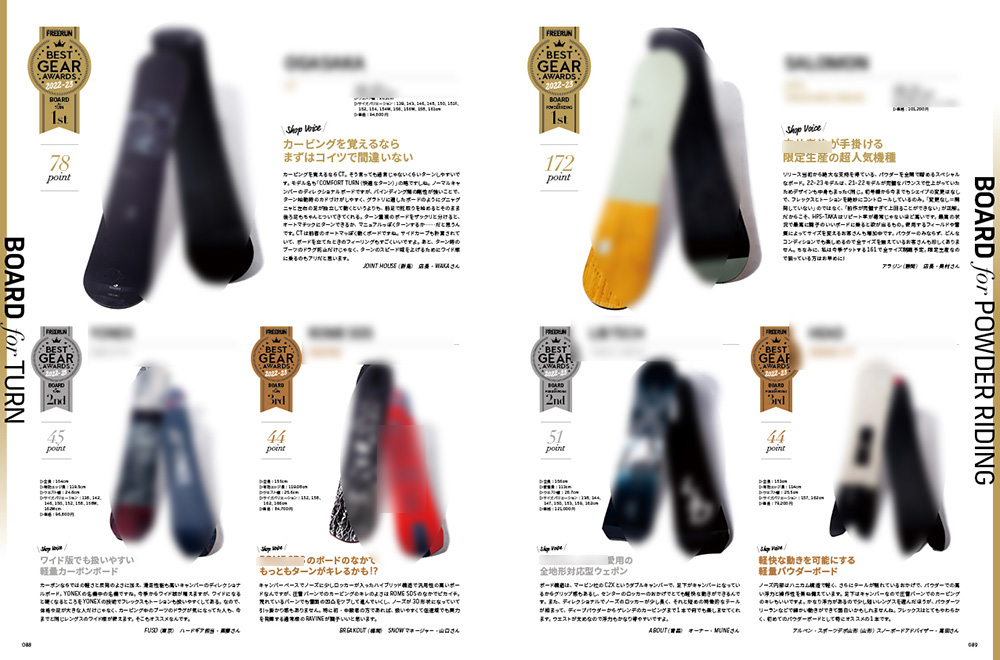 There is also a kids gear feature.From hard gear with the equipment you need to improve, to soft gear that is comfortable so you don't hate snowboarding, and protectors that protect your body, we have covered items from major brands!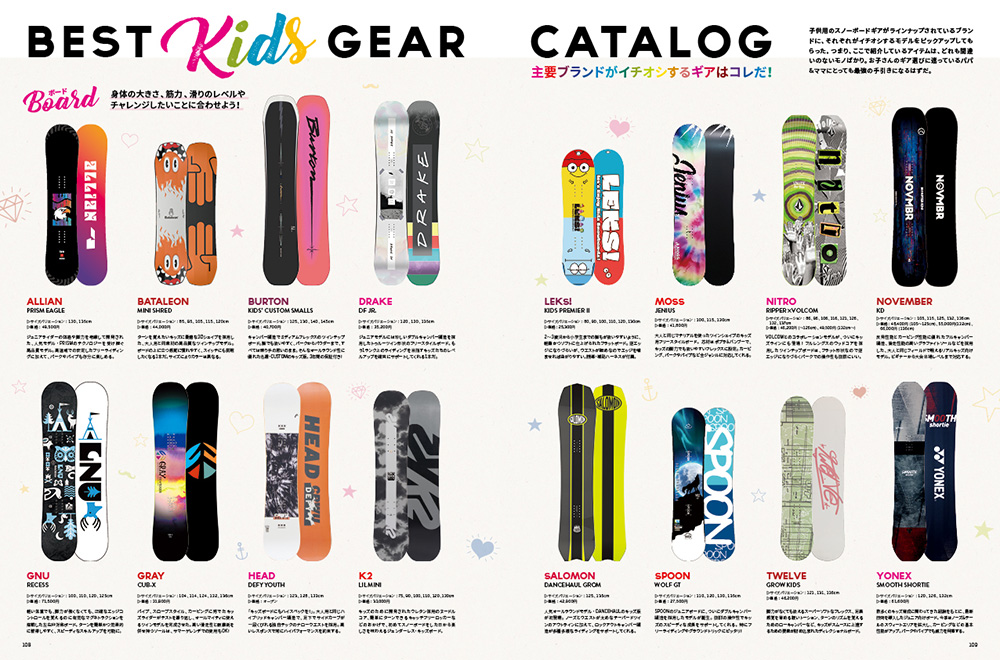 And then there is the brand catalog corner, arranged in alphabetical order.From snowboarding to clothing to off-training ronsuke, we've collected snowboard gear for the 22-23 season!Only FREERUN can see this number of brand gear information at once!From now on, you can compare attractive new products that will be lined up in stores one after another while flipping through them.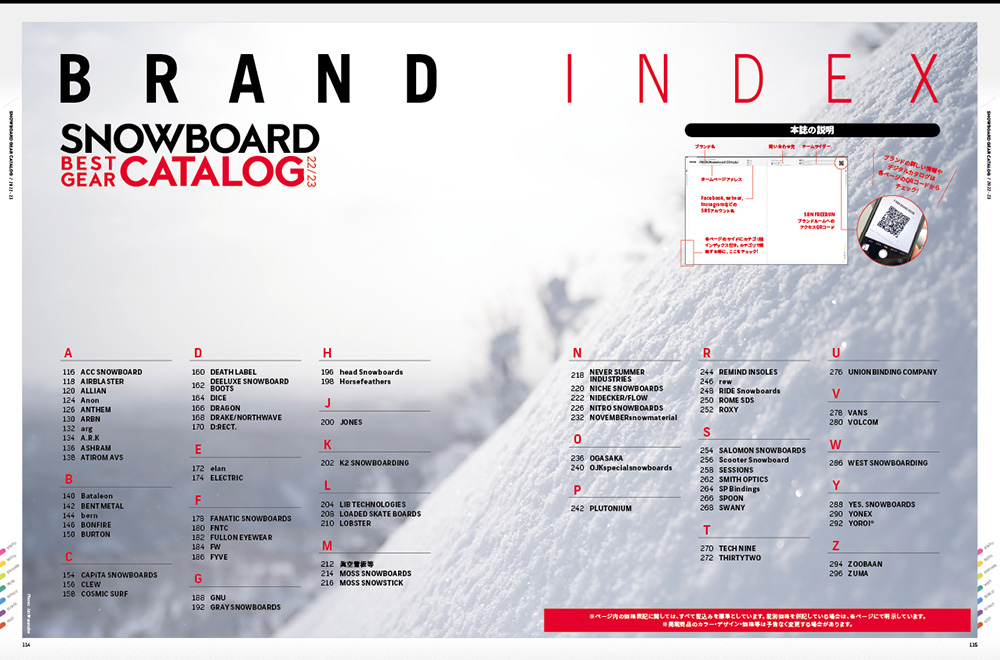 A national shop guide is posted at the end of the book.Find your favorite shop you can trust!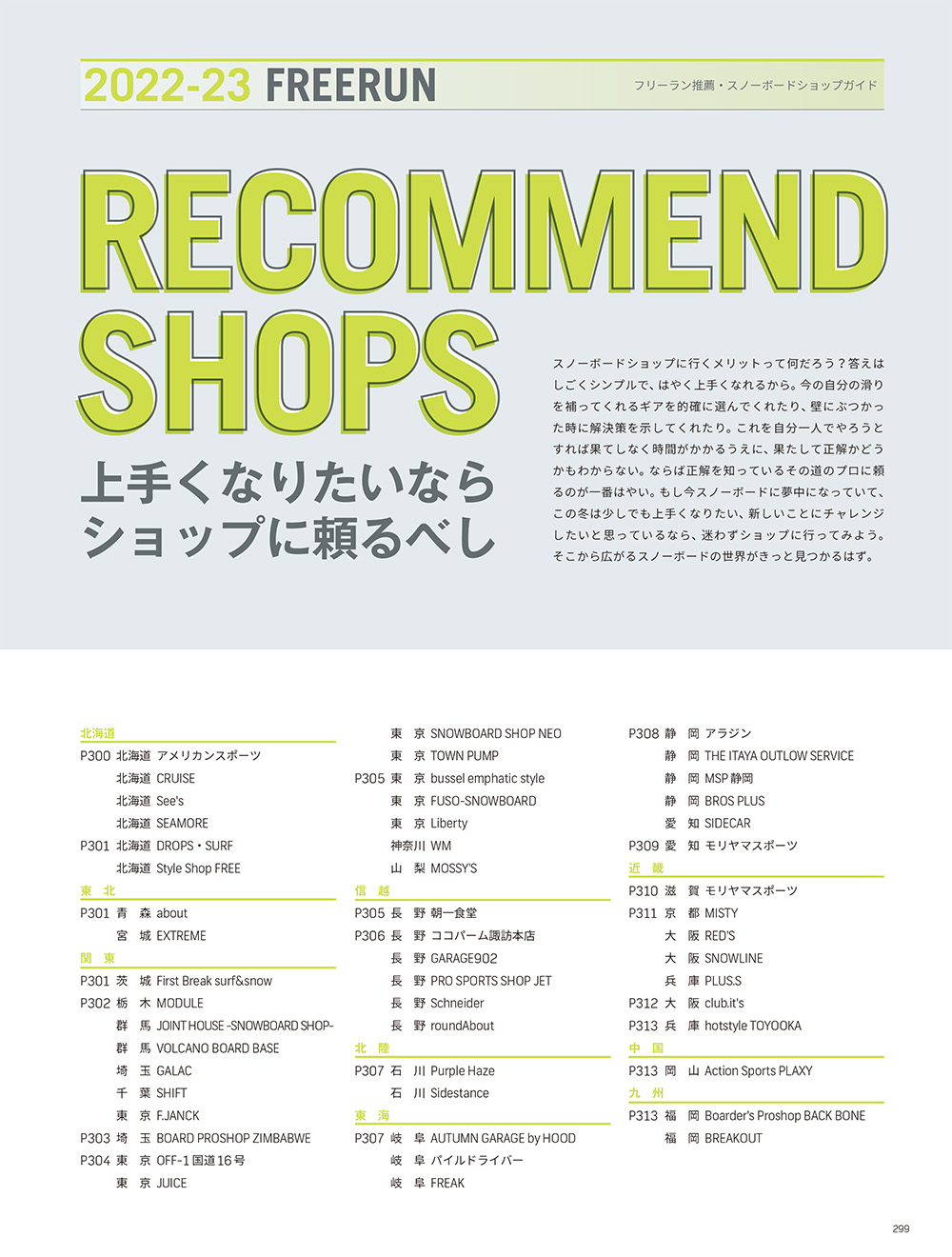 Free run September issue special edition
"SNOWBOARD BEST GEAR CATALOG 21/22"
¥ 1,500 (tax included)
From August 8th (Monday), it will be sold at bookstores nationwide, snowboard shops, and online bookstores such as Amazon.
Alternatively, you can purchase it from this site.
http://www.freerun-mag.co.jp
A little earlier than the catalog issue, "SBN FREERUN (SBN FREERUN), the official website of FREERUNhttps://sbn.japaho.com)" has started a digital catalog corner where you can read user catalogs of popular brands at once.A digital catalog will be released along with the introduction of about 70 brands and link settings such as WEB and SNS.
We have already published the latest catalogs of more than 30 brands.
This corner will be very useful for choosing the latest gear, so please use it along with the catalog number to choose gear for this season!