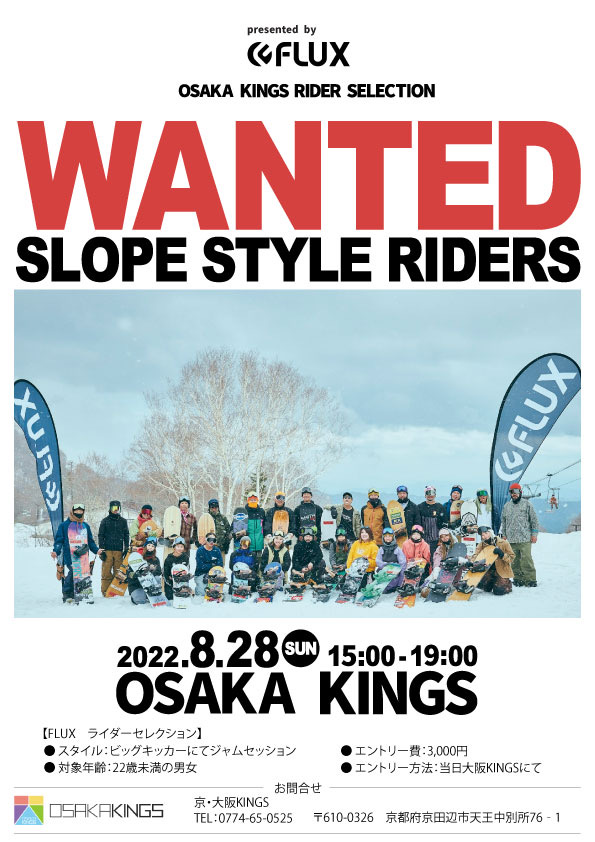 FLUX, a total brand representing domestic manufacturers, has decided to hold a rider selection event on August 8th at KINGS in Osaka.
On the day of the event, in addition to the big kicker, there will be multiple sessions on the slope course and JIB, and it seems that slopestyle riders under the age of 22 and riders who are good at jibbing will be selected.
As one of the world's leading manufacturers of bindings, this rare opportunity to join the FLUX team, which has produced many professional riders, is a rare opportunity to take on the challenge.
FLUX riders will also participate as judges on the day, so you might get a glimpse of the atmosphere of the team.
Date: August 2022, 8 28:15-18:XNUMX
Location: Osaka KINGS-Big Middle & JIB ZONE
entry:
(Participation qualification) Men and women up to 22 years old
(Participating Genres) Slopestyle/JIBBING
(participation fee) 3,000 yen
(Participation method) Direct entry at Osaka KINGS or entry by phone (0774-65-0525), payment at the reception on the day
time schedule:
14:00 Reception starts
15:00 Opening ceremony (before JIB section)
15:30 JIB session (PVC area)
16: 30 break
17:00 Jump session (big middle)
18:30 Closing ceremony (upper rest area)
19:00 Interview (KINGS CAFE)
OFFICIAL SITE
http://osaka-kings.com/

EVENT PAGE
http://osakakings.blog.fc2.com/blog-entry-205.html