Those who want to jump but don't have the courage, those who want to fly higher than their friends,
People who want to be able to turn cool, etc.
Let's practice at QUEST, an air mat facility where landing is safe!
The sizes are divided into small, medium, and large, so you can choose the jumping platform that suits your level, so you can rest assured!
Moreover, the chartered and skilled FANATIC riders will teach you carefully, so there is no doubt that you will be able to improve at the fastest speed.
Models and sizes are limited, but test drive boards are also available.
Let's take this opportunity to challenge a cool jump!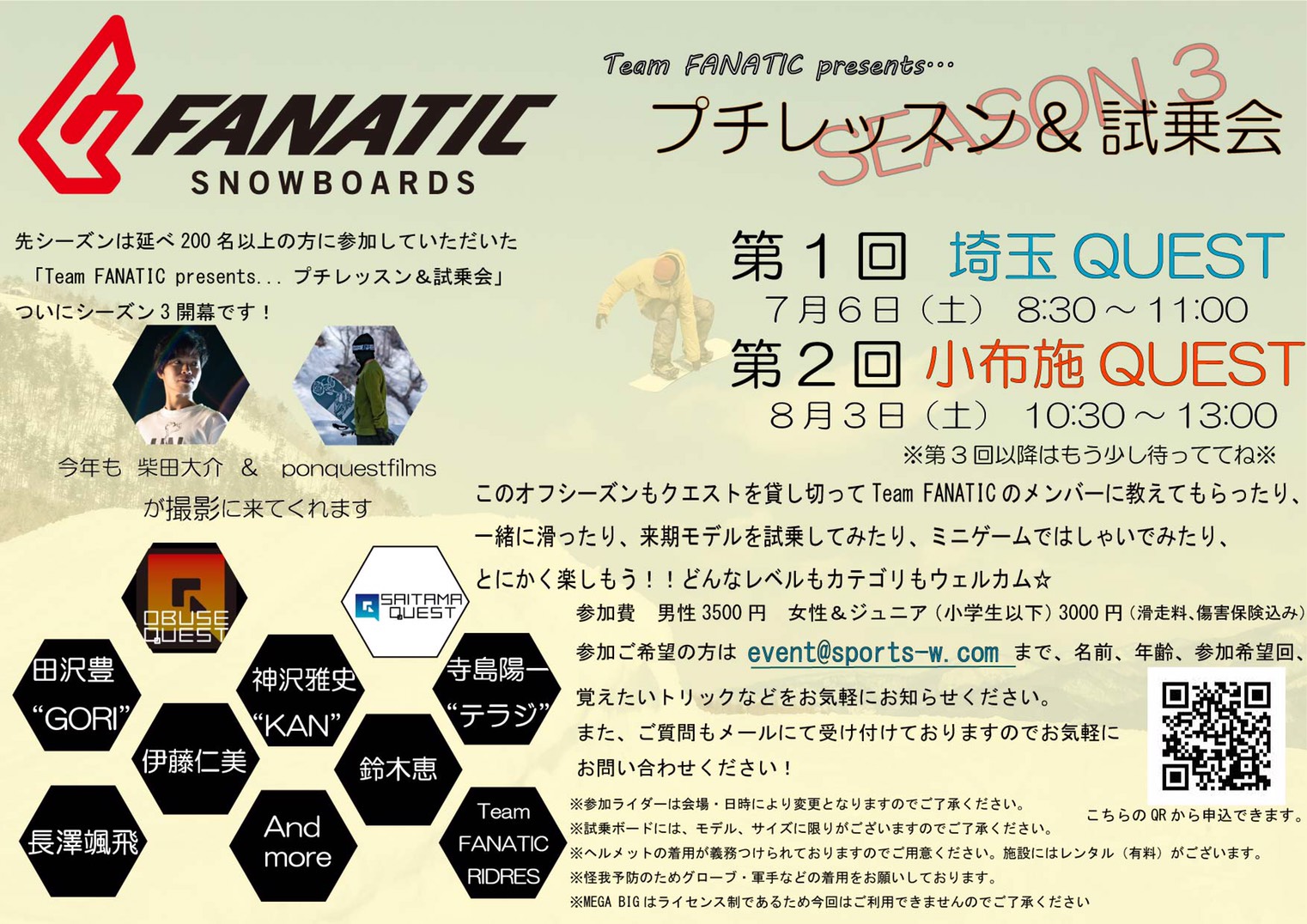 XNUMXst
Date and time: Saturday, July 8th, 30: 11-00: XNUMX
Location: Saitama QUEST
Participation fee: Male 3,500 yen Female & Junior (elementary school students and younger) 3,000 yen (including gliding fee and accident insurance fee)
Application: event@sports-w.com Name, gender, age, desired number of times to participate
Please fill in and email us.
(Payment should be made at the venue on the day of the event)
XNUMXnd
Date and time: Saturday, August 10rd, 30: 13-00: XNUMX
Location: Obuse QUEST
Participation fee: Male 3,500 yen Female & Junior (elementary school students and younger) 3,000 yen (including gliding fee and accident insurance fee)
Application: event@sports-w.com Name, gender, age, desired number of times to participate
Please fill in and email us.
(Payment should be made at the venue on the day of the event)
Contact:
Winckler Co., Ltd. Sports Div.
Email: event@sports-w.com