This work, DVD Gekokujo, which has become one of the motivations for me to be a professional snowboarder now.
This year, we are recruiting with several awards.
We are waiting for your application as we have started accepting applications.
Details are below.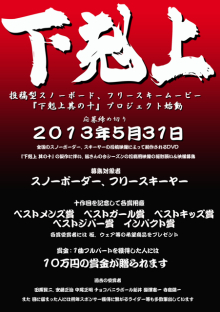 Post-type snowboard freeskiing movie
We are now accepting applications for "Gekokujo No. XNUMX"! !! !!
And
We prepared each award to commemorate the 1th work
・ Best Men's Award (Kicker, Jib, Natural, etc.)
・ Best Girl Award (Kicker, Jib, Natural, etc.)
・ Best Kids Award (Kicker, Jib, Natural, etc.)
・ Best Jibber Award (For those who are good at park jib, street, etc., especially the street video is given priority)
・ Impact Award (laughing video, shocking moss scene, heartwarming video, etc.)
Winners will receive the desired products such as KATANA BLANKY FCsnowboard, WACON, Obuse / Saitama Kings XNUMX month free pass, etc.! !!
If you are already a maker rider of Doco, you can give it as a gift to someone close to you.
Of course, the prize money of XNUMX yen for those who won the full part of one song
The deadline for applications is May XNUMX, XNUMX! !!
Everyone ...
Video of hot slip
Heartwarming video
LOL, rare video
etc,,,
Please post the video you took this season
We are waiting from the bottom of my heart
Of course, we are also looking for videos of free skiers.
※※※※※※※※※※※※※※※※※※ detail ※※※※※※※※※※※※※※※※※※※※※※※※※
Those who want to raise their name regardless of professional amateurs nationwide,
Anyone who wants to record their snowboarding life at any level,
People who have taken interesting pictures,
Age, gender, level does not matter.Recruitment of applicants! !!
Contents:
By videos posted by snowboarders and skiers nationwide
With the production of the DVD "Gekokujo No. XNUMX" to be produced
Request for shooting video for posting this season to everyone & recruiting video
(Recruitment, producer Poseur's Production)
Recruitment: Snowboarders, free skiers
* The category of the sliding field is free.
Recruitment announcement:
We will announce it when the product is released.
It is a secret until the end of production.
Every year, main appearance, opening appearance, bonus part appearance, etc.
We will hire you based on careful selection.
Prize money:
A prize of 1 yen will be given to those who win one full part.
Past Winners Kenji Taguri Masaharu Ando Masaaki Nakao Chocolate Vanilla Ball Kenichi Arai Kenichi Takizawa Takashi Watanabe Yoichi Terashima
In addition, many riders who catch the eye are produced every year, which leads to the acquisition of sponsors.
The deadline is May XNUMX, XNUMX.
Applicants
Please send it to the snowboard shop Wagodo "Gekokujo Application Section"  
381-0034-2 Minamitakada, Nagano City, Nagano Prefecture 4-11 Wagodo 
"Gekokujo Application Section" TEL 026-259-0544
※ Application method ※
XNUMX. Please send us a copy of the video you shot, such as riding, on a recording medium such as a DVD-R.
However, the file format of video data is only AVI file and QuickTime (.mov) file.
Please do not put only the video on the DVD.Be sure to separate each clip into a file.
* Since there are many applicants every year, if the file format is different, it may cause "images cannot be seen" or "image quality is poor", which may affect the hiring situation.
The main recruitment is data, but we will continue to accept DV tapes.
XNUMX. Please enclose your self-promotion when you apply.Be sure to write your name, age, birthplace, and goals on a piece of paper.
If you have any other backgrounds or goals, thank you.
The enclosed paper has been carefully examined, so please do your own PR.
Applicants 
381-0034-2 Minamitakada, Nagano City, Nagano Prefecture 4-11 Wagodo "Gekokujo Application Section" TEL 026-259-0544
We are waiting for applications from hot freestyle skiers and snowboarders nationwide! !! !!
* Maximum precautions! !! !! *
10. The recruitment video is basically XNUMX minutes.If there is a problem with the location or if there is something wrong with it, please limit it to XNUMX minutes.If this cannot be observed, it will be rejected.
XNUMX. We also accept data applications.Please be sure to format it as an AVI file or a QuickTime (mov) file.Please note that other DATA files may not be able to read the video.
Please pay this for a total of XNUMX minutes.
XNUMX. Please take responsibility for the accident.Poseur's Production cannot take any responsibility.
XNUMX. Don't complain when you look at the finished edit.
XNUMX. The sent video will not be returned at all.
XNUMX. Please do not send the master.Please copy and send only your own place.
* Key to video adoption *
1. Trick variation (Even if the location changes, there are few adopted videos if all the tricks are the same.)
2. The image quality is good (camera shake is hard)
3. Style (this is your decision)
4. It includes originality and, of course, the personality of an interesting person.
5. Submit the video in the specified format.
6. High degree of perfection of riding. (Please use the one with the landing video.)
important! !!Every year, videos without landing footage are rejected in most cases.
7. For those who only compete in riding, don't do a lot of the same tricks with too much sloppy 60-minute tape.
8. Please send a copy of the video. The place visualized on CDR.VHS.DVD may not be readable by the computer (Mac) owned by Poseur's Production.In the past, even if I wanted to use the video many times, I couldn't use it.
I would like a video with 10 or more cuts.
10. Of course there is also a moss scene.
11. Please be sure to write down your address, name and phone number clearly and clearly.
 (If you can't read your address and phone number, you won't be able to contact us even if something happens.)
12. Please be sure to put your face and appealing images on it.It will be a better part when you make a part.
13. At that time, please remove the goggles.
14. Only those who want to provide interesting material can apply.Rather than welcome.We are also looking forward to applications from strange people, people who like stupid things, people who want to make them laugh, and people who are surreal.
* Recruiting songs! !! *
Bands all over the country who saw this advertisement!Would you like to provide music to Gekokujo?
In the Gekokujo series, many bands provided songs.We are looking forward to your application on CD, CD-R, which will be recruited at the same time.No genre, number of songs, self-esteem, etc.
* Application destination * 
381-0034-2 Minamitakada, Nagano City, Nagano Prefecture 4-11 Wagodo "Gekokujo Application Section" TEL 026-259-0544