Tadashi Fuse, a professional snowboarder who continues to run at the top of the scene.For 10 years, BILLABONG has been releasing signature wear that incorporates his lifestyle into products.This season, BILLABONG will be wearing a collection called ADNENTURE DIVISION, which uses a high-performance material called SympaTex, which BILLABONG is proud to send out to the world.Looking back on the path that Fuse has taken with BILLABONG, we asked Fuse himself and Mr. Dezzy, a wear designer, about this season's clothing and future stories.
Photo: Taro Koeji
10 years of continuous evolution with Tadashi Fuse
First of all, we talked to Dezzy, the designer in charge of clothing, about Fuse's signature wear released by BILLABONG.
"Since 2010, I have been involved in BILLABONG, and I have been involved in design since the first year of releasing Tadashi-kun's signature wear. So far, I have been involved in designing coach jackets, workwear, high-end wear planned by Japan, and old school. I think that I have set different themes for each season, such as vintage clothing, pursued them without compromise, and expressed good products. I have created really various designs, but the concept is always lifelike. It was to cut out the lifestyle of Mr. Tadashi and put it in his clothes. "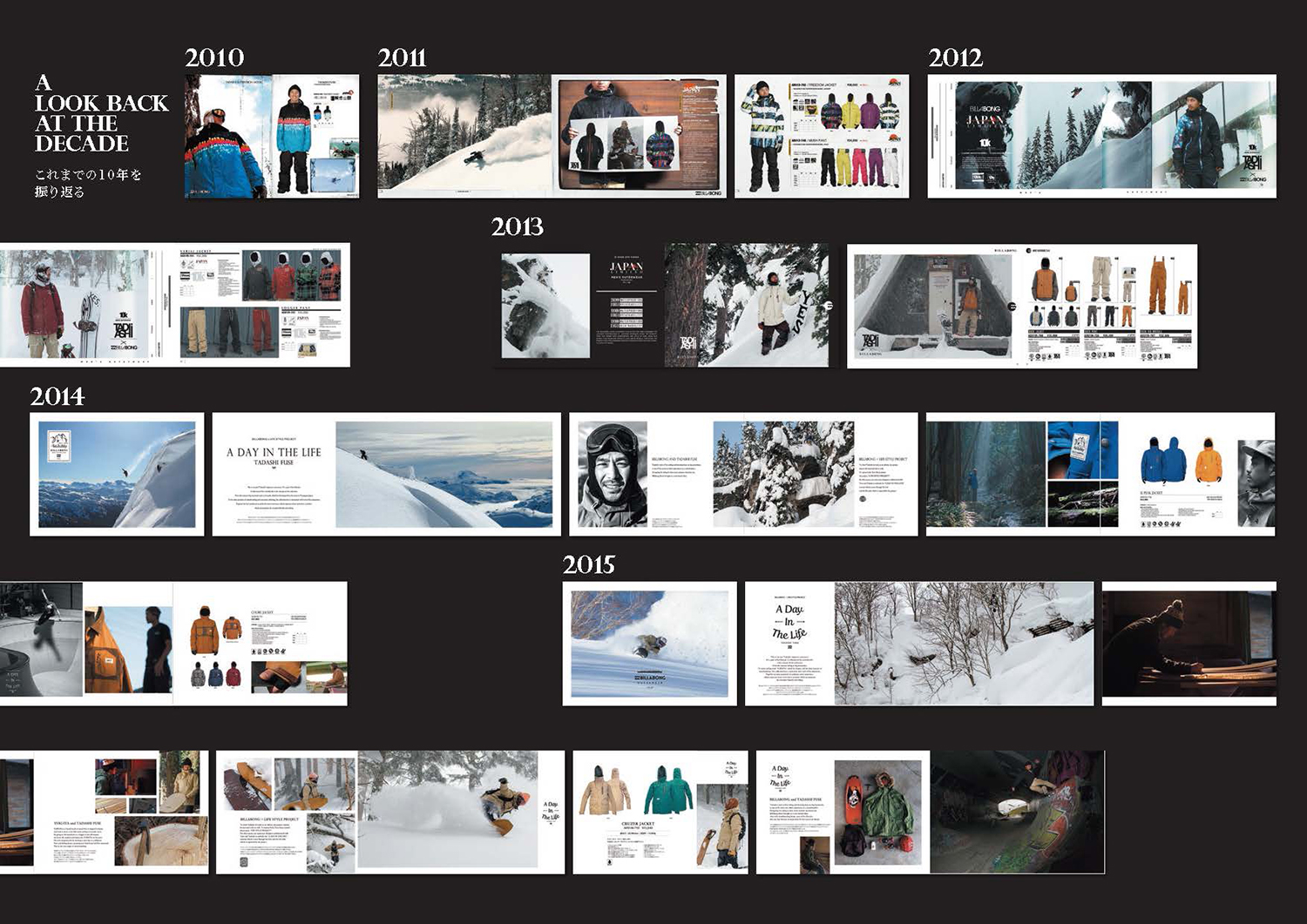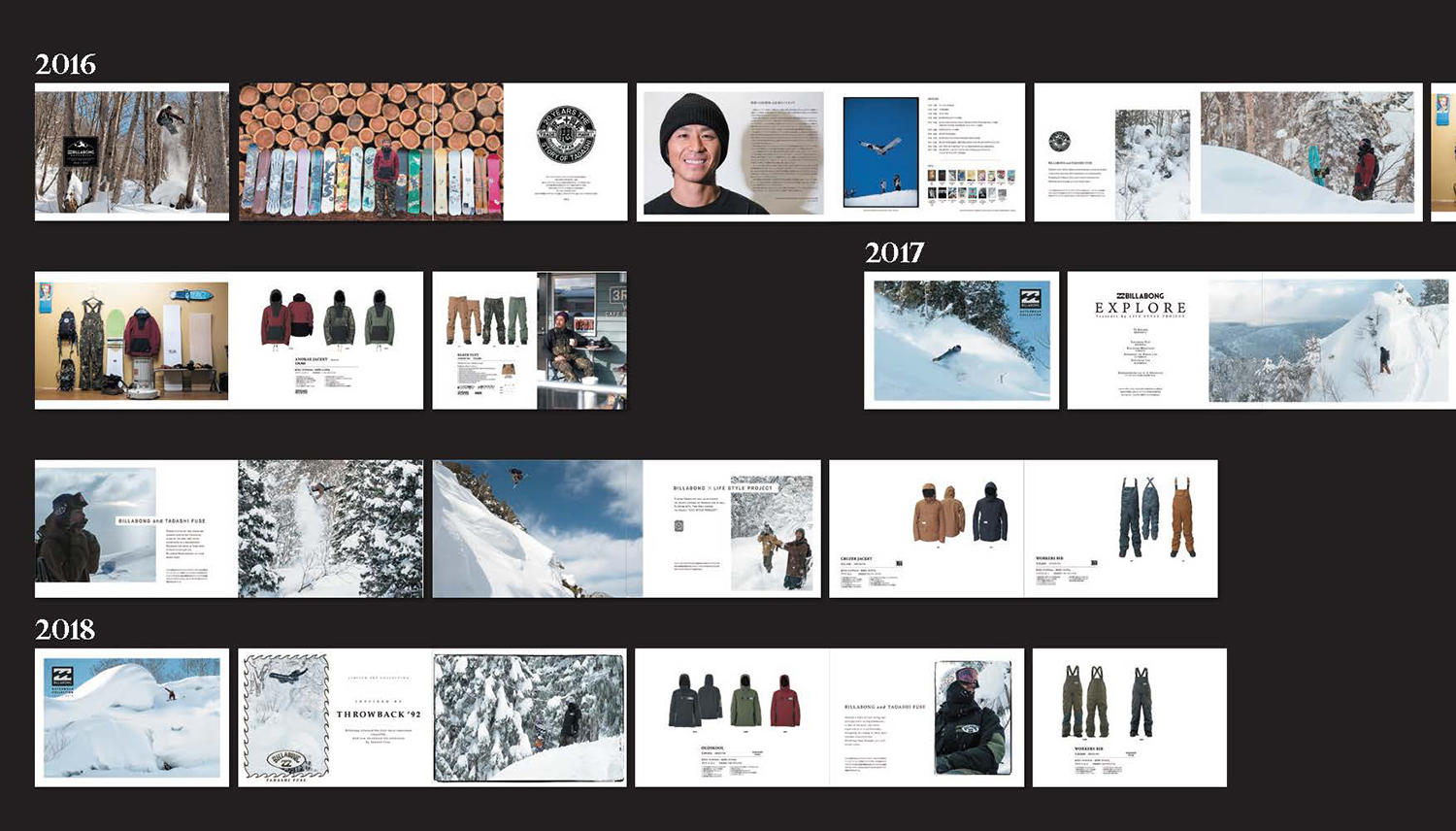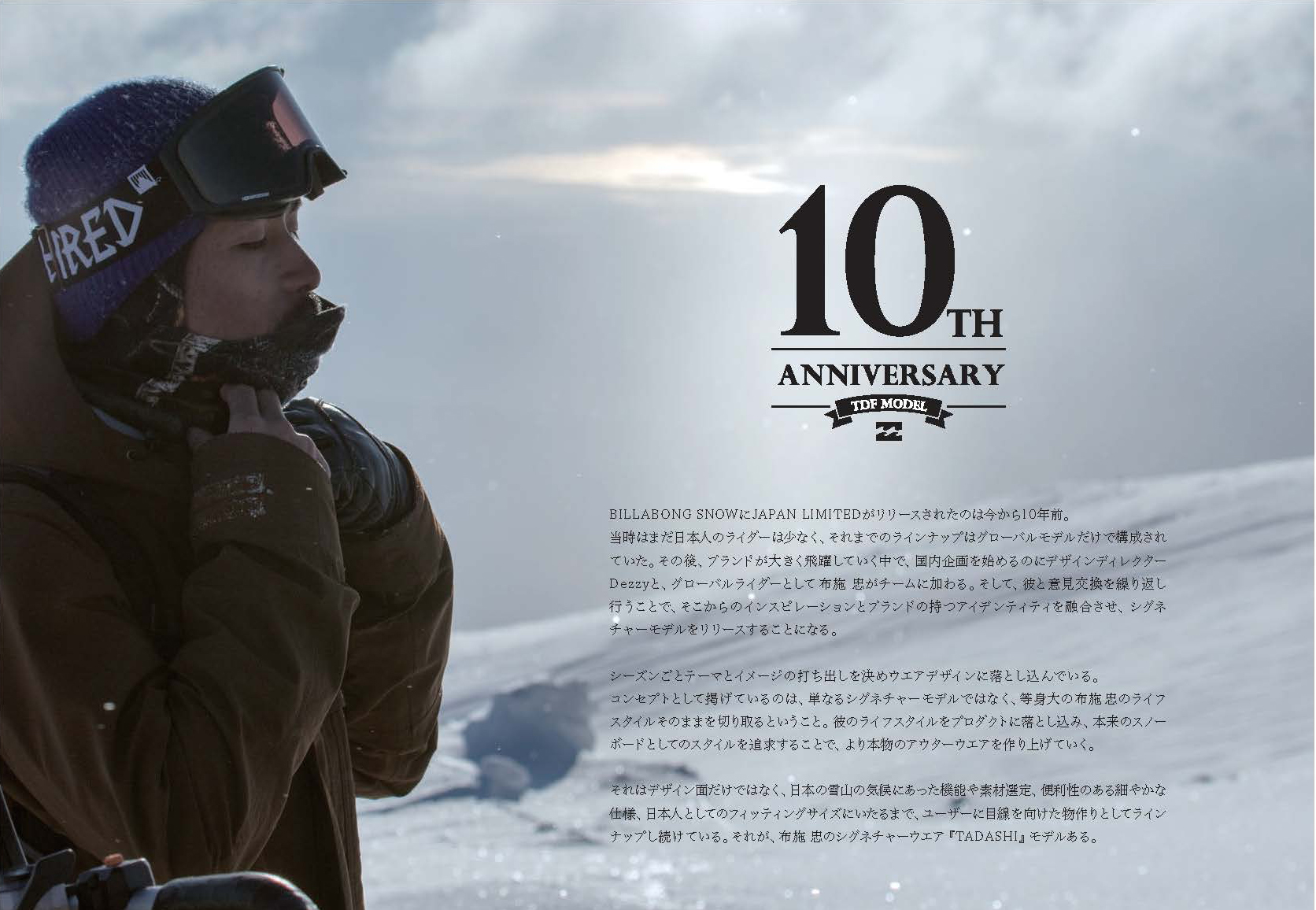 Fuse has walked with BILLABONG at various milestones such as the 20th anniversary of professional activities and the 10th signature wear.He is still so energetic that he can't fit in the frame of a veteran, and he always faces snowboarding seriously, with his eyes shining like an adventure boy.This season, he decided to wear the ADNENTURE DIVISION line of clothing, which uses a high-performance material called SympaTex, instead of his signature clothing.It is nothing but that he himself opened a new stage with BILLABONG and took a new step.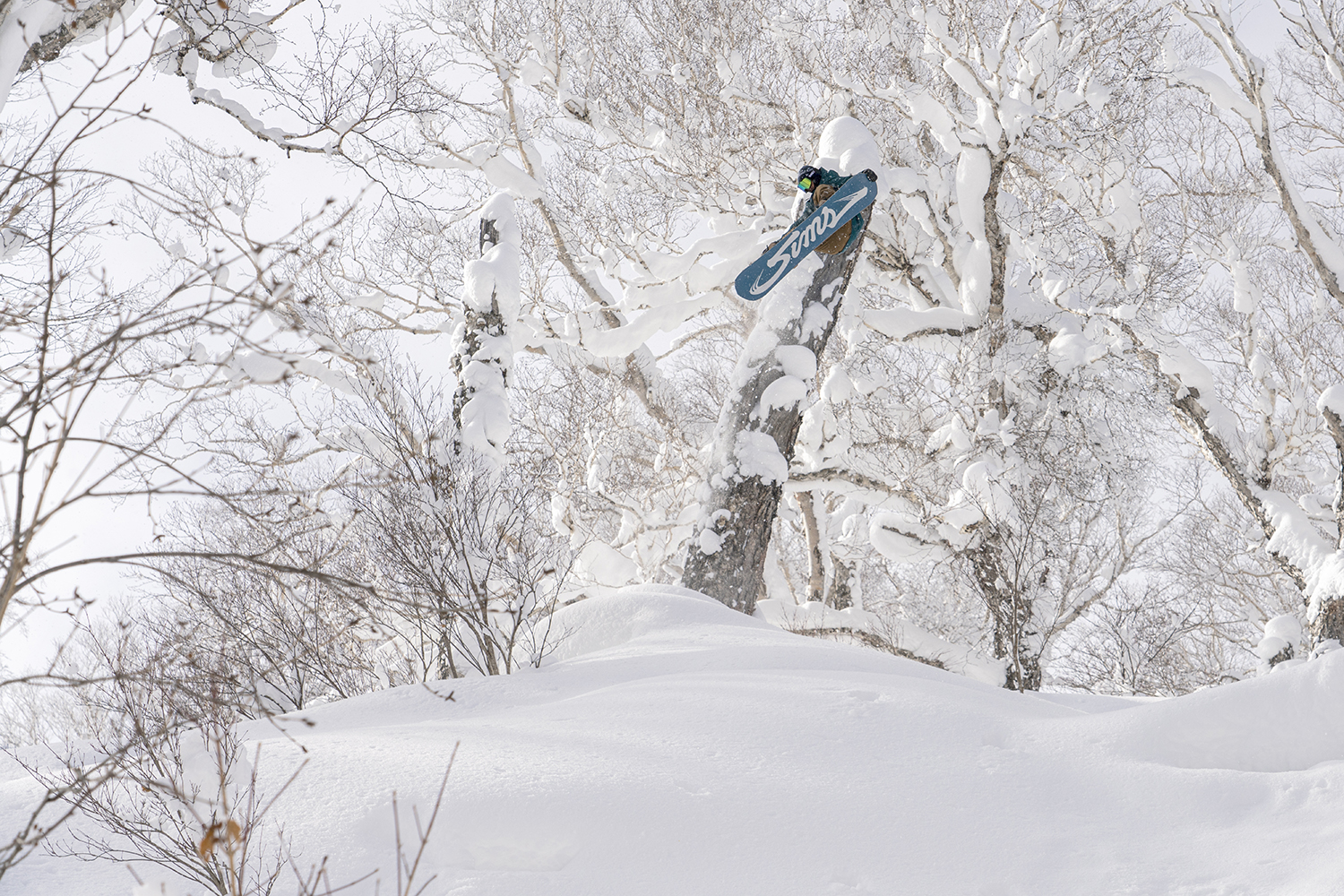 BILLABONG x SympaTex by ADVENTURE DIVISION
We talked to Dezzy again to learn more about ADVENTURE DIVISION clothing.
"Originally, at BILLABONG, we have been doing SympaTex adoption wear for quite some time. However, it is from this season that we will fully develop it in Japan.
In the first place, SympaTex is a non-porous polyester material with a thickness of 10 microns developed by AkzoNobel of Germany.A specially processed polyester-based material that has the property of conducting water vapor allows moisture to escape to the outside.Moreover, since it is non-perforated, it does not clog and does not allow air or bacteria to pass through.And it should be noted that it is quite windproof to protect the rider's body in a harsh environment.The water pressure resistance is as high as 45,000 mm.In addition, because it is a 100% recycled membrane, it also considers environmentally sustainable efforts.Also, since SympaTex is a stretch material, BILLABONG uses a stretchy fabric for the outer and lining, so it's quite easy to move. "
Here is a supplement about SympaTex.The material used for many membranes is called the porous type, which is a material made by laminating a very thin film with innumerable minute holes on the fabric.It has excellent moisture permeability and is comfortable even if you sweat, but if a small hole causes clogging, its function will be impaired.On the other hand, SympaTex is a non-porous type as mentioned above.It is a mysterious material that allows stuffiness to escape even though there is no hole for water vapor to escape.Since water vapor has no pores that move at the molecular level, it does not allow water droplets to pass through and there is no risk of clogging.Despite its high performance, it is a material with a high cost performance compared to other typical membranes.
"ADVENTURE DIVISION, which develops high-performance products that exist for adventure lovers, is a collection that has already been worn by global teams such as Board Merrill and Vole Nibert at Snow. Of course, Tadashi-kun in Japan. I am wearing it.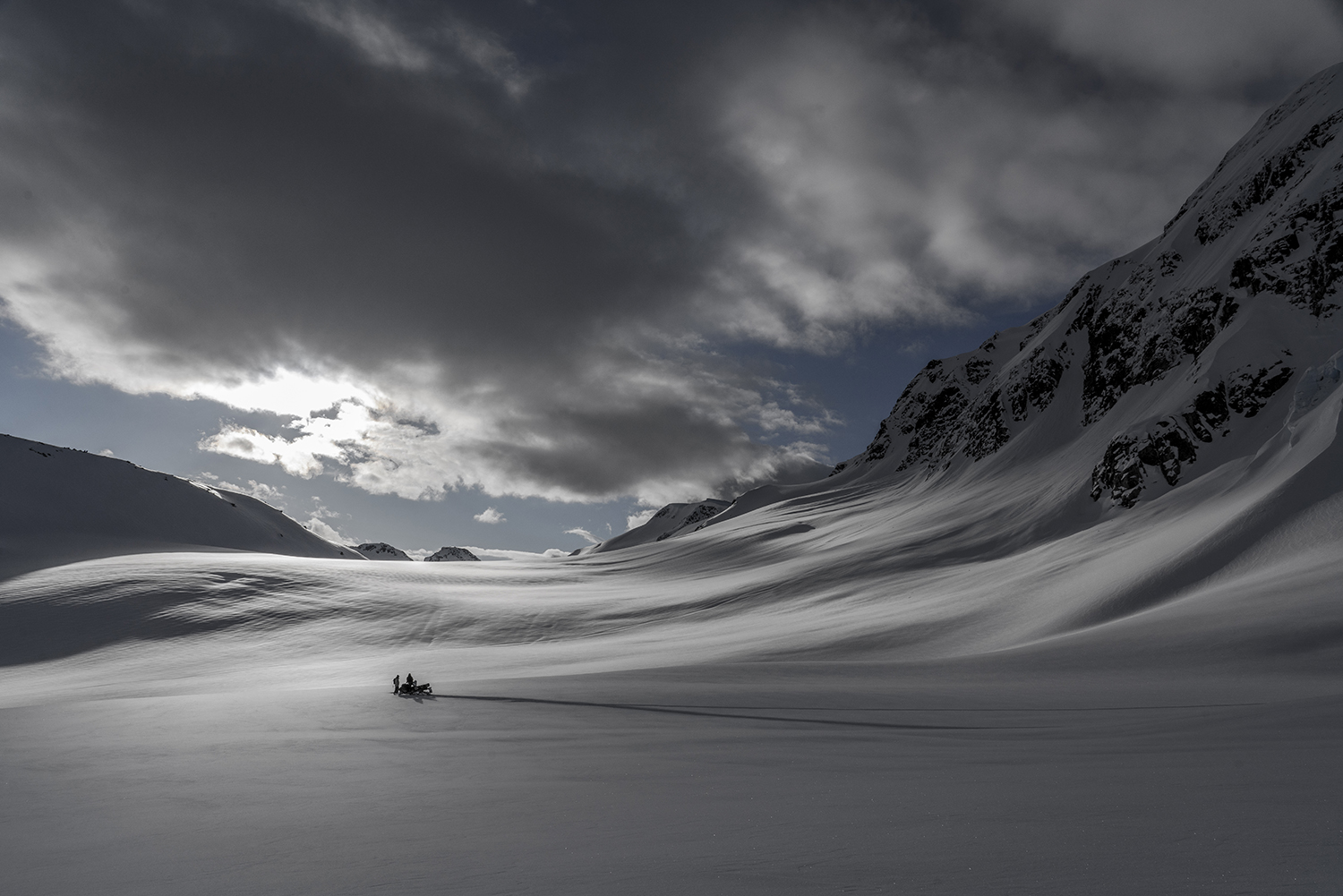 This high-end model of ADVENTURE DIVISION has Primaloft partially in the back and has high heat retention.However, Tadashi often keeps moving in the backcountry, so I usually use the model (DELTA STX JKT) that doesn't have that much insulation.It seems that the model with Primaloft (PRISM STX JKT) is often worn when skiing mainly on the slopes. "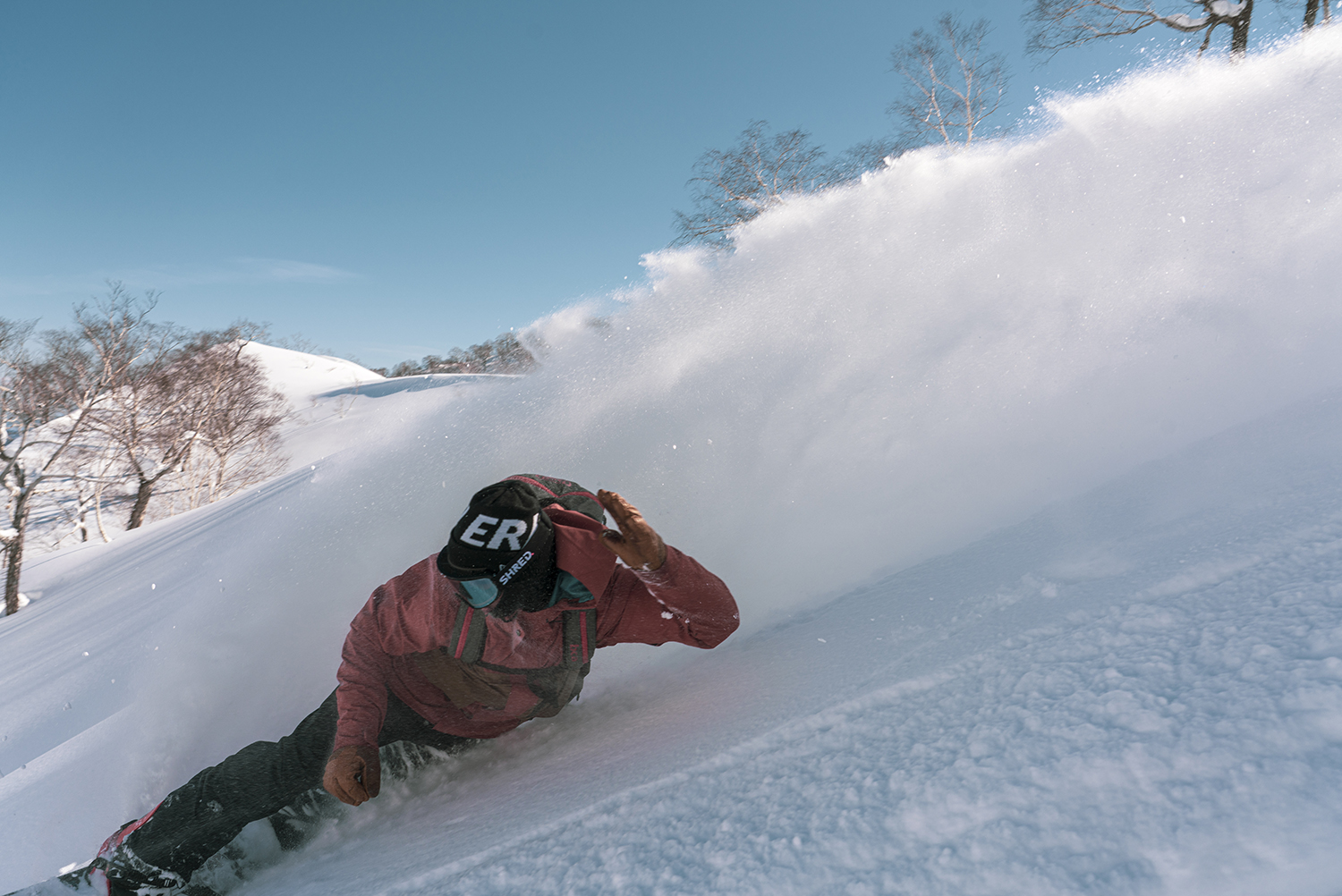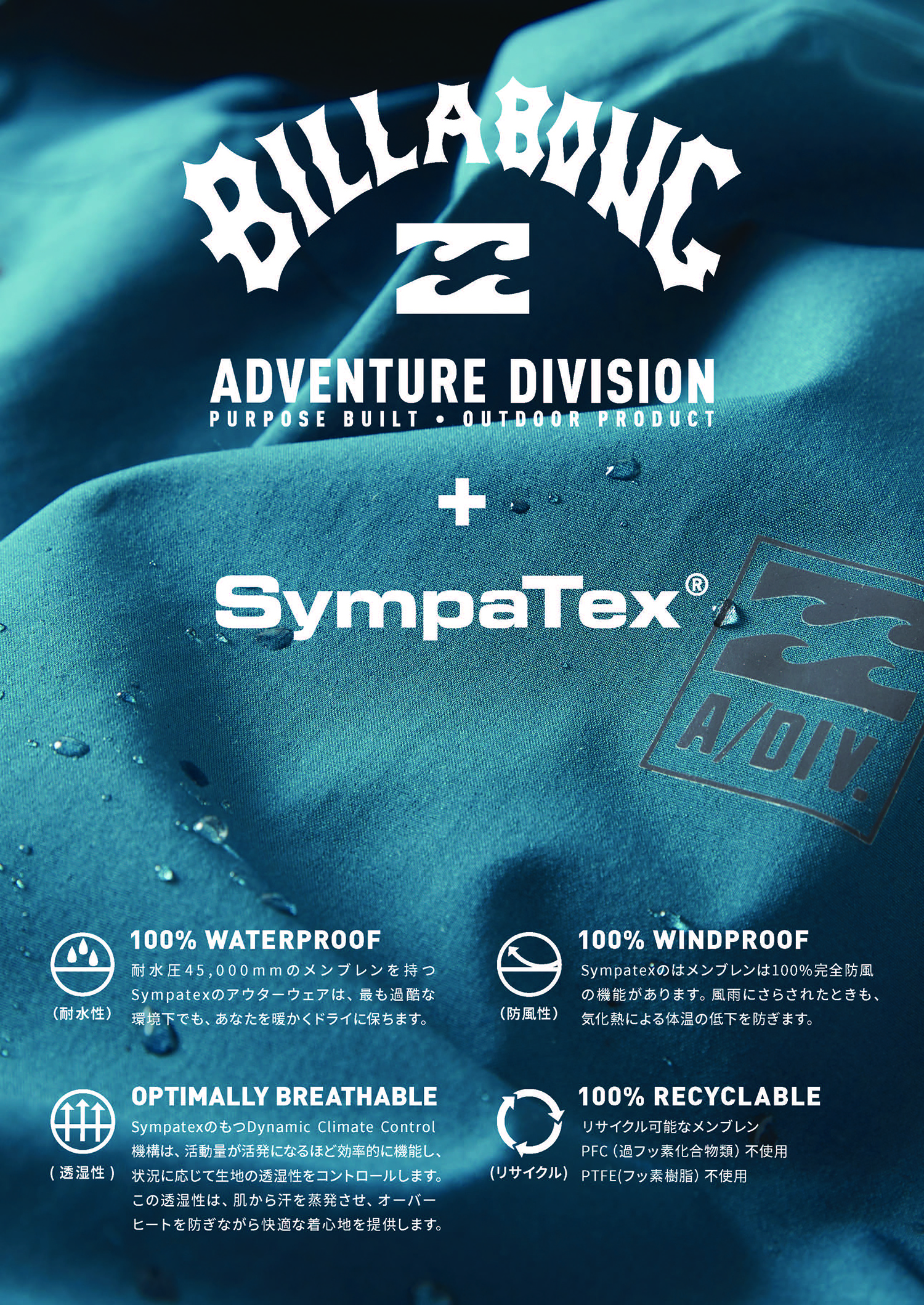 With ADVENTURE DIVISIONWear using SympaTex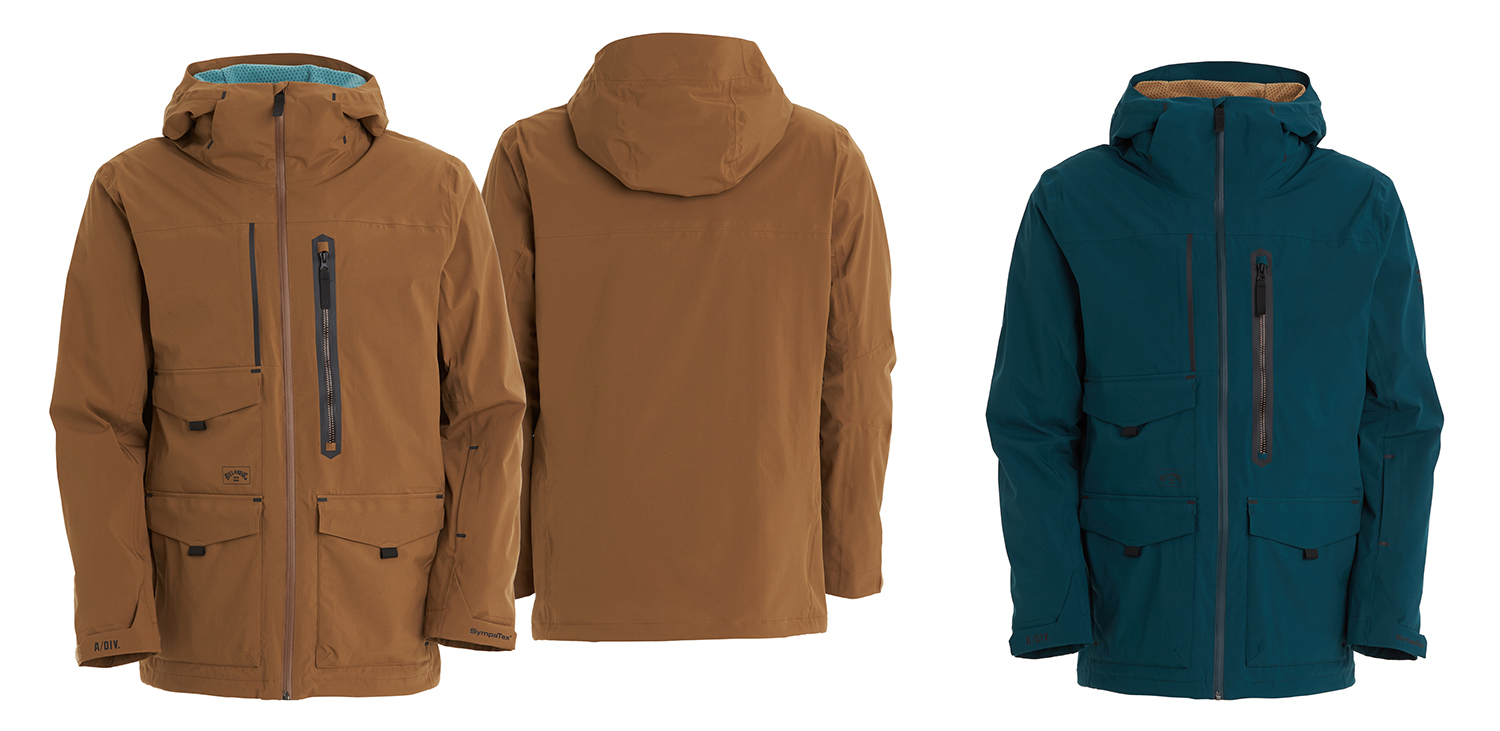 ▲ PRISM STX JKT
Price: ¥ 42,000 (excluding tax)
Size: S, M, L
Color: ERM, DTA
Outer fabric: 2L Sympatex® plain stretch
Water pressure resistance: 45,000mm
Insulation: PRIMALOFT® Engineer Panel



▲ DELTA STX JKT
Price: ¥ 38,000 (excluding tax)
Size: S, M, L
Color: AUB, BLK, ERM
Outer fabric: 2L Sympatex® plain stretch
Water pressure resistance: 45,000mm
Insulation: 60g Body / 60g Sleeves / 40g Hood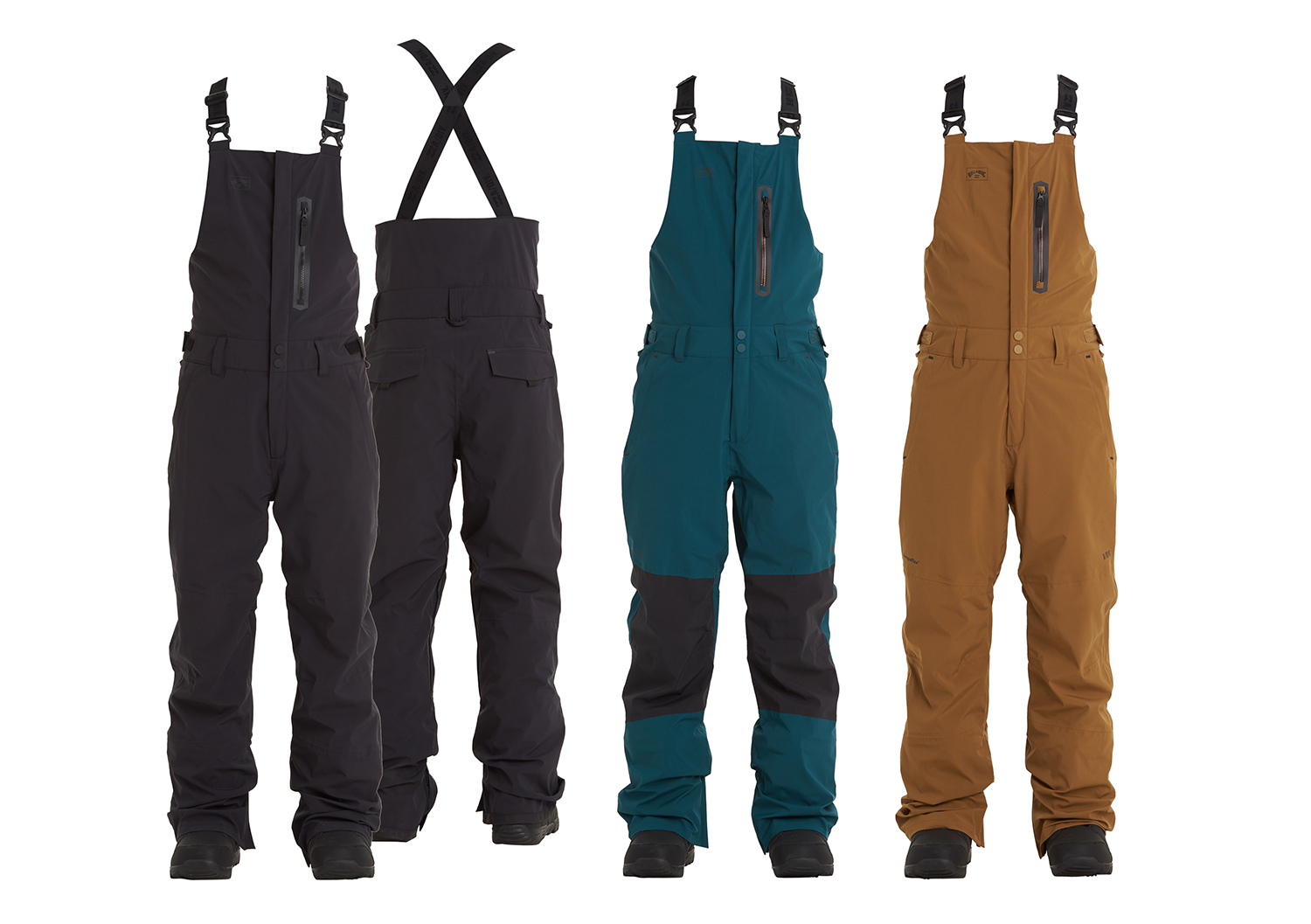 ▲ NORTH WEST STX BIB
Price: ¥ 34,000 (excluding tax)
Size: S, M, L
Color: BLK, DTA, ERM
Outer fabric: 2L Sympatex® plain stretch
Water pressure resistance: 45,000mm
Insulation: Shell

SympaTex × Tadashi Fuse
Tadashi Fuse gives feedback on that feeling
"I'm not familiar with the materials, but I was wearing the SympaTex wear and it was in very good shape. It's lighter than the signature wear I've used so far, and it's stretchy and doesn't feel stiff. Until then, I used canvas fabrics in signature wear to emphasize my style and appearance. Also, even if I saw wearing high-performance wear before, I asked if I could slip well even if I wore it. I thought it was different. That's why I worked on antithesis-like clothing for such things. The concept was not to deviate from my lifestyle. However, recently it has changed within me. Perhaps there was something, and now I'm starting to think that it's better if I wear good things and the performance goes up further.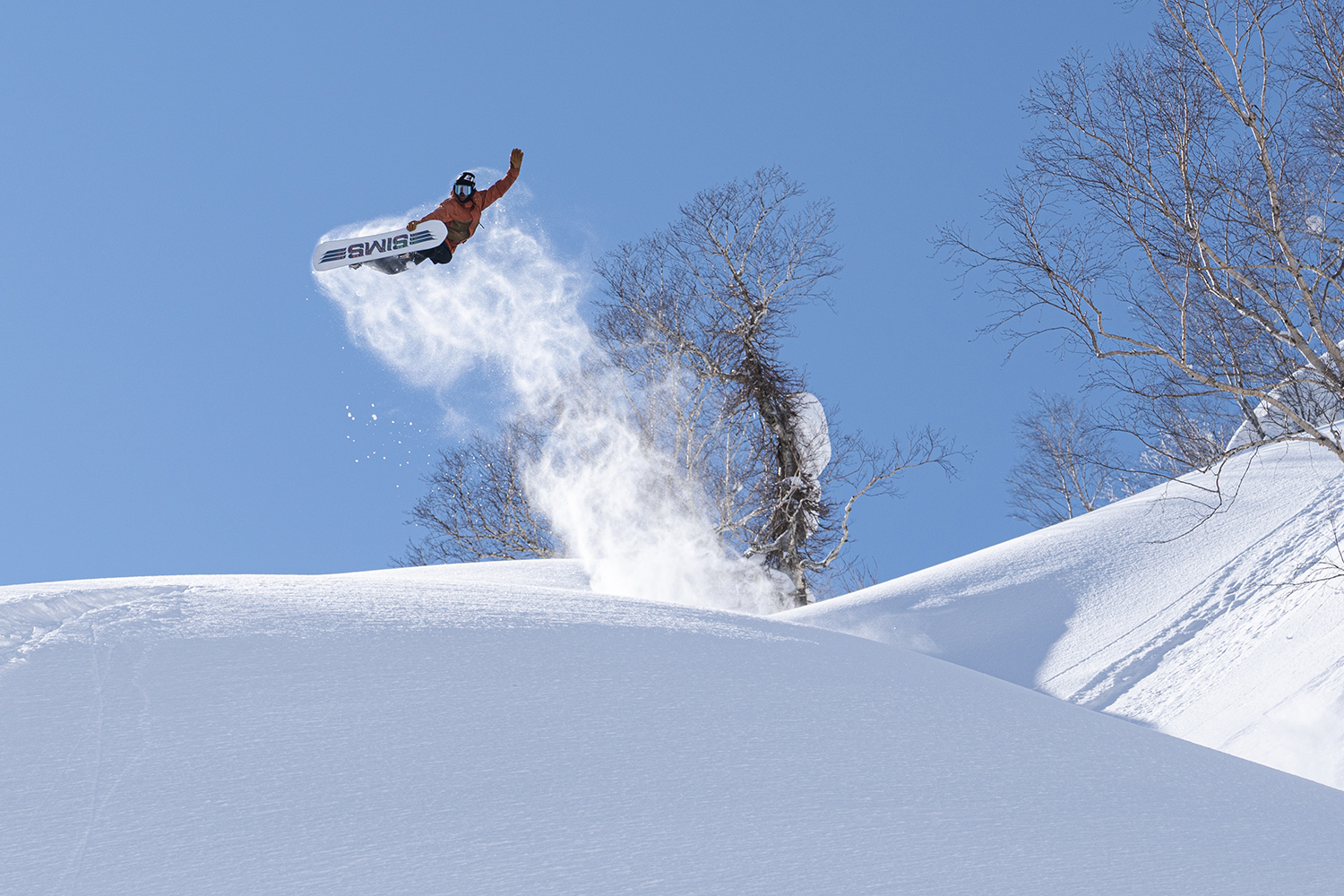 I actually wore a sympaTex-based clothing and went deep into the mountains with a snowmobile and experienced shooting in a harsh environment, but obviously my body felt lighter than ever, and that was the lightness of movement. As a result, it is a fact that it led to good riding.It's not cold because it doesn't get wet and the wind shuts out, and I was really in good shape when I was skiing on the slopes of Hokkaido.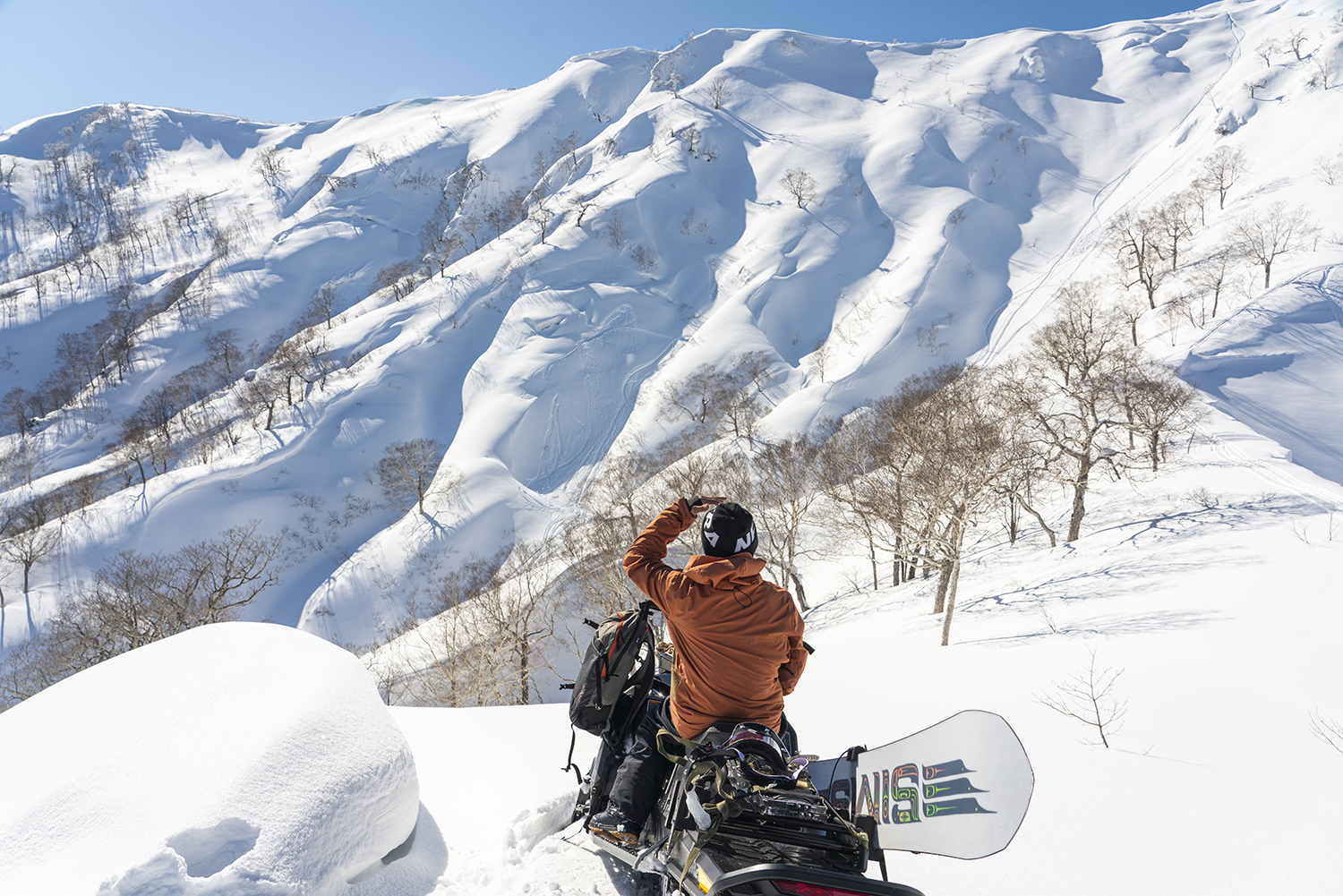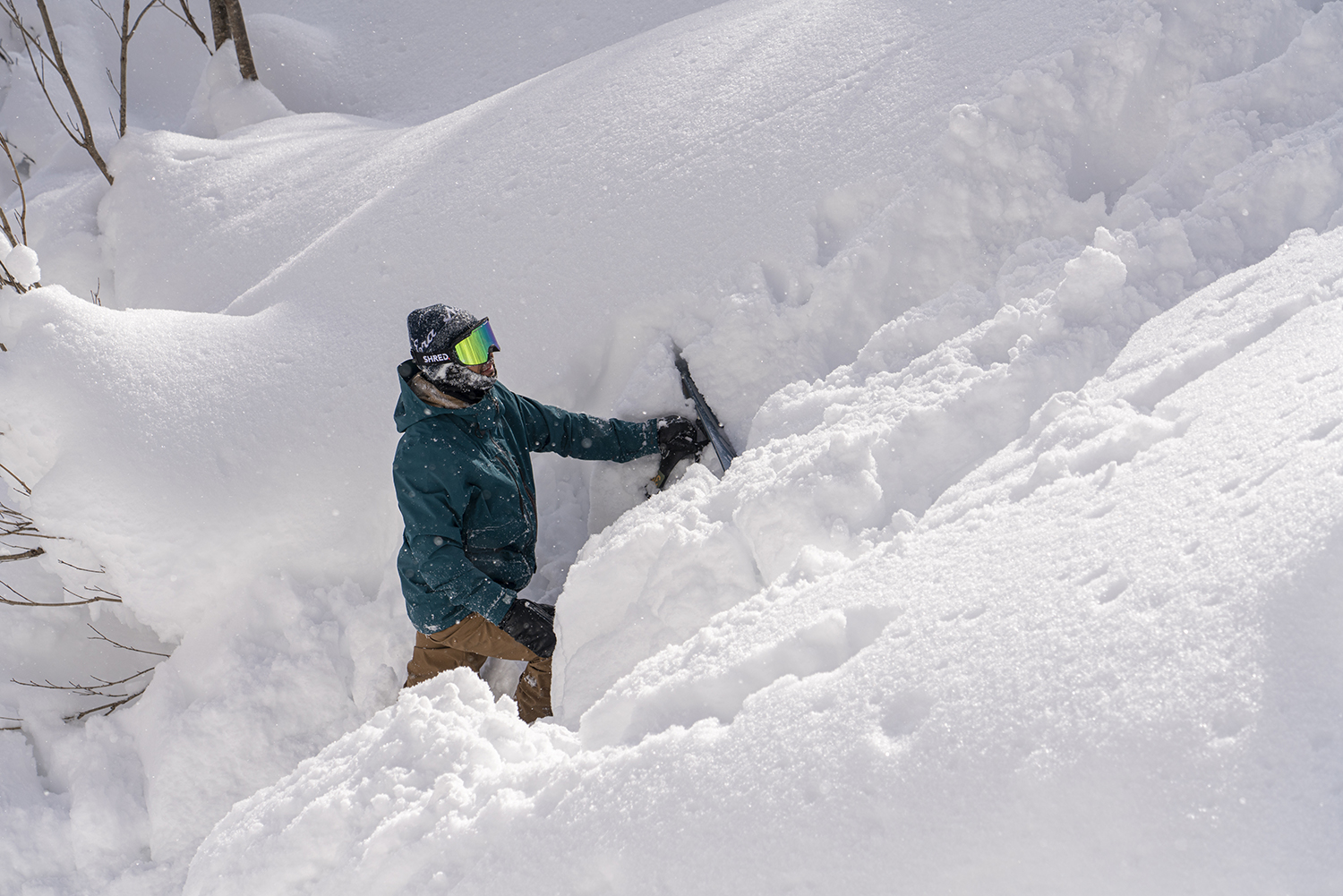 Layering is always first layer, second layer, shell.This is enough because it keeps moving when it is slipping.However, when I'm waiting for shooting, I sometimes wear inner down.I also realized the high moisture permeability.Even if you sweat, it dries quickly.I felt it especially when I was hiking.
With that in mind, I think that this SympaTex wear will not be over-engineered no matter what level of people wear it, and will keep you in a comfortable state for a long time.If you are a beginner, if you moss, you will move and sweat when you try to stand up.Beginners get sweatier than people who can slip a little.I think it's perfect for such people.I want to go aggressive in intense places, and sometimes I move around for that ... No, maybe I'm the type who wants to sweat while slipping (laughs).That's why I really like this piece of clothing. "
▼ ADVENTURE DIVISION line worn by Tadashi Fuse

▼ BILLABONG ADVENTURE DIVISION TRUSTED BY TADASHI FUSE


The past 10 years and the future
"The first signature wear was like a crazy windbreaker. I can't believe it was 10 years ago. It feels like it was before (laughs). I have a lot of memories, but it was really nice to always be able to incorporate my lifestyle into the product. Until a while ago, when I said BILLABONG, I had a strong image of surfing, but I entered. It felt like the flow or the wind had changed. I was very happy about it. While snowboarding with all the BILLABONG staff, I shared the fun and surfed together ... really I have only good memories. Designer Dezzy has a long history of working on clothing, and he has always faced my signature clothing. I was able to share the same direction with those friends in the same play. I wonder if that is connected to what I've been doing so far. It's not just the end of making it. I think that's also the reason why the people at the snowboard shop felt and supported me. is.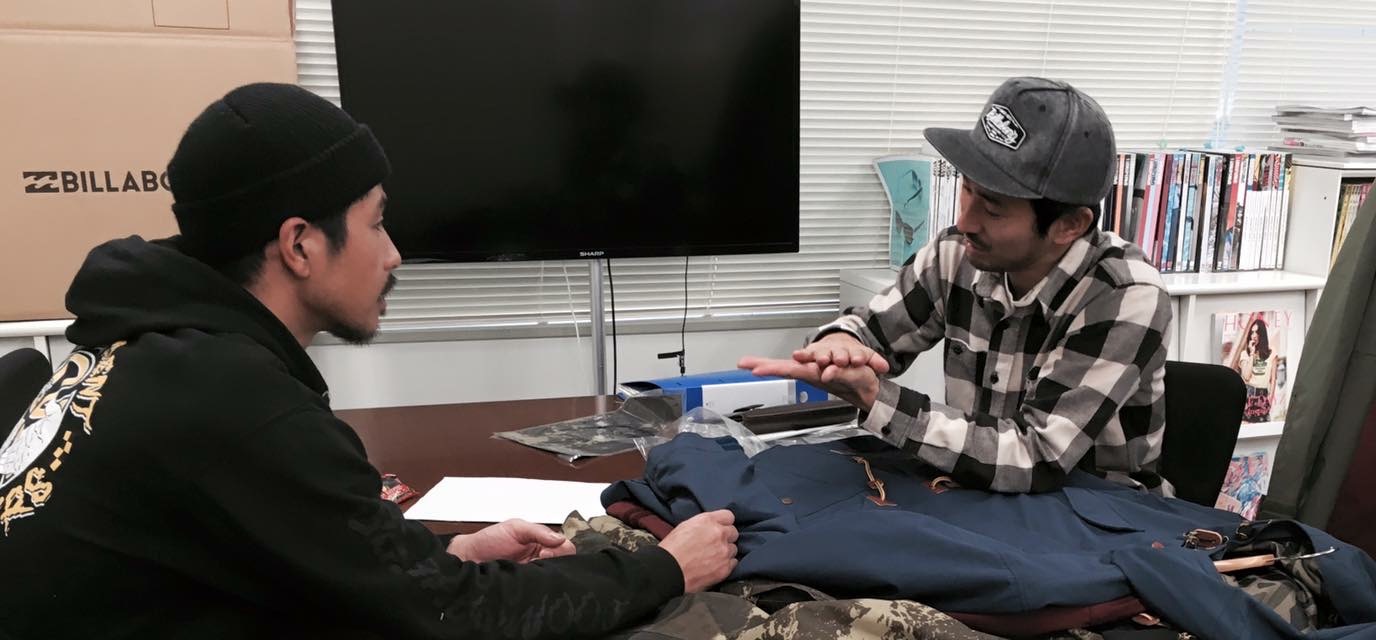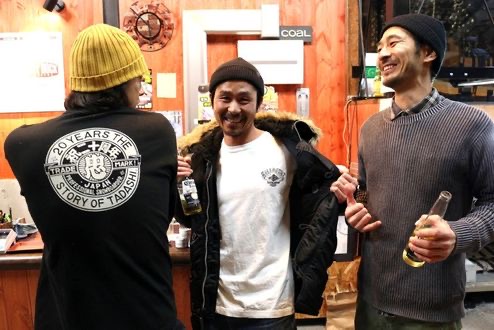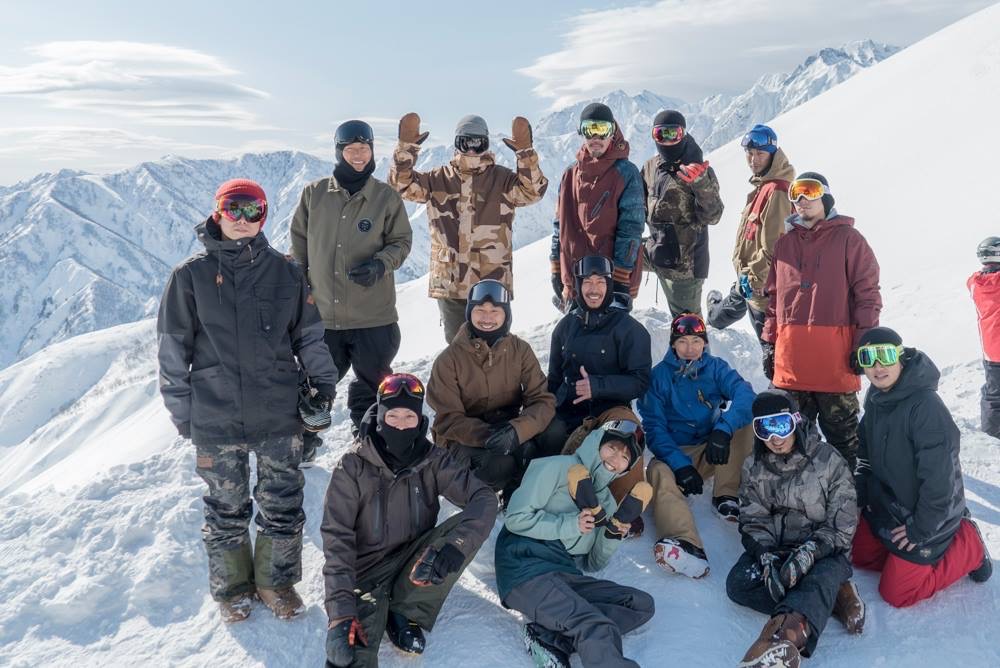 This season, I'm planning to take on challenges that I have never done before.I'm planning to teach various snowboarders directly in lessons, or to go on a mountain tour together.For more informationInstagramPlease check at.Also, LSP!Lifestyle project in short.I also want to make movements so that the people involved in it can really convey what kind of lifestyle they are living.However, I want to not only show a good slide and a good place, but also stick to my style without breaking my core.I will continue to do whatever I want.I'm the type who doesn't feel like doing it otherwise. "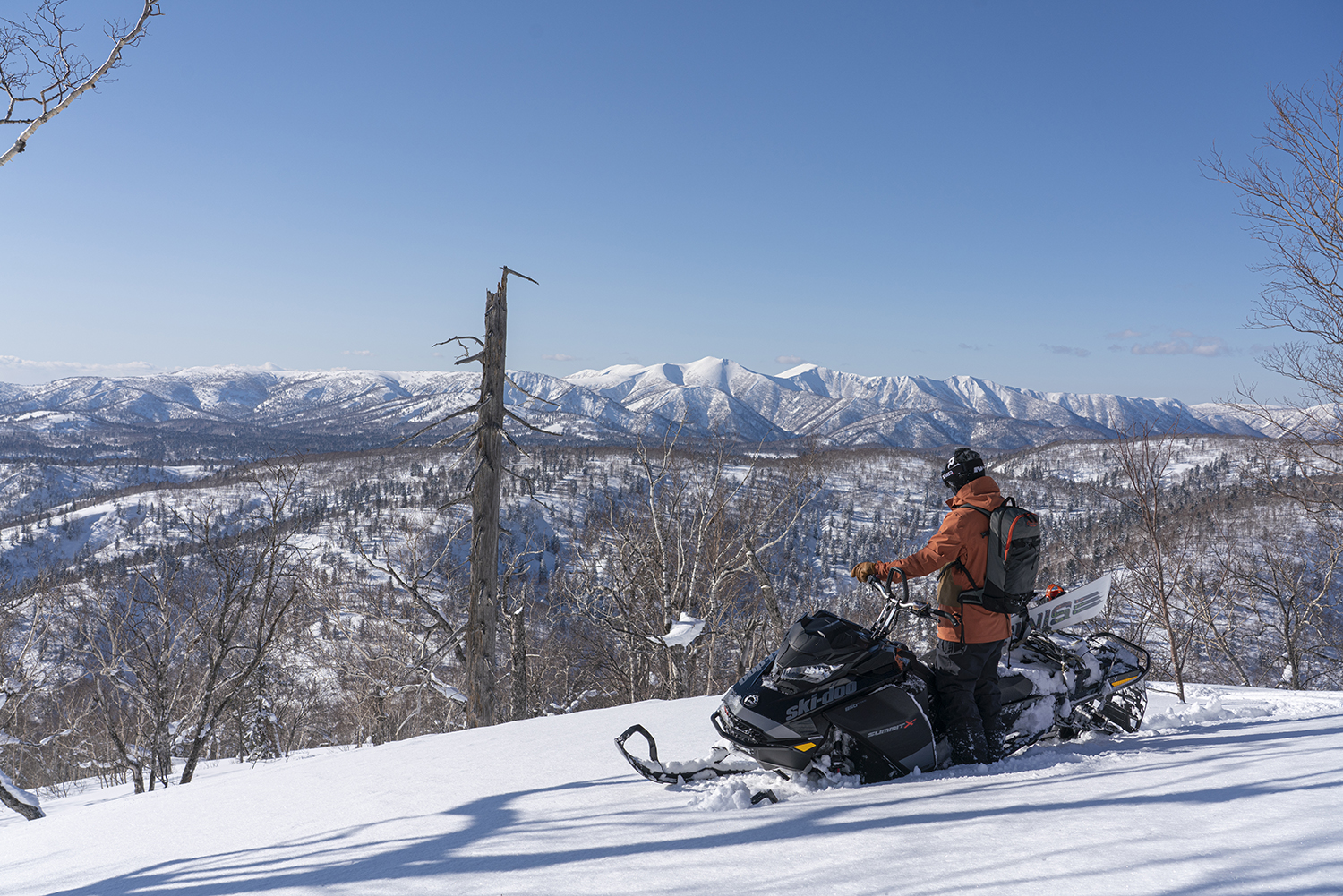 BILLABONG official site here