Are you all slipping?
I'm going to do an AZure tour this year too !!
I think it was Hakuba 47 last year
This year is Nozawa Onsen!
Let's all have fun together !!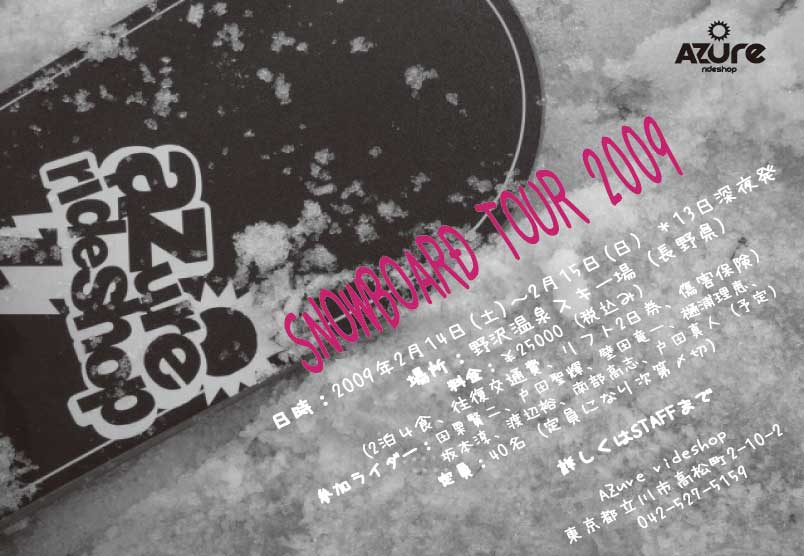 "SNOWBOARD TOUR in Nozawa Onsen"
Date: February 2th (Sat) -February 14th (Sun) 2 night 15 days
          * Departure at midnight on February 2 (Friday)
Location: Nozawa Onsen Ski Resort (Nagano Prefecture)
Price: 25000 yen (tax included)
   * Included in the price
   (Round trip transportation fee, accommodation fee, lift 2 day ticket, breakfast 1 meal, dinner 1 meal, lesson fee, party participation fee)
Participating riders: Kenji Taguri, Seiki Toda, Hiroshi Watanabe, Atsushi Sakamoto, Takashi Nanbu, Rie Hiura, Masato Toda (planned)
Capacity: 40 name
Let's slip, take a hot spring, drink, and have fun!
There are lots of lessons by the riders you belong to, games where all the participants will win a gorgeous prize, and more!
From beginners to advanced players, participation by one person or as a couple is welcome! !!
Why don't you join us?
* Application deadline Until January 1st (The deadline will be as soon as the capacity is reached.)
* Those who wish to rent are also available.
* For details, please contact us at the store or by phone (042-527-5159).