In mid-February last month, Yukie Ueda and Mari Mizukami, who are indispensable for the Japanese girls snowboarding scene, traveled together in Hokkaido.The two met on the slopes for the first time 2 years ago, and have spent 22 seasons as snowboarders since then.There were seasons when we cried for injuries, and there were seasons when we spent time together in snowy mountains overseas.As snowboarders, the two have always felt each other's turning points.I decided to travel this time at an inevitable timing like a coincidence.
In this project, Yukie Ueda will share the memories of the six days they spent in Hokkaido, sessions with guest riders they meet in various places, the charm of Hokkaido, and the charm of snowboarding that still captivates them. The story I wrote will be delivered four times in a series.
Text: Yukie Ueda
VOL.1 ~ Asahidake ~
The first destination is the Asahikawa area
February 2th, in the middle of the season.I got off at Chitose Airport with a snowboard case.This is Hokkaido for the second time this season.For the past few years, I have been to Hokkaido every year.Hokkaido has the finest powder snow that attracts attention from all over the world, and is a place that Japanese people can be proud of.Whenever I talk to a snowboarder I meet overseas, it becomes a topic of "Hokkaido".The proud look of those who have been there, and the longing eyes of those who have never been there.After I moved to the United States, I was more likely to feel the charm of Hokkaido, and then I started to visit every season.
I had a feeling of traveling to Asahikawa this winter.There are two reasons, one is that this was the place where I remember wearing snowboarding for the first time in Japan.And another reason was my idea of ​​"let's spend different seasons".How many more seasons can I spend in my snowboarding life?The same winter will never happen again.Snow, my body and spirit.This is by no means a negative idea, and when you think about where you want to go with your snowboard to enrich the precious snowboarding season in your life, how many places can you go in your time in the future? I wonder if.Therefore, this winter is also a precious time.
Since the early 90's when Asahikawa started the halfpipe, he only went skiing twice with shooting.It's already over 2 years ago, so I have almost no memory.Asahikawa was more than enough for me to cultivate, and I was excited to see how I would enjoy it now.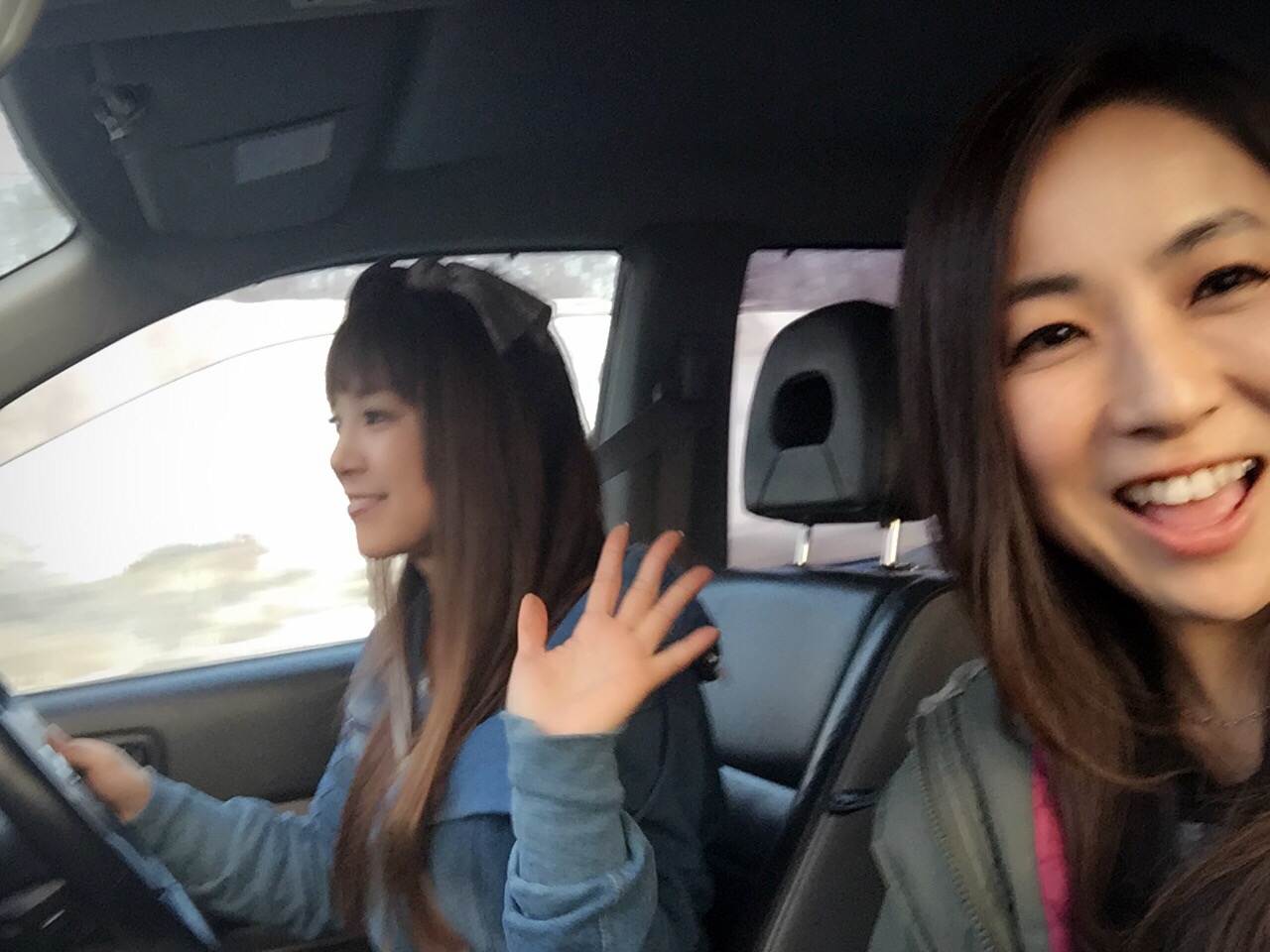 This trip is a trip between Mari Mizukami and myself.We got off at Chitose Airport, got into Mari's car, and finally the journey started.It's strange to be a snowboarder companion.Even if you meet again for the first time in a while, if you have the common purpose of snowboarding, you can jump over the time you did not meet and share the special time of sliding down the snowy mountains and sleeping and eating together.A three and a half hour drive from Chitose to Asahidake.The excitement of the reunion after a long absence and the beginning of the journey does not stop our talk.Passing through Asahikawa city on the way, "Let's eat Asahikawa ramen!"A sign called "Ramen Village" jumped into our eyes.We were in a tourist mood.All the ramen looked delicious and it was actually delicious, but it is also true that the conversation was so interesting that the memory of the deliciousness of the ramen faded.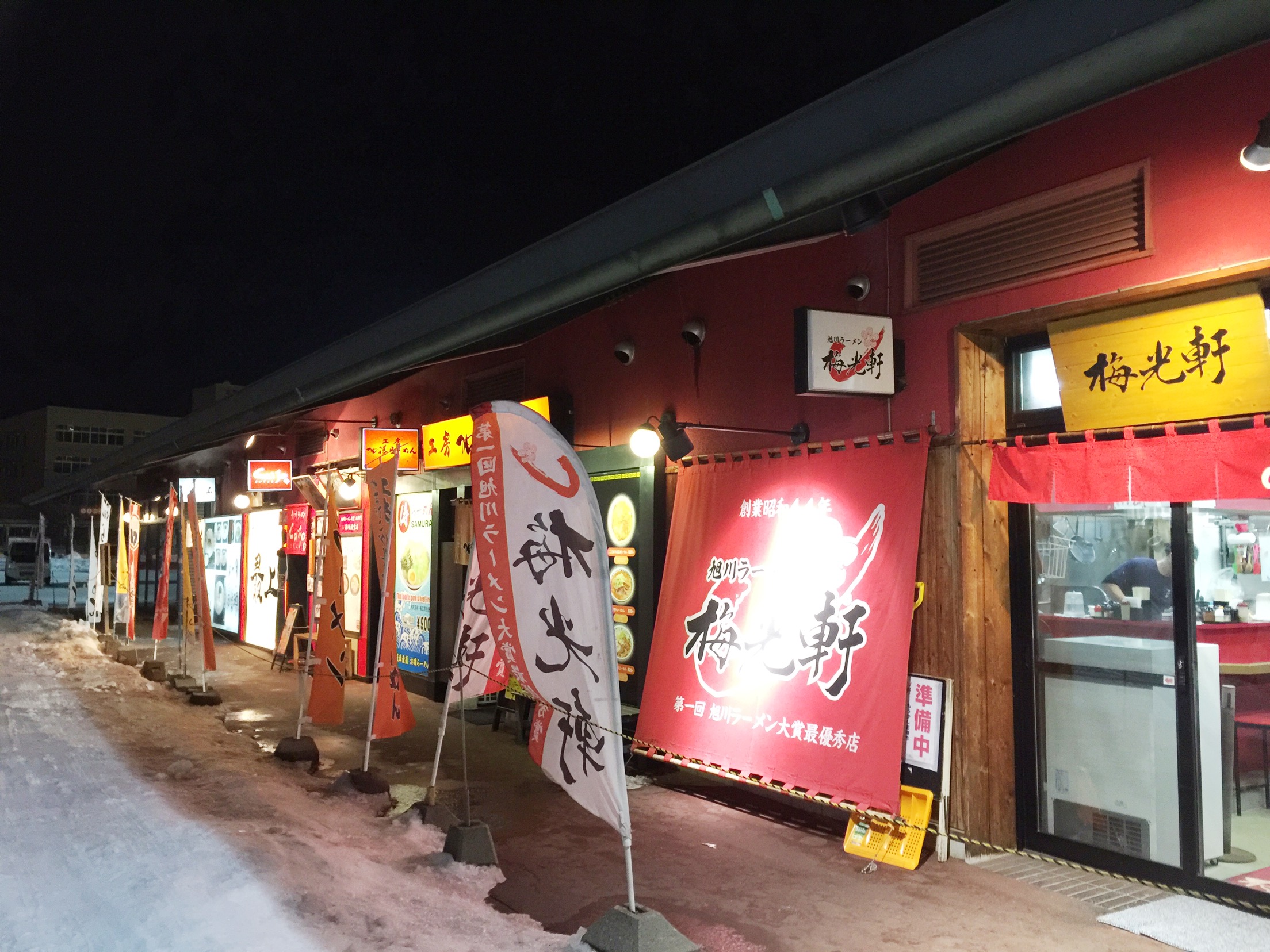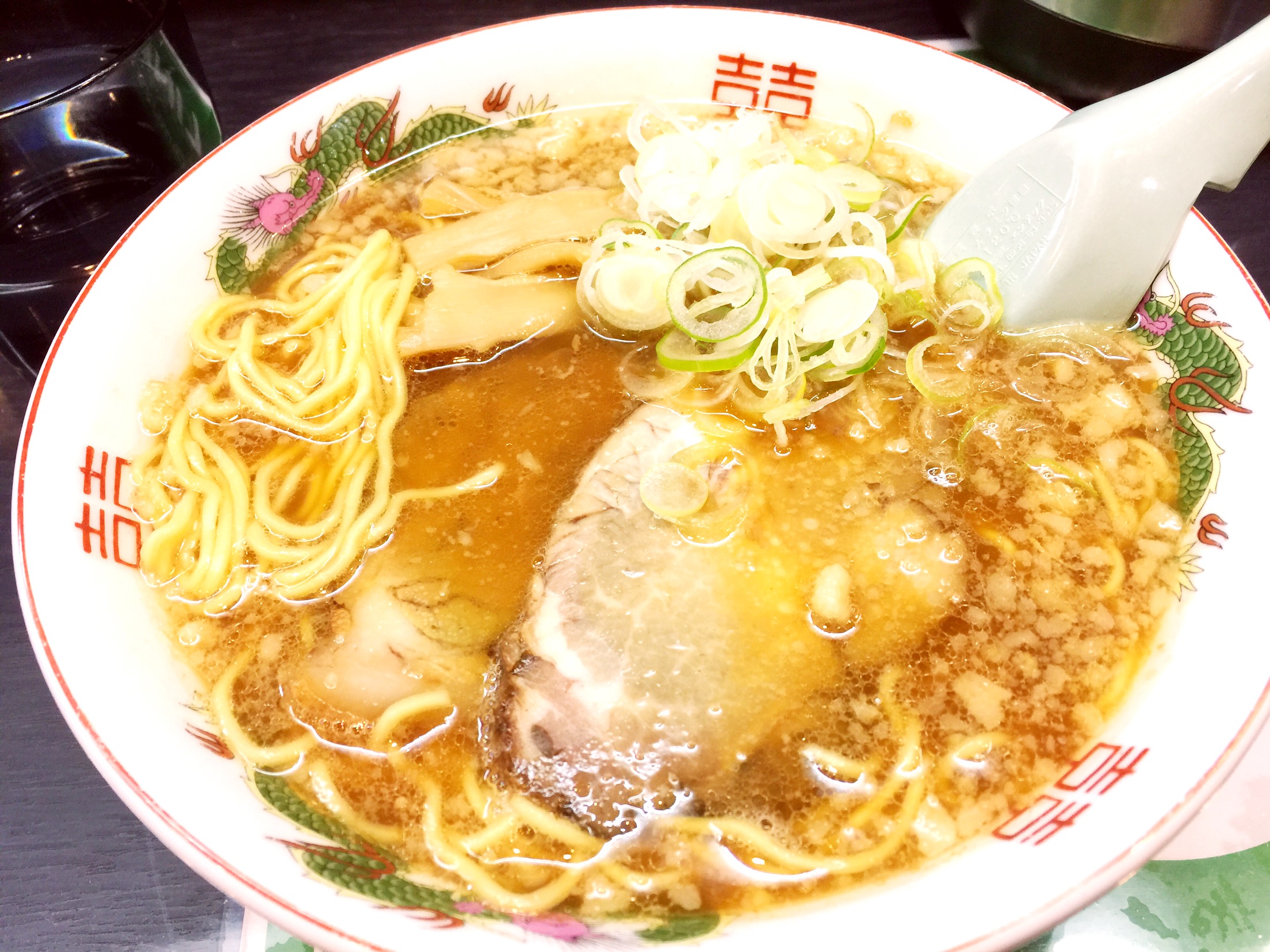 Speaking of traveling, eating at an inn is one of the pleasures, but since I can't read the time on a road trip while slipping every day, I decided to stay without meals at a hot spring inn in good condition.We also set the goal of "eating the delicious food of the area."Before arriving at the inn that day, I always remembered to buy Sapporo Classic Beer, which is limited to Hokkaido, at a convenience store.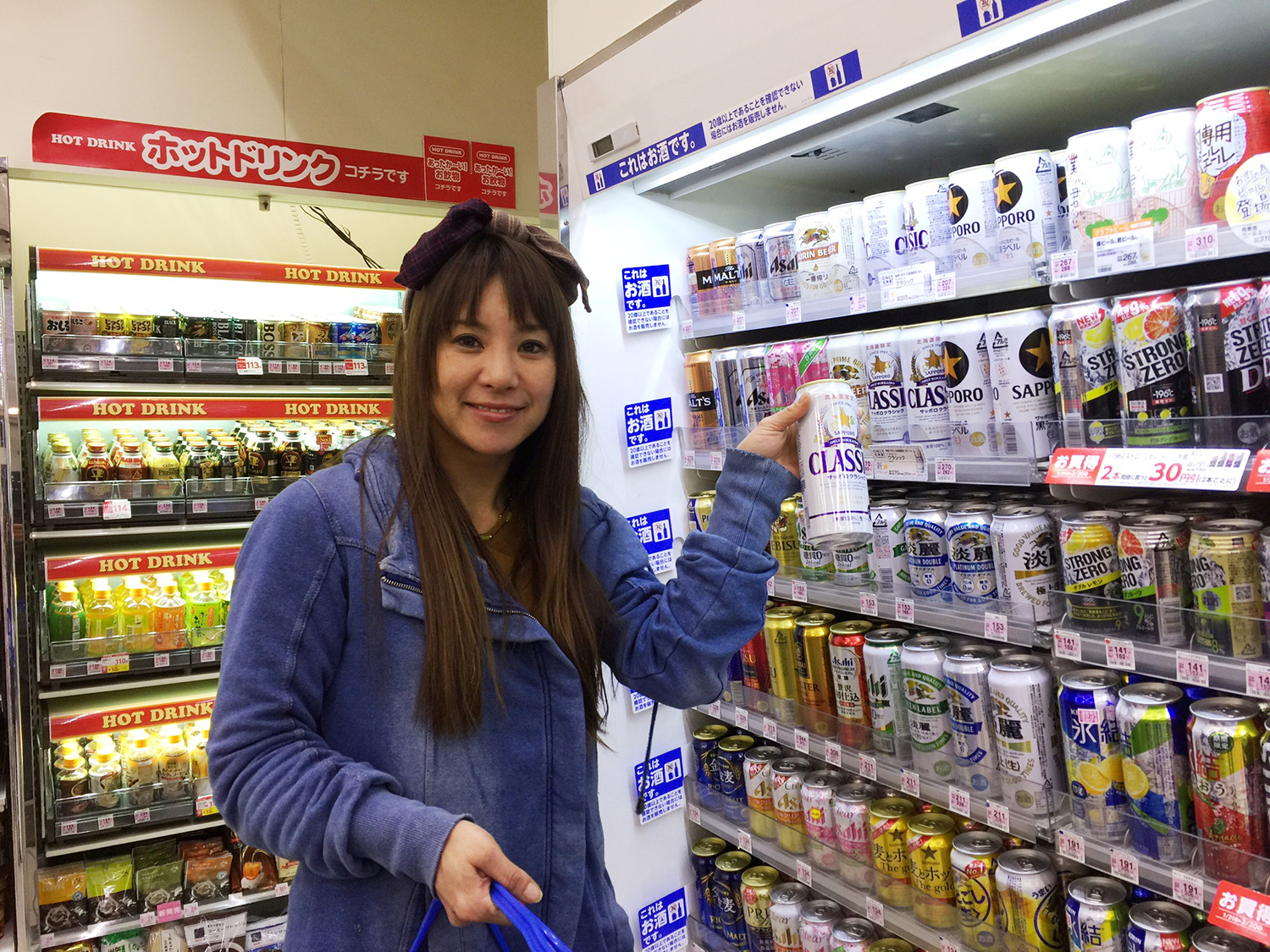 The first place to stay is Yukomaso, the best hot spring inn recommended by locals at the foot of Mt. Asahidake.This is also the home of Olympic silver medalist Tomoka Takeuchi.Our bodies were slowly healed in the finest hot springs.When you open the tatami mats, futons, and shoji screens, you can see the snowy scenery outside. "The Nippon! 』\ I can understand the sense of value for people who come from overseas in search of this. "Oh, I'm glad I came from America on a long trip!"But this is still like an appetizer.Tomorrow there should be a main dish called the finest snowboarding.I thought that the wonderfulness of things might feel even stronger when viewed from the outside.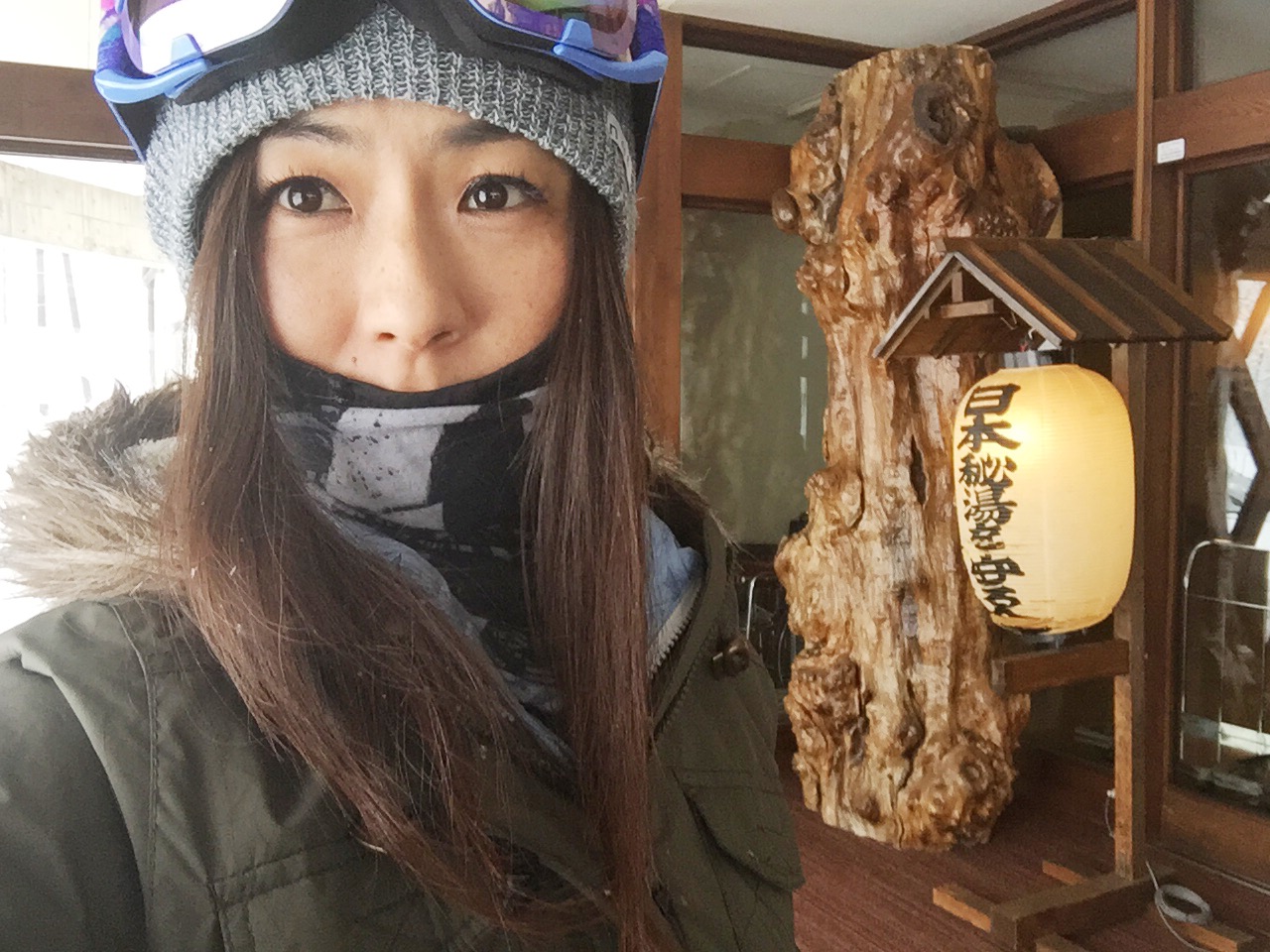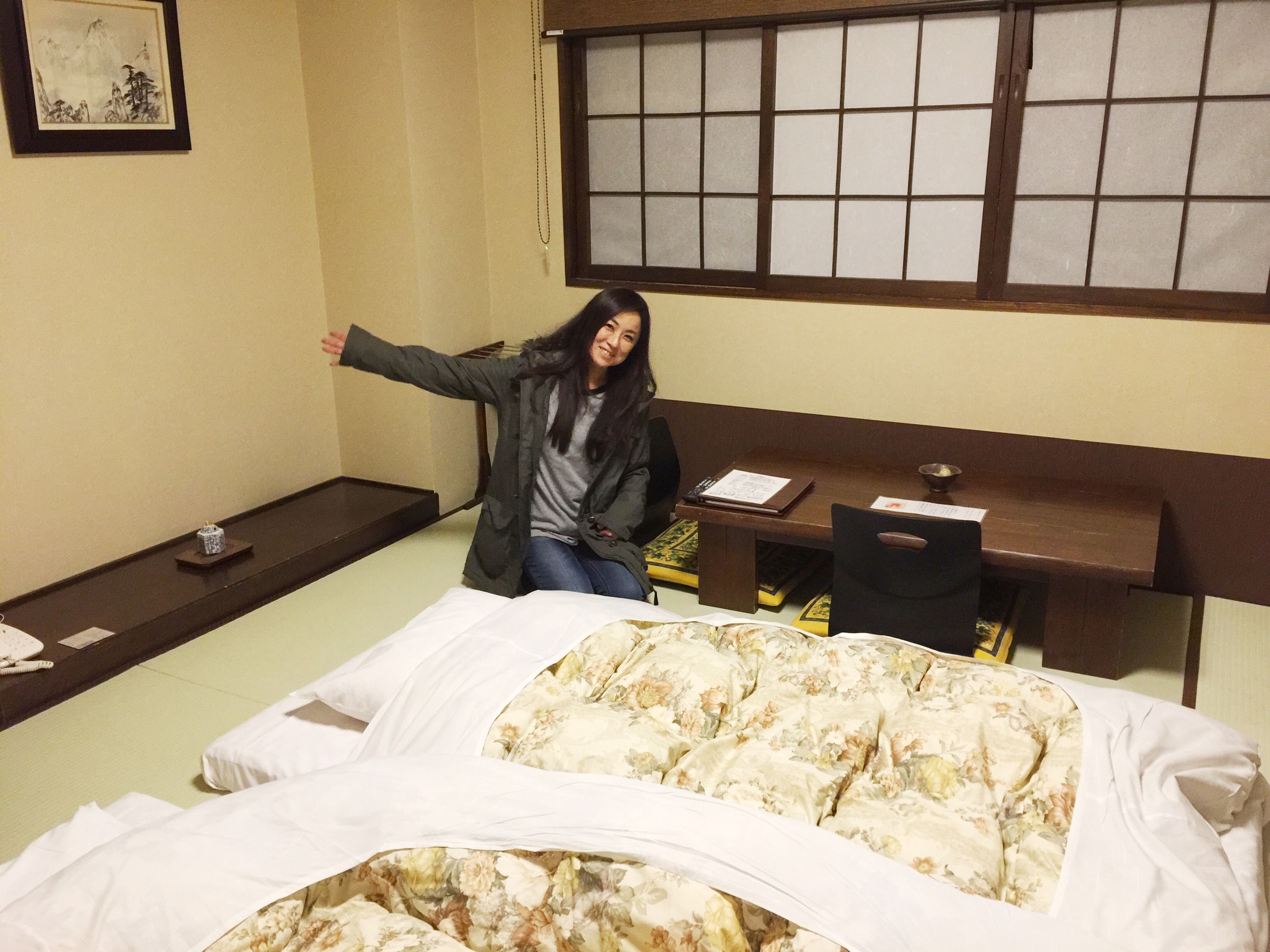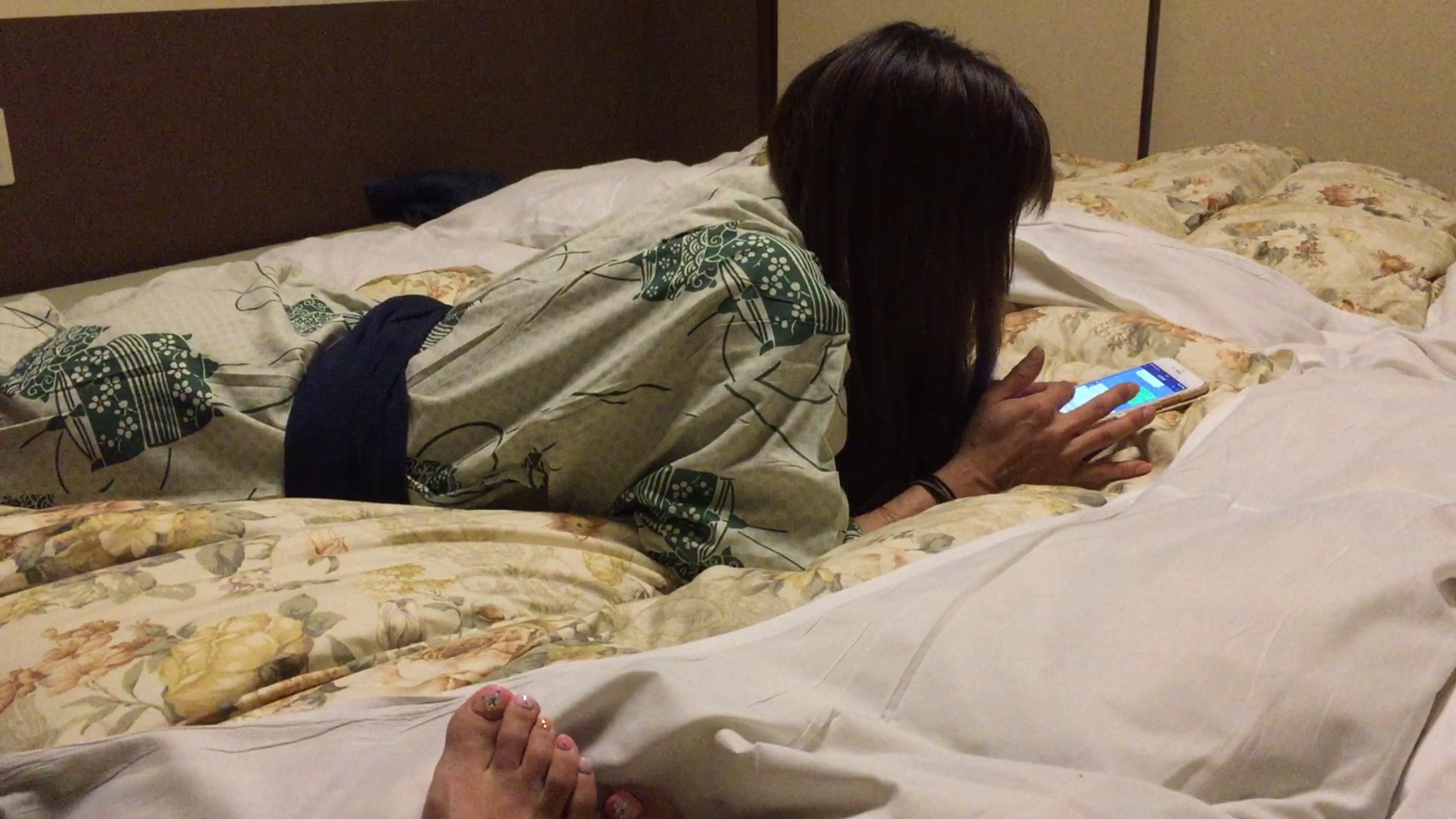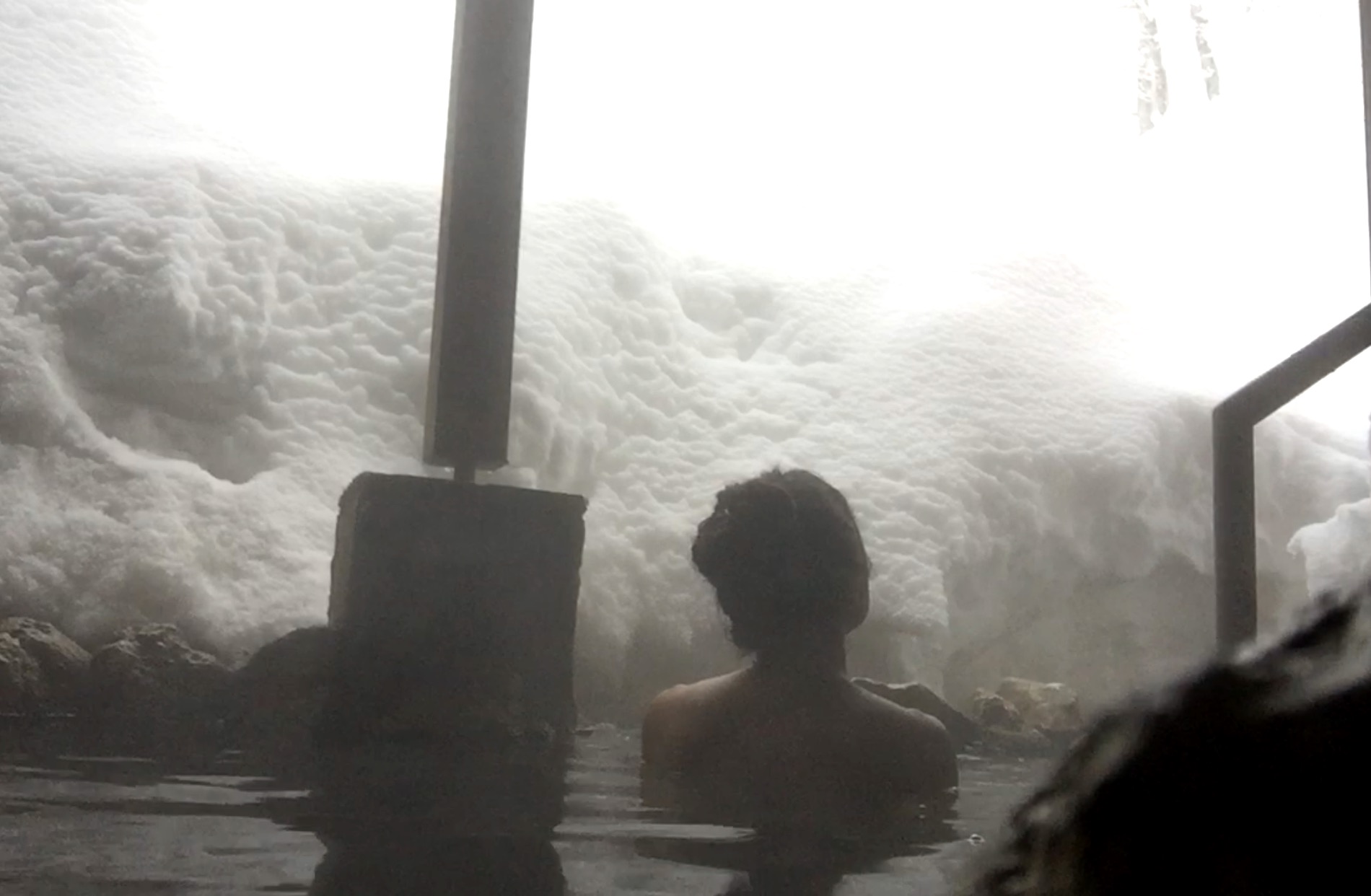 The next morning, I started after relaxing in the hot spring.Asahidake, who was covered with fresh snow from last night, welcomed us.Explore while looking at the map of the mountain.This is fun.I remember exploring the nearby back mountains when I was a kid.The world was centered around boys, but by the way, there were also curious girls.It was fun to play with the reliable boys, but when did they start?What made me become a leader and learned the special fun of exploring only with girls.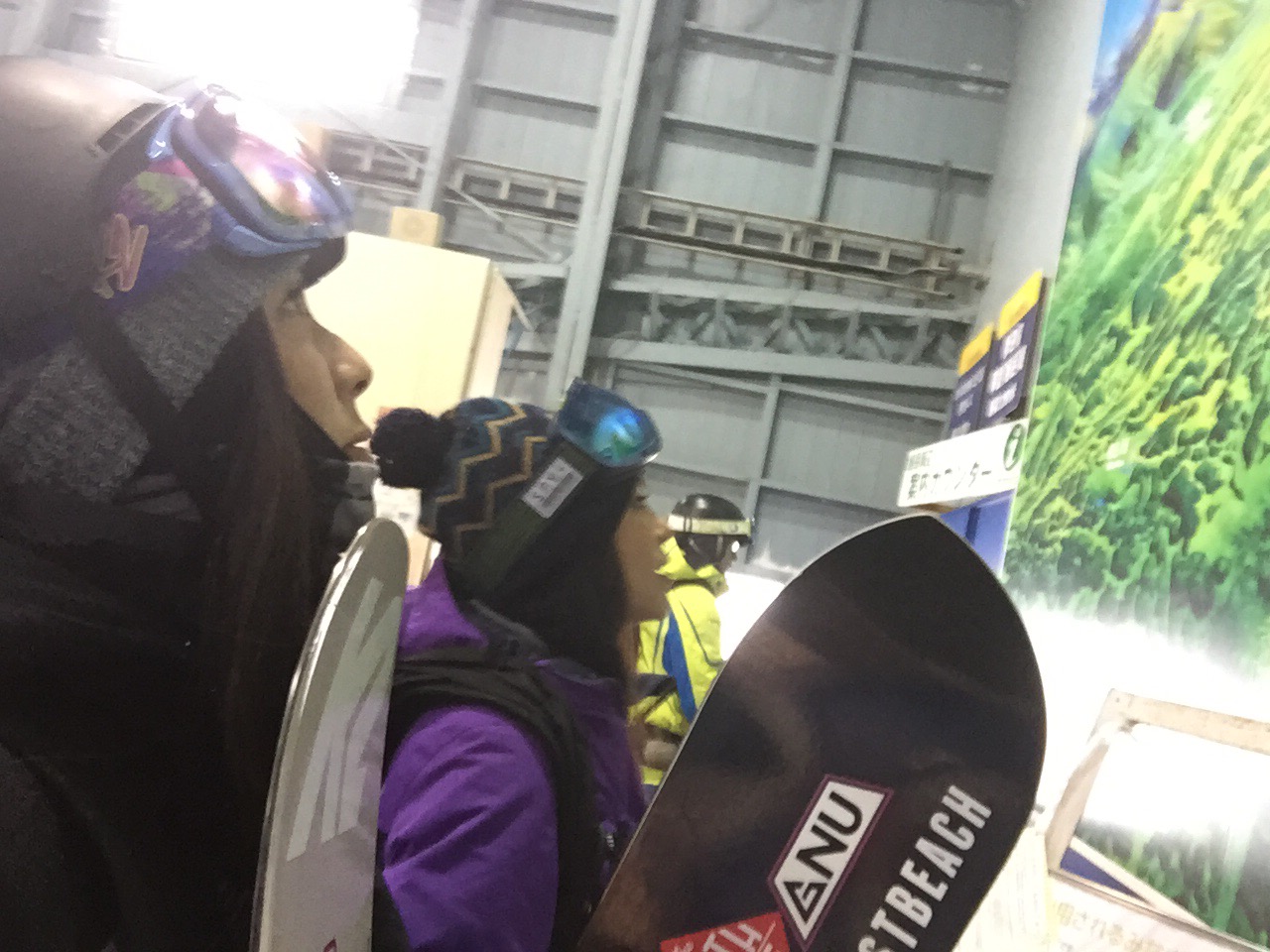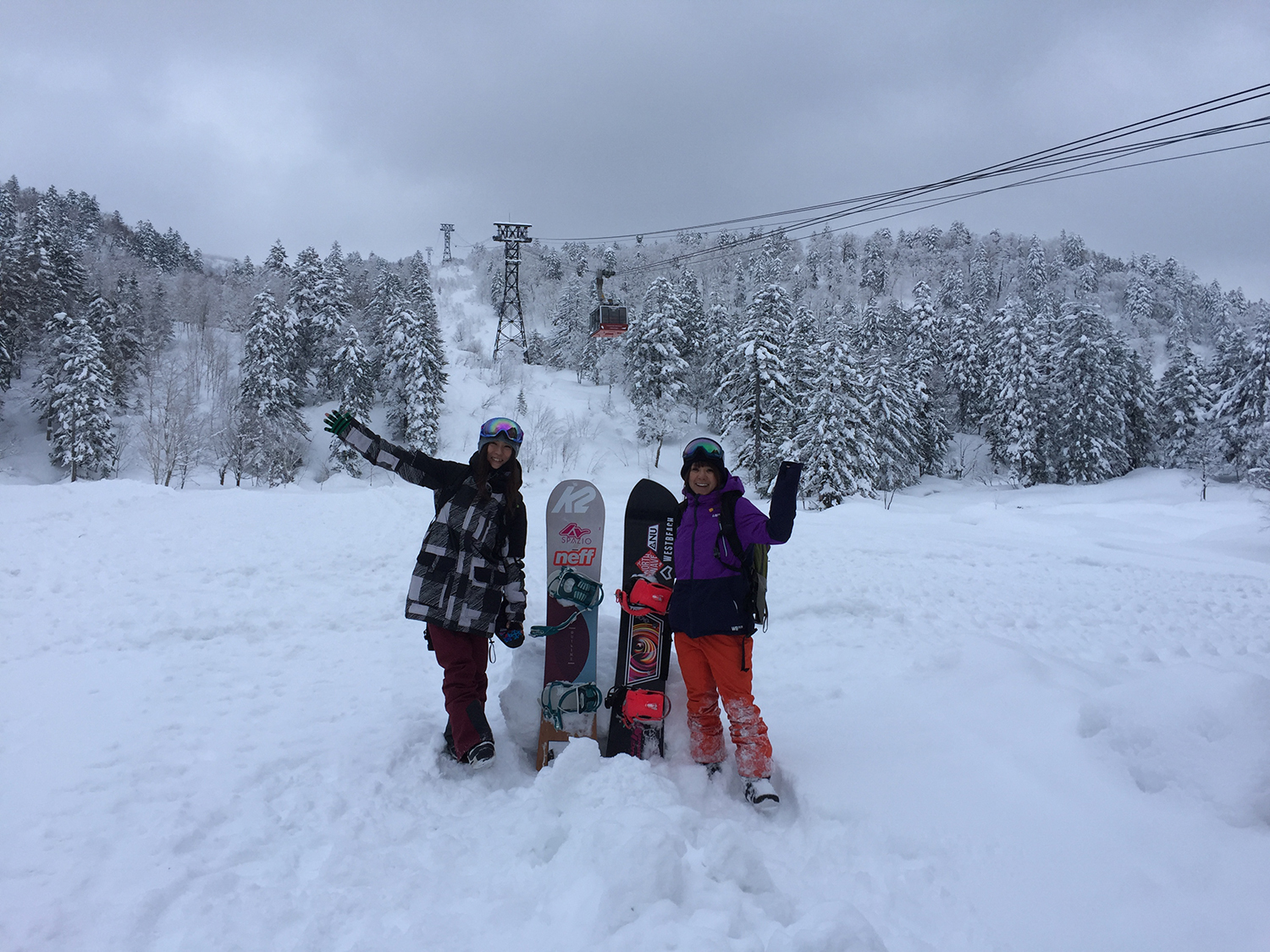 Asahidake has one ropeway.That's it.With that alone, you can slide around one fascinating mountain.If it's sunny, you can hike up to the top and glide while gazing at the spectacular view, but unfortunately this time it looks like snow.There was no spectacular view, but the finest powder covered the entire mountain.It was easy to understand the range that I wouldn't have to step in.There was a vast range of non-compacted snow terrain and a pleasant tree, with one on each side of the ropeway as a guide.We didn't know much about Mt. Asahidake, but fortunately, Makoto Asakawa, a professional skier who met in the morning gondola, gave us some advice, and we started a bold expedition.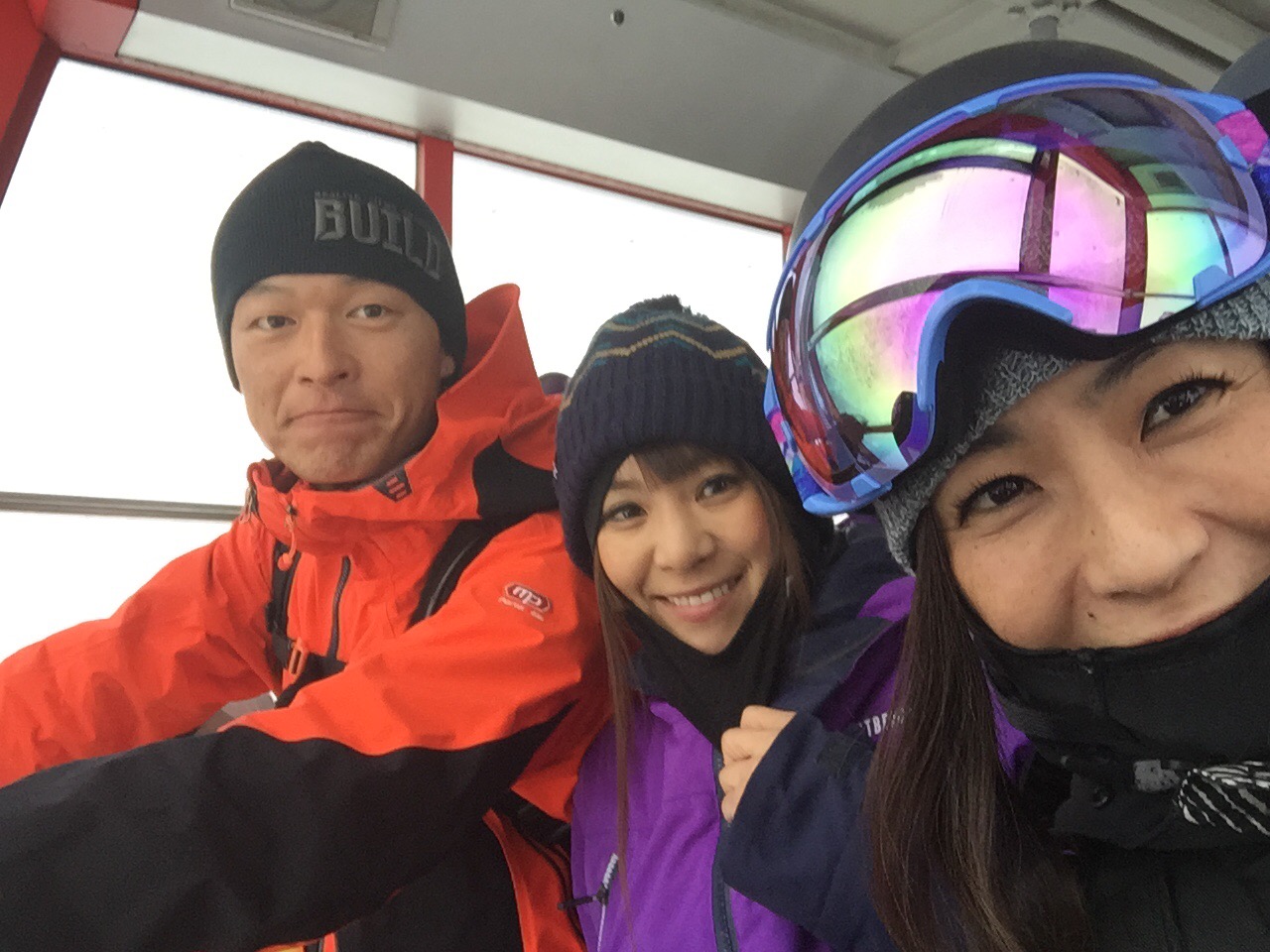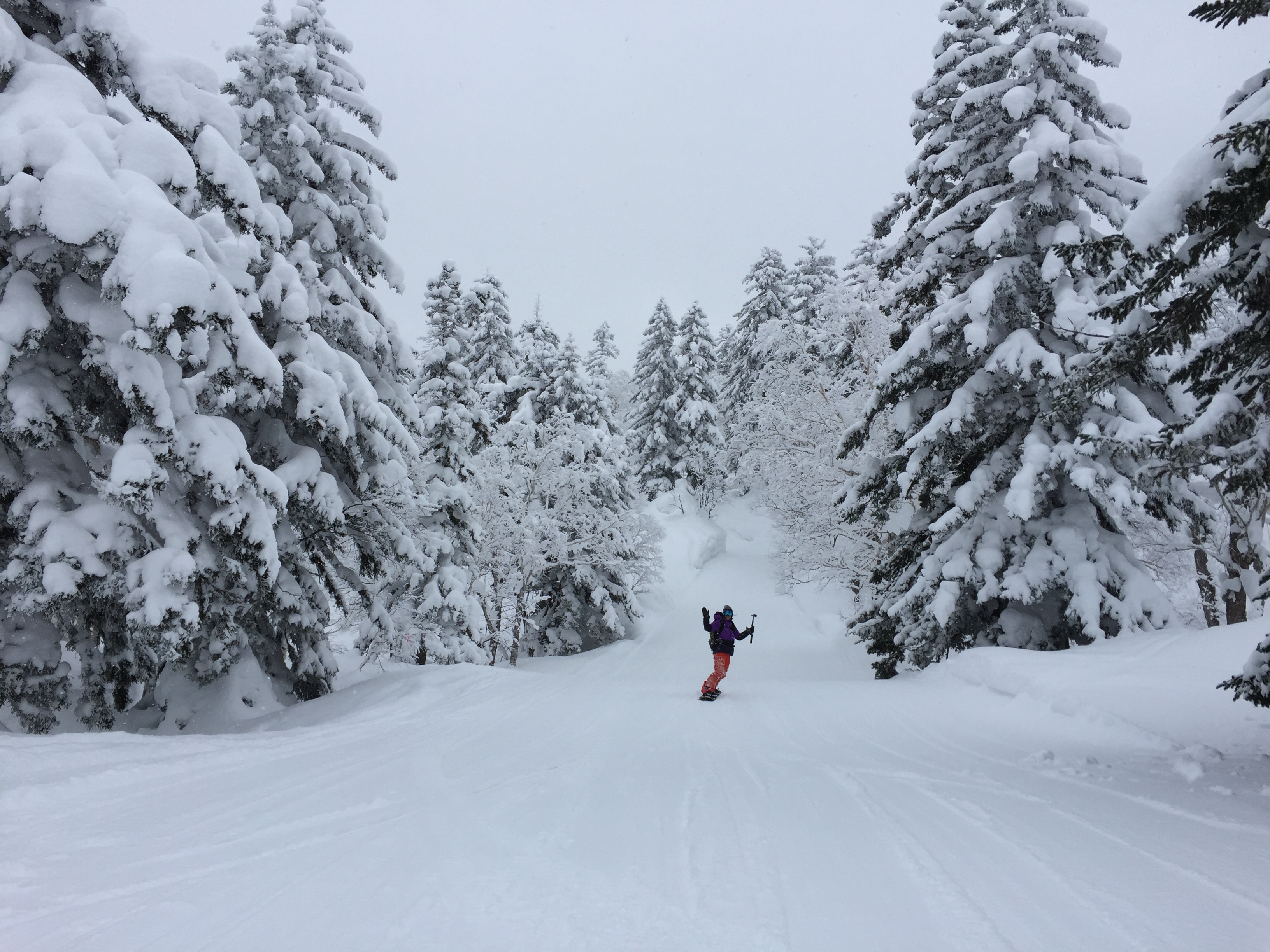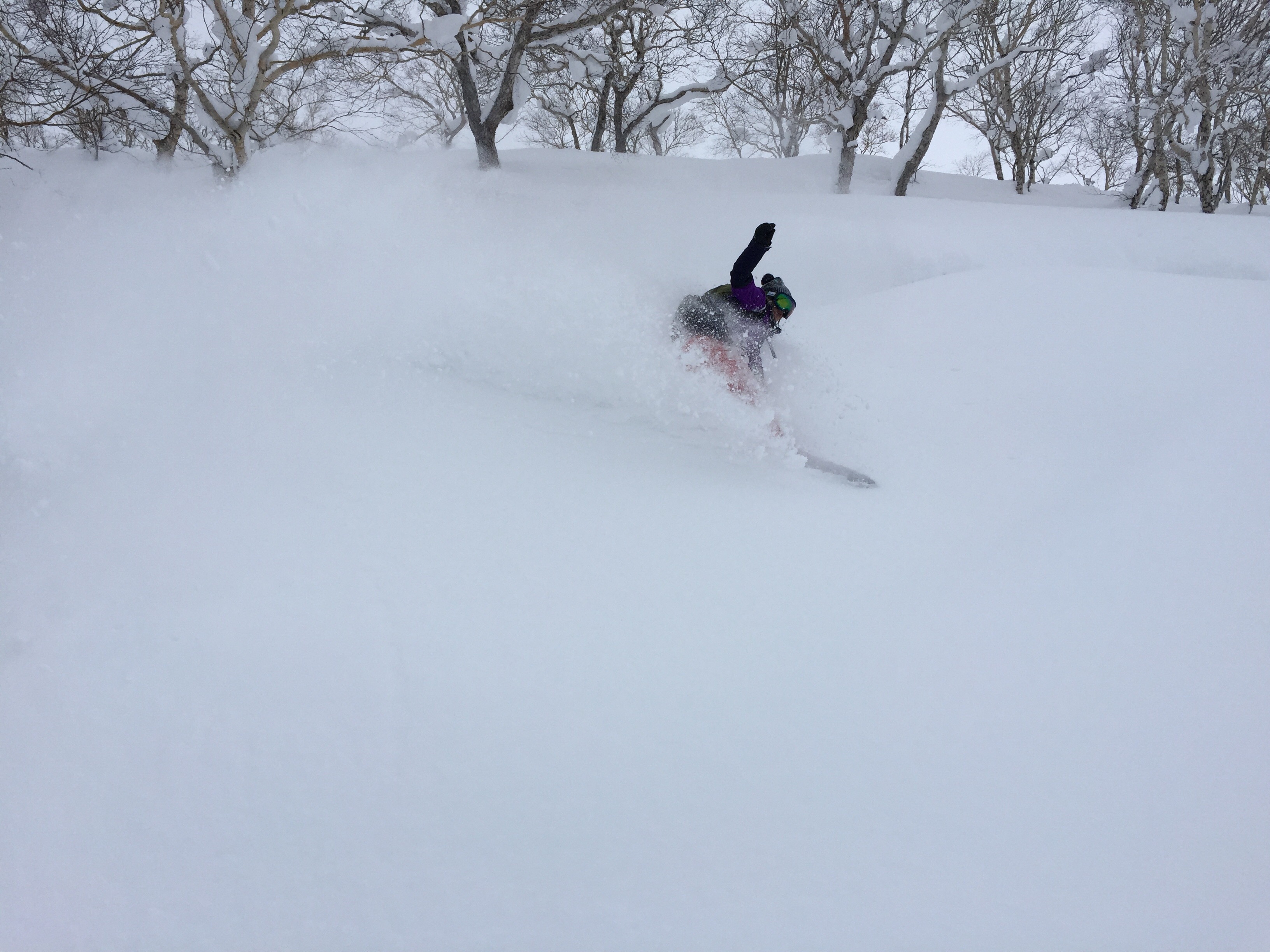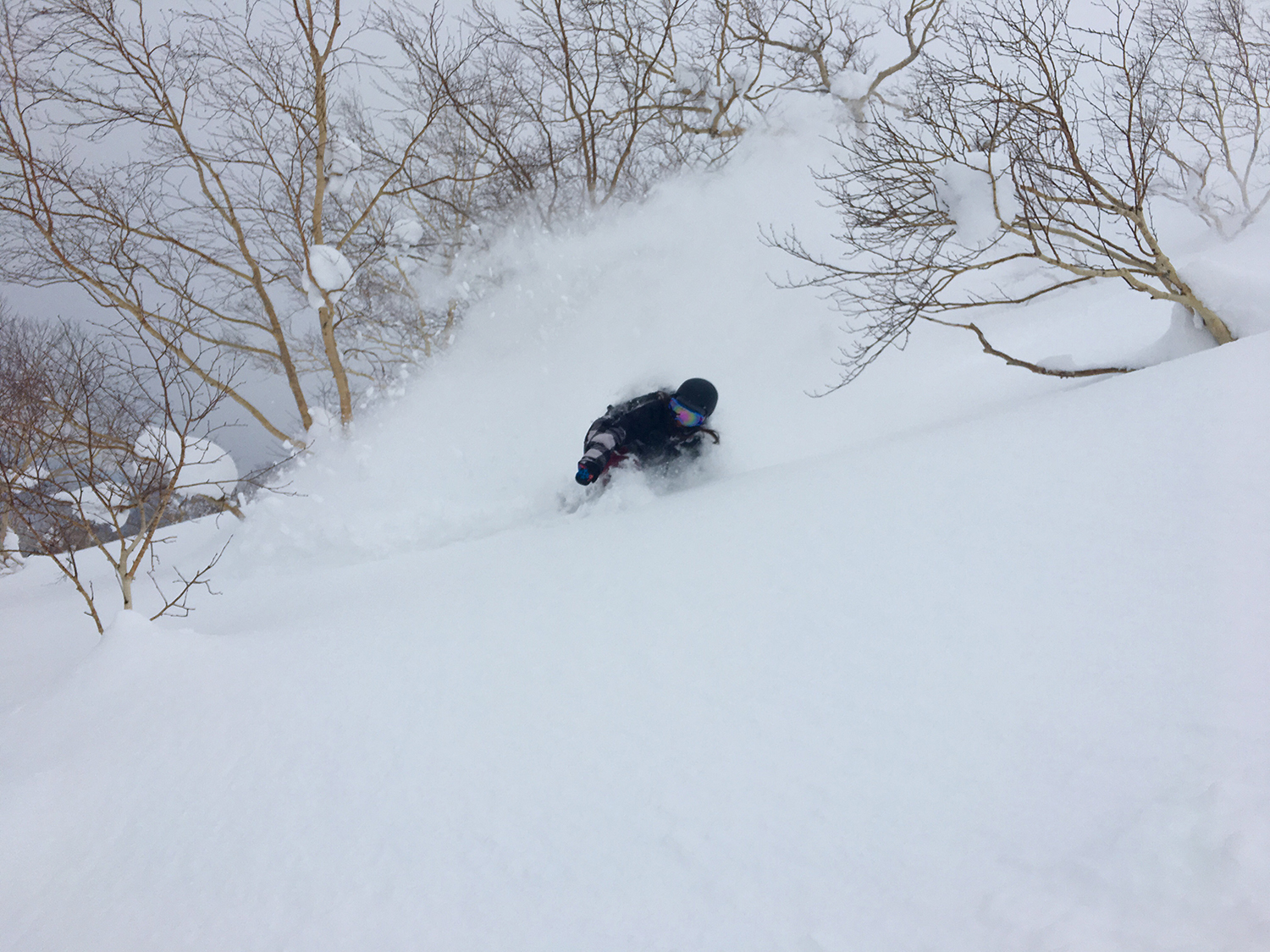 Glide through the mountains while rejuvenating each other's memories.The snow that had continued to fall until morning gradually stopped, and the magnificent view spread with dim light.We each slipped around, shooting each other with a camera in one hand.We have been shooting for many years, and even if we are alone, the shooting mode is fully open.I talked to each other, decided my position, and carved the riding that I could leave.I hiked up many times to leave a good line and a good picture.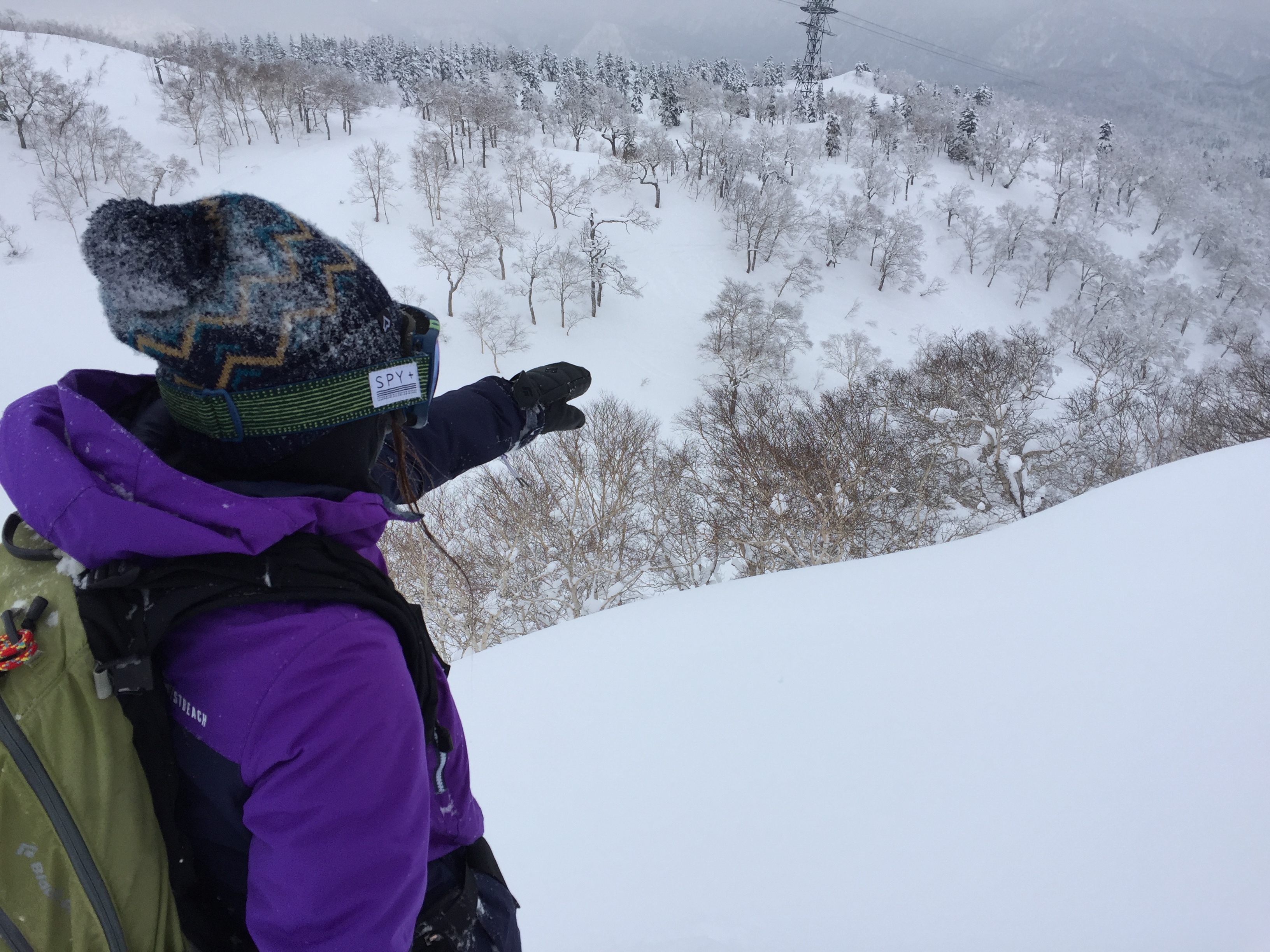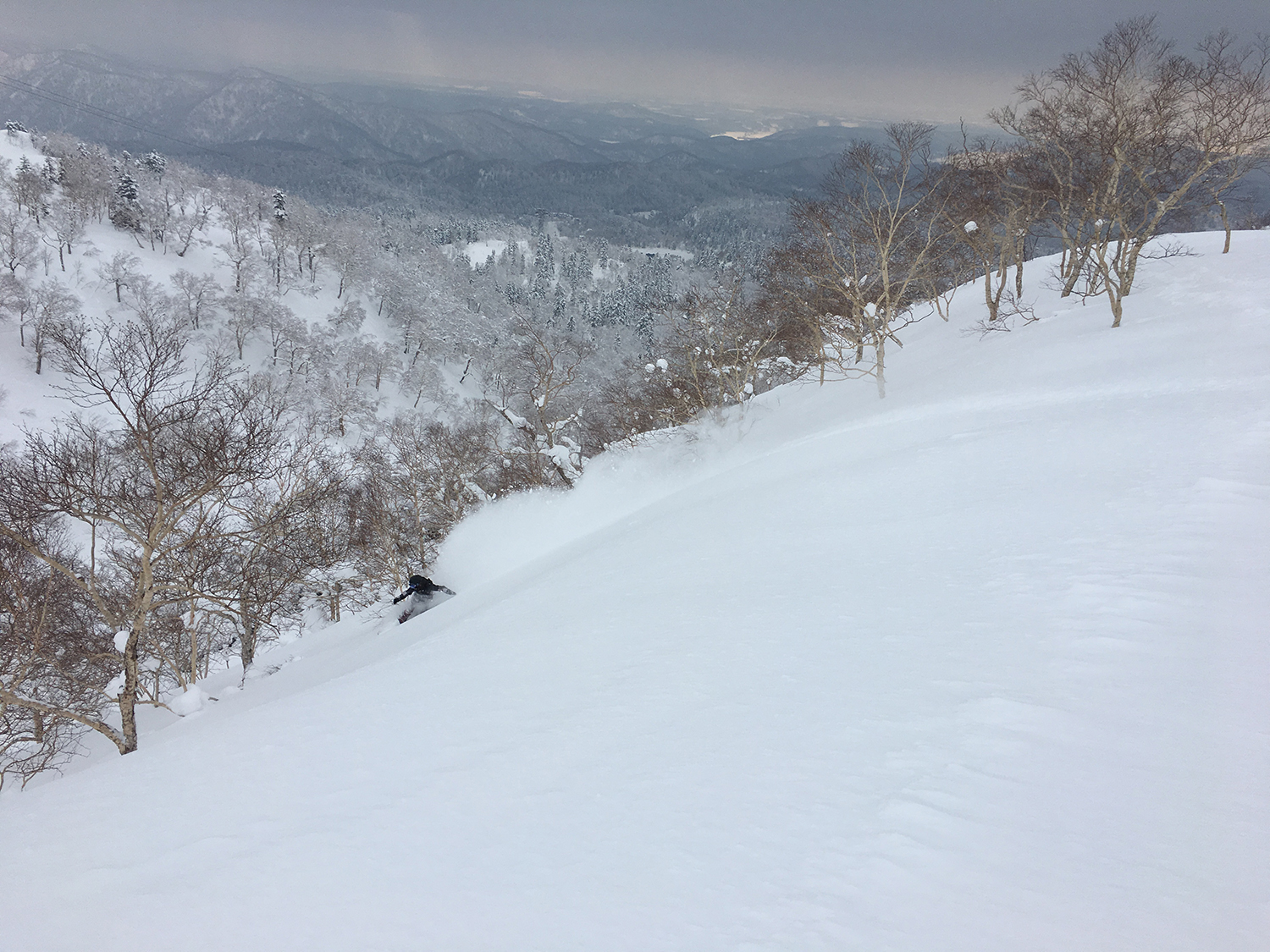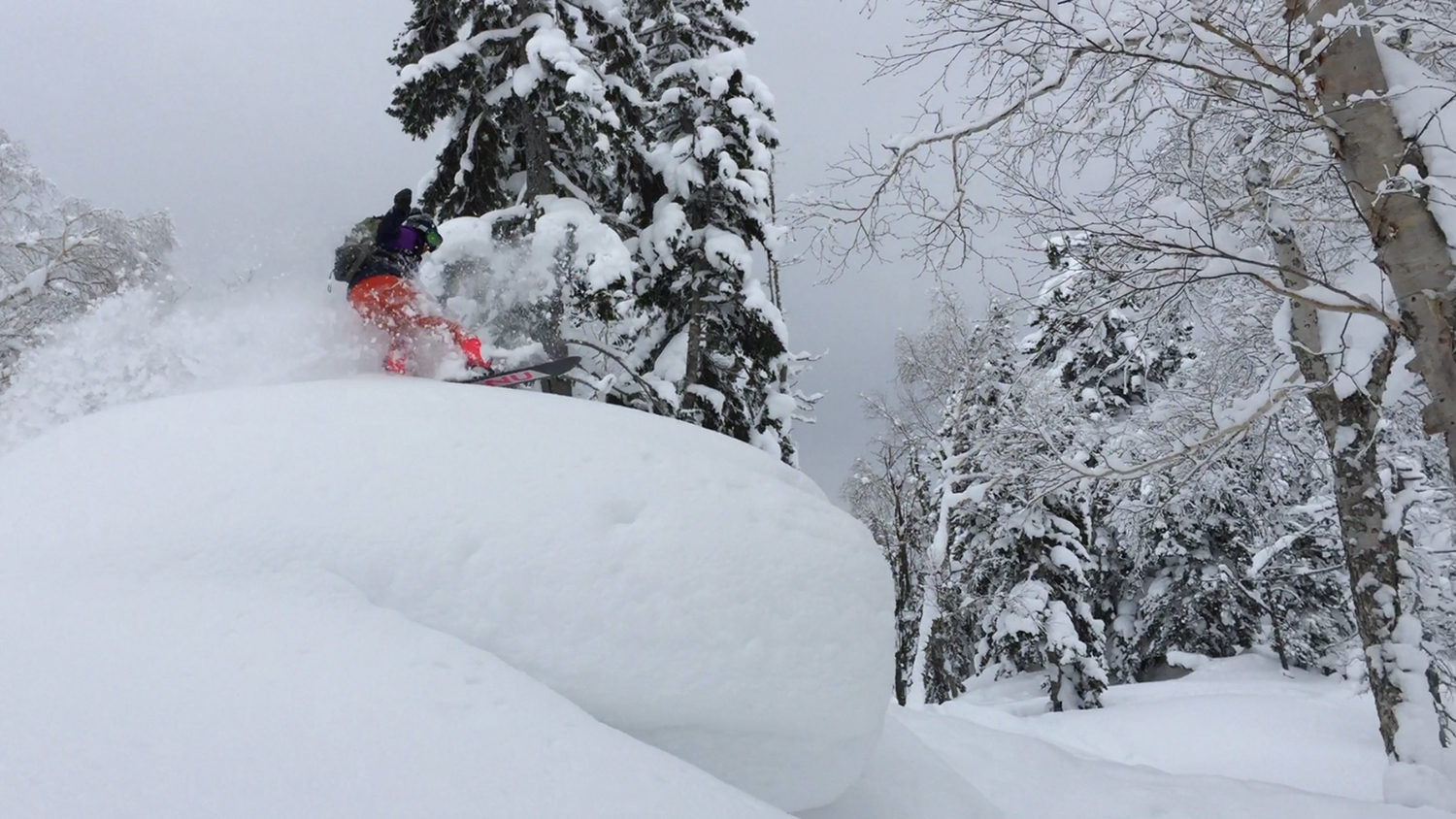 I've been in the "professional snowboarder" profession for years.There were times when I couldn't eat it and when I was injured, but I've always liked snowboarding.I've been thinking about how to stay as a snowboarder.For us, it was no longer a "profession" but a "way of life."I want to live a life as a snowboarder.I was absorbed in slipping today.I only had a rice ball in my car once at noon, and then I took a break in the ropeway.When I got into the car after slipping, I was tired of each other and laughed unintentionally.The fact that two good adult females slip crazy until this happens makes me sick.And I think this kind of life is the best.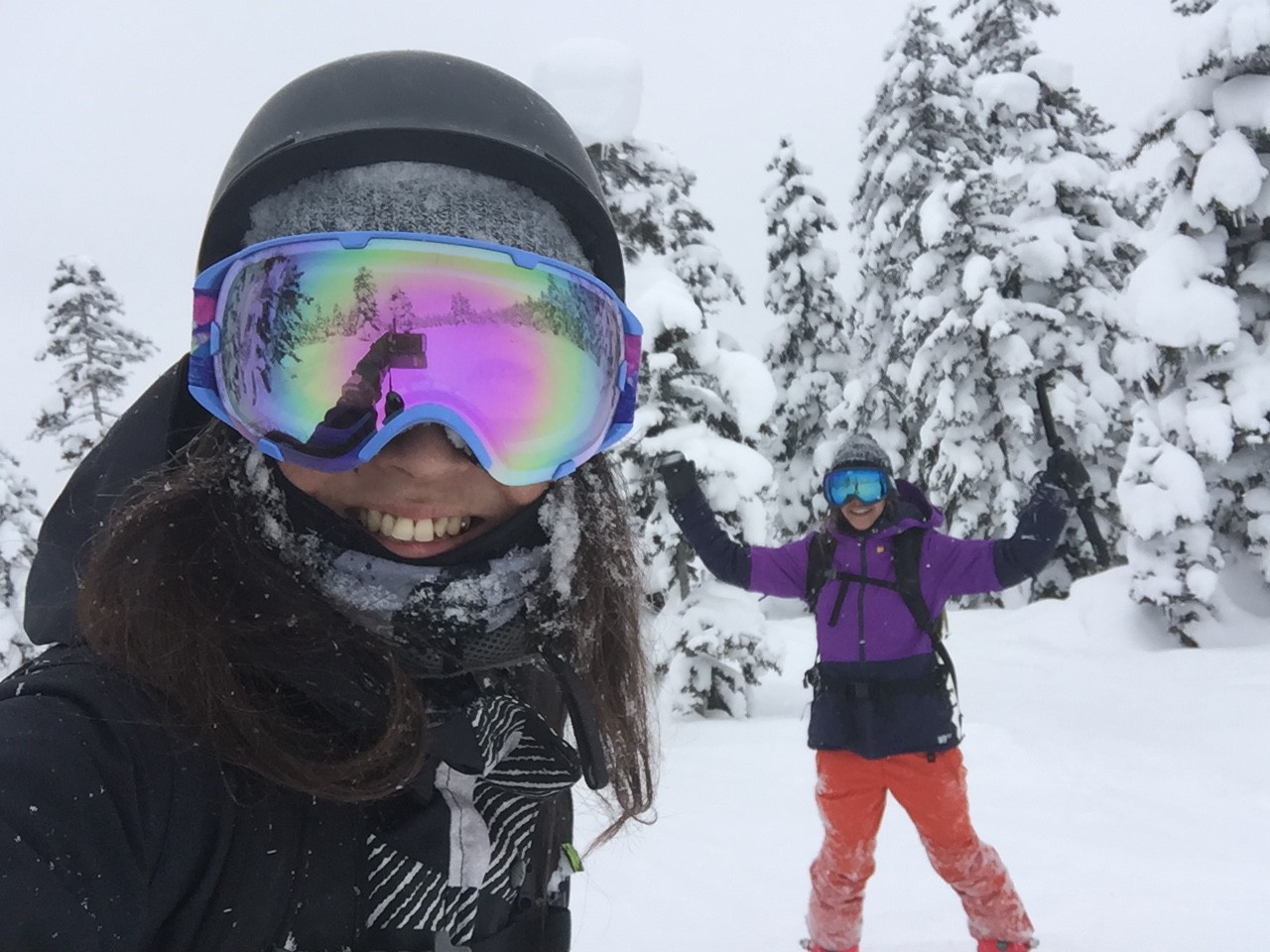 Two Women's Trip-Mt. Asahidake-MOVIE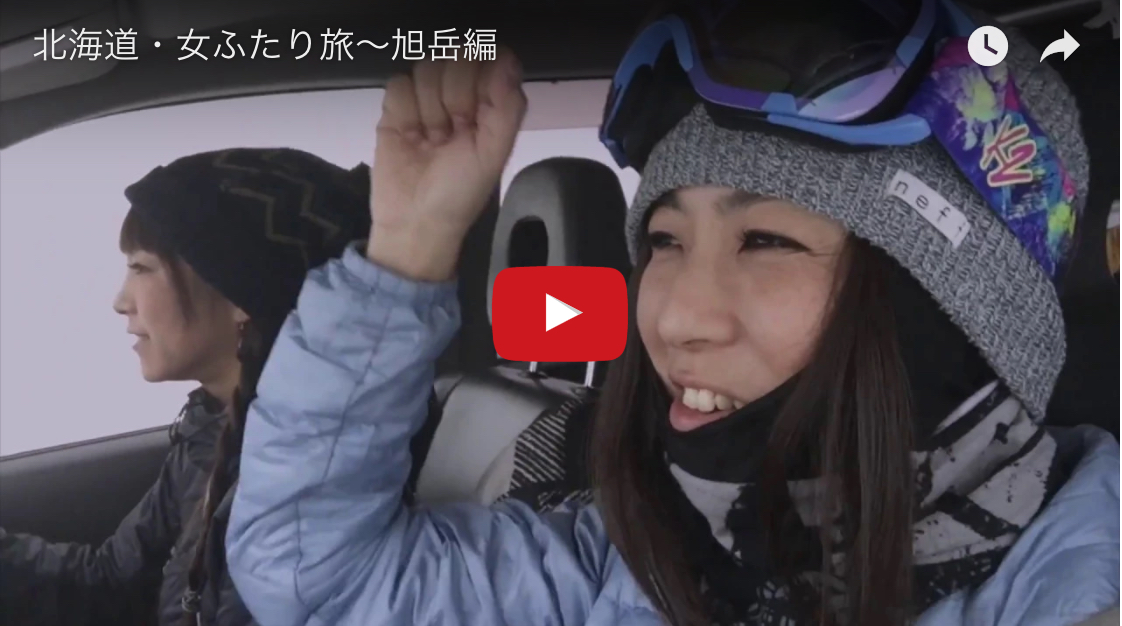 After the Asahidake session, the trip to the next destination, Sounkyo Onsen & Kurodake.
What fields and events are waiting for us at the next point?
Continue.
Next time, one week later, "~ Sounkyo Onsen & Kurodake Edition ~" will be uploaded.
looking forward to!
★ PROFILE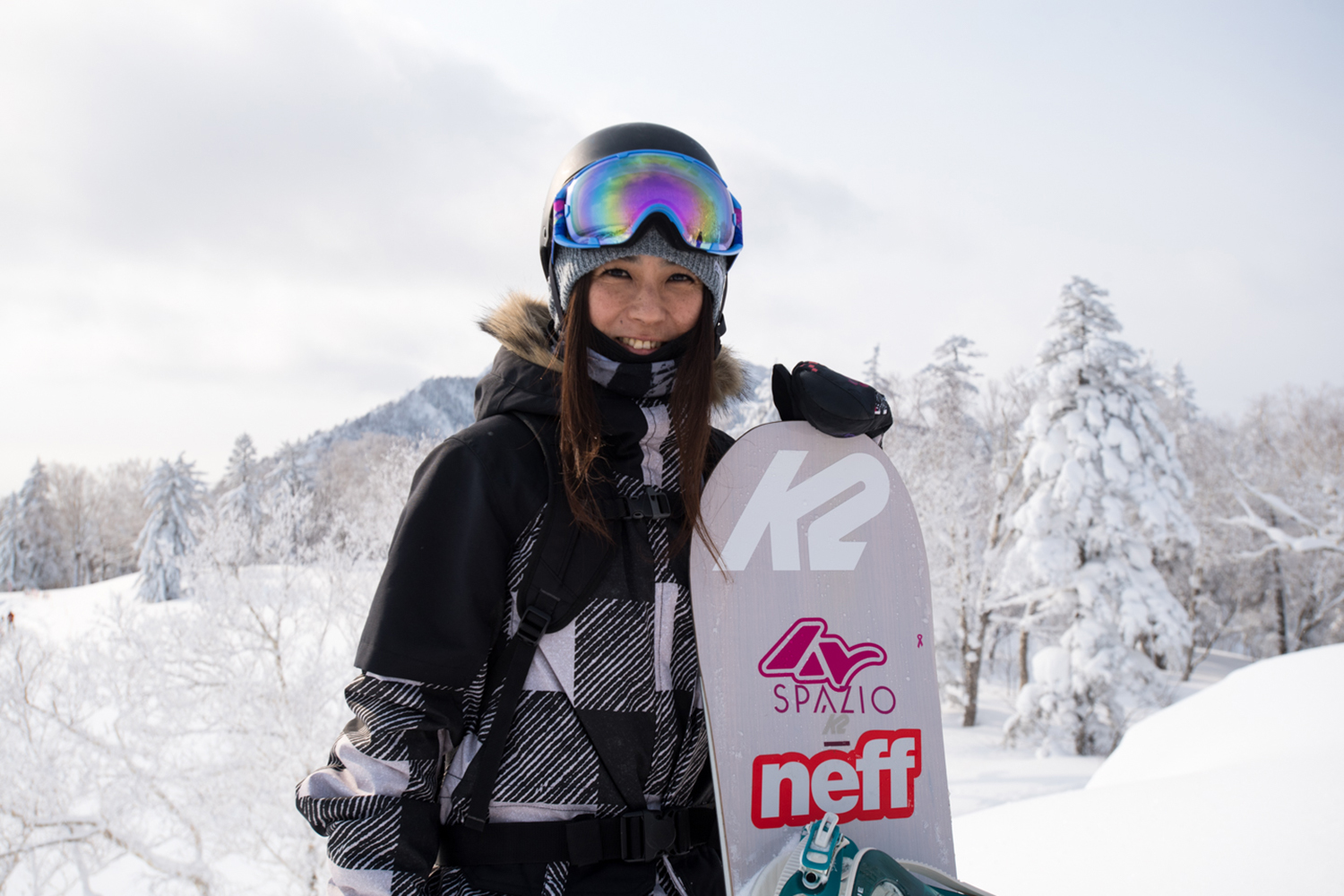 Yukie Ueda
Born January 1973, 1.He started snowboarding in Whistler, Canada, and after 22 years of competitions such as halfpipe and big air, he fell in love with the backcountry.Currently, while moving to the United States and raising a 23-year-old son while continuing his professional activities, he runs a project for kids and mothers (LILKIDS & MAMA) and a camp for young Japanese people to experience in the United States (CALI LIFE CAMP). ..
SPONSOR: K2 SNOWBOARDING, Billabong, MORISPO SPAZIO, NEFF, RONIN, ZOOT, CORAZON SHIBUYA, LALALATV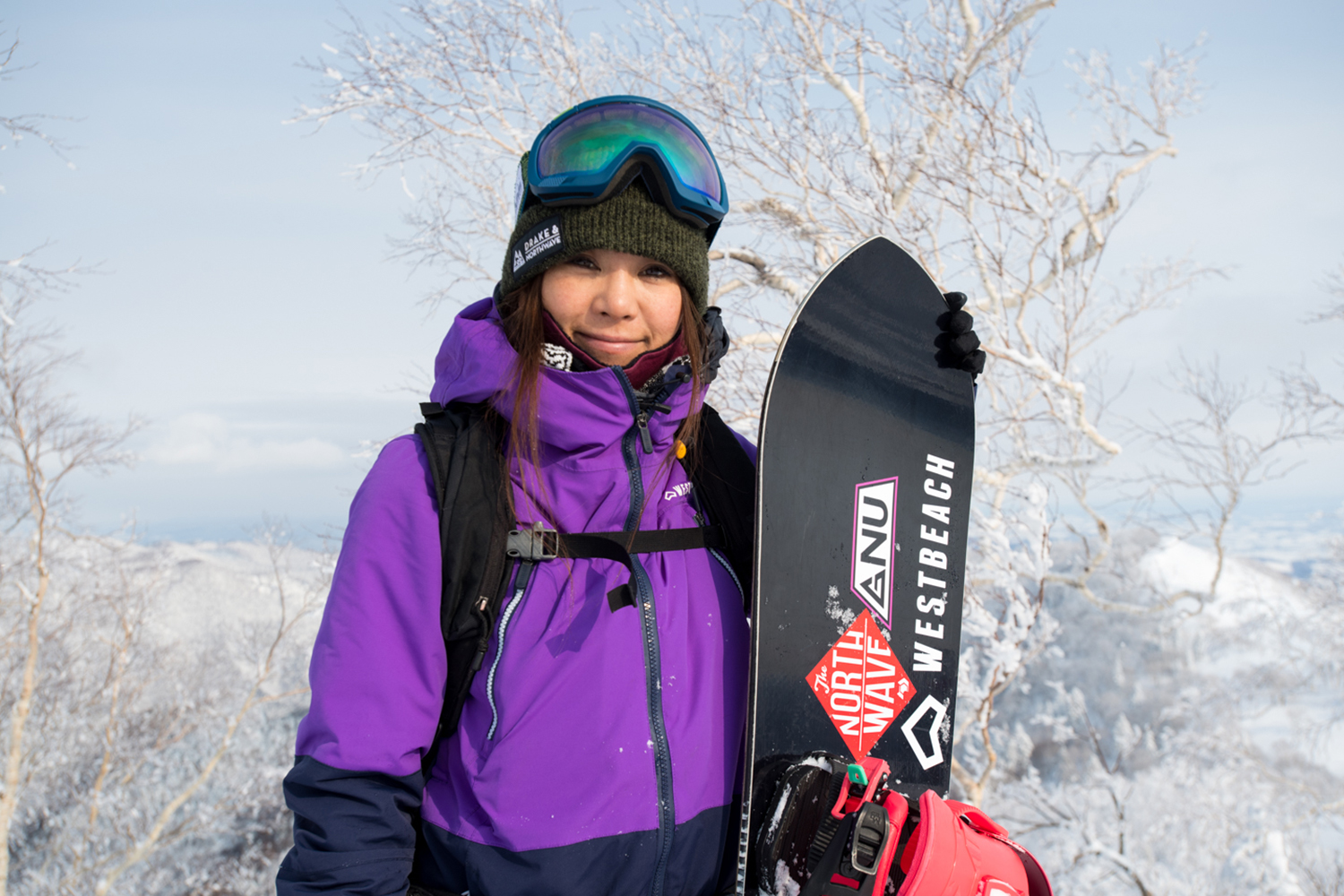 Mari Mizukami
Born July 1976, 7.I met snowboarding at NEW ZEALAND, which I went to as an exchange student in high school.After going through pipes, street rails and slopestyle, he now skis mainly in the backcountry.We are holding parties (PARTY BUNNYS) and events (SHREDDING GIRLS) where snowboarders can enjoy themselves in Tokyo and in the snowy mountains after being unable to slip for several years due to injury.
SPONSOR: GNU, NORTHWAVE, DRAKE, WESTBEACH, SPY, BLACKDIAMOND, SBN FREERUN, SHREDDING GIRLS, PARTY BUNNYS Event, Akabane First Dental