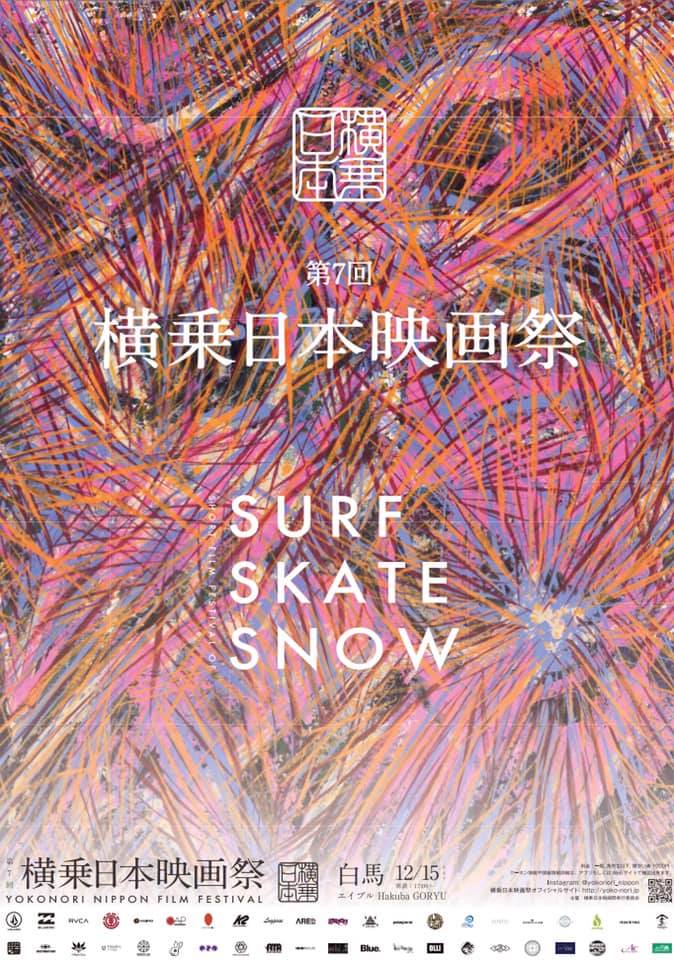 At the Hakuba venue, it will be a film festival that specializes in snowboarding works and attracts attention.In addition to the movie screenings, there will be a variety of delicious food and drink stores, including craft beer, and an exhibition booth for XNUMX / Green lab./OUTFLOW/Mei Hata Yukiita.
Let's have a full-scale season in at Hakuba!
The 7th Yokojo Japanese Film Festival Hakuba
Date and time Saturday, December XNUMX, XNUMX XNUMX: XNUMX-
Venue Able Hakuba Goryu Ski Resort XNUMXF
Fee ¥ XNUMX (free for high school students and younger) * Identification card required for high school students and younger
Yokojo Japanese Film Festival Hakuba Venue OfficialFB page
What is the Yokojo Japanese Film Festival?
At this film festival, under the theme of "horizontal riding," we will screen selected images that are focal to the horizontal culture of "Japan," such as works shot in Japan and works by Japanese creators.
The Yokojo Japanese Film Festival, which started in 2012, was held for the seventh time this year.The style of watching various side-riding video works on a big screen is the feature and the biggest attraction of this film festival.
Each screening is filled with the sensibilities and expressions unique to people who live through sideways riding, such as the wonderfulness of sideways riding that the creators and artists (riders) have experienced, and the consideration for the environment that must not be forgotten. increase.
There are works taken in various parts of Japan and entries from overseas, and more and more fun works have been gathered.The Tokushima and Nagano screenings will be screened for only one day, the Hokkaido screenings will be screened for two days, and the Shonan screening will be screened for a week.You should be able to experience the charm of "horizontal riding" that is different in each theater.We will deliver the feeling of exhilaration when choosing a work to everyone as it is.We look forward to seeing many of you at the theater.
We are proud to announce the seventh annual Yokonori Nippon Film Festival since its launch in 2012, featuring films celebrating "yokonori" (riding sideways) culture including surfing, skateboarding and snowboarding on big screens. You can directly sense the directors' and the riders' intense passion for yokonori through their films as they promote not only active lifestyles but also the awareness of protecting the natural environment. This year, we will feature a wide selection of yokonori films in Chigasaki (Shonan area), Otaru (Hokkaido), Tokushima ( Shikoku) and Hakuba (Nagano Prefecture). Tokushima and Nagano screening will be for one day, Hokkaido Screening for two days, Shonan for one week. Each screening will reveal different aspects of Yokonori and we hope you will enjoy as much as we did selecting. the films. We look forward to seeing you at the theaters!
Screening work
KAMIKAZU
shred
DREAM CHASER
flowing life / OUTFLOW
on the track 3
OG Cheese
Photo exhibition
Photographer Tsuyoshi Endo
After party
Tracks bar (Goryu)
XNUMX: XNUMX-