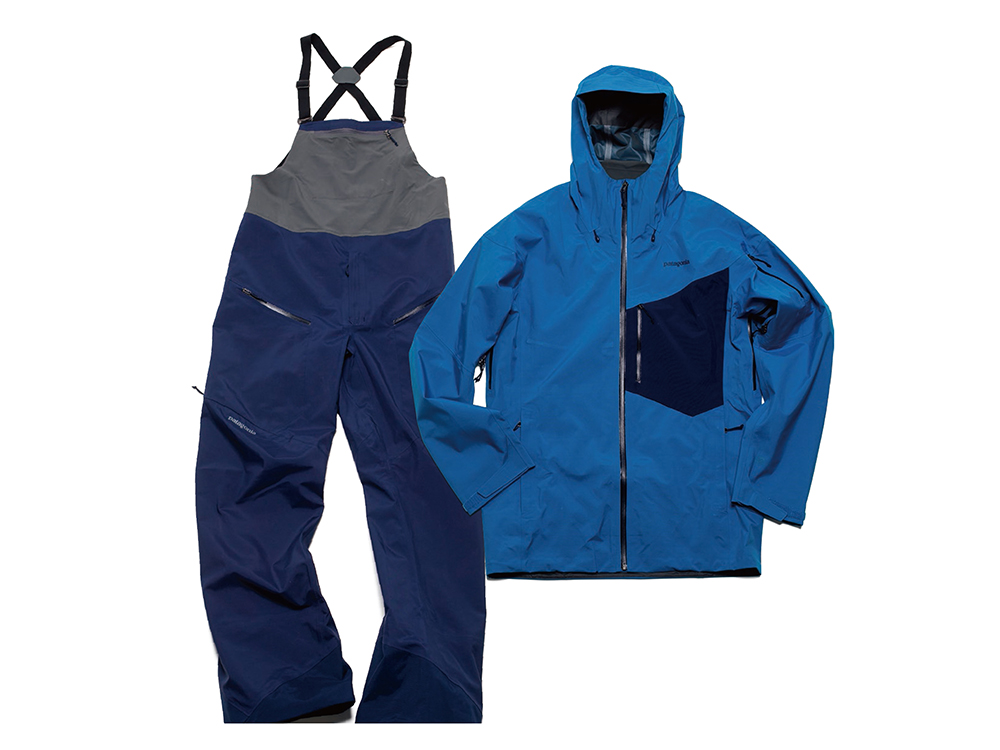 Patagonia
Uses elastic material that uses 70% recycled material
3-layer shell for comfort and ease of movement
Snow Drifter Jacket
SIZE: XS-XL
PRICE: ¥ 48,000
Snow Drifter Bibs
SIZE: XS-XL
PRICE: ¥ 45,000
What is the performance required of snowboarders who enjoy powder riding?Of course, heat retention is necessary, but above all, they place importance on protecting the body from the cold.Sweat due to strenuous exercise.If it gets cold, it will quickly deprive you of your body temperature.Therefore, in situations where it is easy to sweat such as hiking up, a 3-layer shell with excellent breathability is useful.The 3-layer shell, which regulates body temperature by layering, has been used as a highly reliable item due to its versatility that can be used in various scenes over a long season.
Among Patagonia's three-layered shells, the one that I would like to pay particular attention to is the Snow Drifter Jacket & Bibs, which has a slightly thicker silhouette and is easier for snowboarders to choose.There are five points of interest.First of all, the jacket is 3g and the bibs are 5g, which are light and soft.In addition, the unique membrane "H587No", which has excellent waterproofness, breathability, and durability, firmly prevents the wind and rain and sweat from getting cold, and the elastic fabric realizes comfort.Furthermore, the price range that is easy to pick up as a three-layer structure shell is also attractive.
We asked Patagonia Ambassador Hayato Maruyama, who mainly wore this setup last season, about the actual comfort.
"Anyway, it's soft and easy to move. I don't mind the rubbing noise of the fabric like a hard nylon shell. If anything, it's better to take it out in the harsh conditions of Alpine, when slipping in a resort or in the woods. I like the comfort of being able to keep wearing it from the time I leave the house until I get home. The inner pocket, which can be accessed from inside the out pocket of the chest without opening the main zip, keeps the iPhone cool and keeps it wet. It's convenient to put on. I felt the softness and ease of movement of the fabric more strongly with the pants. It doesn't interfere with any movement, and you can spend a long time of action and gliding comfortably. Especially around the abdomen of the bib is stretched. It is effective and easy to move, and you can easily put it in even with thick layering. "
Another thing to note is that from this season, all Patagonia shell products will be made from recycled materials and will be sewn at Fair Trade Certified factories.It has been 1993 years since we started manufacturing recycled polyester in 26 to reduce the use of natural resources such as crude oil. Five years ago, we started using recycled nylon, and last year we released a jacket made of 5% recycled polyester, steadily reducing the environmental burden.Fair trade, which means fair trade, is one of Patagonia's goals.Continue to make sustainable efforts not only environmentally but also humanely.That honesty is Patagonia's brand quality.