Brand "eb's" has a lineup of many accessories for snowboarders, including gloves, bags, board cases, and protectors.Anyway, the appeal of eb's is the large number of items, the unique ideas unique to Japanese brands, and the rich quality.
It is used by many professional riders, and from the feedback, it is improved and new products are developed.Always equipped with the best functions.Its performance is highly evaluated not only by many professional riders and users, but also by professional shop staff nationwide.
Here, I would like to check out the videos of the hot items that are especially popular in the eb's lineup.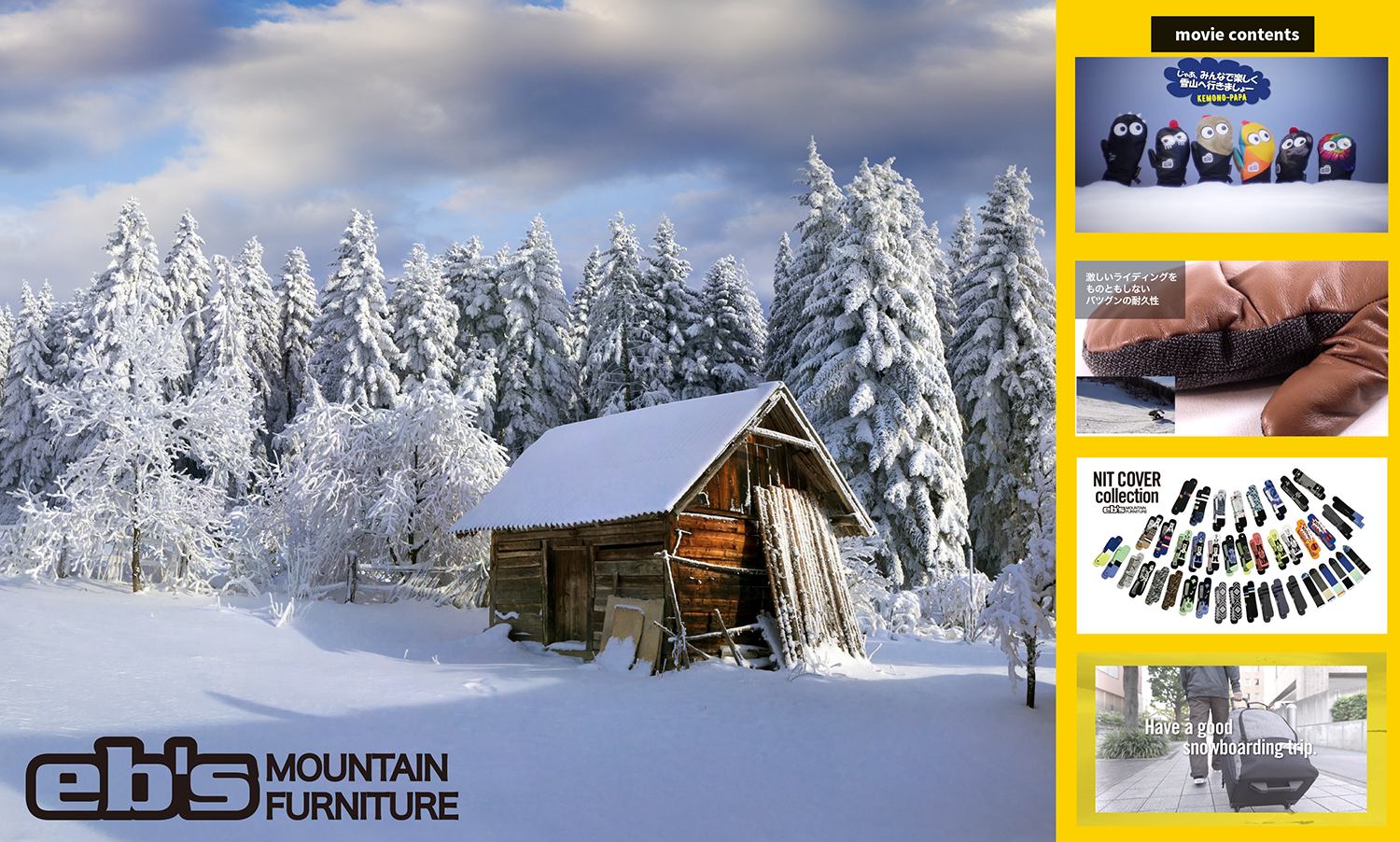 Leather gloves specializing in carving: CARVING MITT / CARVNG MITT STRONG
CARVING MITT is a hot topic among carving-loving snowboarders in eb's glove lineup.Strengthen the palm of the leather mittens gloves.It is designed so that the gloves will not be damaged even if you touch it on a deep carving turn such as a bittery turn. The STRONG version uses Kevlar material with excellent wear resistance and durability on the palm, further increasing the strength.
Not only cute and unique, but also high performance: HARUSAKI-MITT KEMONO CHAN
"HARUSAKI-MITT" has the meaning of a mittens glove that keeps warmth like early spring even in extremely cold weather.The colorful and unique design variations have attracted a lot of attention, but the warmth is genuine.The inner is a five-finger type and is comfortable to wear.Moreover, the price is reasonable.
There are various character variations in the popular KEMONO CHAN series, but there is also a story behind the fact that it was a parent-child setting.In commemoration of the 10th anniversary this season, a special model with all-leather specifications will also be available.
The variation is too great! The knit cover that you can always find the perfect one
The knit cover that fits perfectly on a snowboard with excellent breathability and water repellency is a popular item of eb's.There are various designs and size variations, and there are also a wide variety of models such as alternatives that can change the position of the waist belt for free riding directional boards and models for powder boards.Only eb's has such variations.
Container bag series to enjoy your trip in style
A large-capacity bag that is very useful for snowboard trips. The eb's container bag series is really functional.Anyway, it has a lot of storage capacity and is easy to use."Container wheel" that can store necessary items exactly in various places and enjoy traveling smartly, "Family container" travel bag with large capacity wheel that can store family luggage together, can store all gear for one person Check out its convenient usage such as "multi-container" !!
Equipped with "XRD®︎" to firmly protect the trochanteric part of the femur ONE PIECE PAD XRD®︎
The lineup of PROTECTOR that protects the body from the impact of falling while riding is also substantial.Among them, ONE PIECE PAD XRD®︎, which is newly released this season, is a hip pad equipped with the high-performance shock absorbing material "XRD®︎".Not only tricks in the park, but also a one-piece structure to firmly protect the part that is susceptible to impact even when falling in a deep carving turn or gratri, eliminating the gap between the pads and firmly up to the trochanteric part of the femur on the side In the shape to cover.With this, you can try new tricks with confidence.