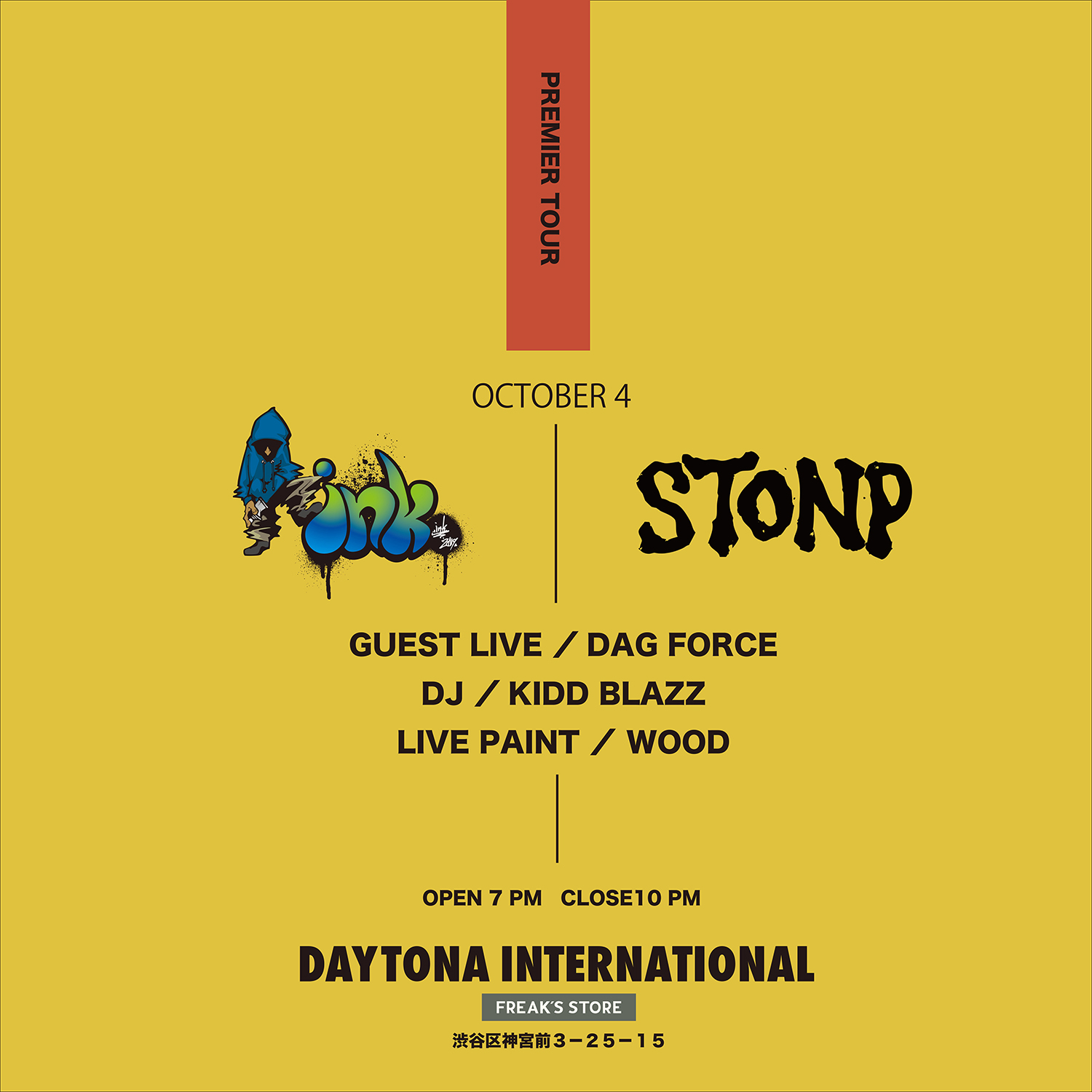 Kazuhiro Kokubo started to move himself to connect the charm of the movie scene to the next generation riders in Japan, and took a season to shoot with young people, INK MOVIE (@inkmovie).
Then, it restarted with last year's OG cheese, and now Kohei Kudo and Atsushi Hasegawa have joined, and STONP OR DIE (which has even more dangerous things)@stonpordie) NEW MOVIE "HIDANE -Fire-".
The double screening of those super-topic works IN Tokyo has been decided on 10/4 (Friday).
On the day, DAG FORCE (@ dagforce_y0) And Kidd blazz (@kiddblazz) Was the DJ who opened the venue and was in charge of the graphic of the ink logo.@wood_dw) Will also perform live painting.
At the end of the event, it seems that the work completed on that day will be presented to the visitors.
And what a Free beer on the day! !!
Let's watch the latest snowboard movie filled with the passion of riders in a good sound and a good space!It's definitely going to be a season kick-off event.
10 / 4 (gold)
@DAYTONA INTERNATIONAL (3-25-15 Jingumae, Shibuya-ku)
AM19:00 ~ PM22:00
Entrance: ¥ 2500
guest live: DAG FORCE
Guest DJ: Kidd blazz
Live paint: WOOD
#ink_movie
▼ "INK MOVIE" teaser

▼ Check out the SBN FREE RUN article below for INK's behind story.
INK MOVIE Behind the scenes of mammoth shooting <Part 4> A record of staying in a mammoth with four young people trying to shoot.
Behind the scenes of INK MOVIE Mammoth Shooting <Part 4> A message from the four people and Kazu, the boss of INK, toward the final day of shooting.
What the competitor Raibu Katayama, who has experienced shooting INK MOVIE, should aim for
Behind the scenes of INK MOVIE street photography.
▼ STONP MOVIE "HIDANE -Fire-