◼◼SNAKE & MISTANK ◼◼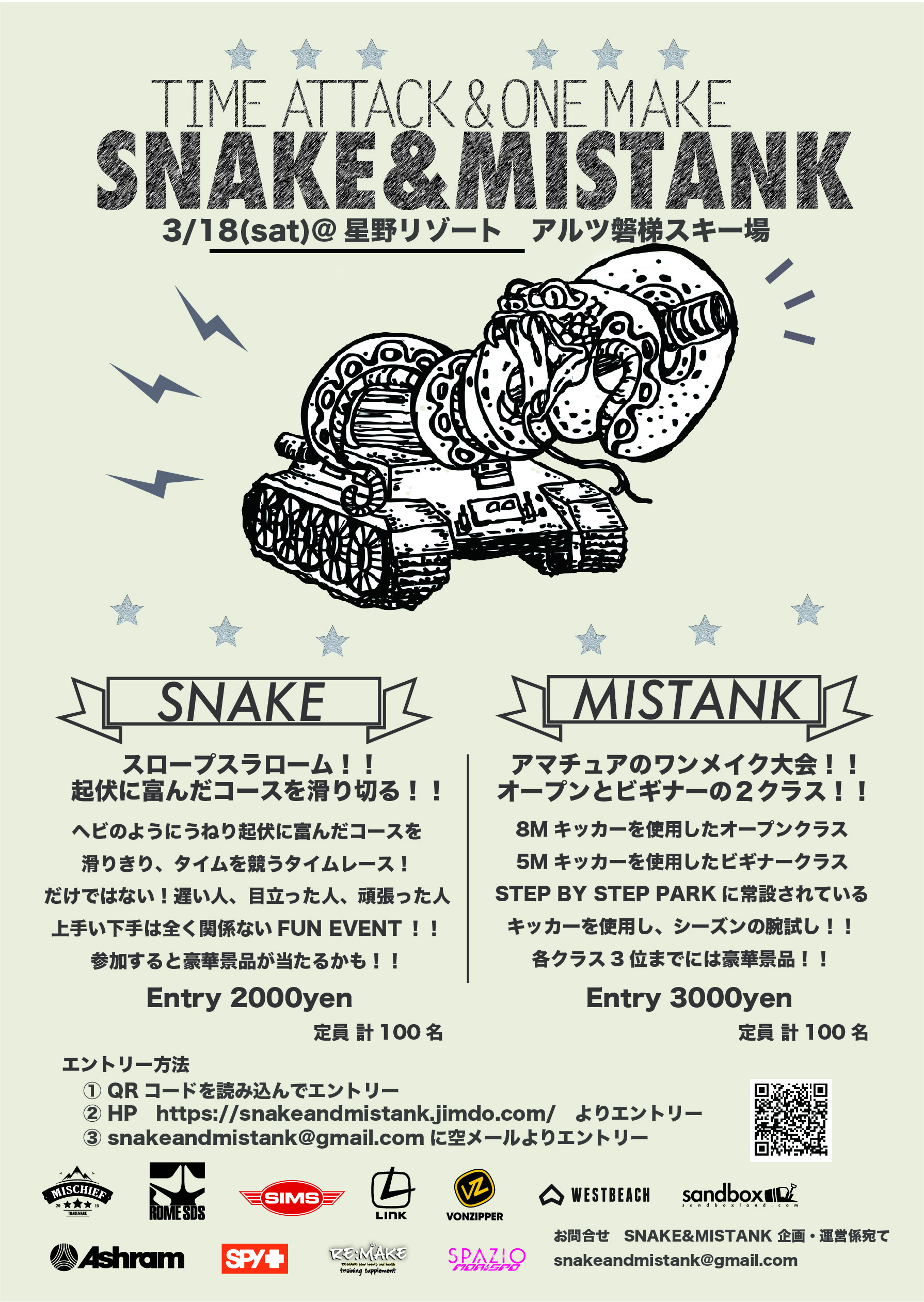 Two different events will be held at the same time!
Make the Park Finals of the Alts Bandai Ski Resort a big playground!
~~~~~ SNAKE ~~~~~
Slope slalom! !!
Slide through the rugged course! !!
A snake-like swell, undulating course
Sliding through the placed gate,
Time race to compete for time!
not only!People who are late, people who stand out, people who have worked hard!
I don't know who the certificate will go to! !!
FUN EVENT has nothing to do with good or bad! !!
If you participate, you will have a chance to win a luxurious prize! !!
Entry 2000yen
mens class
women class
* Same-day entry 3000yen
Capacity 100 people in total
~~~~~ MISTANK ~~~~~
Amateur one-make competition! !!
Two classes, open and beginner! !!
Open class with 8M kicker
Beginner class using 5M kicker
Permanently installed in STEP BY STEP PARK
Use the kicker to test your skills in the season! !!
Luxury prizes up to 3rd place in each class! !!
Entry 3000yen
mens open class
mens beginner class
women open class
women beginner class
* Same-day entry 4000yen
Capacity 100 people in total
There is also additional content!
We will announce it on our website and Facebook page at any time.
Please bookmark and follow the event!
リフト券がエントリー事前予約で3000yen
※当日エントリー3500yen

◼ Date: Saturday, March 2017, 3
◼ Venue Hoshino Resorts Alts Bandai Ski Resort
◼ MC Judge
・ Takumi Hirata (SIMS)
・ Daiki Kaga (HOLIDAY)
Many riders will come to the event.
* Both are events for amateurs to enjoy, so we provide goods such as manufacturers and shops.
Please refrain from participating in the rider.If it is discovered, the entry will be invalidated.
* Please take out accident insurance by yourself.
* We recommend wearing a helmet and protectors.
* We are not responsible for any injuries or accidents during the event.
* Regarding the e-mail address, we will contact you about the time schedule, so please enter the one that is set to receive PC e-mail.Please be careful about mistakes
It becomes more.
HP: https://snakeandmistank.jimdo.com/
Entryform
https://docs.google.com/forms/d/e/1FAIpQLScDxo80QLMmuDNUHGMu5dKrvumMb4N27a_sPnE3KvFxE7uA7A/viewform