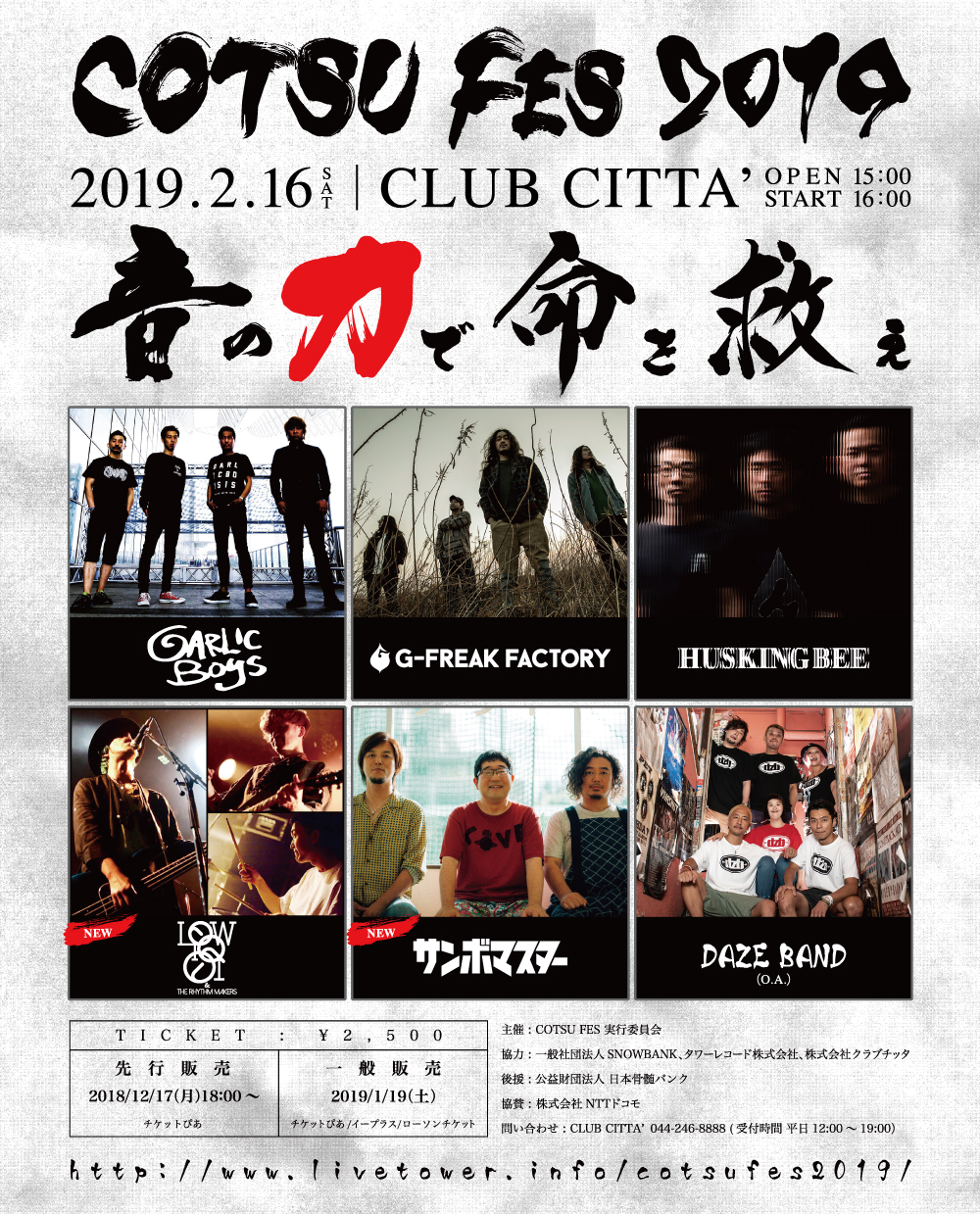 "SNOW BANK" is held in Yoyogi Park, Tokyo every year before the season.This event is a fun of snowboarding, skateboarding, art, music, and dance, enlightening the "bone marrow bank" realized from the experience and thoughts of Arai "DAZE", a snowboarder who overcame an intractable disease of 100 in 1 million people. It is a participatory charity event that is communicated through.This "SNOW BANK" seems to start a new activity.
SNOWBANK's new attempt "Save lives with the power of sound" is the title of the blood donation and bone marrow donor registration enlightenment festival!
A leukemia charity live event aimed at promoting awareness of leukemia and bone marrow banks under the theme of "Increasing donor registrants and saving the" life "of leukemia patients with the power of music and rock!" COTSU FES 2019 "will be held at Kawasaki Club Citta on Saturday, February 2019, 2.
On the day of the event, a "Bone Marrow Donor Registration Explanation" booth will be set up in the venue, providing visitors with an opportunity to explain bone marrow donors and bone marrow transplants in an easy-to-understand manner.All the profits gained from this event will be used for the promotion and enlightenment activities of the bone marrow bank and blood donation.
Performing artists are Sambomaster, LOW IQ 01 & THE RHYTHM MAKER, G-FREAK FACTORY, GARLICBOYS, HUSKING BEE, and DAZEBAND (OA).Through their music, they promote awareness of blood donation, leukemia, and bone marrow donor registration through music.
On the day of the event, a blood donation bus will be placed at the venue and a blood donation / bone marrow donor registration meeting will be held.Only the target 50 performers will be presented with event goods in cooperation with the performing artists.
<COTSU FES 2019>
Saturday, February 2019, 2 Kawasaki CLUB CITTA'
Blood donation bone marrow donor registration meeting: 13: 00-16: 30
open: 15:00 / start: 16:00
Details of the performance here
ARTIST
G-FREAK FACTORY / GARLICBOYS / HUSKING BEE / Sambomaster / LOW IQ 01 & THE RHYTHM MAKER / DAZEBAND (OA)