PRISM / PRISM INVISIBLE / PRISM LTD / PRISM GIRL / PRISM EAGLE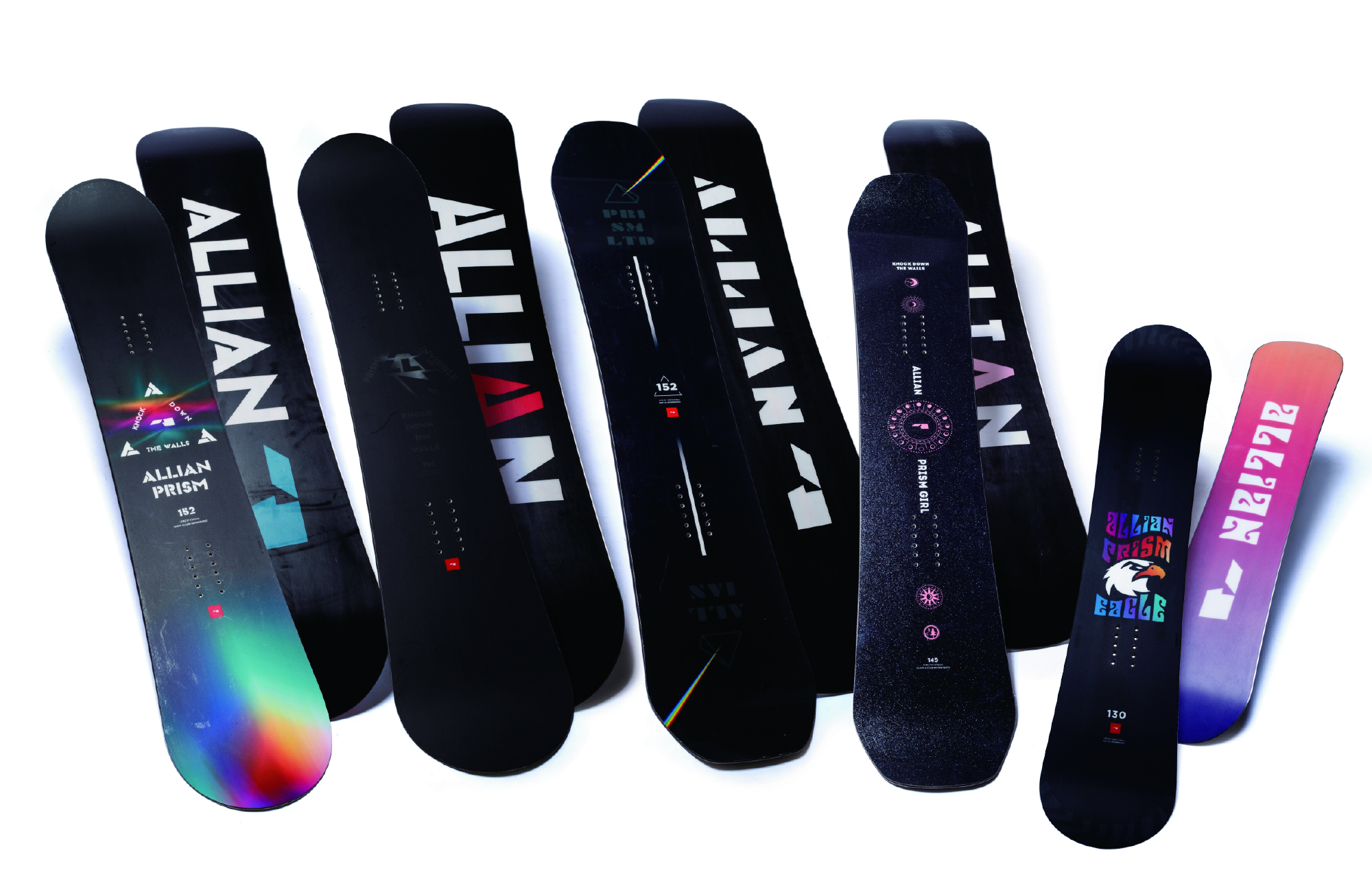 PRISM (left 1)
SIZE: 150, 152, 155 (cm)
PRICE: ¥ 83,600 (tax included)
PRISM INVISIBLE (left 2)
SIZE: 150, 152, 155, 158 (cm)
PRICE: ¥ 83,600 (tax included)
PRISM LTD (center)
SIZE: 150, 152, 155 (cm)
PRICE: ¥ 83,600 (tax included)
PRISM GIRL (Right 2)
SIZE: 140, 142, 145 (cm)
PRICE: ¥ 77,000 (tax included)
PRISM EAGLE (right 1)
SIZE: 130, 135 (cm)
PRICE: ¥ 49,500 (tax included)
You can make any number of boards that are just fast.But such things are useless.Some people looking for specialized performance in a board may appreciate it, but the snowboard Allian is looking for is not there. "A snowboard that runs well, is easy to glide even at high speeds, and is controllable" is the ideal that ALLIAN has pursued with team riders for over 20 years.Speed ​​and operability, how can you combine the contradictory performance in one snowboard at a high level?To that end, we designed many prototypes and repeated countless tests. ALLIAN's "PRISM series" is a flagship model that has continued to develop and improve.Optimal specs for men, girls, and kids make it the best all-around well-balanced board.As a result, it became a popular model that gained tremendous support from snowboarders around the world.
▶ PRISM / PRISM INVISIBLE = A high-performance model that offers both high-speed stability and operability at the highest level, and brings out the potential of the rider in any situation.This board, which uses the highest grade material "NANO CARBON 999" that is also used for racing boards for the sole, has outstanding gliding performance, and its speed far surpasses other freeride boards.It has an easy-to-handle medium flex and V-shaped carbon in the nose and tail.Therefore, operability and repulsive force are extremely high.High-speed turns, ollies and jumps are all adjusted to a balance that makes them feel easy. "PRISM INVISIBLE" has the same specs and a black base design.
▶ PRISM LTD = High-speed, aggressive free-riding model. A model with a slightly wider outline and stronger side curves than the PRISM, improving running performance and carving performance on powder and rough roads.Basalt fiber is used for the repulsive material of the nose and tail.It has a soft flex design and uses "NANO CARBON999" for the sole, making it extremely fast.
▶ PRISM GIRL = Girls model reborn with a bold update this season. "NANO CARBON 999" features overwhelming gliding performance, excellent operability, and pop repulsion, but we succeeded in reducing the weight of the swing by redesigning the nose and tail.The introduction to tricks becomes smoother and it is possible to increase the make rate.
▶ PRISM EAGLE = A youth and kids model that inherits the high performance of PRISM. This board, which uses the "IS4400" high-speed base, which is also used in ALLIAN's popular model "ATLANTIS", has high speed performance and repulsion, making it ideal for accurate riding and mastering actions in parks and pipes.With the "PRISM EAGLE", which has been balanced in consideration of your physique and leg strength, you can level up efficiently and without waste.
ALLIAN board building standards are updated each season.Going beyond that level is not easy.However, the PRISM series, which is said to be the fastest and strongest, is what it is now because it has cleared those difficult problems.Once you get your hands on it, you'll understand why people say, "When in doubt, PRISM."


Click here for information on the latest ALLIAN lineup
ALLIAN BRAND PAGE