From June 6nd (Friday), Takeru Otsuka and Kokomo Murase's X Games Norway double victory commemorative stickers will be distributed free of charge at the Burton store below. Like the medals that the two of them got, the special specifications that shine golden.Take this opportunity to get stickers and share the feats of the two together!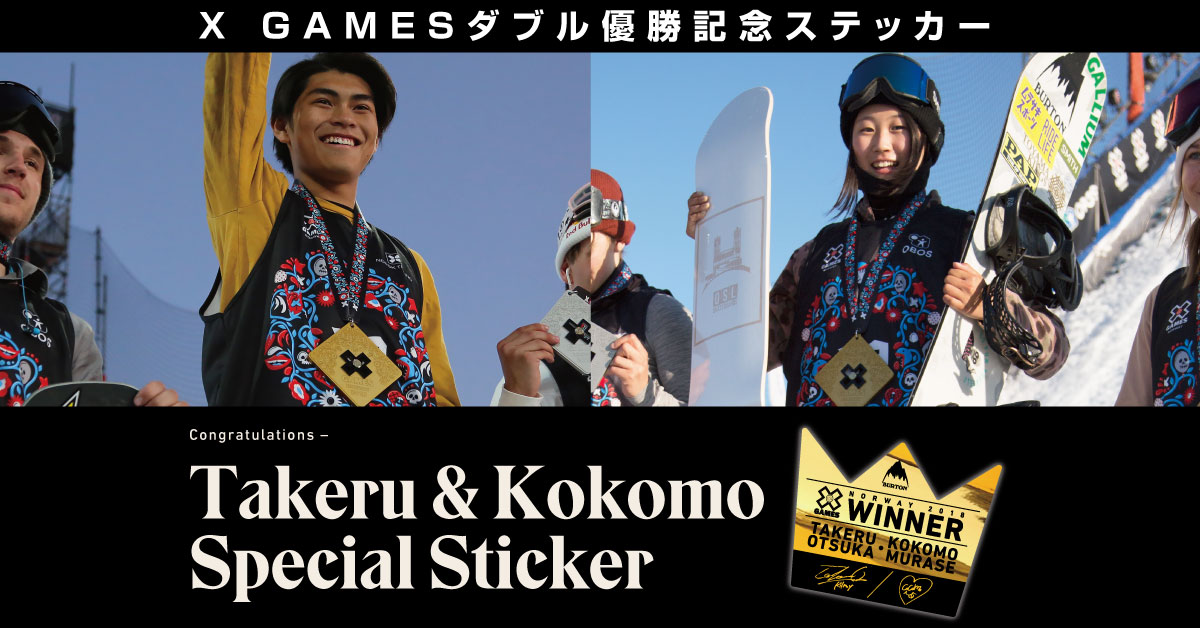 The Burton Flagship Store Tokyo will also showcase medals and bibs, as well as the boards they actually used at the X Games Norway.Let's go check it out !!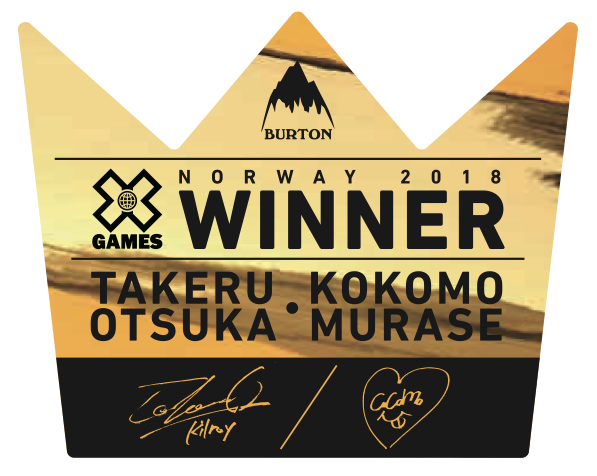 ■ Period: June 2018, 6 (Friday) ~
* It will end as soon as the stickers run out.
* Up to 1 ticket per person.
* The exhibition at Burton Flagship Store Tokyo will be until July 2018, 7 (Sun).
■Target stores
Burton Flagship Store Tokyo 5-17-4 Jingumae, Shibuya-ku, Tokyo [TEL] 03-5738-2777
Burton Flagship Store Nagano 2298 Yashima, Nagano City, Nagano Prefecture [TEL] 026-219-2041
Burton Outlet Yokohama 4-2 Shiraho, Kanazawa-ku, Yokohama-shi, Kanagawa [TEL] 045-349-3044
Burton Outlet Karuizawa 1178 Karuizawa, Karuizawa-machi, Kitasaku-gun, Nagano Karuizawa Prince Shopping Plaza NE42A
[TEL] 026-741-3031
Burton Niseko 190-13 Yamada, Kutchan-cho, Abuta-gun, Hokkaido [TEL] 0136-55-5697
Burton Nagoya 5-16-19 Sakae, Naka-ku, Nagoya-shi, Aichi Neylix Building 1F / 2F
[TEL] 052-684-6724
Takeru Otsuka
Takeru Otsuka @takeru_otsuka
A member of the Kilroy crew formed by seven selected young riders.While participating in many shoots, he actively entered the tournament and has always achieved good results.Highly evaluated by overseas professionals. SAJ strengthening designated player from 7.Currently a 2018-year-old second-year high school student.
・ Main results in the tournament
2017 World Rookie Slopestyle Overall Winner
2018 World Rookie Slopestyle Overall Winner
2018 Burton US Open Slopestyle 8th
2018 X Games Norway Big Air Winner
Kokomo Murase
Kokomo Murase (also here) @cocomonsan
At the X Games Norway the other day, he won the gold medal at the age of 13, the youngest in the history of the tournament.In addition, for girls, the backside double cork 1260 was decided for the first time in the history of the tournament, and it suddenly became one of the top riders in the world. Despite being 13 years old, he boasts overwhelming strength in Japan.
・ Main results in the tournament
2016 World Rookie Slopestyle Overall Winner
2017 World Rookie Slopestyle Overall Winner
2018 World Rookie Slopestyle Overall Winner
2018 Burton US Open Slopestyle 4th
2018 X Games Norway Big Air Winner