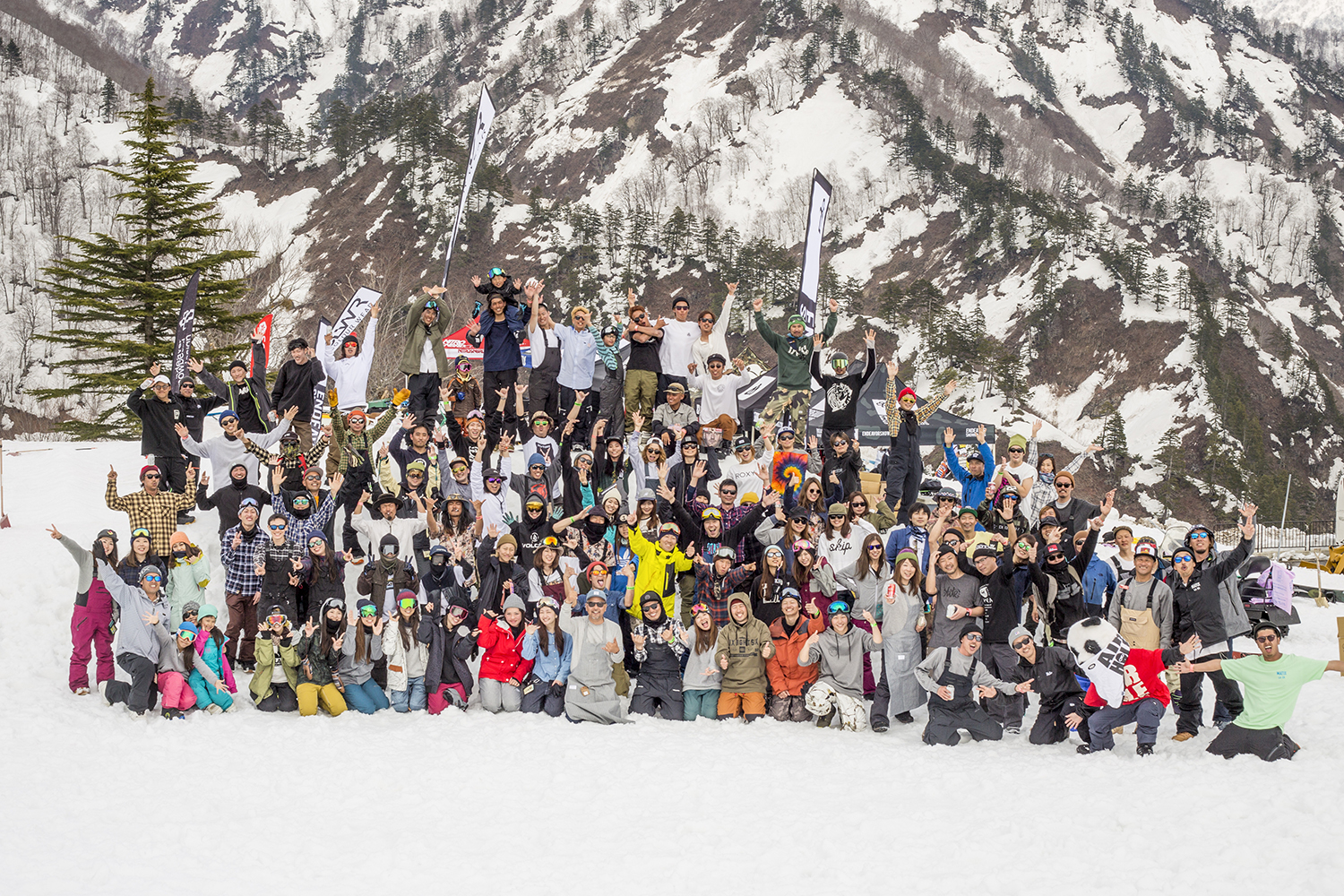 The other day, FUSION GARDEN was held at Okutadami Maruyama Ski Resort in Niigata Prefecture on 4/8 (Sat) -9 (Sun). This time, which was the 7th time to be held, it was held for over a year and it was powered up and returned.Deliver the pattern!
Photo: Kentaro Fuchimoto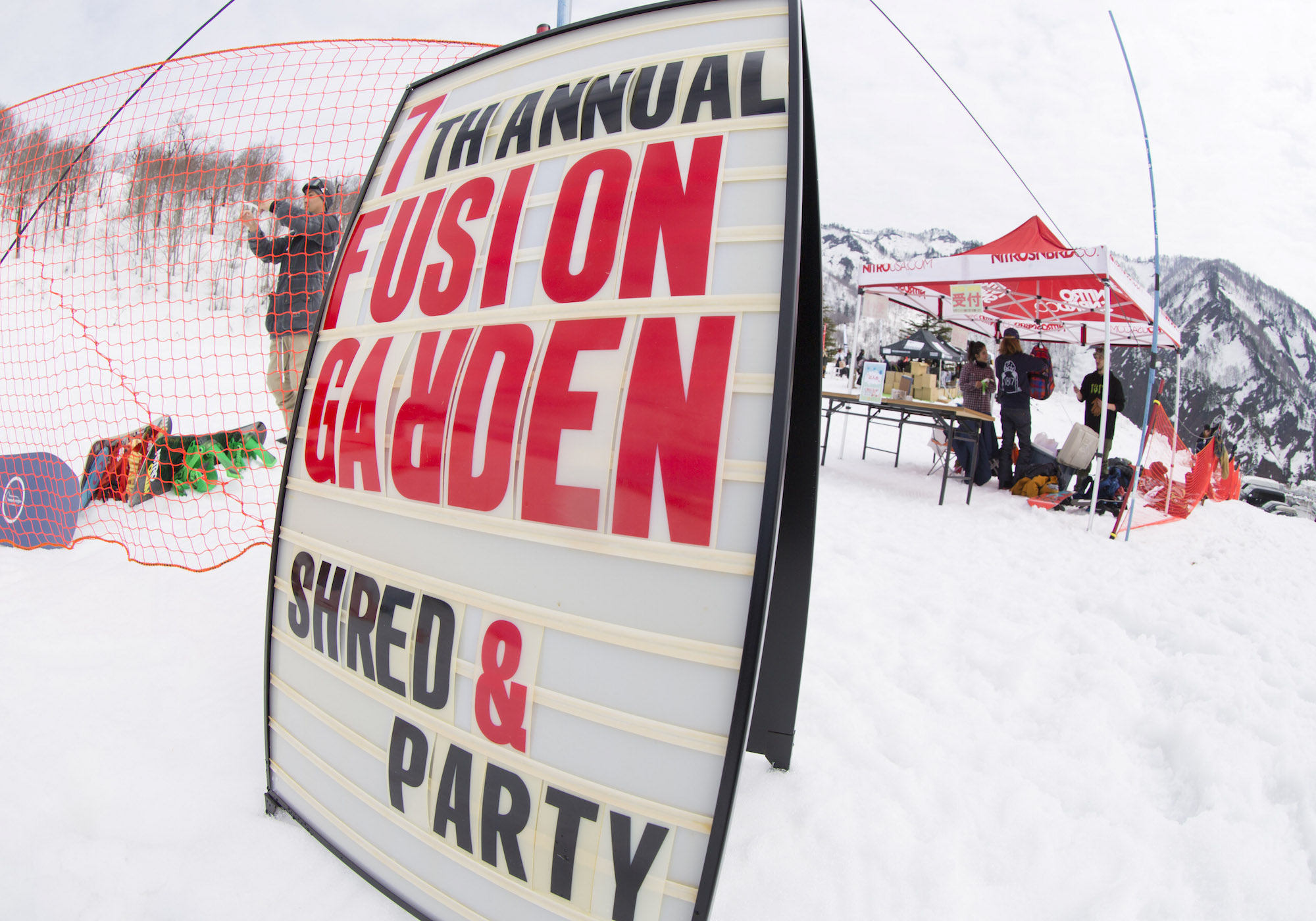 Okutadami Ski Resort, a dream space
It was rumored from all sides that there were many users who had been waiting for FUSION GARDEN before the event because it could not be held last season due to lack of snow.
This event is indispensable to Yokonori, "Slide, drink, dance" presented for users by distributor FUSION INC., Which handles many cool brands such as ENDEAVOR, NITRO, SESSIONS, L1, (and many others). An event that incorporates the three elements to the maximum.Another big feature is that you can enjoy the whole day and night.The venue is Okutadami, which is familiar every year.To access here, cross Yuzawa on the Kan-Etsu Expressway, run for about 3 minutes, and get off the highway at Koide IC.After that, if you drive down the road for about 1 minutes, you will find a long tunnel called the Silver Line.After running the tunnel for about 30 minutes, you will reach another world with abundant snow that can be said that the season has returned for about a month.That is the Okutadami Maruyama Ski Resort, a heavy snowfall area that Niigata is proud of.The tunnel that can be accessed here is only accessible from 20:20 to 1:6, and after 00:18, it becomes a "dream horizontal space" where only those who like it remain.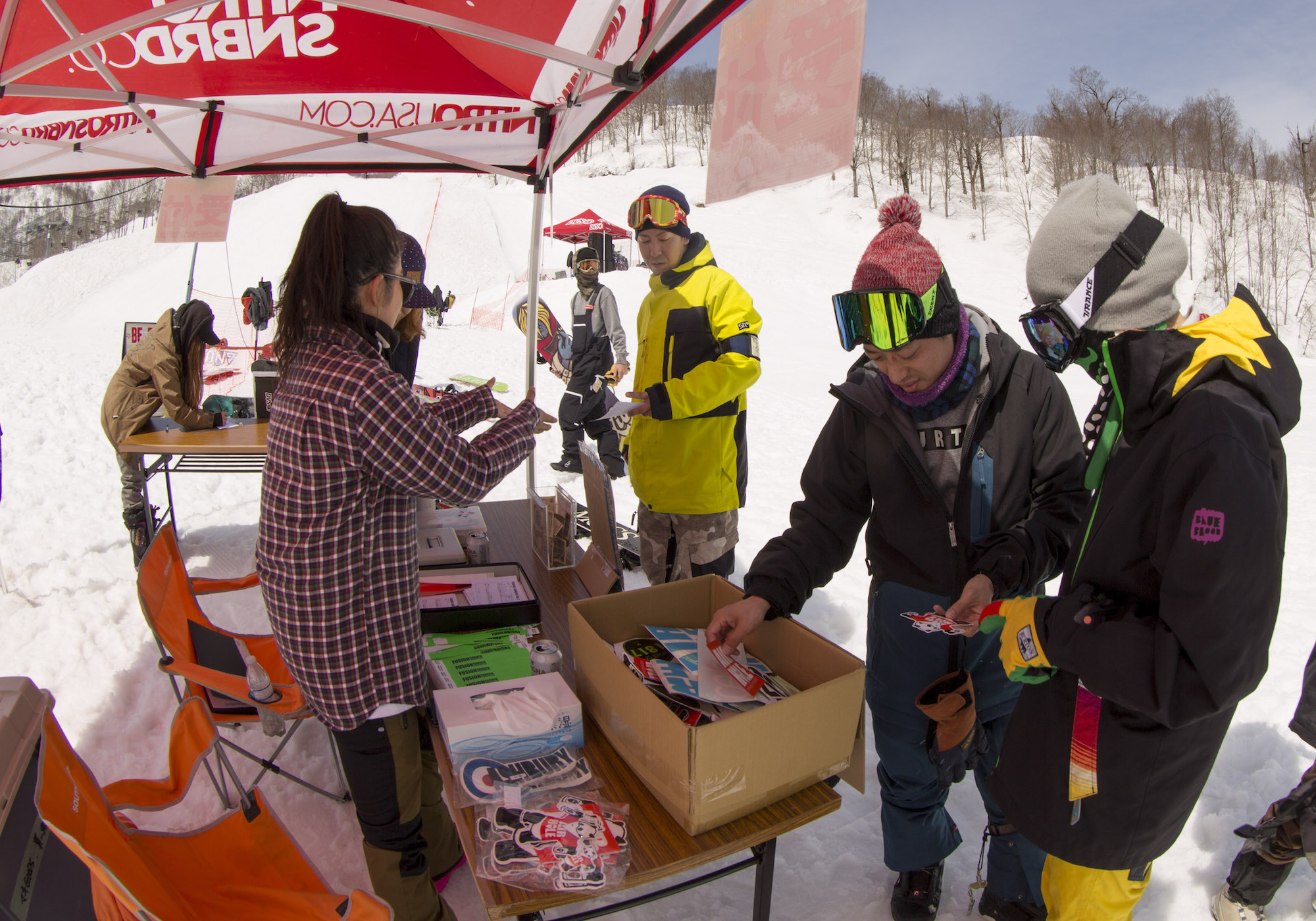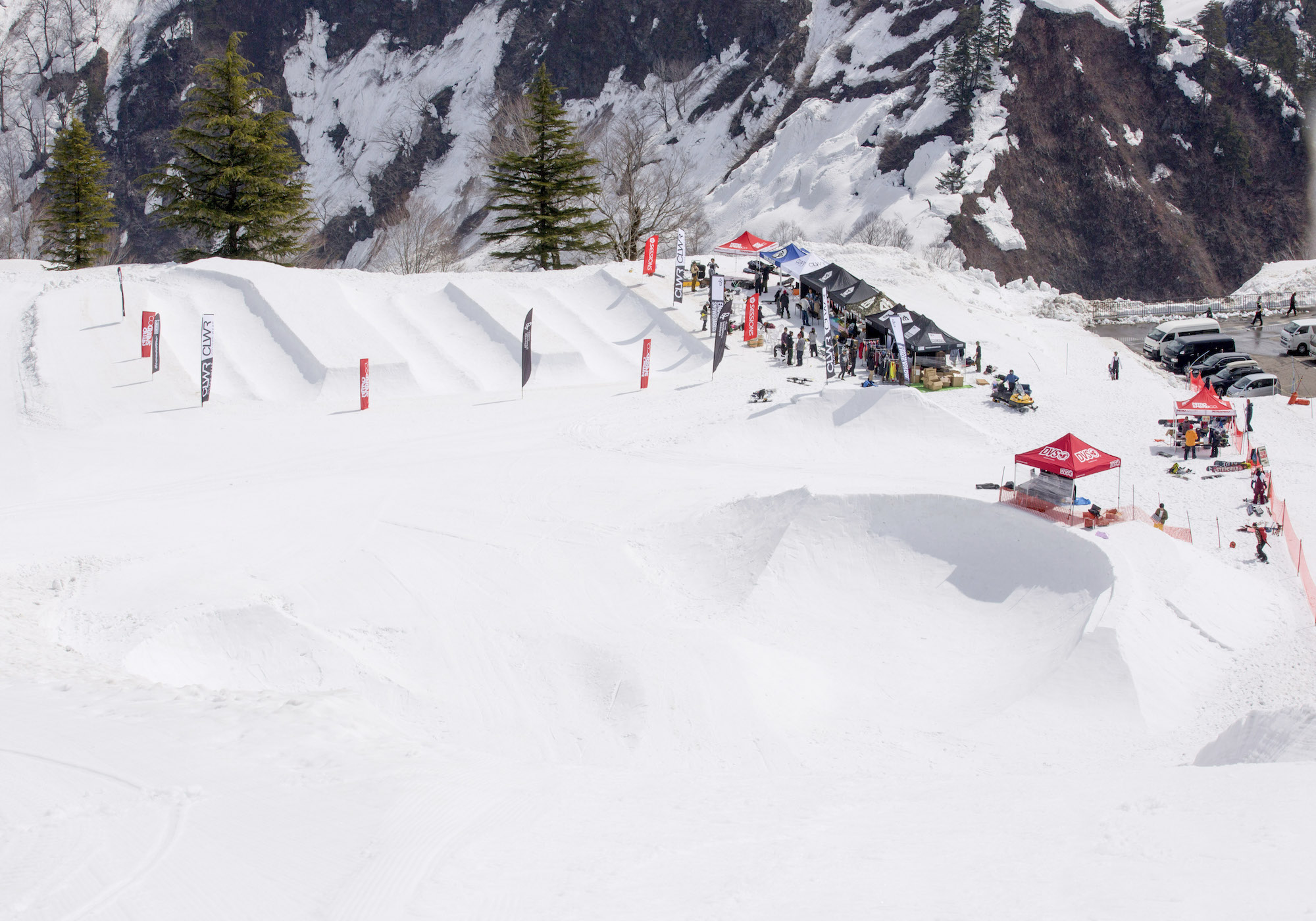 Original snow items that can be enjoyed by FUN
Now, let's report on this FUSION GARDEN VOL.7.On the day of the event, the weather forecast was overturned, and the event started in the best conditions, blessed with a rainy day dopecan.This year too, FUSION riders and Okutadami locals, led by Shingo Kono, the core rider of ENDEAVOR, created original items for several days.Original snow ramps and bank & bowl sections that can only be skied at this event.All high quality items are completed, and participants are absorbed in riding repeatedly.Probably the only snow lamp of this quality is this event.Accelerate while pumping, and if you don't take a good line, it will stop at the bottom.It's a super interesting item that I'm addicted to this difficulty and will continue to slip if I notice it.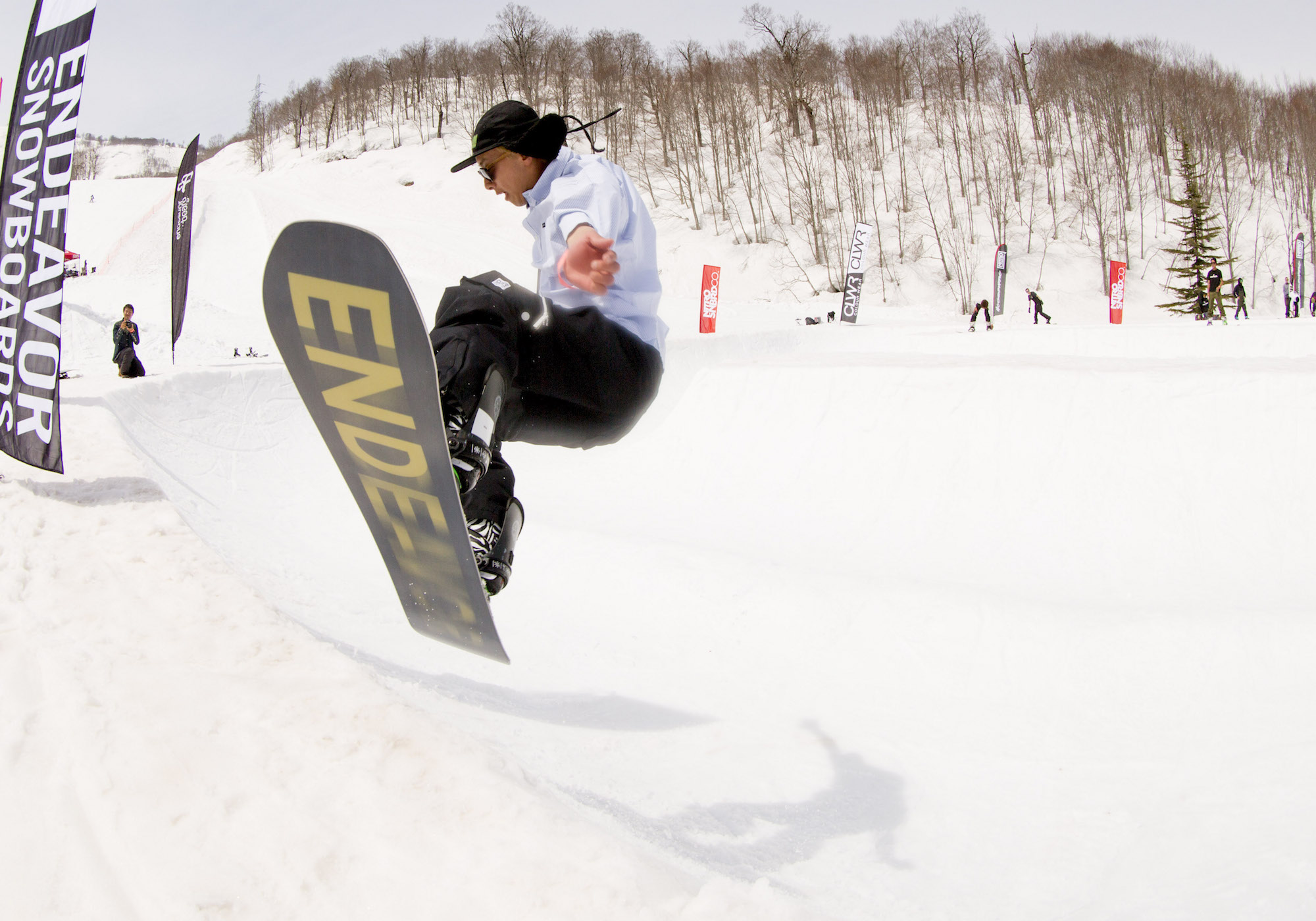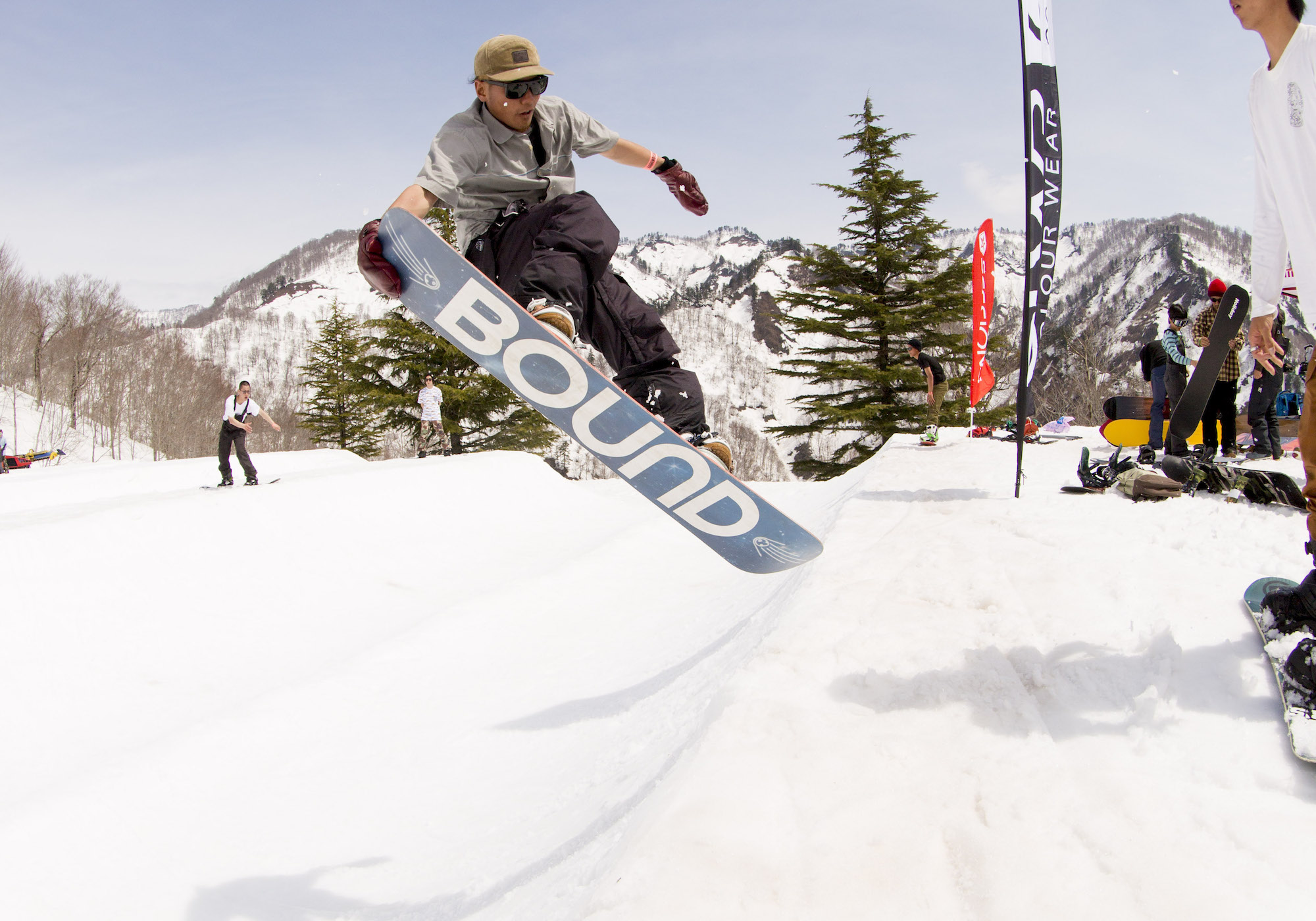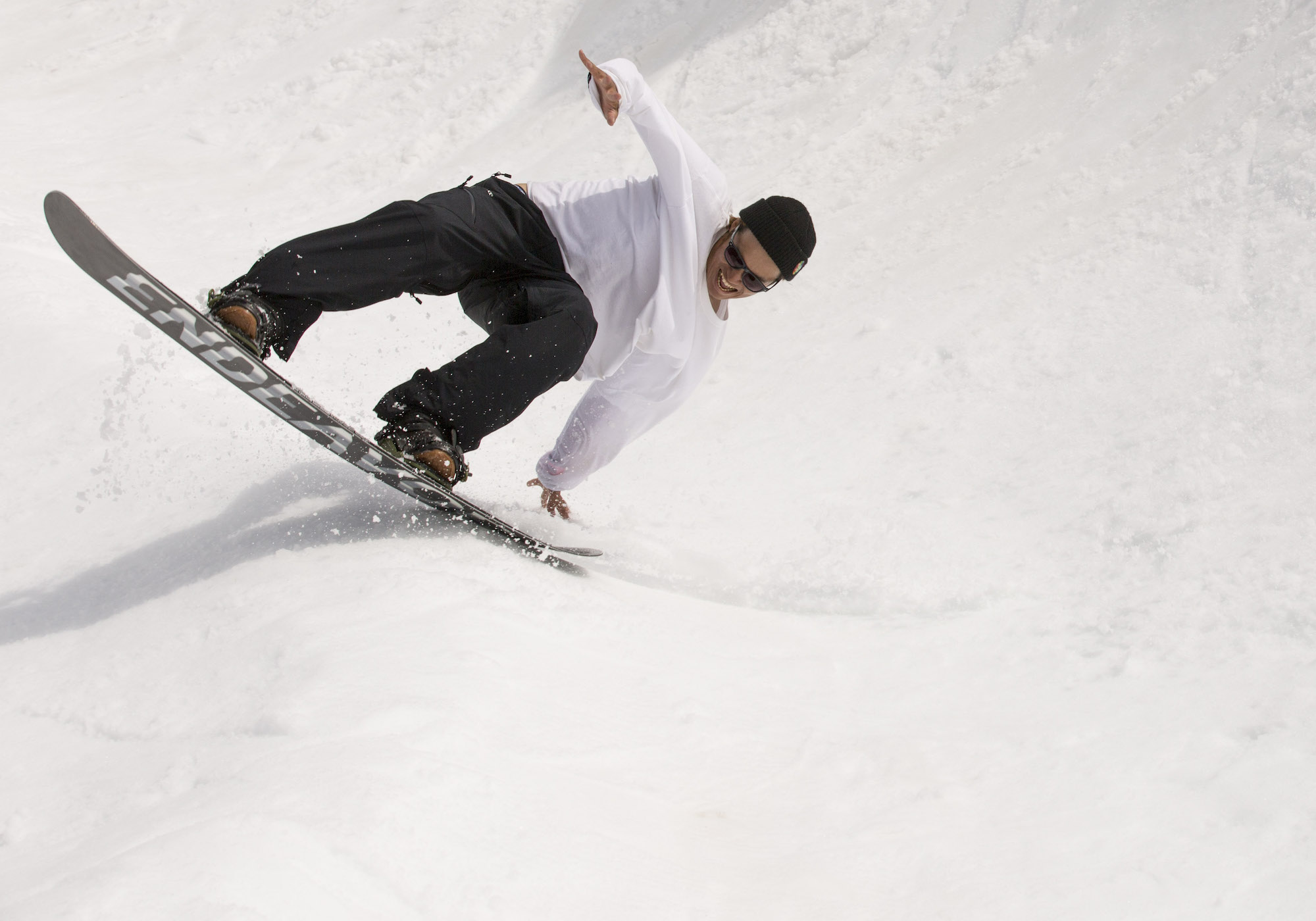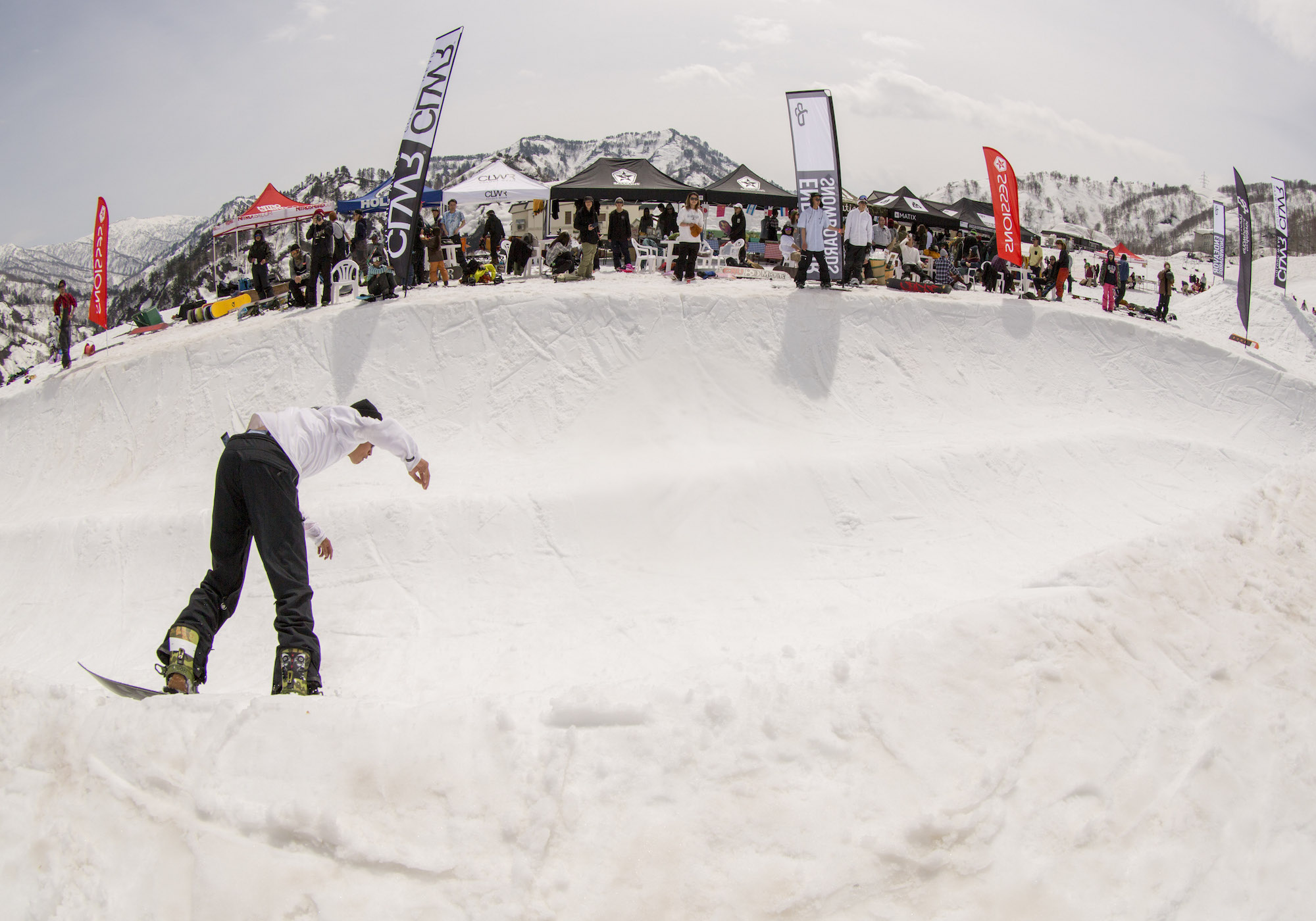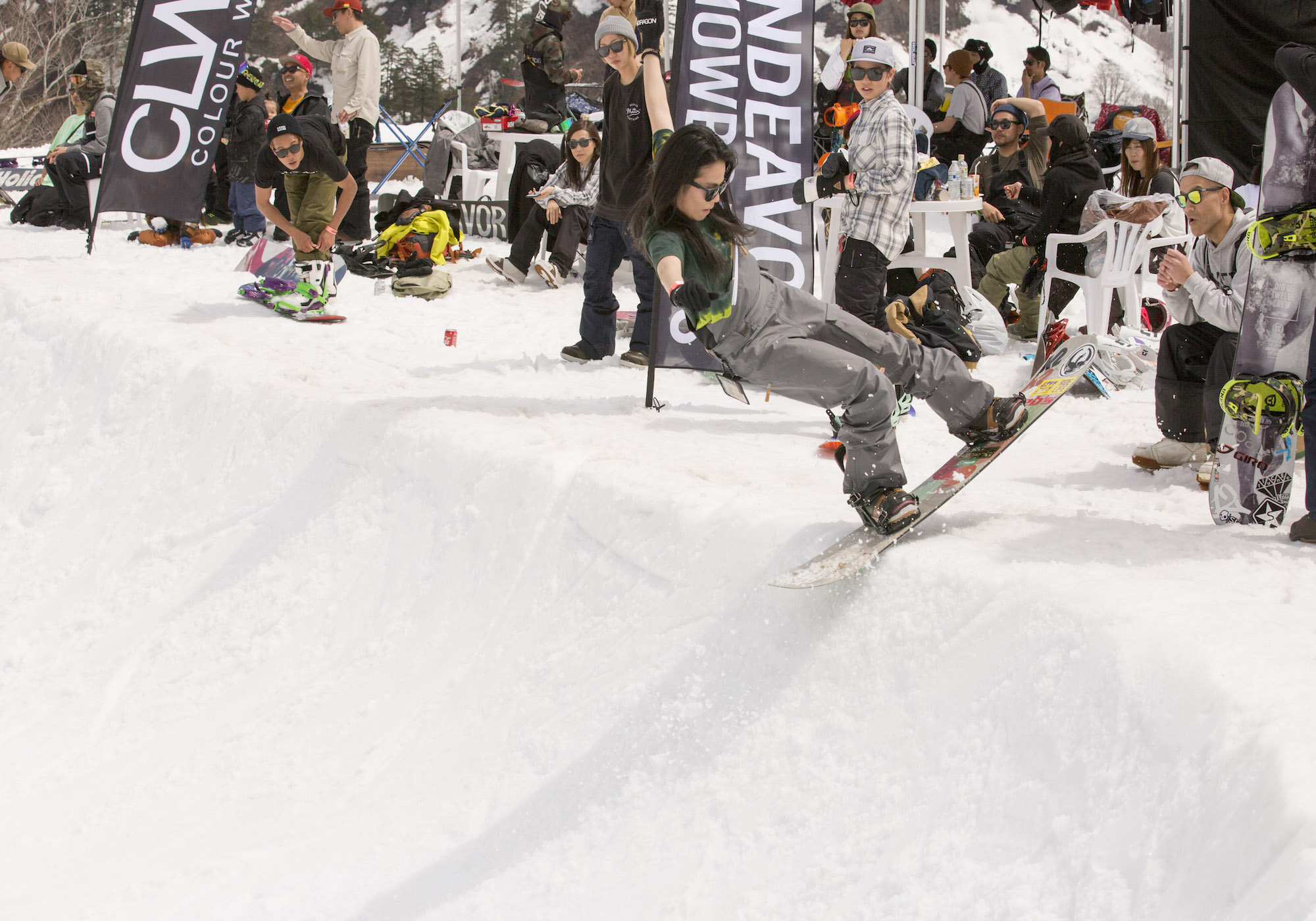 I slipped down in the morning, and at lunchtime when I was hungry, I ate a hamburger that the FUSION crew made with all my heart and toasted with beer!A full-scale BBQ is also held at the tent booth, and the "space = garden" where you can enjoy mellow while drinking while watching a snow lamp session is spreading.Exactly FUSION GARDEN.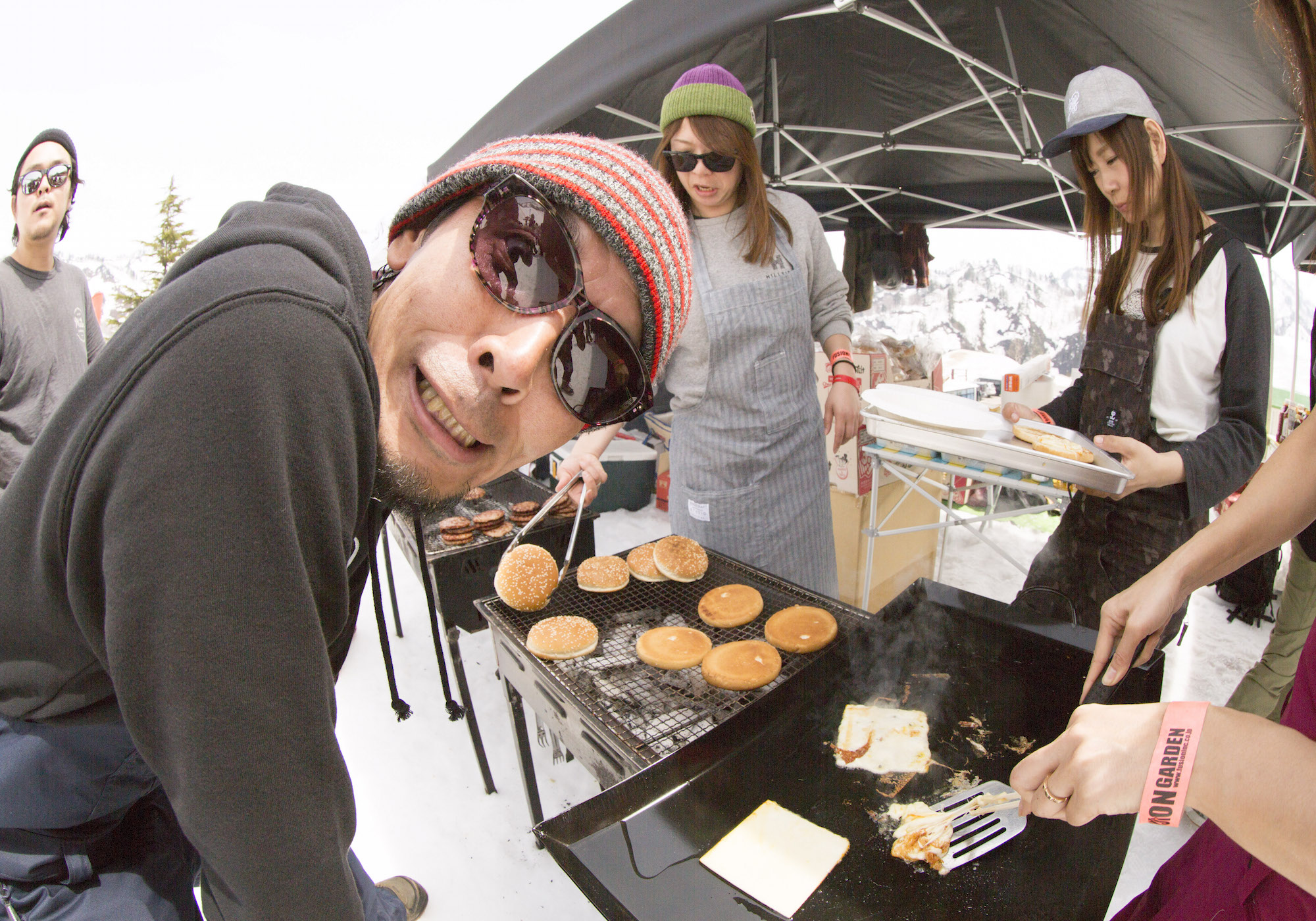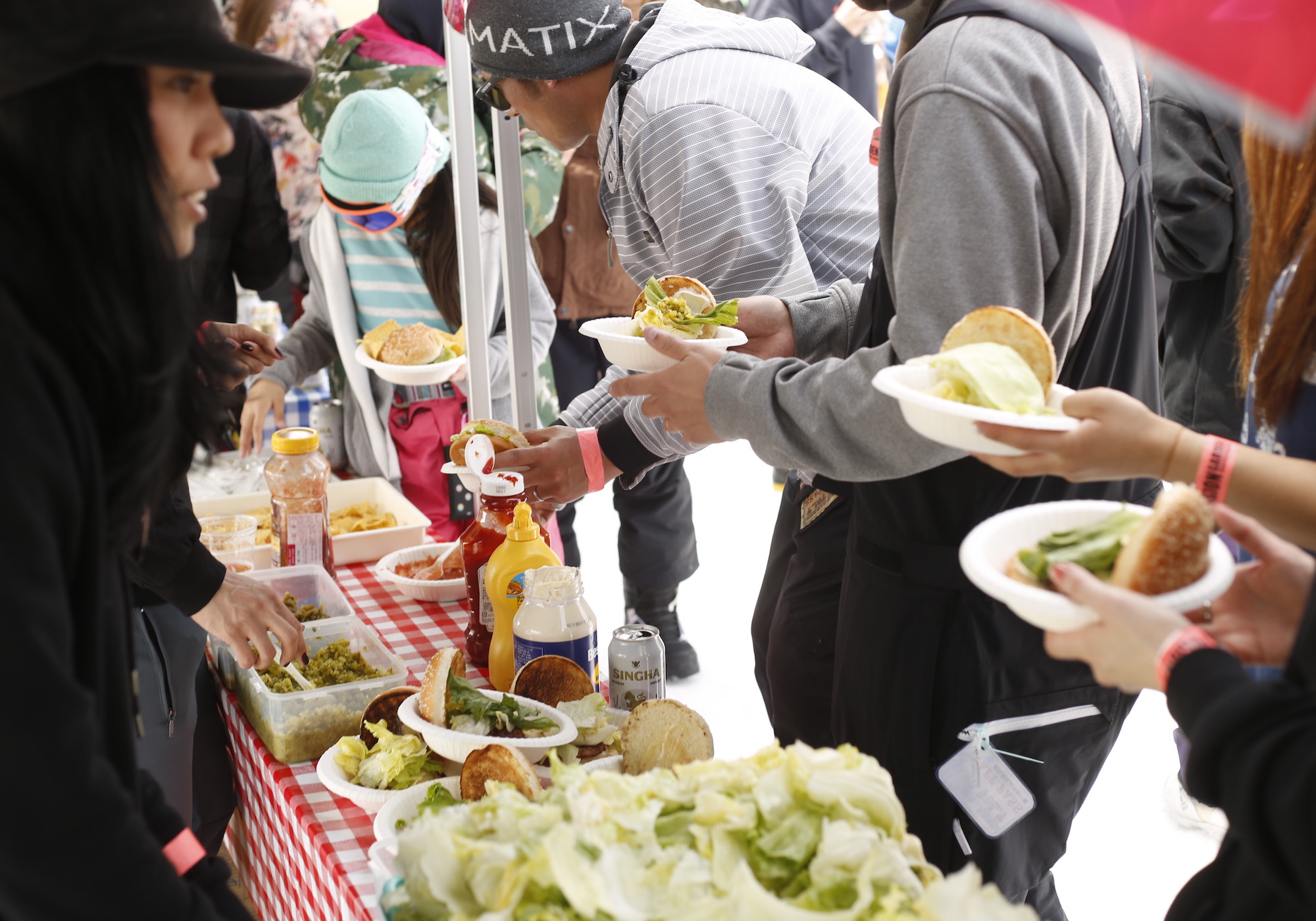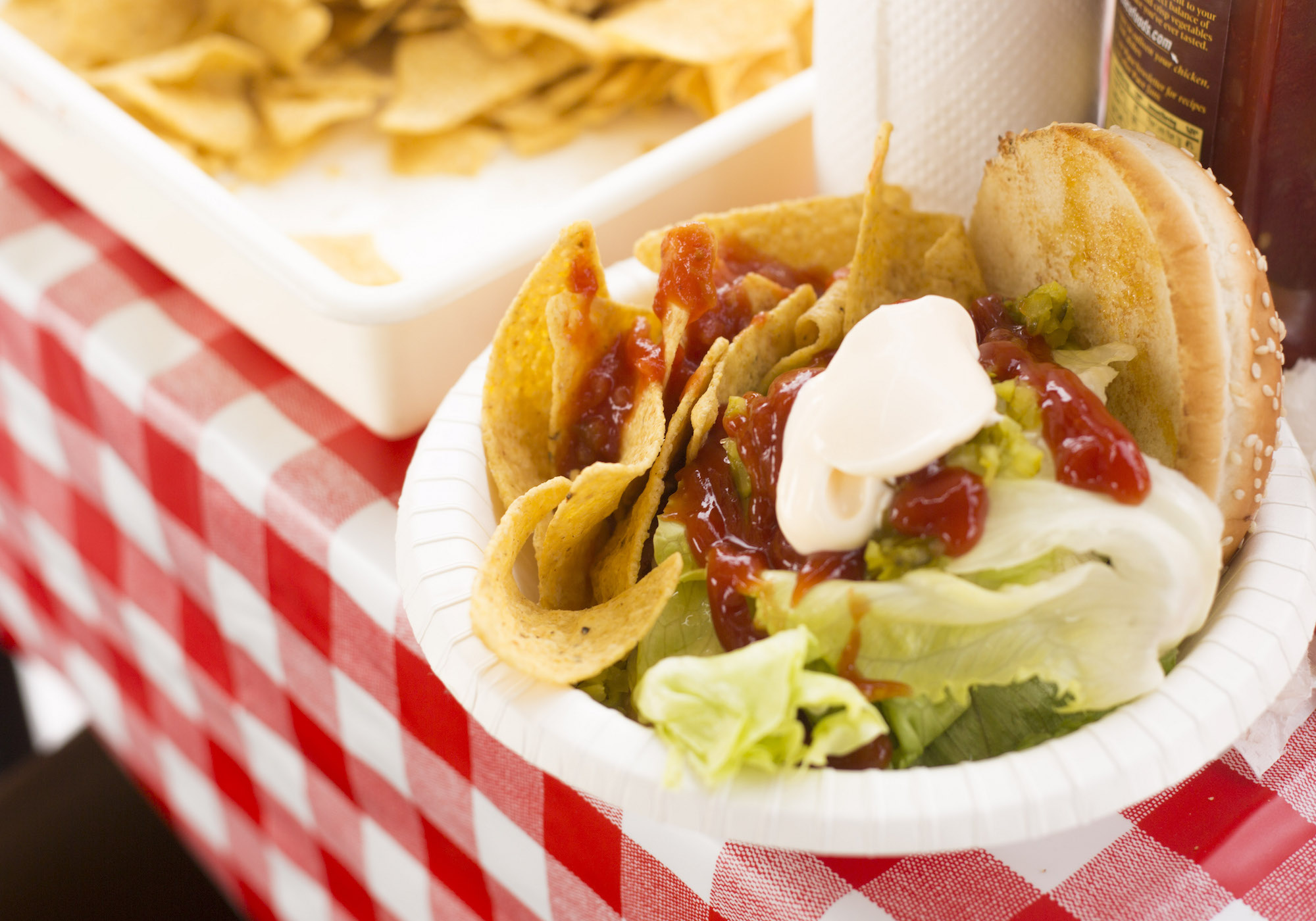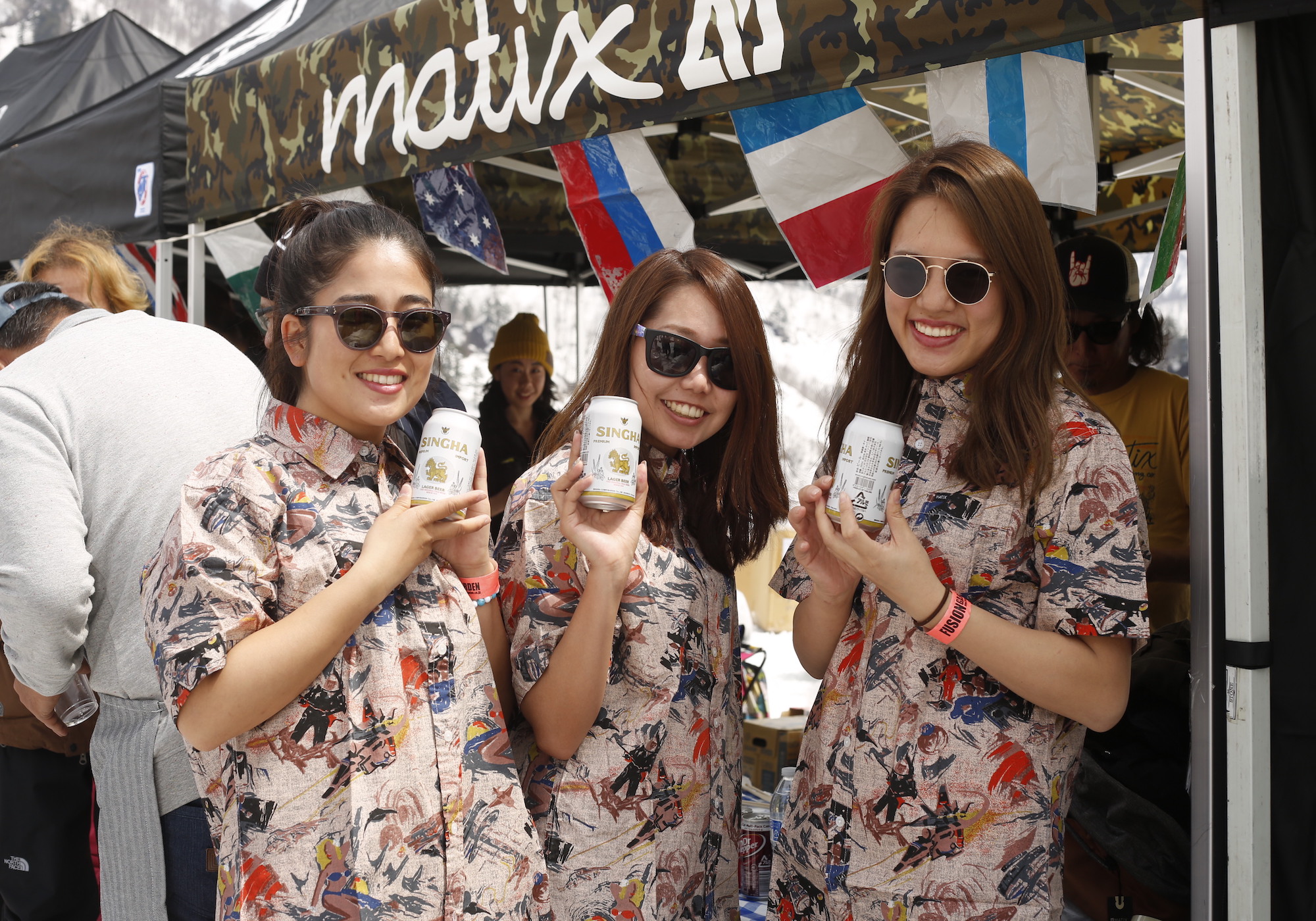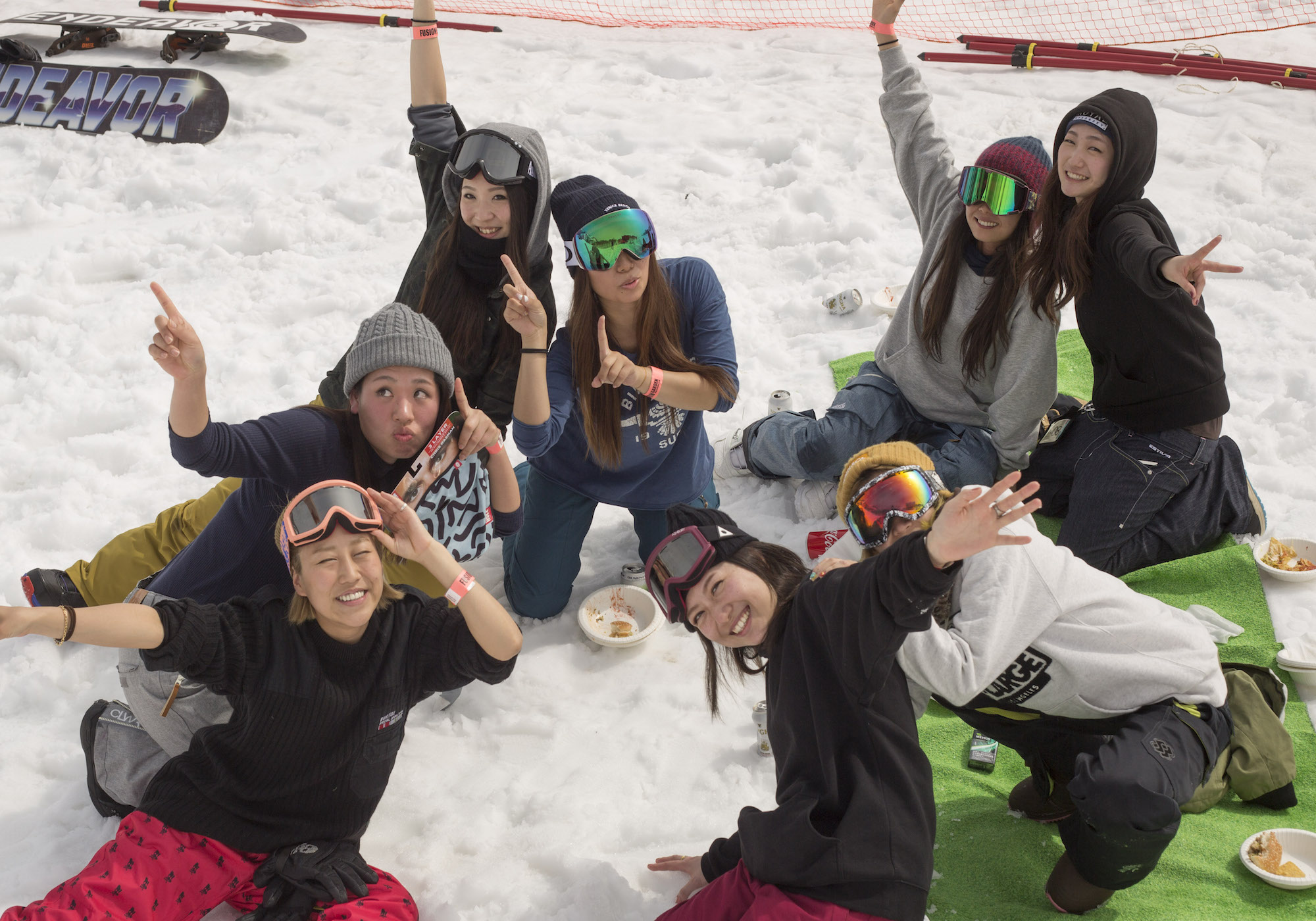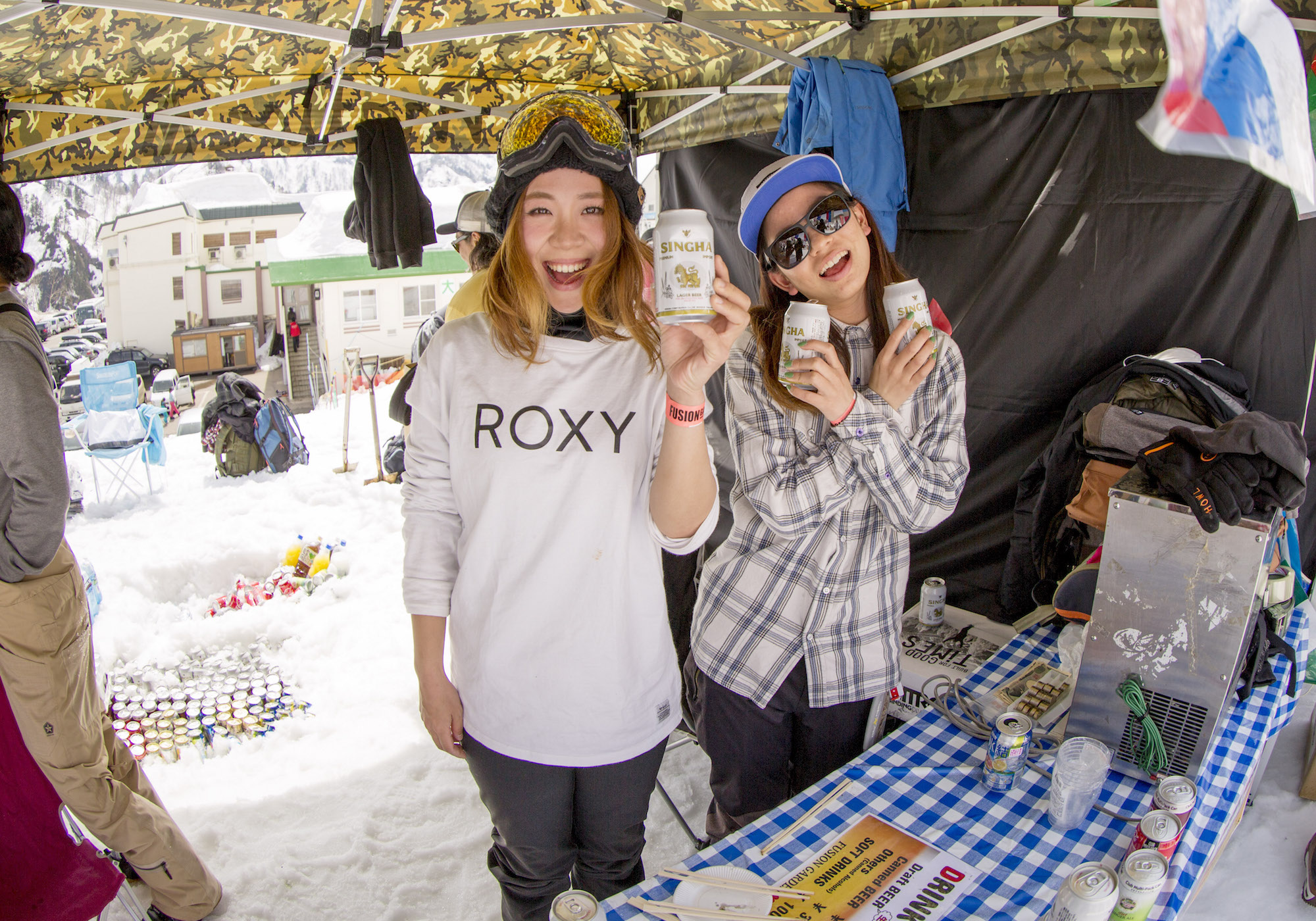 At the booth inside the venue, there is also a charity market with an infinite number of items, and you can purchase various items such as clothing, gloves, goggles, apparel, and shoes. (Sales of goods and liquor will be donated to the reconstruction of the Great East Japan Earthquake)
We also have a test drive event for the next NEW BOARD of ENDEAVOR, NITRO, HOLIDAY, so you can test drive the latest model you care about on the spot.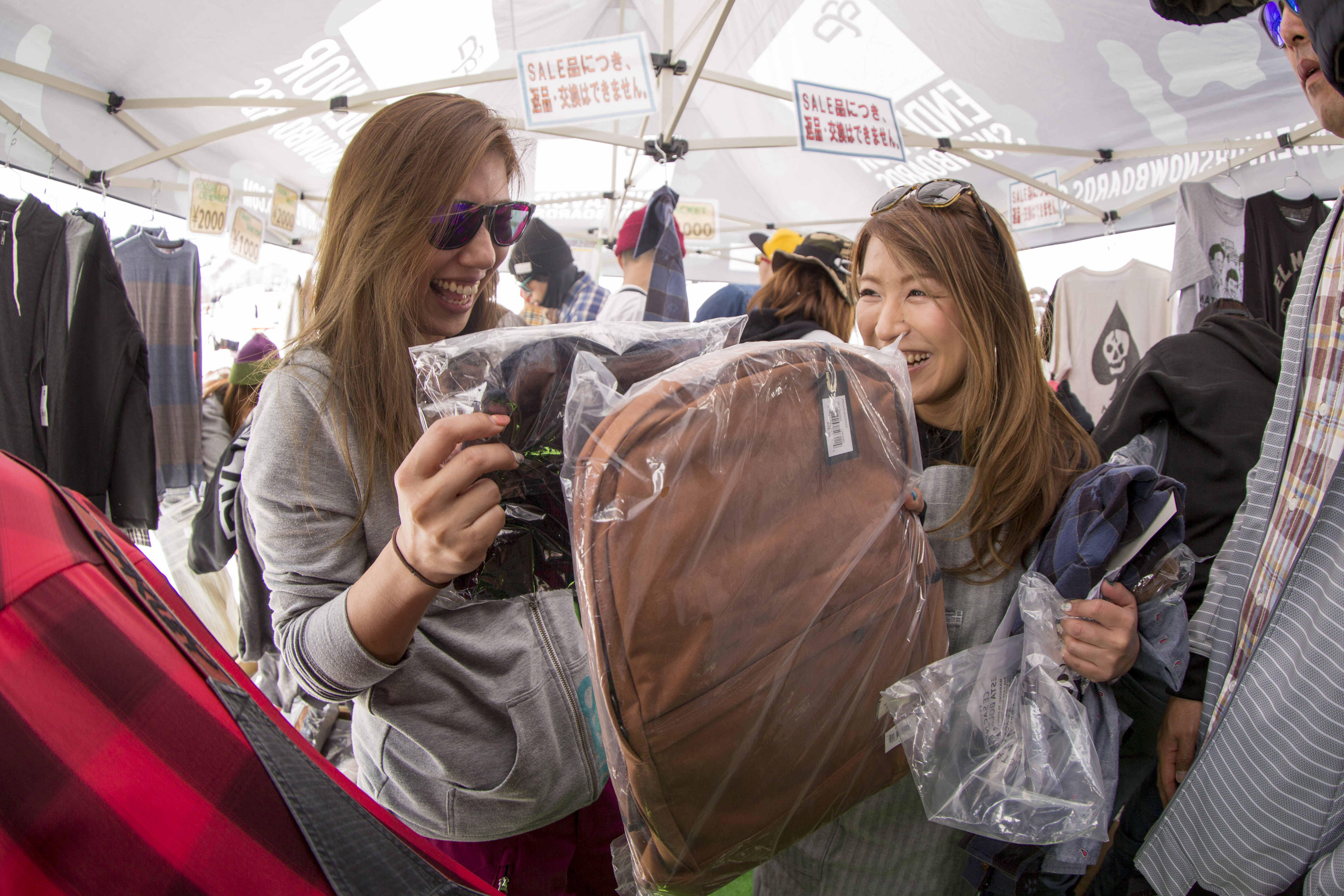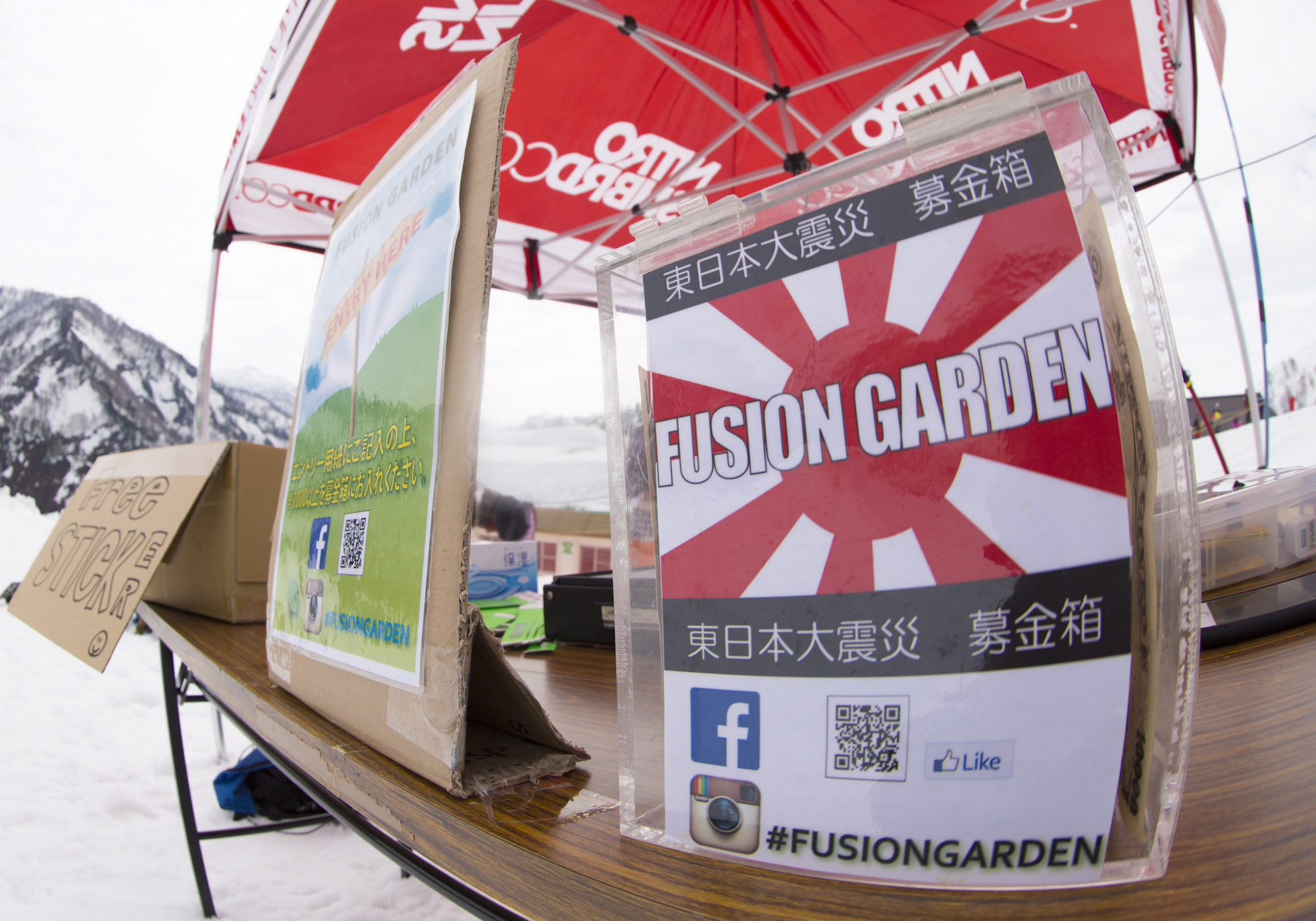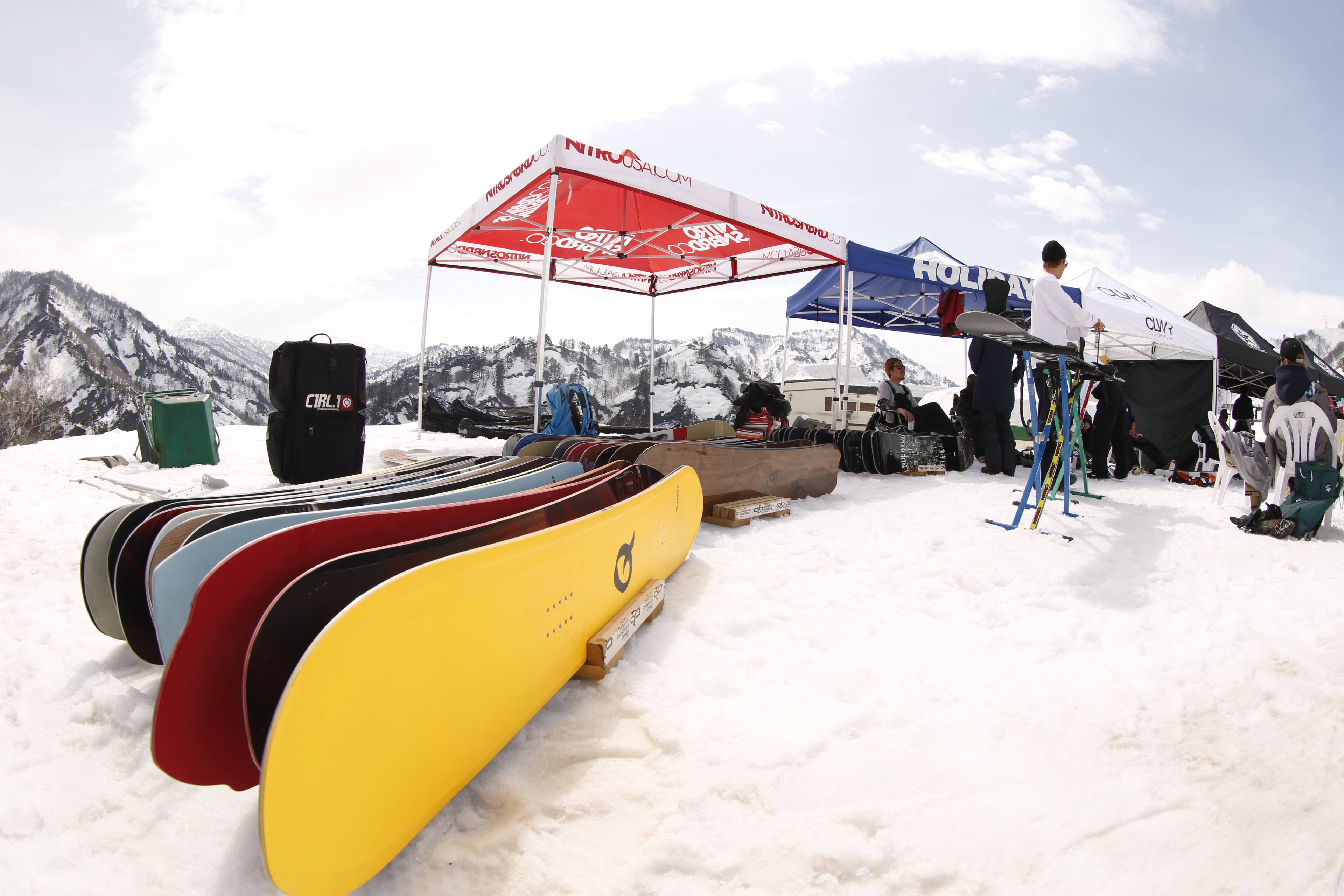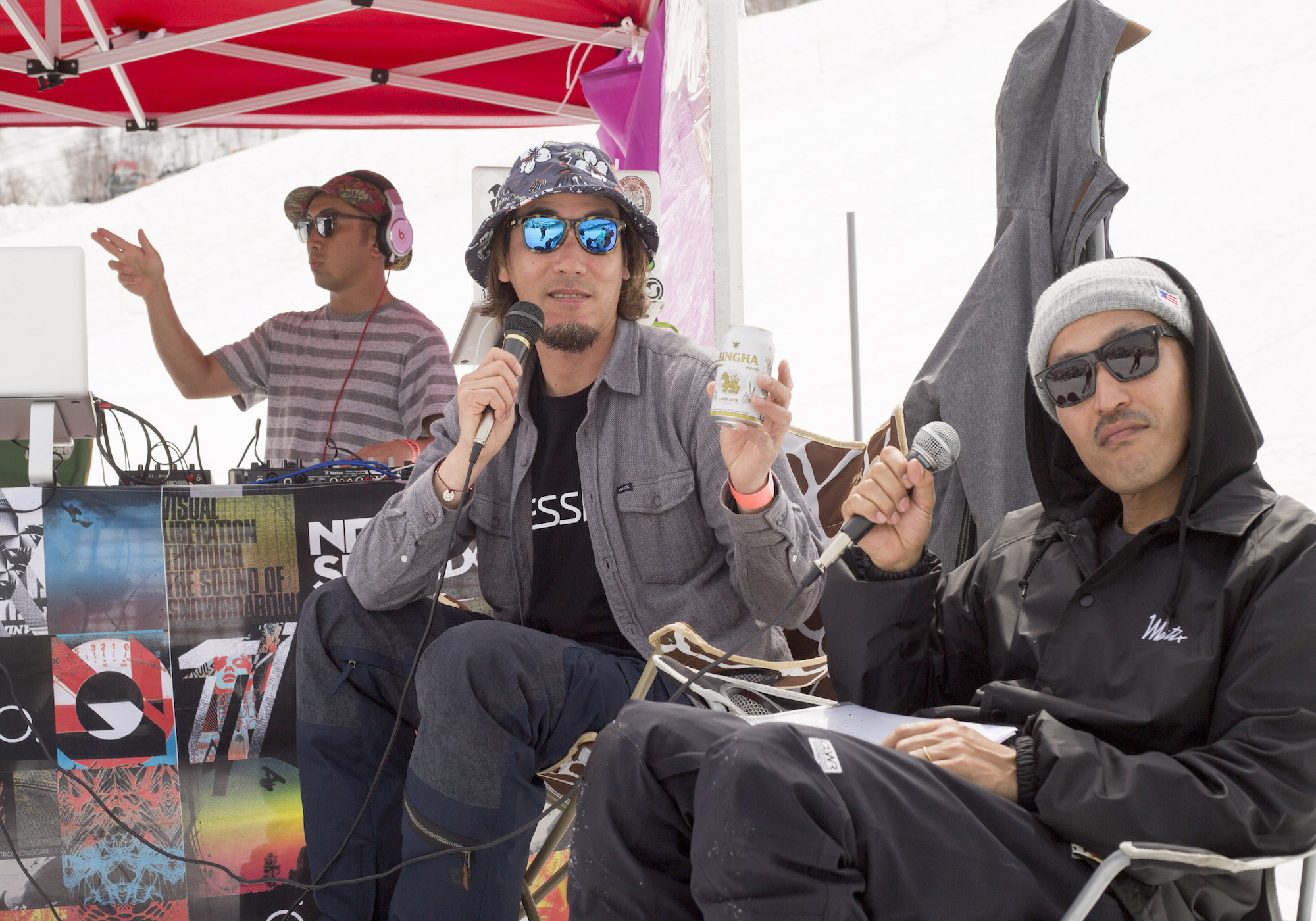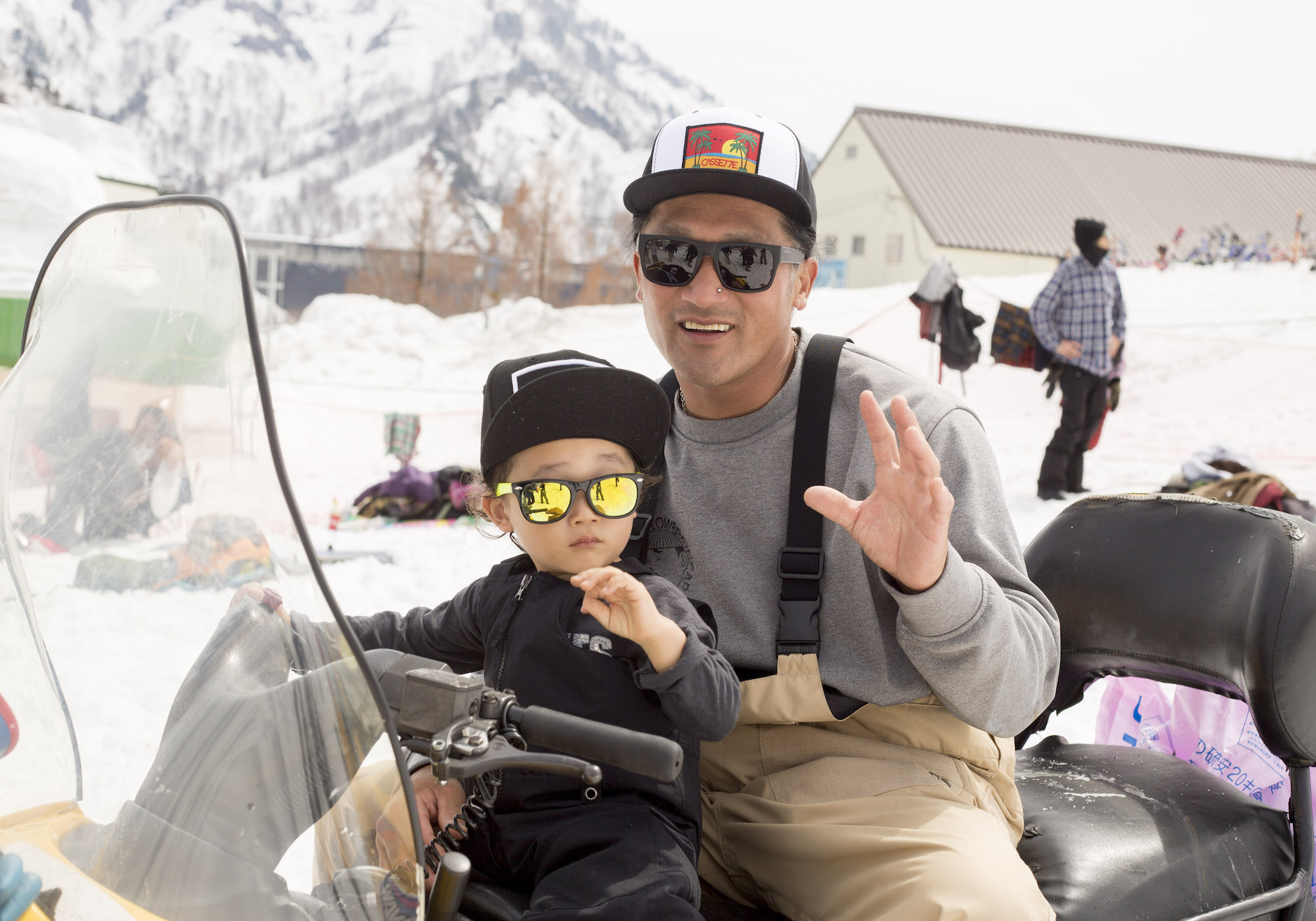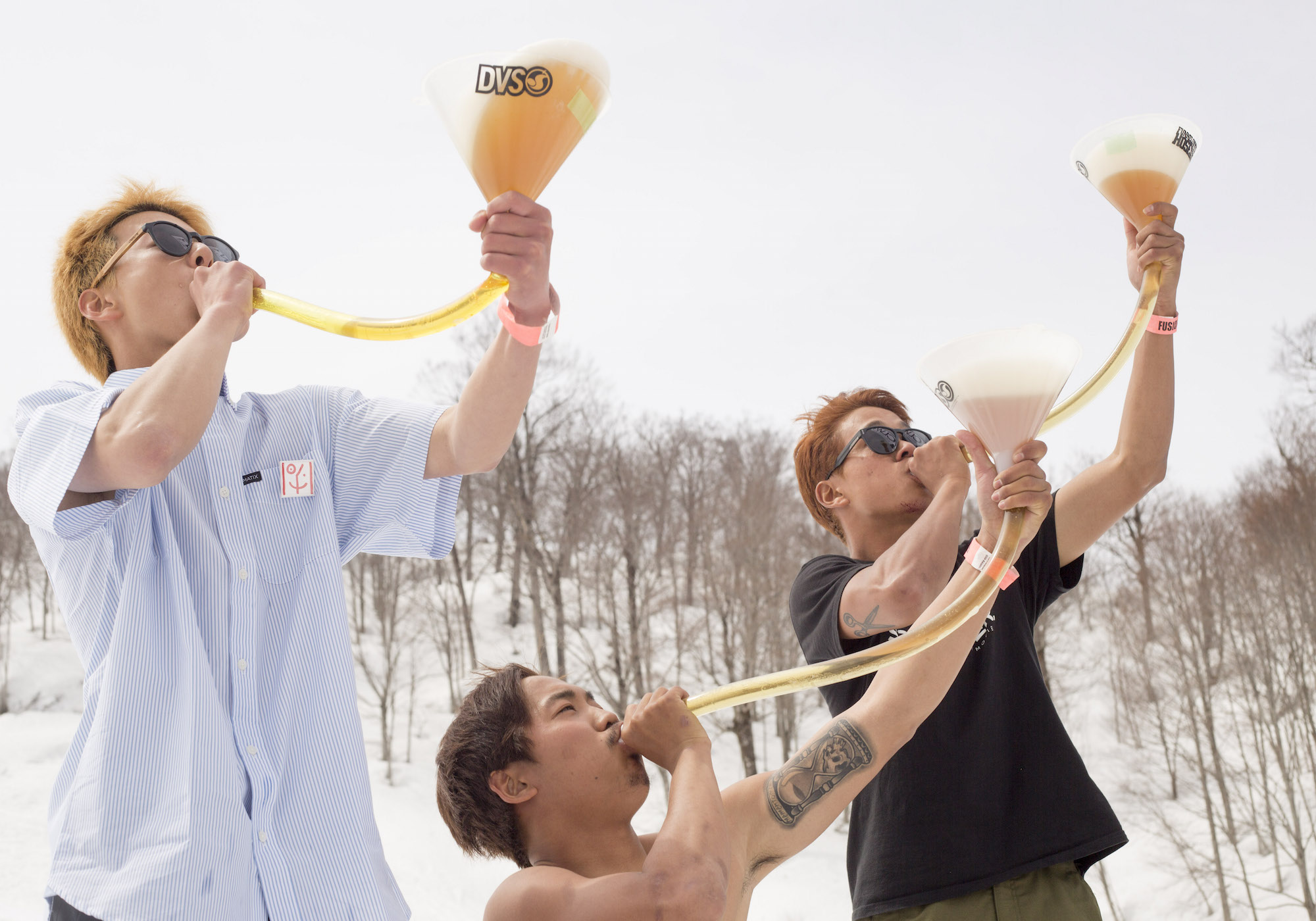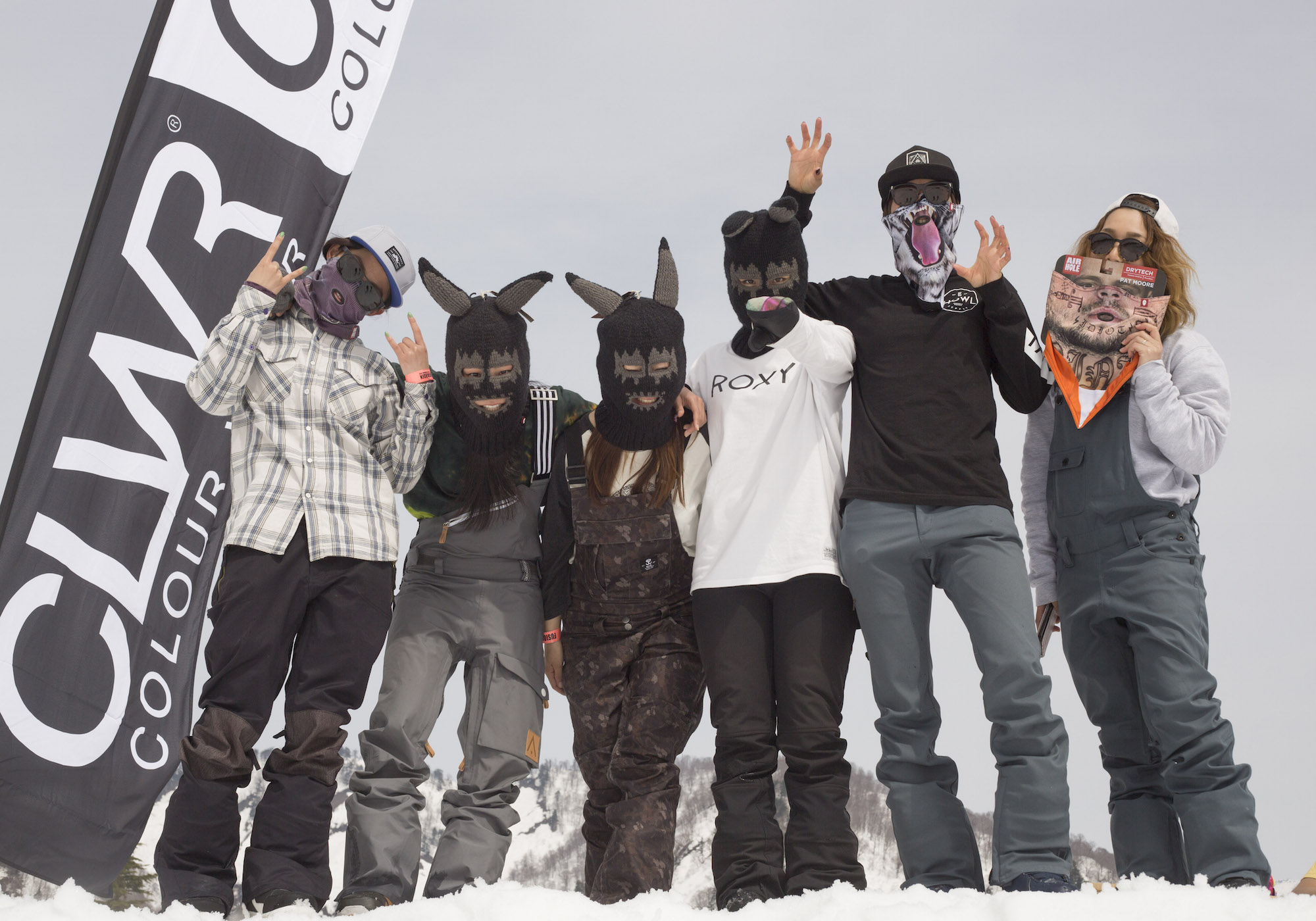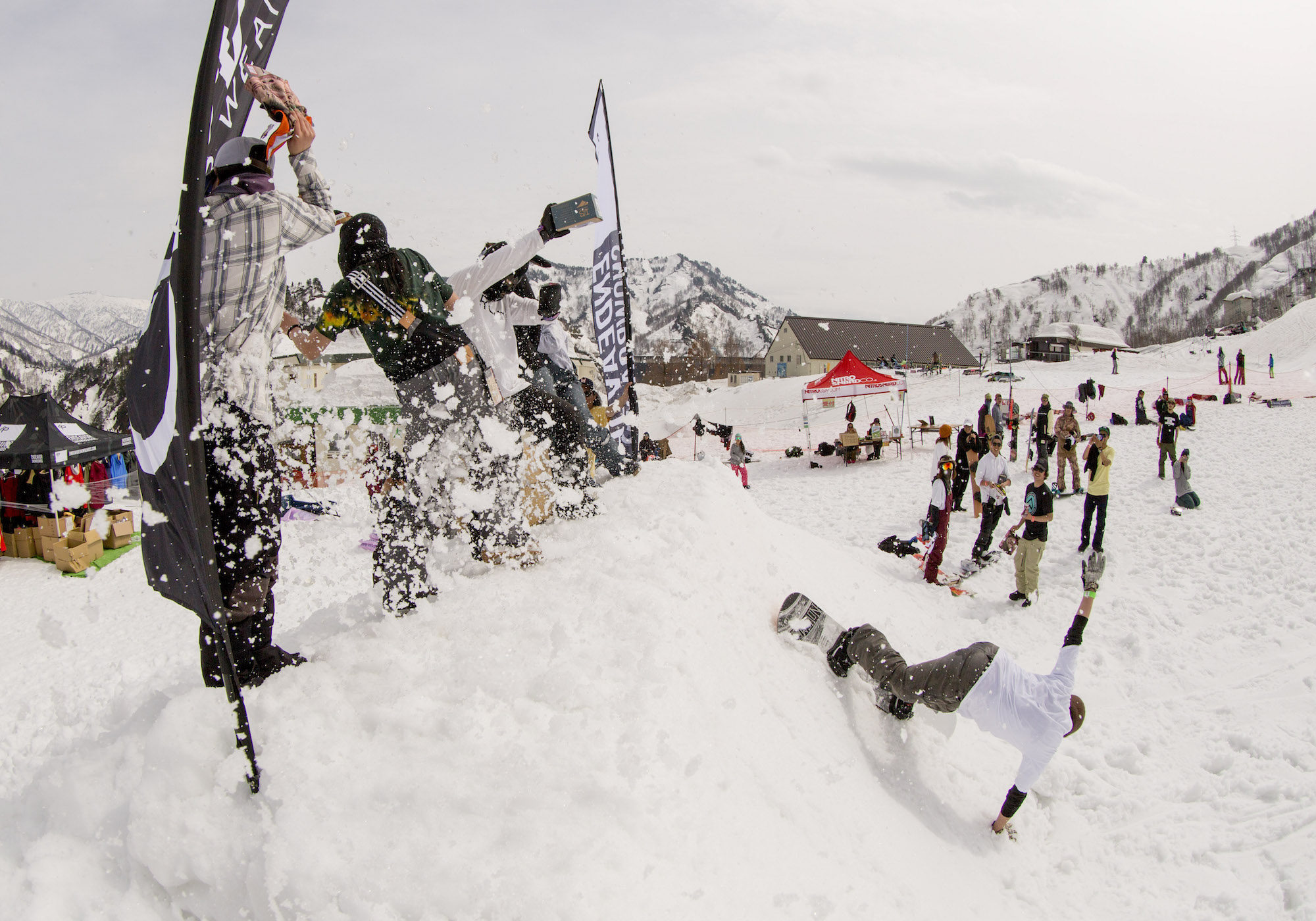 Event A beer drink contest at the annual DVS Beer Bong.Here, not only men and women, but anyone who is proud of drinking can participate, but I want to be prepared for getting drunk and slowing down after this.
Another petite event is a session where girls riders named Slash Contest are sprayed.It is a FUN contest that anyone can participate in, in which prizes are sent to those who have been exposed to more snow for the masked girls riders who stand on the items.
Among them, the rider's session at the bank & bowl item held in the afternoon was particularly exciting, and it was a chance to see the powerful sliding of the riders up close.On this day as well, FUSION riders and MIZOU crews were excited about the venue with a style of sliding.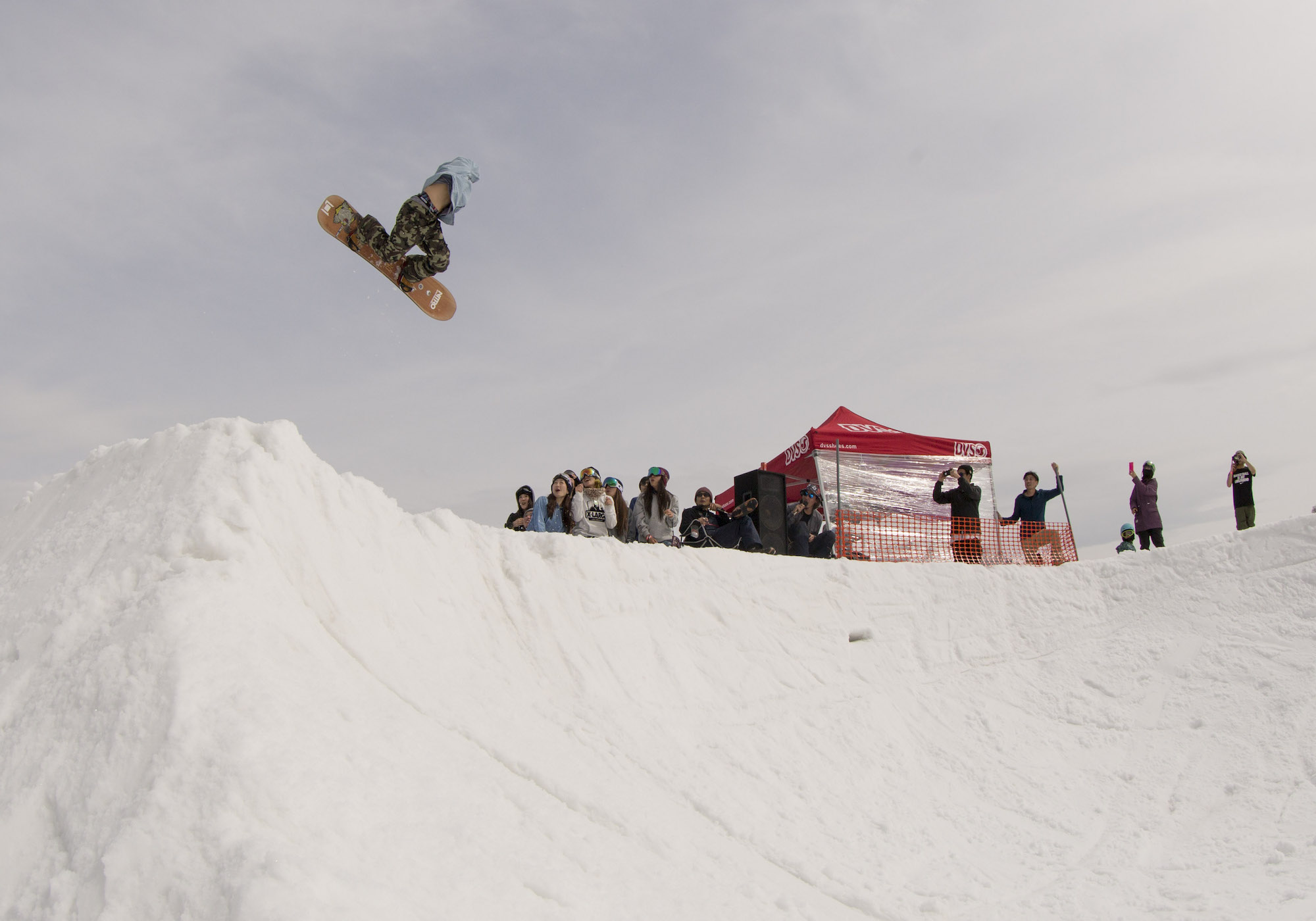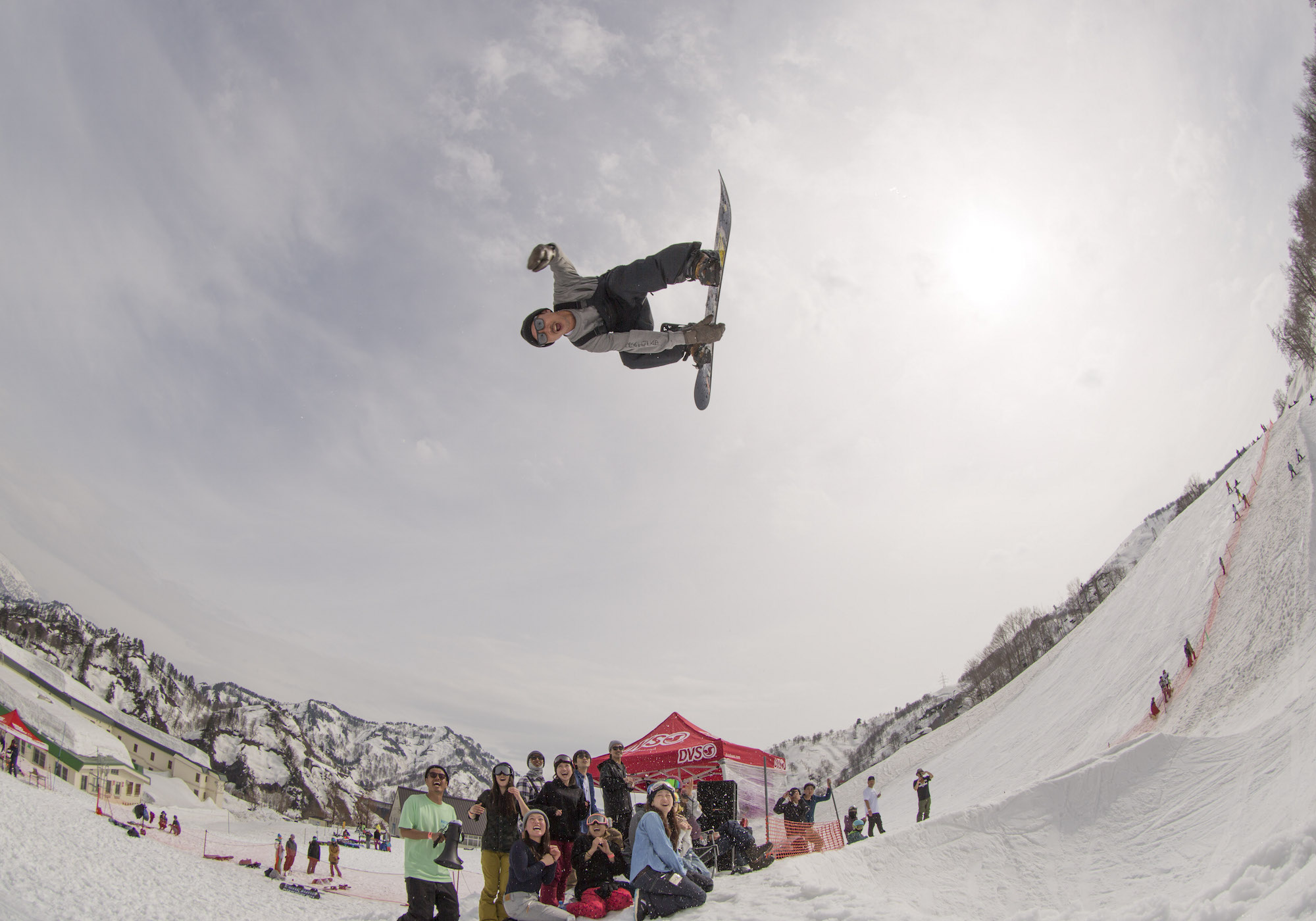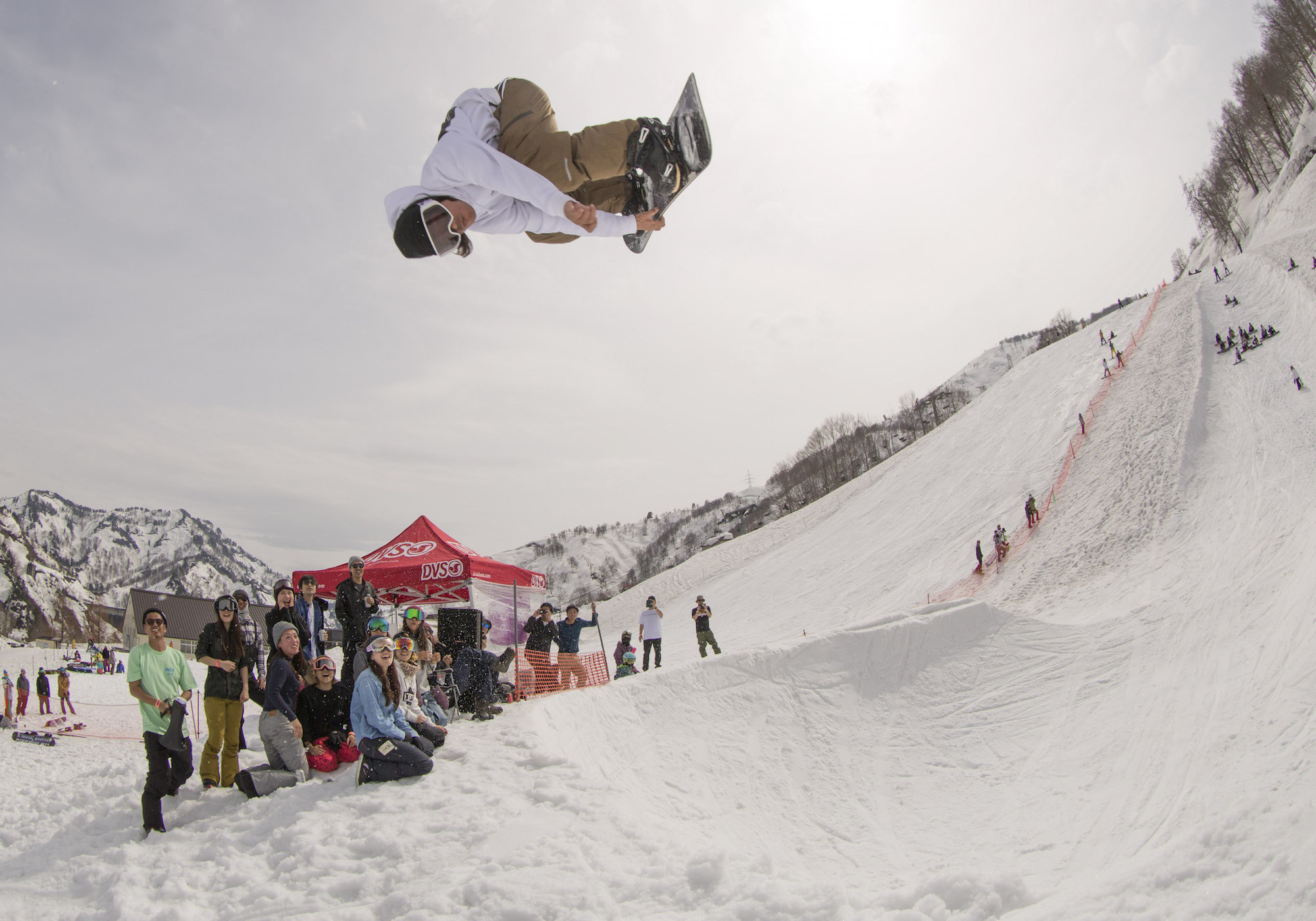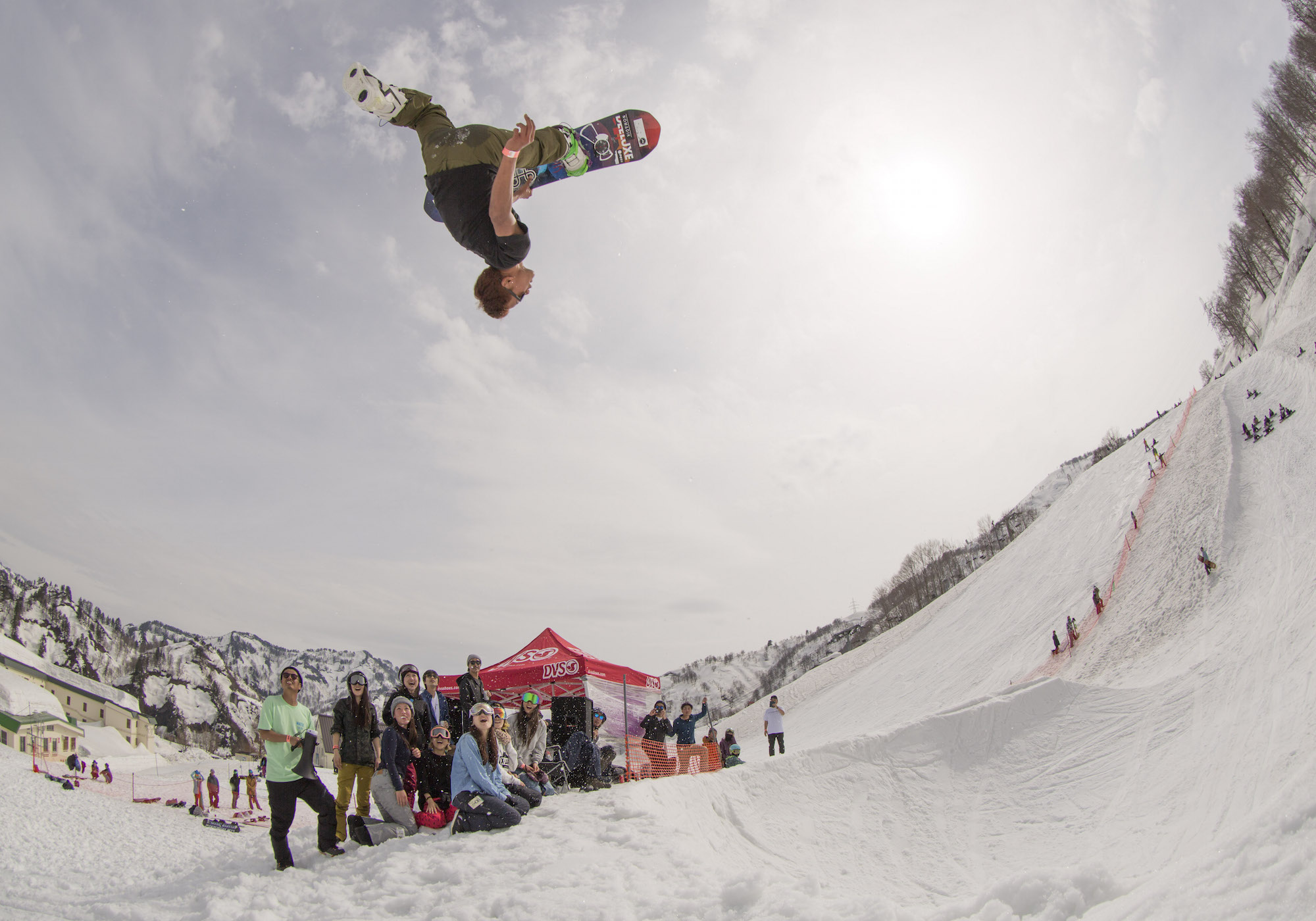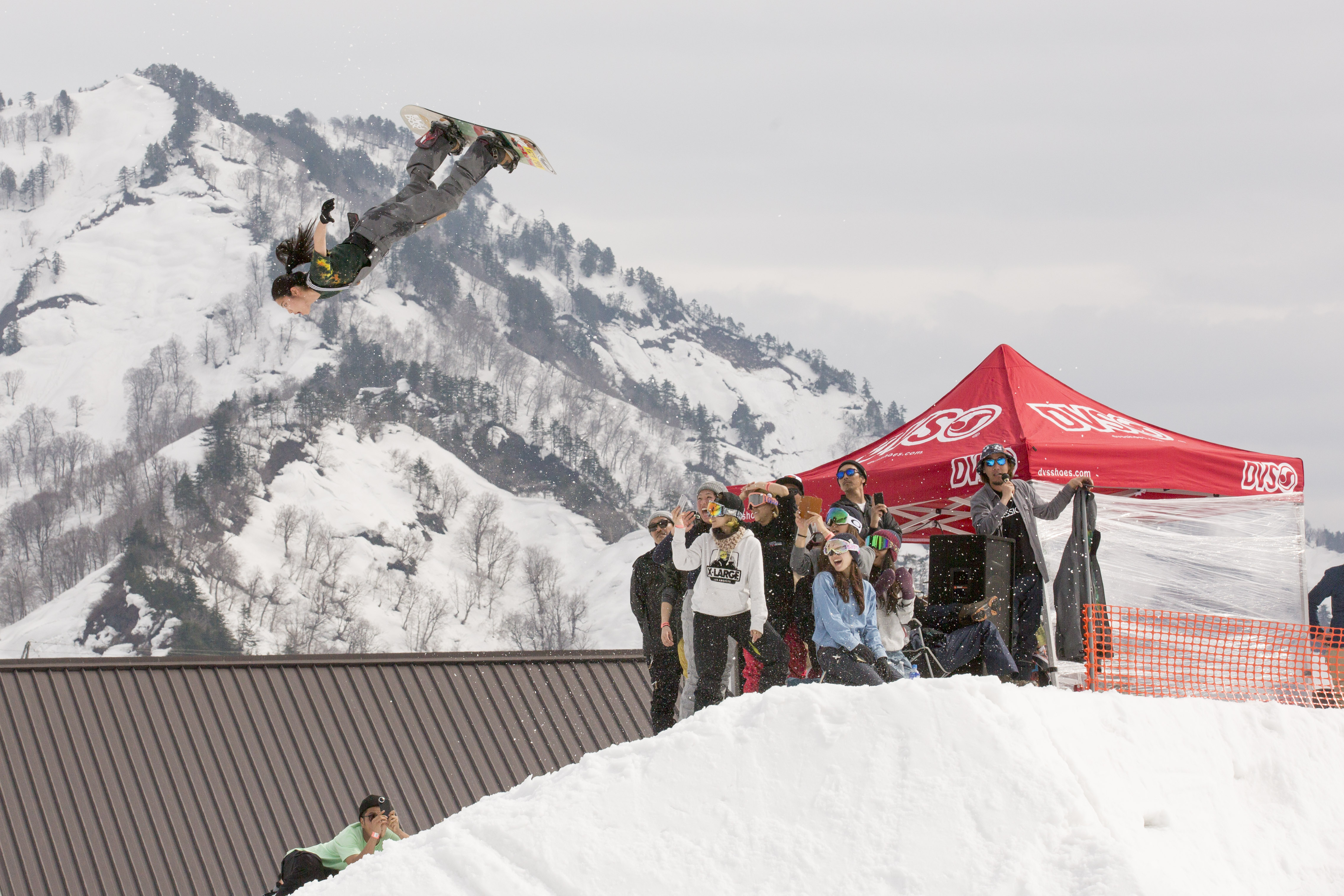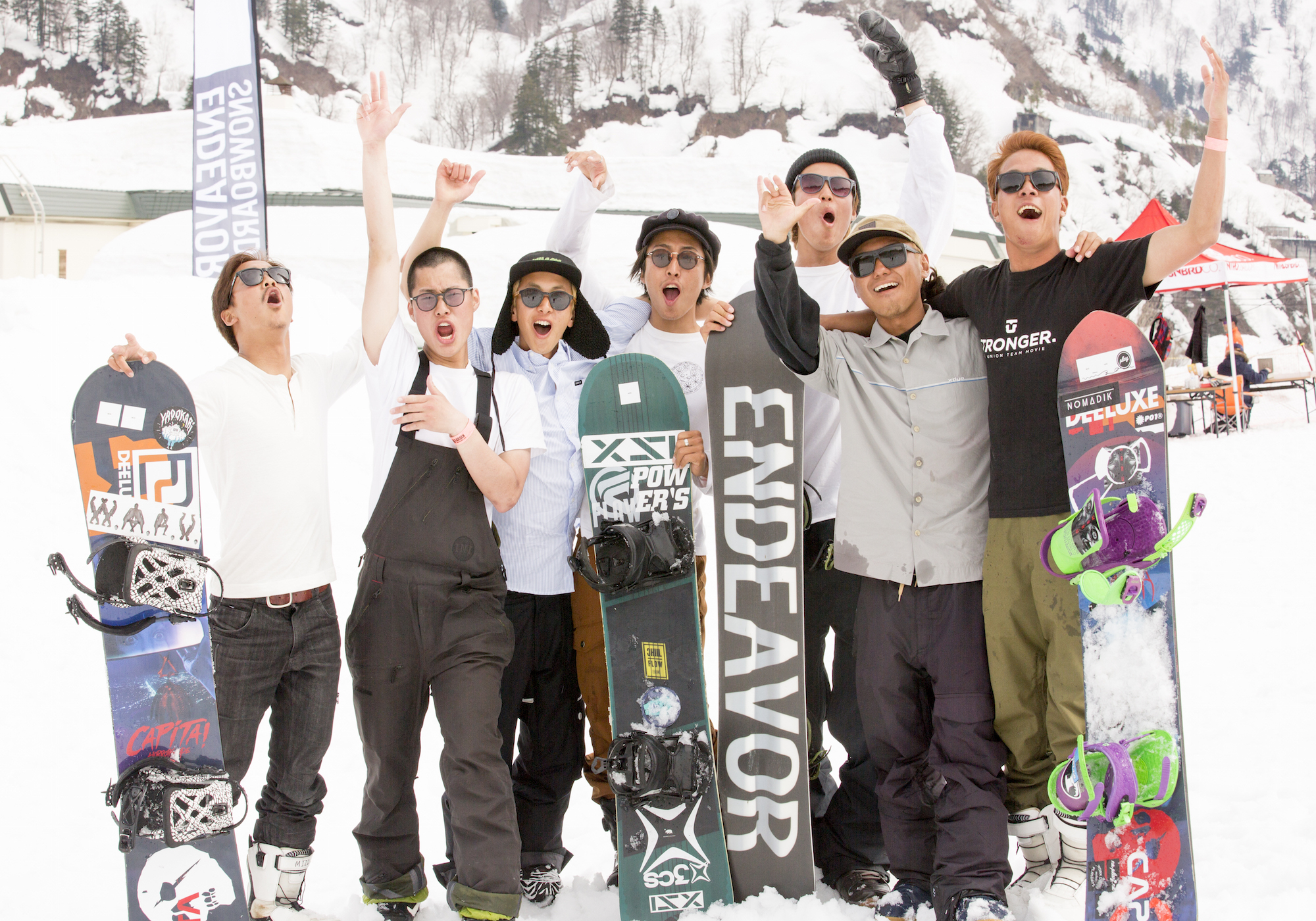 At the end of the daytime section, there was a full-scale dash competition for new boards that all participants could participate in.A game in which the person who touches the board first can get the board by dashing at the latest board installed at the top of the slope with the shout of the start.Products were prepared in each department, such as kids, girls, and boys.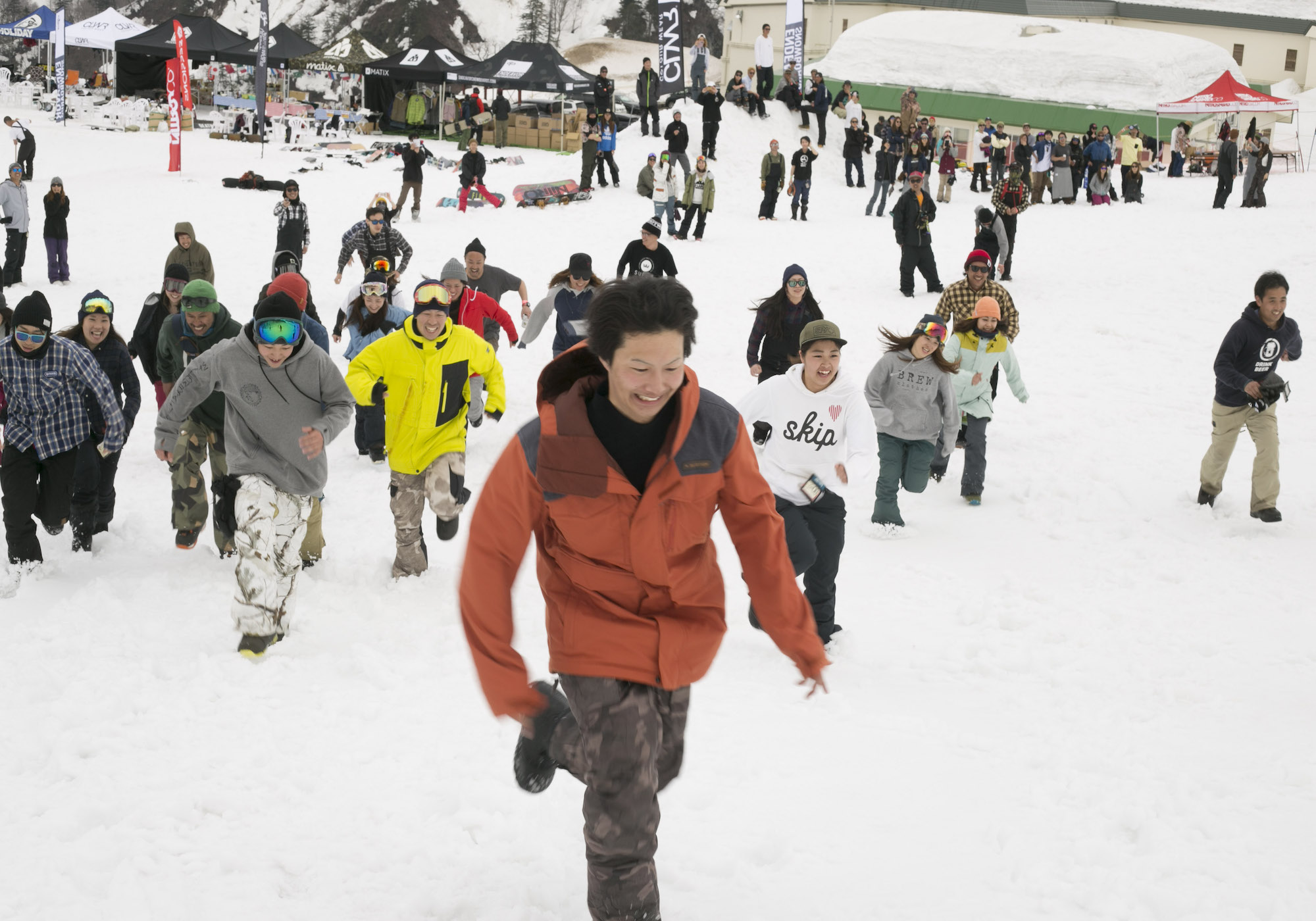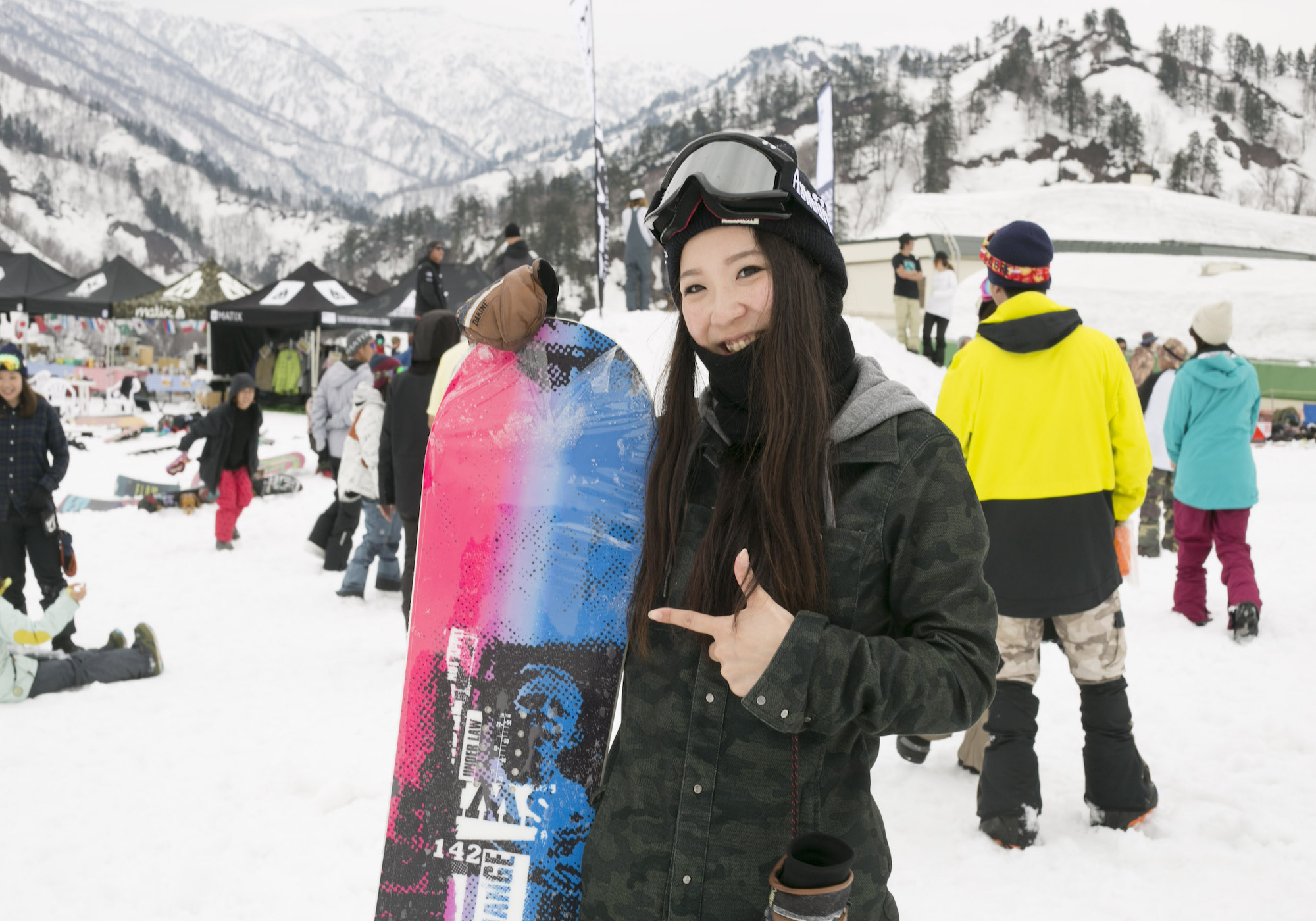 With this kind of feeling, the pattern of the daytime part where the whole day passes in a blink of an eye with a lot of contents.And FUSION GARDEN is still going on.
A full-scale night party is waiting at night
The usual 1DAY event ends here, but FUSION GARDEN isn't over yet, and the evening party is also full-scale.
The night club is held every year at the gymnasium in Oku-tadami, but this year there was no permanent skate lamp and I was worried about what would happen, but despite my worries, I was on a track for this event. I brought a skate lamp to the gymnasium. (As expected! It must be a party x horizontal!)
Of course, the main part of the night section is the skating session.You can actually skate while watching the hot sessions of professional skaters and professional snowboarders up close.
In addition, a night party that has been powered up with the introduction of one of the largest sound systems ever.Despite the gymnasium, the venue's voltage heats up with the sound of being in a club! At 610 Chang's LIVE, the entire venue was united and wrapped in a feeling of groove.After that, DJ play continued, and the night part full of horizontal atmosphere was lively until late.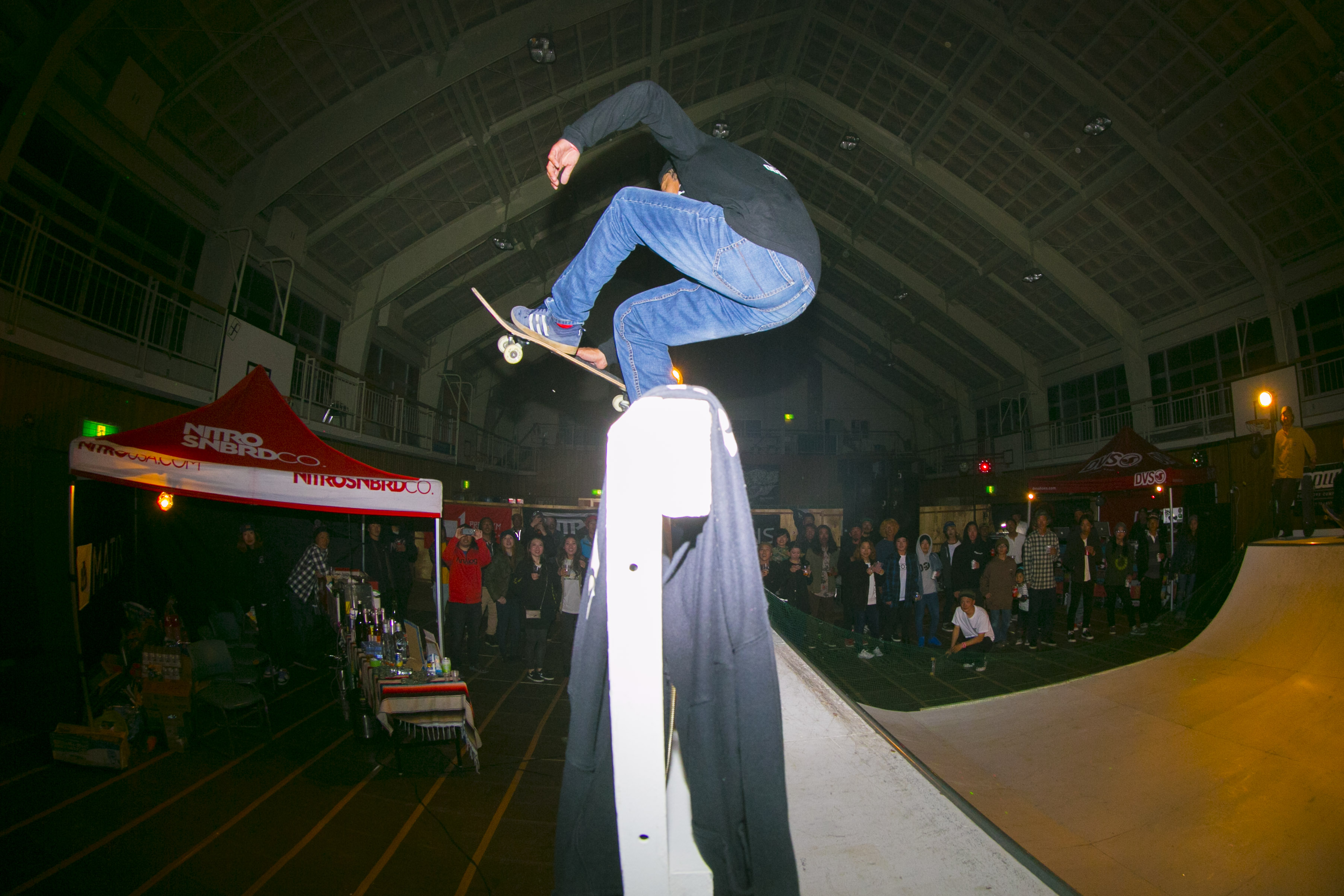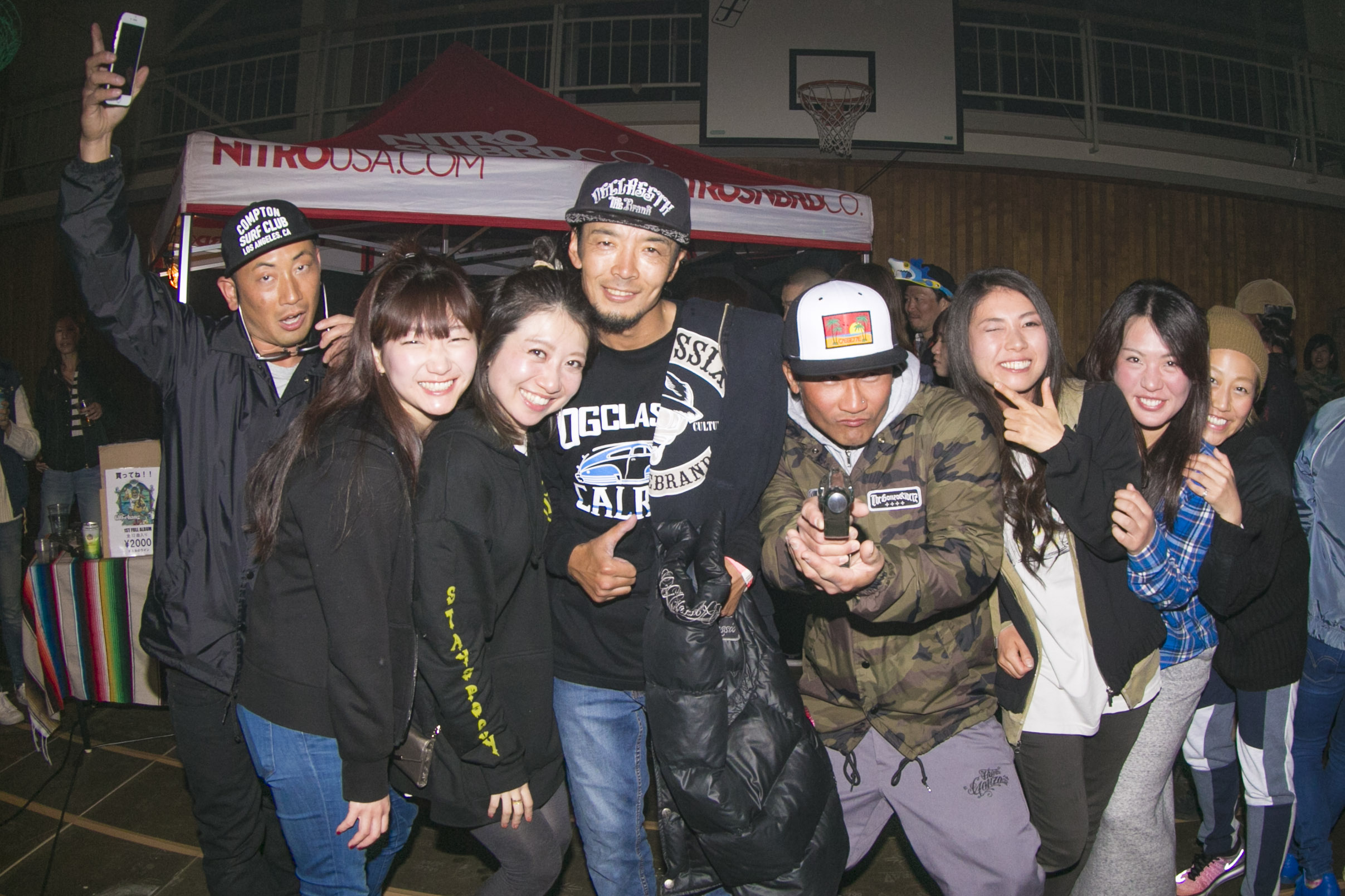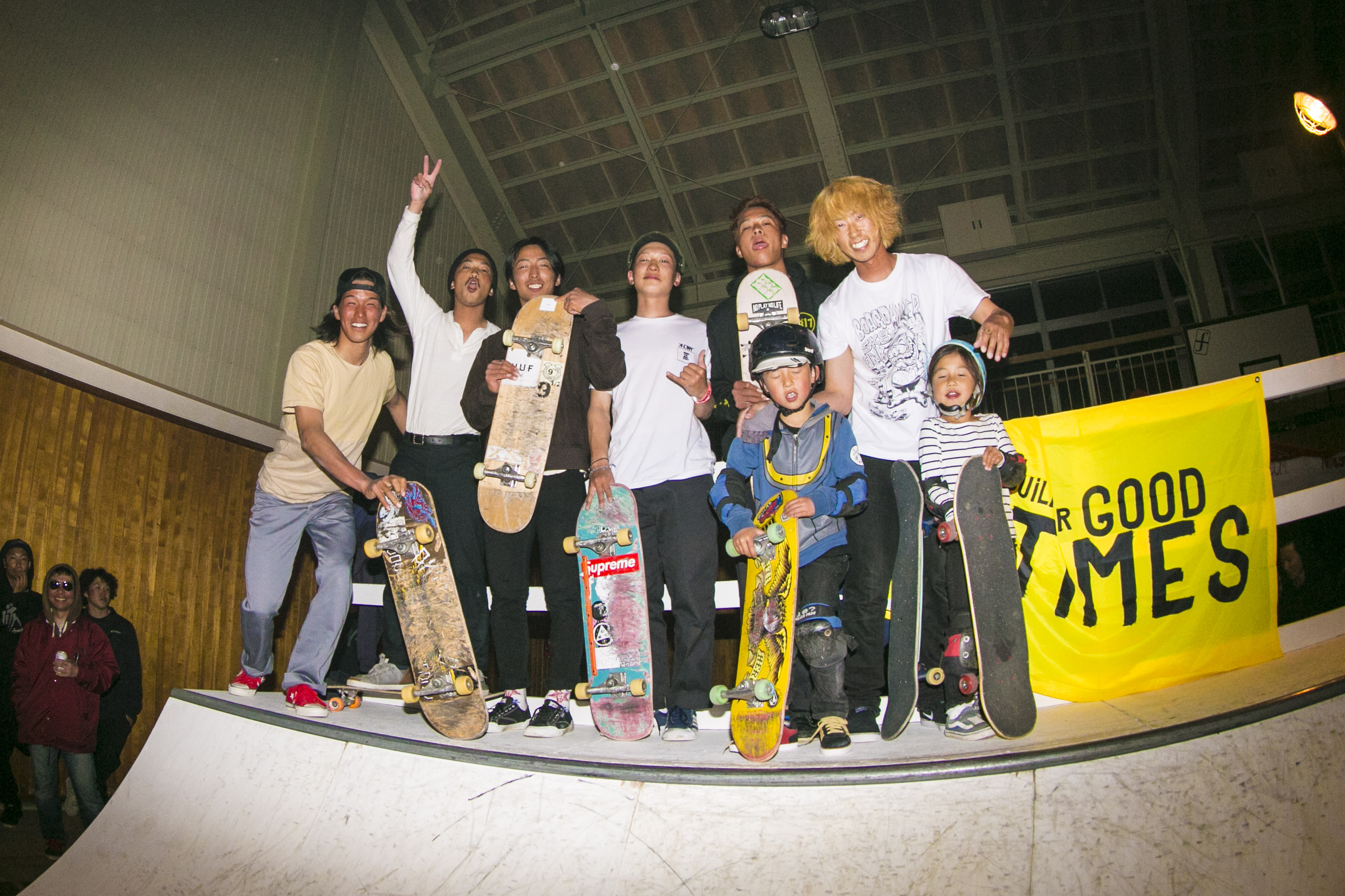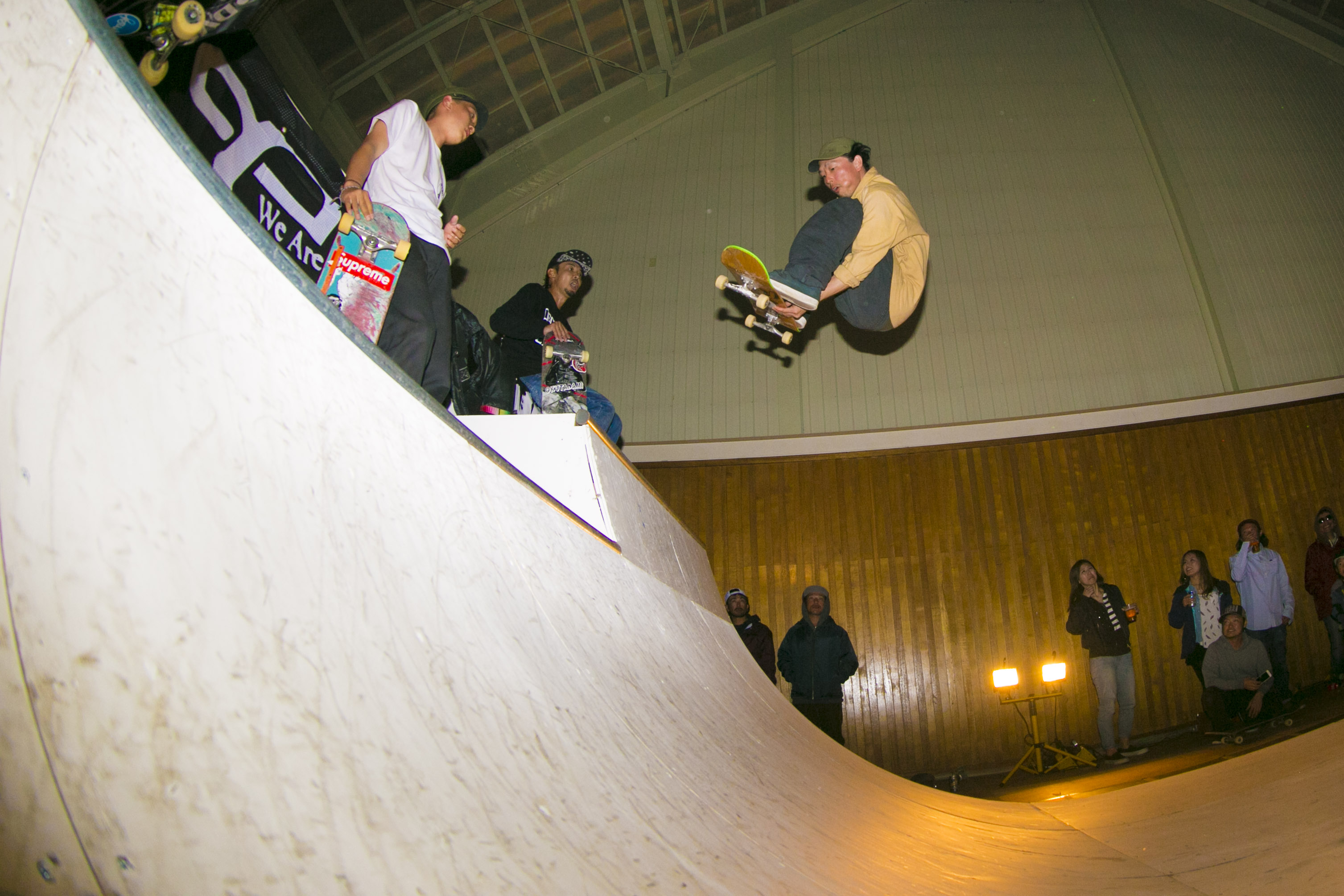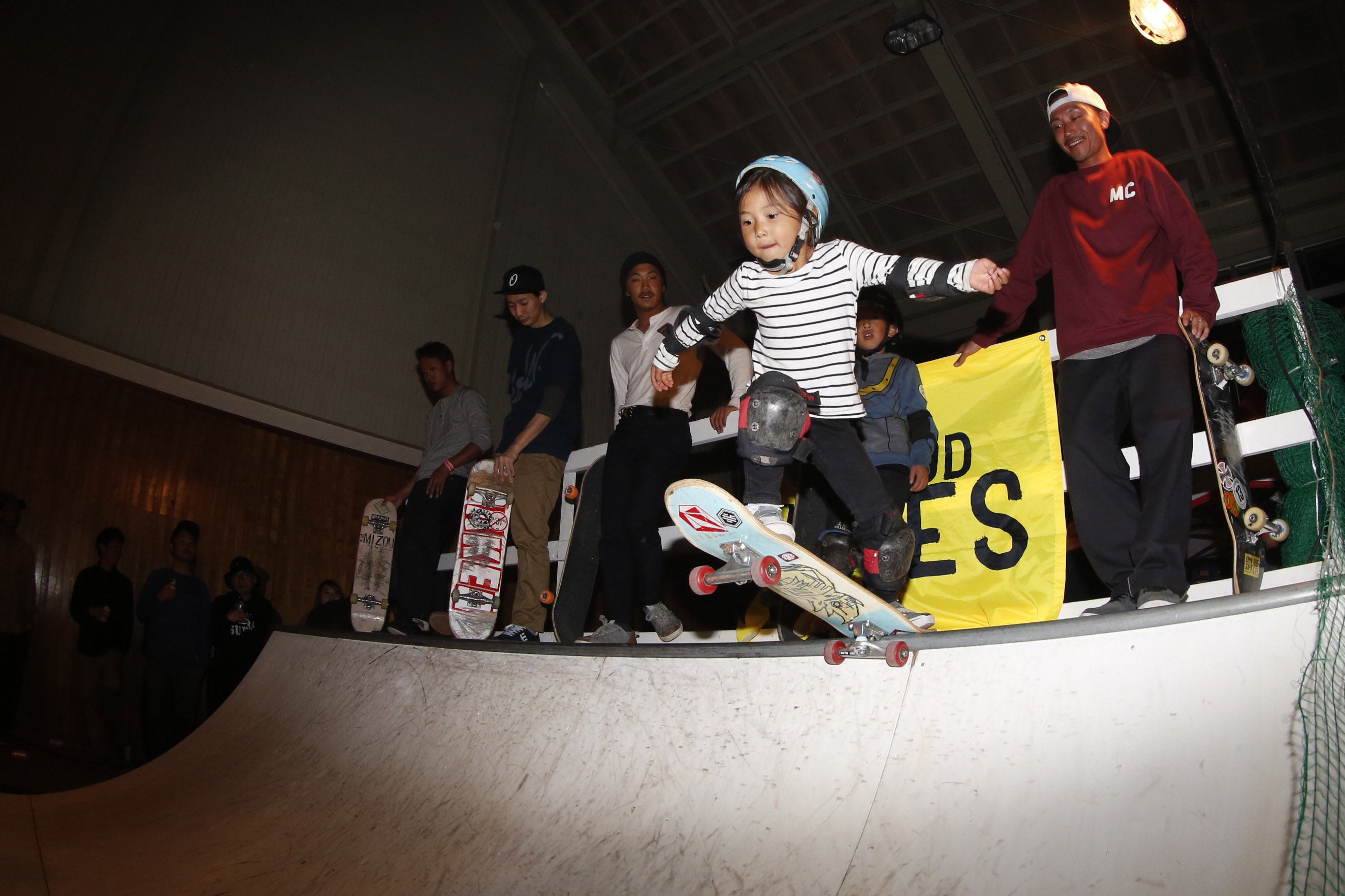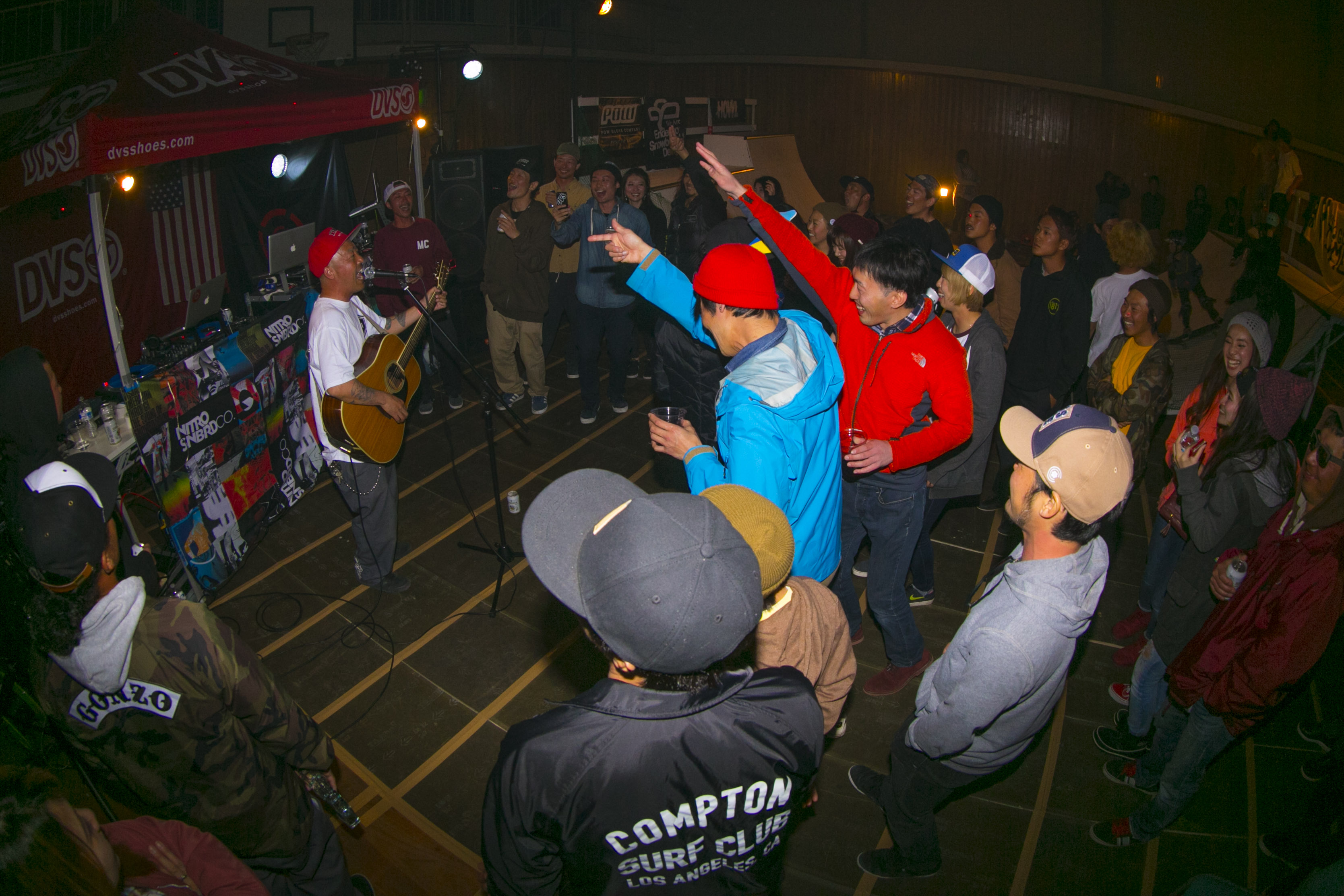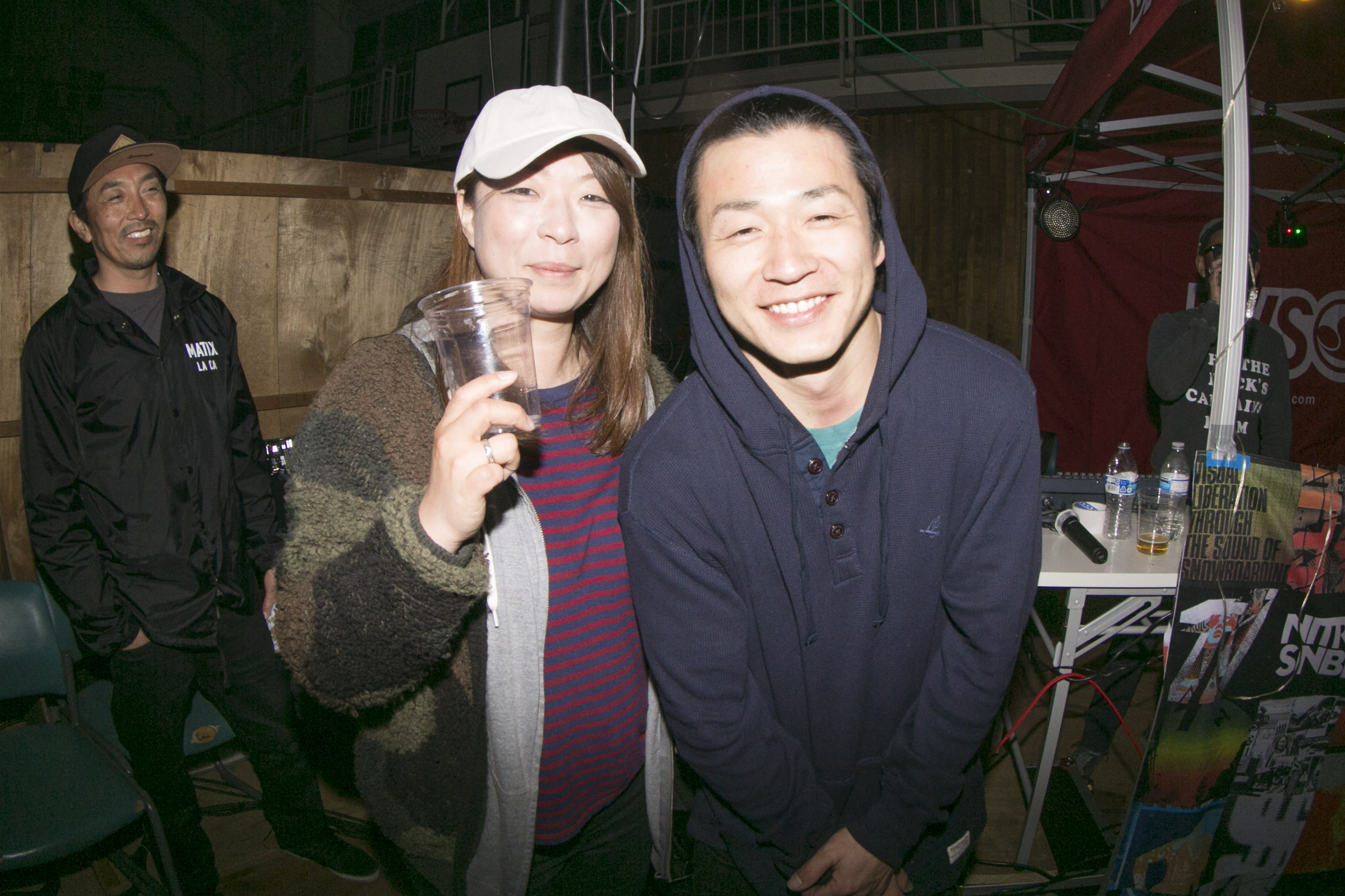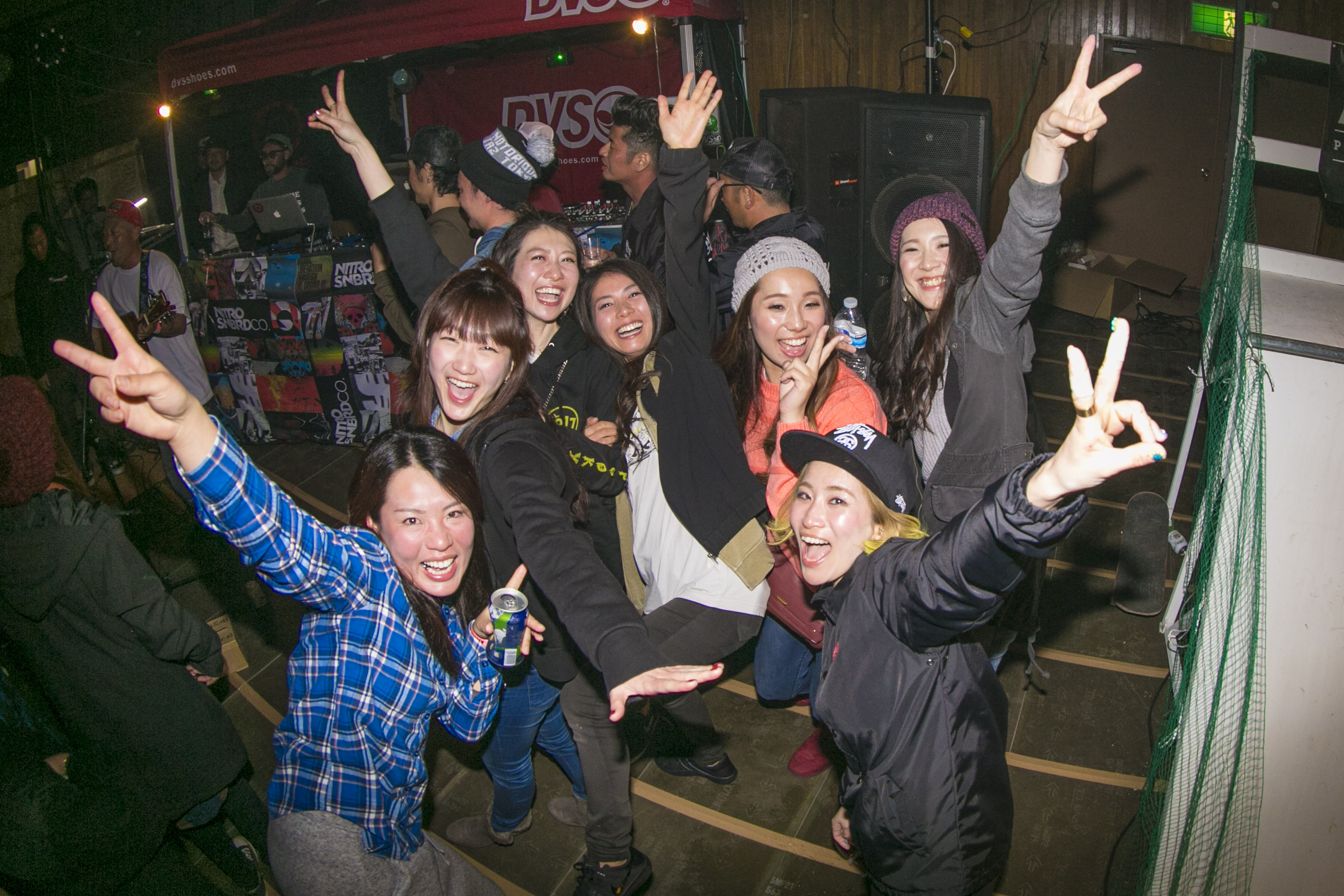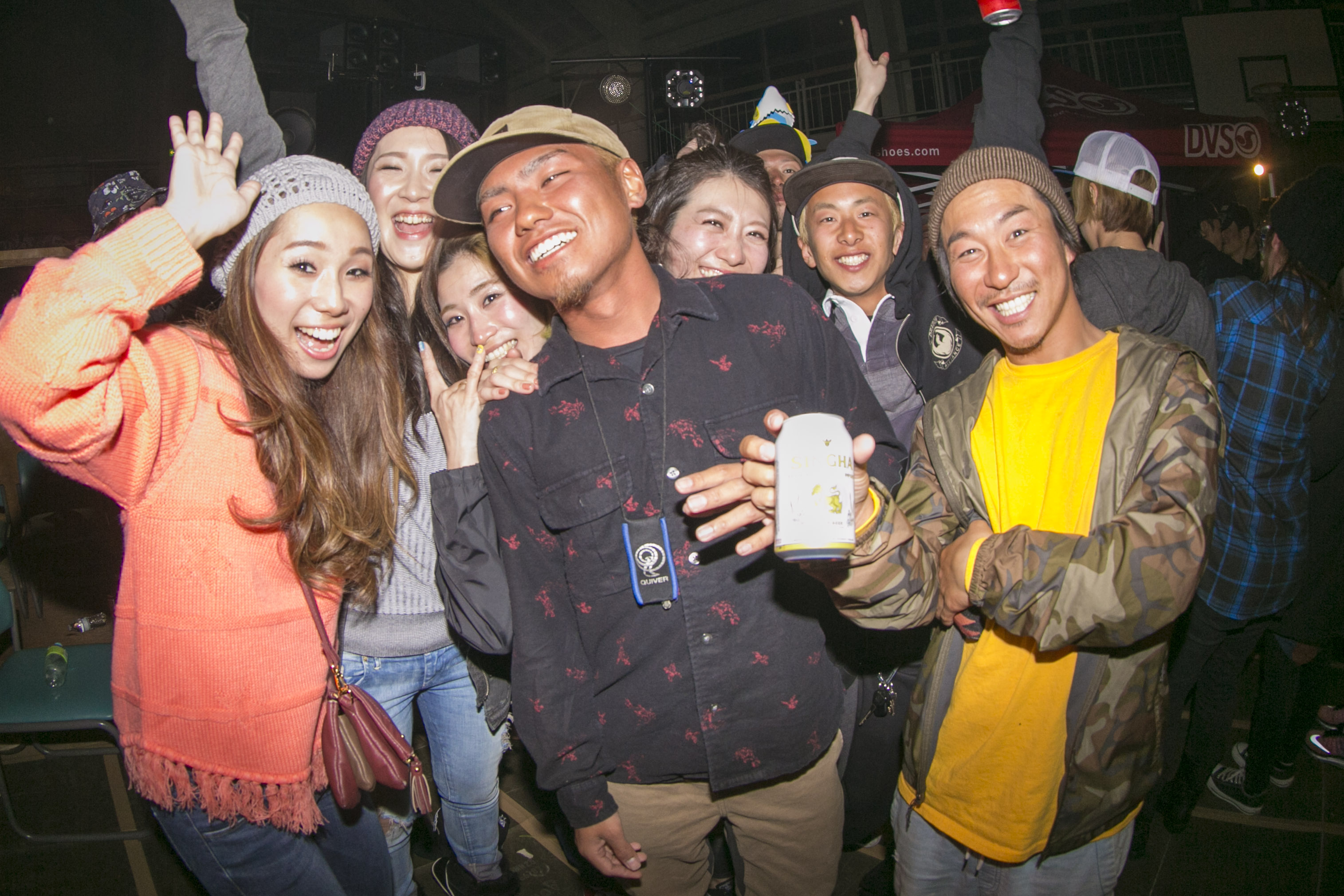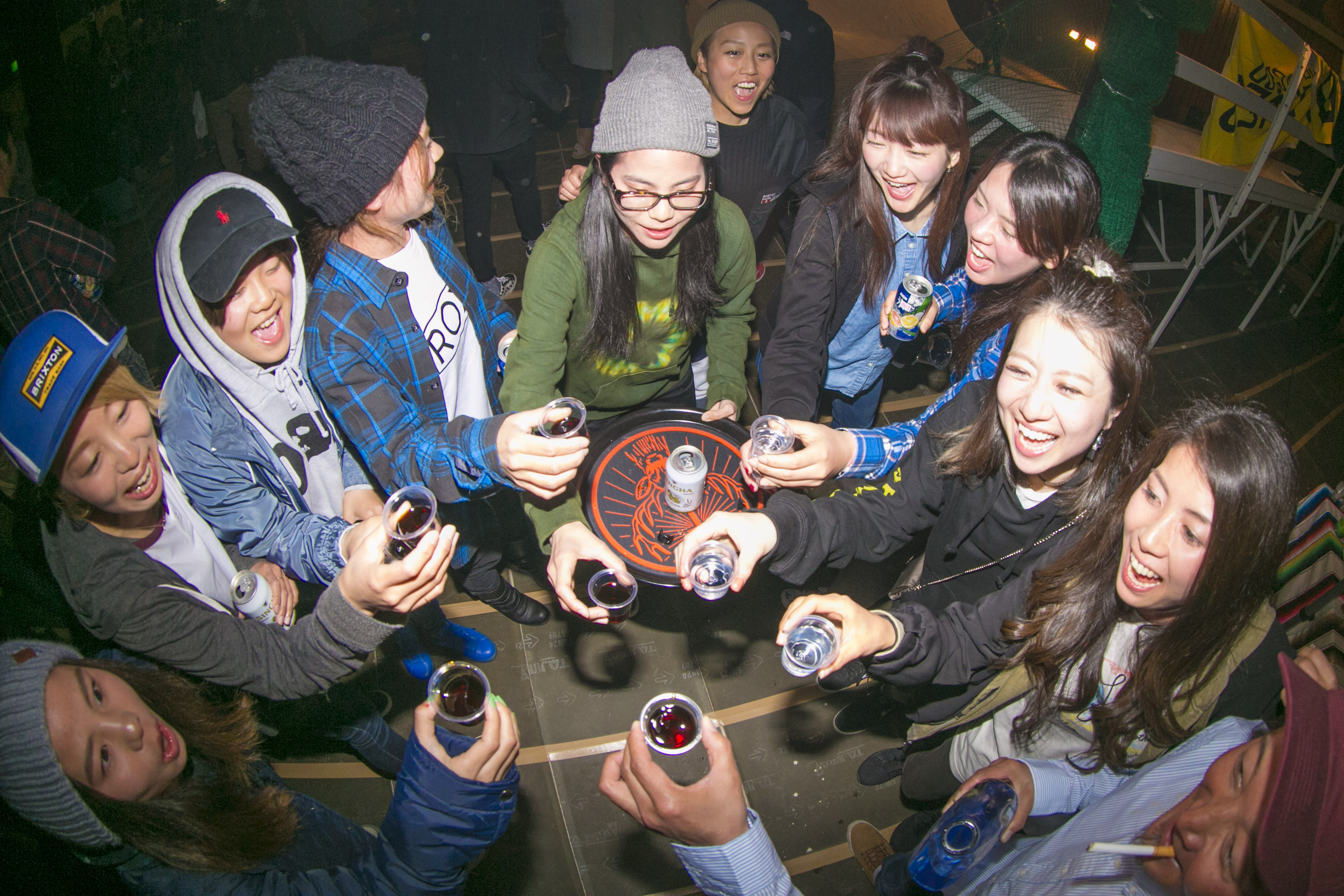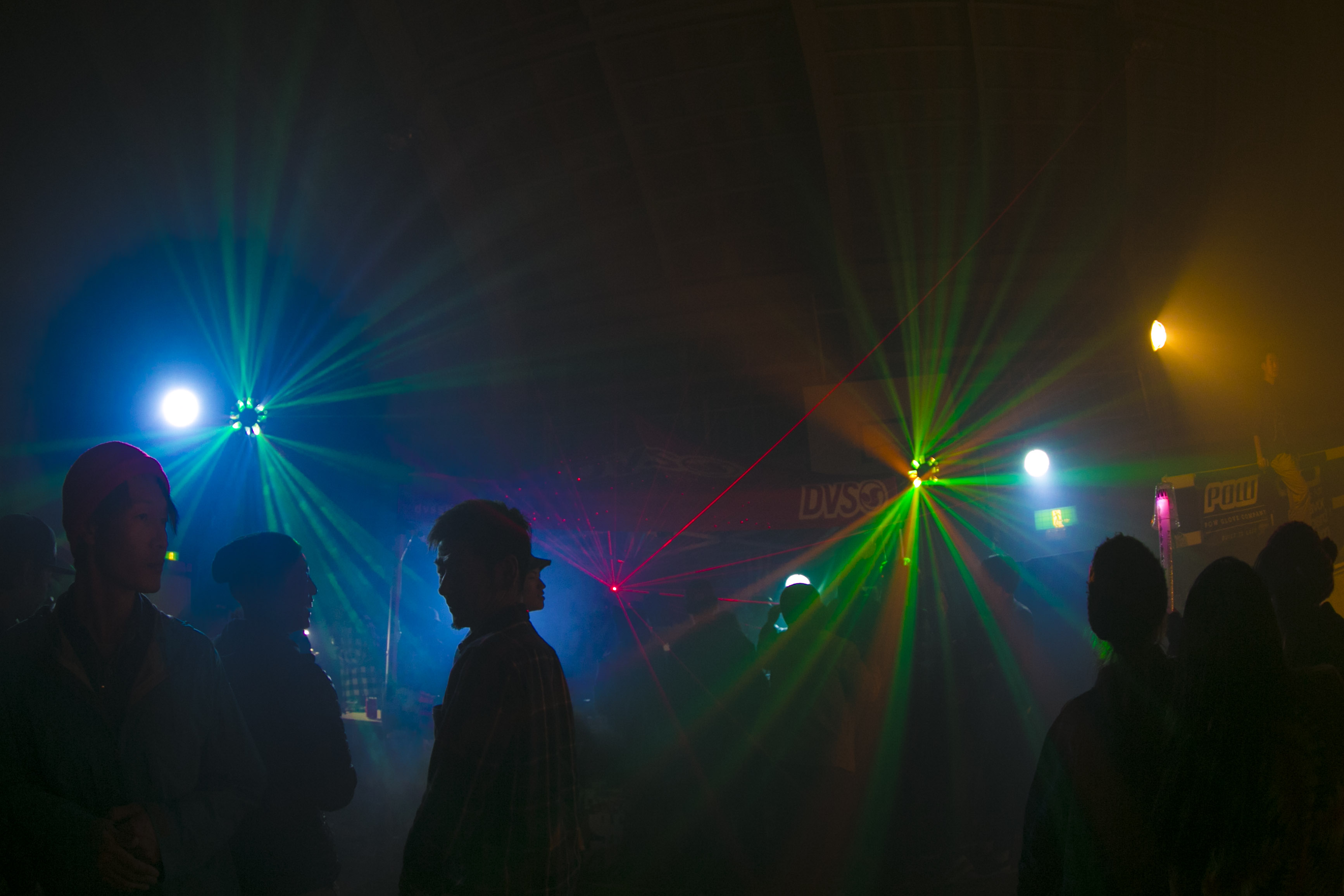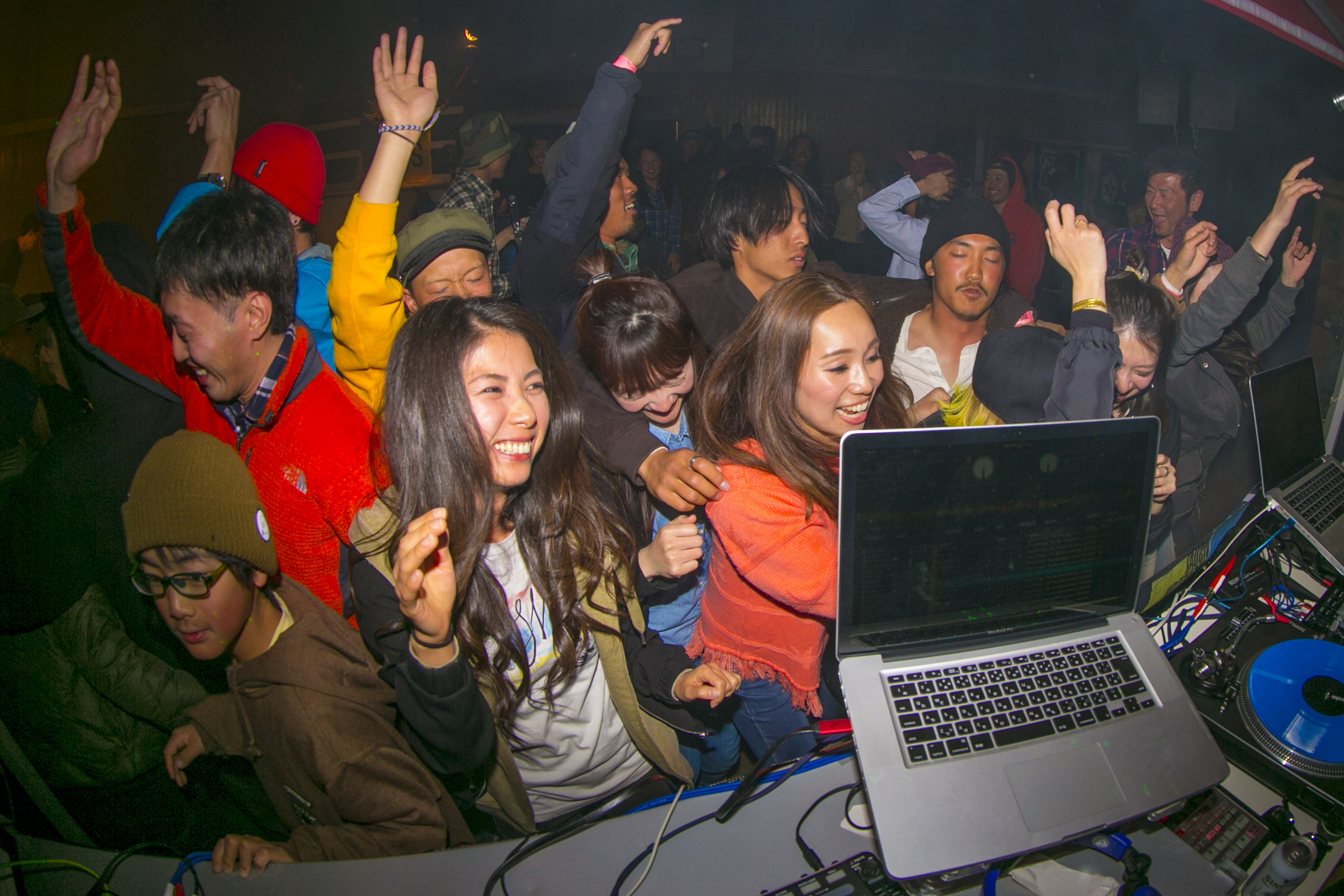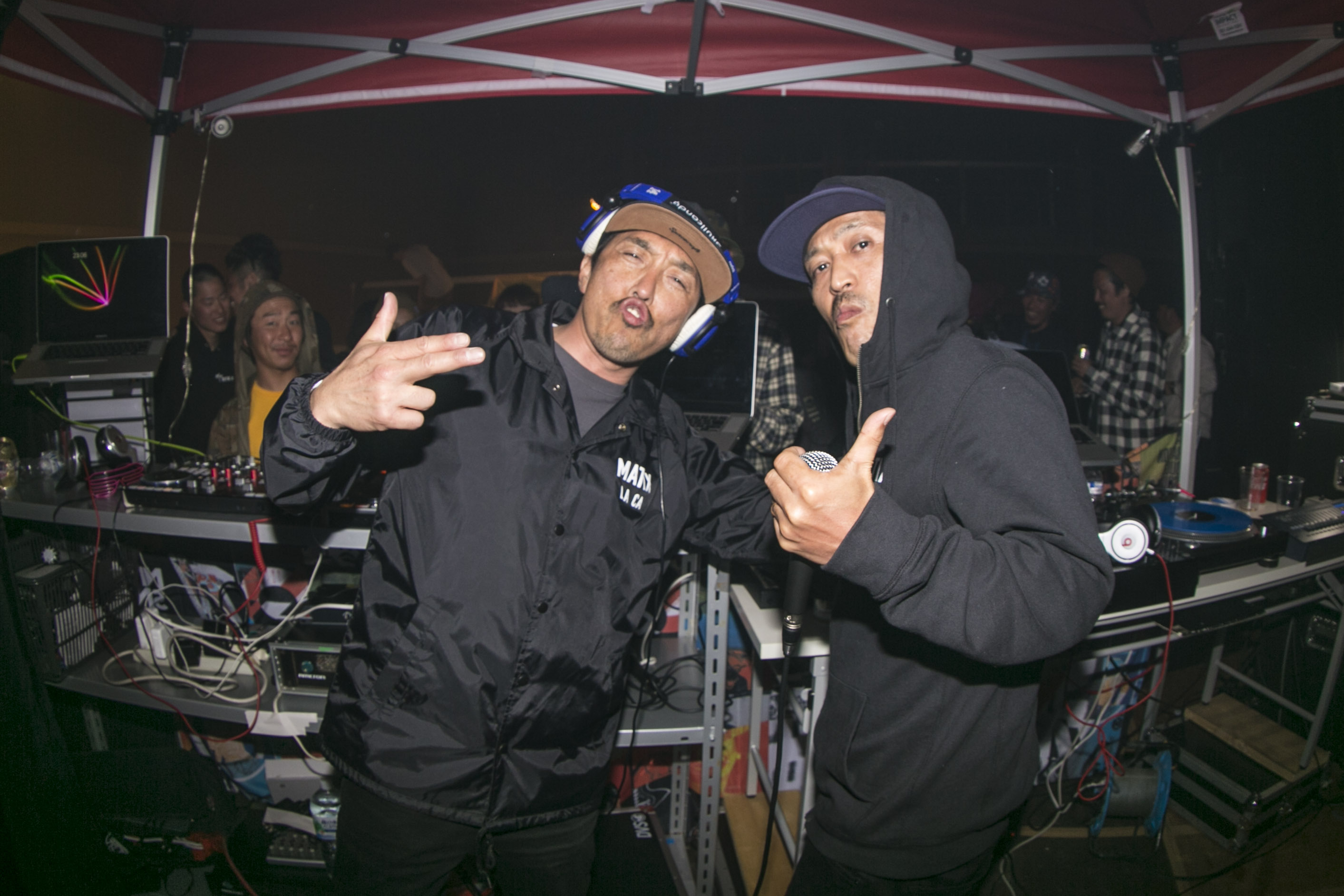 Slip, eat, drink, dance, and this event, which runs from morning till night, will be held again this year. It was a very enjoyable day. "I want to go to this event again next year" It is an annual spring event that people who participated will surely think so.
Everyone, let's meet again next year at FUSION GARDEN in Oku-tadami!
There are many other pictures besides the ones introduced here.
Those photos are from time to timeFUSION FACE BOOK pageI will update it so please look forward to it!