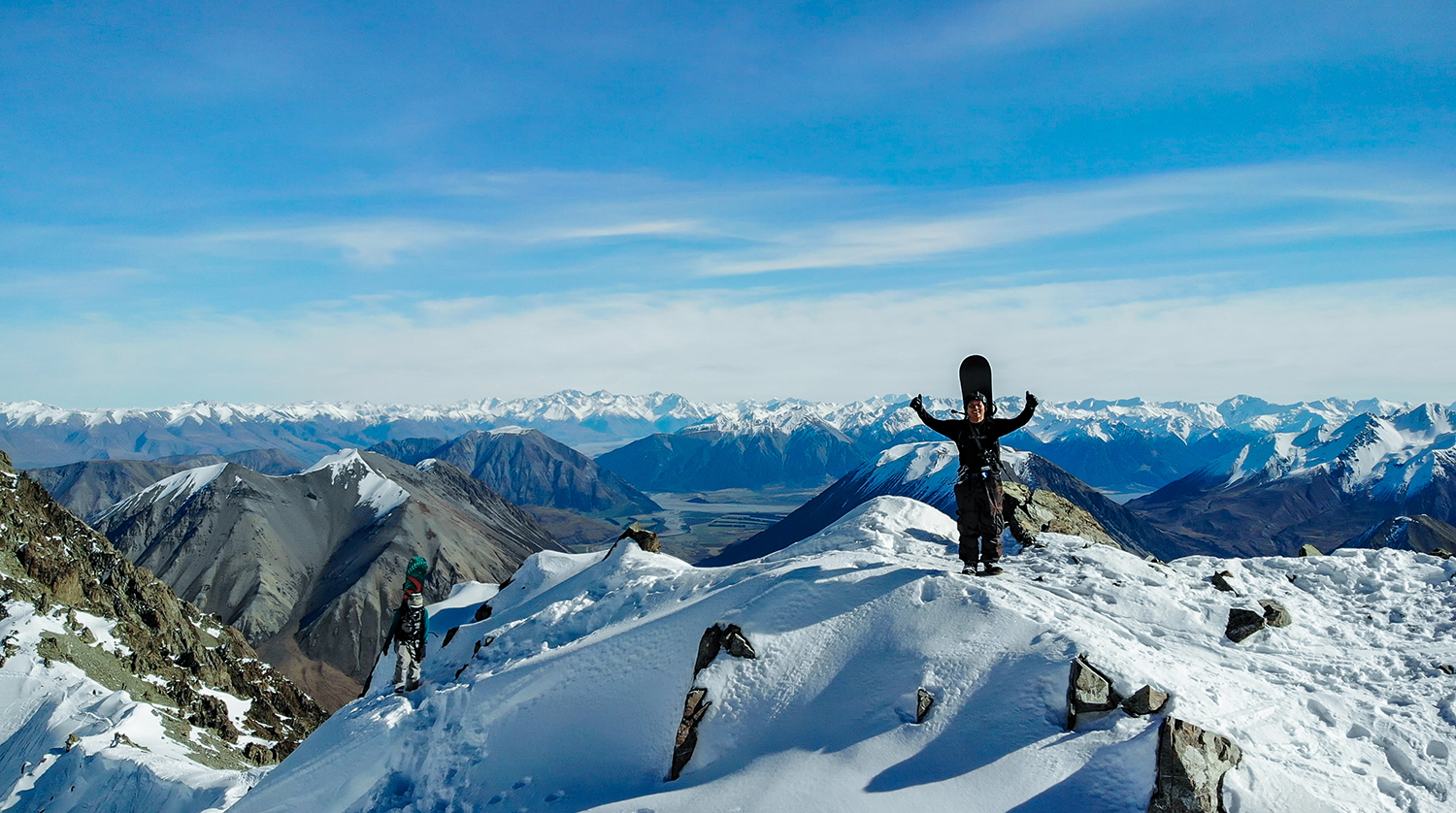 Mountains and snow that are 100% impossible in Japan, and the existence of snow culture that people have built up.It's a place that we snow travelers, who love traveling, want to see and feel at least once.At the root of my snowboarding style is learning to slide in different places.The club fields in New Zealand have left nature untouched and the communities inherited there, which have rekindled my New Zealand fever.By writing a record of the trip here, I hope to convey its charm and support someone's departure.
Part XNUMX "Part 1" So, I introduced the charm of the club field, but this time I would like to convey the voices of those who visited the club field for the first time.By spinning the voices of professional riders, handmade hat shops, office lady snowboarders, and the people I guided, the scenery will become clearer.
text: Kazushige Fujita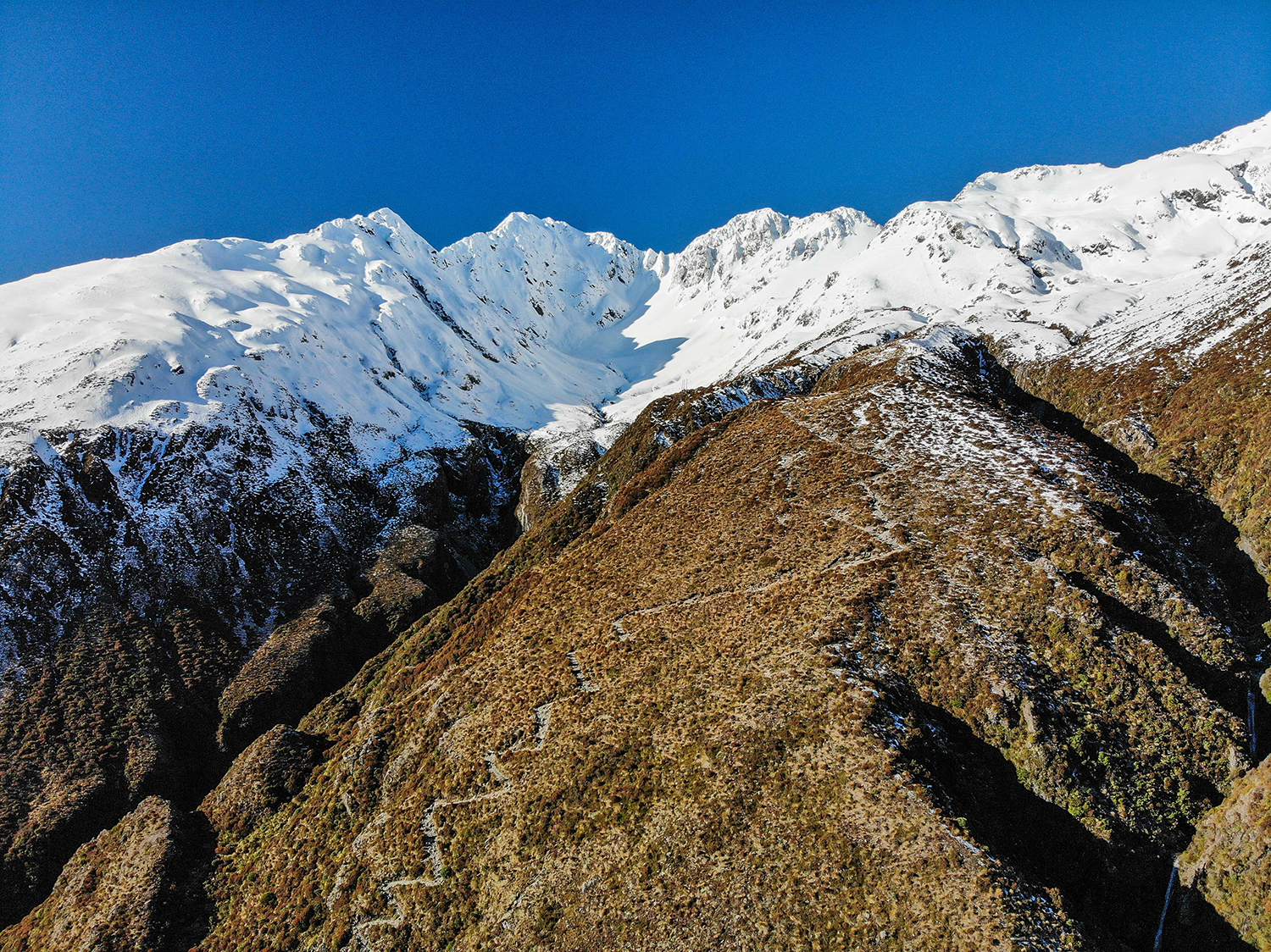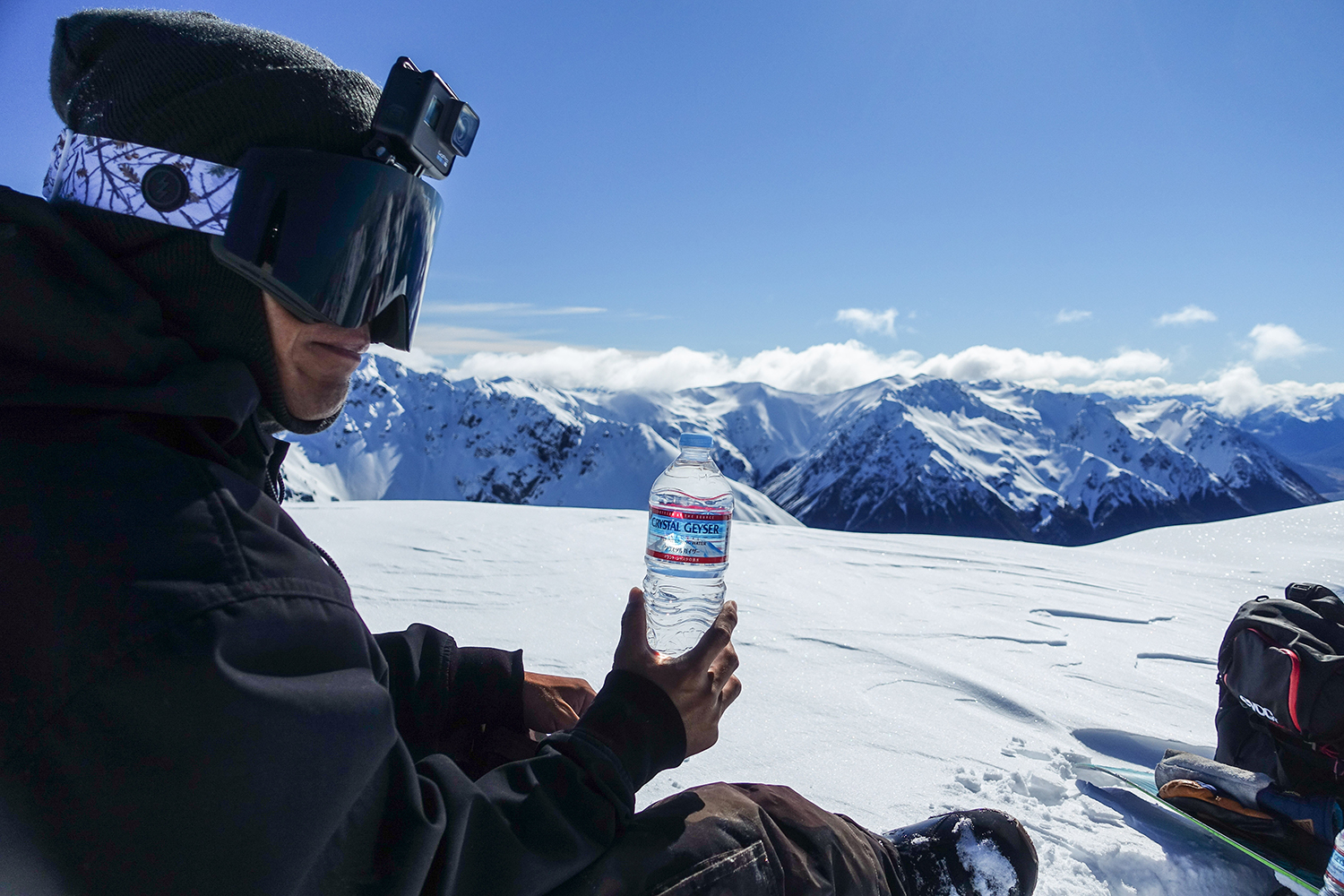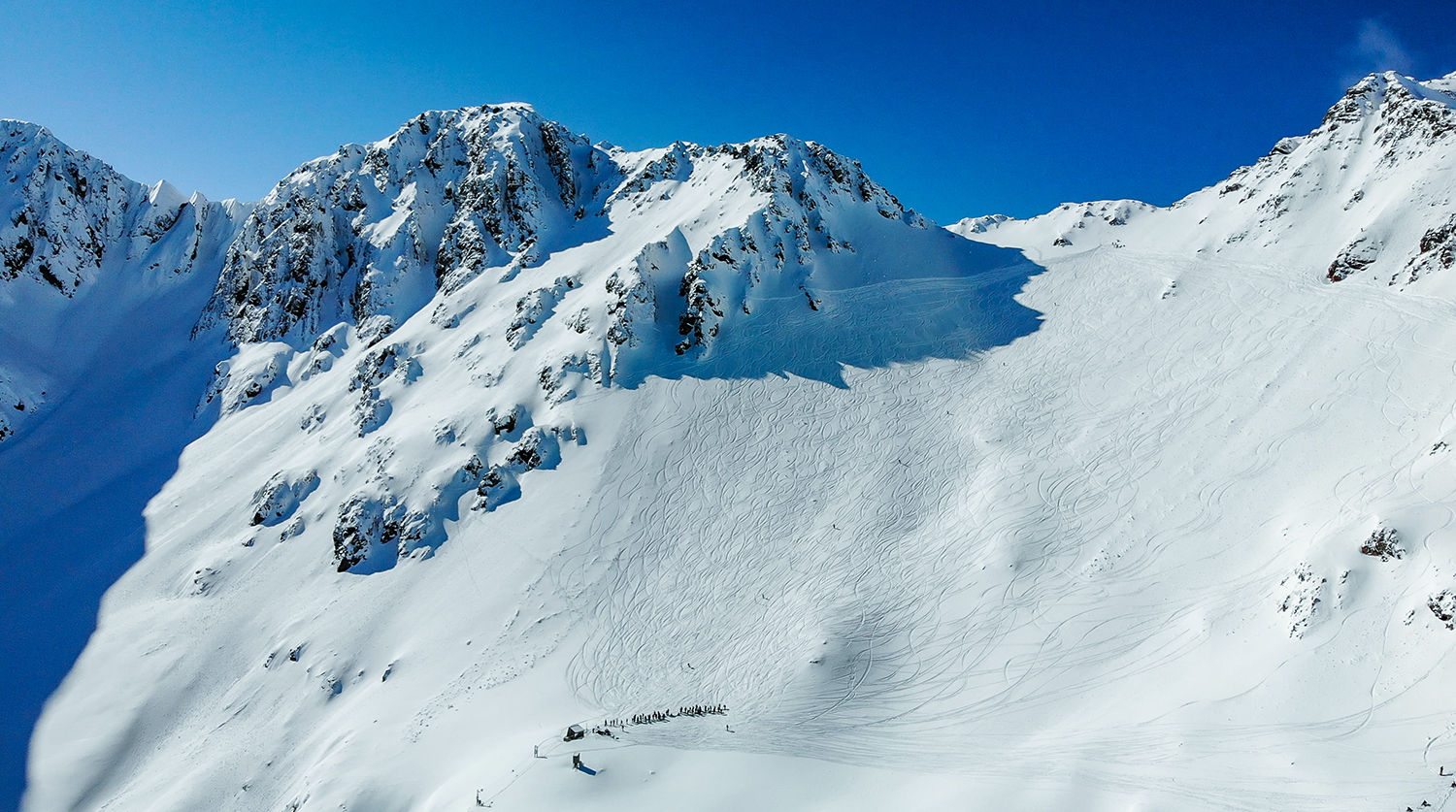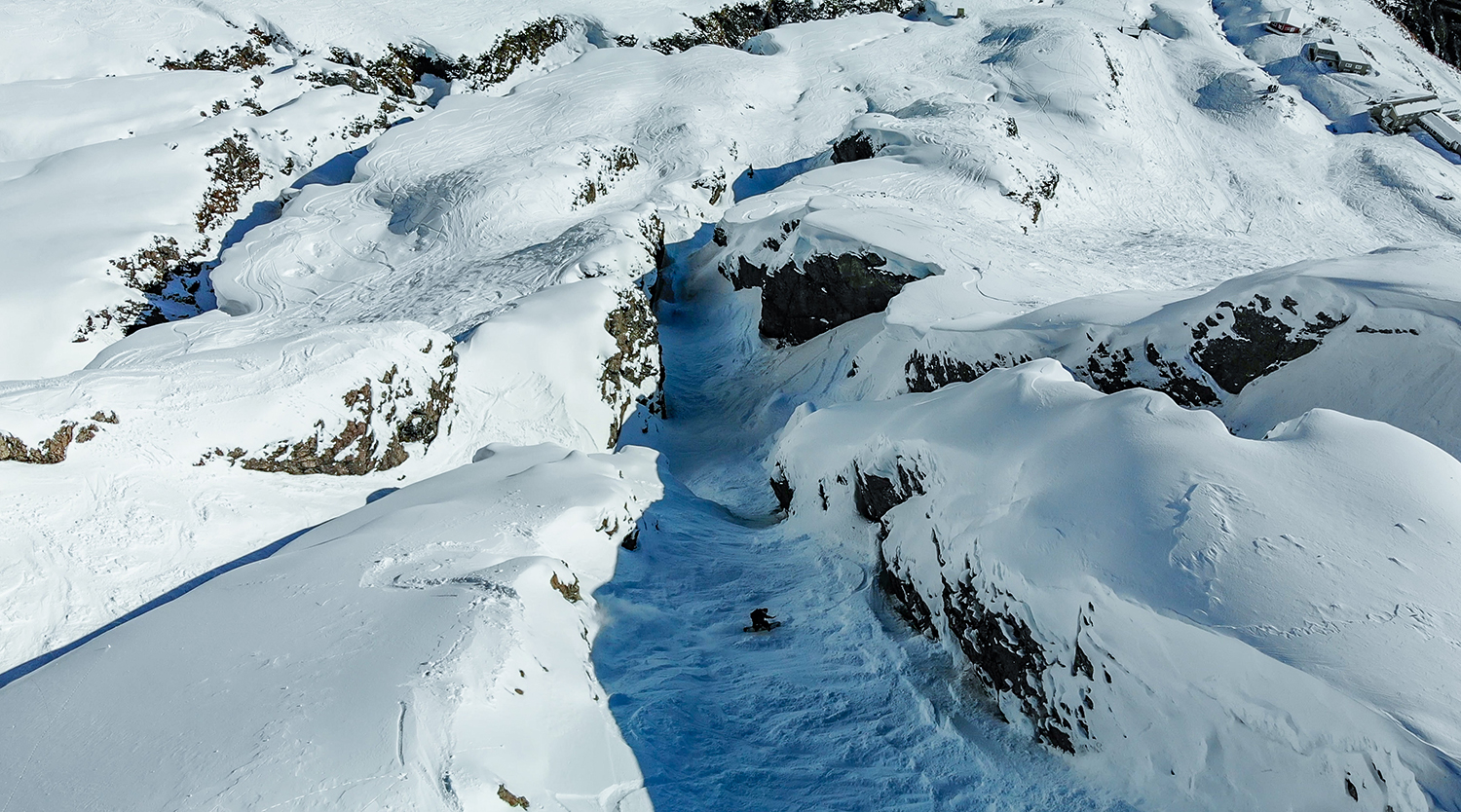 Things that can only be experienced at that place "as much as you walk"
Yo Tanaka, who spent a month together on this trip.After getting married, he moved his home to Aichi, but during the winter, he spends a dual life going to various places while focusing on park production at the Hachikogen Ski Resort in Hyogo Prefecture, where he also has a hometown.In the summer, he enjoyed the horizontal life based in Aichi and Gifu, and now he can be said to be a younger brother in the Tokai area.Rumor has it that SNOVA Hashima is issuing a wave warning four times a week, Irago twice a week, and a skate park twice a week. There are many people who yearn for it.A long-time friend of mine and a caring brother.Until now, he didn't listen even if I asked him to "climb and slide", but his feelings seemed to change with his age and environment.It may have been inevitable to show him my favorite place, who was also a rival in the contest era.Let him look back on this trip with his words.
"The road to the slopes was too dangerous, and I was surprised there first. The road is not paved and is full of stones or rocks that seem to be punk. , "Isn't the road wrong?" Of course, there is almost no snow, and if it doesn't snow, it's lumpy. There are a lot of hidden stones, and the soles get scratched every day. I heard that the board will be tattered, but on the first day, " However, the course with the same terrain was insanely exciting, and I was addicted to the wild way of playing in New Zealand, which is not found in Japan. When I was handing over beer and spending the same time with people who were skating with a smile, I felt the welcome of everyone and the love of the field, and I fell in love with New Zealand.
 The nut crackers tried to have a good image by watching the video, but at first they did it brilliantly (laughs).I was scared to get my fingers caught in the pulleys, I lost the grip strength to hold down the nut crackers, and I was desperate to roll my feet smoothly.With snowboards, the rope may be on the chest side or the back side, but I needed to be especially careful on the back side.From the middle, it seemed like I could get the hang of it and enjoy the nut crackers, but at the beginning, when I reached the peak and slipped, it became sick.
 This trip was not only fun for me, but also a lot of trouble.Hike by the time you go to the slopes, hike by the time you slip, and hike again if you slip.I don't usually walk, climb, and slide so much, so it was called "Hike Shindo".However, I noticed the charm of snowboarding that can only be experienced in that place, such as the scenery and air that only climbers can see, the feeling of snow, conversation with friends and the sense of unity after sliding together.I never thought that I, who loves parks, would love snowboarding like this.I still love parks, but now I want to go to more mountains and ski. At first, I used to say "only as much as I walked" to cheer myself up, but now I like it.It's a wonderful thing that you can't convey in photos and videos, and you can't tell until you go.Everything was fresh and I knew it was more than just slipping. "
Yo Tanaka
Sponsors: Scooter, Billabong, Dakine, Union, Deeluxe, Icetune, Electric, Wakelip's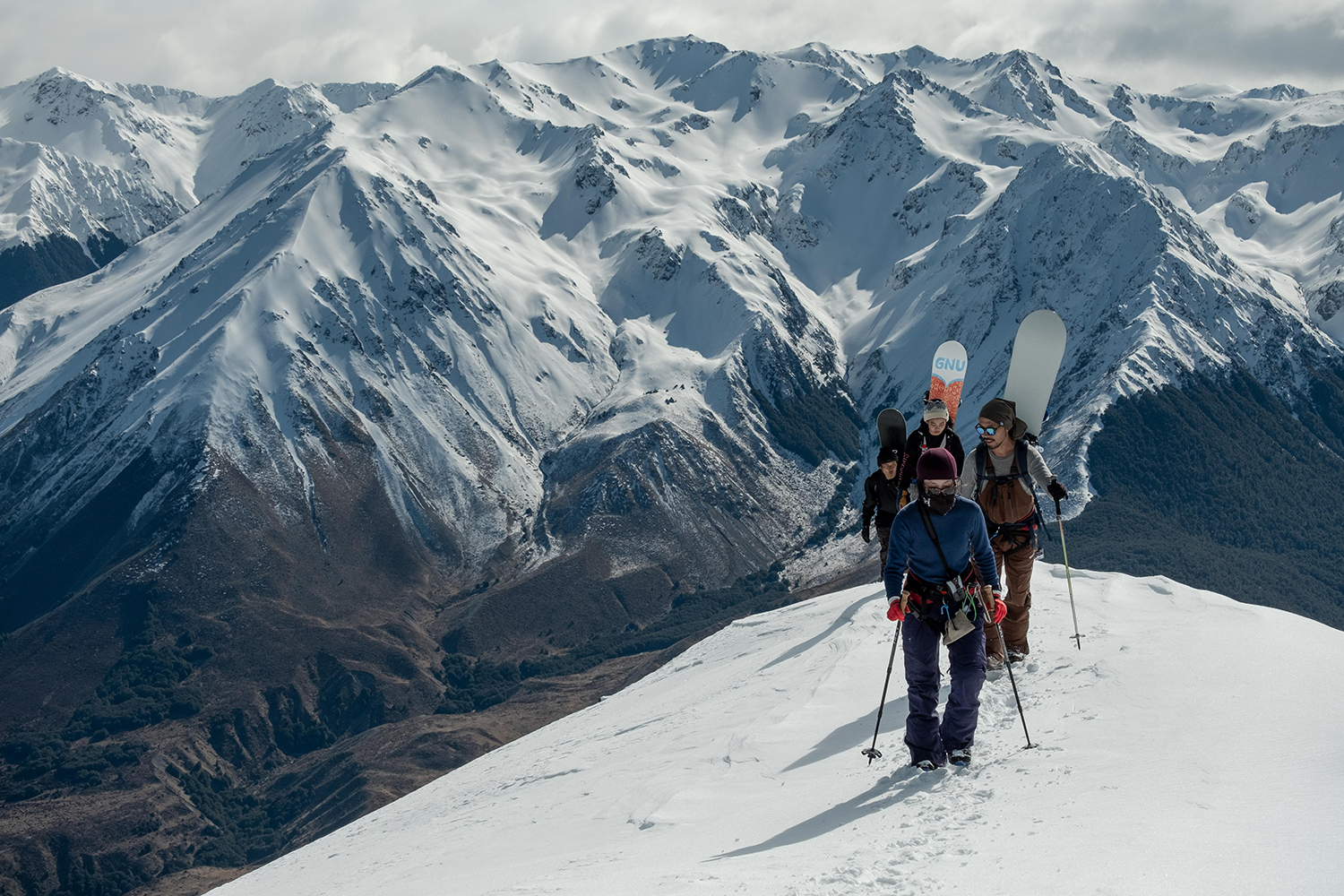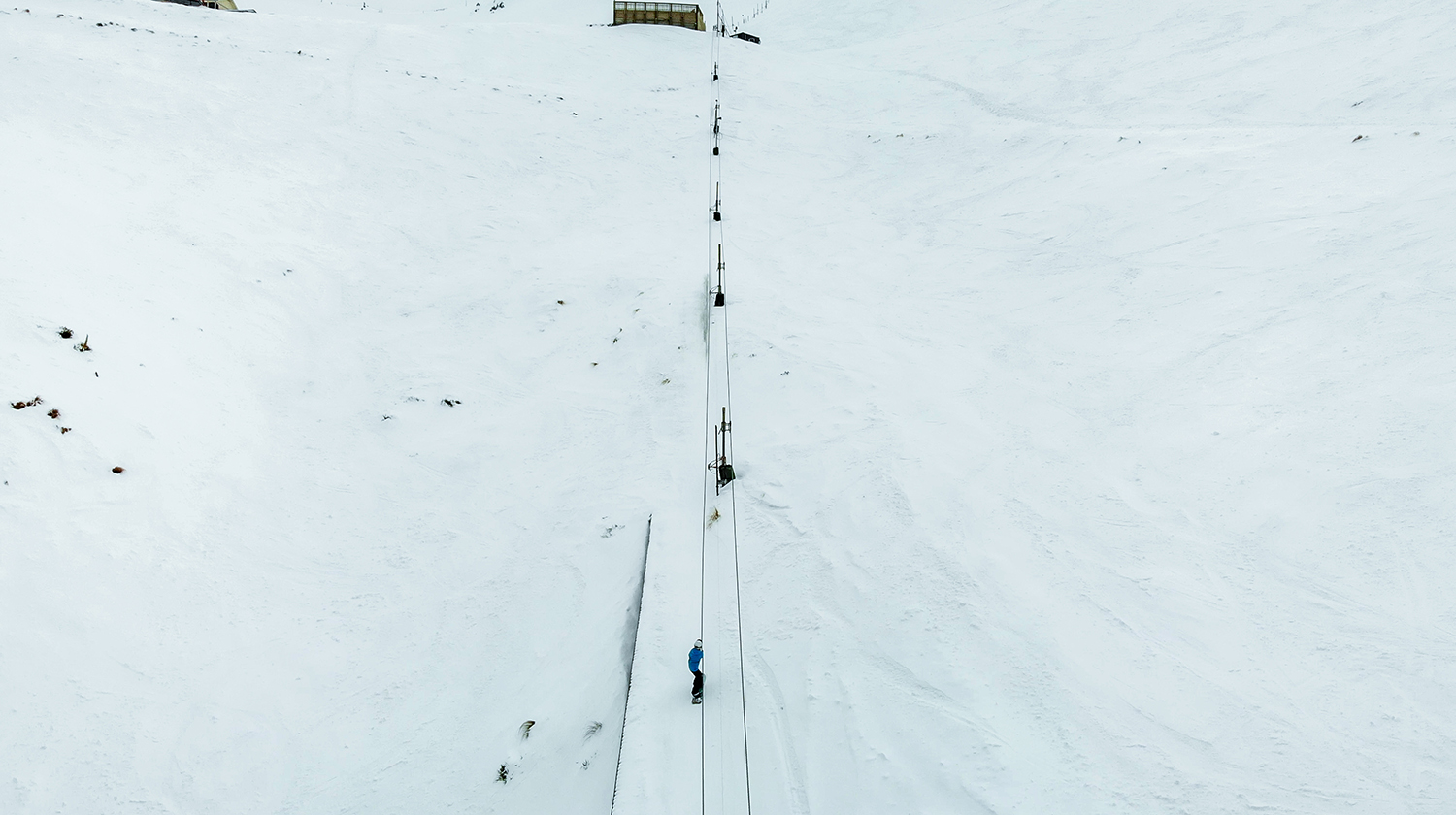 Help make your dreams a reality
Actually, this summer, I was holding something other than a club field tour.In order to convey that unrealistic experience, I thought it would be best to actually guide him to that place.Provide the best experience of the place for the day within a short and fixed schedule.We have teamed up with local friends to invite guests to provide a dreamlike experience.Mr. W, a female in her 30s who usually works as an office lady.We also talked to her about New Zealand this time.
"My club field experience started with a hike in a snowless forest.'Is there a field run by people in the future?'. When I walked through the forest with that atmosphere, a ticket office appeared. As I climbed the stairs, I found a rope toe in a wide white field. I was like, "Can I do this?", And from that point on, I couldn't afford to look around completely. I was prepared for baptism, but it was tough for me, but thanks to the fact that I did not give up, I was able to ride alone on the 4th day. I had a hard time, but I want to do it again. I'm thinking about it somewhere. I could roll and get baptisms on my body, but this is also a good memory (laughs). There are scenery and people that I can see because I arrived, and I can experience it. The sense of fulfillment was great.
 There were many friendly and kind people in the "field for slippers by slippers", and the atmosphere of the lodge was easy to spend, so I came here for the first time, but I was not nervous.The tableware I used was washed and tidied up by myself, and the feeling of running it with all the users was refreshing.There is a management method and atmosphere that is unlikely to be found in Japanese ski resorts, and I thought it would be interesting to have a place like this in Japan.
 The slippery field is a rocky mountain with no trees, and it didn't snow much, so the snow surface was solid.I was hike up as I was guided, fighting nut crackers, and skating on the field that appeared in front of me anyway.When I returned to Japan and looked at the videos and photos again, I was asked, "Did you really slip in such a place? !! ], The scale and mountains that make me feel like a lie.I was going to another world.If I have a chance to go next, I want to have more time to slip, so I'm thinking of getting stronger first. "If there is a rock, please fly or stop."I will never forget this word that was said when I slipped.I think it was a New Zealand word (laughs).
 By going on a snowboarding trip, I discovered a different kind of snowboarding.I want to continue to live a life where I can enjoy snowboarding throughout my life.As one of the holidays, I hope to continue trying various snowboards.Snowboarding will be more fun with new discoveries. "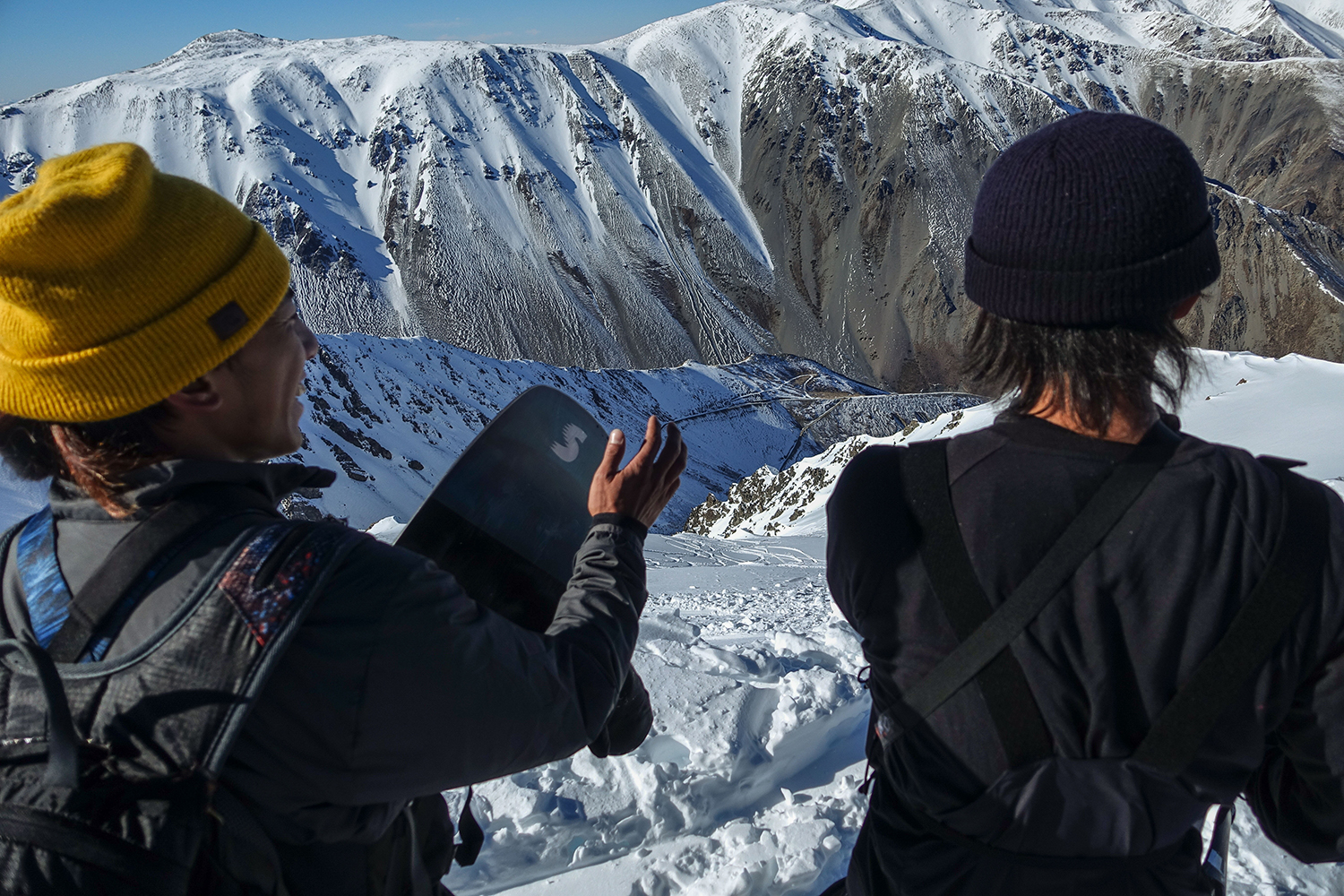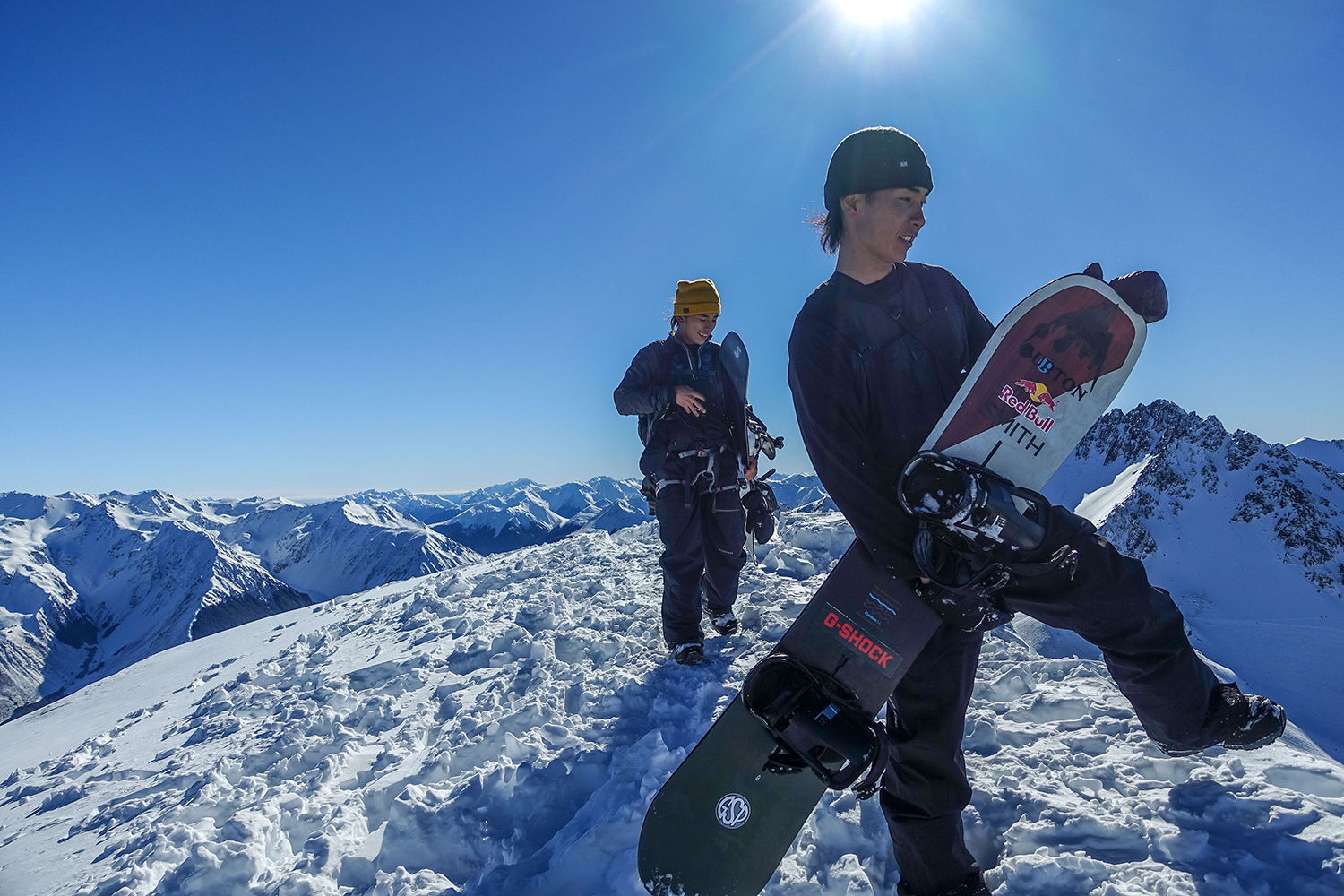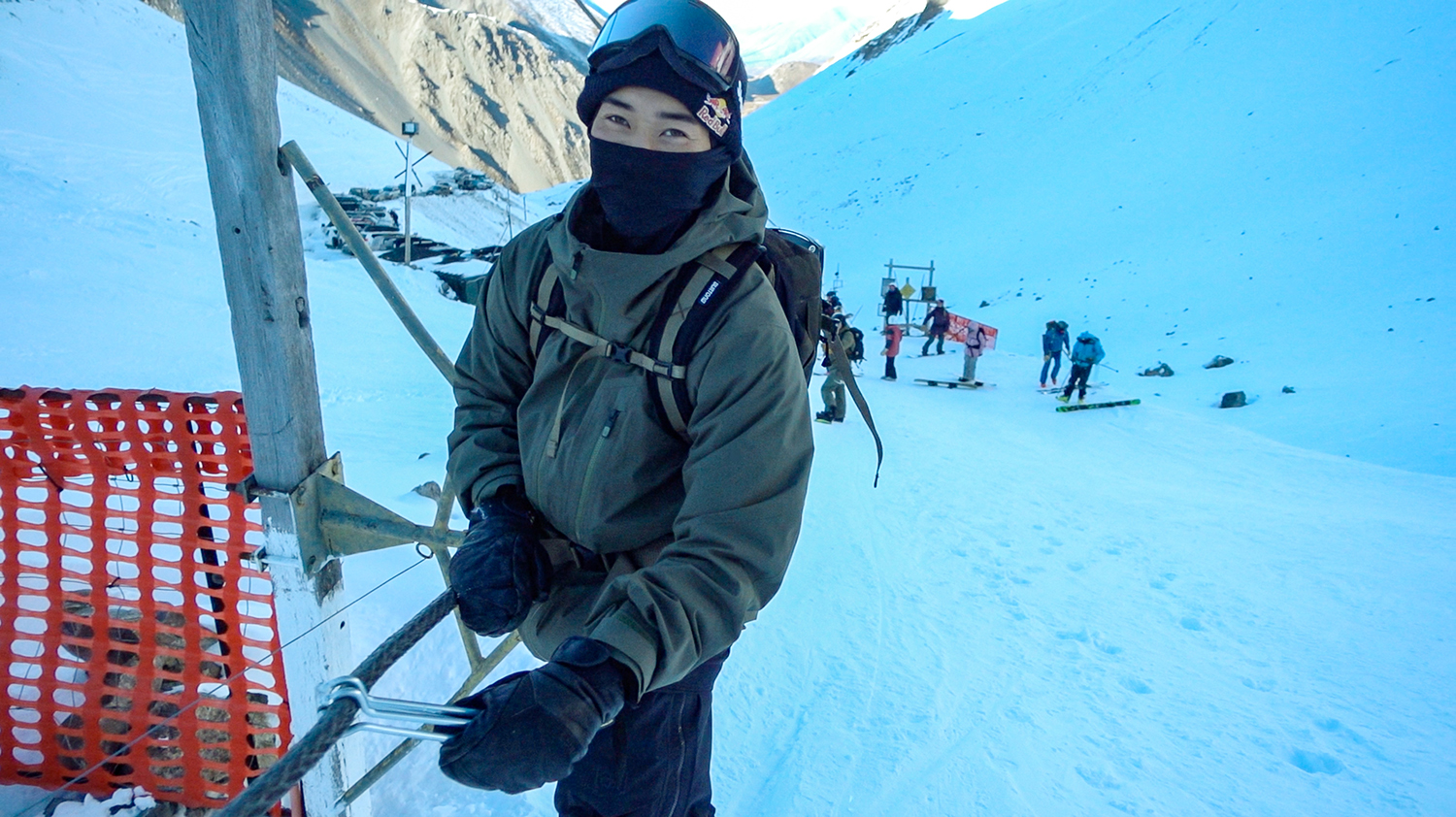 Two young people traveling freely
Taku Hiraoka, who participated in the Olympic Games with a halfpipe, and Ikuumi Imai, who also participated in the US OPEN with a halfpipe. The timing was right with those who were staying in the same area with the feeling that "I came to slide normally", and I decided to slide together for only one day.To be honest, I don't know much about them, but they said, "Would you like to slip with a friend of Yuyachi (Yuya Akada), who is a good friend?" And "What did you come to this area without a halfpipe?" There was a question.In the normal flow of riders, it's normal for the nodding rider generation in their teens and early twenties to go to Wanaka, pipe to the park, and have a party.When I heard about their changes in their minds someday, they certainly said, "I wonder if it will be here next year."Here, I asked them about the charm of New Zealand.First of all, please from the table. (* By the way, in the next issue of FREERUN released on October 1th, it seems that an interview will be given about the change in the mindset of the table).
"I thought the whole mountain was really freestyle. The more I walked, the more snow and terrain I could slide on, and unlike ordinary slopes, the snow wasn't compressed, so I really wanted to play in the natural mountains. Feeling. That's why the condition depends on the snow. Until now, there were many contests, but this time I felt like "I'm really playing in the mountains" and "Snowboarding is this". Of course, pipes and others It's all snowboarding, but what surprised me most was the steepness of the road to the slopes. The road was freestyle. For the time being, there was a charm that I had to go to. "
Taku Hiraoka
Sponsors: BURTON, Red Bull, G-SHOCK, New Era, SMITH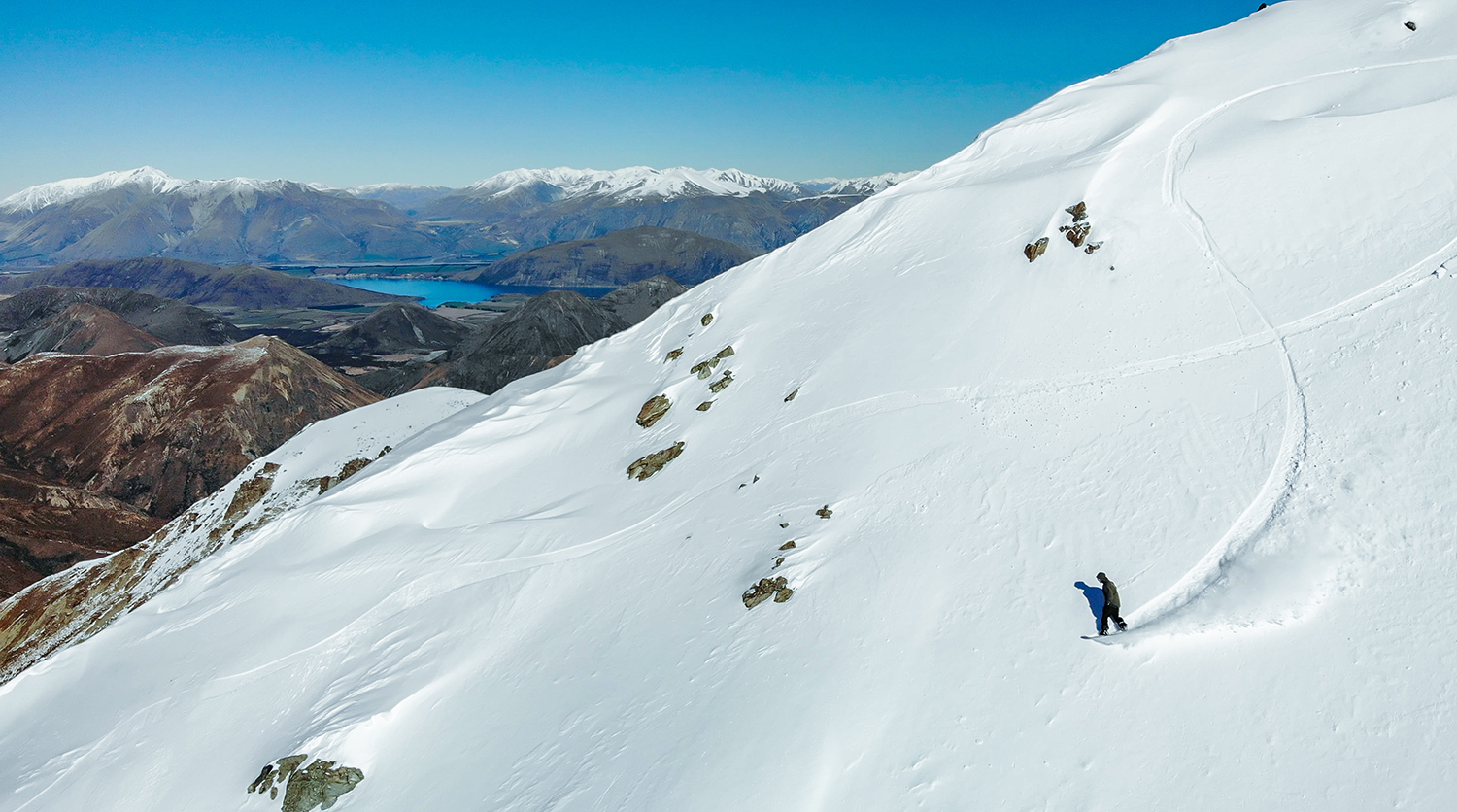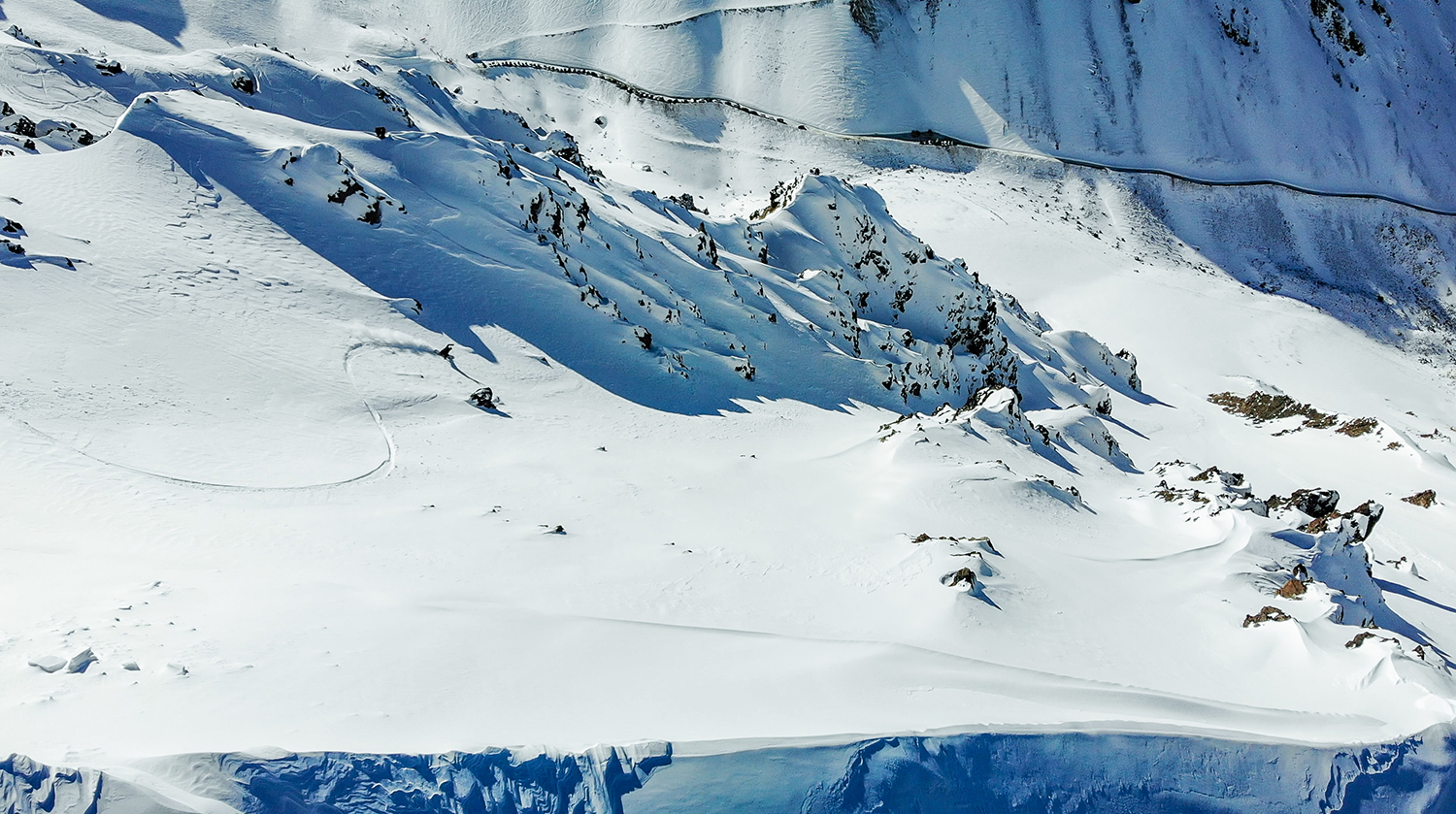 "I actually came here last year (see his first NZ movie last year), but it was a world where the concept of ski resorts I had felt in Japan and Colorado didn't work at all. Everything, including the way to the ski resort, was full of nature and it was a place I had never imagined in my snowboarding life. The people in the field are very kind and I really like nature, snowboarding and skiing. There are lots of wind lips and pristine terrain in the field, and I wanted to ski with my own ideas, or to improve my free run. Where to ski. I imagined how to hit it while connecting the lines. I felt that if free running could be done more freely, there would be more ways to play. The snow quality is difficult, the snow is thin, and the ice is on. I think that you can ski with great nerves and feel the fun of free riding even in difficult times. There are many places where nature is really beautiful in New Zealand itself, but Clubfield feels the charm of that nature to the fullest. I like the mountains of Cheeseman and Olympus, and there are various fields such as Olympus when you want to attack or ski at high speed, and Cheeseman when you want to relax, so depending on the mood and snow of the day. I think that choosing is also a point of how to play. "
Ikumi Imai
Sponsors: SALOMON, QUIKSILVER, ARRTH, COCOPALM, ARK, Chisodo, CALLAFACTORY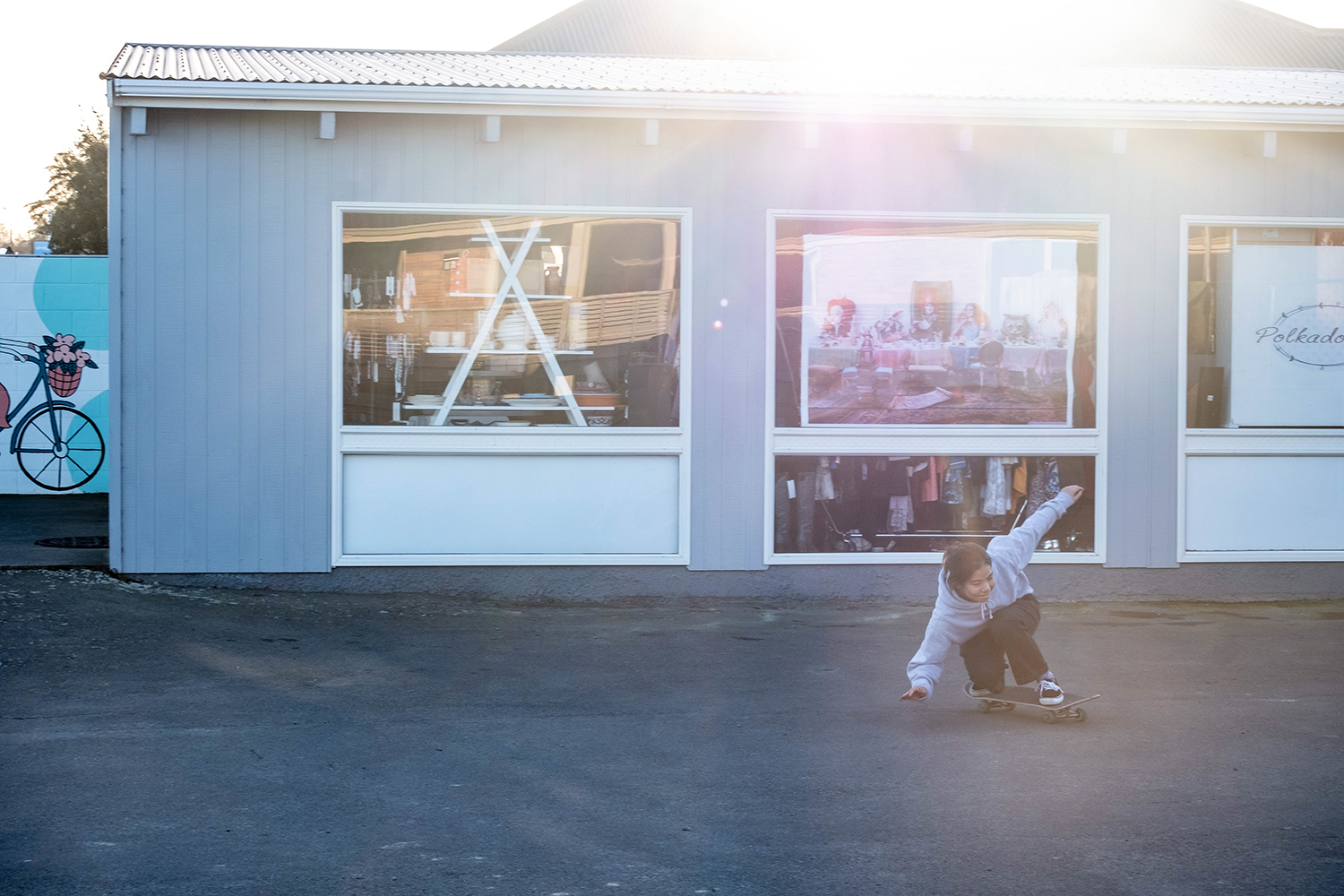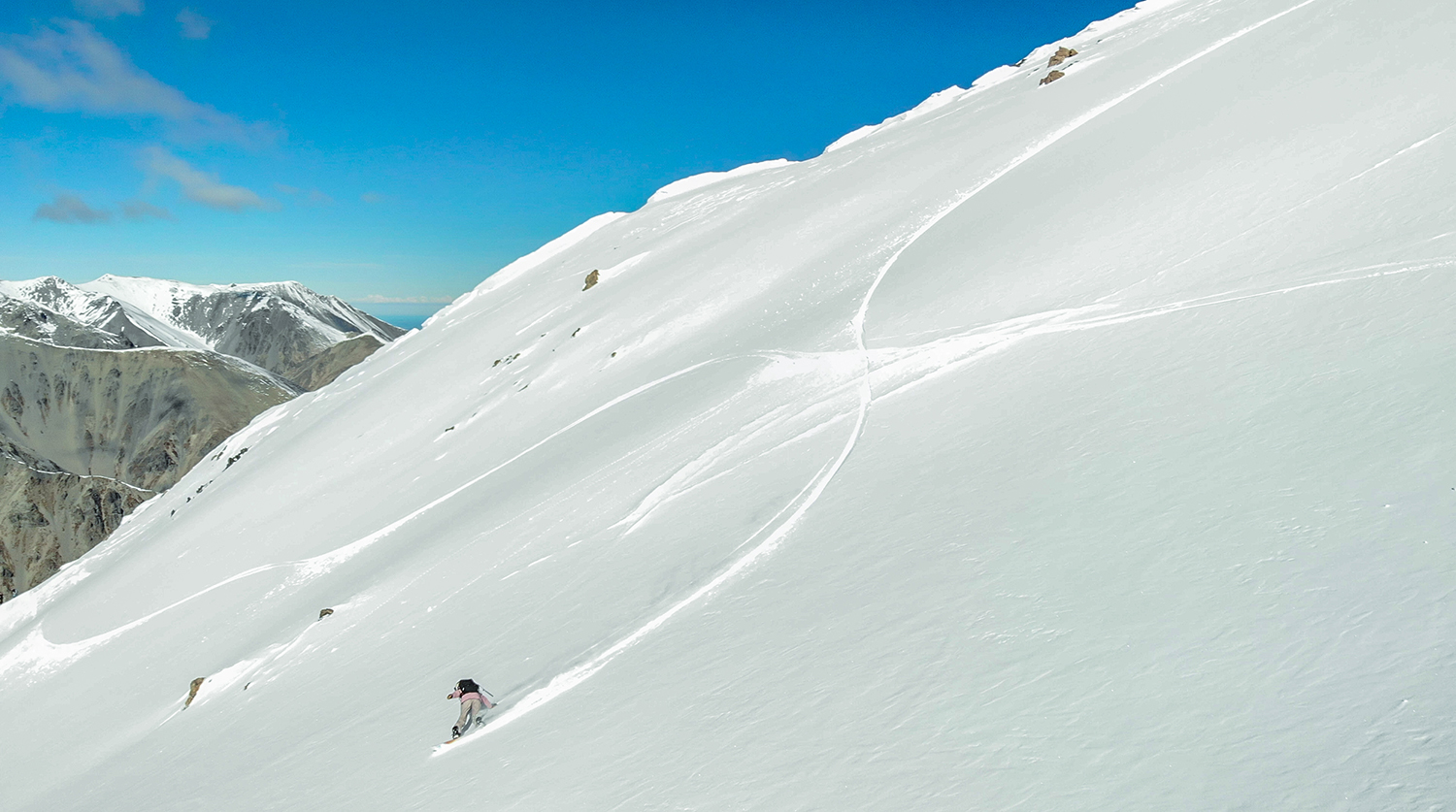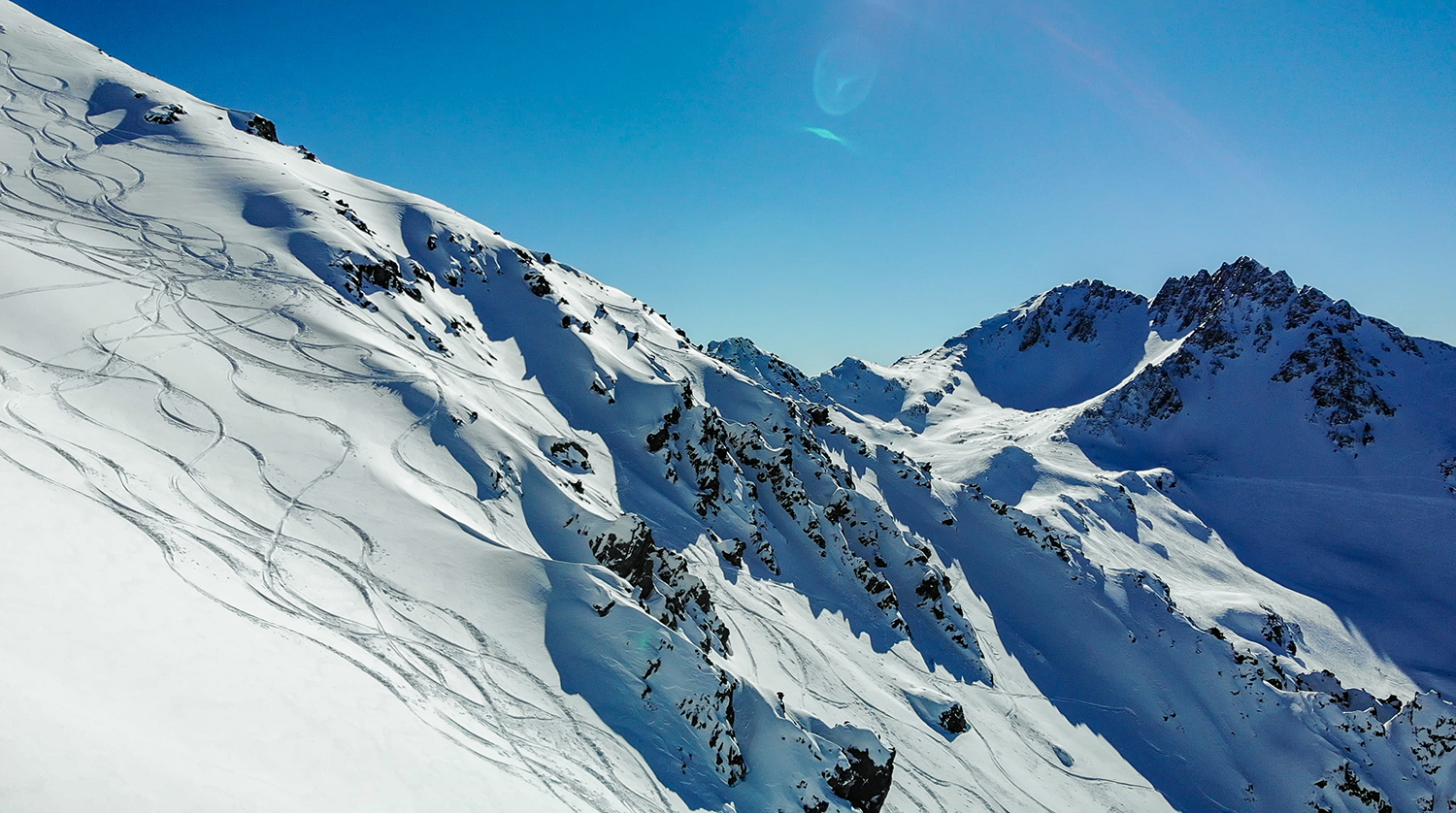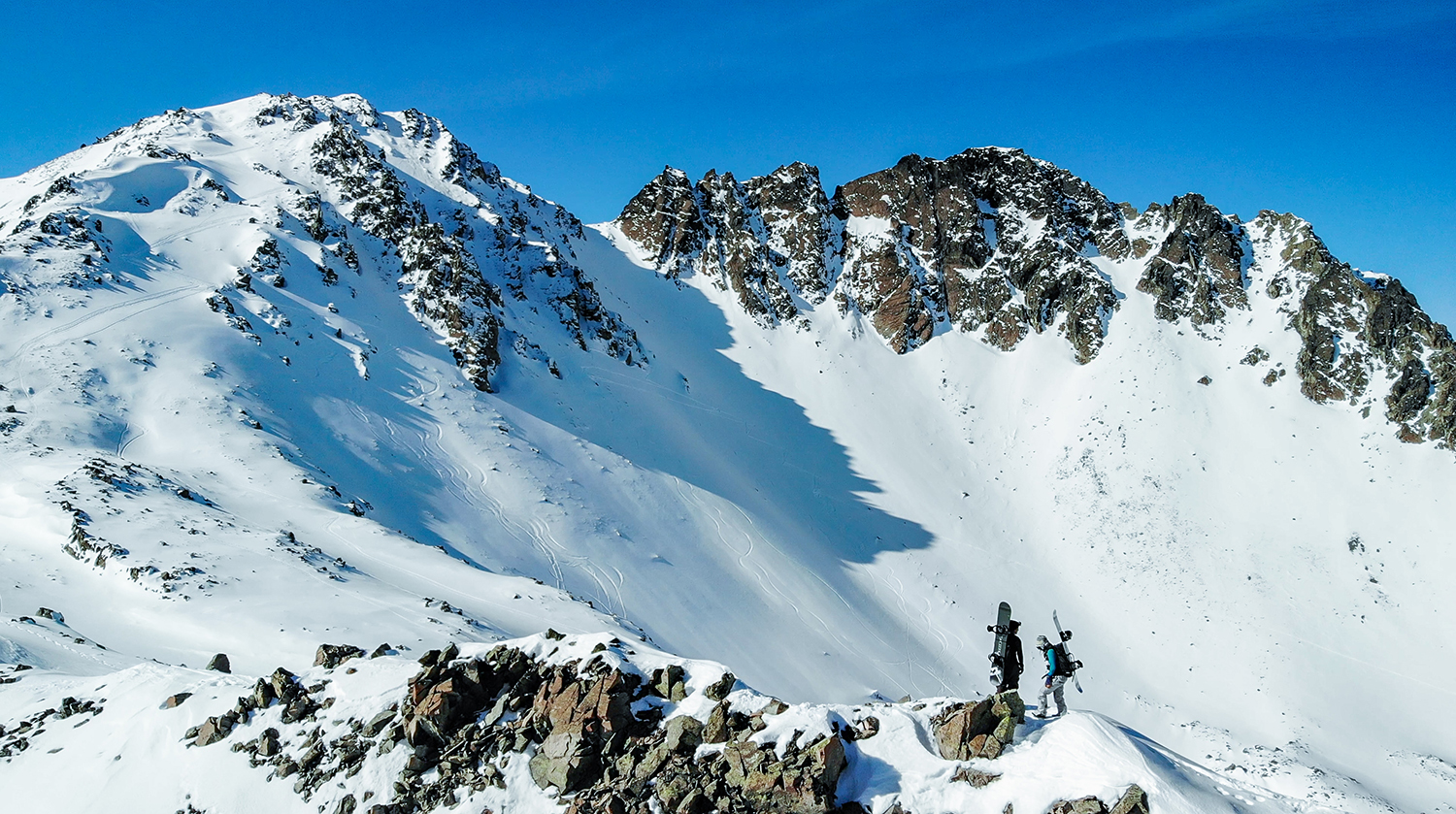 What happened in a chat one day
"Eh ~ I should go to New Zealand ~ I want to go ~" "I should come ~" I said that, but I thought I wouldn't come at all.However, the next day, the message "I'm going to New Zealand! Thank you!" "This guy is different."I had two beds in the house I rented for a trip with two men, and naturally I had to sleep on the floor. "I want to see a new world. I want to take on new challenges."Surprisingly few riders are slipping for stimulation with that feeling.Whether or not she knew the charm of the new world, what did she see behind the door she opened?I'm looking forward to seeing Aya Sato slipping next winter.
"Before I went to New Zealand, I did a lot of research and imagined that it was a" great place ", but in reality it was a completely different place. When it comes to ordinary ski resorts, there are mountains. I think that people will make various changes to make it a ski resort, but there is a mountain in the club field, and a rope toe is just hanging over it. Before going, it looks like a normal ski resort. I was wondering if there was any, but I didn't feel like a ski resort that I knew at all, so I thought it would be a little different to call this a ski resort.
 I don't think I usually think of the people who made the field or the people who are working hard for this place when I'm skiing, but the club field is just slipping normally and it's a field. You can feel the background.Thanks to these people, we are slipping.And, "Where are you from? "It's JAPAN!" When you say, everyone says, "Good!Snow is good! ] Was a positive reaction.However, everyone said in unison, "Japan is good, but this is also the best! The word.You can see that everyone loves their home.The uncle who taught me the nut crackers and the warmth of various people while taking a break in the hat made me feel that "creating and protecting the field" is something like this.
 The speed of the nut cracker rope was unbelievable at first and was really scary. To be honest, I was dying, saying, "Is this every time, really?" See you. Is it about the third week?I was embarrassed if I could afford it (laughs).
 Until now, I have decided that "walking, climbing and slipping is not suitable for me".Actually, I don't really like tough things, and even when I was in the halfpipe tournament, I was walking around, even though everyone was walking.But after walking a lot on this trip and discovering that there is such a wonderful place where I can go with my own feet, I became interested in various places, saying "I want to see more scenery". rice field.It was a trip that made me really think that there might be nothing else that feels better than going to various places on a snowboard and skiing in a nice place. "
Aya Sato
Sponsors: GNU, 686, DRAGON, DEELUXE, NOW, spacecraft, Sandbox, eb's, GALLIUMWAX, Ishiuchi Maruyama Ski Resort, kem's

Hand-knitted hat shop.Visit New Zealand
My sponsor, LADE, is a domestic beanie brand that is handmade and custom-made to suit the size and color of the head, pattern and shape, and user preference.Yoshifumi Aida, the boss of LADE, was interested in the club field I talked about.I visited the place under the name of "inspection" because I couldn't talk about the management style and the community in the field, which are rarely seen in Japan.The field in Tohoku where he lives and the club field culture in New Zealand.Apparently there is a place to communicate there.In addition to such learning, a hat shop who never forgets his quest for slipping.Knit beanie for those who slip, and knit beanie for themselves to slip.If you give up slipping, you're just a hat shop.I think.
"The New Zealand tour sponsored by Kazushige Fujita, who is also a rider of LADE. I thought that learning the culture of club field would be useful for the future, so I decided to take the courage to go on my first trip to New Zealand. First of all, in a slippery environment, I think it's just a word "wild". There is no idea of ​​a resort or a customer in a field run by club members, the distance to walk to reach the field, the relentless nut cracker, and the field. So I felt wild in the sense that I had nowhere to go. It's a community, not a resort. In the first place, it doesn't bother me because nothing happens even if I'm spoiled, flirted, or complained. I have no choice but to do it myself. I was impressed when I did it, but I wasn't completely overwhelmed by myself until then, and my weaknesses were also taken into consideration.
 I drive from a snow-free city to Mt. Ikatsui, which I can see in the distance, and then climb up and slide, but there are many people who bother to go to the depths of the mountains and like to slide here. I was surprised.Even with the population ratio of New Zealand, it seems that the number of people who play in nature is very high, which is the reason why this club field is established.In terms of snow quality and amount of snow, Japan is better at all, but we have made a way to such a place with poor access so that we can easily access the wild backcountry.I think the inquisitive spirit of the pioneers is really amazing.
 Since the mountain is a mountain, I felt that the choice of gear would not change naturally.This time it was a long, slightly soft board, so next year I thought I'd try to make it a short and stiff board with a solid edge.However, I also thought that it really depends on my ability, not on the performance of the gear.If you have the skills, you can enjoy it as much as you have.I tend to slip in the soft and comfortable parts of Japan, but I have to step firmly on the hard parts of the rattling so that I can go fast.Next year, I thought, "I'll enjoy myself stronger."
 Especially for young people, if you feel something is unsatisfactory, you should go to such a place.Every day is exciting, and I think that hopes, ideas, and new feelings will sprout. "
Yoshifumi Aida
LADE SNOW founder / LADE clothing community STORE and gallery owner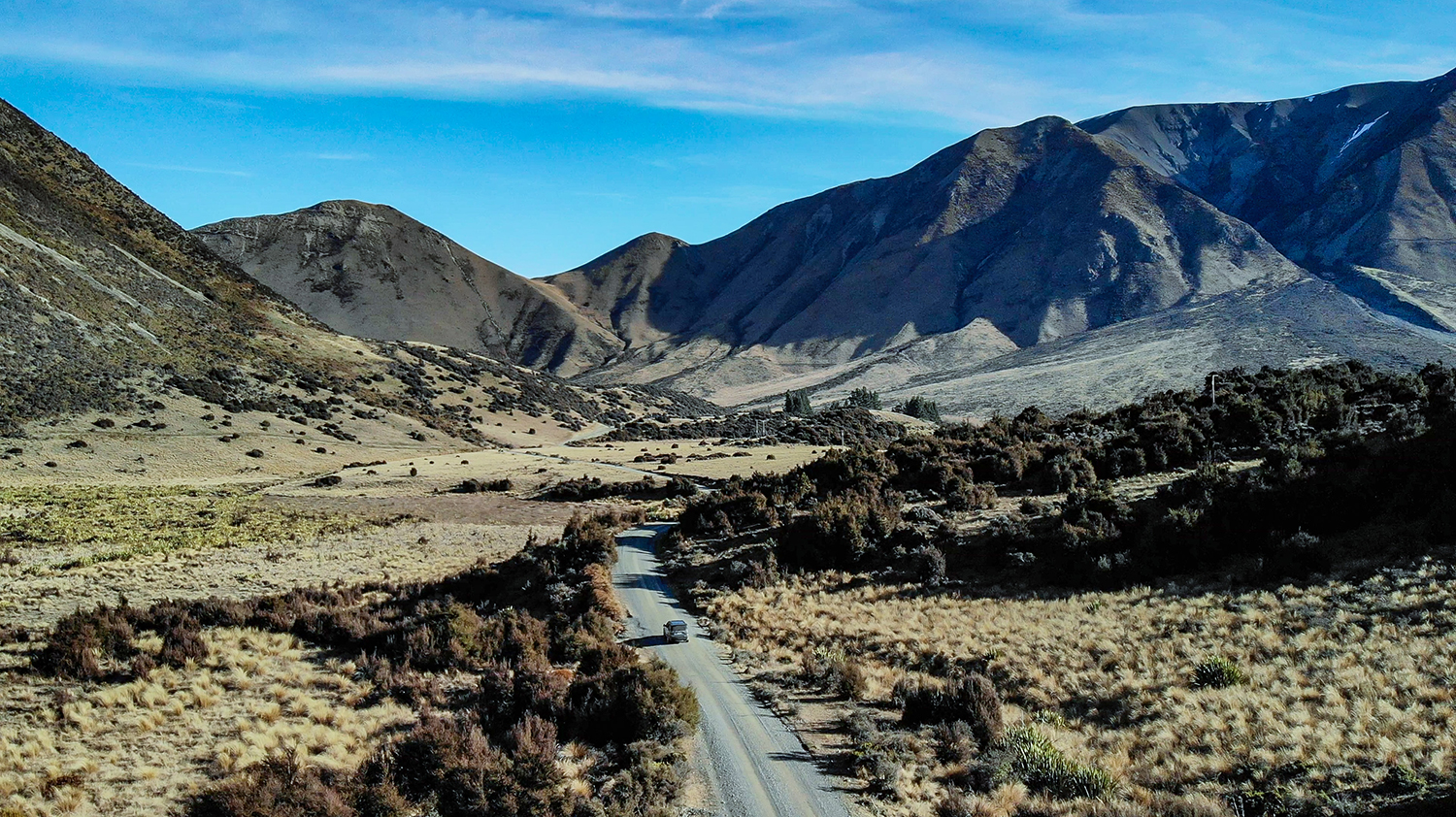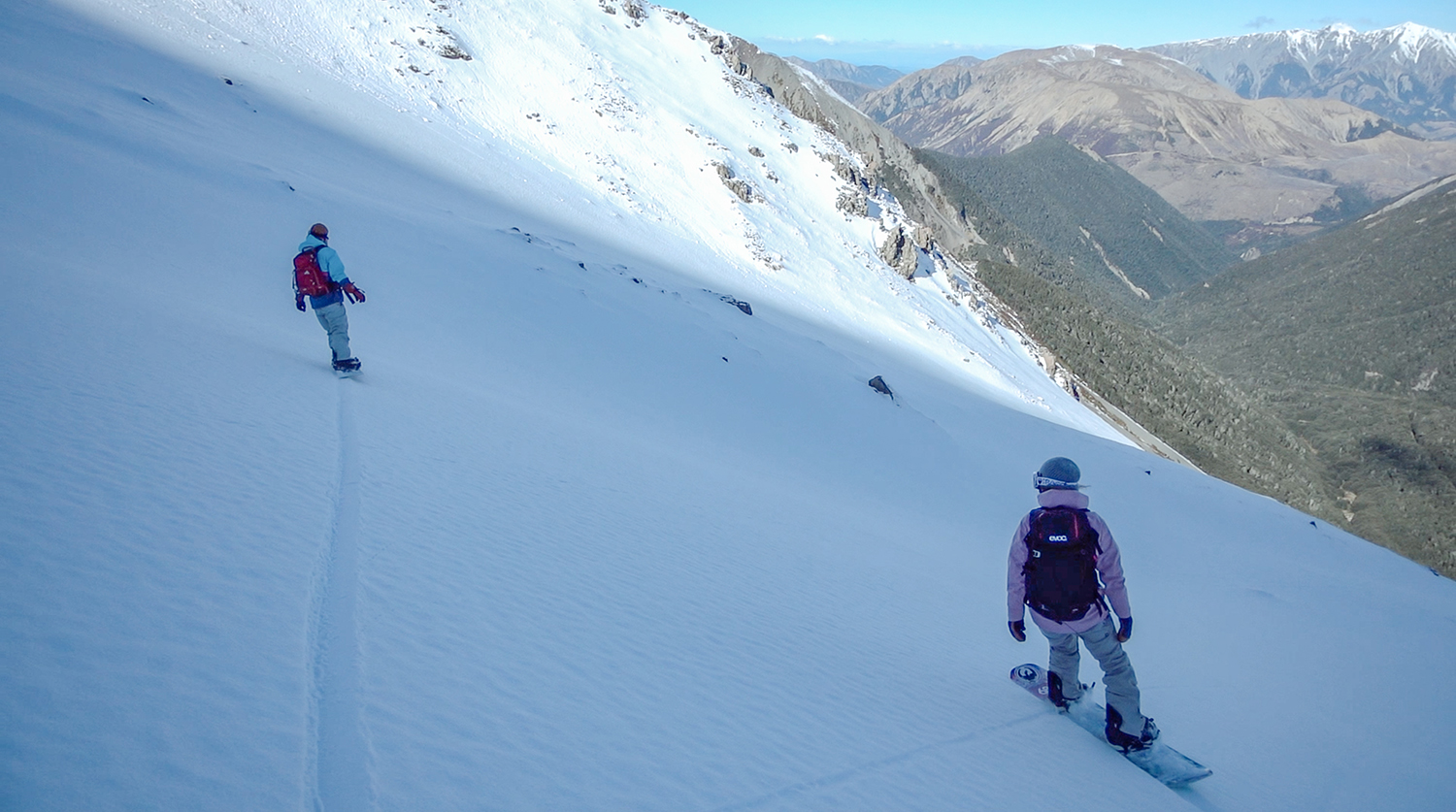 As far as possible
What is slipping?I'm sure it's like people breathing, eating, and sustaining life.A big existence that connects to the power of the heart, just as people connect and support each other.A community created by a field called Snow Mountain.A field where people are connected and spun.I think people naturally create happiness and support each other by slipping.I want to go for a new world as much as possible.This is because I am happy to connect with people and connect with nature.There should be no reason for people to go on a journey.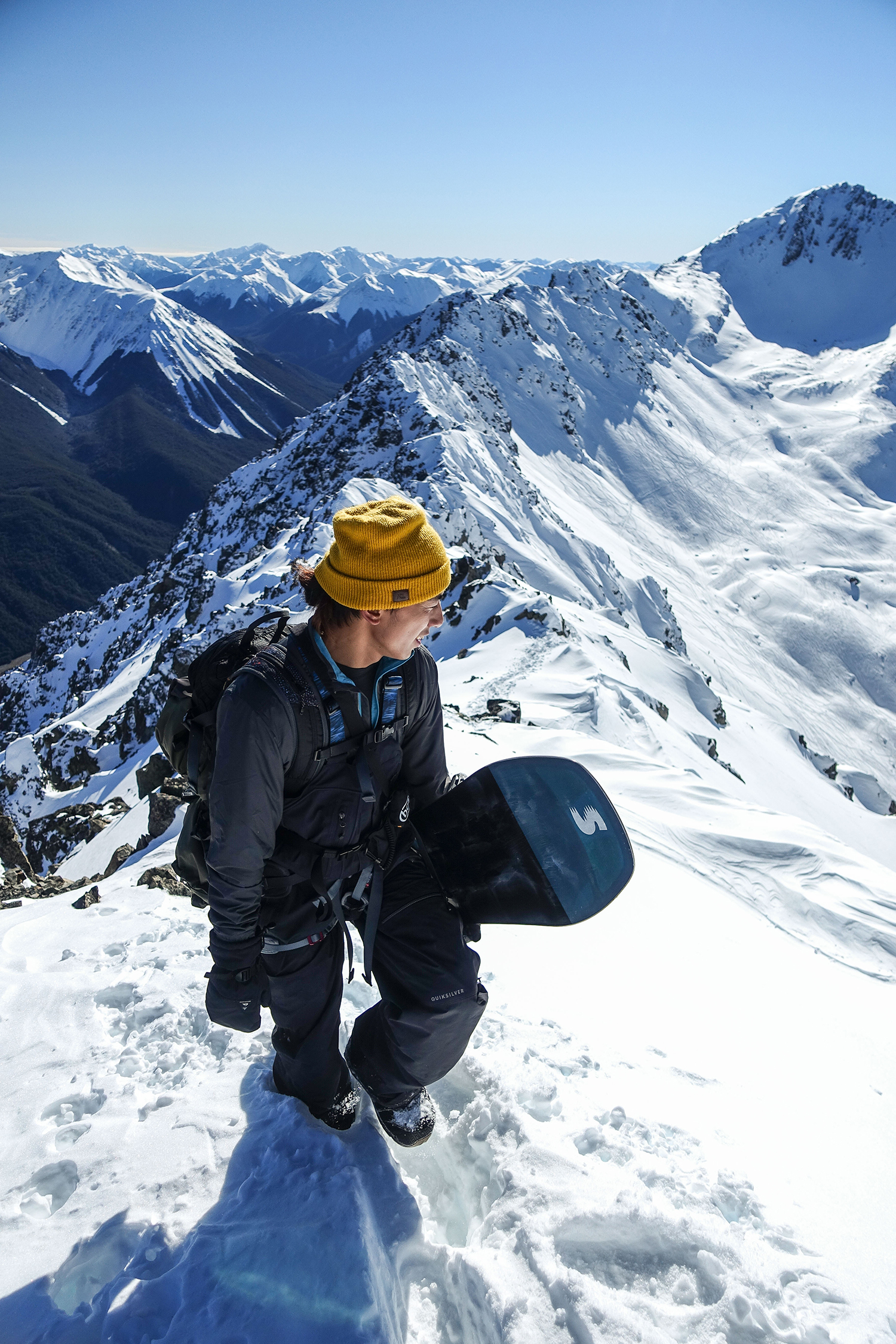 Kazushige Fujita (forestlog)
A snowboarder who likes to travel.He visits various places and embodies the charm of snowboarding and traveling. Leading Forestog, he also produces videos, designs, and writes.My hobbies are photography and the kitchen garden.Daily life is being delivered on Instagram (@forestlogd).
Sponsors: Gentemstick, Billabong, Icetune, Lade, UN, Abom, Karakoram, P01, MSR, Wakelip's