ZOOBAAN (Zuburn !!), which appeared as a new brand in the snowboard industry last season.The graphic and soulful wording like a lightning bolt running over the brand name leaves an impression on those who see it strangely.Furthermore, the unique style that the item category that develops every year changes, such as board last season and wear this season.What kind of thought is there?We talked to Mr. Terada, who managed the gym as a physical trainer and achieved the dream of establishing a snowboard brand for many years.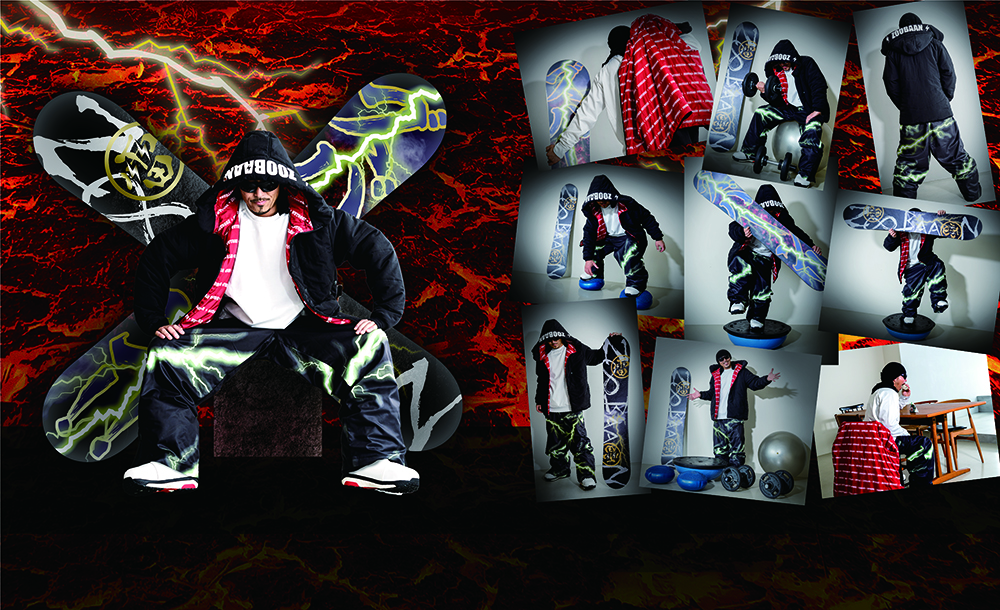 To shop clerk, manufacturer work, and trainer
Mr. Terada, who runs a personal training gym as a physical trainer, begins his career as a snowboard shop clerk.
"When I was in my second year of college, I started working part-time at a local snowboard shop, and when I graduated from college, I had a strong desire to work in the snowboard industry, so job hunting was just one. Company information in the catalog issue. I made a phone call or email to the snowboard maker, "Are you looking for new graduates?" I was the person I was working with. That's why I decided to work at that company. It was hard, but for me it was a time of training because I was taught various things. As I gained experience, I remember feeling that I wanted to launch my own brand someday about two years after joining the company. "
However, "In 2005, the company changed its business from the snowboarding business to a Kaatsu training gym. At that time, I had to break up with snowboarding. There was a lot of conflict. What I did as a trainer. No, I wonder what will happen. "Human, if you think it's no good, stop there and study hard from now on. You can study no matter how old you are, and if you want to do it, you can do it." With that word in mind, I started my life as a trainer anew. When I started my own personal training gym at the age of 30, I said, "I might be able to do what I like in the future. I thought, I wrote in the business content of the company that it was a sports brand manufacturing and sales business. "
Brand name named after the feeling of words
Once away from snowboarding, I finally decided to start my own brand, which I kept in my heart.
"For seven years at Aoyama 2-chome, and when we moved to this place (Akasaka, where the gym is currently located) and reached the second year, the world changed drastically due to the corona disaster. When I was able to afford it, I suddenly remembered the feeling I had in mind when I made the gym, "I want to do something related to snowboarding." I just talked to my classmate who made the interior and tried to do something new. There are 1 floors and the XNUMXst floor is a roadside store, so I want to make a shop. As the story goes on, I decided to make a brand. And with the background and passion that I made the brand. In order to convey it in my own words, it would be ideal to sell while serving customers in the form of an official shop. "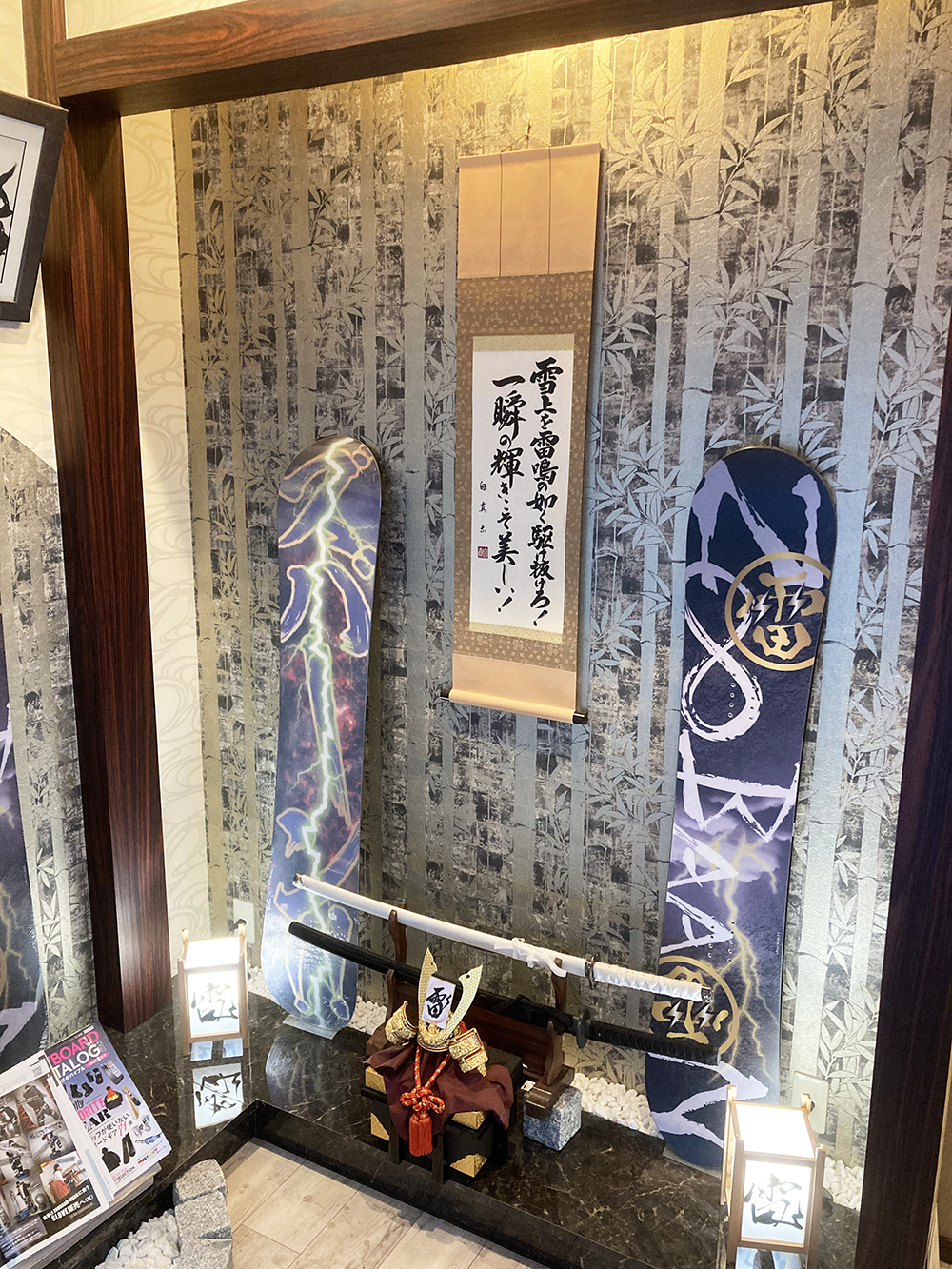 How was the brand name with an impact that was just the name of the onomatopoeia?
"When I was talking to that friend about the brand name, it would be interesting if it sounded like a sound effect called Zubababababurn. It's katakana, it's not anywhere, such a brand." I decided that I liked "Zuban" (laughs). First, the katakana brand name was decided, and then I applied kanji and English. Since the association of the sound of words was thunder, the kanji was " The word "thunder" was read as "Zuban", and the English word "OO" in ZOOBAAN had the meaning of infinity, and the message was that it would continue to shine forever.The letters on the deck were written by a calligrapher, but the letters B are so good that they look like mountains or thunder. "

Why develop another category every year
It's common for a brand to have multiple categories (snowboards, bindings, boots, etc.), but it's rare to sell one category each year.The values ​​and commitment to Mr. Terada's brand appear there.
"I think it's better to have a product that has a story, not just" the graphics are cool. "For the board, the whole body that embodies the image of" shock "and" a line of lightning explodes. " I thought I would make this board because I made one of them. It is not interesting for a brand that suddenly appeared without stacking anything to make the same item every year, and I was able to convey a message and STORY with thought. I think it's better, so the release cycle of the category has not been decided. For example, the board is not once every four years.
I also want to break the stereotype.If you are a board brand, it is normal to release a board every year and choose from various types.But it would be interesting to change the product every year, and I thought I wouldn't do it anywhere else.If you buy a board, you can arrange it as clothing next.It's difficult to make vines and boots from scratch with my own power, but collaboration with some brand is also interesting (laughs).I would like to try it if you ask me, and I think that such fun is absolutely necessary.I think it would be even more interesting if we could do something that we couldn't imitate anywhere.The goal is to be a free brand that breaks the stereotype.First of all, the fact that a personal trainer is his main job has collapsed in the first place (laughs).Of course, I think that it is because many famous brands who have been supporting the snowboarding world for many years have continued to do their best.It would be a great pleasure if a handful of people suddenly stepped into it and said "ZOOBAAN likes", so I would like to continue the current form.I don't want to grow the brand or increase the number of units sold. "
We are particular about selling a limited number because it is the limit that our company can do in terms of cost (laugh).Honesty ~ (laughs). "If you have 50 boards, you also wear 50 clothes. I want people who bought the boards to buy them, but each person has their own way of thinking, and I hope you like them."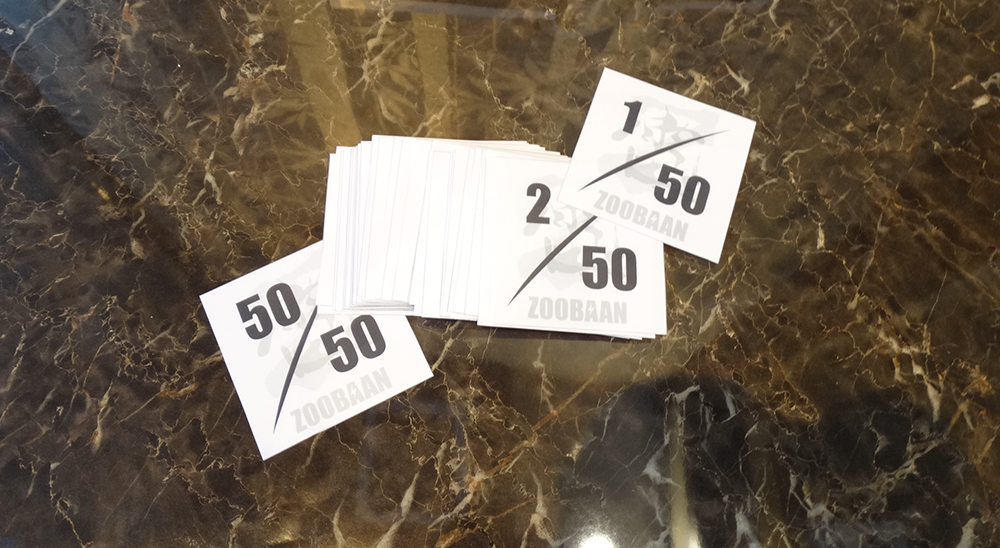 In addition, we are looking for team riders who have a strong desire for the brand.
"Team riders have decided to choose from amateurs. It's not the desire to be a rider because they get a contract, but with people who have strong feelings like" I like ZOOBAAN "and" I make ZOOBAAN famous. " Because I want to create a brand in Japan. I will provide goods firmly. I will also support physical training. The number of people is XNUMX Japanese and XNUMX foreigner. It is very noticeable (laugh) The goal is X GAMES It's a big goal and the final goal (laughs). Until then, I want to continue the brand. I'm Beanie this year, but I think it's okay. I will continue. "
The meaning of continuing the dual wield style of trainers and brands
Finally, I asked him if he was worried about launching a brand with this corona.
"I was very anxious. At first, I was planning to jointly invest with a friend, so what if I couldn't sell it? But I thought it would be better to take all the responsibilities myself, so I decided to do it all by myself. However, it was Interstyle (snowboard trade show) that dispelled that worry. When I saw a lot of people taking action to display well and connect to sales even in Corona, "Everyone I was determined to move, too. If it doesn't move, it won't be a topic, and it's one of the actions that I put out on FREERUN. I also have a field as a personal trainer, so I don't neglect my work, and I do a good job with the brand. When I decided to go with two swords, all the inspiration was connected. That image. So I bought two swords (to decorate the store) and used the place to decorate as a living room, and the image and behavior matched. Then I started twitter, posted a video on Instagram, and it got a little excited, HP I thought that I should have made it, and when it was prepared one by one, it became a brand, and my anxiety gradually disappeared. Even though I tend to feel negative in corona, I think that a pinch is an opportunity for me. So, as a result, I'm glad I started at that time.
I'm sure some of you may be wondering how many brands you're making even though you're not a snowboarding professional, but the law didn't say that you have to be a professional to make a brand, so register your trademark. I've completed it, and I've put a lot of things into action (laughs) I love snowboarding because I'm with everyone in the world (laughs). "