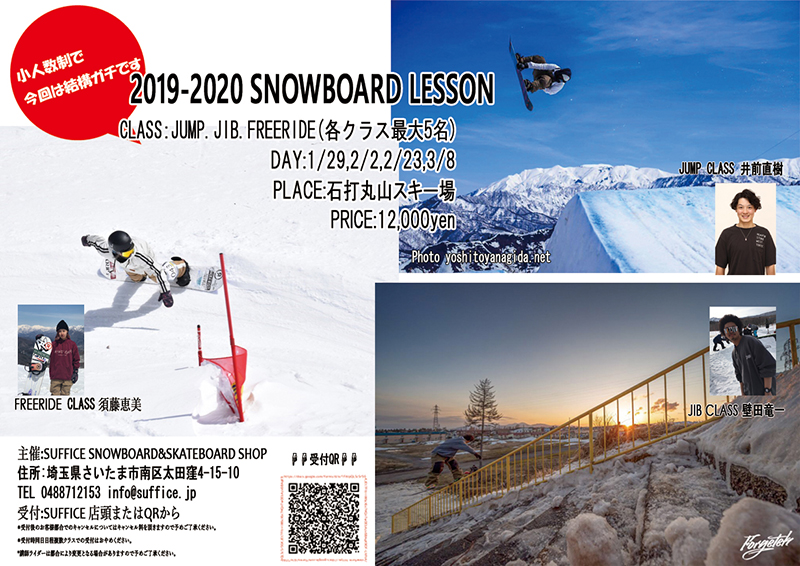 SUFFICE, a pro shop that also serves as the executive committee of AM JAM, will start small group lessons this winter in three categories: "jump," "jib," and "freeride."
The lesson content is quite apt for those who want to win in sponsored tournaments and banked slalom tournaments.Of course, even those who are not aiming to participate in the tournament or want to get better can participate in this lesson.
Some of the people who have never been taught at school and have managed to cheat and slip in their own way may be worried or hit a wall because they are not working well.By returning to the basics and teaching in this lesson, your slip will improve dramatically.
Emi Sudo in the freeride class.Ryuichi Hekida in the jib class.Naoki Imae and gorgeous coaches are in charge of the jump class.Professional riders who are good at each scene will take lessons firmly. It is perfect for measures for competitions and events starting in mid-March.You can feel the joy of improving your skills and expanding the range of sliding beyond the wall.I want to get better, I want to slide cool, I want to win the tournament.If you are motivated, please consider participating!
[Lesson details]
開催日:1月19日、2月2日、2月23日、3月8日(4回実施。1回から参加OK)
Location: Ishiuchi Maruyama Ski Resort (local gathering, local dissolution)
Capacity: All schedules Up to 5 students per class
Holding time: 9: 00 to 15: 00
Participation fee: ¥ 12,000 (Please bring your own lift ticket)
coach
Freeride class_Emi Sudo (Lessons on how to slide banked slalom from basic posture)
Jib class_Ryuichi Hekida (Lessons on how to make JIB cool, approach lines, posture, etc., as well as rails)
Jump class_Naoki Imae (Coaching from 180 to double cork is possible. Lessons from how to take an approach line to posture in the air)
Eligibility: Anyone who wants to get better can participate