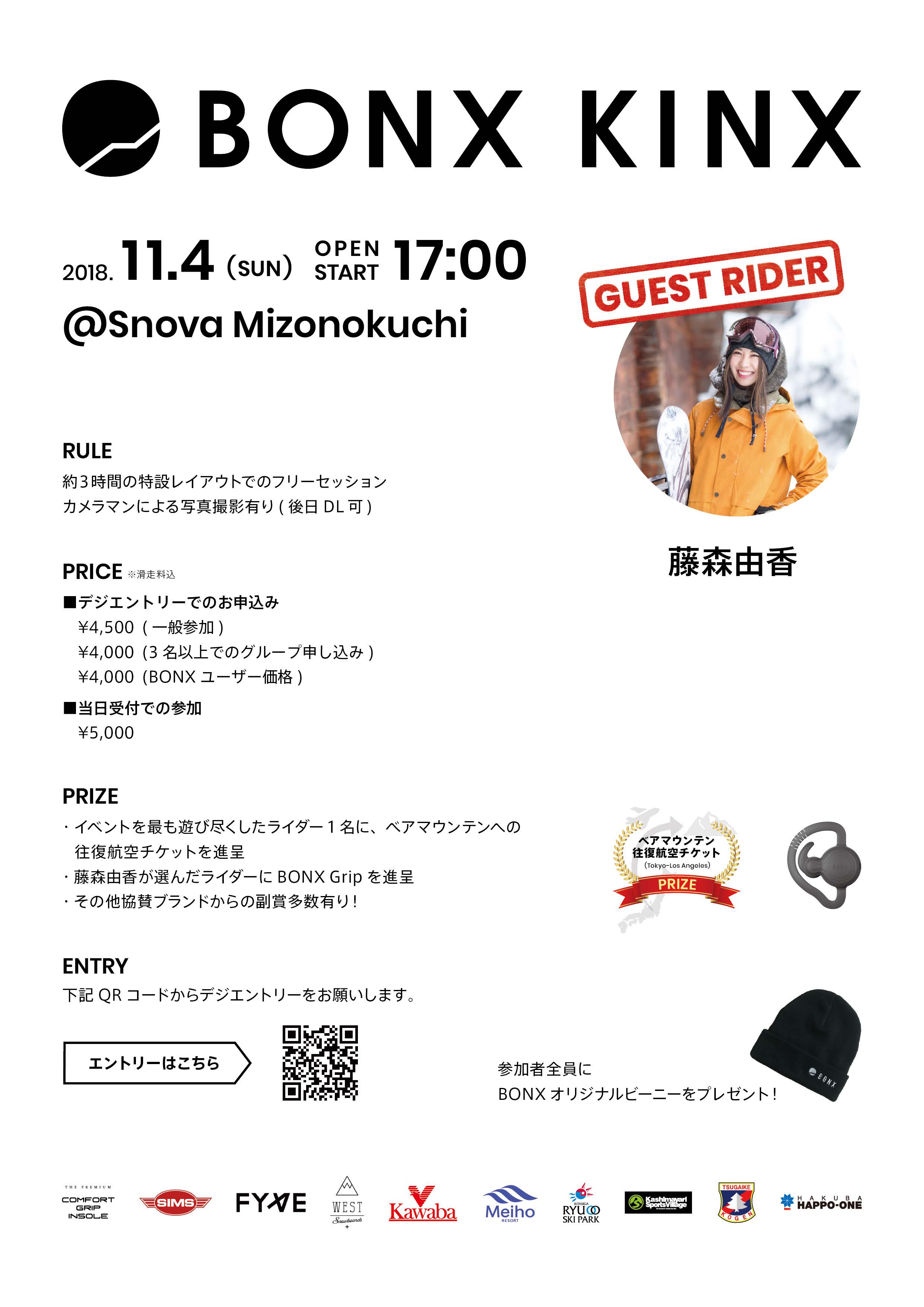 It seems that BONX will host the first event "BONX KINX" with Yuka Fujimori as a guest and gather at the indoor slope (Snova Mizonokuchi) closest to the city center just before the season in to have a fun and free session.
An event that can be enjoyed by a wide range of people, from those who like parks and jib items that go to Snowva on a regular basis, to those who have entered the BOX straight to some extent.Let's enjoy the BONX KINX special layout, which is different from the usual Snova Mizonokuchi.
In addition, one person who has played with a cool slide will receive an air ticket to Bear Mountain in the United States.Come win a part as a Japanese rider in the famous park movie set in Bear Mountain!
In addition, there are plenty of contents such as a photo session by a cameraman, free rental of BONX Grip, a lottery to win BONX Grip, a supplementary prize to win with a BONX hashtag on SNS, and sponsorship products from event sponsor brands.
【Schedule】
11/4 (Sun) Snova Mizonokuchi
OPEN 17: 00-
START 18: 00
CLOSE 21:00
It is a free session with a special layout of about 3 hours.
The entry isDigi EntryPlease give me.
【Entry fee】
Anyone can participate!
¥ 5,000—Participation on the day
¥ 4,500 — Advance reservation
¥ 4,000—BONX user-only discount (BONX users only)
¥ 4,000 — Group discount (participation by 3 or more people)
* All prices include a 3-hour run fee.
On the day of the event, it will be the price of participation on the day.
[Layout]
The special layout will be announced at a later date.
[Guest rider]
Yuka Fujimori (BURTON)
BONX KINX For details Click here for more information.