(Updated May 2023, 12)
Now it's time to go on a snowboard trip!
Wouldn't you like to visit places you've never skied before this year?Would you like to enjoy a snowboard trip like never before?
We propose a trip for you to enjoy the snowy mountains based on Sapporo.
People from outside Hokkaido may have an image of Sapporo as a place to stop by as a gourmet spot or a sightseeing spot before or after a snowboarding trip, but after all, it is Hokkaido!The basic potential is different.Six slopes can be conveniently accessed within an hour from Sapporo.
In other words, if you base your snowboarding trip on "OMO3,500 Sapporo Susukino by Hoshino Resort," located in Susukino, Hokkaido's largest entertainment district with about 3 restaurants, you can enjoy a luxurious trip to enjoy Hokkaido's gourmet food and powder snow. .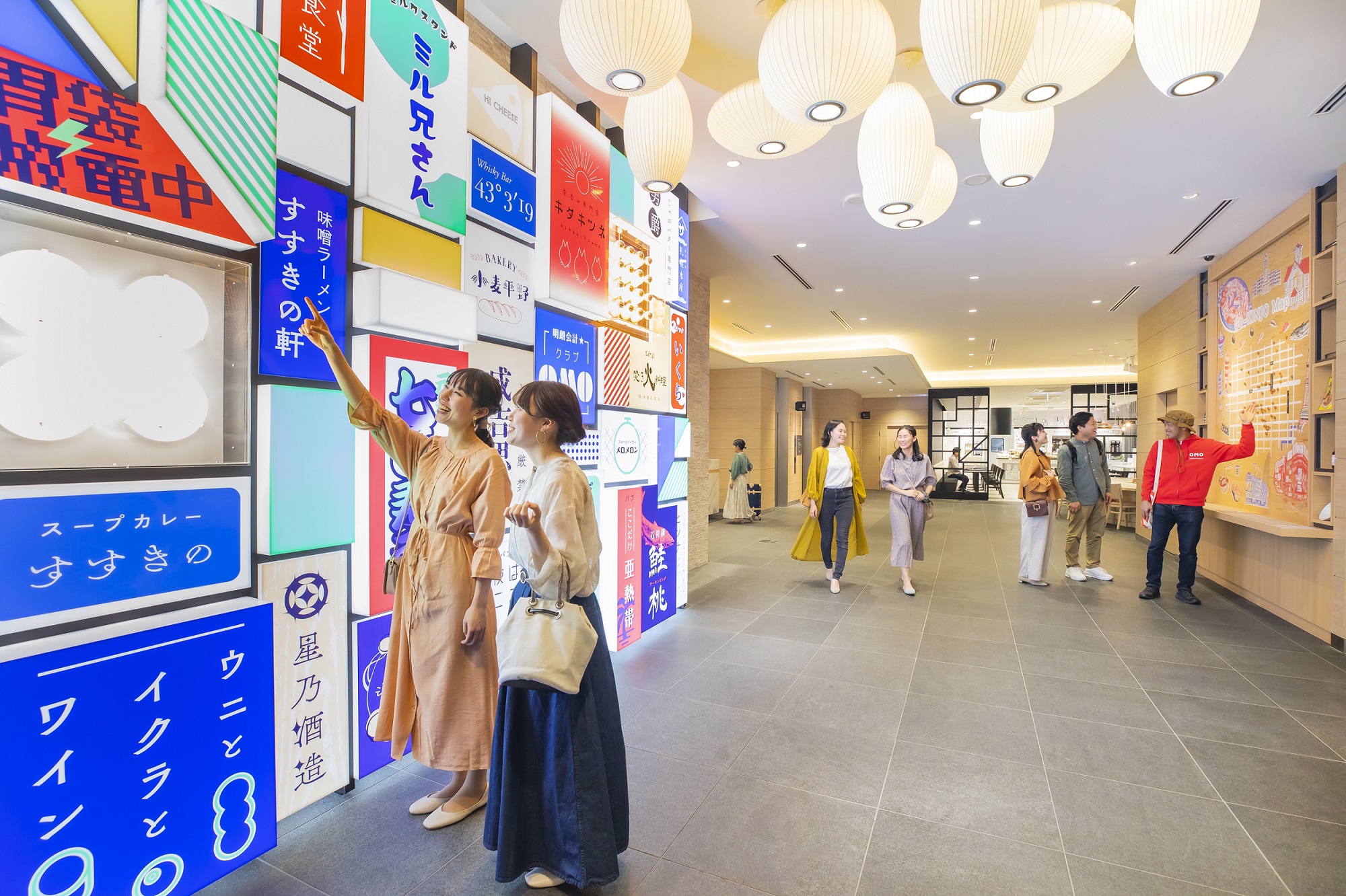 Access within 1 hour! A ski resort easily accessible from OMO3 Sapporo Susukino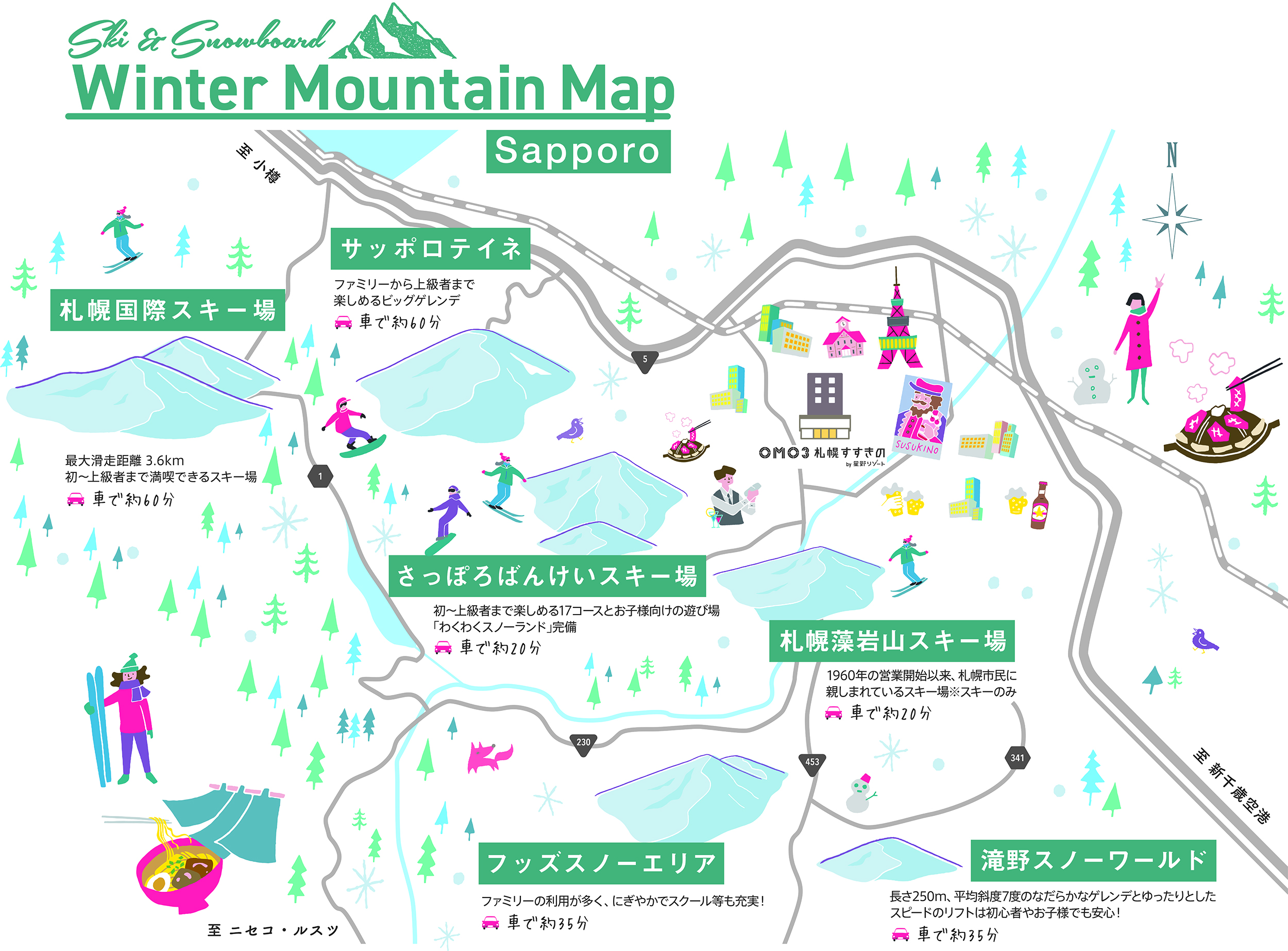 Sapporo International Ski Area
A ski resort that is very popular with snowboarders where you can enjoy powder snow and open slopes in a vast area.Access is also about 3.6 minutes!
https://www.sapporo-kokusai.jp/
Sapporo Bankei Ski Area
There are 17 courses that can be enjoyed by beginners to advanced skiers.Families will love the children's playground "Waku Waku Snow Land".Access is also convenient with about 20 minutes.
https://www.bankei.co.jp/
Sapporo Teine
Enjoy high-quality powder snow at an altitude of over 1000m!With 15 diverse courses, this is a big slope that everyone from families to advanced skiers can enjoy.Access is about 60 minutes.
https://sapporo-teine.com/snow/
Hoods snow area
A lot of families use it, lively and full of schools!Night games are also popular.Access is about 35 minutes.
https://www.fujino-yagai-sports.jp/winter
Sapporo Moiwayama Ski Resort (*Ski only)
①20 minutes ②Since its opening in 1960, this ski resort has been loved by Sapporo citizens.A popular spot where you can ski while overlooking the beautiful night view of Sapporo.Skiing only.The closest access is about 20 minutes.
https://www.rinyu.co.jp/moiwa/
Takino Snow World
Beginners and children can enjoy the gentle slopes with a length of 250m and an average slope of 35° and a slow lift!Access is about XNUMX minutes.
https://www.takinopark.com/snowworldtop/
Convenient service for enjoying comfortable riding in OMO3 Sapporo Susukino
■ You can go to the ski resort while wearing your clothes! Shuttle bus operates every day
A shuttle bus from OMO3 Sapporo Susukino to Sapporo Kokusai Ski Resort runs daily.You can go straight to the ski resort by bus from in front of our hotel without having to transfer subways or buses, reducing the stress of moving.On the way back, you can return to the hotel quickly with this bus, so you can definitely enjoy staying up late in Susukino!
For details such as bus timetables, see the official website (https://hoshinoresorts.com/ja/hotels/omo3sapporosusukino/sp/ski/)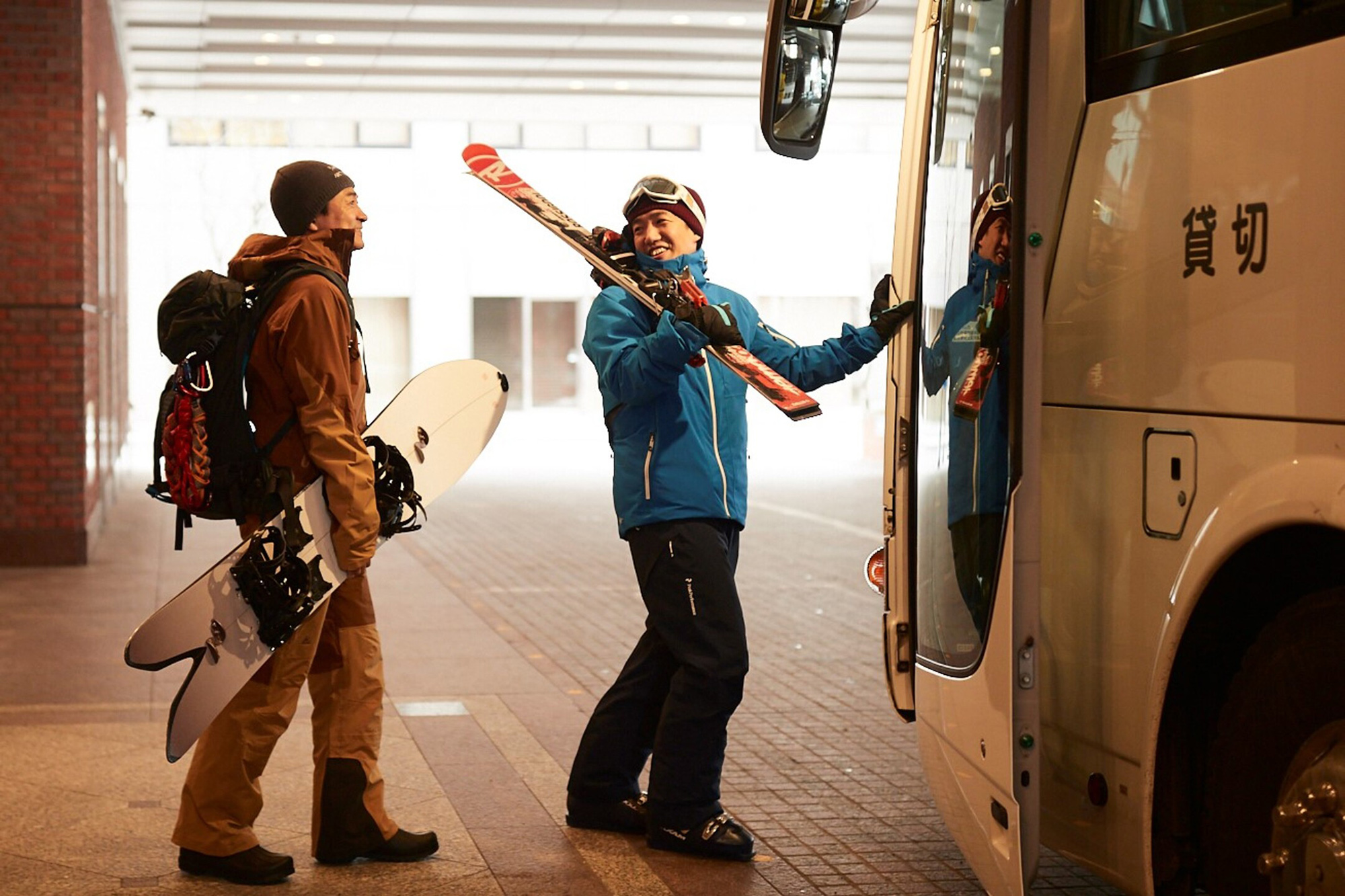 ■ WAX BAR and drying room that are very active in preparing for perfect riding
OMO3 Sapporo Susukino has a "WAX BAR" where you can use 10 types of wax for free.Depending on the type of snow at the ski resort and the temperature of the snow that day, the type of snow wax that is applied to the board will vary, so we have created five types of snow wax that can be adapted to snow temperatures of +15°C to -30°C to accommodate a wide range of conditions. It's ready.Considering the weather at the time of skiing, you can apply your favorite snow wax to your board for free the day before skiing or before departure, which is very convenient.In addition, there is a drying space for skis and snowboards in the hotel, so you can put your snowboards and boots in the space after skiing and dry them thoroughly, so you can keep your gear in good condition during your stay.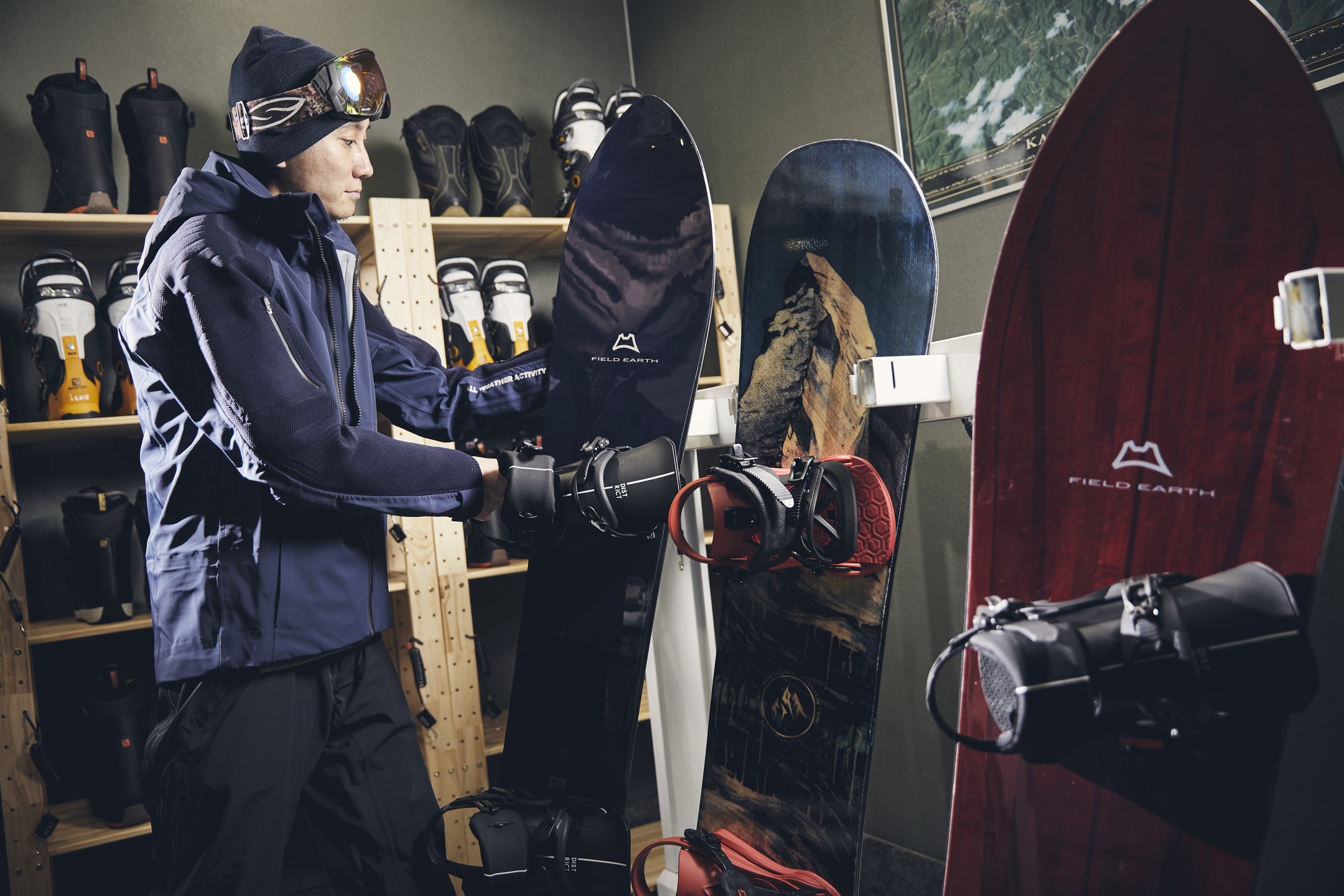 ■ Check the surrounding slope information at the hotel
The "Sapporo Slope Information Map", where you can catch up on ski resort information, is installed at the OMO base, and six ski resorts are drawn on the map, including the "Sapporo Kokusai Ski Resort" in Sapporo City.Every morning, the latest information such as the weather, snow quality, and temperature of each ski resort is gathered, and the staff writes it on the map. to choose where to ski.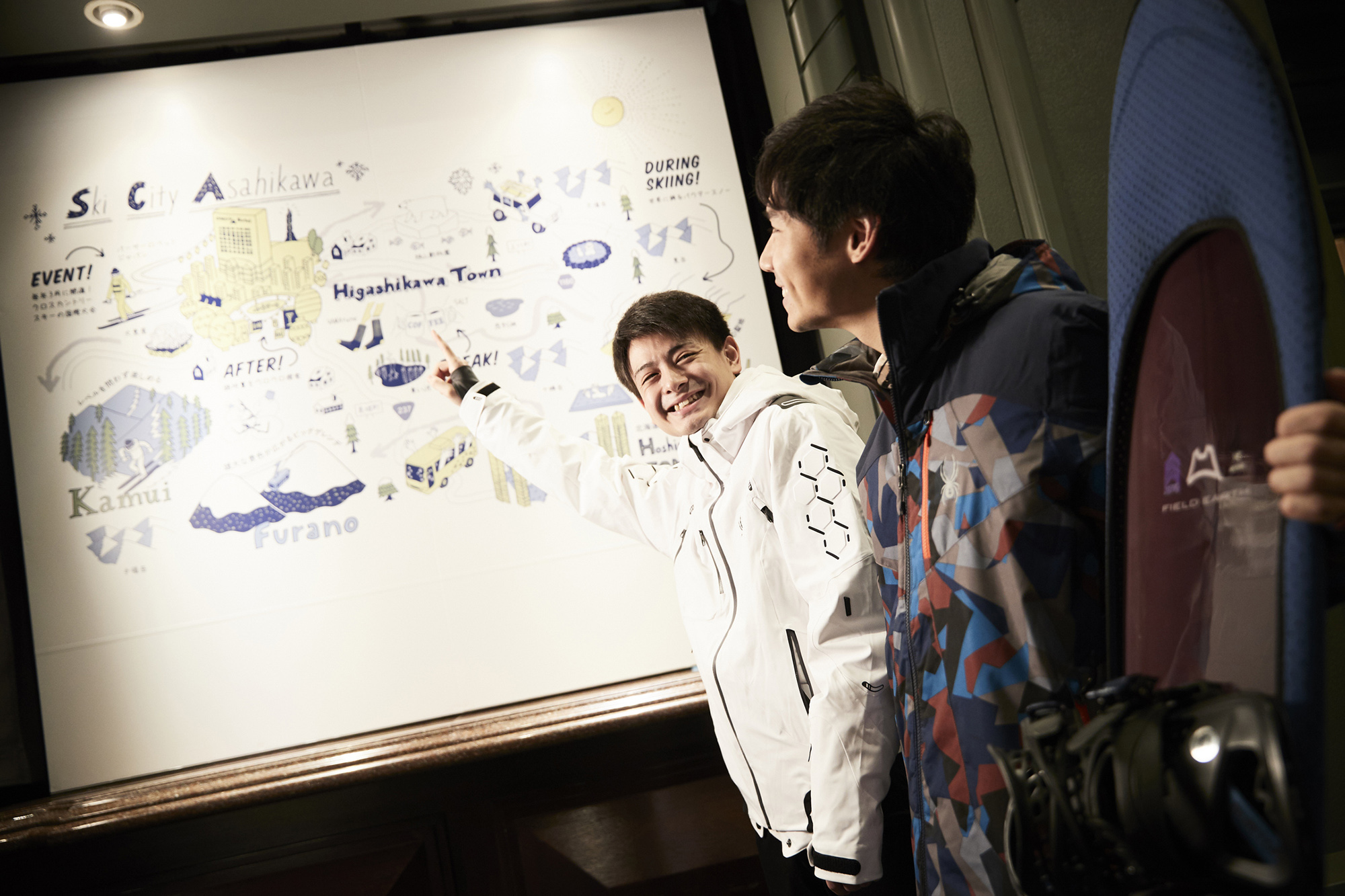 Selling plans with lift tickets for Sapporo International Ski Resort
The hotel sells a plan that includes a lift ticket for Sapporo International Ski Resort, which is ideal for skiers and snowboarders.You can pick up your lift ticket at the hotel counter, so you can go straight to the gondola without any formalities after arriving at Sapporo Kokusai Ski Resort.In addition, there are also benefits such as a ticket for OMO Food & Drink Station, which can be used casually 24 hours a day, and free coffee and cafe latte during your stay.It is a plan that you can spend comfortably before going to the ski and after returning.

You can check the conditions of 6 ski resorts with live cameras.
(※2023年12月現在、こちらのサービスは実施なし)
In the public space of OMO3 Sapporo Susukino, there is a touch panel monitor where you can see the latest live camera images of 6 ski resorts in Sapporo.By operating the screen, guests can check not only the latest images and weather information, but also past information.In addition, by reading the QR code posted next to the monitor with a smartphone, you can check the conditions of the ski resort even in your room or on the move.It is a great service that is very useful to increase the probability of realizing "the best experience = The Day".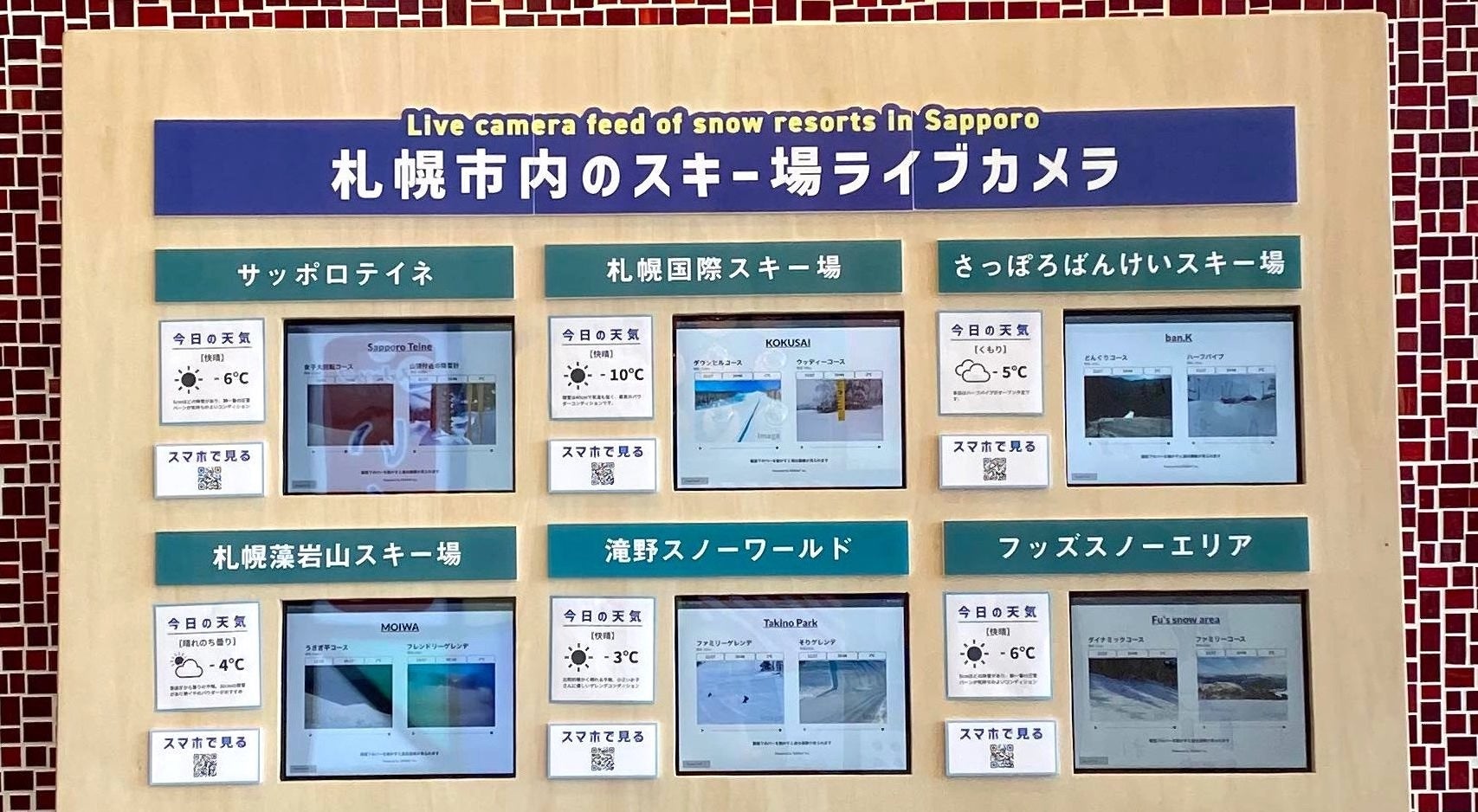 ---
Hoshino Resorts ski resort information, travel informationhereから