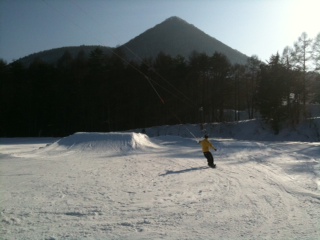 On the way back from the Takai Fuji ski resort, I found something interesting in the parking lot below.
Should I explain this?
It pulls the round and round section like a wire pulling a wakeboard and lets you play.
The price was 1 hour? 500 so I tried it ← Cheap
I need some tips, but once I get used to it, it's fun to pull it all the time
Well, my arm muscles come a lot, but ...
What's your name?
Rainy?There is a trick with a name like this, and it's a trick that jumps and becomes like a superman, but I wanted to do it, but I couldn't make it even once.
It seems that it has been installed for a while, so I thought I should find time and go play again.