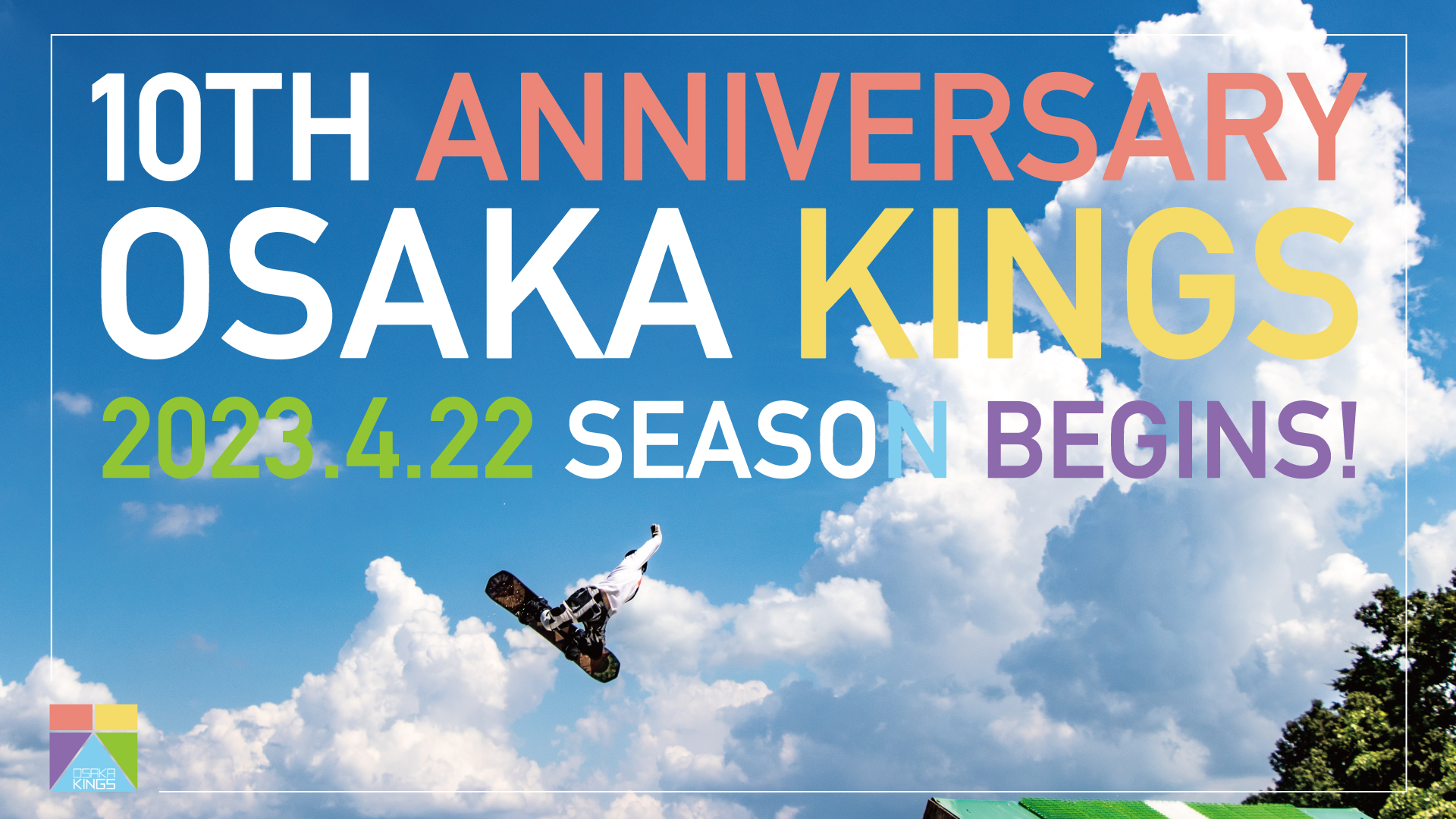 Osaka KINGS will celebrate its 10th anniversary this year.
In order to celebrate the 10th anniversary and enjoy an even more fulfilling off-season, it seems that various facilities will be renewed in line with the opening on April 2023, 4.
In addition, the popular event "Osaka KINGS Circuit Battle", which was canceled due to the corona sickness, will be restarted from this season.
We aim to create a facility that not only existing customers, but also ski and snowboard enthusiasts who come to visit for the first time will say, "I'm glad I came!"
Such 2023 will start on April 4nd!
◆ Renewal construction information
[JIB zone]
With the excitement of street jib events such as the Tokyo Snow Festival, X-TRAIL RAIL JAM, and Red Bull HEAVY METAL, Osaka KINGS has renewed the JIB zone!
In order to enjoy more fun and safety, we have improved the comfort from the approach part to the landing.
[Super Small]
Beginners are mainly used to the brush, and the first step of jumping to enter the small kicker [Super Small] is powered up!The starting position has been slightly raised, changed to a smaller shape, and a start bar has been installed so that experienced players can drop from above.It will be upgraded to a great item that will allow you to practice the start of the snowboard cross!If you start from the traditional place, you can practice line drawing etc. as before, so you can enjoy a wide range of ways to play.
[Facility renovation]
Not only the skiing area but also the entire facility has been renewed beautifully and comfortably so that visitors can spend their time comfortably!In particular, a new space has been created in the upper resting area, so you can enjoy watching games comfortably even during events.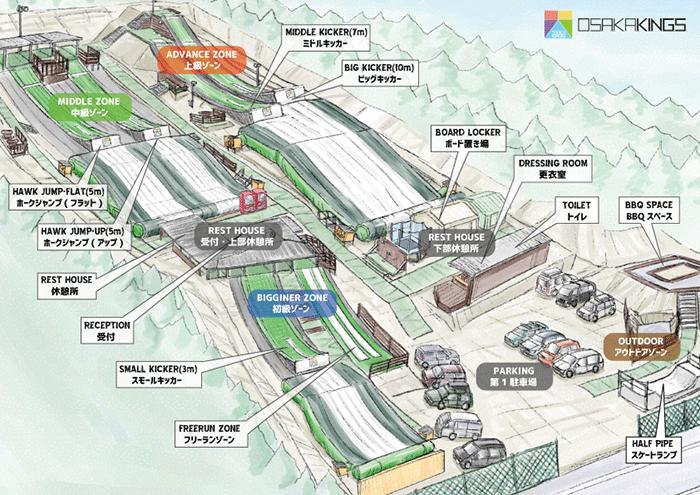 ◆Osaka KINGS Circuit Battle
The Osaka KINGS circuit match, which was forced to be canceled due to the corona disaster, is back!An annual circuit tournament where you earn points in the ranking of each tournament held once a month and compete with the total points of the top 1 races!Let's all have a blast!Check event information on Instagram and the website.
◆Information about various lessons
Osaka KINGS offers various forms of school and lessons.Especially free lessons are held widely, so choose the one that suits your needs and participate.
[Free lesson]
① Beginner course
If you are a beginner, the staff will thoroughly support you until you can fly.Let's step up to the jump safely!
② Free lesson program
Free lessons by KINGS staff from the 2nd session (15:00) on weekdays.There are four types of content that change every day: introductory straight, advanced straight, front side, and back side.
③ Ladies free lesson
Professional Mariko Matsumoto is in charge of the 4th session every Monday (20:15-23:00) for girls only.Expand your circle of friends as well as improve your skills.
④ Keiji Okamoto Weekend Limited Special Free Lesson
A special lesson that will change every time Keiji Okamoto will be held in the 4th session on Saturday!The dates and contents of the lessons are announced on NEWS and SNS in advance every month.
*Check the website below for details.
[Paid lesson]
・WOOT SNOWBOARD PARK SCHOOL
The Osaka school is the main school of a school specializing in park and ground tricks, where Daisuke Nishimura serves as principal.The school has produced many professionals, and is recommended not only for those who seriously want to improve, but also for those who want to fly cool and practice safely.
https://woot-kosoren.jimdo.com/
---
◆ Details of Osaka KINGS
Address: 610-0326 Tenno Nakabessho, Kyotanabe City, Kyoto Prefecture 76-1
TEL & FAX: 0774-65-0525
WEB:https://osaka-kings.com/index.html
Instagram:https://www.instagram.com/osakakings/