194channel is addicted to backcountry surfing and the charm of nature.
We will approach her this season, which is energetically holding a tour.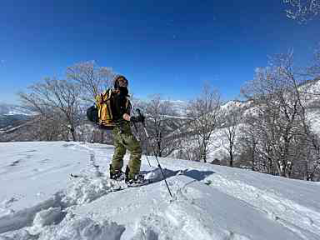 Q194: What kind of activities do Ikuyo Yoshida (hereafter referred to as XNUMX) plan to do this season?
194: We will be based at Nozawa Onsen Ski Resort!
Mainly we will help you with the tour at Compass House, which holds backcountry tours.From BC for beginners to traveling BC for advanced users, we offer a wide variety every other week.
"Let's go with 194channel!
First backcountry tour! ] will also be planned!Please come!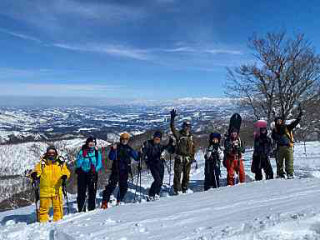 Q194: "Let's go with XNUMXchannel! First backcountry tour! 』
Sounds fun! !
194, what kind of gear do you use in the backcountry?
194: In the backcountry, head snowboard DAY LYT, SP bindings CORE,
And a new split board from head snowboard I GO using!
Depending on the conditions at that time, on days when the snow is too deep, I use the splitboard VOY, and on days when the snow is stable, I use snowshoes and use the DAYLYT. DAY's slipperiness is the best tension rises!
In spring wet snow,ARCHITECTis the most fun!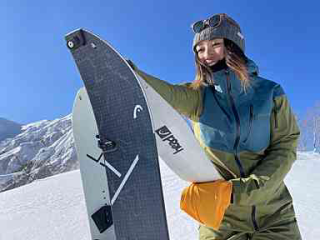 QXNUMX: I see.
I think that splitboards are one of the items that you want to use when you start backcountry, but I think there are people who think that split debuts are still a high hurdle. 194, why did you decide to split?
Also, how was your split debut?
194: When I went on a backcountry tour, there was a scene where snowshoeing had limits as it became an advanced class.Snowboarding is at a disadvantage compared to the skier's trajectory force.At the time when I was worried about that, I heard that head would release a split, so I made my debut immediately!The weight of my luggage, the speed of movement, and the burden of walking have become overwhelmingly easier thanks to the splitboard!
It felt a little stiff when it came to sliding, but I quickly got used to it, and now it's become my companion.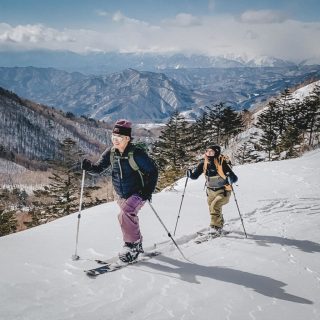 QXNUMX: Even if it's confusing at first, once you get used to it, you can't let it go.
What is the charm of the backcountry for you, 194?
194: Walk the scenery in the untouched nature with your own feet, slide on the chartered barn, enjoy the scenery with your friends, and travel together.It's a great game.
For me, the appeal of the backcountry is endless.Also, when I started surfing, I began to see many common scenes in the backcountry.Travel, enjoy the scenery, and play in nature.One of the attractions is that the conditions are different every time.It made me want to appreciate nature more.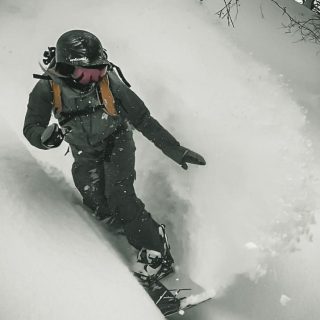 QXNUMX: Nature is full of charm.When did you get into backcountry and surfing?Did you have a chance?
194: Sports where you can enjoy nature with your whole body are the best!
I think the first time I went to the backcountry was around 2016?The first time I climbed Mt. Tateyama, I was deeply moved by the grandeur of the mountain, and after that I fell in love with backcountry!At first it was a once-a-year event, but now I climb every week during the season!Also, surfing was done by my snowboarding friends, so I started doing it together and got hooked!I've been doing it for about 5 years now and it's a lot of fun!
It's a good off-training that is surprisingly connected to snowboarding.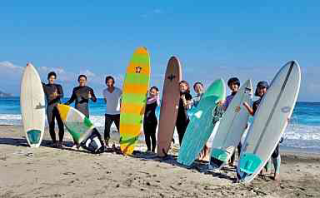 QXNUMX: So you enjoy riding sideways all season long♪
What sea are you surfing in?
194: I'm from Nara Prefecture, where there is no sea, and I moved to Shizuoka after being addicted to surfing.So, Shizuoka is the main, and Irago and Izu are widely included.I also love traveling, so I went to Kochi, Miyazaki, and Amami Oshima.I would also like to visit the Sea of ​​Japan and the Tohoku region.
QXNUMX: You are currently based in Shizuoka, right?Please let me go play (laughs)
Come to think of it, 194 seems to hold surfing events, but what kind of things are you doing?
194: Please come and visit us!
For surfing, we hold surfing sessions in the summer for snowboarders and skiers!
Get together with Snow friends in the summer to surf and camp.It will be a good time off training, and we can play together in the summer, so it's really fun! We also have a surfing teacher, so you can take one-point lessons together.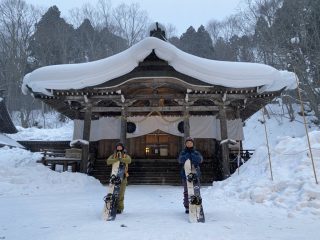 QXNUMX: Sounds good♬
Can I see announcements of events, etc. from 194's Instagram?
194: Yes!I'm announcing it from my Instagram, so please follow me!
@ 194channel
QXNUMX: Lastly, please tell us if you have any resolutions for this season.
194: I will continue to study backcountry while enjoying snowboarding this season!We are waiting for you in Nozawa, so please come and challenge yourself in the backcountry!We'll be expecting you!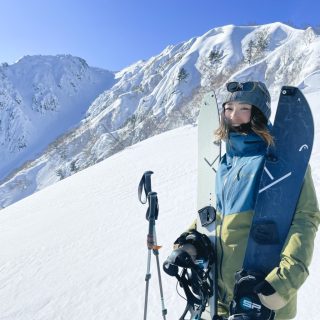 [Profile]
Name Ikuyo Yoshida 194channel / Born September 1985, 9
■ Height/159cm ■ Stance/regular 48cm
■ Angle / front 21 degrees, rear 0 degrees
■Snowboard history/ 12 years
■ Home Mountain / Nozawa Onsen Ski Resort
■ Items used/ DAY LYT . I GO . ARCHITECT
■Instagram/ @ 194channel