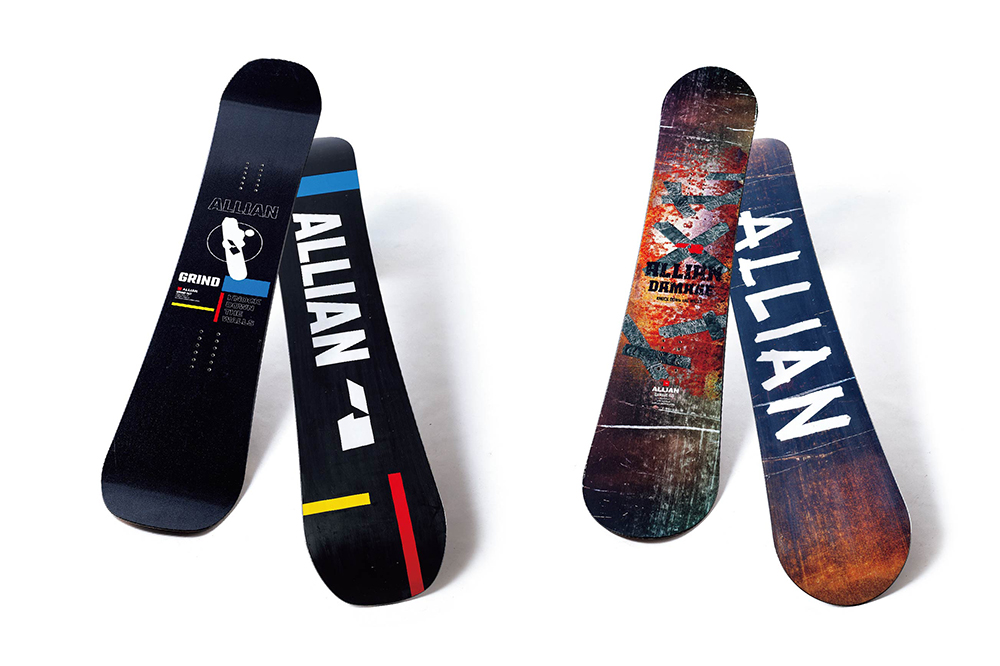 ALLIAN
▲GRIND (left)
Sizes: 151, 153, 155
Price: ¥ 61,600 (tax included)
▲DAMAGE (right)
Sizes: 147, 150, 153, 155
Price: ¥ 73,700 (tax included)
---
Starting with the high-performance freestyle board "PRISM" series, which is familiar with lion-themed graphics, the brand "ALLIAN" has earned absolute trust for its excellent response and good running performance. For over 20 years, we have continued to make high-level gear that top riders demand, and the reliability of ALLIAN's board is very high even in Japan. Speaking of ALLIAN, it is attractive to run through in freestyle.Among them, the models that are gaining popularity now are the models with excellent performance of gratri and jib such as "GRIND" and "DAMAGE".
GRIND is a soft flex setting, suitable for low to medium speed tricks.In other words, it is easy to handle, which is also suitable for beginners to practice gratri.The slightly thick waist and loose side curves provide a sense of stability even at low speeds. The contact length is a little short with a mid camber specification of 4 mm, and it has a supple flex, so you can perform the movements of "sliding," "turning," and "playing" very smoothly.Still, the excellent gliding property that is the charm of ALLIAN is still alive.If you step on it, you can use the camber to pull out the speed and turn, so it is a board that meets the needs of intermediate and advanced players at the park.Moreover, the good cost performance is also outstanding.
DAMAGE is also a twin-tip shape with soft flex and 4mm mid camber, but the waist width is slightly narrower than GRIND and the side curve is deeper.It is fully adaptable from carving to free riding, and the sole uses the sintered base IS7610 with high hardness, which is resistant to scratches and runs well even in early spring.It runs well at high speeds, and its supple flex is fully effective in gratri and jib.Rantry movements such as switching from carving to reverse turn and playing the tail are also fun.The balance setting that can be used for all rounds makes it easy to handle the board, and is ideal for riders who aim to improve their park skills.In particular, STONE FINISH, which took twice as long as usual, carefully carved a groove in the sole to bring out the maximum speed regardless of the snow quality.Unique graphics that express the model name are also a hot topic this season.
It is also important that the board is tough in Gratley and Jib.A board with high performance, reliable quality and durability, which is typical of the ALLIAN brand, has been completed, even though it is a board that can demonstrate performance that fits this era.Because you can trust it, you can take on a thorough challenge and improve your skills.
---


(Top) GRIND (Bottom) DAMAGE: Both are 4mm mid camber.It has the repulsive force required for tricks in Gratley and Park, and also demonstrates ease of handling and stable gliding performance.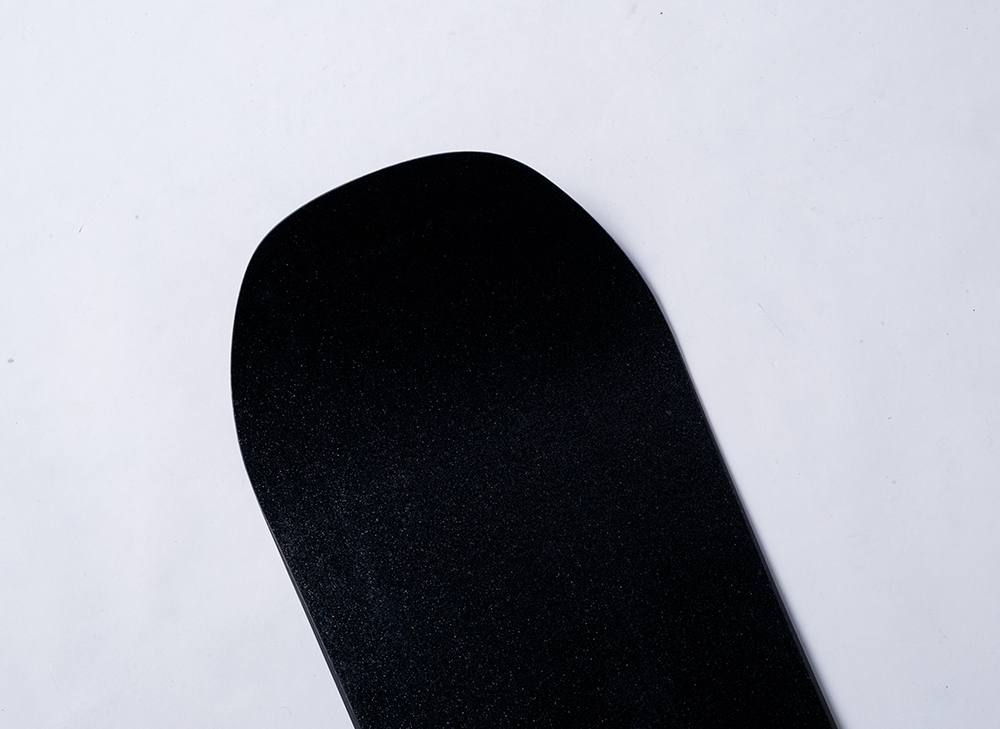 GRIND has a slightly shorter contact length.The squash tip brings out the lightness of the swing weight and the ease of performing tricks using the surface.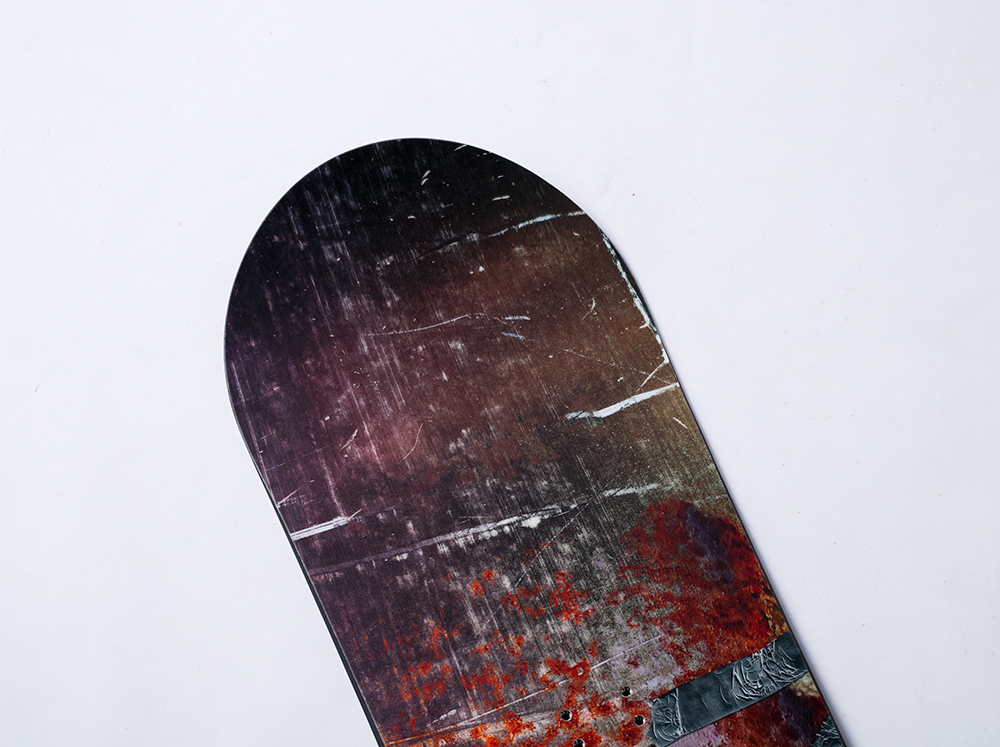 DAMAGE also has a sufficient tip area and you can enjoy a stable gratri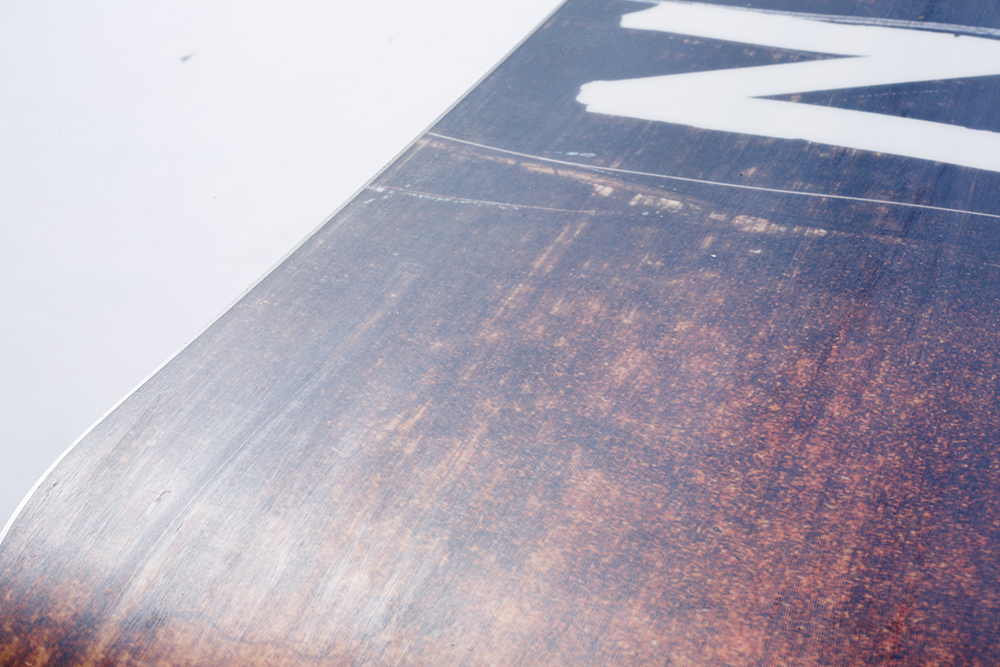 DAMAGE adopts a hard sintered sole IS7610. Excellent gliding performance due to STONE FINISH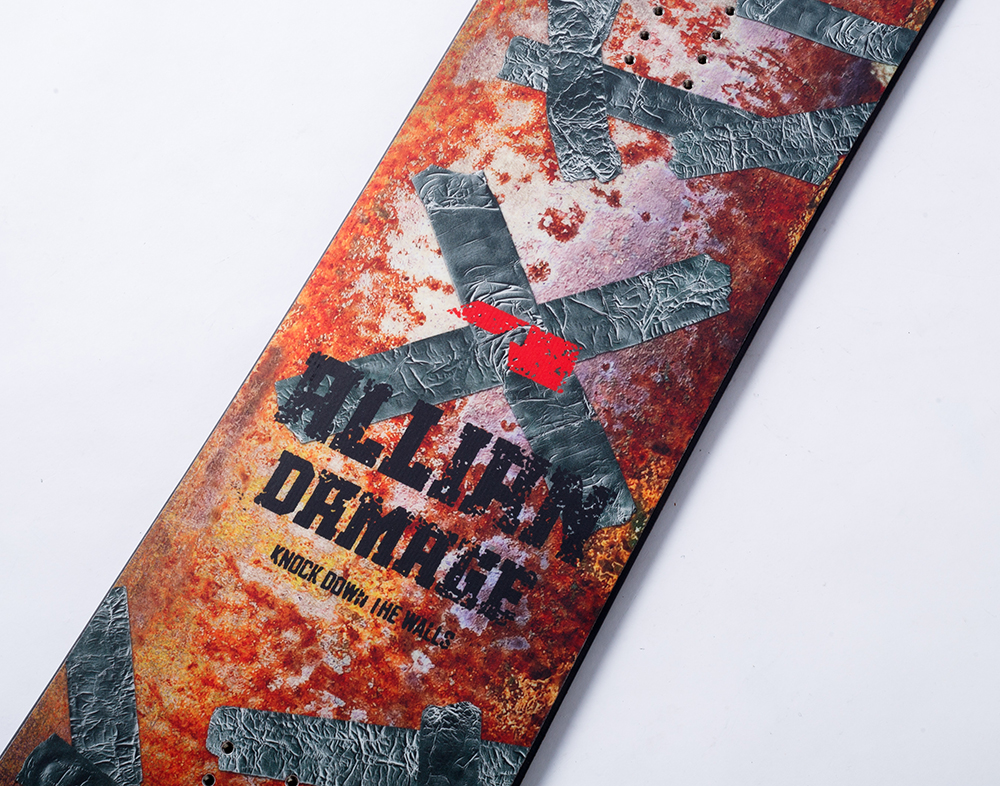 DAMAGE, whose unique deck graphics are also attractive and popular
---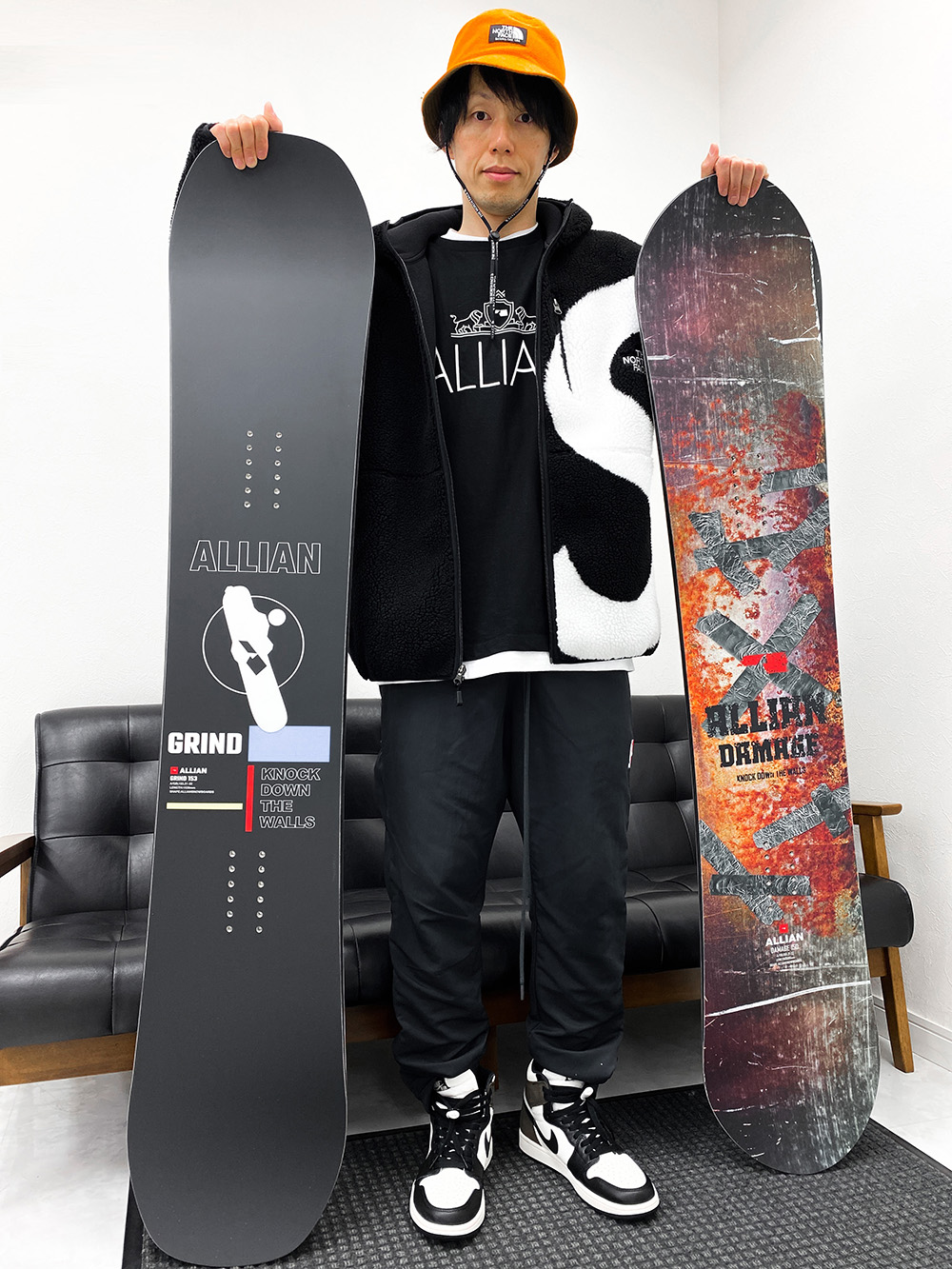 ALLIAN Ambassador Yuya Kasahara @Kasser sb
"GRIND is a camber specification, but it feels like a flat camber when you ride it, and it is easy to handle with a graffiti. The contact area of ​​the tip part is wide and the bending is sufficient, so it is easy to play on the surface. On the other hand, DAMAGE has a little elasticity and feels good for all rounds. High rotation is possible with Gratley, press tricks are OK, and movement using points is also good. I GRIND in the high season However, DAMAGE runs well when the snow is soft, especially when it is wet in the spring. It is better than domestic boards. "
---
Click here for information on the latest ALLIAN lineup