A place where people from a wide range of genres, from children to adults, from parks to powder, snowboards, skating, and snowboarding, can play and interact in the same place in Toyama.
So, I'm going to have an event like this!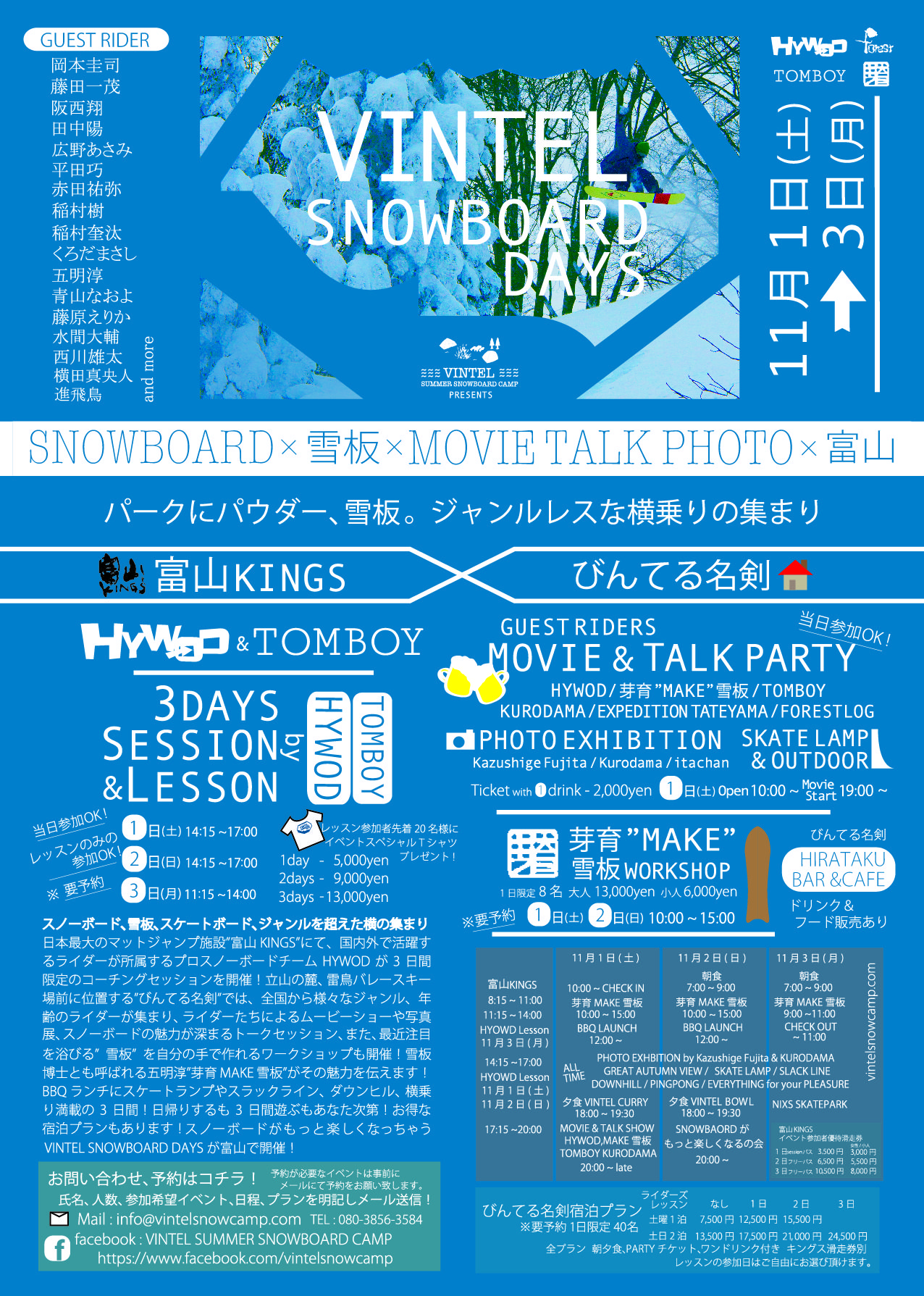 The contents are roughly divided into three?
The first is
Session & lesson by HYWOD and TOMBOY at Toyama KINGS!
I do it 3 hours a day for 3 days!It's a member who can't easily get together!
The second.
November 11st (Saturday) is a famous sword, MOVIE & TALK PARTY!It's a so-called preview!
Participating productions are HYWOD, TOMBOY
, Mei Hata "MAKE" snowboard, KURODAMA, EXPEDITION TATEYAMA, and the FORESTLOG I'm doing!There may be other additions! ??
You can see powder, snowboards, and snowboards of various genres from the park!
Photos are also on display at the venue, including professional cameraman itachan, KURODAMA from Toyama, EXPEDITON TATEYAMA from Toyama, and FOREST LOG.
Video, photos, stories
Let's raise the tension for the season while drinking!
■ Guest rider
Keiji Okamoto / Kazushige Fujita / Sho Hansai / Yo Tanaka / Takumi Hirata / Yuya Akada / Mao Yokota / Ki Inamura / Keita Inamura / Masashi Kuroda / Atsushi Gomei / Asami Hirono / Nao Aoyama / Erika Fujiwara / Susumu Asuka / Daisuke Mizuma / Yuta Nishikawa / and more
Third,
Various workshops and shops.Lol
Mei Hata "MAKE" Snowboard Workshop.Skating remake workshop.Toyama's fresh juice shop viva! Juice shop, HIRATAKU BAR & CAFE, European hot dogs, etc.
There are skate lamps, slack lines, and various play equipment at the venue's bottle sword, so you can play from day to night ~
There is also a plan to stay, so I think you can play comfortably and profitably!please~
It's full of content and difficult to explain, but lol It should be fun!
waiting! !! !!
There are more details on the facebook page ~!Take a look! !! !!
VINTEL SNOW CAMP
Mail: info@vintelsnowcamp.com
Tel: 080-3856-3584
facebook: https://www.facebook.com/vintelsnowcamp
VINTEL SNOWBAORD DAYS facebook event page
https://www.facebook.com/events/647263865387924/