Finally kick off!
Sustainable environment symbiotic forestry
"Self-cutting Forestry Forum in Karuizawa"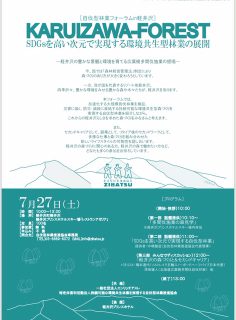 "Sustainability", which has recently been highlighted by the SDGs,
"Self-cutting forestry" is such a forestry that realizes SDGs!
7% of Japan's land is forest.
Forests are a valuable renewable resource.
To protect the forest is to protect the entire environment.
Since it is sustainable, it will be a stable business.
Such an environmentally symbiotic forestry "self-cutting forestry"
It will finally start in Karuizawa.
This time, the first forum will be held!
Date and time: Saturday, July 7, 27: 10-00: 13
Location: Karuizawa Prince Hotel Ski Resort "Restaurant Azeria"
Model forest tour, introduction of self-cutting forestry,
Forest-building discussions, etc.
From September, professional model forest maintenance and skill improvement training,
We are planning to hold forestry training for the first time.
And from next spring, we are planning to carry out activities that utilize the forest!
・ Those who are interested in Karuizawa, resorts, and slow life
・ Those who are interested in creating forests
・ Those who are interested in forestry
・ Those who are thinking of working side-by-side with tourism
・ Those who are interested in environmental issues
・ Those who are interested in community development
・ Athletes, former athletes, etc.
Please take this opportunity to join us.
Let's talk about slow life and forestation!
And by all means, please make use of it in Karuizawa or your own place!
We look forward to your participation!
And here are all the introductions!
↓ ↓
-Encounter with "self-cutting forestry", an environmentally symbiotic forestry
I first encountered the self-cutting forestry industry in 2015.Sei Miyazaki, who runs a canoe instructor and cottage in Shimanto River, taught me.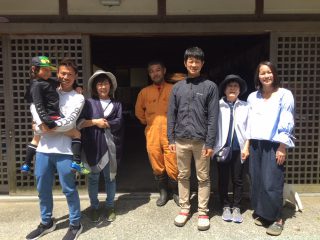 "Kawabe cottage" run by Mr. and Mrs. Miyazaki
Shimanto is my mother's hometown, a favorite place I have visited every summer vacation since I was little.People are warm because they are blessed with the nature of the sea, mountains, and rivers, and I have seriously considered emigration.But after all, I immediately gave up because of the problem of "work".But that's not limited to Shimanto, but it's the biggest problem for people who want to live in the country.
Also, for snowboarders, who are seasonal sports, off-season activities and a second career after retirement are issues.I've been thinking about it for a long time.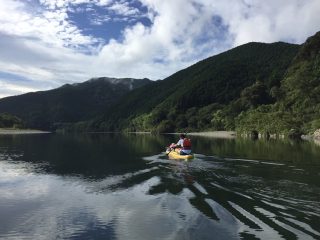 River sap at Shimanto River
And in 2015, Sei-kun gave me some surprising advice.
"Mr. Hashimoto should definitely do self-cutting forestry!"
"Eh? I am forestry? Why do you recommend forestry to me?"
"In the first place, it's a waste to try to utilize this nature only for sightseeing.
7% of Japan's land is forest.Forests are an important renewable resource for Japan. "
"Self-cutting forestry can be started with a chainsaw and a light truck, with three people.
I think it's perfect for snowboarders as it is a side-business style that uses free time. "
"Nature is an important resource, not just for tourism."The nature of the ski resort and the nature of Shimanto seemed to me to be used for leisure.
I was very interested and participated in the "Self-cutting Forestry Promotion Association 1st Anniversary Project" held at the Members' Office Building of the House of Councilors. (June 2015) "Regional revitalization and environmental conservation" The self-cutting forestry industry, which holds the key to both of these, has already received a lot of attention, and many people, including members of the Diet, from various specialized fields, etc. I was participating.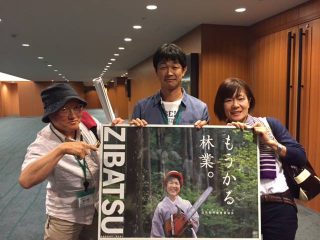 2018 Self-Cut Forestry Promotion Forum
I thought that if I could work on ski resorts nationwide, snowboarders would be useful for environmental conservation and would be useful for ski resorts in the summer, so I tried to put together proposal materials for ski resorts.However, I am still inexperienced, and I have no courage or energy to start in Karuizawa, so I just preserved it.Two years later, some of the graduates and those around them were interested in forestry, so I consulted with the association, and in the summer of 2, the "Project to promote the entry of self-cutting forestry such as athletes and alumni". Has started.Various sports related people such as former J-Leaguers, sports club owners, rafting and mountain guides participated.And finally, the efforts in Karuizawa have kicked off!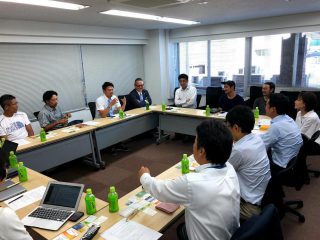 Meeting of various sports people
-Forests, a renewable and valuable resource
About 7% of Japan's land is forest. (Agricultural land is 1%).Forests are the largest resource in the region.In addition, Japan has four seasons in temperate regions, and because it rains a lot in the island nation, trees grow well, and it is possible to manage forests from a long-term perspective by developing forestry that makes use of Japan's natural environment. * Reference material: Proposal of "self-cutting forestry", the key to revitalizing mountainous areas
In addition, Japan is a world-class forest powerhouse, and is the third most developed country after Finland and Sweden, which have high forest rates.
-Protecting the forest protects the entire environment
CO² absorption and water storage.Mountains with beautiful forests store rainwater and slowly drain nutritious water, the water stored in the mountains flows into the river, and the water flowing from the river reaches the sea. "To protect the forest is to protect the whole environment." "To improve the forest is not only to improve the forest but also to the environment around us.
-What is a sustainable environment-friendly forestry "self-cutting forestry"?
A self-employed and self-employed forestry style in which local people (forest owners and local residents) manage, manage, and operate (mountain guards) forests of an appropriate size to earn sustainable income.The difference from general forestry is "whether to do it yourself" or "whether to outsource it to another company (forestry association, etc.)", and the appearance of the forestry and the natural environment after that will be the exact opposite.
[Effects obtained from self-cutting forestry. ]
Sustainable forest management and management → Migration and settlement measures by creating stable livelihoods
Sustainable forest environment conservation → Animal damage countermeasures, disaster prevention, global warming countermeasures
Expectations are high for building a new living style that enables high income with a side-business style centered on self-cutting.
-Open up the future by creating forests!
The first is to create a continuation of the world, "building a second career for athletes."While maintaining the forest, I was thinking about doing activities that utilize the work road (trail) and sharing sports in nature with everyone.However, as a result of learning more from the forum, I feel that this initiative will open up various possibilities and the world.Environmentally symbiotic forestry that enables the creation of stable livelihoods and environmental conservation while achieving the goals "SDGs" for sustainable development at a high level.I am very much looking forward to the world that will expand from this initiative.
While earning income by utilizing free time
While protecting ski resorts and local forests
It may be possible to protect against global warming and snow ...
To protect the forest is to protect the entire environment.
We look forward to your participation!