A real slope appears in Yoyogi Park this year as well! !!
First snow in the middle of Tokyo!Sledding experience!Watch a heated snowboard game!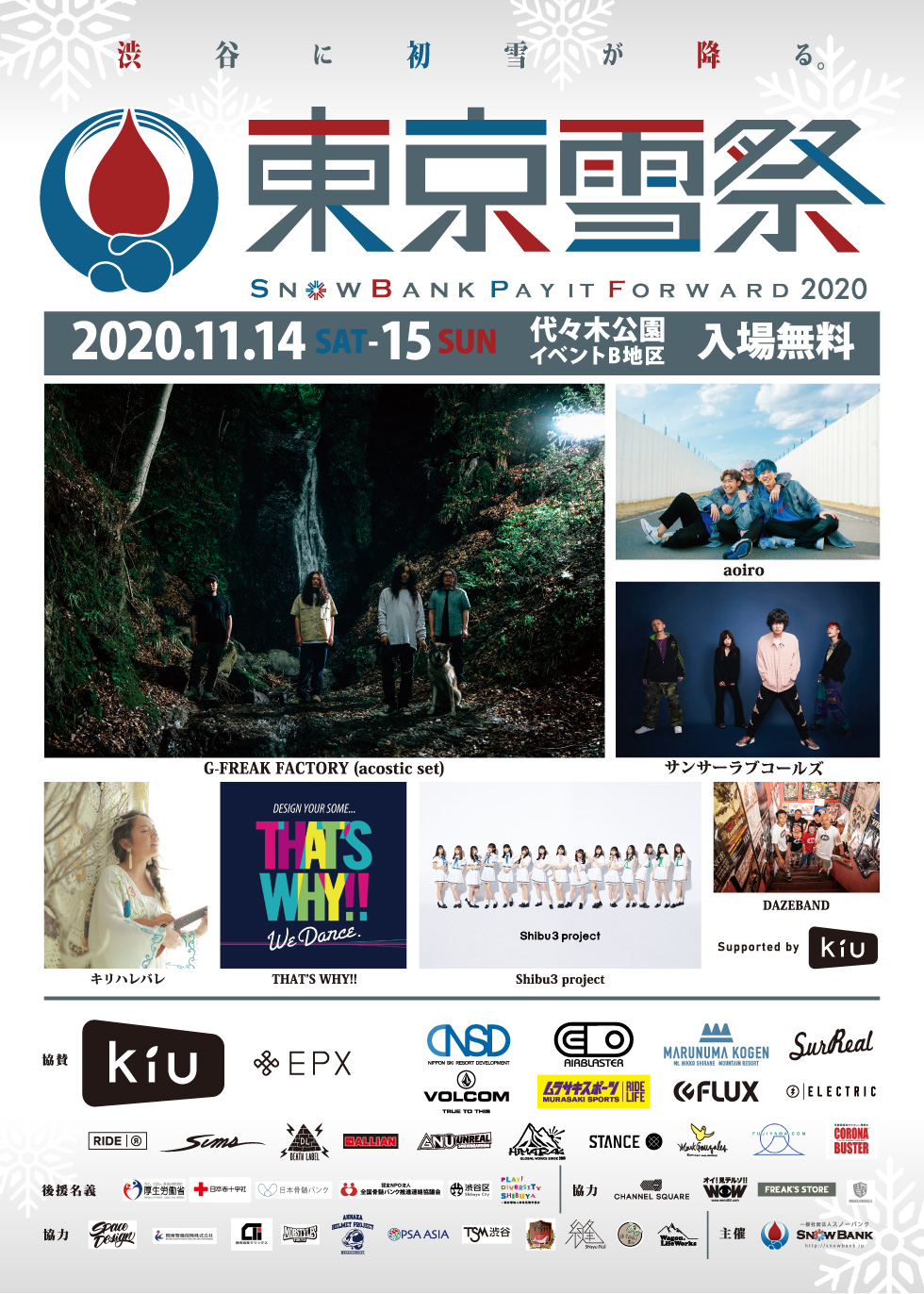 The 10th "Tokyo Snow Festival SNOWBANK PAY IT FORWARD 2020" will be held at Yoyogi Park for two days, November 11th (Sat) and November 14th (Sun). The Tokyo Snow Festival SNOWBANK PAY IT FORWARD, which was realized from the experience and thoughts of Yoshimasa Arai, a professional snowboarder who suffered from the intractable disease "chronic active EB virus infection" in 11 million people and overcame it by bone marrow transplantation, is "blood donation and bone marrow. A participatory charity event that conveys the enlightenment of "Bank" through the enjoyment of sports, art, music, and food, and aims to donate blood to young people and increase the number of registered bone marrow donors.
This year's event is in danger of being held due to the corona, but with the enthusiasm and efforts of all people, it will be held as a full-day real event.Music stage tooG-FREAK FACTORYAnd first participationaoiroThe appearance of is also decided and power up.It will be a special content because of this time.
<Official HP https://sbpif.net/tokyo_snow_festival/>
This event started in 100 with Yoshimasa Arai "DAZE", a professional snowboarder who saved his life by receiving a bone marrow transplant through a bone marrow bank, an intractable disease that is said to be one in one million people, and this year is the 2011th year. Will be held.The purpose is to gather young people through snowboarding, deepen their understanding of blood donation and bone marrow bank donor registration, and create an environment where patients can easily stand at the starting line of treatment.
On the slopes built by snowing Yoyogi Park, you can enjoy free sledding at the skiing performances of professional snowboarders, snowboarding competitions, and snow plazas where Olympic athletes also participate.On the stage, a sports experience area will appear with athletes who are active in the world.It is a festival where adults and children can enjoy blood donation and bone marrow bank together.
Tokyo Snow Festival SNOWBANK PAY IT FORWARD 2020
Date and time: Saturday, November 11th / Sunday, November 14th, 15:10 to 17:XNUMX on both days
Venue: Yoyogi Park B District Event Plaza / Outdoor Stage
Organizer: General Incorporated Association SNOWBANK
Cooperation: The Nippon Foundation
Sponsored by: Ministry of Health, Labor and Welfare, Japanese Red Cross Society, Japan Bone Marrow Bank, Shibuya Ward
Specified non-profit corporation National Bone Bank Promotion Liaison Council
Click here for details:https://sbpif.net/
Artist scheduled to appear
・ Aoiro
・ Kiri Halebale
・ Shibu3Project
・ THAT'S WHY !!
・ G-FREAK FACTORY
・ Sancer Love Coke
・ DAZEBAND
Others may be added
Admission: Free
State of last year's Tokyo Snow Festival