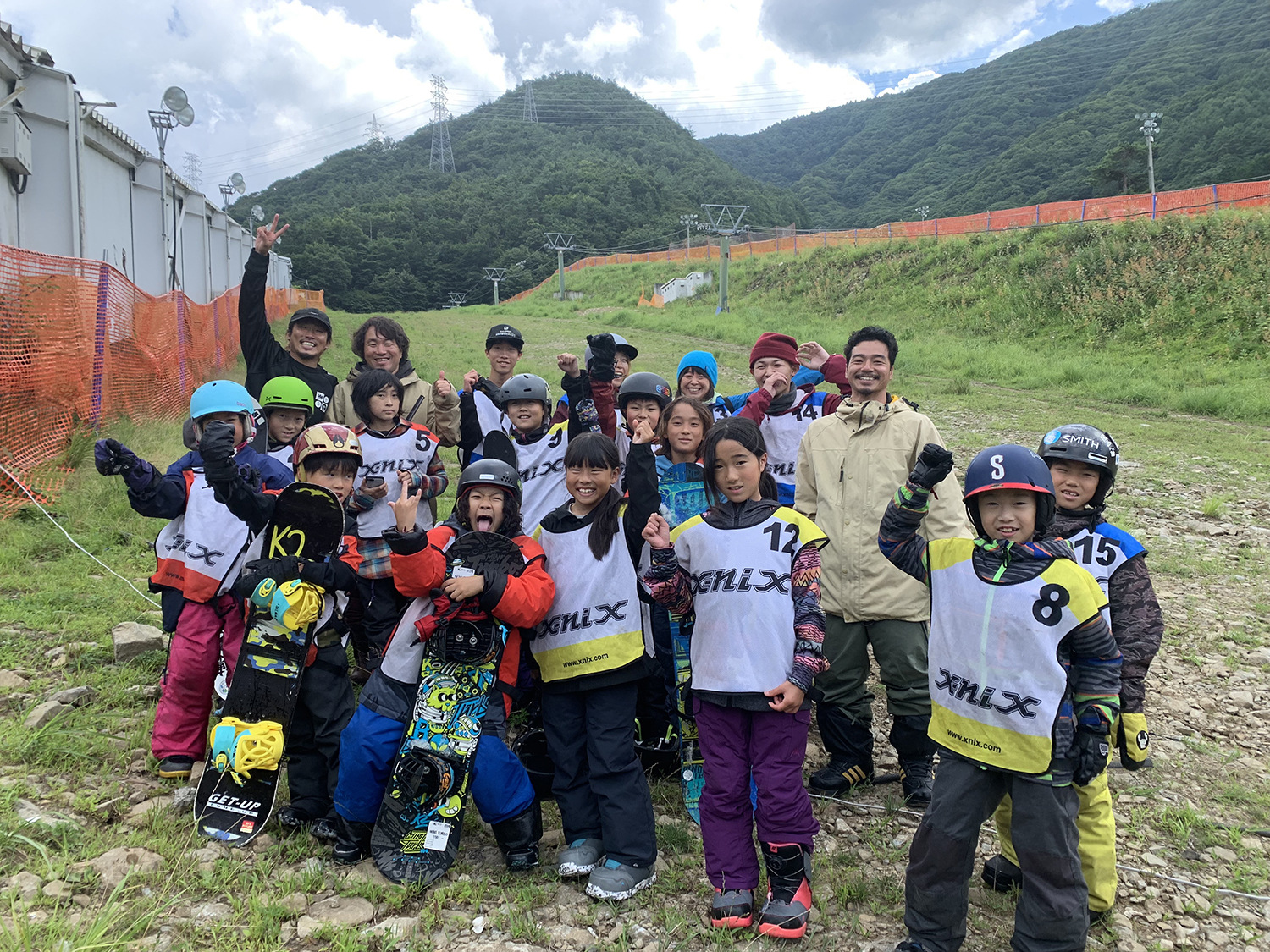 The organizer is Daiki (Daisuke Murakami), who is currently the coach of the national team Halfpipe, making use of his experience as a representative of the Olympics twice. The loose name "Chanmura Camp" comes from Daiki's nickname "Mura-chan".Daiki has been a snowboarding companion since childhood, and this "Chanmura camp" is a half-pipe camp where Kazu (Kazuhiro Kokubo) and Shuhei (Sato Shuhei), who continue to call him by their nickname, are coaches. "is.I know that each of them is a well-known top professional snowboarder who has been active in the snowboarding scene since childhood and is still active, but it seems that the playful camps they hold are full of special charm. ..I participated in this camp for the first time with my son who brought me to Japan during the summer vacation in the United States, and decided to infiltrate the interview.
Text: Yukie Ueda
Special thanks: K2 snowboarding Japan

Their feelings hidden in a loose camp with naming
The indoor half-pipe "Kamui Misaka Indoor Slope", which is the stage, is also a place I often visited in the 3s.Along with the current state of this facility, which is also strongly interested from overseas, I and my son are trying to find out how to entertain children, which can be conveyed only by the three of them who have been having a hard time snowboarding since childhood. Toranosuke (XNUMX years old) went to Fuefuki City, Yamanashi Prefecture.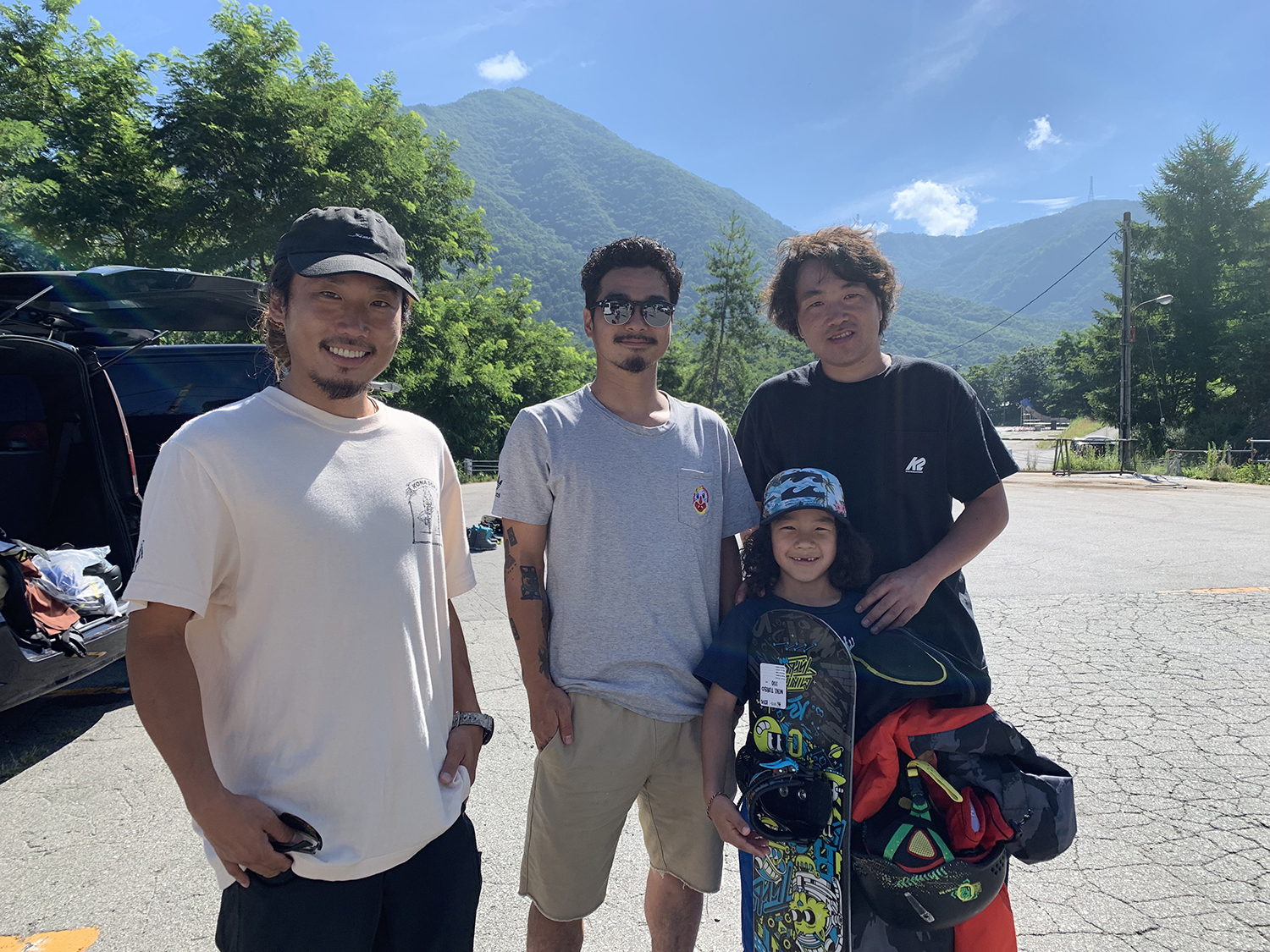 In the middle of summer vacation, the temperature in Yamanashi prefecture, which often appears in the weather section of TV news on midsummer days, is XNUMX degrees Celsius every day.A large number of snowboarders who had snowboards and wore clothing gathered in the hot area.It looks strange at first glance, but in a sense it is a very luxurious environment.The reason is that the indoor snowboard facility is a huge refrigerator, no, it can be called a freezer because it has a half-pipe of snow.Probably the coolest place in Japan in this heat, it is a summer resort in a sense.Parents and coaches watching over the camp participants even wore clothing and winter jackets.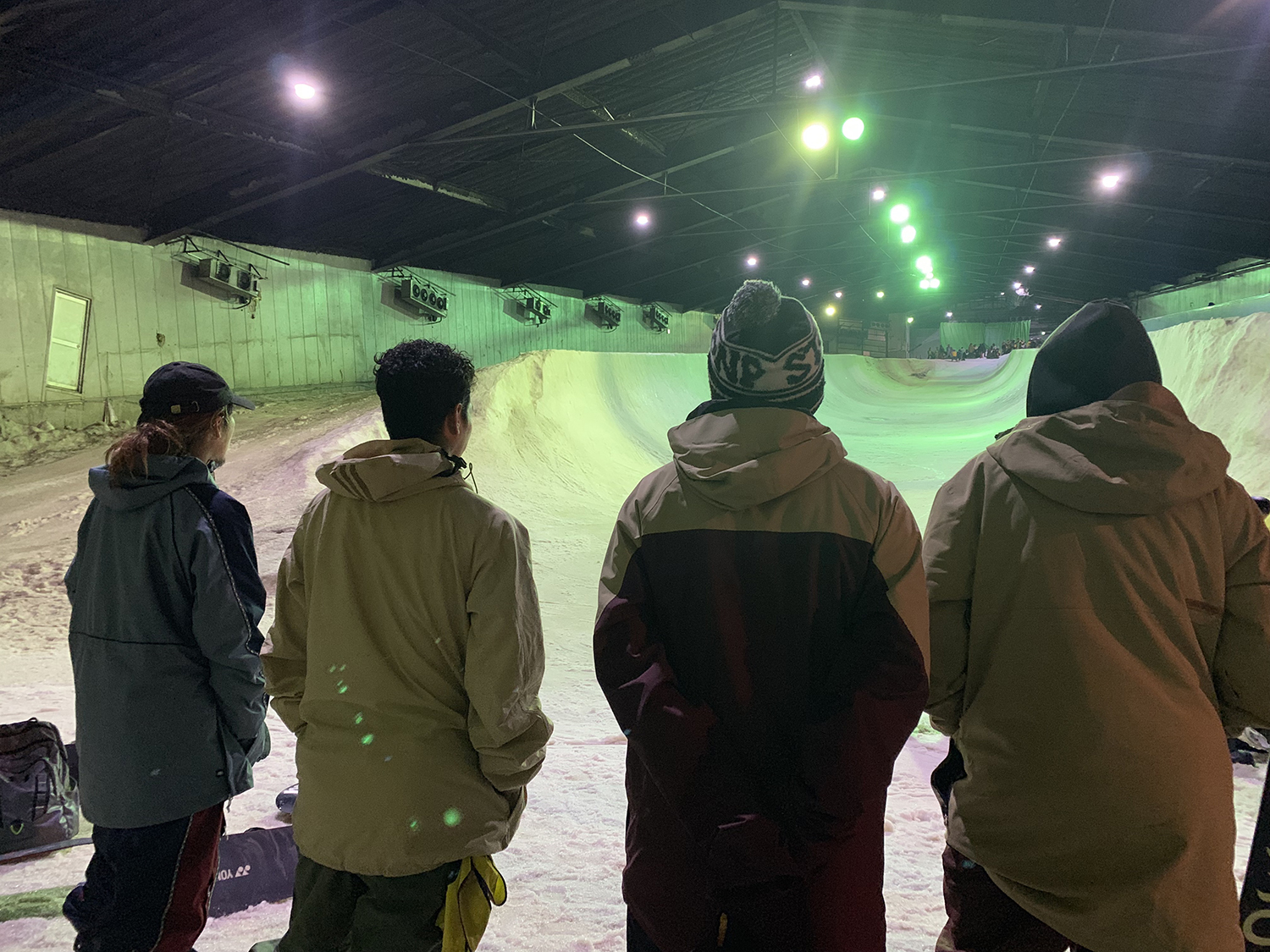 In the huge refrigerator, there is a half pipe with a total length of XNUMX meters and a height of XNUMX meters.Although it is smaller than the world regulation, it is a fine half pipe with a higher wall than in the XNUMX's.The Japanese national team players who are now fighting at the top level in the world are also training camps at this facility, and coaches Daiki, Kazu, and Shuhei have also practiced here during their time as athletes.
In Japan today, there are few places where you can slide on the world-regulated halfpipe even during the season.Inversely proportional to the success of half-pipe players and the increase in children, domestic half-pipe facilities have disappeared considerably.But why did Japanese players become so strong in this event?I could feel from this facility that I wasn't just going abroad to practice.
Kamui Misaka is a valuable place where you can slide the halfpipe in good condition even in the off-season.Of course, there are some things that aren't enough compared to the world-standard perfect halfpipe.In fact, Kazu says, "I was practicing here and suddenly slipping on a world-class pipe was very difficult due to the gap."However, there is no doubt that there is practice that can be done in this place that is always in good condition regardless of the weather, and it is also a fact that it leads to a winning slide in the world.
Those coaches who have experienced it themselves knew the value of slipping here.And the three said in unison. "The target of the Chanmura camp is not the top athletes aiming for the world, but the children at the entrance who are about to start the halfpipe. We will teach the fun of snowboarding and increase the number of people who enjoy it. I want it. "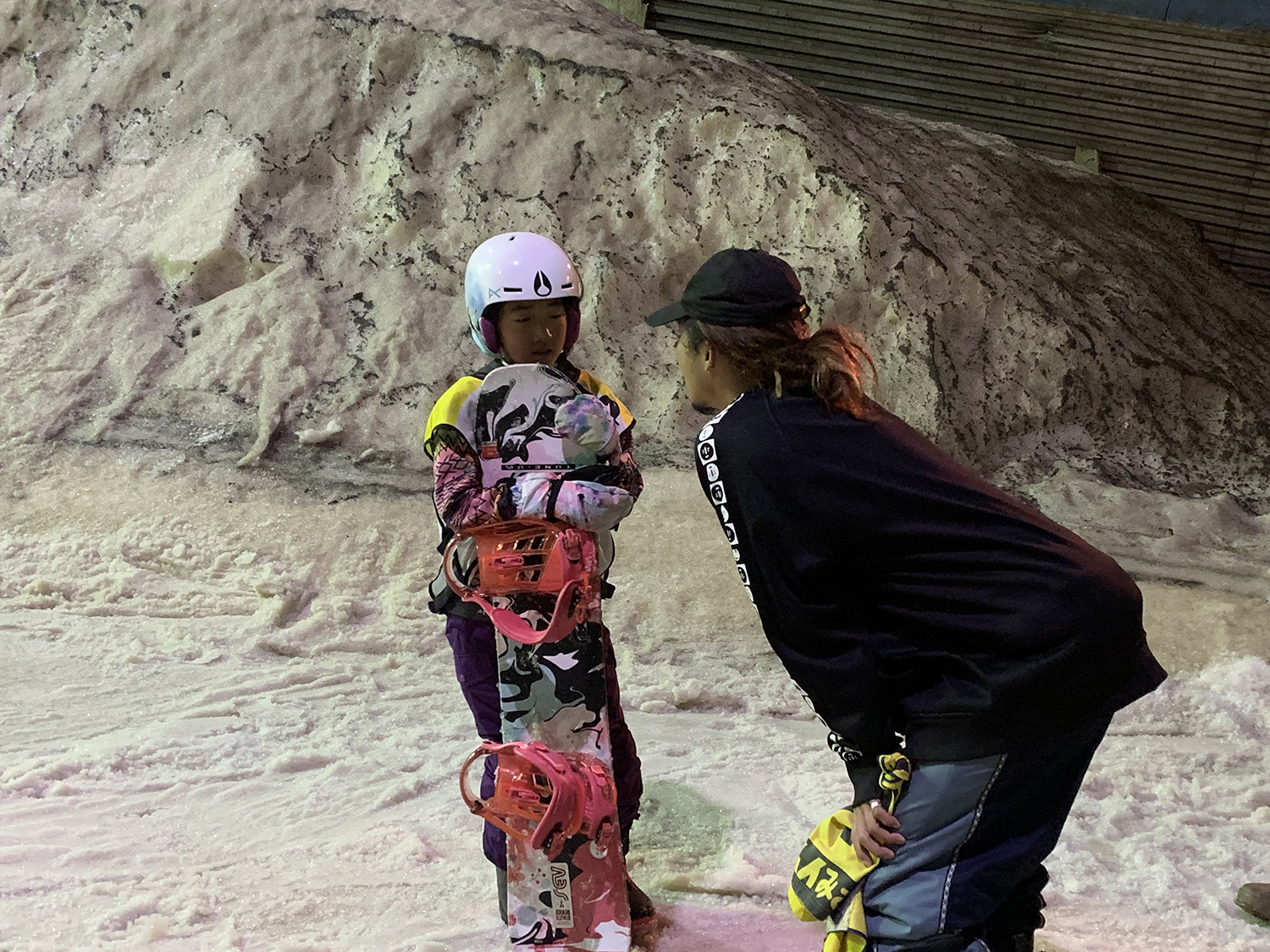 They were teaching while bending over to the eyes of the children who had finished slipping.Under the half-pipe, talk happily while watching the slipping children, such as "I should let that child do this next time" and "I like that child now", and give a lot of compliments and advice to the children. I'm telling you. "It's okay, I'm flying so much now." "Why don't you try this next time? If so, do it this way." There seems to be.
I think it's not as technical and loose as other coaching.However, the children in this camp enjoyed themselves leisurely, flirting with smiles and sometimes slipping with serious faces.I thought it might be a rare sight nowadays to be praised for my riding and to have a smile under the halfpipe.
"We've been pretty hard trained by our parents, but we didn't quit snowboarding because we had fun with our friends."
There may be important hints to their experience.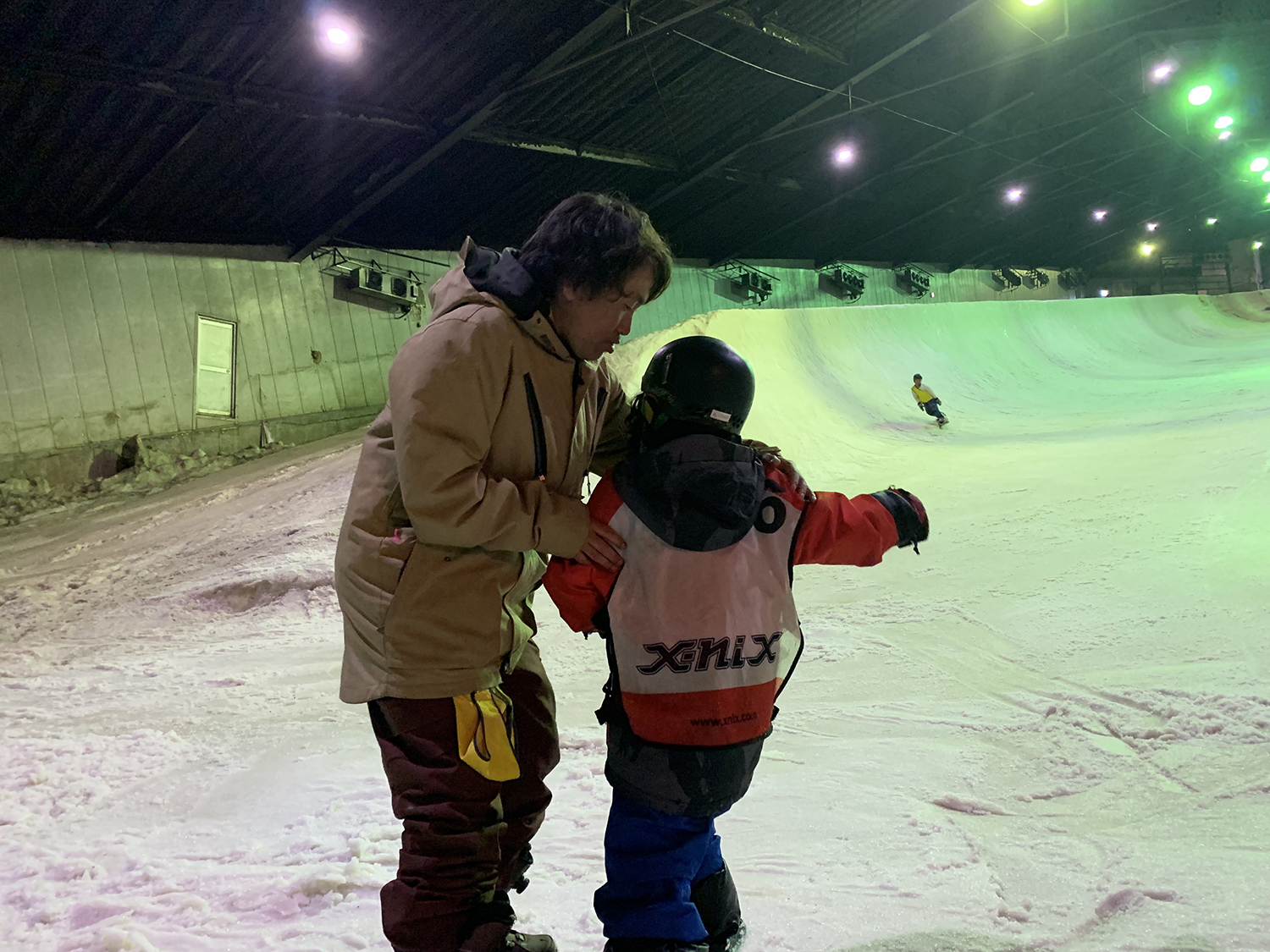 Daisuke's idea
Daiki says that the beginning of this camp was when the local Hokkaido children came to Kamui Misaka, where they had been practicing, because there was no place to slip during this time. "I know that summer vacation is crowded, but I choose the time to take me without taking a break from school as much as possible. We are still active and busy, but now we have two times here in Misaka, summer and autumn. I'm holding it. "
Now, the number of participants from Honshu is increasing, and it seems that some children keep it as a training camp for one week.Also, it seems that Daiki's daughter and son have started to participate since last year. "Last year, my younger child (10 years old at the time) was happy to go home when my mother picked me up, but my sister (XNUMX years old at the time) cried that she wanted to stay in this camp more. I think it was fun. At the end of this camp, everyone wept and broke up. "
Not just snowboarding, but a few days of sleeping and eating together and enjoying activities.The bond with friends cultivated there will be a great experience.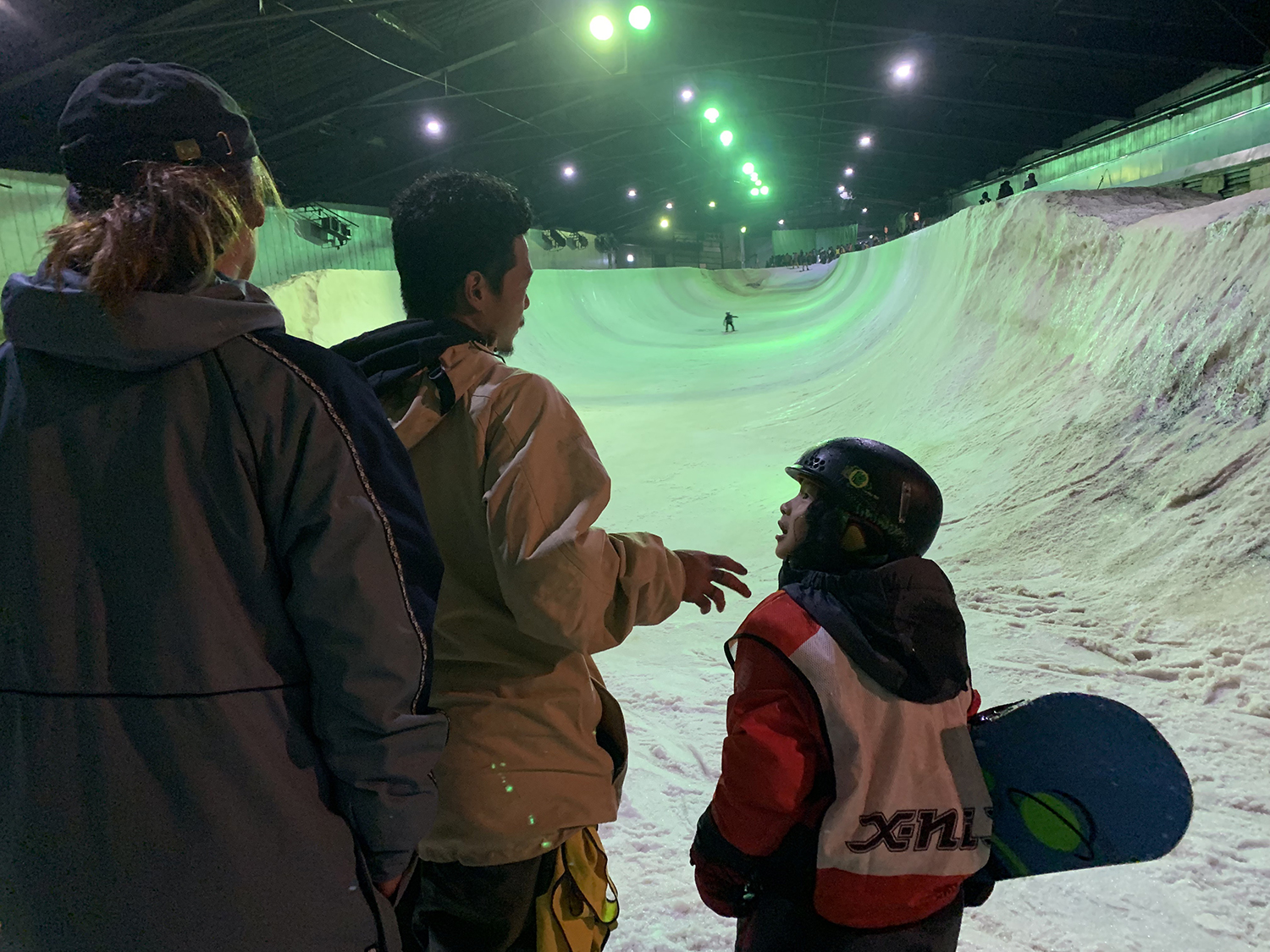 Kazu's feelings
It is unusual for Kazu to coach a snowboard camp.So why did this camp move him? "It looked interesting."There was a team of coaches who were Kazu's own companions. "I can't coach those who are aiming for the world. I can't take that responsibility. That's why this camp is the best. I just want to teach you the fun of snowboarding."
This camp may be the place where Kazu, who has established himself as the world's top snowboarder and continues to run at the forefront, can convey to children the "most important thing" in snowboarding.
The children who slide down run up to Kazu with their eyes shining.It's a luxurious opportunity to be taught how to turn the Kazu style and how to line up.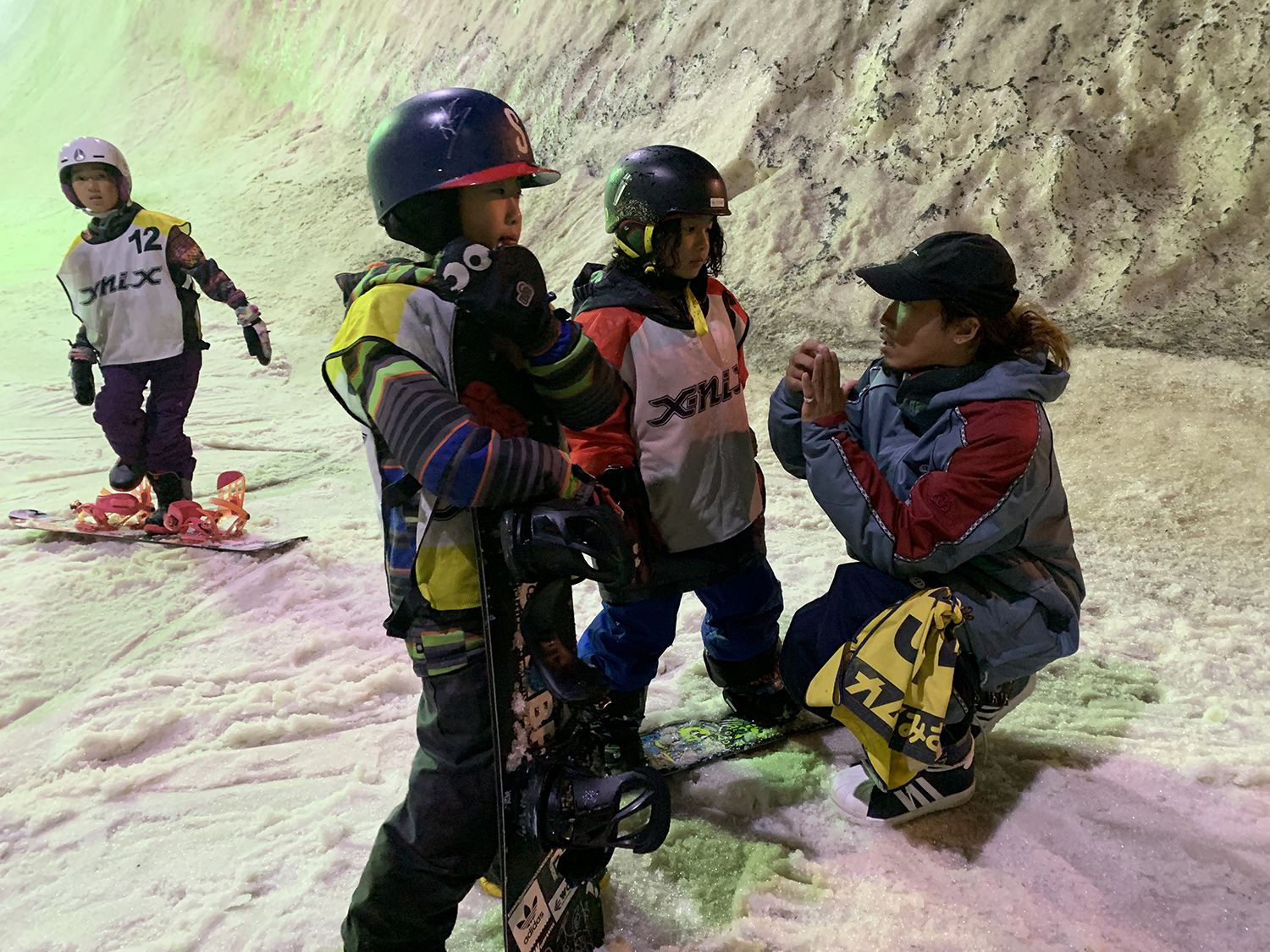 Shuhei's words
"Since we were children, we have been rigorously taught by our parents, and even if we started half-pipe, there were some children who were disgusted and quit. But I did not quit with my friends. That's because I had a lot of fun. So I want you to like it at the entrance while teaching me the fun. I want to feel the fun with my friends and increase the number of children who want to do more. "
Shuhei, who always smiles and interacts with the children, does not feel any remnants of the past, which has been frustrated in his long career as a player.I'm sure that I want to convey that important thing because I feel the importance of spending time with my friends even when I'm having a hard time.Not to mention coaching skills, I thought that their appearance, which keeps sliding happily while excitement with friends, may be the best example for children.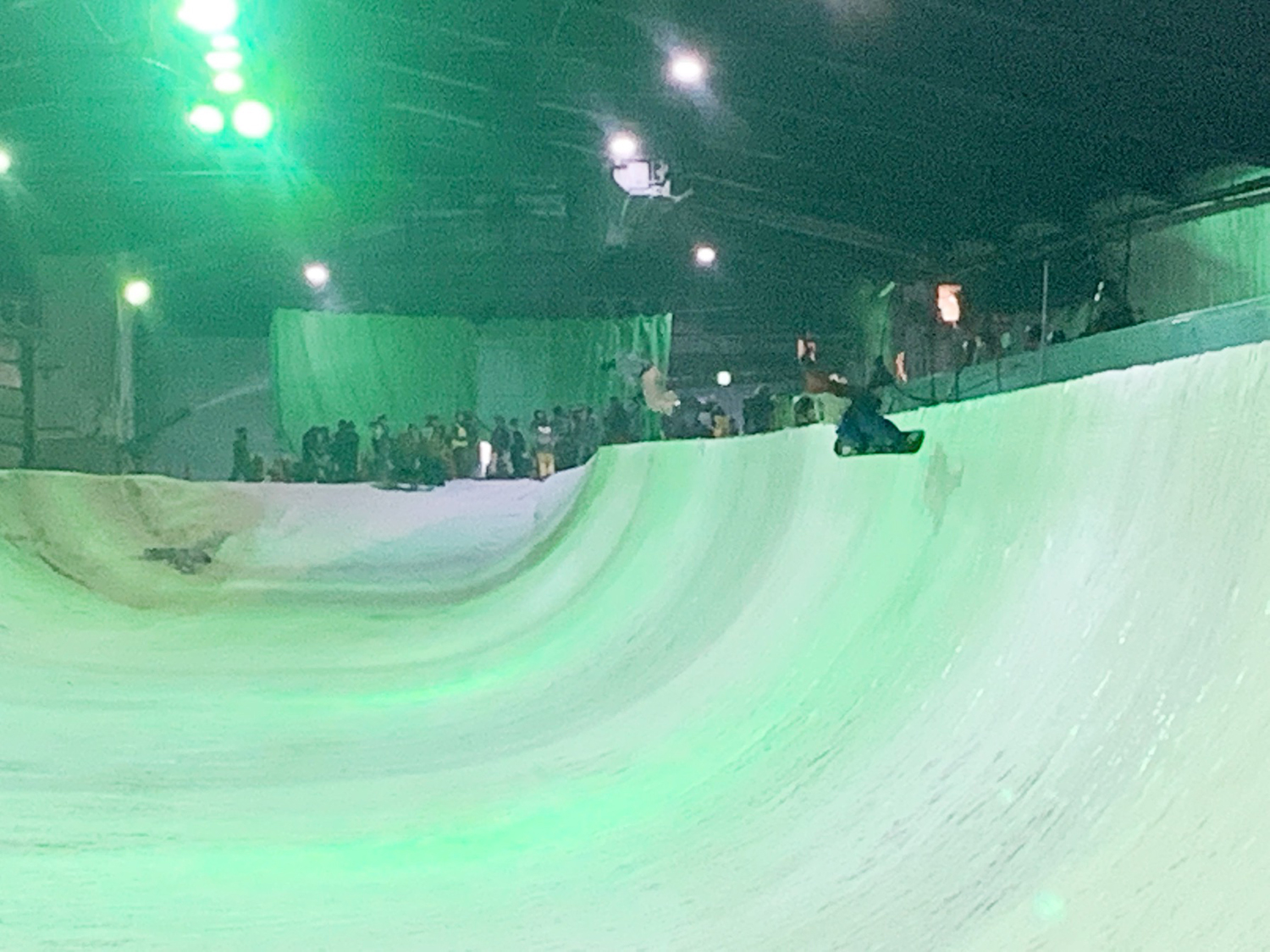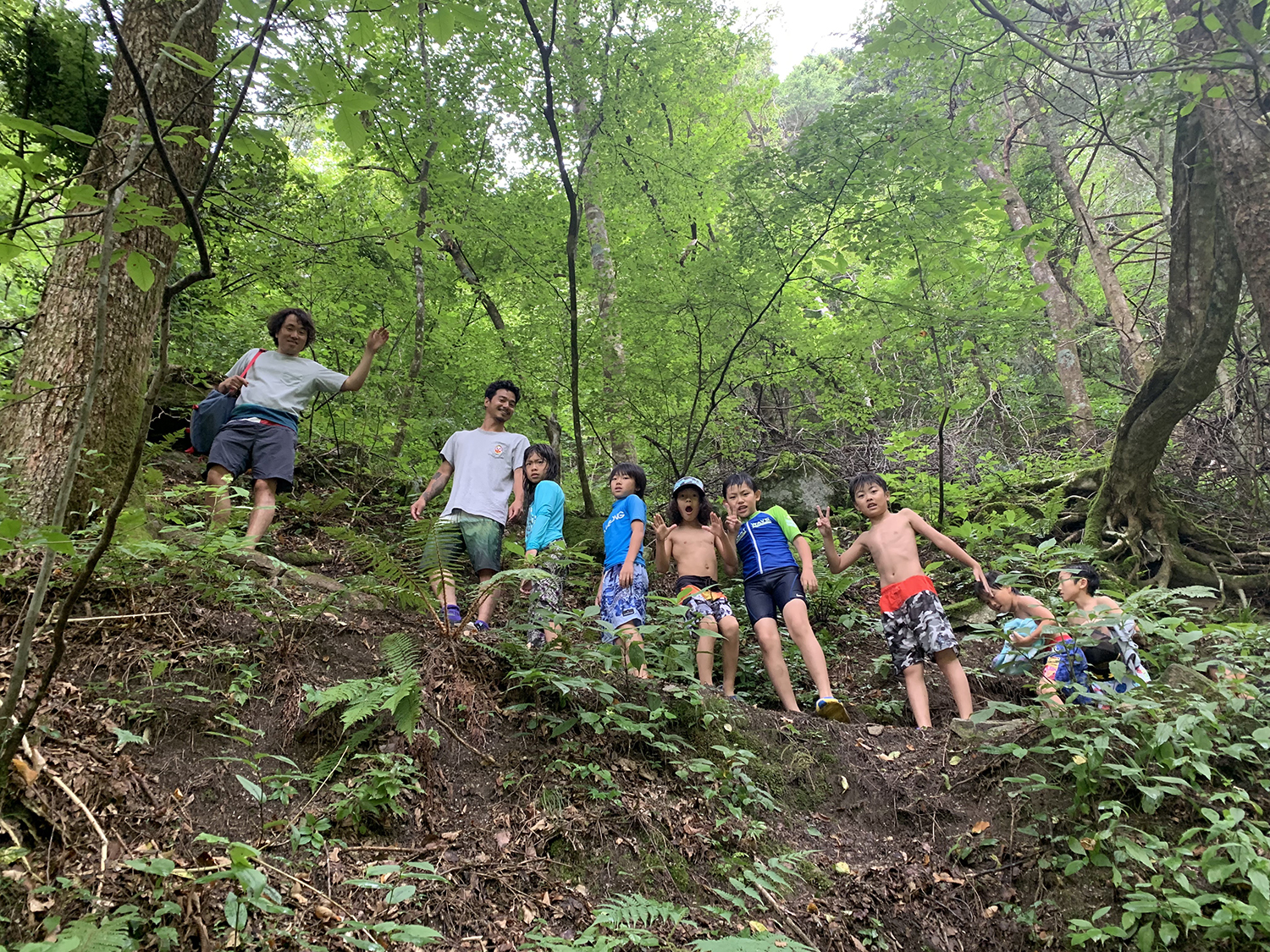 Not just snowboarding
This camp had the best activity after slipping.Moreover, they teach us how to play wildly like them.If you go to the river, you can climb rocky mountains with sea bread and sandals, or jump into the river.Kickball, wakeboarding, fireworks display, etc ...Through a lot of activities every day, I was able to shorten the distance with the children at once.
"We are looking forward to it too."
As they said, there were coaches taking the initiative to play and enjoy themselves.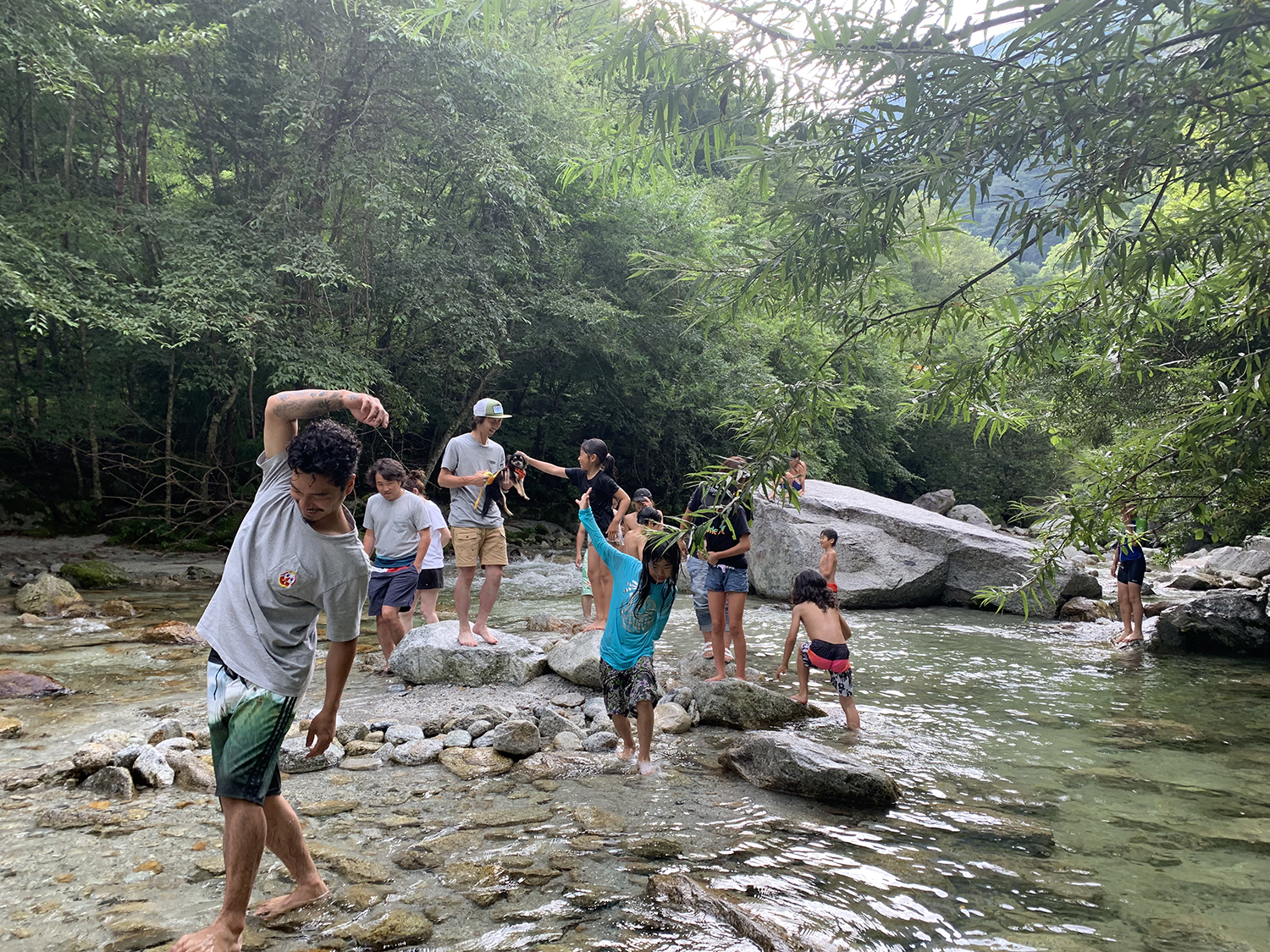 As much as snowboarding, sometimes even harder activities, kids play a whole day until they get sick, and at night they sleep soundly without any noise.I have little time to play games and mobile phones.A trip element was added to the summer activities that made use of the locality of Yamanashi, and it also satisfied the parents who accompany their children.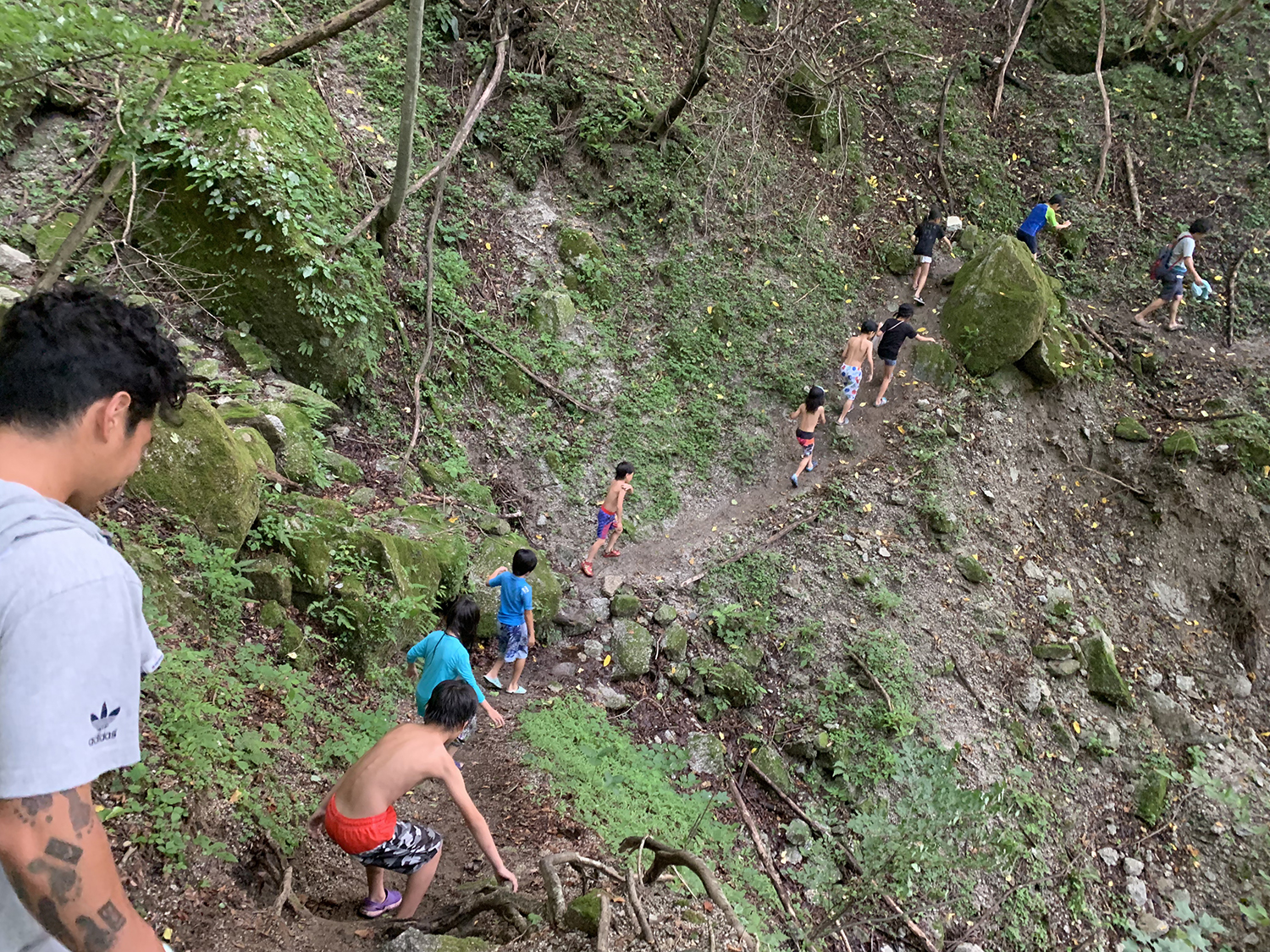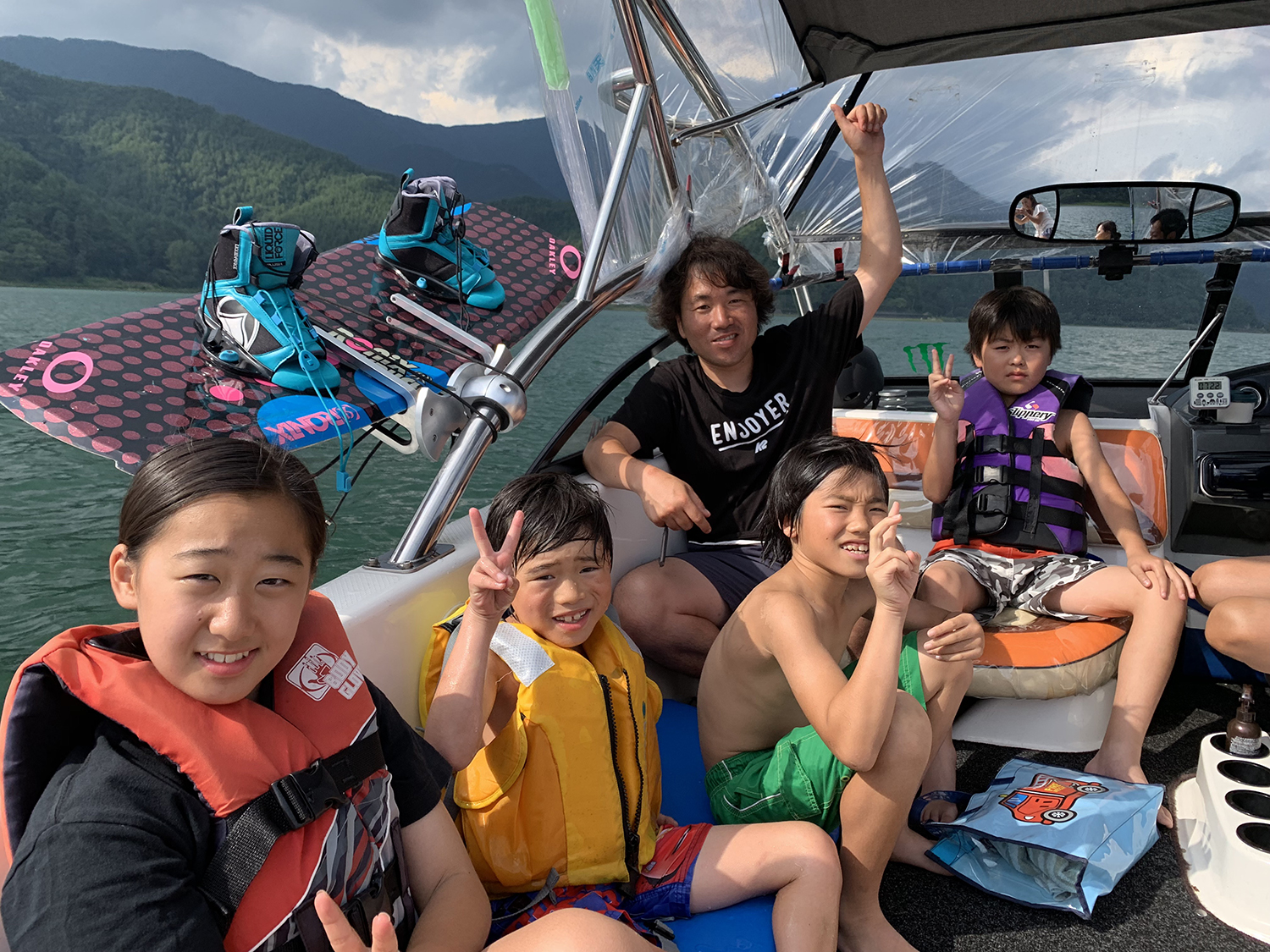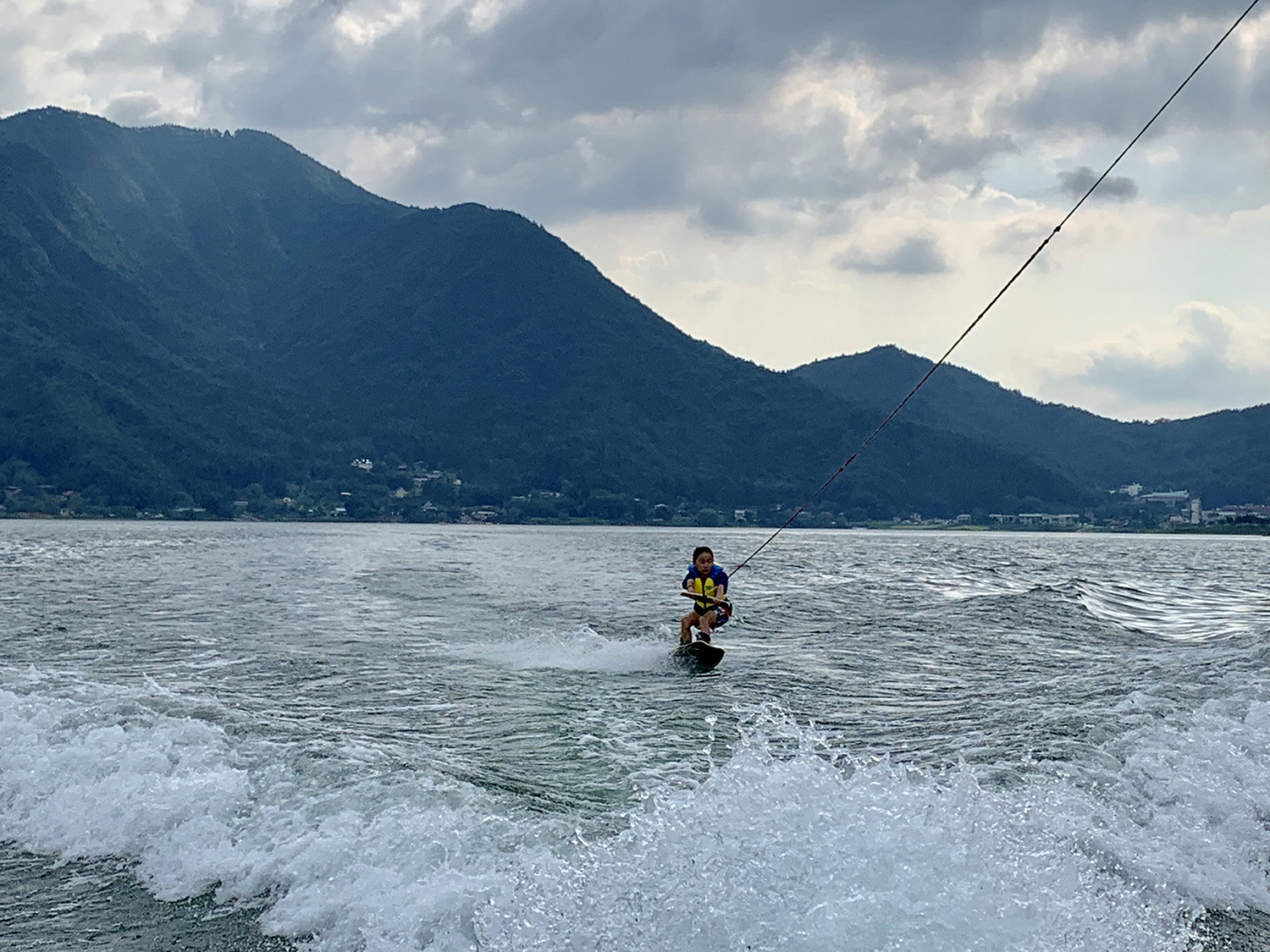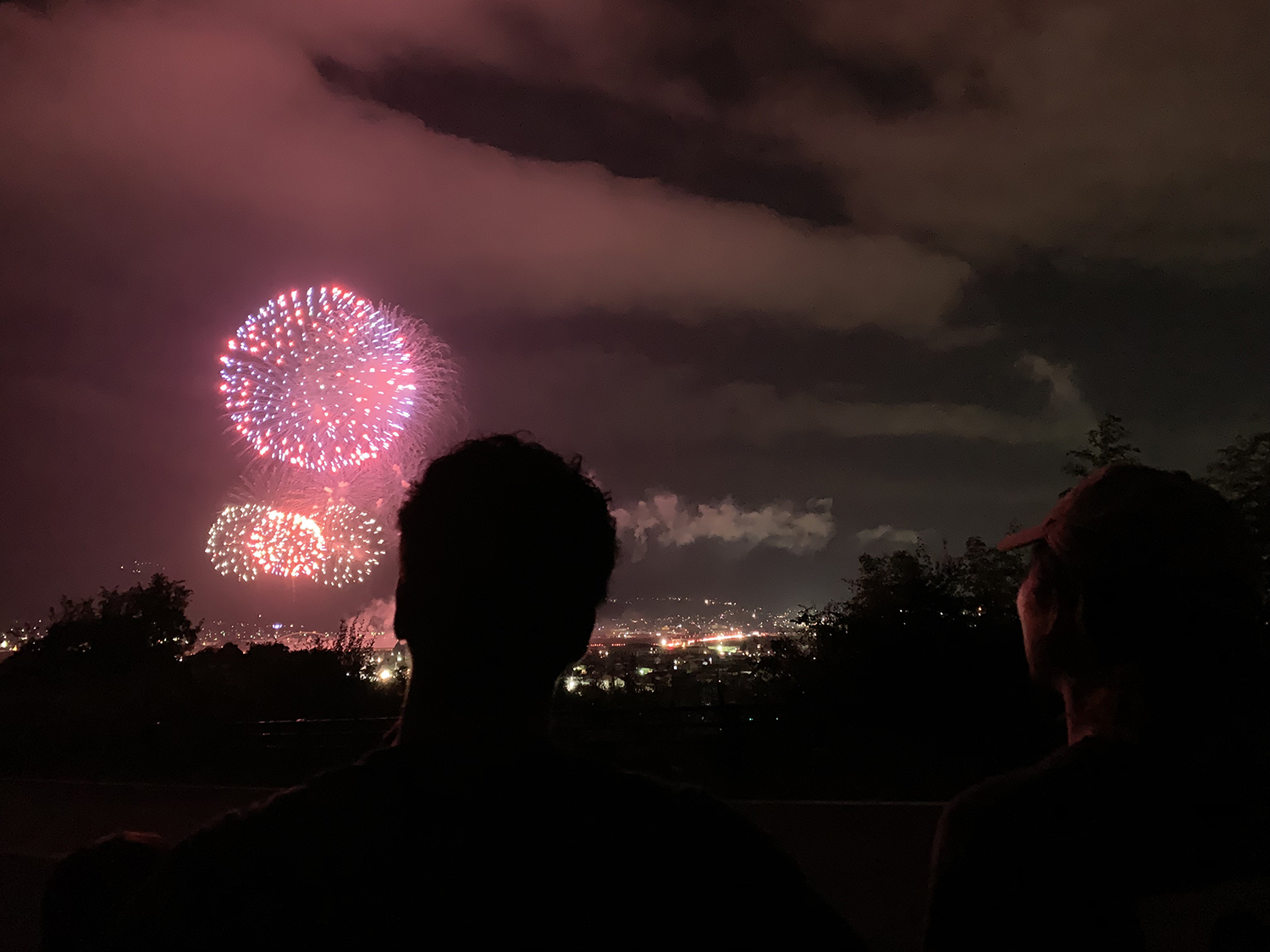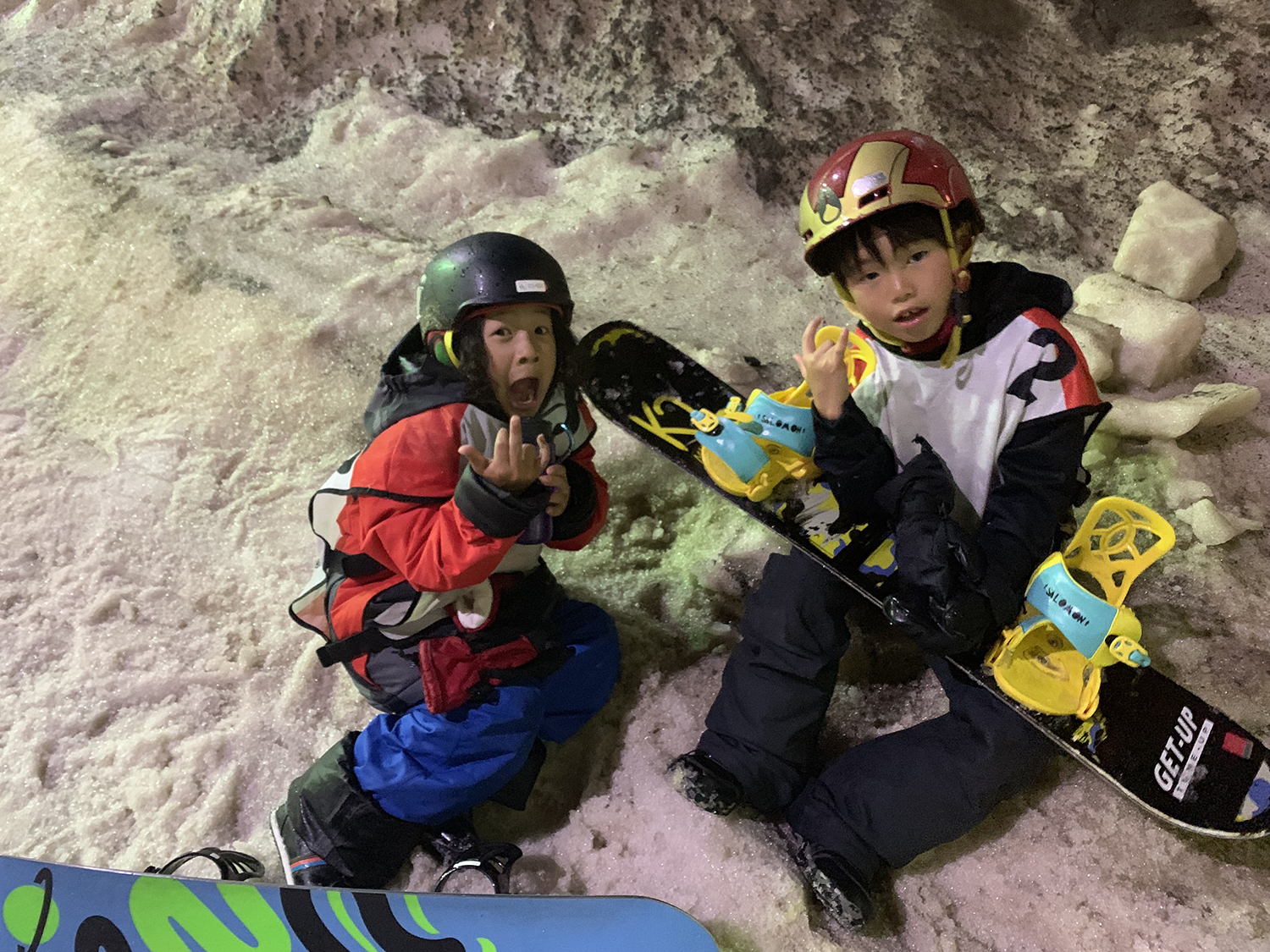 Differences between Japanese and American snowboarding environments
A Japanese snowboard camp experienced by my son who is completely immersed in the snowboarding environment of Mammoth Mountain, USA.What kind of impression did the XNUMX-year-old son have?
"I was so happy to be able to talk so much with my friends in Japanese and feel nostalgic!"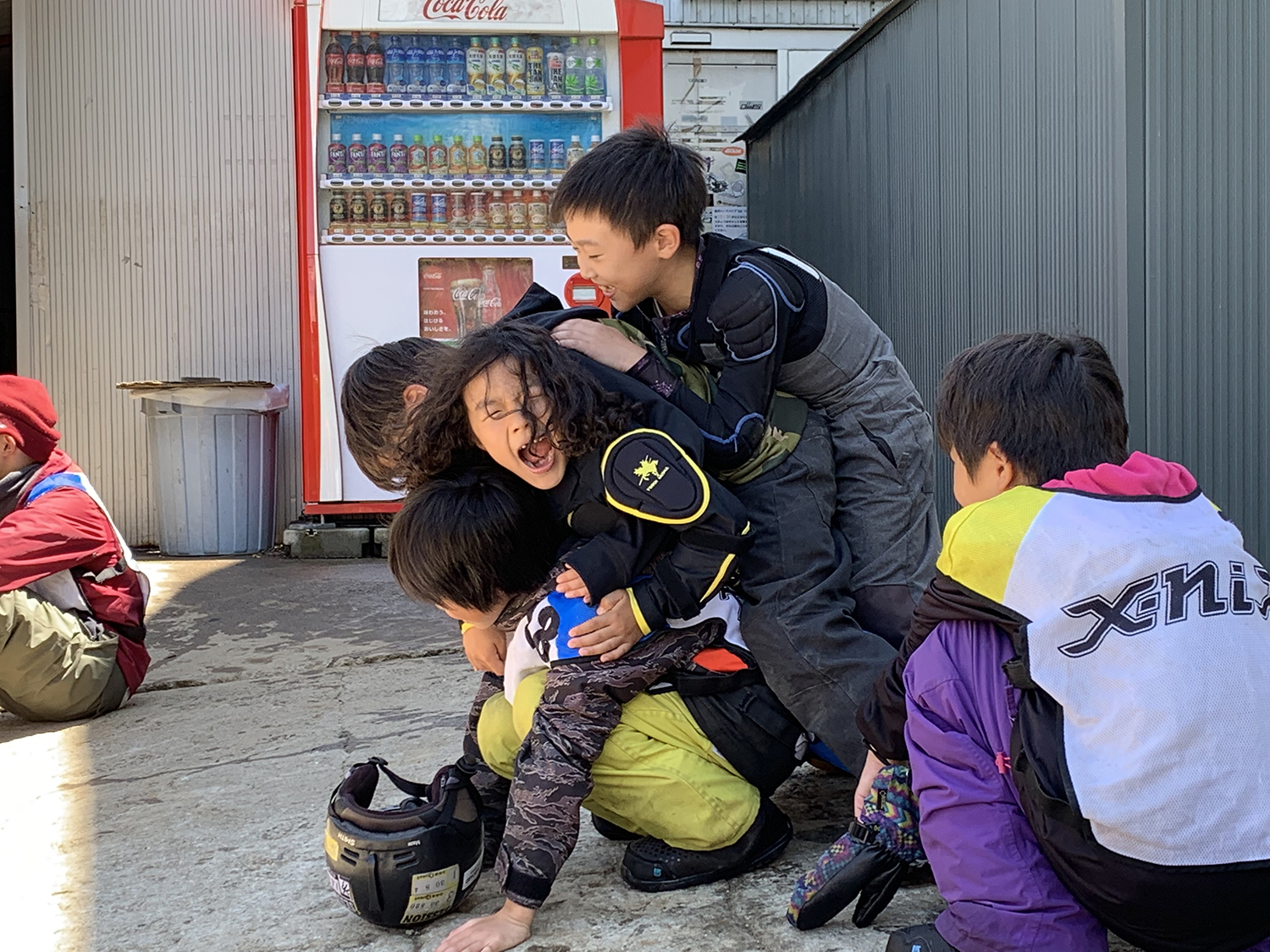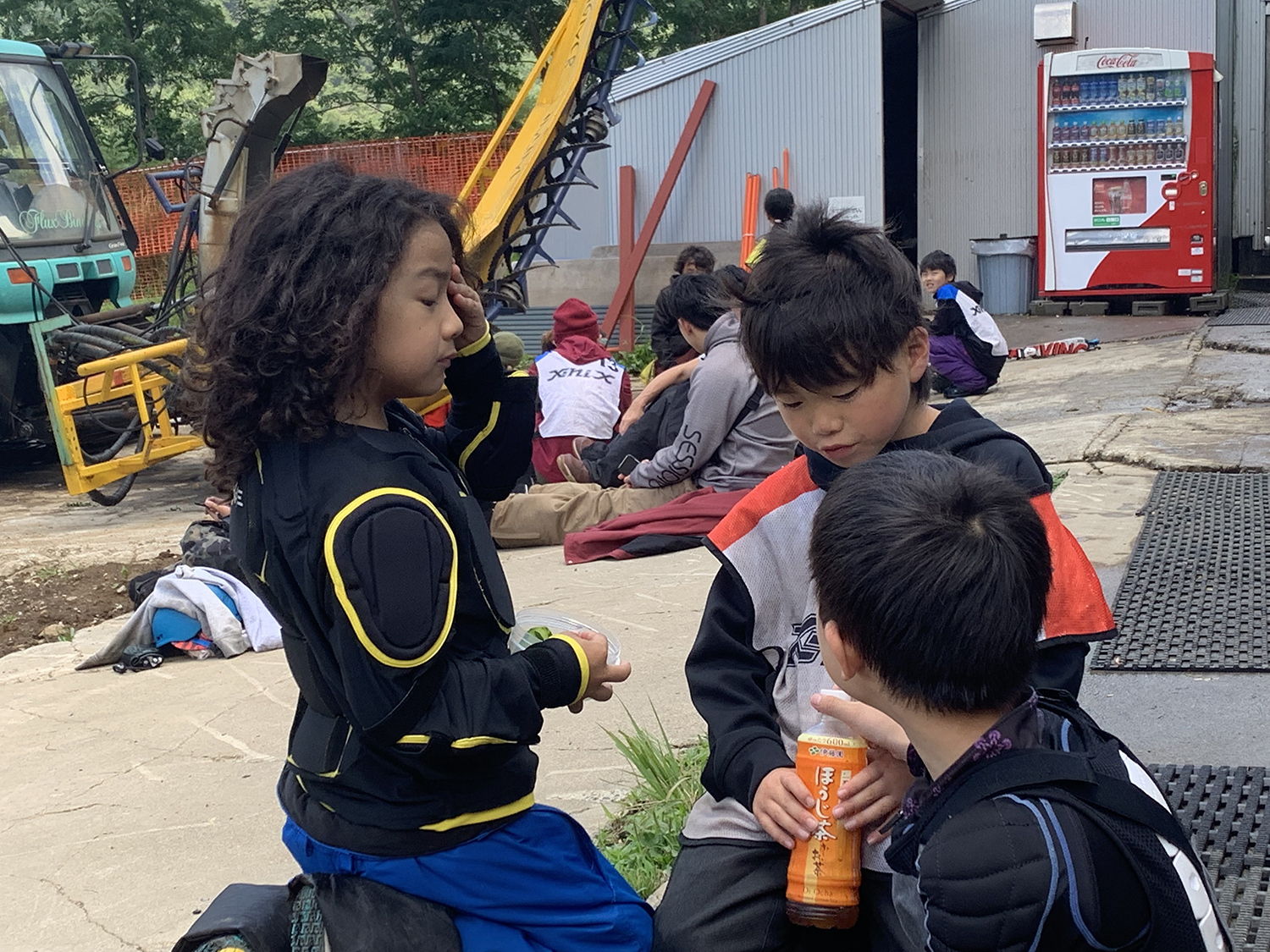 Even though the schedule I attended was crowded in the middle of the summer vacation, it seemed to be fun even when I was climbing the escalator next to the halfpipe or in a long line.
"The halfpipe was smaller than the US, but it's hard and fast so you can practice tricks!" He analyzed the facility in his own way.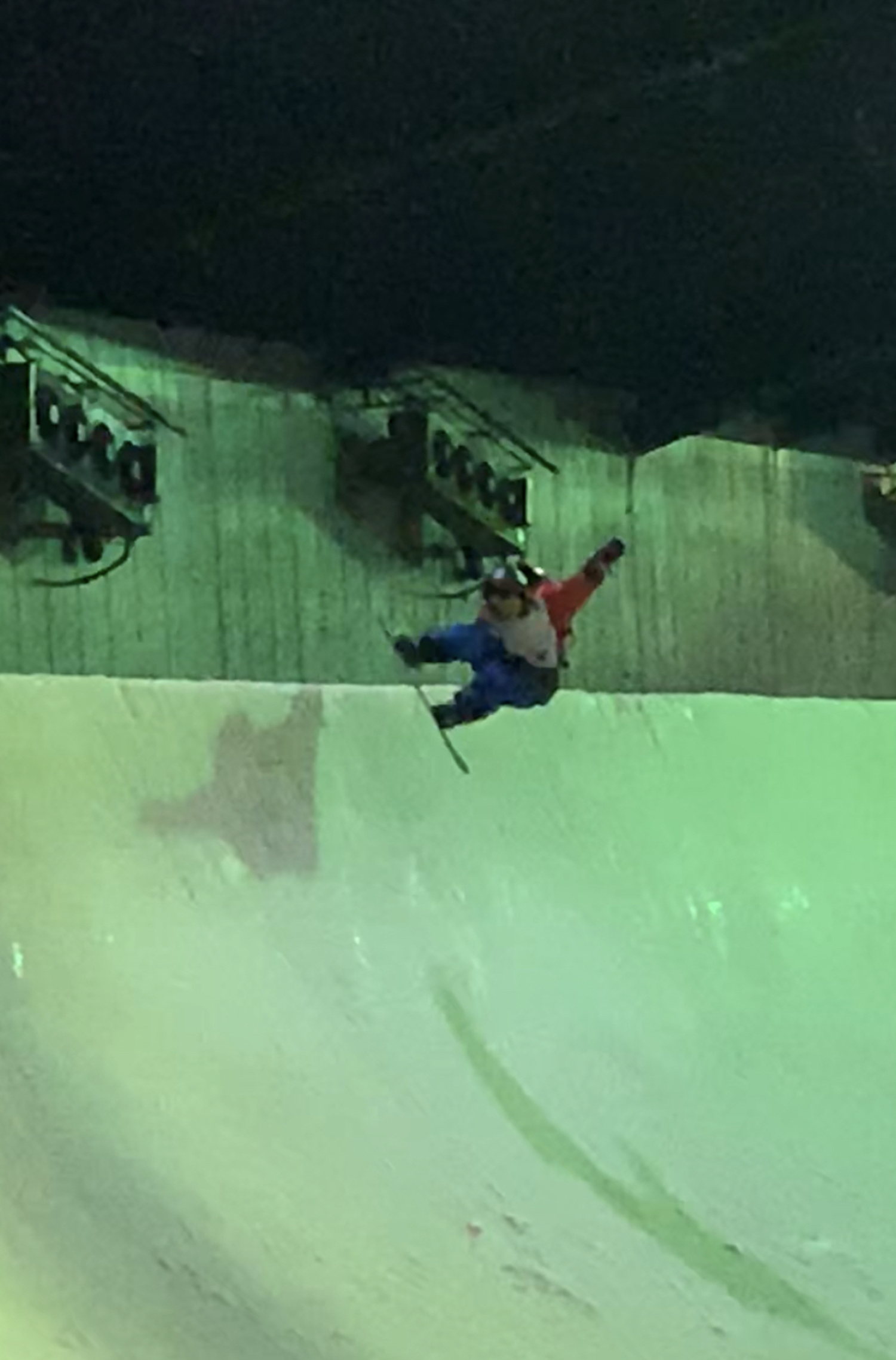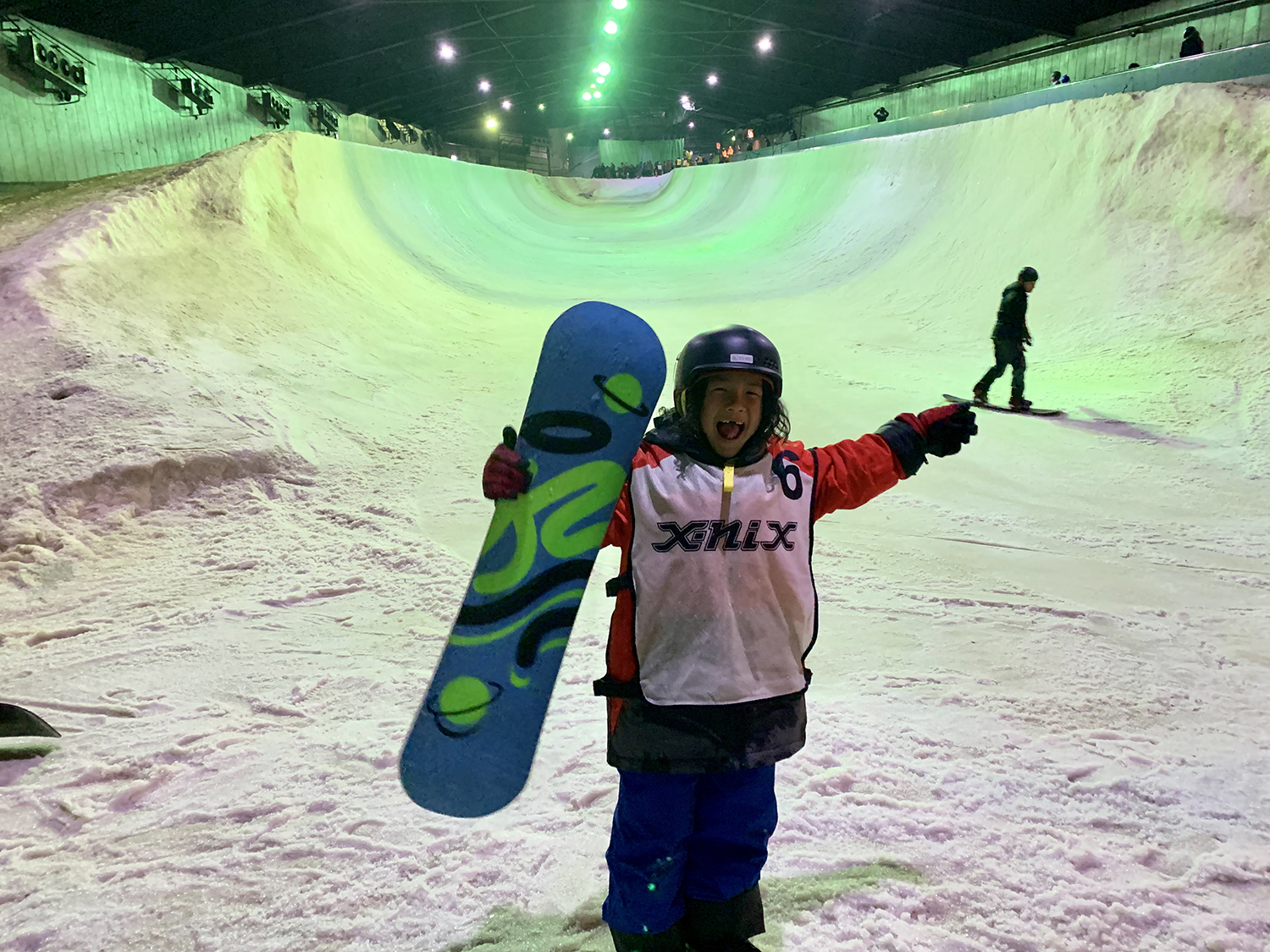 A camp filled with the desire not only to improve the technique of half-pipe, but also to teach children the fun of it first, and to be absorbed in it by themselves.I felt that the playfulness, including wild activities, was similar to an American camp.It must be because the coaches who have seen the world know the true fun of snowboarding.
It was a wonderful experience not only for practicing and improving skills in a facility peculiar to Japan, but also for making friends and learning about culture in Japan.It was a camp that not only my son himself but also my parents wanted to participate again.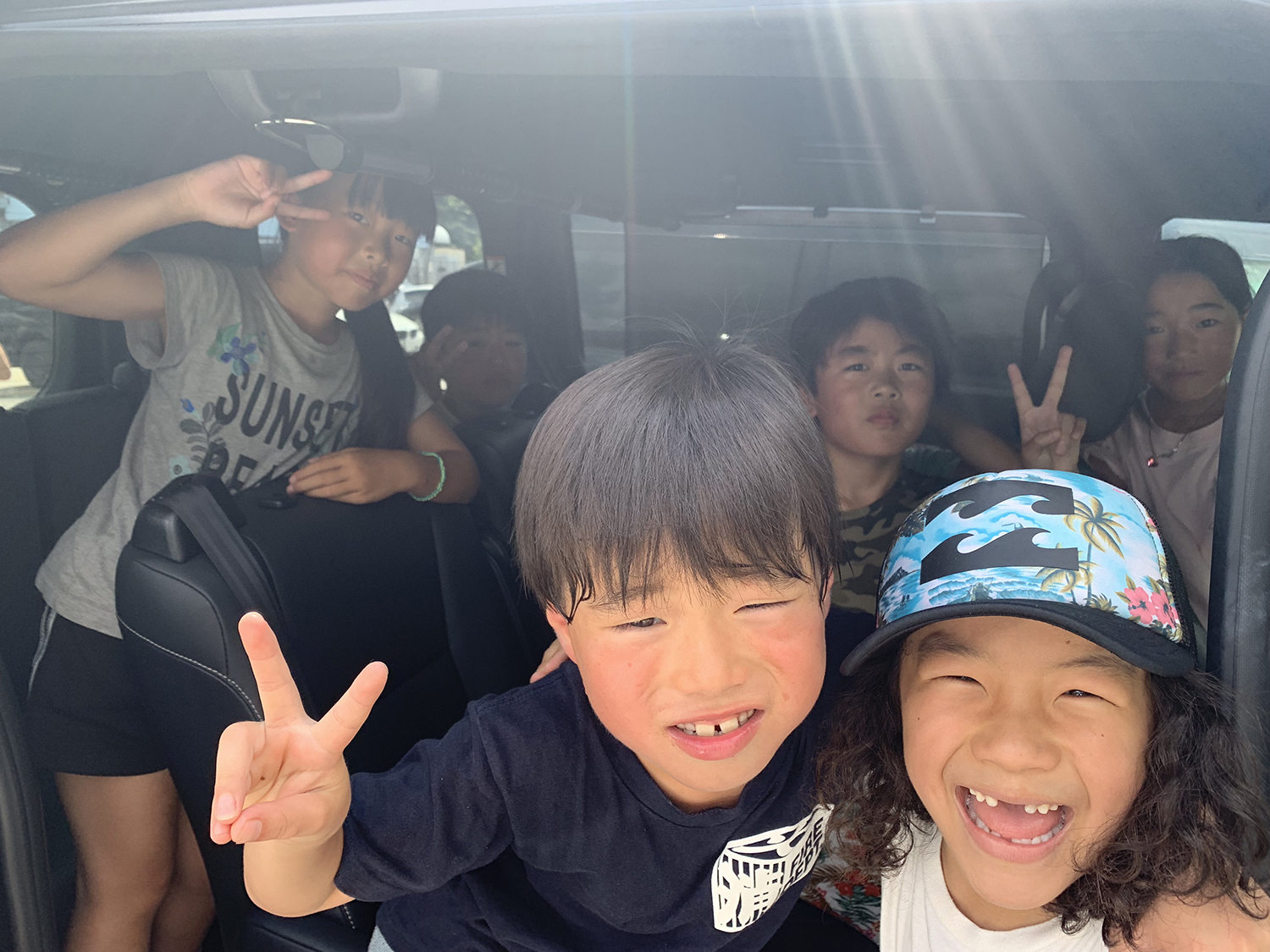 Next time, the autumn edition of "Chanmura Camp" will be held at the end of October.
I hope that all the snowboarders who read this article will join the camp if they have the opportunity and experience the original fun of "snowboarding" taught by their coaches.
For inquiries about the camp at the end of October and those who wish to participate, please contact Daisuke Murakami.FacebookMessage directly to, ord05182003@yahoo.co.jp
-------------
★ Writer of this article
Yukie Ueda
1973Years1Month22Born on the day.Born in Tokyo.Started snowboarding in Whistler, CanadaXNUMXAfter a year of competitions such as half pipe and big air, Garzuru Movie Production "LIL" Launched and led the Japanese girls scene.Moved to the United States on the occasion of marriage8While raising his old son (Toranosuke), he continued his professional activities, and is currently cultivating various fields in Japan and overseas because he is fascinated by the backcountry.2017Years4Moved to Mammoth Mountain, and started a new life with his family more naturally near the mountain.
Sponsor: K2 SNOWBOARDING, Billabong, UNfudge, Ronin Eyewear, NEFF, HAYASHI WAX, MORISPO SPAZIO
Past Snowboarder's Diary articles from Yukie House here