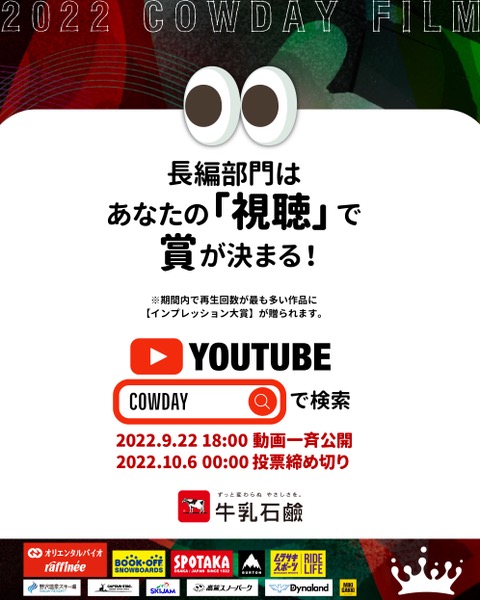 The COWDAY FILM Awards will be held on October 10th next month.
Prior to that, five works that were entered in the feature film category, which is one of the target categories for this year's application, will be released in advance from 5:9 on September 22nd.

In this feature-length category, the impression grand prize of 2022 yen will be awarded to the work with the most views during the period from September 9, 22 to October 2022, 10.In other words, it is judged by everyone's viewing.
Each movie has its own characteristics and is worth seeing.By all means, theseI want you to see my work and become a member of the COWDAY FILM judges.
Watch a snowboarding movie during the long autumn nights to boost your mood!
<List of feature films>
・Lehman Stick
Video title Weekend of office workers

・GYRO TECHNOLOGY Co., Ltd.
Video title Subject Yukimuro

・ Ms. Yuri Yoshie
Video title Me and my family and snowboarding

・JIBBING CAT BROS
Video title "RIP IGUCHI" ON SNOW EDIT

・Satoshi Chiba
Video title WHEEKEND SHUFFLE

Official website
https://www.cow-day.jp/snow/cowdayfilm/